If there were a king of sandwiches, it would be a Maine Lobster Roll. Sweet, succulent lobster meat, mixed in a light mayonnaise-based dressing makes a sandwich that borders on legendary. If you're a lobster lover, this is not a sandwich that you'll want to miss!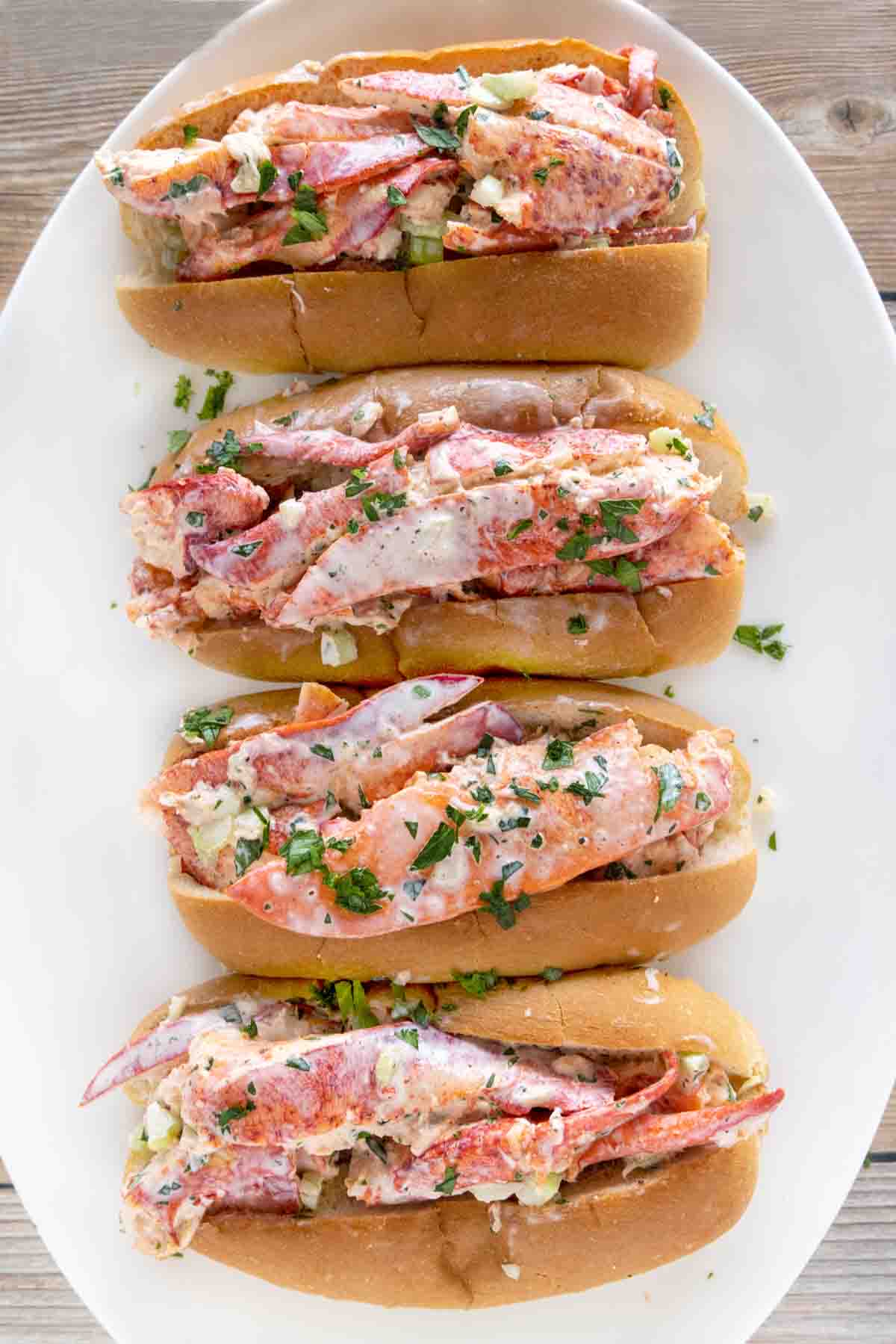 One of the great joys in life is a good lobster roll. I've sampled this decadent sandwich from Massachusetts up through New Brunswick, Canada, and although some have been better than others, I've never been disappointed.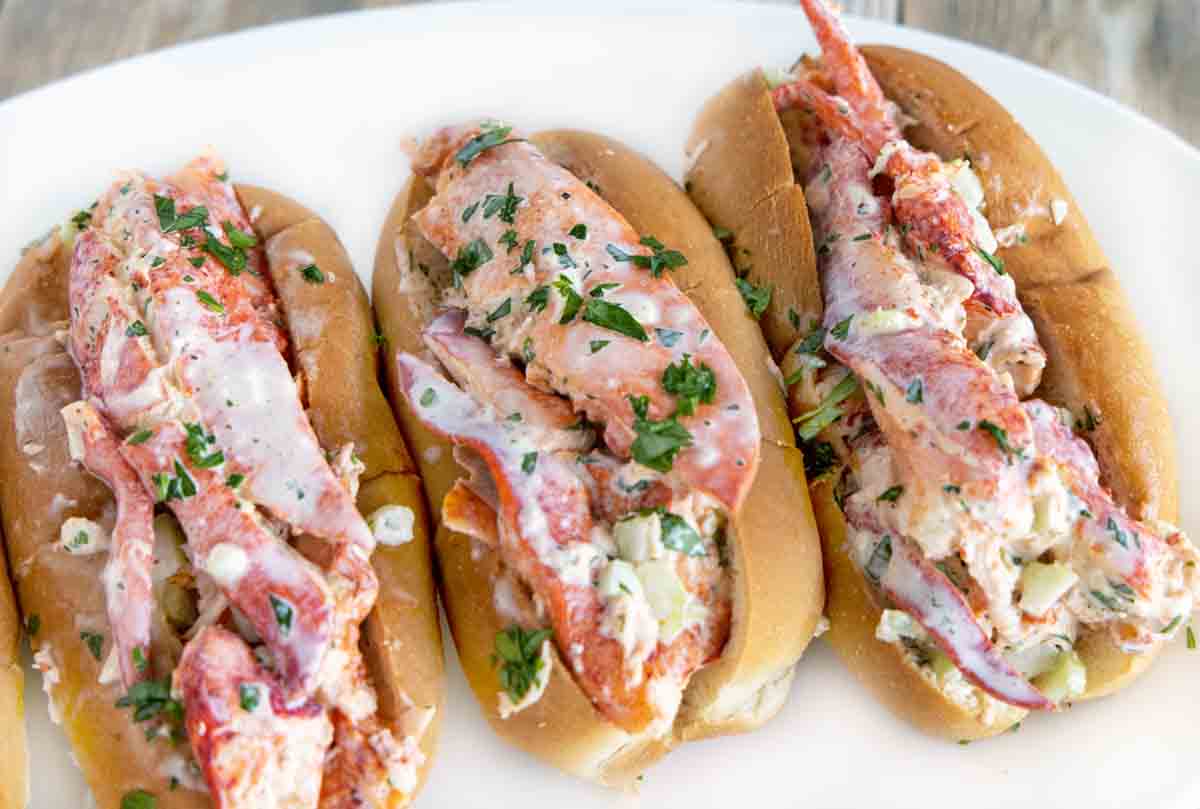 New England lobster rolls are not difficult to make and require only a handful of ingredients. It's a sandwich that can be served at a fancy dinner party or a relaxed date night at home. You can't go wrong with my easy lobster roll recipe, I promise It will be a hit every time!
If you love seafood sandwiches, make sure to check out my Maryland Crab Rolls because they are amazing!
Ingredients to make Maine Lobster Rolls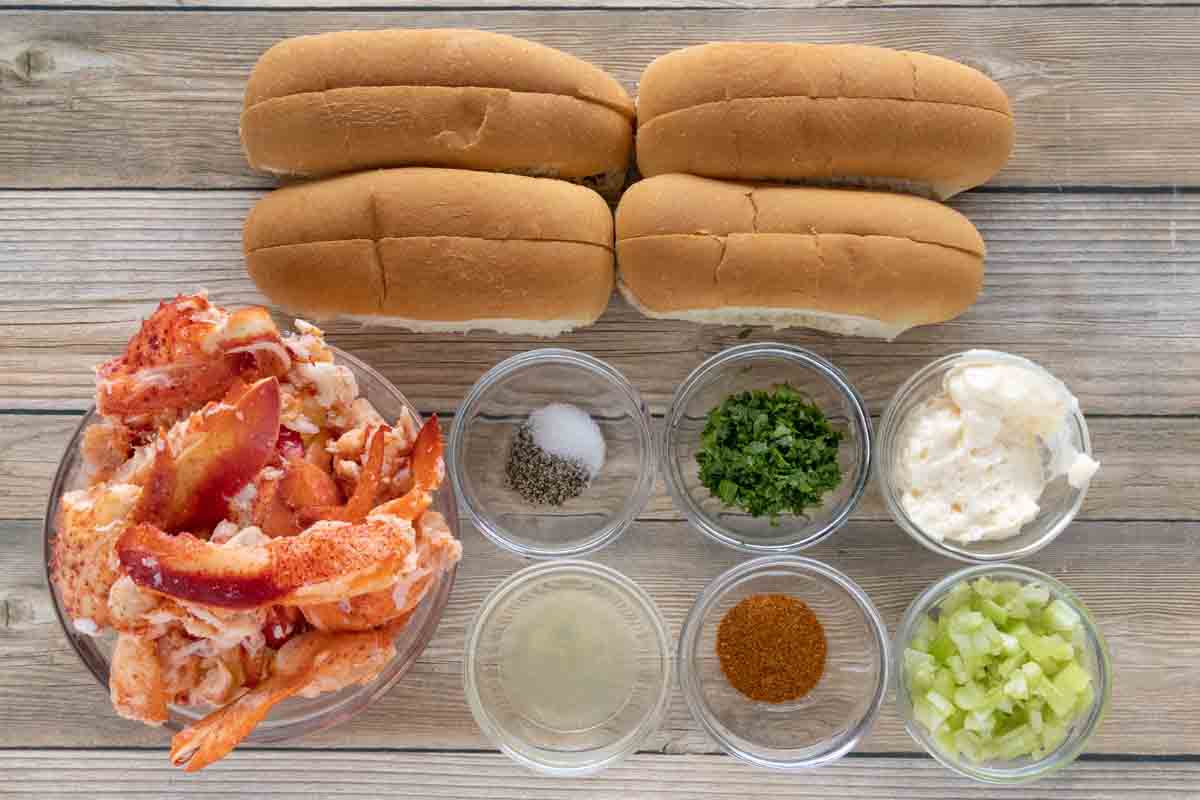 Let's start by gathering the ingredients we need to make New England Lobster Rolls. In Chef Speak, this is called the "Mise en Place," which translates to "Everything in its Place."
Not only does setting up your ingredients ahead of time speed up the cooking process, it also helps ensure you have everything you need to make the dish.
Made with simple ingredients
Lobster meat – body, claw, and knuckle meat
Split-top hot dog buns
Celery
Mayonnaise
Fresh lemon juice
Old bay seasoning
Italian parsley
Table salt
Black pepper
Lobster meat: When it comes to lobster rolls, no matter if they're Maine lobster rolls, New England Lobster rolls, or Connecticut lobster rolls, the one thing they all agree on is that they should be made with body, knuckle, and claw meat. Not only are lobster tails too expensive, they're actually too tough for this iconic seafood sandwich.
Originally they were made with the remains of whole live lobsters that were cooked after the tail was removed. And that was actually a good thing. The body, knuckle, and claw meat are sweet and tender and makes, the best lobster rolls. Lobster tail meat will toughen up after they're cooked and don't have the same sweet flavor the body meat has.
You can find cooked lobster meat at many grocery stores frozen in 8-ounce and sometimes one-pound containers. Look in the seafood department or ask the seafood manager.
Lobster Roll Buns: For an authentic lobster roll recipe, you'll want to find New England style hot dog buns. Those are buns that are split down the top, and the sides are more like the inside of the bun. The sides of the roll are brushed with melted butter and grilled until golden brown. Then, the buttery toasted bun is filled with the cold lobster salad to make a classic lobster roll.
Those rolls are hard to find outside of New England. You can use regular hot dog buns or the new split-top buns (Pepperidge Farms) that many grocery stores now carry. And although a buttery grilled bun does add flavor to the lobster roll, you can forgo that part of the recipe and still enjoy the delicious lobster rolls.
How to make New England Lobster Rolls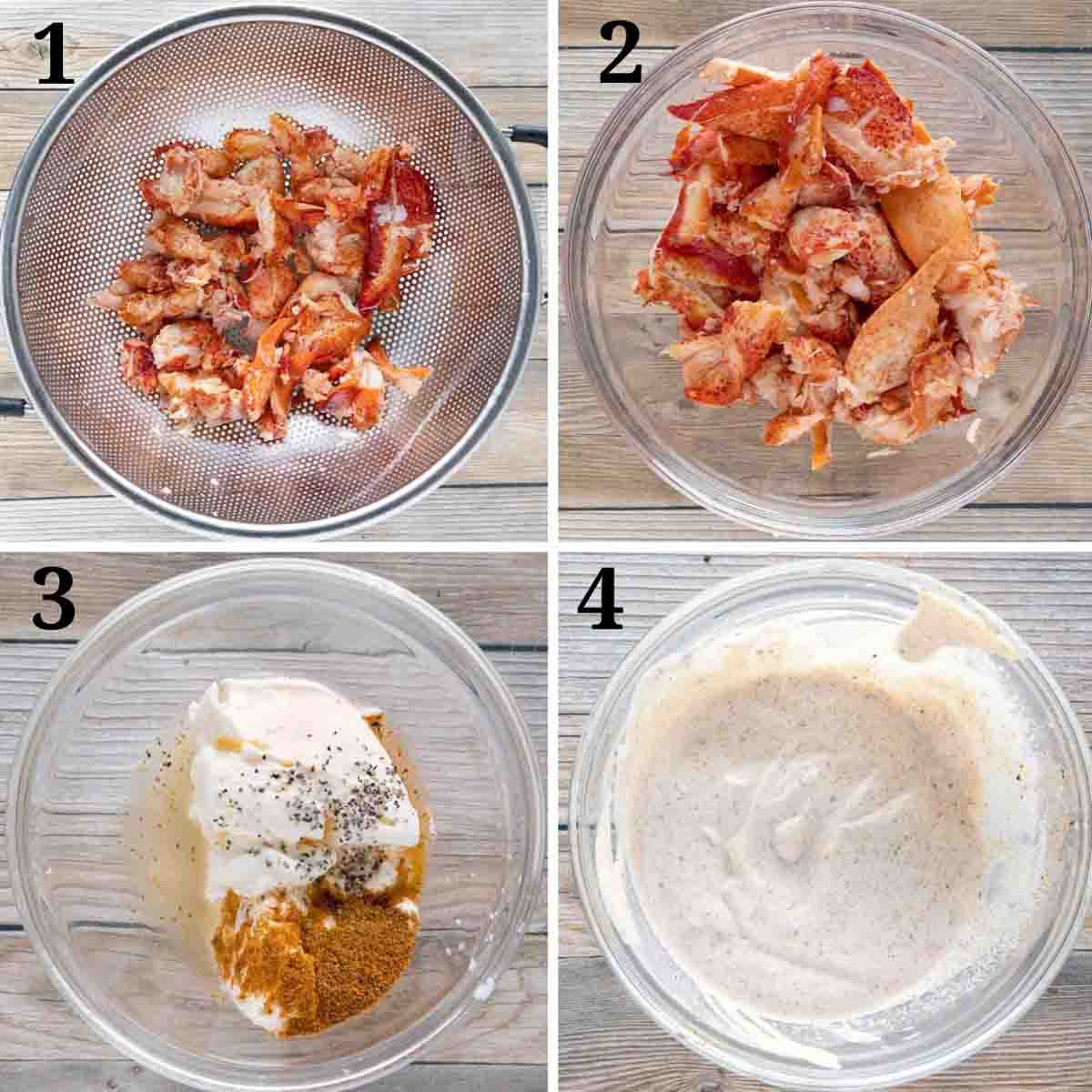 Thaw the lobster overnight in the refrigerator. Then, place it in a colander and lightly press down to squeeze the excess water from the lobster meat.
Place the lobster meat in a large bowl.
Add the mayonnaise, lemon juice, salt, black pepper, and old bay seasoning to a medium bowl.
Whisk to combine the dressing ingredients.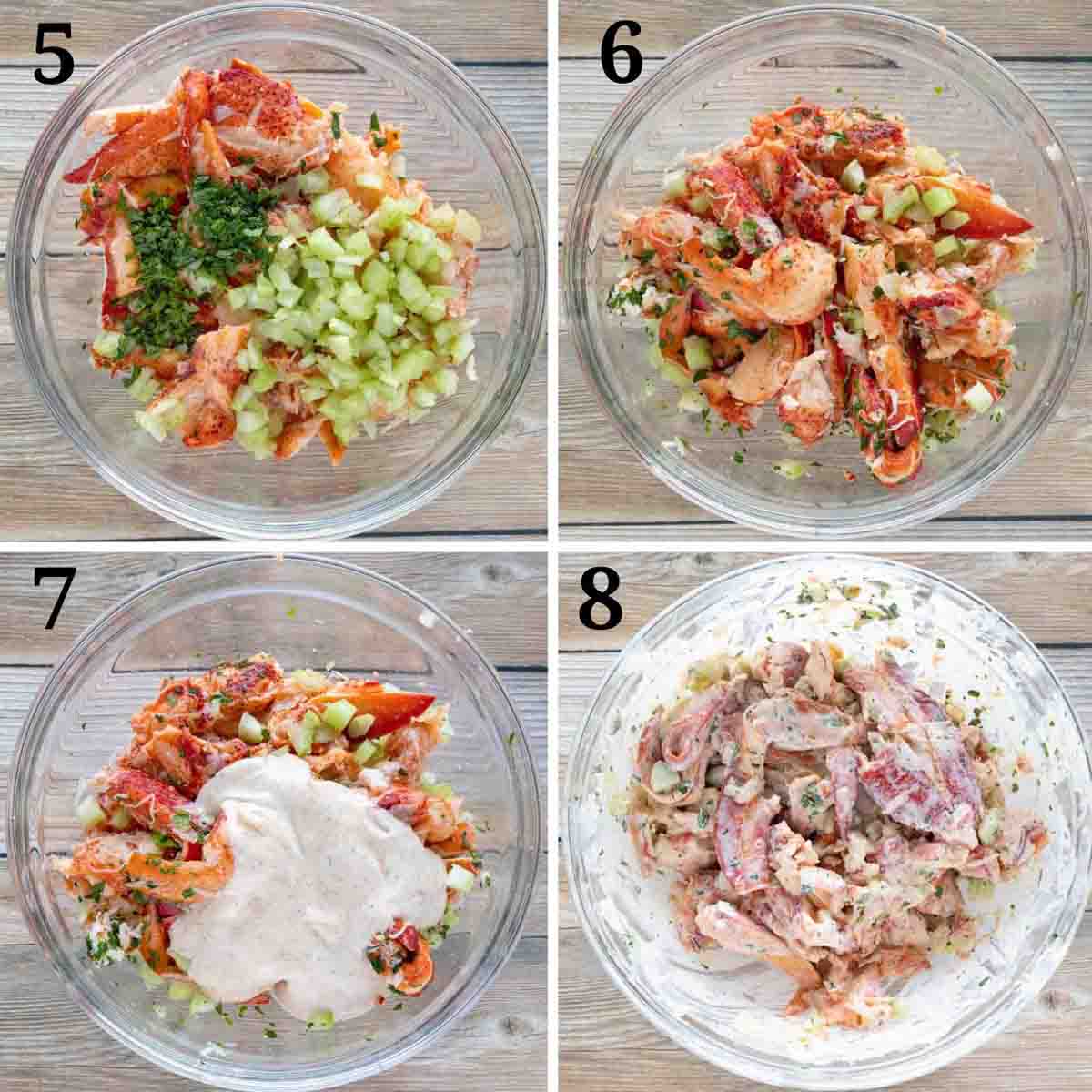 Add the chopped celery and chopped Italian parsley to the bowl with the lobster meat.
Mix the ingredients together to combine.
Add the dressing to the lobster mixture.
Mix until well combined. Refrigerate for at least two hours to allow the salad to chill and the flavors to build.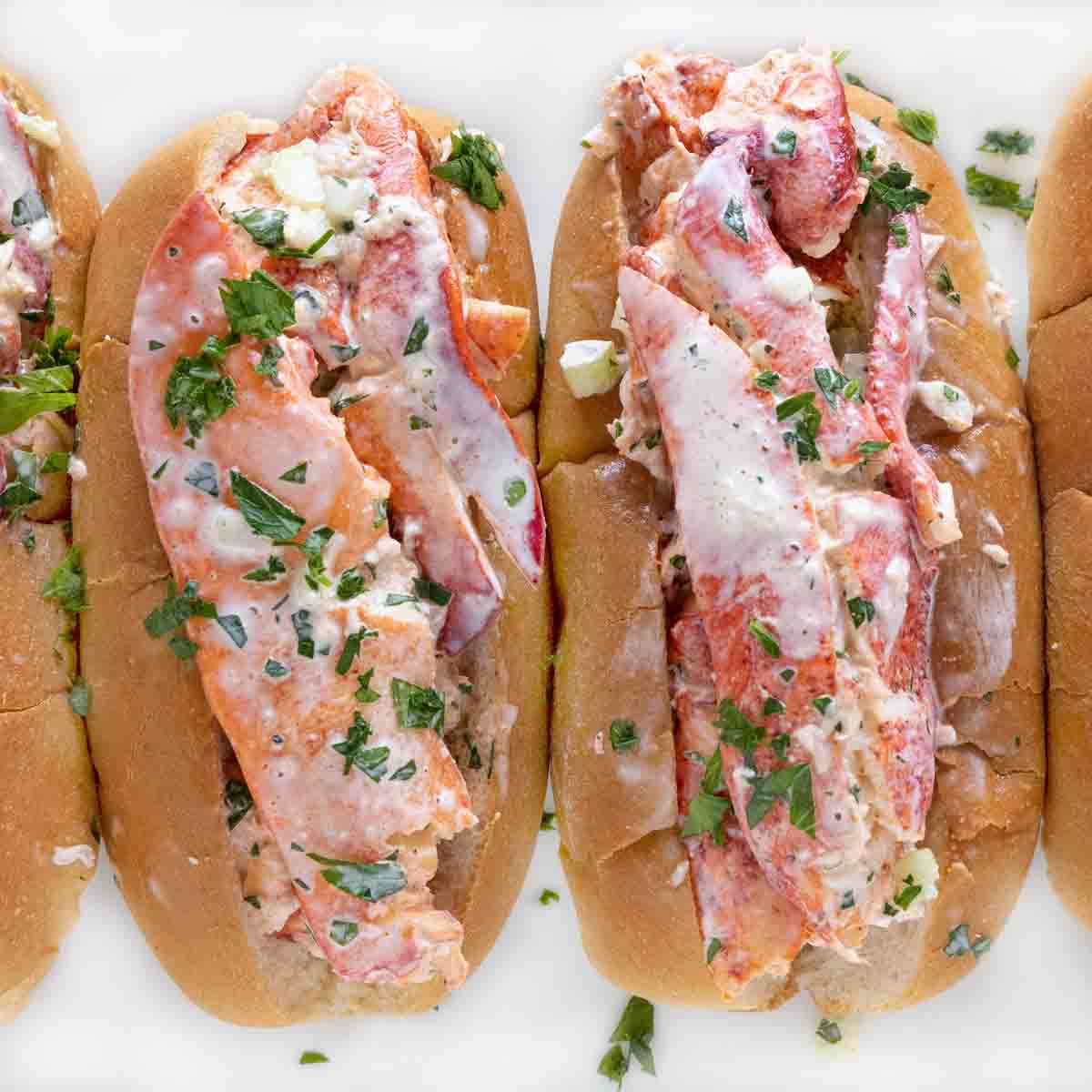 Serve the lobster salad on top of the split hot dog-style buns with a side of lemon wedges. Serve these classic New England sandwiches with potato chips, macaroni salad recipe, coleslaw, or your favorite side dish and enjoy!
But whatever you serve them with, I promise these will be the best cold lobster rolls you've ever had, It's one of my favorite seafood recipes.
Recipe FAQ's
What are the different types of lobster rolls?
There are two types of this classic New England dish. The Maine style is made with a mayonnaise-based dressing, while the Connecticut-style lobster roll is served warm with melted butter. Both are delicious!
Can I make lobster rolls ahead of time?
It's best to assemble the sandwiches right before serving to avoid the buns from becoming soggy. However, you can prepare the filling a few hours ahead of time. Don't make it too far in advance, as the dressing will begin to break down.
More Recipes You'll Love!