Can you say Blackened Salmon Sliders? I love creating Game Day Snacks for my friends and these little sliders are sure to please even the pickiest eaters.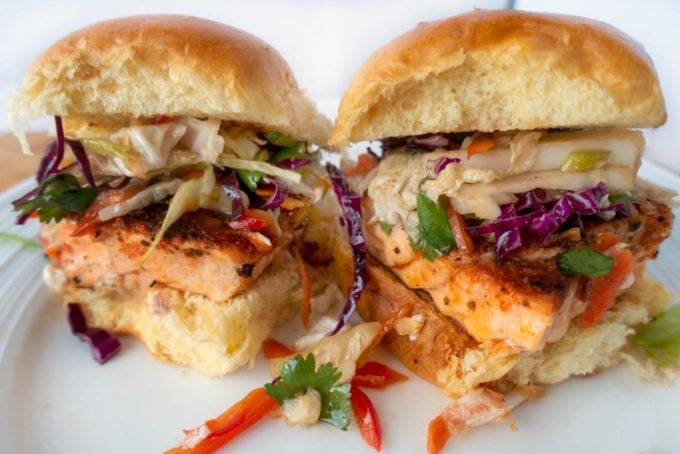 What would the world be like without all the different cuisines we have to choose from. And food from around the world blended together to create an extra special dish are my favorites. In my early days of cheffing, this was called Fusion Cuisine.
But intertwining different flavors from different cuisines has become the norm and dishes like my Blackened Salmon Sliders are typical of this type of cooking and is my favorite techniques for Game Day Food!
What ingredients do I need to make an Asian Slaw?
Let's start by gathering our ingredients to make my Blackened Salmon Sliders. In chef speak this is called the mise en place (everything in its place). Let's start with the ingredients to make the Asian Slaw.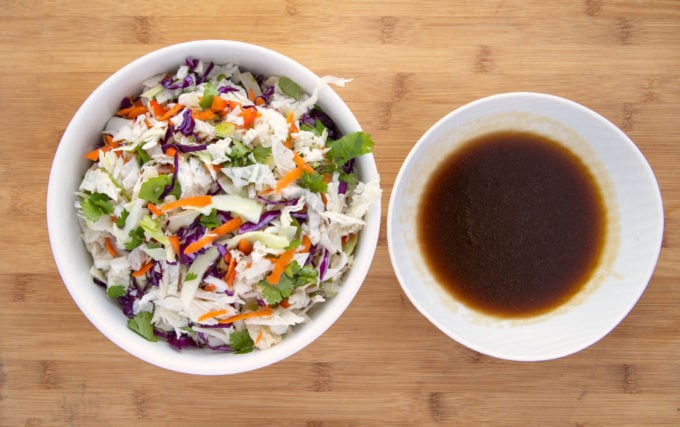 Start by mixing the slaw ingredients together and the ingredients for the dressing together.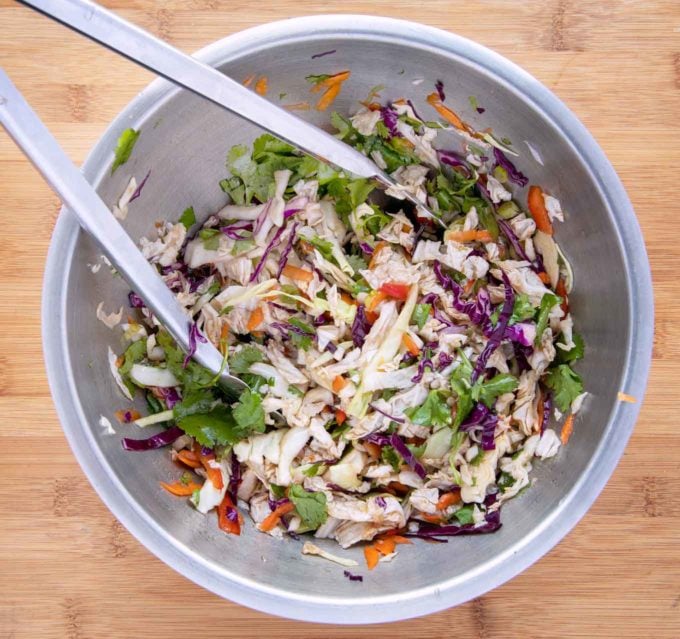 Then it's just a matter of tossing them together. It's best to make the slaw a few hours ahead of time to allow the ingredients to soak in the flavors.
How do I make Blackened Salmon Sliders?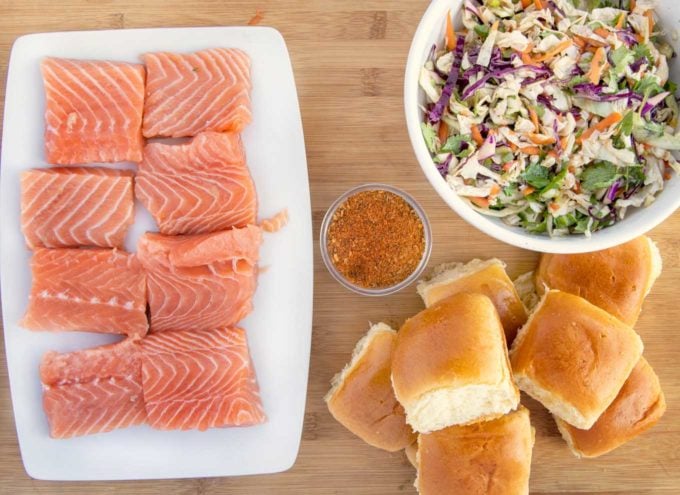 Once your slaw is made the rest is easy-peasy and only takes slider rolls, salmon, your favorite blackening seasoning and your premade slaw.
These are the basics ingredients to make Salmon Sliders but feel free to add your personal touches.
Not a fan of blackened salmon? Grilled salmon is a great substitute.
Not a fan of salmon? Try tuna, snapper, redfish or any of your favorites.
Leave out any of the items you don't like in the slaw.
Use your favorite bottled dressing instead of making my Asian dressing.
Cut the salmon into larger pieces and make full-size sandwiches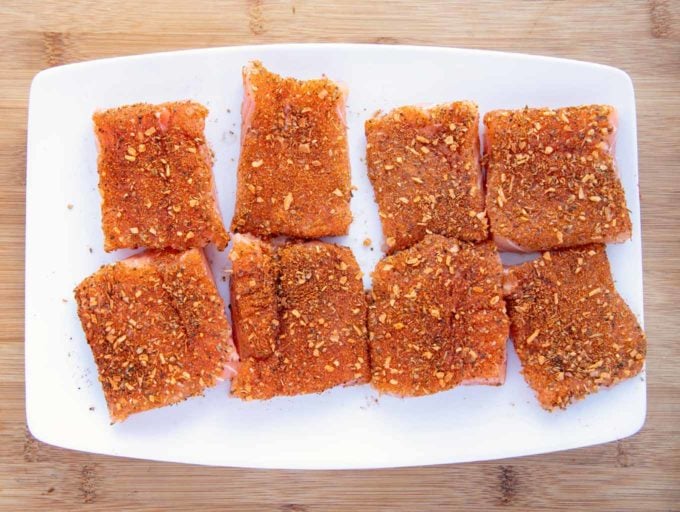 The first step in preparing the salmon is coating one side with Cajun seasoning (aka blackening seasoning).
How do I make Blackening Seasoning?
If you can't buy blackening seasoning aka Cajun Spice where you live, here is a basic recipe that can be adjusted to your likes.
2 tablespoons paprika (smoked or regular)
1 teaspoon fine sea salt
1½ teaspoon garlic powder
1 tesaspoon ground black pepper
1½ teaspoon onion powder
1 tablespoon dried oregano
1 tablespoon dried thyme
½ teaspoon cayenne (more if you like heat, but be careful)
Prepare a sauté pan by letting it get really hot. Add a very small amount of oil to the pan, just enough to coat it. Place the seasoned side down in the hot pan and allow to cook for about 2 minutes. Turn the salmon over and cook on the other side for another 2 minutes.
This will cook the salmon to an almost done state. If you prefer your salmon well-done, allow it to stay in the pan a little longer.
Chef Dennis Tip-
Make sure to have your kitchen fan on and plenty of ventilation in your kitchen. The seasonings can cause choking if you're not careful.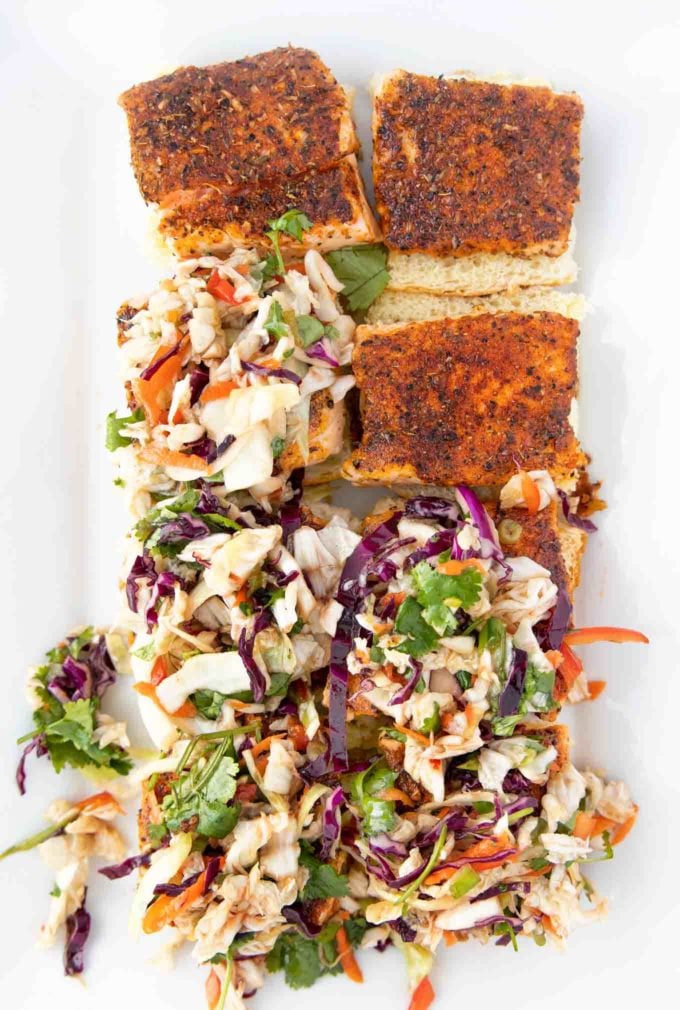 Once your salmon is cooked you can assemble the sliders and serve them to your guests.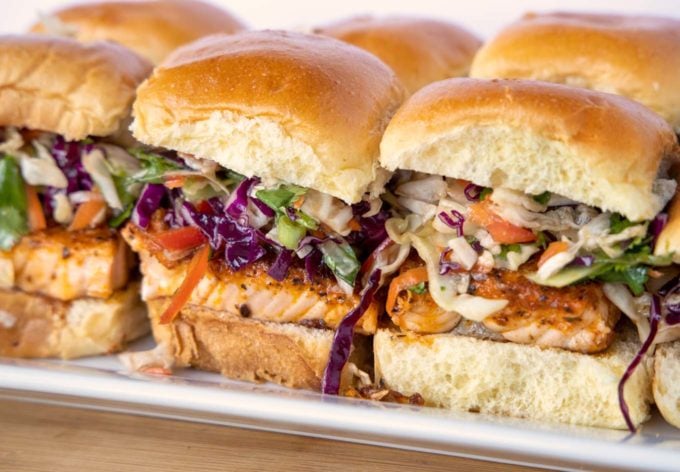 Don't these look OMG delicious? I hate to tell you I devoured 3 of these little sliders after taking the pictures. And thanks to Omeprazole ODT, there was NO HEARTBURN.
What Type of Salmon Should I Use?
You can use any type of salmon you have available in your markets. Most supermarkets carry Atlantic Salmon which is not my favorite but will work well with this recipe. If possible look for Pacific or Atlantic Salmon. My favorites are Sockeye (red) and Coho (silver) or Chinook (King).
Atlantic Salmon is more plentiful and usually less expensive but I prefer wild-caught fish to farmed seafood.
*Farmed salmon is much higher in fat, containing slightly more omega-3s, much more omega-6 and three times the amount of saturated fat. It also has 46% more calories — mostly from fat. Conversely, wild salmon is higher in minerals, including potassium, zinc and iron
Can I pre-cook the salmon?
If you'd rather not be cooking when your guests arrive you can precook the blackened salmon. Sauté the salmon on the blackened side for 1-2 minutes and then turn the salmon and sear the other side for 30 seconds.
Wait until it has cooled a little before covering the salmon, then place in the fridge until needed.
When it's time to serve your guests, place the salmon in a baking dish in a 350 degree F oven for 15 minutes. Assemble your sliders and you're ready to go!
If you love salmon you may also like these recipes: