There are few savory dishes that are both as easy and delicious as this simple smoked trout recipe. An easy brine and the smoker do nearly all of the work, and you wind up with the perfect fish that has the most moist flesh and satisfying smoky flavor.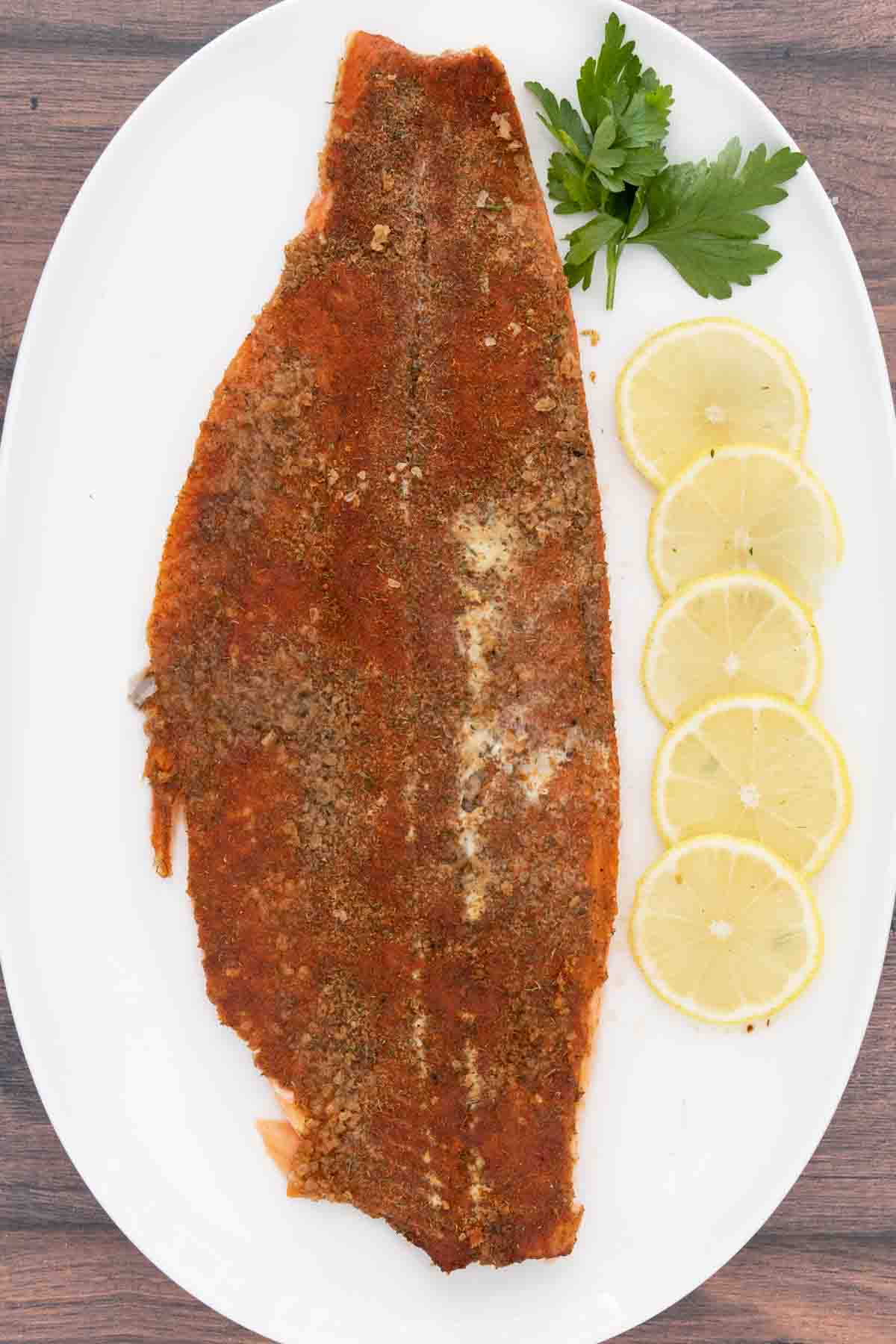 This trout is a great option for times when you don't have a lot of time for prep, and since it's a fairly mild fish, it's perfect for making at gatherings. You can serve it warm from the smoker as a main dish with side dishes like kale and corn succotash, buttery smashed potatoes, or a classic wedge salad.
Or you can make it ahead and serve it chilled as an appetizer garnished with fresh herbs alongside slices of lemon, crackers, and sour cream or cream cheese.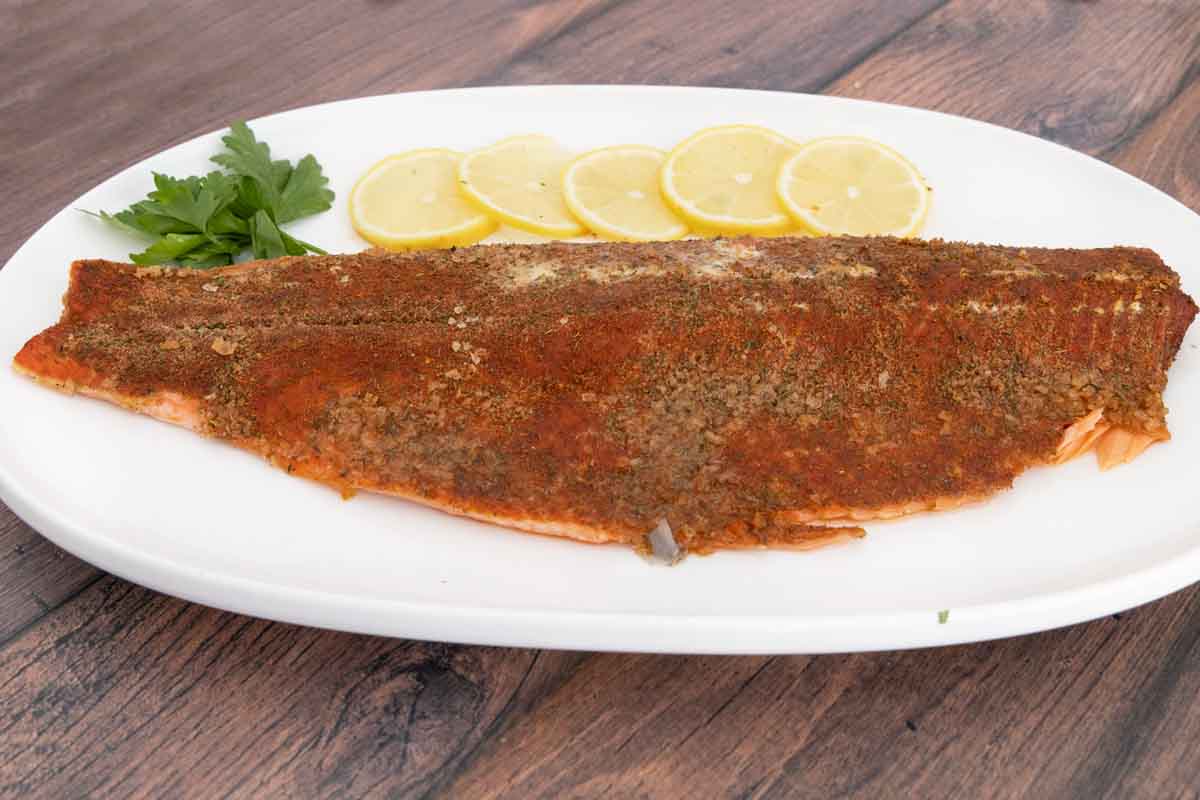 The next time you're in the mood to make smoked fish, give this smoked trout recipe a try — it's so full of flavor that everyone will be asking for the recipe!
Ingredients to make Smoked Trout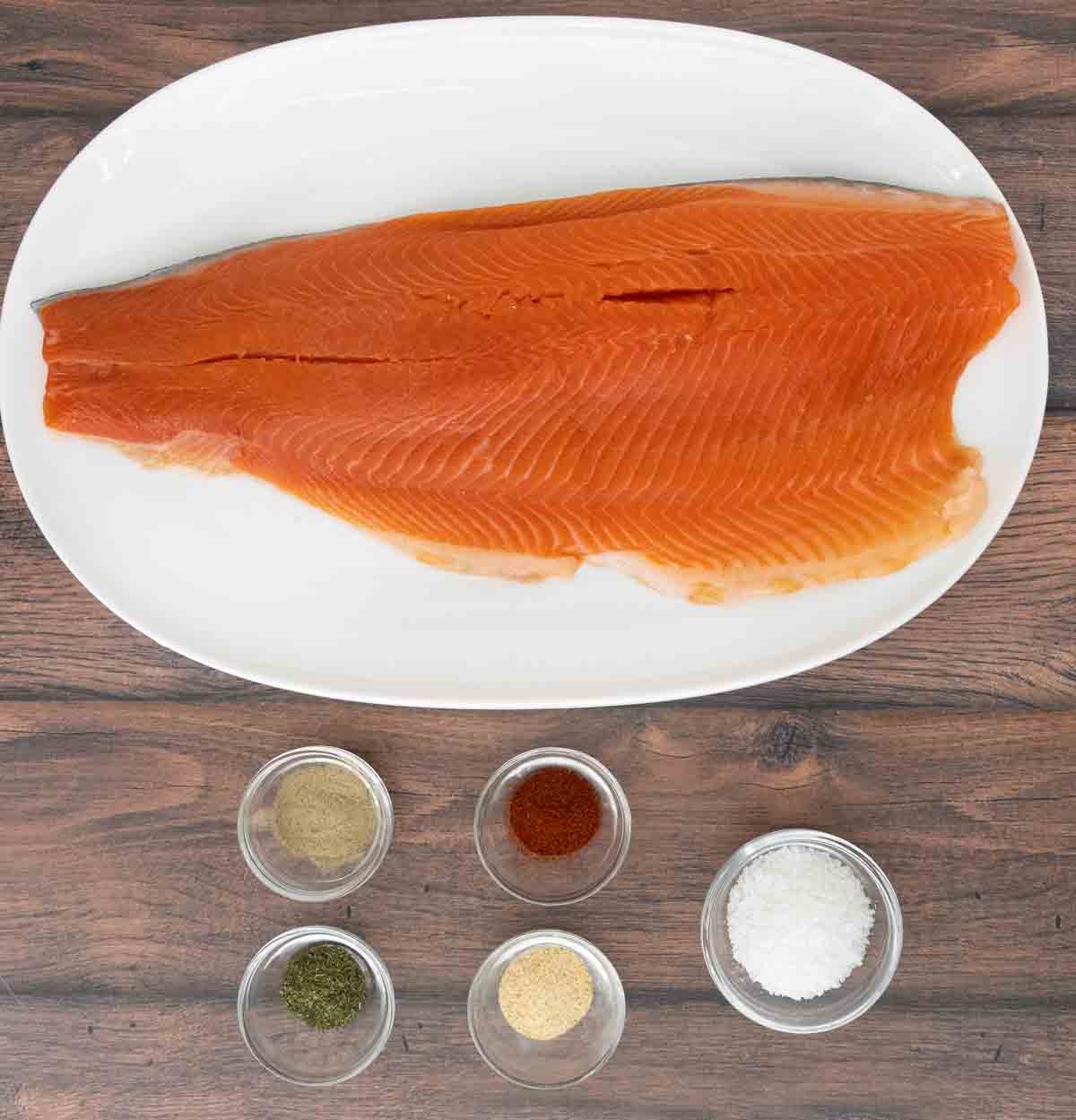 Let's start by gathering the ingredients we need to make smoked trout. In Chef Speak, this is called the "mise en place," which translates to "everything in its place."
Not only does setting up your ingredients ahead of time speed up the cooking process, it also helps ensure you have everything you need to make the dish.
Made With Simple Ingredients
Steelhead trout filet
Kosher salt
White pepper
Garlic powder
Fresh dill
Paprika
I like to use white pepper because of its light color, but it also adds a slight floral element to the trout — swap it out for black pepper if you prefer. You can also use additional seasonings that you enjoy, like onion powder or a seasoning blend.
I typically use sweet paprika, but if you want more smoke flavor, use smoked paprika instead. If you prefer a sweeter flavor, you can add brown sugar to the brine.
If you have large filets, you may need to increase the amount of seasoning. You want to be sure to have enough brine to cover the fish so that a proper pellicle can form.
Also, while I use steelhead trout, rainbow trout or brook trout are perfectly fine substitutions.
How to make Smoked Trout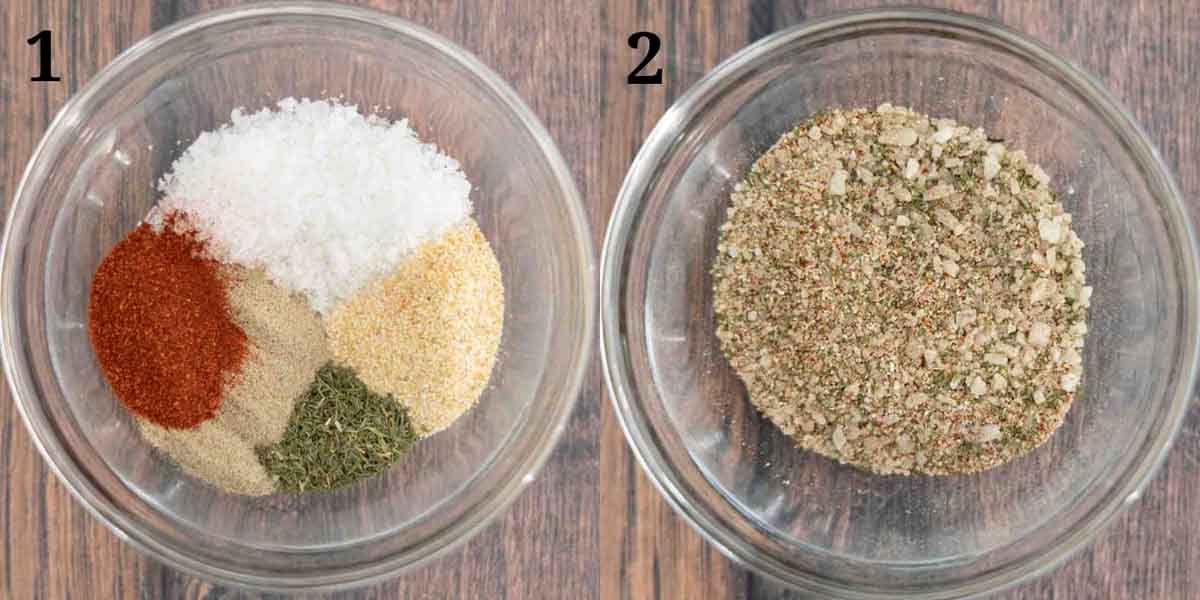 Add the kosher salt, garlic powder, dill, paprika, and white pepper to a small bowl.
Whisk the seasonings to combine the dry rub.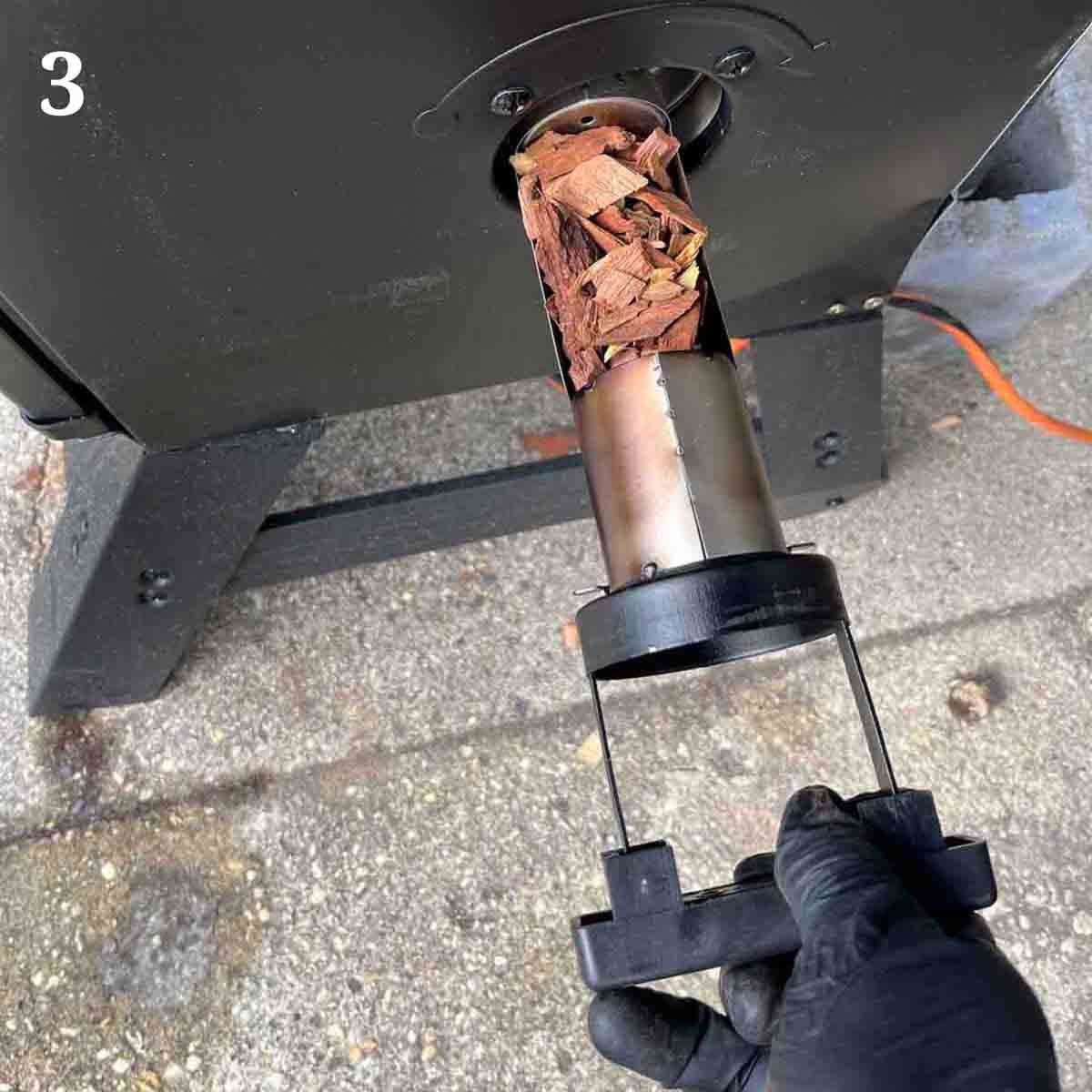 After preheating the smoker to 225 degrees Fahrenheit, add wood chips to the smoke tube. *I use Alder wood chips, but you can use any kind that you prefer, from hickory or maple to oak or fruitwood.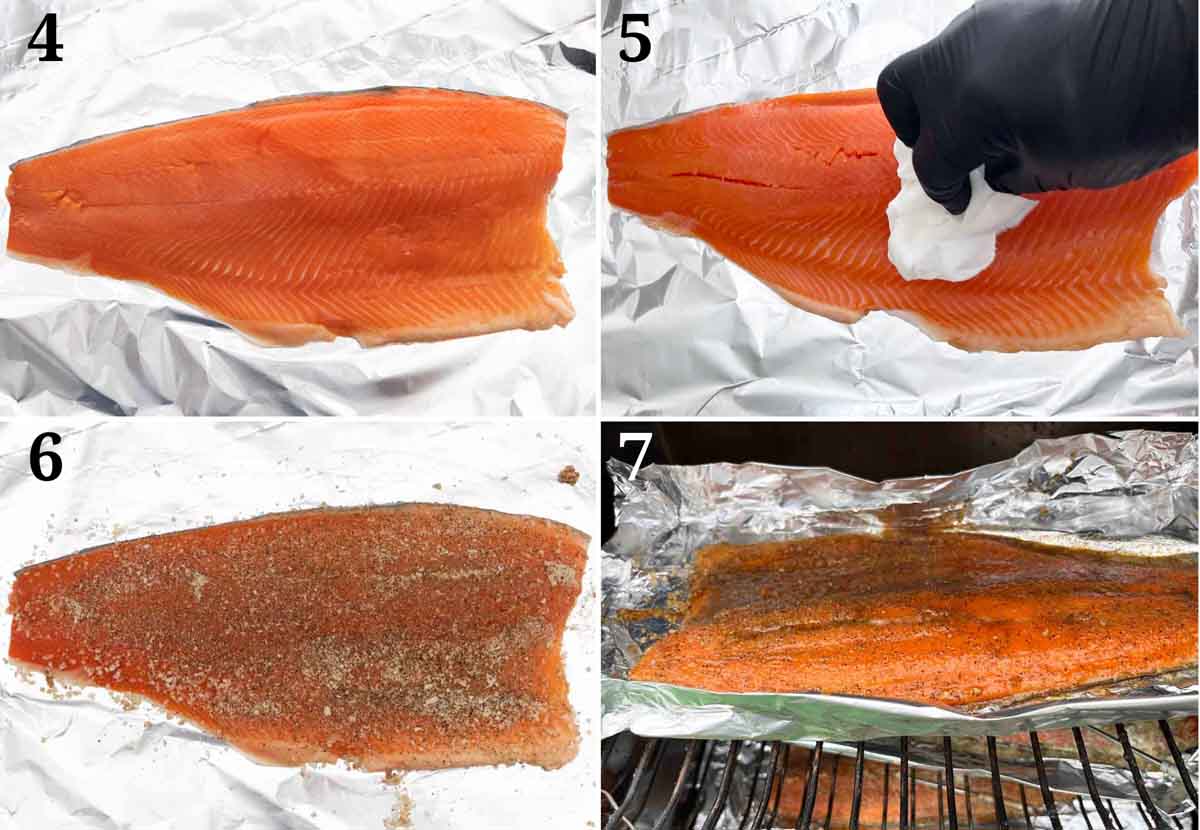 Prepare the foil by spraying it with non-stick cooking spray. You could also brush the aluminum foil with olive oil.
Place the fresh trout filet on a piece of aluminum foil with the skin side facing down.
Using paper towels, blot the trout to soak up any excess moisture. Then, apply the seasonings and allow the trout to rest for at least half an hour.
Place a thermometer into the filet before putting the trout on the smoker rack.
When the internal temperature of the fish has reached 140 degrees, remove it from the smoker and place it on a cooling rack.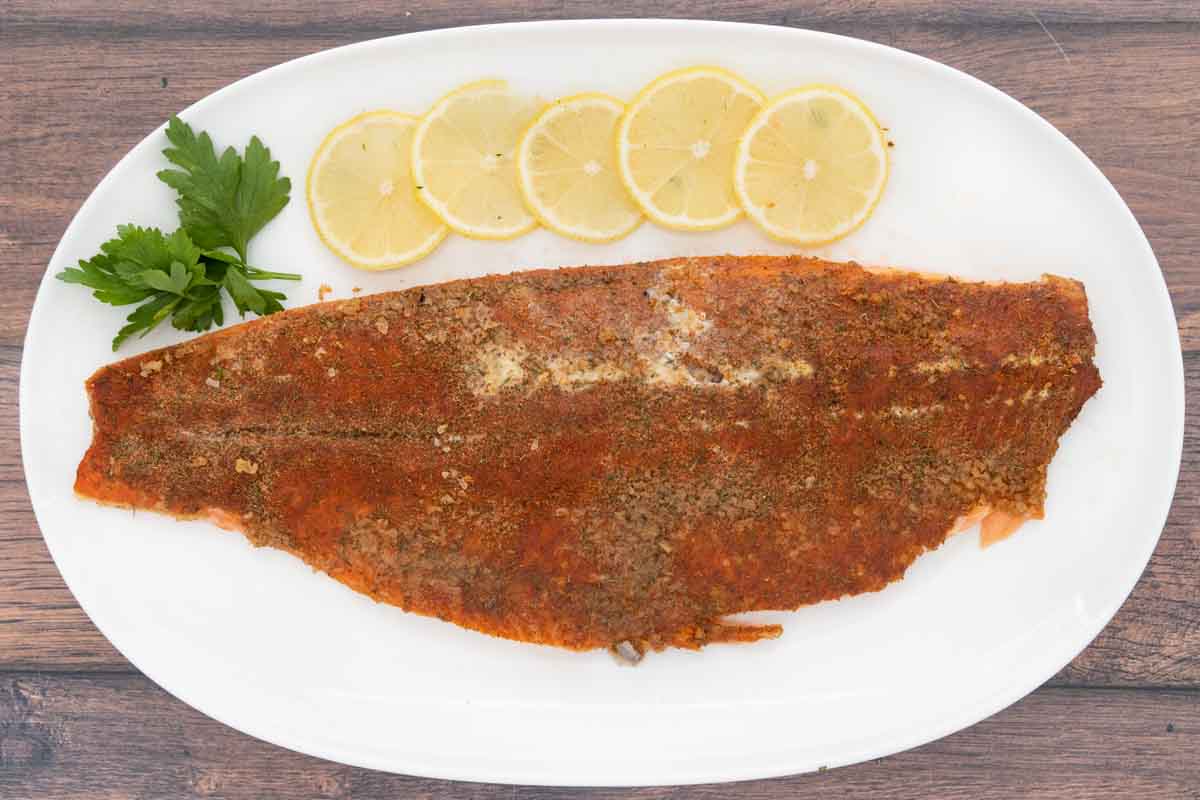 Allow the fish to rest for about 15 minutes before serving. This allows the juices to be absorbed by the flesh of the fish, resulting in a much more juicy and tender trout.
*The length of the smoking process may vary based on the size of your trout fillets. When smoking meats and fish, it's more important to focus on checking the internal temperature rather than focusing on an expected cook time.
Once it has reached room temperature, store leftover trout in an airtight container or wrapped in plastic wrap in the refrigerator for 3-4 days. You can reheat it, or you can eat it cold as well. You can also make a delicious smoked trout dip with the leftovers.
Recipe FAQ's
Is smoked trout good to eat?
Smoked trout is a tasty main dish, and it also makes for a good appetizer. Additionally, it's chock-full of healthy nutrients and not high in calories.
Does smoked trout taste like salmon?
Smoked trout is somewhat mild as compared to salmon. That said, they can be prepared in similar ways and used as substitutes for each other in recipes like dips and spreads. 
What's the best way to eat smoked trout?
You can serve smoked trout in a number of ways. It is an easy main dish, but you can also incorporate it into chowders and soups, serve it over salad, or mix it into a creamy base to make smoked trout dip.
More Recipes You'll Love!
Chef's Choice
Masterbuilt 30-inch Digital Electric Smoker
An electric smoker takes all the work out of smoking your favorite meats and seafood. This is the smoker I use for all my recipes.
Buy On Amazon
This post includes affiliate links. As an Amazon Associate, I earn from qualifying purchases.
09/25/2023 03:48 pm GMT
Chef's Choice
ThermoPro Twin Wireless Meat Thermometer
I love the ThermoPro wireless meat thermometers. The easy to use app makes it easy to track the temperatures of the meats and seafood your cooking.
Buy On Amazon
This post includes affiliate links. As an Amazon Associate, I earn from qualifying purchases.
09/25/2023 04:04 pm GMT
Top Choice
Western BBQ Smoking Wood Chips Variety Pack
You get a great variety of wood chips with this starter pack. You get one bag of apple, cheery, mesquite, and hickory wood chips in each variety pack.
Buy On Amazon
This post includes affiliate links. As an Amazon Associate, I earn from qualifying purchases.
09/25/2023 03:53 pm GMT
Chef's Choice
Heat Resistant Oven Gloves & Grilling Gloves
These gloves take all the worry out of handling hot foods. These are perfect for grilling, smoking or removing pans from the oven.
Buy On Amazon
This post includes affiliate links. As an Amazon Associate, I earn from qualifying purchases.
09/25/2023 04:08 pm GMT