If your looking for the best fall-off-the-bone Smoked Baby Back Ribs, look no further. You're going to love my easy smoked baby back ribs recipe.
Using simple ingredients for the dry rub, and cooked low, my recipe will reward you with tender, juicy ribs with a smoky flavor, that will have your friends and family begging for more!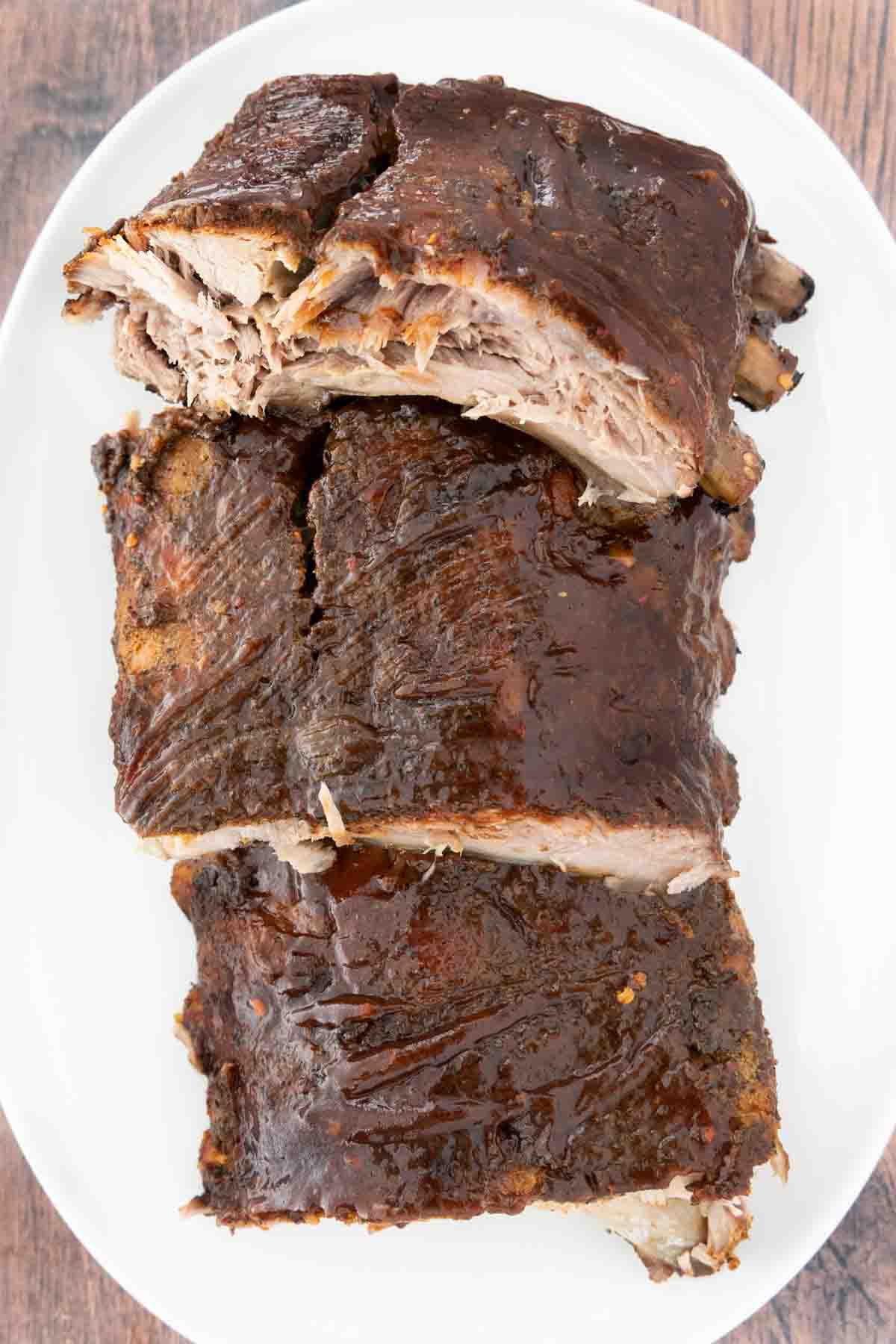 My easy smoking process creates delicious bone tender, smoked baby back ribs every time. With minimal prep work, all you need is time. The cooking process takes about six hours, so make sure to give yourself enough time to make the magic happen — I promise it will be worth it.
I've also got an easy recipe for smoked St.Louis Style ribs, if you prefer that style of ribs.
Ingredients to make Smoked Baby Back Ribs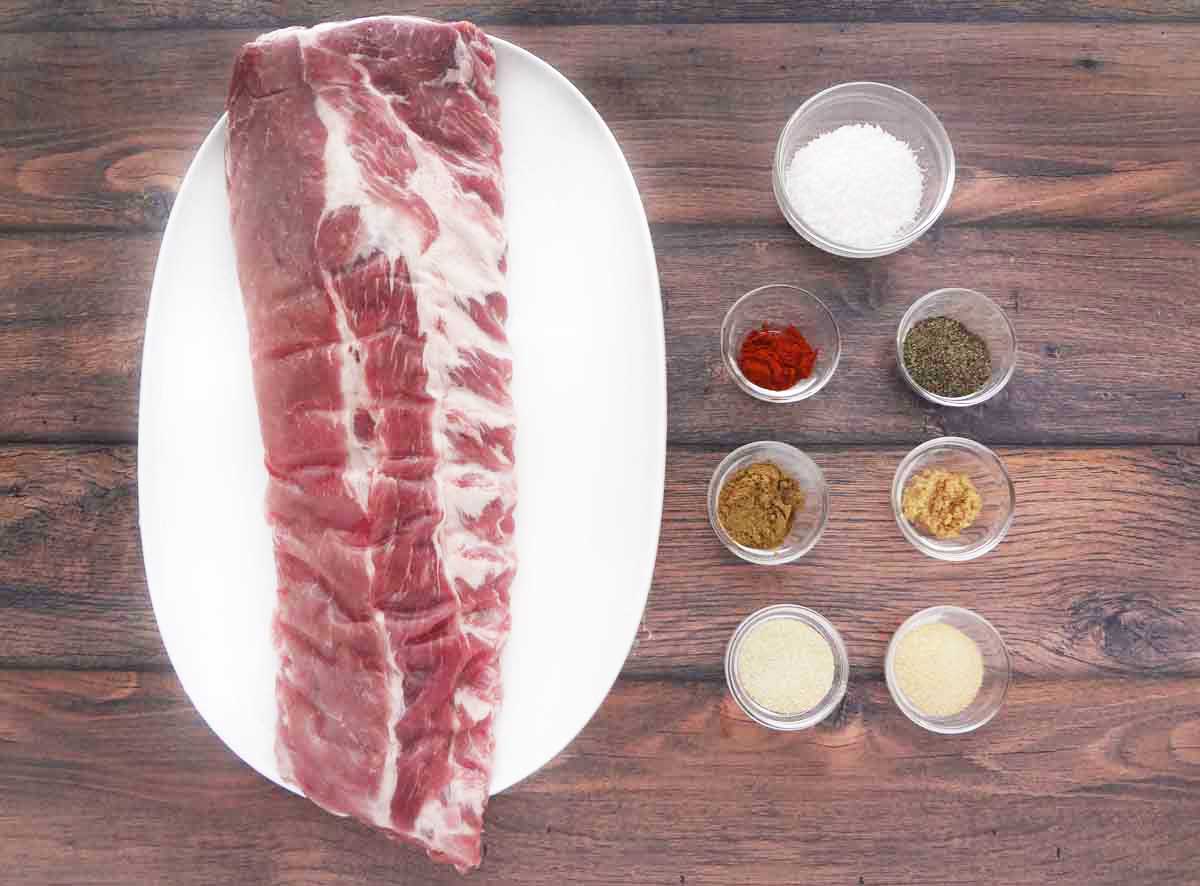 Let's start by gathering the ingredients we need to make Smoked Baby Back Ribs. In Chef Speak, this is called the "Mise en Place," which translates to "Everything in its Place."
Not only does setting up your ingredients ahead of time speed up the cooking process, it also helps ensure you have everything you need to make the dish.
Can I use other spices in my dry rub?
Yes, you can. The key to making delicious smoked ribs that you and your family will love is to use seasonings that you enjoy eating. Changing up the spices in this simple dry rub is easy and definitely something you can do each time you prepare smoked ribs, beef, or chicken.
Other seasonings you could add to your spice rub are cumin, chili powder, dry oregano, ground ginger, turmeric, and coriander.
You can also use your favorite seasoning blend. Cajun seasoning, jerk seasoning, barbecue seasoning, and Old Bay can be used instead of making your own dry rub.
What are Baby Back Ribs?
Baby back ribs, also known as back ribs or loin ribs, come from the section of a pig's rib cage that is closest to the backbone beneath the loin muscle. They're called "baby" because they are shorter than spare ribs, not because they come from a young pig.
Baby back ribs are the most popular style of ribs for home barbecues and restaurants since they are the more well-known style. They are typically smaller, more curved, and meatier than spare ribs. The meat between the bones is tender and lean, making them a favorite choice for many rib lovers.
These ribs are typically prepared by smoking, grilling, or baking and are usually finished with barbecue sauce.
How to make the perfect rack of ribs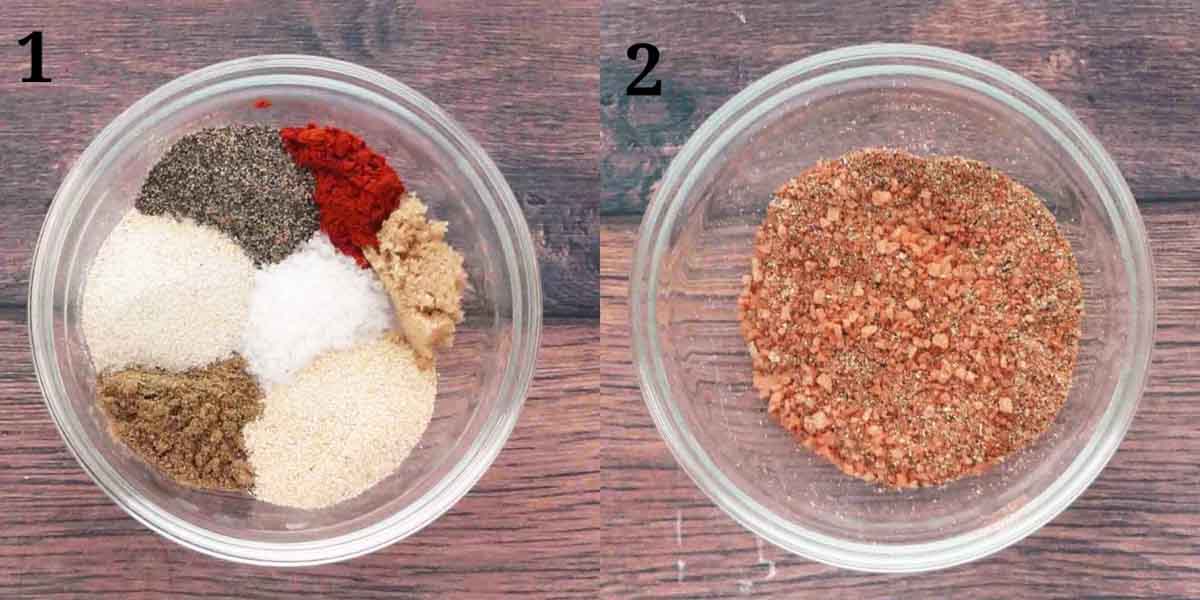 Add the kosher salt, garlic powder, onion powder, black pepper, ground cumin, brown sugar, and sweet paprika to a small bowl.
Mix the pork rub ingredients together until well blended.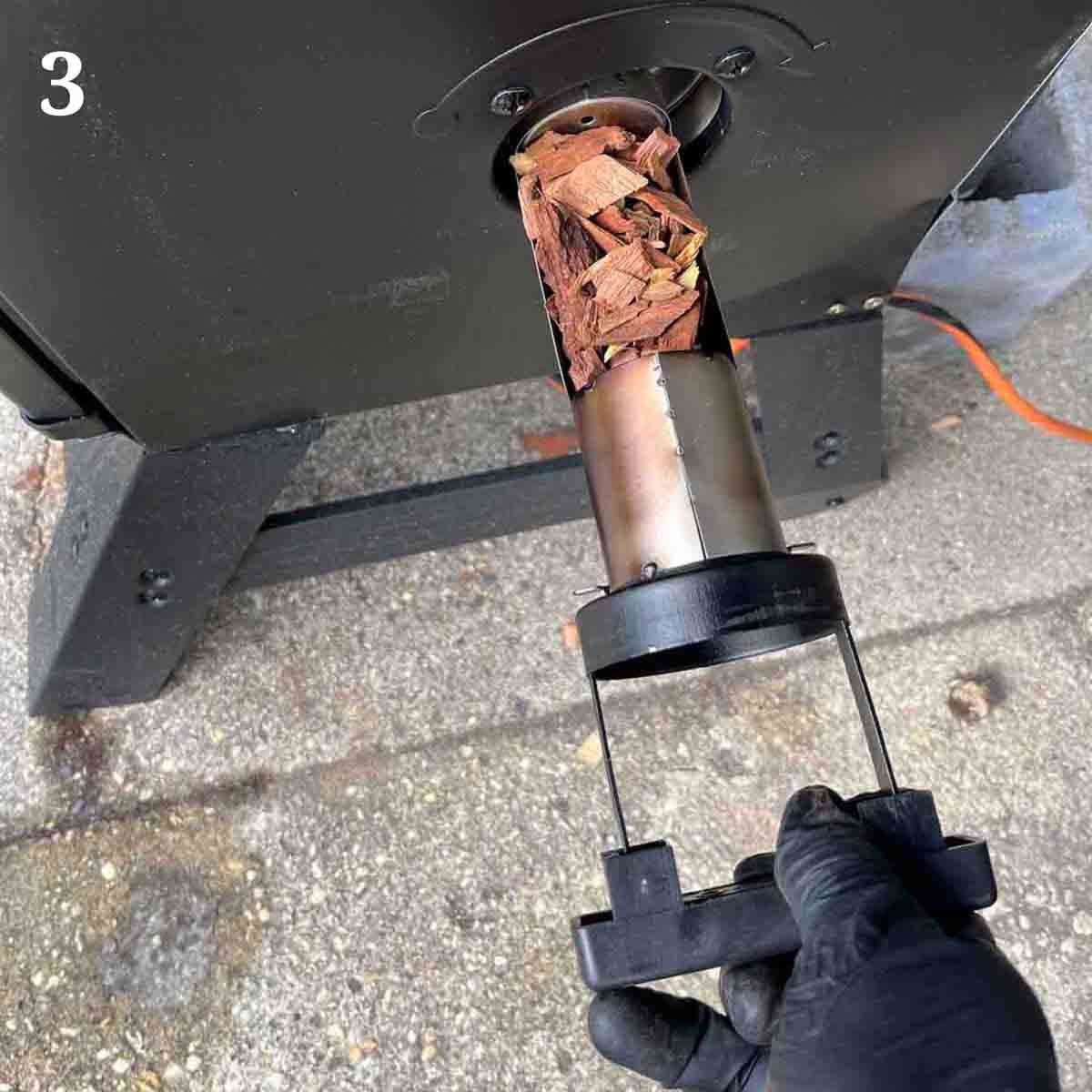 Preheat the smoker to 250 degrees.
Put wood chips in the smoker tube. Use your favorite flavor of wood chip; I used Mesquite for my smoked baby back ribs.
*I love my electric smoker, but you can also use a pellet smoker, charcoal grill, propane smoker, or grill to create delicious smoked meats; it's a personal preference.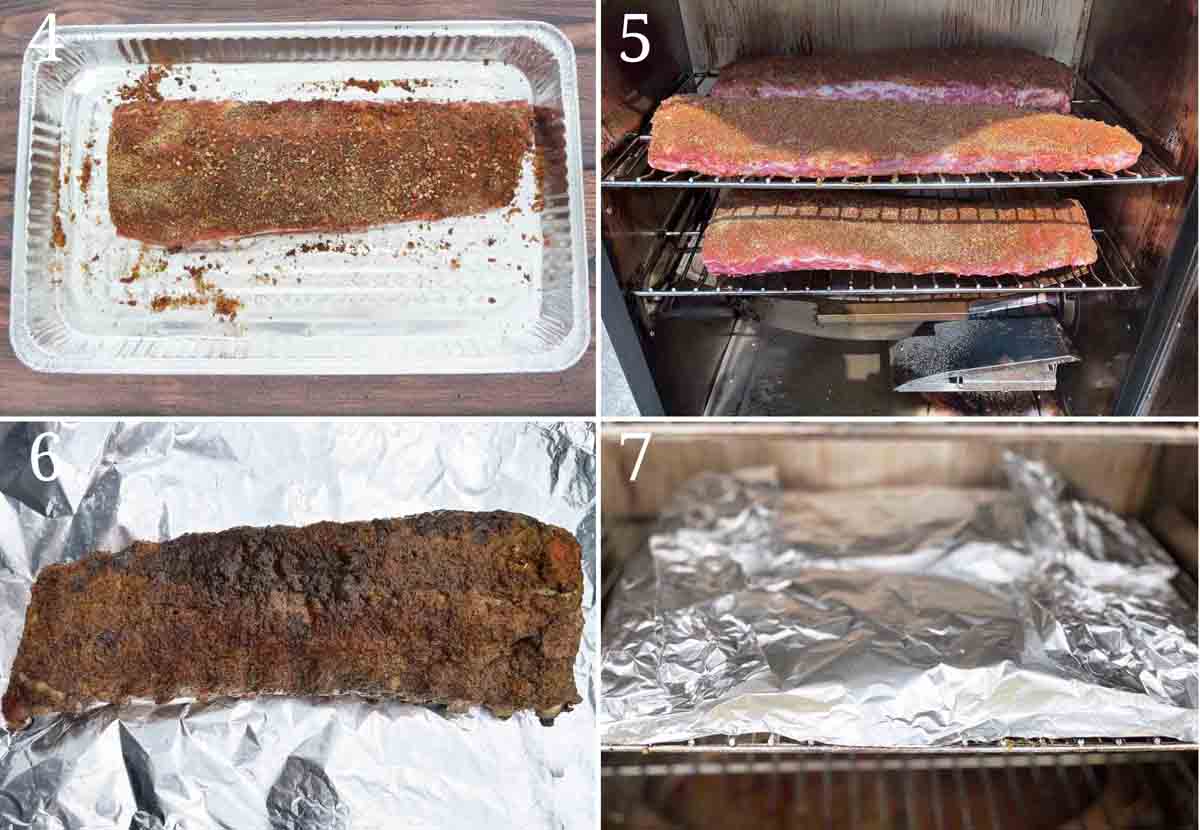 Rub the racks of ribs with olive oil (the oil helps the dry rub penetrate the meat more fully). Then spread the dry rub generously over the front, sides, and back of the ribs for a well-balanced flavor.
*If time permits, let the ribs marinate for at least a half hour before placing them in the smoker. This gives the rub time to soak into the skin and meat. It also gives the meat time to come to room temperature before beginning the smoking process. This helps the meat cook more evenly.
Place the ribs bone side down on a smoker rack of your preheated smoker and let them cook for 2 hours.
After 2 hours of smoking, remove the ribs from the smoker and wrap them in heavy-duty aluminum foil.
Return the foil-wrapped ribs to the smoker and cook for an additional 2.5 hours or until a meat thermometer inserted into the thickest part of the ribs reaches an internal temperature of 200 degrees Fahrenheit.
*Cooking time can vary depending on the weight of the racks.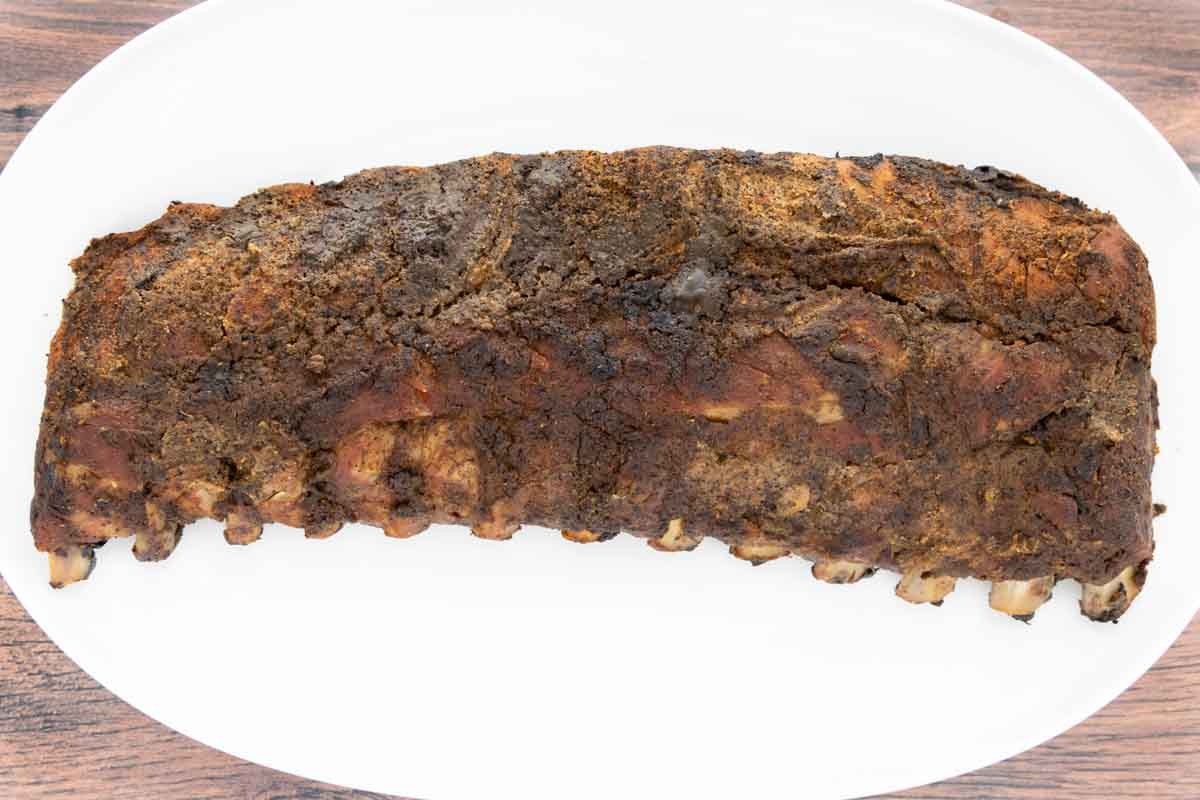 Remove the baby back ribs from the smoker and carefully open the foil pack. If you're not a fan of barbecue sauce, let the rack rest for 15-30 minutes, and you're ready to go.
But if you enjoy the flavor that barbecue sauce adds to the ribs, slather the top of the ribs (on the meaty side) with your favorite bbq sauce (or try my semi-homemade barbecue sauce) and return them to the smoker for an additional 30 minutes.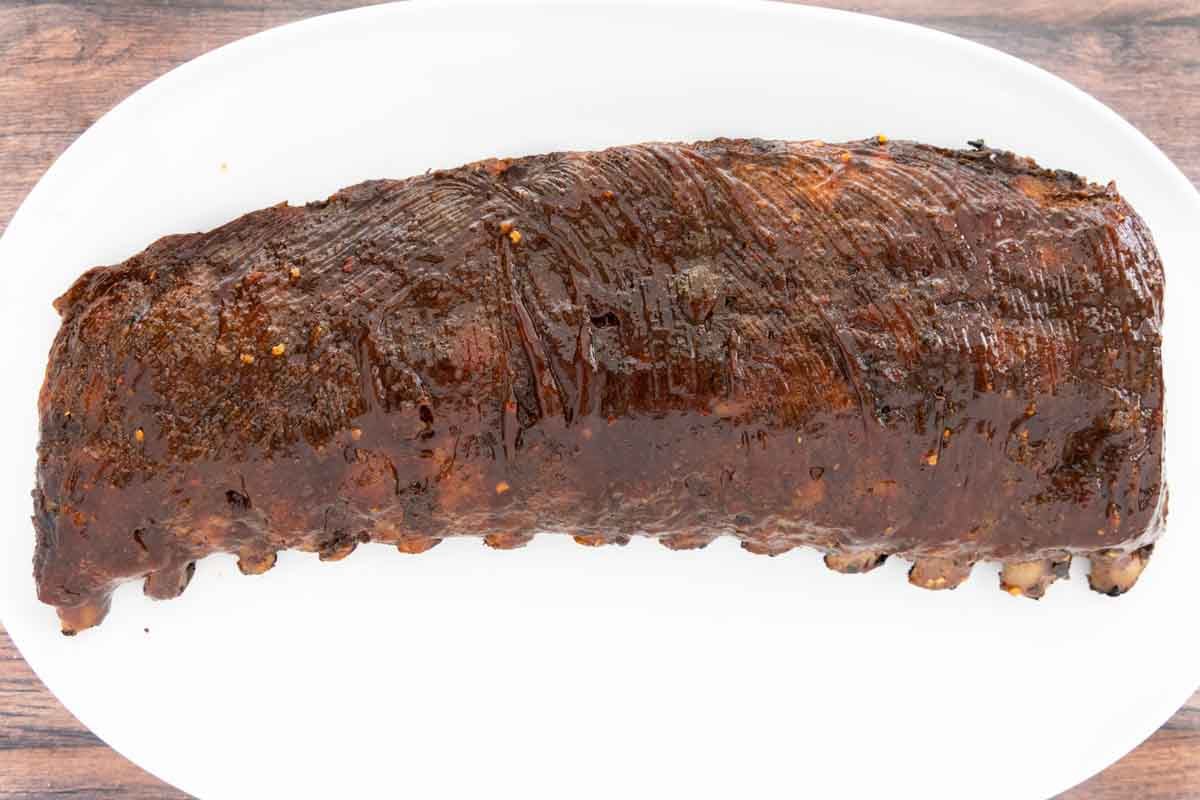 Let the ribs rest for 15-30 minutes before cutting, and serve with your favorite side dishes. My coleslaw and macaroni salad are two of the sides I like to serve with my smoked baby back ribs.
You can also serve sauteed greens, corn on the cob, potato salad, garden salad, or Ceasar salad.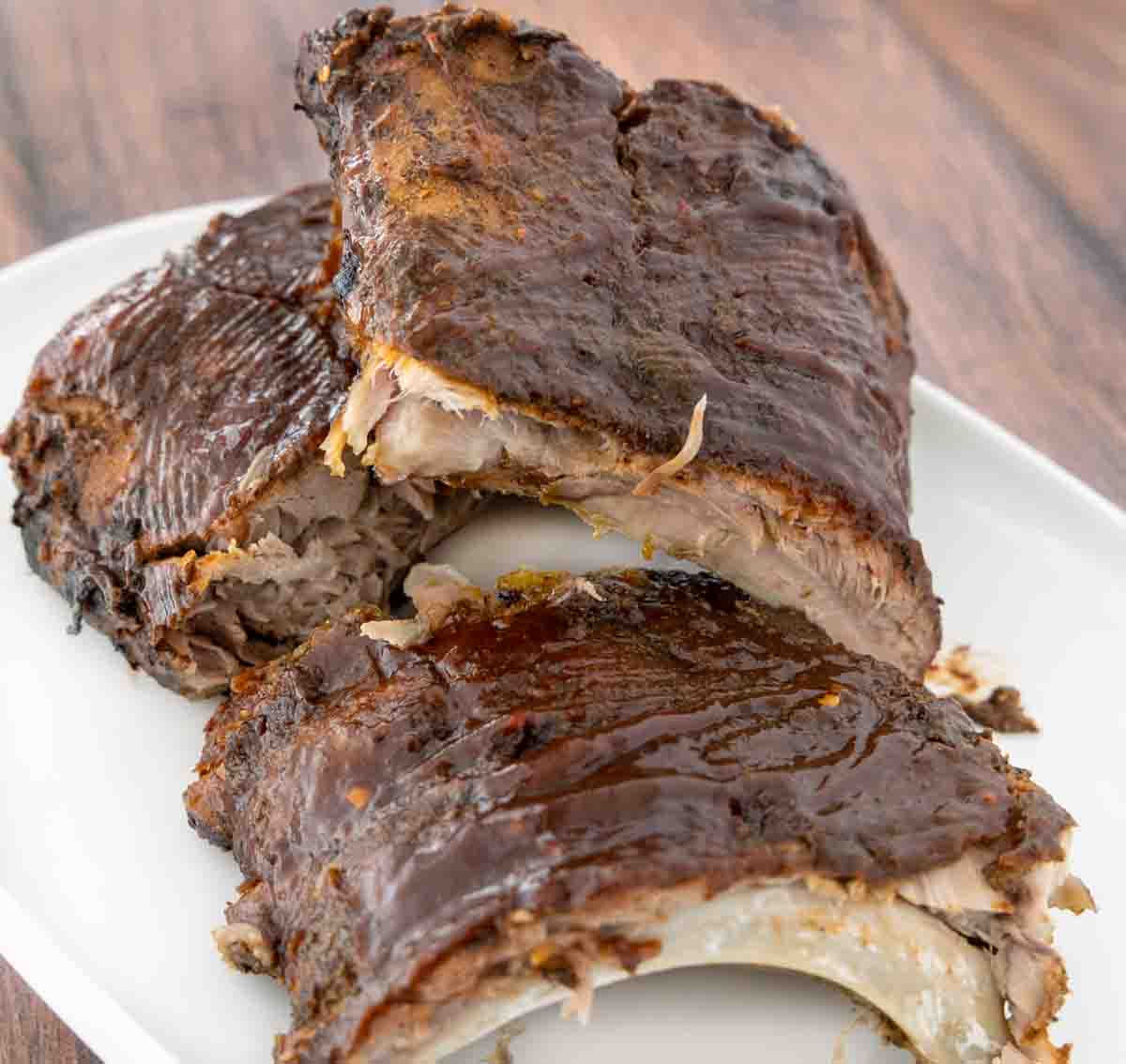 When it comes to barbecue, you can't beat smoked meats, and an electric smoker takes all the work out of preparing your favorite smoked recipes.
All you need is time and a few basic seasonings to make the best ribs you ever had!
Recipe FAQ's
How long does it take to smoke ribs?
Smoking ribs at 200 degrees will take 7-8 hours to cook. Smoking ribs at 225 degrees will take 6-7 hours. Smoking ribs at 250 degrees will take 5-6 hours.
Depending on which type of smoker you use and how thick the meat is will play a part in how long it takes to cook the ribs.
Should I smoke ribs at 225 or 250?
Most pitmasters agree that 250°F is the ideal smoking temperature for ribs. Smoking at lower temperatures will take longer for the ribs to cook and can result in tough, chewy meat.
However, too high a temperature can cause the ribs to dry out quickly. Preferred smoking temperatures range between 225° and 275° Fahrenheit, with 250° Fahrenheit as the sweet spot.
Do smoked baby back ribs need to rest?
Yes, for the best results, they do need to rest. Since the smoking process takes 5-6 hours, the ribs should rest from 15-30 minutes before serving
How do you keep ribs moist while smoking?
You can spritz the ribs periodically using a spray bottle filled with a mixture of apple juice or water and apple cider vinegar. Allow the ribs to smoke for about an hour and a half before spritzing the first time — then spritz every half hour.
More Recipes You'll Love!
Chef's Choice
Masterbuilt 30-inch Digital Electric Smoker
An electric smoker takes all the work out of smoking your favorite meats and seafood. This is the smoker I use for all my recipes.
Buy On Amazon
This post includes affiliate links. As an Amazon Associate, I earn from qualifying purchases.
09/28/2023 03:58 pm GMT
Chef's Choice
ThermoPro Twin Wireless Meat Thermometer
I love the ThermoPro wireless meat thermometers. The easy to use app makes it easy to track the temperatures of the meats and seafood your cooking.
Buy On Amazon
This post includes affiliate links. As an Amazon Associate, I earn from qualifying purchases.
09/28/2023 04:18 pm GMT
Top Choice
Western BBQ Smoking Wood Chips Variety Pack
You get a great variety of wood chips with this starter pack. You get one bag of apple, cheery, mesquite, and hickory wood chips in each variety pack.
Buy On Amazon
This post includes affiliate links. As an Amazon Associate, I earn from qualifying purchases.
09/28/2023 04:08 pm GMT
Chef's Choice
Heat Resistant Oven Gloves & Grilling Gloves
These gloves take all the worry out of handling hot foods. These are perfect for grilling, smoking or removing pans from the oven.
Buy On Amazon
This post includes affiliate links. As an Amazon Associate, I earn from qualifying purchases.
09/28/2023 04:23 pm GMT