Smoked Chuck Roast is one of my favorite cuts of beef to make in my smoker. It yields tender, juicy meat full of rich beef flavor, with a hint of smoke flavor. It's a great alternative to higher priced cuts of meat and is guaranteed to bring smiles to your dinner table.
You're going to love my easy smoked chuck roast recipe. With just a few minutes of prep, all you need to do is wait for the deliciousness!
My easy smoked chuck roast recipe makes delicious tender beef sandwiches. Add Alabama white sauce or your favorite barbecue sauce and you've got a sandwich you're whole family will love!
Ingredients to make Smoked Chuck Roast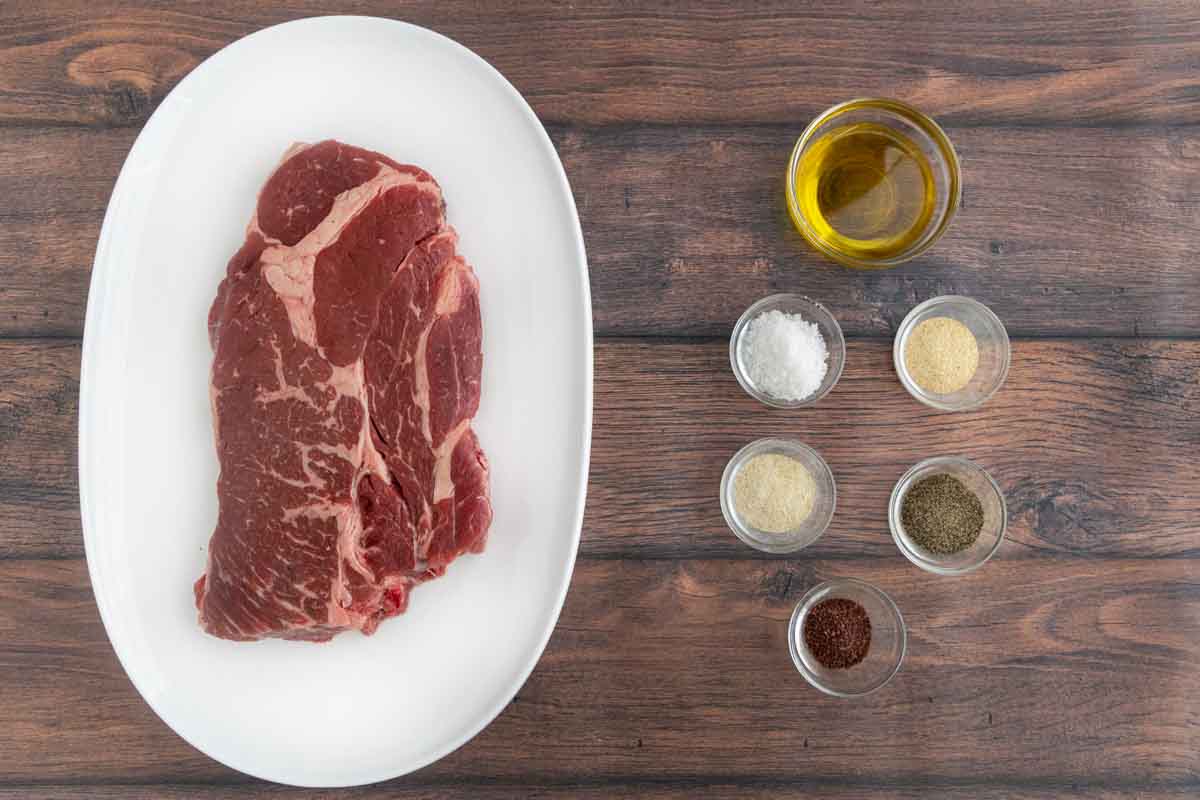 Let's start by gathering the ingredients we need to make Smoked Chuck Roast. In Chef Speak, this is called the "Mise en Place," which translates to "Everything in its Place."
Not only does setting up your ingredients ahead of time speed up the cooking process, it also helps ensure you have everything you need to make the dish.
Made with simple ingredients
Beef chuck roast
Extra virgin olive oil
Kosher salt (or coarse sea salt)
Coarse black pepper (restaurant style)
Garlic powder
Onion powder
Sumac
Beef broth
Can I use other seasonings in my dry rub?
Yes, you can. The key to making delicious smoked meats that you and your family will love is to use seasonings that you enjoy eating. Changing up the spices in this simple dry rub is easy and definitely something you can do each time you prepare smoked beef, pork, or chicken.
Other seasonings you could add to your spice rub are cumin, chili powder, cayenne pepper, ground ginger, turmeric, and coriander. You can also use your favorite seasoning blend. Cajun seasoning, jerk seasoning, barbecue seasoning, and Old Bay seasoning can be used instead of making your own dry rub. You can also add brown sugar to the seasonings to make a sweet rub.
What is a Chuck Roast?
A chuck roast is a larger cut of meat that comes from the shoulder area of the cow. Although it's a tougher cut of meat with connective tissue, but it's also well-marbled with fat, which contributes to its tenderness and enhances the rich beef flavor during the cooking process.
This makes it a popular choice for slow cooker recipes that call for braising, roasting, or stewing meat.
This cut is also referred to as "chuck pot roast" and is often used for preparing classic dishes like pot roast, beef stew, and pulled beef.
How to make Smoked Chuck Roast
Add the kosher salt, garlic powder, onion powder, black pepper, and sumac to a small bowl.
Mix the dry rub ingredients together until well blended.
Trim any excess fat off the chuck roast.
Pat dry the meat with paper towels.
Rub the chuck roast with olive oil (the oil helps the beef rub penetrate the meat more fully). Then spread the dry rub generously on top and sides of the beef roast for a well-balanced flavor.
*If time permits, let the beef marinate for at least a half hour before placing it in the smoker. This gives the rub time to soak into the surface of the meat. It also gives the meat time to come to room temperature before beginning the smoking process. This helps the beef cook more evenly.
Preheat the smoker to 250 degrees F.
Add the wood chips of your choice to the smoker. I used pecan chips for the chuck roast. Oak, Pecan, Hickory, and Mesquite are traditionally used to smoke chuck roast.
You will have to reload the wood chips, so check the tube after two and replace the wood chips as needed.
Place the chuck roast on a smoker wire rack with a drip pan underneath it. And let the beef cook until it reaches an internal temperature of the meat reaches 165 degrees F. (Make sure to use a meat thermometer or temperature probe to monitor the temperature of the meat).
Remove the chuck roast from the smoker and place it in a disposable foil pan.
Add the beef broth to the pan, and cover it tightly with aluminum foil, then return the pan to the smoker.
An important thing to remember is the best results are achieved by cooking to temperature, not to time. You're cooking the beef until the internal temperature has been reached. Cook time may vary depending on the size of the roast and the type of smoker you are using.
The smoking process for this recipe can also be used with a Traeger grill, pellet smoker, propane smoker, or charcoal grill using indirect heat.
This recipe can also be made in the oven. For the smoky flavor, add a little liquid smoke to the beef broth in the last step of the cooking process.
Chef Tip
If you want to serve sliced chuck roast that resembles sliced brisket, cook the meat until you get an internal temperature of 195° F, For pulled beef cook the meat to an internal temperature of 205° F.
When the chuck roast reaches an internal temperature of 200-205 degrees remove it from the smoker, tent it with aluminum foil and give it a resting perios of 30 – 60 minutes before slicing.
This gives the juices time to reabsorb and distribute through the meat.
Chuck roast is not the prettiest cut of beef, but when cooked low and slow it's one of the most flavorful cuts of beef. It can be used for sandwiches, tacos, or served sliced with a chimichurri sauce.
Recipe FAQ's
Can I use the smoked chuck roast for pulled beef?
Absolutely! Once the chuck roast is fully cooked and reaches the desired internal temperature, you can let it rest for a little while before pulling it apart. The low and slow cooking process will have rendered the meat tender, making it perfect for shredding and serving as pulled beef.
Are there any other ways to smoke a chuck roast?
While traditional smoking is the most popular way to smoke beef, you can also experiment with different methods like reverse-searing or using a smoker attachment on a grill. Reverse-searing involves smoking the roast at a lower temperature until it's almost done, then finishing it off with a quick sear over high heat to create a flavorful crust.
What is the best temperature to smoke a chuck roast?
For smoking a chuck roast, you'll want to maintain a smoker temperature of around 225°F to 250°F. This low and slow cooking method will help the meat become tender and flavorful.
Chef's Choice
Masterbuilt 30-inch Digital Electric Smoker
An electric smoker takes all the work out of smoking your favorite meats and seafood. This is the smoker I use for all my recipes.
Buy On Amazon
This post includes affiliate links. As an Amazon Associate, I earn from qualifying purchases.
09/28/2023 03:58 pm GMT
Chef's Choice
ThermoPro Twin Wireless Meat Thermometer
I love the ThermoPro wireless meat thermometers. The easy to use app makes it easy to track the temperatures of the meats and seafood your cooking.
Buy On Amazon
This post includes affiliate links. As an Amazon Associate, I earn from qualifying purchases.
09/28/2023 04:18 pm GMT
Top Choice
Western BBQ Smoking Wood Chips Variety Pack
You get a great variety of wood chips with this starter pack. You get one bag of apple, cheery, mesquite, and hickory wood chips in each variety pack.
Buy On Amazon
This post includes affiliate links. As an Amazon Associate, I earn from qualifying purchases.
09/28/2023 04:08 pm GMT
Chef's Choice
Heat Resistant Oven Gloves & Grilling Gloves
These gloves take all the worry out of handling hot foods. These are perfect for grilling, smoking or removing pans from the oven.
Buy On Amazon
This post includes affiliate links. As an Amazon Associate, I earn from qualifying purchases.
09/28/2023 04:23 pm GMT
More Recipes You'll Love!