My Smoked Beef Brisket Recipe will make your local pitmaster jealous! My smoked brisket yields a delicious, tender, moist beef that almosts melts in your mouth. Perfectly seasoned the smoky flavor of the brisket will put a smile on your fave with every bite you take!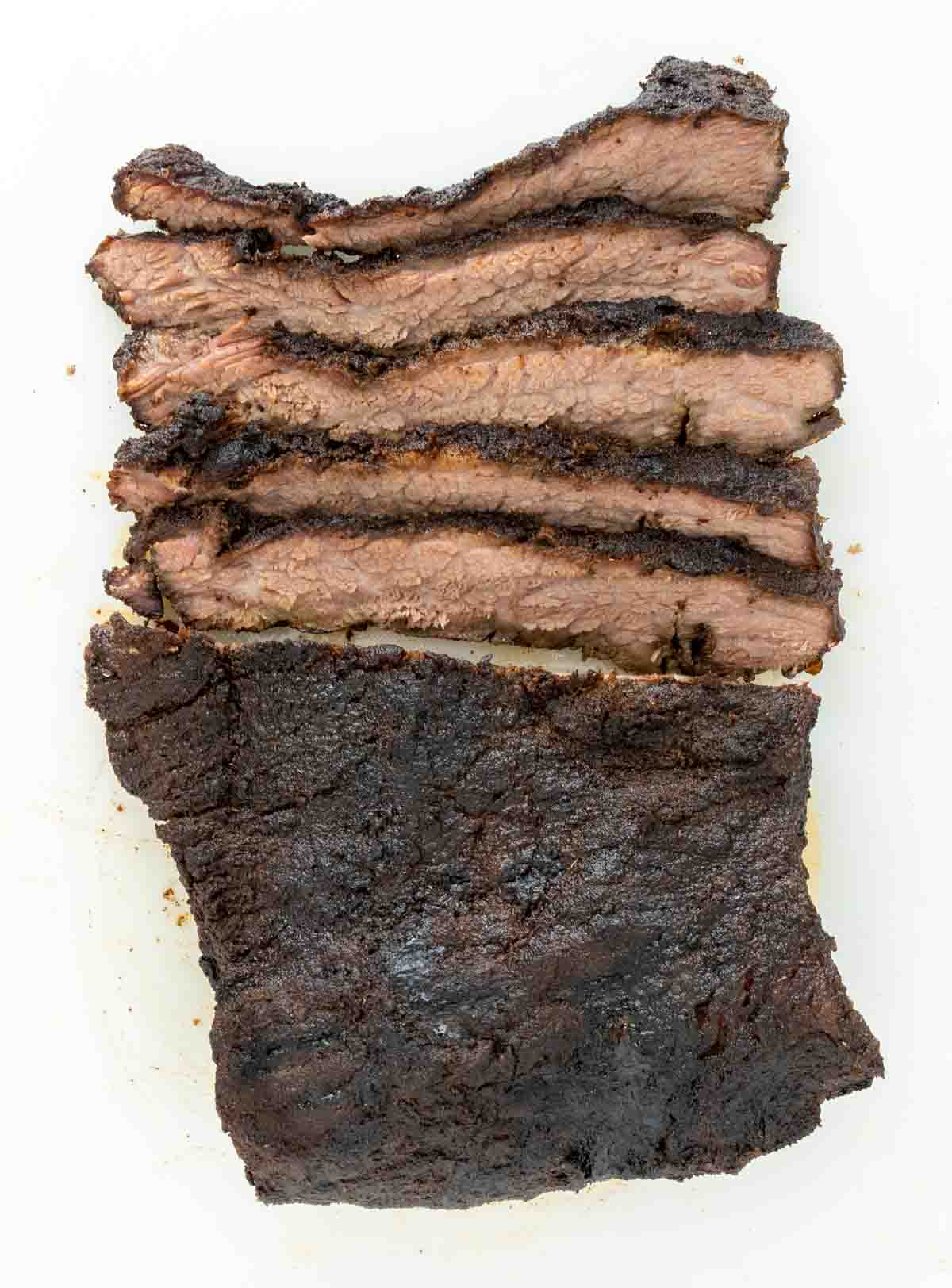 Don't let anyone tell you that smoking brisket at home it too difficult. Although it may be time consuming, making perfect smoked brisket at home smoker is really pretty easy to do.
Using my smoked brisket recipe you can be sure that you'll end up with a moist, flavorful brisket every time.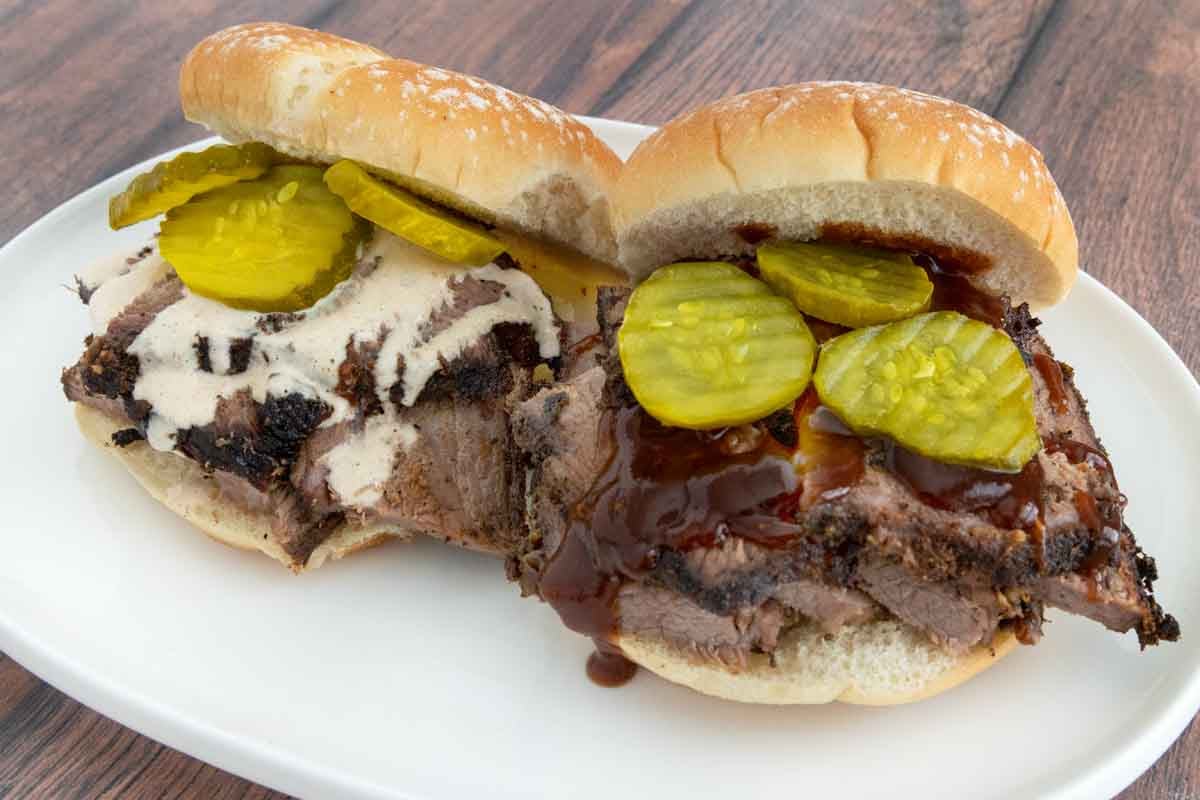 A full packer's brisket is 15-17 pounds of beef and the price tag can make smoking this hunk of meat a little intimidating. But my time-tested method will help you achieve perfect results every time using my simple recipe for the long smoke process.
If you love delicious barbecued smoked meat sandwiches, make sure to try my Smoked Pulled Pork recipe.
Ingredients for Smoked Beef Brisket Recipe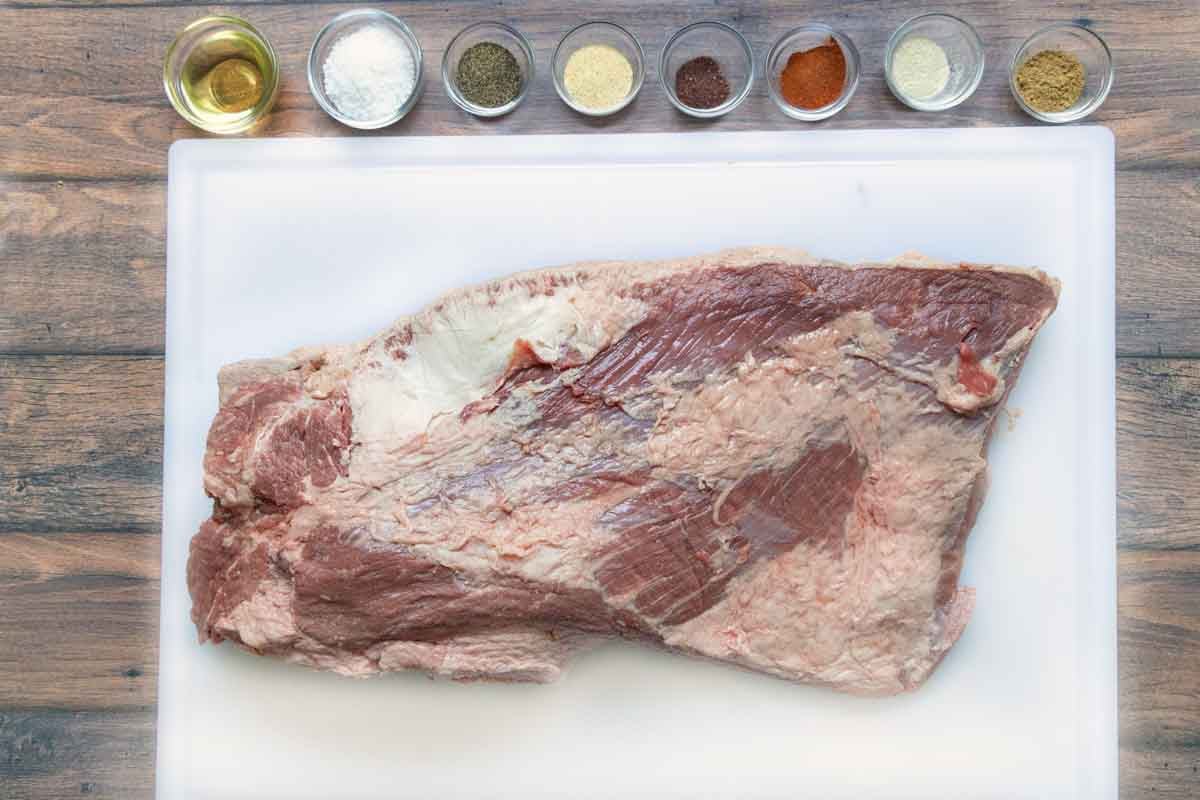 Let's start by gathering the ingredients we need to make Smoked Beef Brisket Recipe. In Chef Speak, this is called the "Mise en Place," which translates to "Everything in its Place."
Not only does setting up your ingredients ahead of time speed up the cooking process, it also helps ensure you have everything you need to make the dish.
Made with simple ingredients
Beef brisket – whole packer brisket, flat cut or point cut.
Kosher salt – or coarse sea salt
Garlic powder
onion powder
Black pepper
Sweet paprika – or smoked paprika
Cumin
Sumac
Can I add other seasonings to my dry rub?
You certainly can. You can actually eliminate all of the seasoning, except for the kosher salt and black pepper. Other seasonings you can add are chili powder, and dried oregano. For a touch of heat, add cayenne pepper. Add brown sugar for a little sweetness.
Do I have to use a whole packer brisket?
No, you don't. And basically it comes down to what is availalbe at your local grocery store. Sometimes the only option is a flat cut. You can also check the big box stores like Sam's club or Costco, they sometimes carry different cuts.
But if your feeding a crowd, packer briskets are the best choice.
How to make Smoked Beef Brisket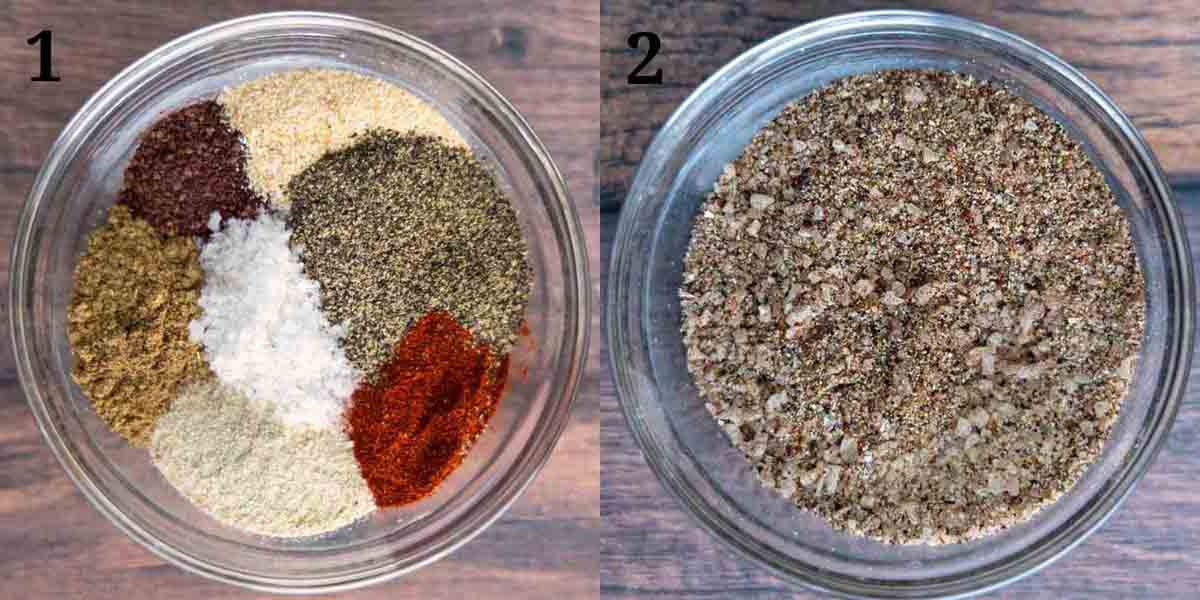 Add the seasonings to a small bowl.
Whisk to combine, then set aside until needed.
If you are smoking just the flat or just the point, and not a whole packer brisket, cut the dry rub seasoning recipe in half.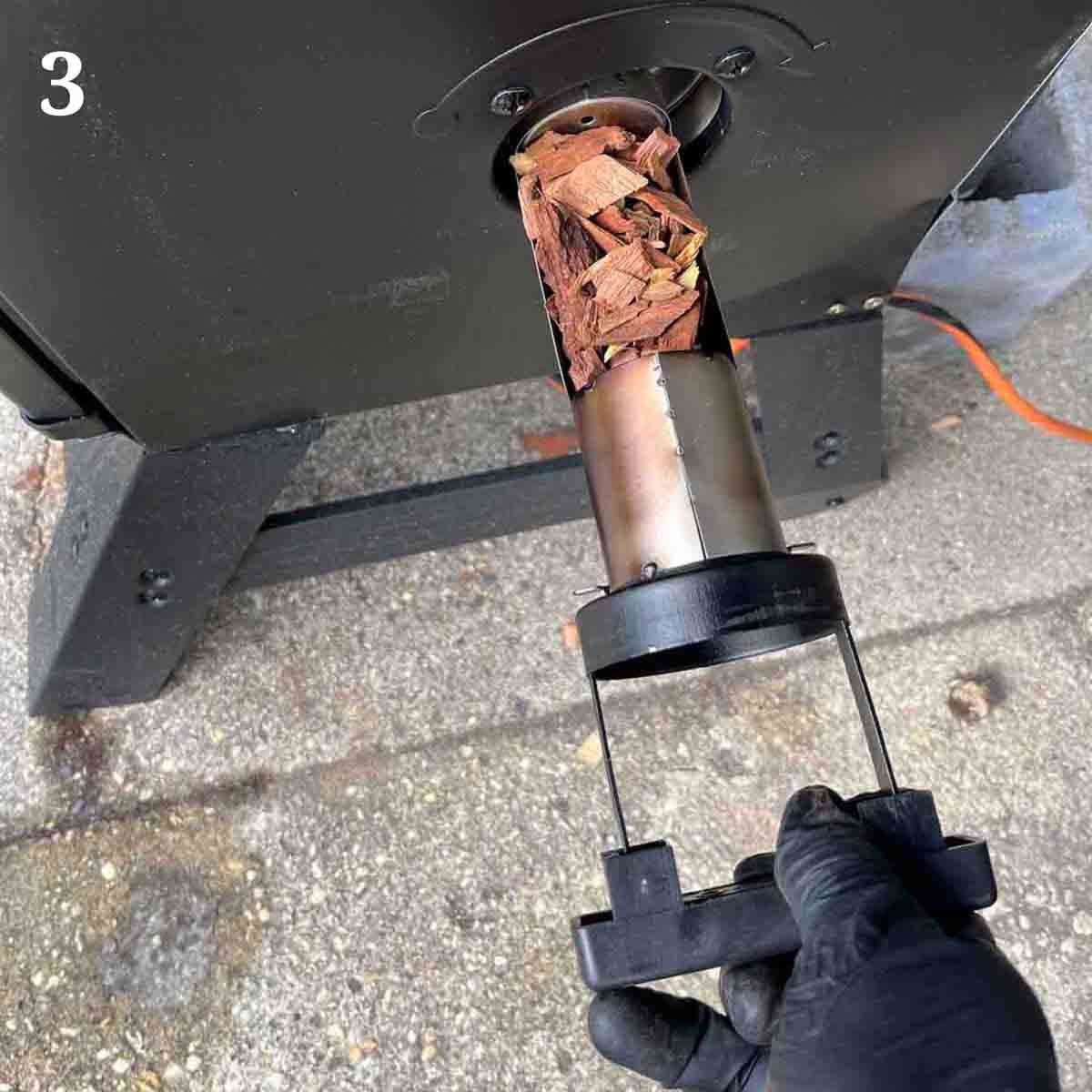 When you pull the seasoned brisket out of the refrigerator to come to room temperature preheat the smoker.
When the smoker has reached 225 degrees Fahrenheit add the wood chips to the smoker tube.
I used an electric smoker to make this recipe, but you can also use a pellet grill, pellet smoker, charcoal or propane smoker to make great brisket.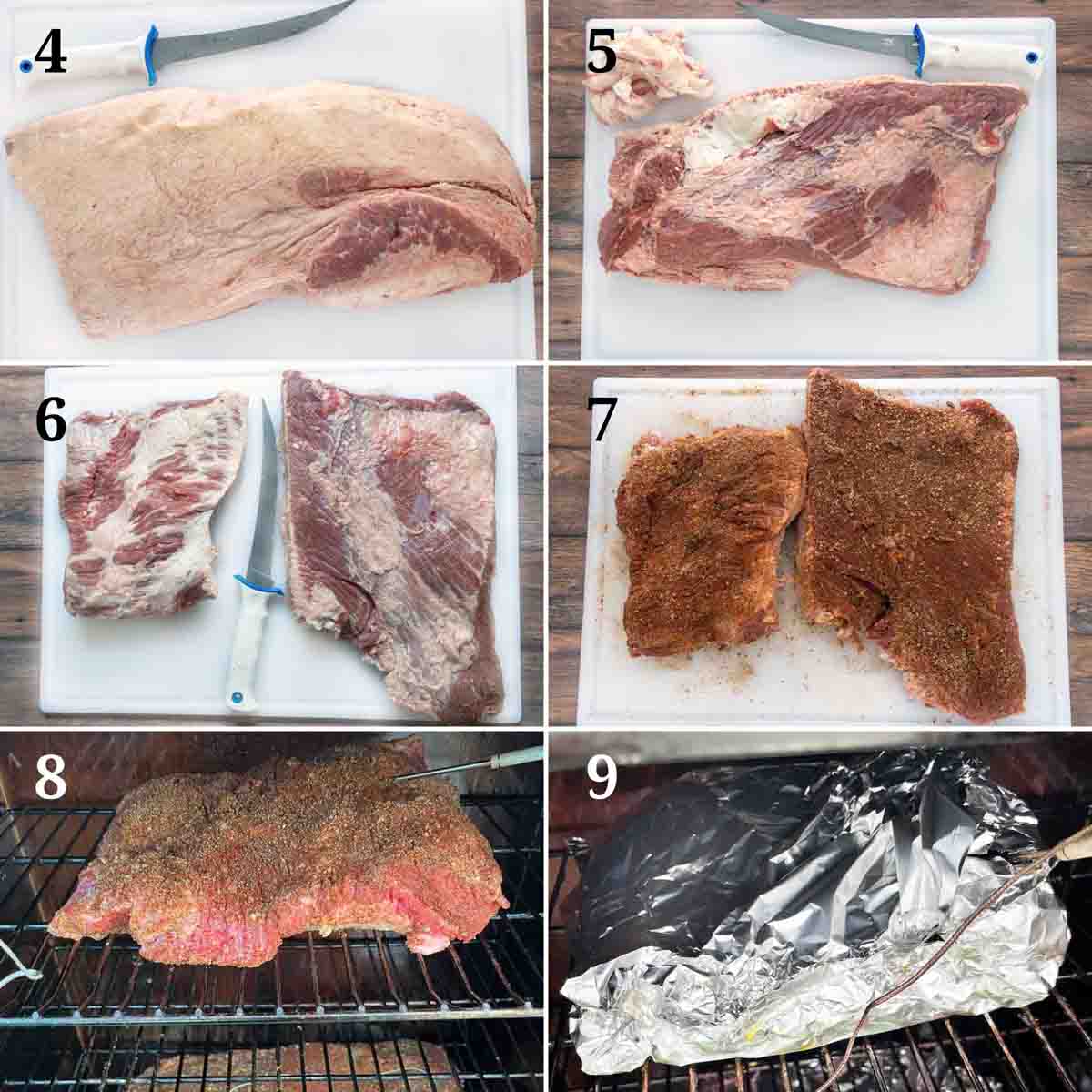 Place the whole brisket on a large cutting board fat side up.
Use a sharp knife to trim the excess fat cap off the top of the brisket.
If using a full packer brisket, separate the flat from the point slicing along the deckle creating two different muscles.
Rub both pieces with olive oil, then apply a liberal coating of the dry rub to the entire brisket. After seasoning the meat, refrigerate and allow to marinate for at least 2 hours up to 12 hours. The longer you can let the dry rub soak into the brisket the more flavor it will have.
Remove the brisket from the refrigerator about a half hour to hour prior to placing it in the smoker (fatty side up), giving it time to come to room temperature. Then place the brisket in the smoker directly on the smoker rack.
When the brisket reaches an internal temperature of 165 degrees remove it from the smoker and wrap in aluminum foil or butcher paper. Place the wrapped brisket back in the smoker and continue cooking until the internal temperature of the meat has reached 195-200 degrees.
Smoked Beef Brisket Cooking Tips
*Place a meat thermometer probe in the thickest part of both the point and flat as they will more than likely finish at different times. Keep in mind we are smoking for an internal temperature of 195-200 degrees and cook time may vary.
*For the best results and great smoke flavor continue to add wood chips to the smoke tube during the first 4-6 hours of the cooking process. This will help a good layer of bark form on the exterior of the meat. This is an important step in the slow cooking process that will help in creating great bark, adding layers of flavor to the meat.
*Use a spray bottle with apple juice to spritz the brisket during the smoking process to keep the meat moist.
*Wrapping the smoked meat is referred to as a Texas Crutch. This technique helps speed up the cooking process and minimize evaporation.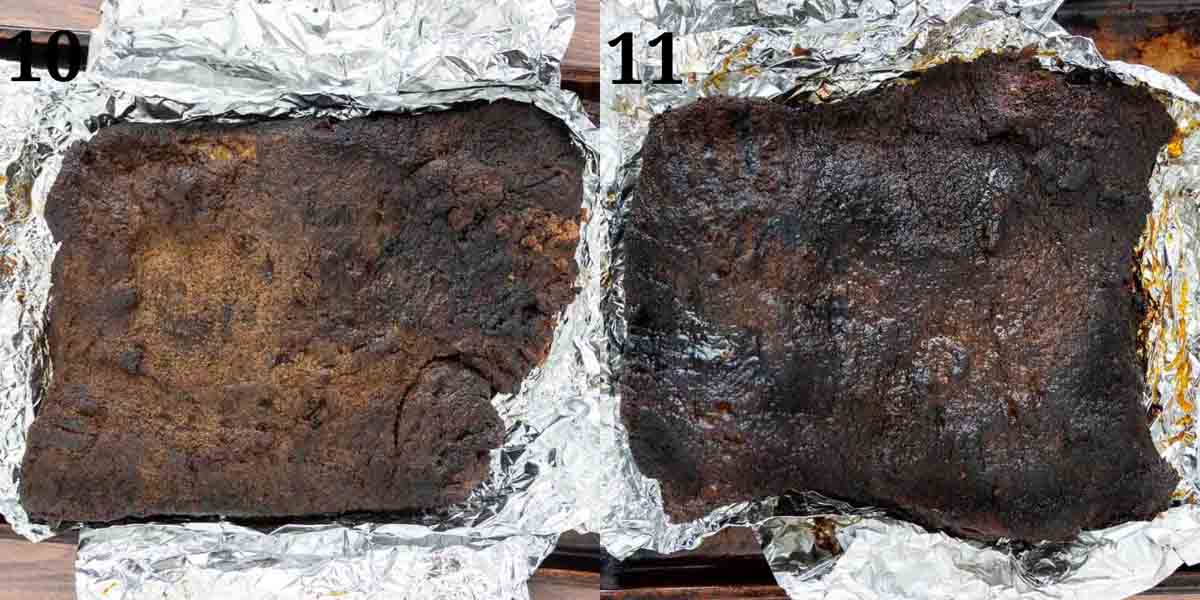 When the internal temperature of 195-200 degrees has been reached on each separate piece of the brisket, remove it from the smoker.
Tent the meat with foil and let the brisket rest for 30 – 90 minutes prior to slicing. Tis gives the juices time to redistribute through the meat.
When cooking a large piece of meat the longer you can let it rest the better off you will be. Just make sure not to let it go below 165 degrees before slicing.
You can see the difference between the two cuts of brisket. The leaner flat cut doesn't have the layer of fat that the point cut does. While the flat cut is delicious and great for sandwiches with added barbecue sauce, if you're looking moist juicy brisket, go for the point cut.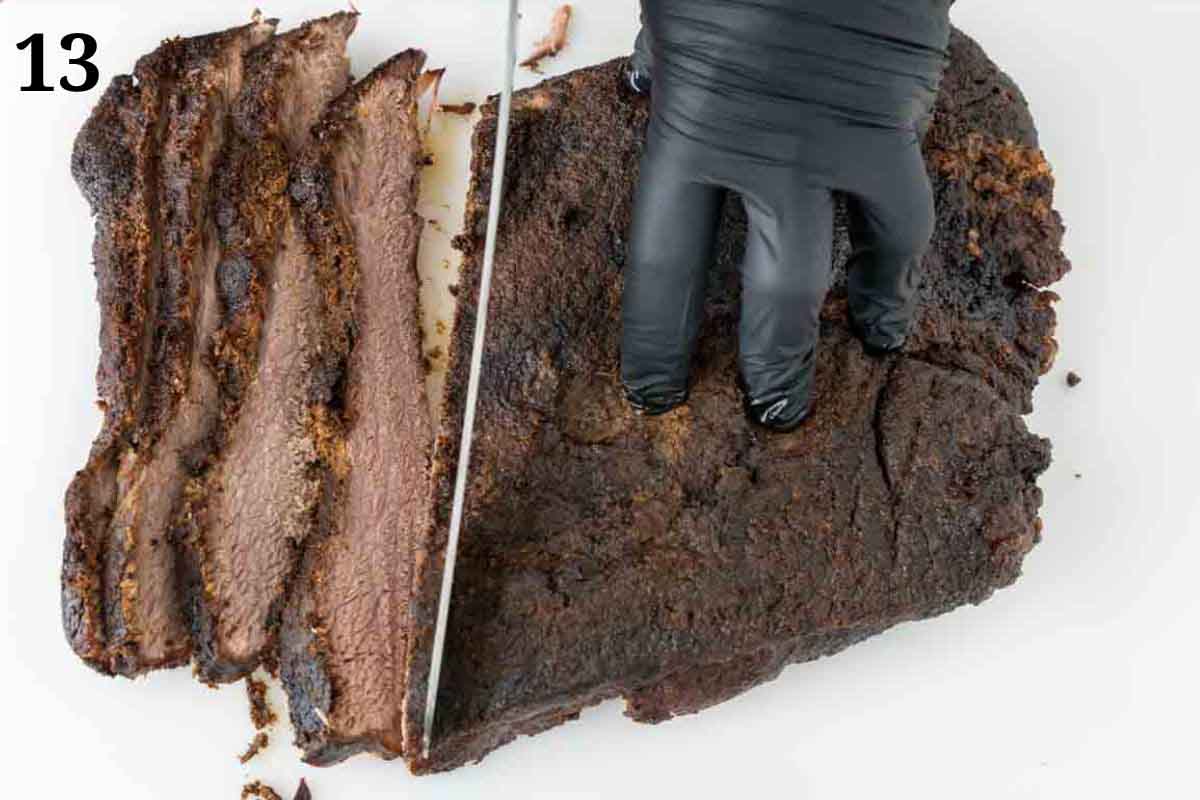 When the meat has rested, slice it into pencil width slices.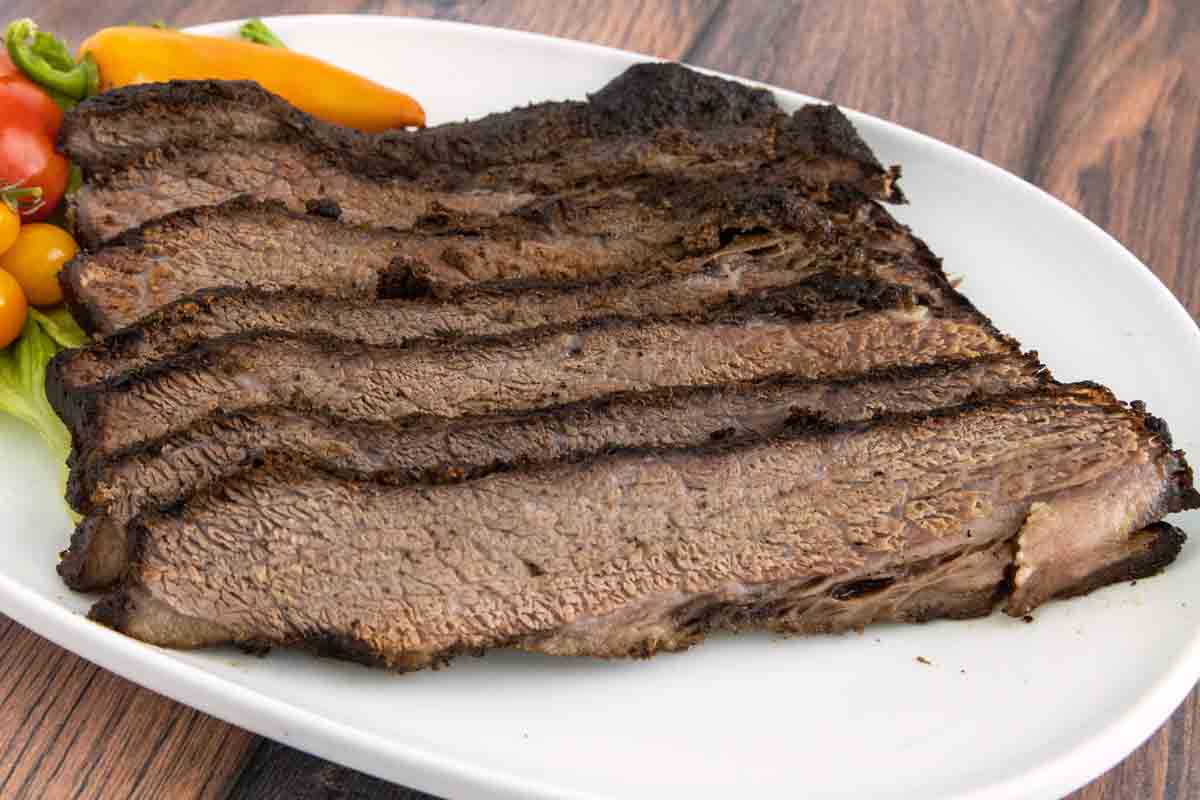 My Texas-style smoked beef brisket recipe is heaven on a plate. This delicious smoked meat makes the best barbecued beef sandwiches, tacos, and quesadillas. Of course you can always just serve it plain with my semi homemade barbecue sauce or Alabama white sauce.
Store any leftover smoked beef brisket refrigerated in an airtight container for 4-5 days. It can also be frozen for 2-3 months.
Recipe FAQ's
How long does it take to smoke a brisket at 225?
Allow 1.5-2 hours per pound when smoking a brisket at 225 degrees F. A 12-pound brisket would smoke for 18-24 hours, a 15-pound brisket would smoke for 22.5-30 hours, and an 18-pound brisket would smoke for 27-36 hours. It's all about low and slow.
When should I wrap my brisket?
You'll find that most pitmasters wrap their briskets in either aluminum foil or butcher paper at some point during the smoking process. Usually, the wrap occurs when the internal temperature of the brisket reaches 165° F. The more experienced pitmasters wrap the brisket simply based on appearance.
How do I keep the brisket moist?
The fat cap will help keep the point moist. Other methods include injecting or marinating the brisket. You can also use a water pan in the smoker, and spritzing with apple cider vinegar or apple juice, and wrapping will all help retain moisture.
More Recipes You'll Love!
Chef's Choice
Masterbuilt 30-inch Digital Electric Smoker
An electric smoker takes all the work out of smoking your favorite meats and seafood. This is the smoker I use for all my recipes.
Buy On Amazon
This post includes affiliate links. As an Amazon Associate, I earn from qualifying purchases.
09/28/2023 03:58 pm GMT
Chef's Choice
ThermoPro Twin Wireless Meat Thermometer
I love the ThermoPro wireless meat thermometers. The easy to use app makes it easy to track the temperatures of the meats and seafood your cooking.
Buy On Amazon
This post includes affiliate links. As an Amazon Associate, I earn from qualifying purchases.
09/28/2023 04:18 pm GMT
Top Choice
Western BBQ Smoking Wood Chips Variety Pack
You get a great variety of wood chips with this starter pack. You get one bag of apple, cheery, mesquite, and hickory wood chips in each variety pack.
Buy On Amazon
This post includes affiliate links. As an Amazon Associate, I earn from qualifying purchases.
09/28/2023 04:08 pm GMT
Chef's Choice
Heat Resistant Oven Gloves & Grilling Gloves
These gloves take all the worry out of handling hot foods. These are perfect for grilling, smoking or removing pans from the oven.
Buy On Amazon
This post includes affiliate links. As an Amazon Associate, I earn from qualifying purchases.
09/28/2023 04:23 pm GMT