When you want a grilled cheese sandwich that will make you moan with pleasure, try my Buffalo Chicken Grilled Cheese Sandwich!
This post includes affiliate links. As an Amazon Associate I earn from qualifying purchases.
Let's make Buffalo Chicken Grilled Cheese Sandwiches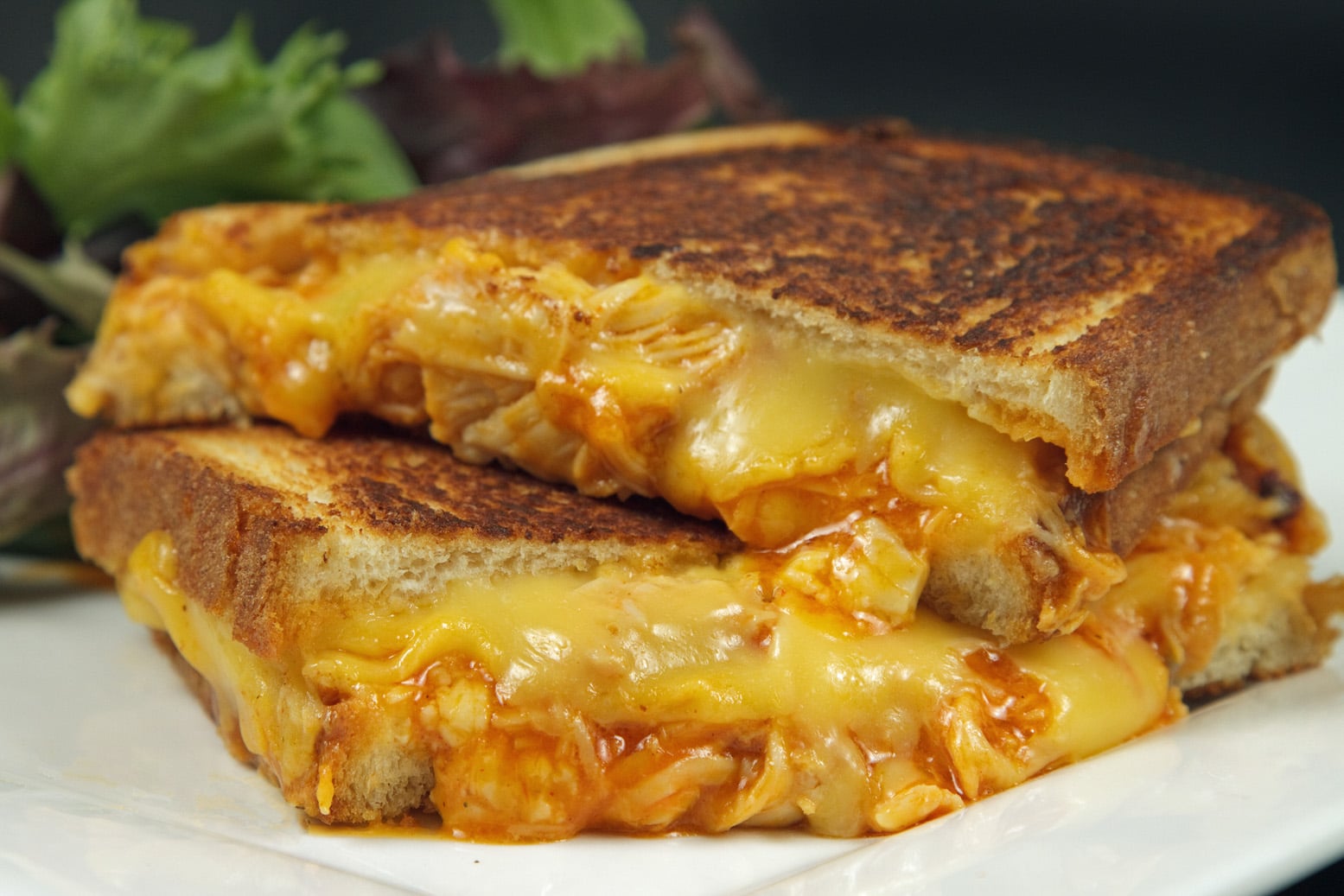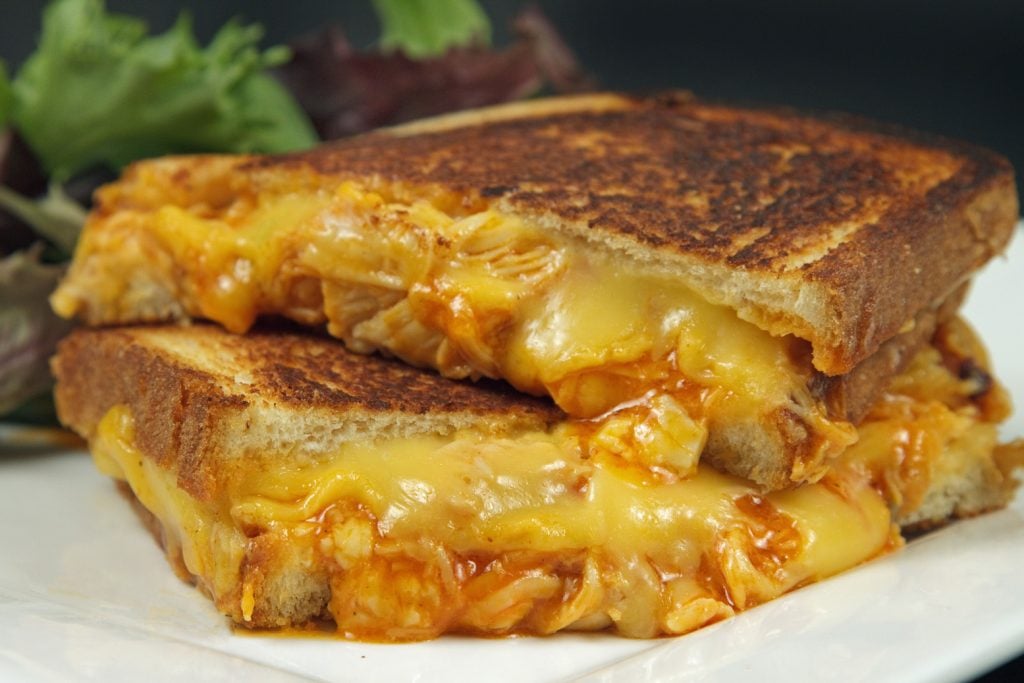 You know I couldn't go the whole summer without posting my precious once again……sigh. Forget the Rings, I am The Lord of the Blossoms!!!
One thing I can count on is from about the end of June till early October there is a wealth of squash blossoms at our farmers market. And I hate to rub it in but the best part is, they're just five for dollar!
Needless to say that every week I make it to the Farmer's Market, I buy squash blossoms, but sadly I don't always get use them before they wilt. Most weeks I do find something to do with them, even if they just find their way into a salad, or on top of a pizza.
I've made blossoms so many different ways and Lisa does humor me and tries them, but the only type she really likes is the original version stuffed with a blend of cheeses, lightly battered and quickly fried till golden brown. These are the ones that practically melt in your mouth when you bite into them!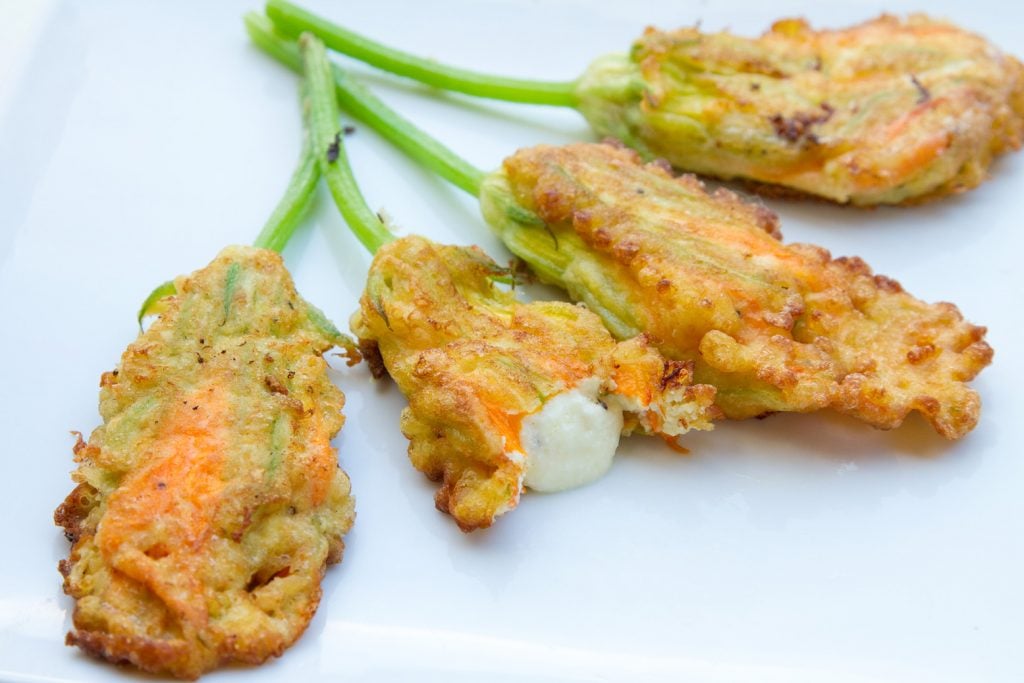 You can find the recipe for my stuffed zucchini blossoms here.
So let's get to the main event, A Grilled Cheeses Sandwich stuffed with Buffalo Chicken and Gorgonzola Cheese Crumbles…..sigh. This is without a doubt my new favorite sandwich.
I did test this sandwich four times before I decided on the right combination, and the chicken is soaked in my famous buffalo chicken sauce! But whether you make it with Cheddar, Velveeta, Monterey Jack or American I can promise you it will be delicious, although Yellow American won out in the end!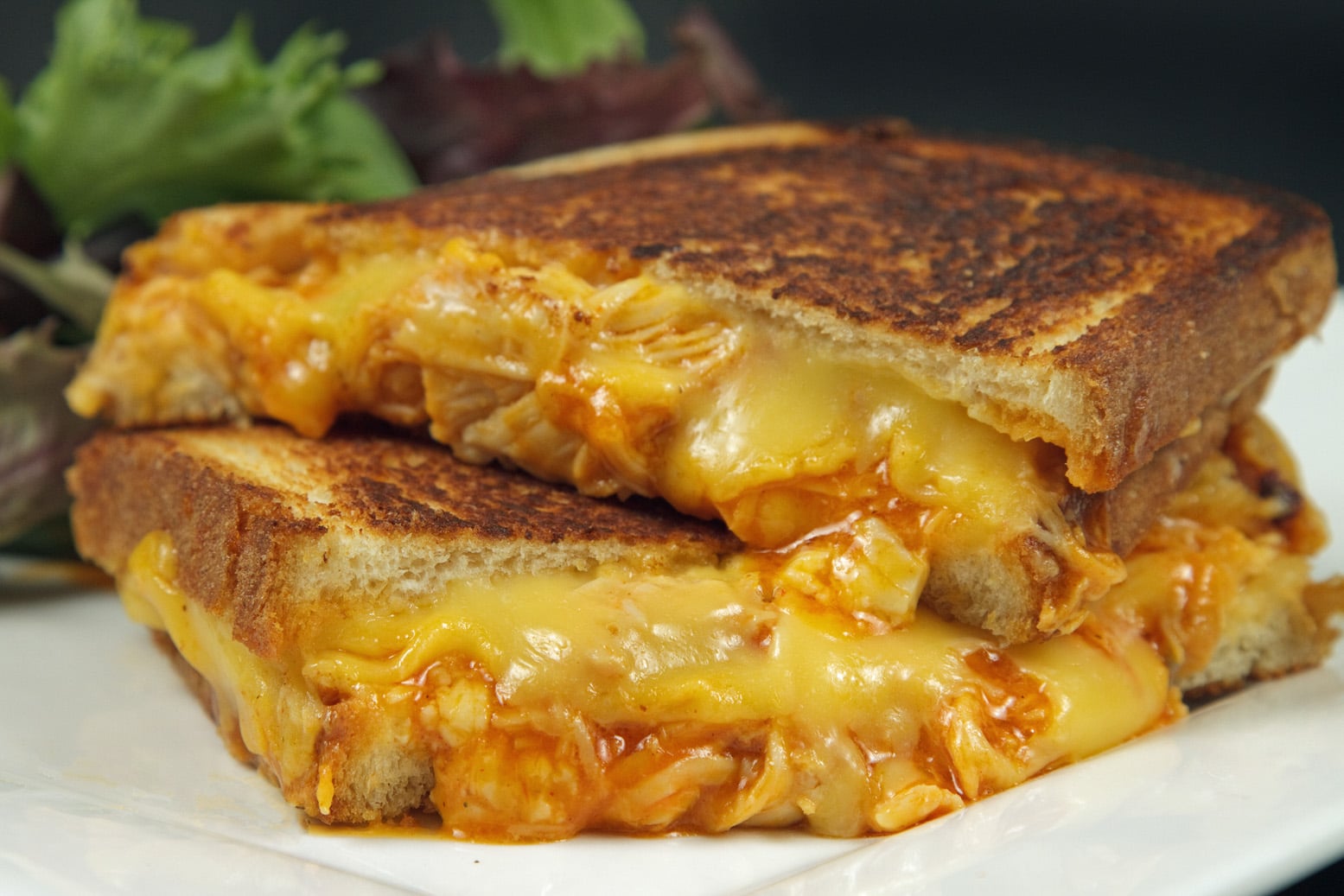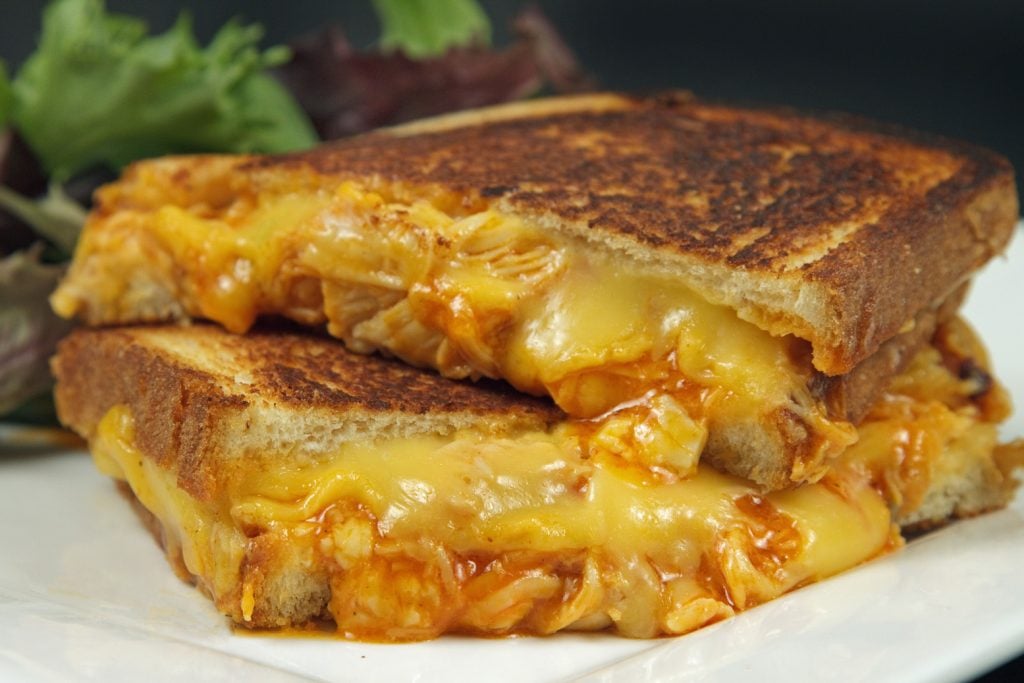 If you're a sandwich lover you're going to love these recipes:
Print Recipe
Buffalo Chicken Grilled Cheese Sandwich
When you want a grilled cheese sandwich that will make you moan with pleasure, try my Buffalo Chicken Grilled Cheese Sandwich!
Ingredients
Buffalo Sauce
6

oz

Franks Buffalo Wing Sauce

or hot sauce of your choice

6

tbs

unsalted butter

2

oz

honey
Buffalo Chicken Grilled Cheese Sandwich
4

slices

of a thick bread like sourdough

4

oz

cooked chicken thigh meat pulled and shredded

4

oz

yellow American cheese

1

oz

gorgonzola crumbled

or bleu cheese

2

tbsp

unsalted butter
Instructions
Buffalo Sauce
In a sauce pan add hot sauce, butter and honey. **

(For the recipe if you are making the ratio is 2 parts hot sauce, 1 part butter, and 1/2 part honey)
Buffalo Chicken Grilled Cheese Sandwich
Add the cooked chicken to enough sauce to coat it liberally, set aside

Place the four slices of bread on a platter and begin topping each slice with 1/4 of the American cheese until it is all used up.

Divide the chicken between two of the slices, placing the shredded buffalo chicken on top of the American cheese.

Add the gorgonzola crumbles on top of the chicken, divide between the two sandwiches.

Place the top slice with the rest of the American cheese on top of the sandwich you just built.

In a large frying pan or griddle on medium high heat, place half the butter and allow to melt, placing the grilled cheese onto the hot melted butter.

Allow to brown slightly, then gently remove from the pan

Add the rest of the butter to the pan and flip the sandwiches over to brown the other side

Allow to continue to cook over low heat until the cheese has melted.

Slice in half and serve immediately with plenty of napkins!
Notes
**Here is the tricky part, you want to get the sauce almost to point of boiling, but do not let it boil, or get too hot. If the sauce gets too hot it will begin to separate. I actually get the sauce hot enough to melt the butter, then turn off the heat. By not over heating the sauce it will stay rich and thick and give the wings a wonderful coating.
Nutrition
Calories:
1031
kcal
|
Carbohydrates:
53
g
|
Protein:
33
g
|
Fat:
77
g
|
Saturated Fat:
44
g
|
Cholesterol:
232
mg
|
Sodium:
4092
mg
|
Potassium:
332
mg
|
Fiber:
2
g
|
Sugar:
28
g
|
Vitamin A:
2110
IU
|
Calcium:
762
mg
|
Iron:
3.2
mg