My creamy, cheesy, hot crab dip is the perfect starter for your next get-together or game-day celebration. You'll love the sweet fresh lump crab meat blended with cream cheese, sour cream, cheddar cheese, and of course, Old Bay Seasoning.
It's almost too good for words!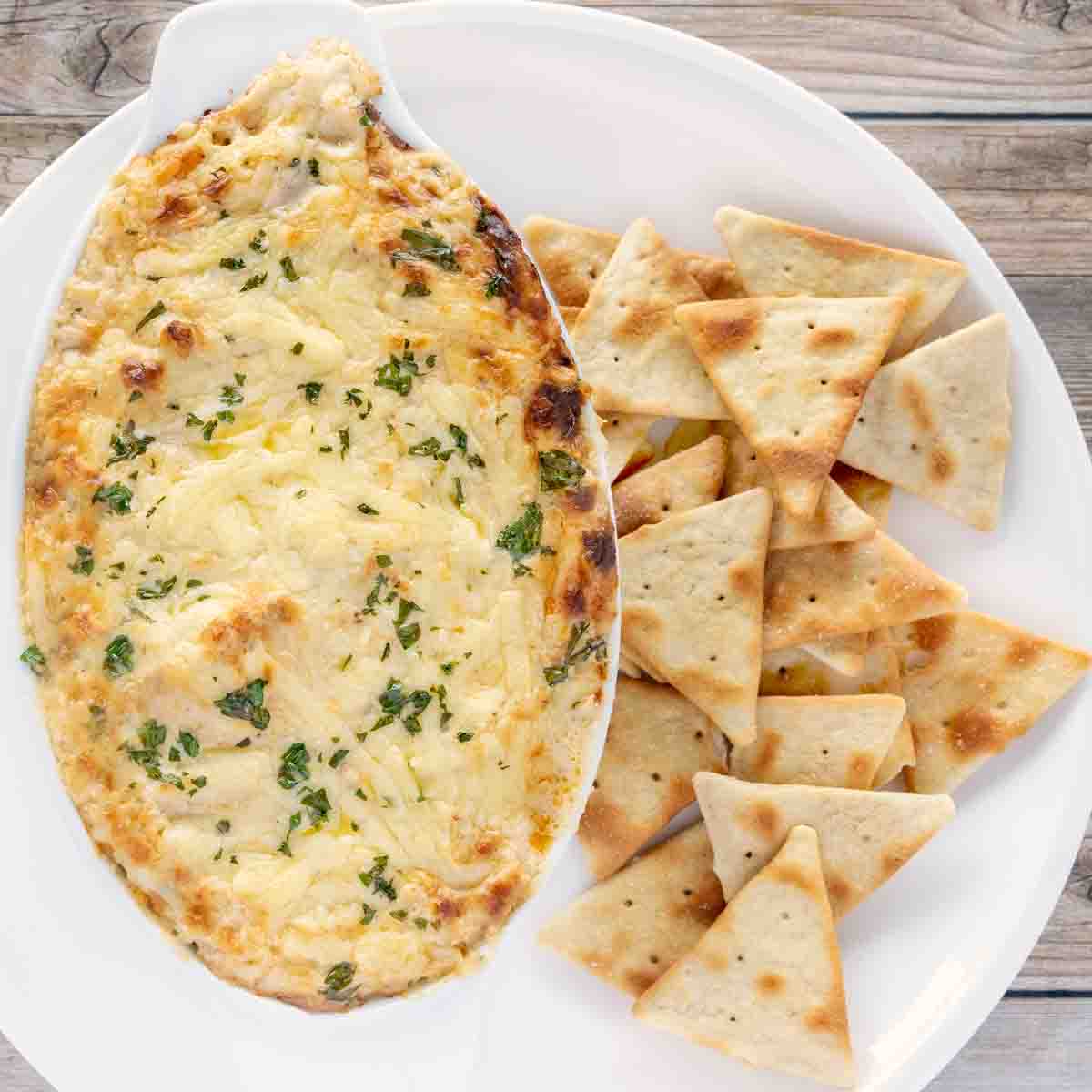 Perfectly seasoned (not spicy) and indulgent, one bite of my Maryland hot crab dip, and you'll agree this is The Very Best Crab Dip you've ever had.
And besides being ah-mazingly delicious, it's also an Easy Crab that you'll love making time and time again!
If you're looking for more great recipes from Chesapeake Bay, check out my Maryland Crab Cakes and Maryland Crab Imperial They will not disappoint.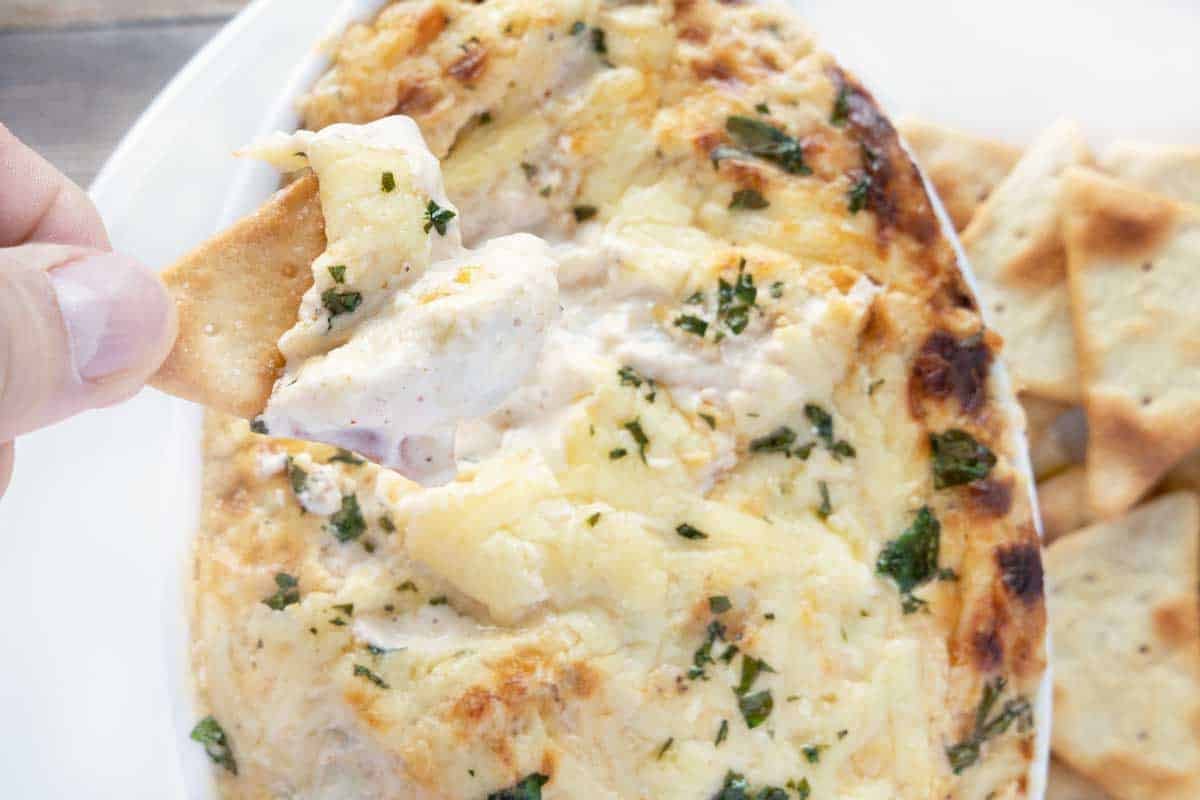 The secret is using full-fat cream cheese and extra sharp cheddar cheese. I prefer using jumbo lump crab meat or lump fresh crab meat, but backfin crab meat is a good alternative. Blue crab is my favorite crab meat to use, but Dungeness will also work well. And you can even use (gasp) imitation crab meat.
Blended together with the perfect combination of seasonings for the best flavor possible. Worcestershire sauce, old bay seasoning, dry mustard, and fresh lemon juice makes this cheesy dip the perfect appetizer for any occasion.
If you love decadent dips, my Cheddar Lobster Dip is another great dip.
Ingredients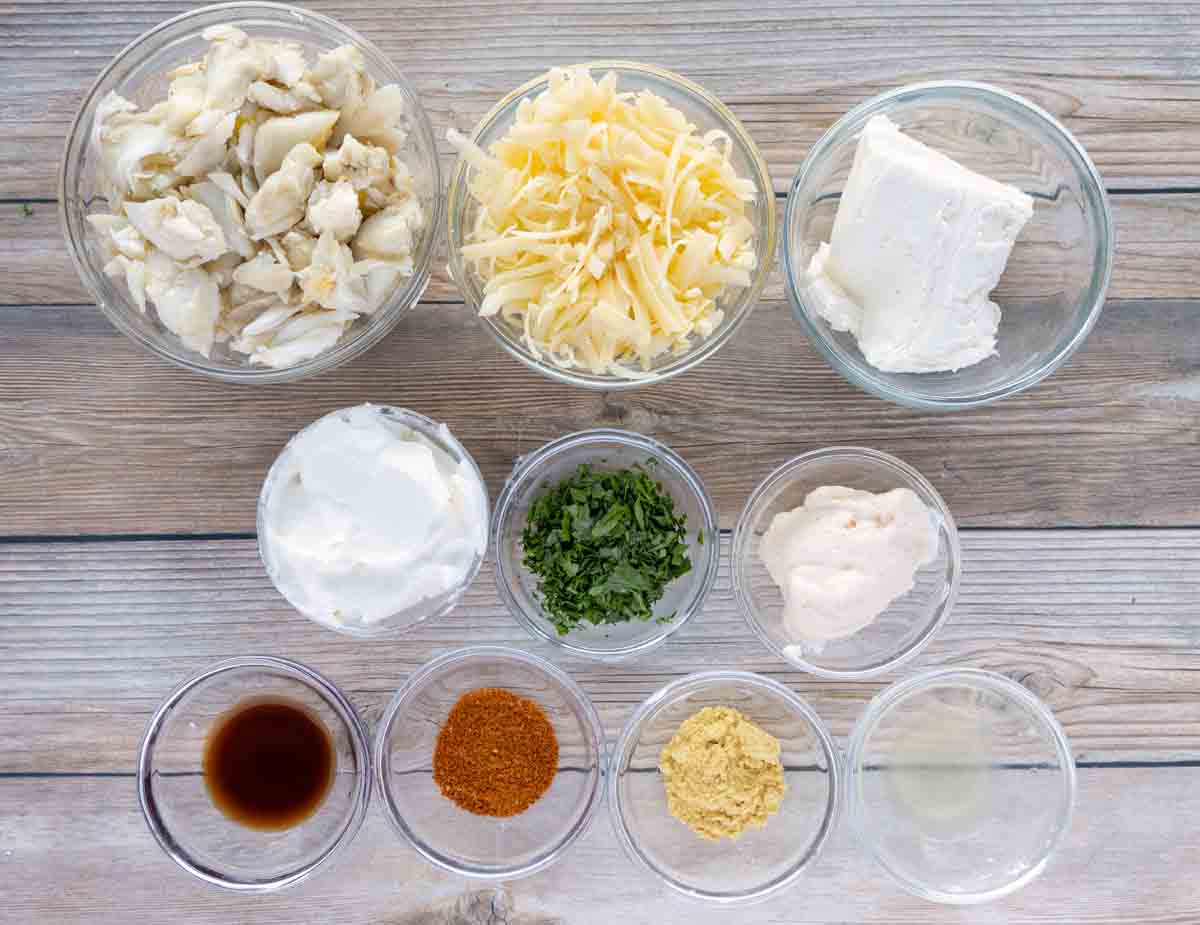 Let's start by gathering the ingredients we need to make Hot Crab Dip. In Chef Speak, this is called the "Mise en Place," which translates to "Everything in its Place."
Not only does setting your ingredients up ahead of time speed up the cooking process, it also helps ensure you have everything you need to make the dish.
Can I add other seasonings to this dip?
You sure can. A little parmesan cheese will increase the cheese flavor, and if you like heat, add a little of your favorite hot sauce to the mixture. You do want the flavor of the crab and old bay to be the prominent flavors, but it's easy to adjust this creamy dip to your flavor preference.
How to make Hot Crab Dip
Preheat the oven to 375°F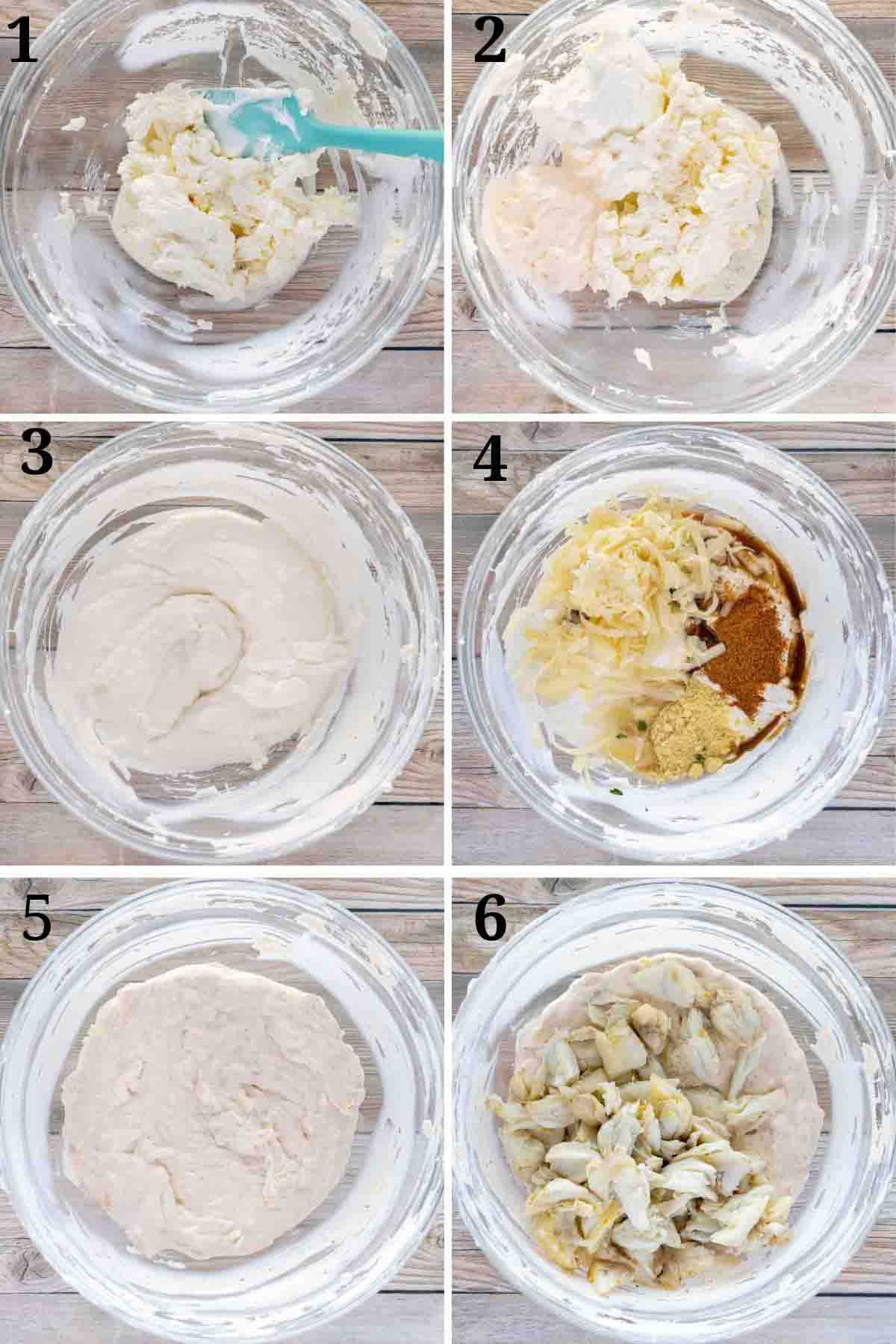 In a large mixing bowl, using a handheld mixer (or stand mixer), beat the cream cheese on medium-high speed until smooth and creamy (1-2 minutes).
Add the mayonnaise and sour cream to the whipped cream cheese.
Beat on medium-high speed until combined.
Add the cheddar cheese, Old Bay seasoning, mustard powder, lemon juice, and Worcestershire sauce to the cream cheese mixture.
Beat on medium-high speed until combined.
Add the crab meat into the cream cheese mixture, and using a rubber spatula, gently fold in the crab meat until combined.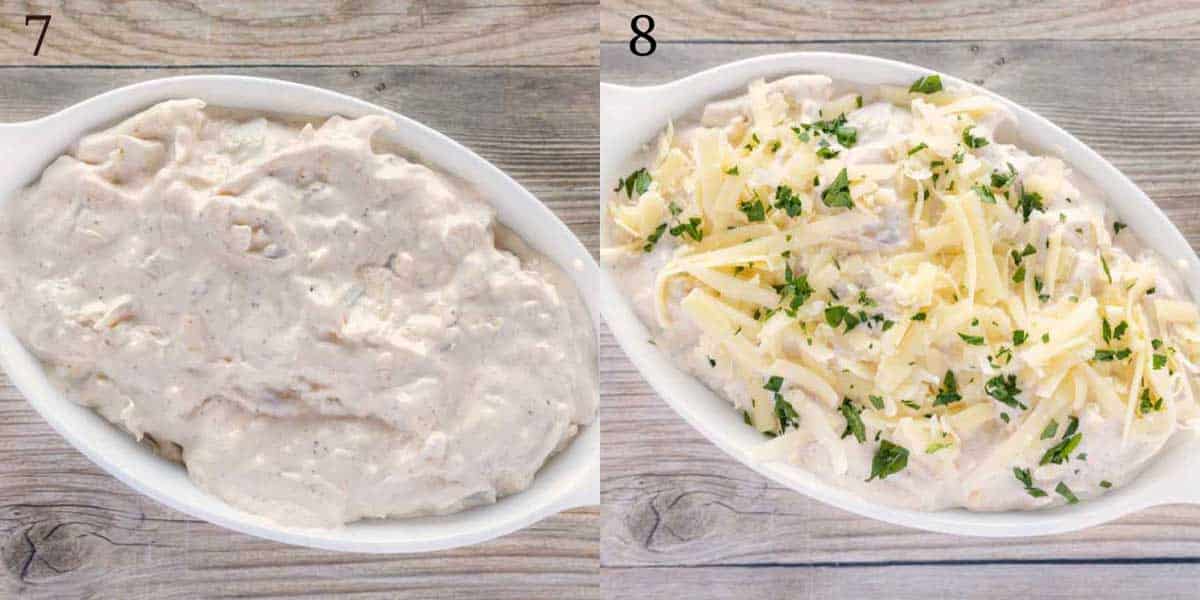 Add the crab mixture to one larger or two small casserole dishes.
Top with shredded cheddar cheese and chopped Italian parsley (optional), or sprinkle Old Bay Seasoning on top of the cheese.
This post includes affiliate links. As an Amazon Associate, I earn from qualifying purchases.
These casserole dishes work great with this recipe. My recipe makes two dishes of crab dip. The recipe can easily be cut in half if you only need one dish of this delicious dip.
What kind of crab meat should I use?
I prefer using jumbo lump crab meat or lump fresh crab meat, but any type of real crab meat will work. Dungeness is also a good choice for this crab dip.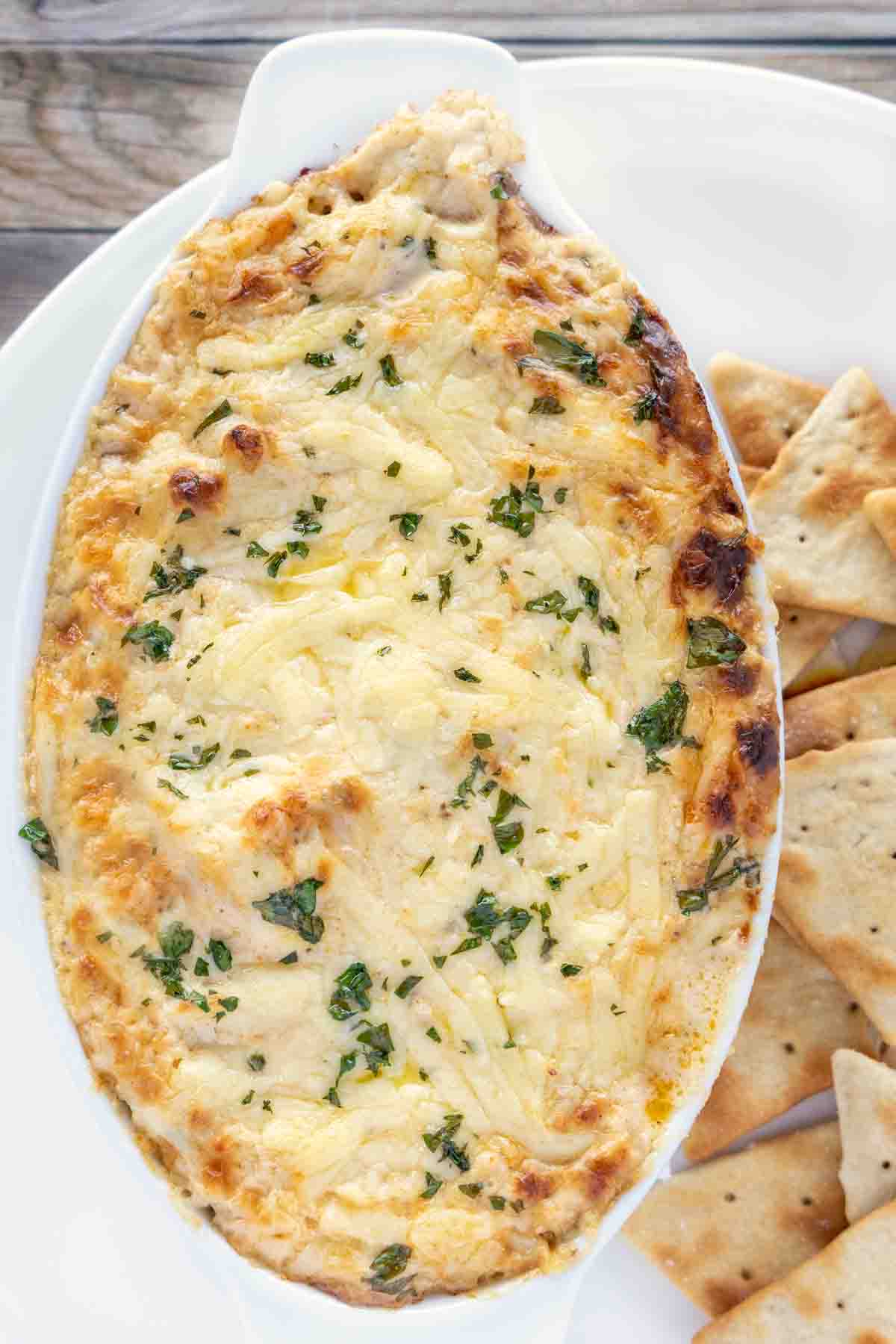 Bake the crab dip for 30-35 minutes, until the dip is hot and bubbly around the edges or until the internal temperature of the crab dip reaches a minimum of 165 degrees F.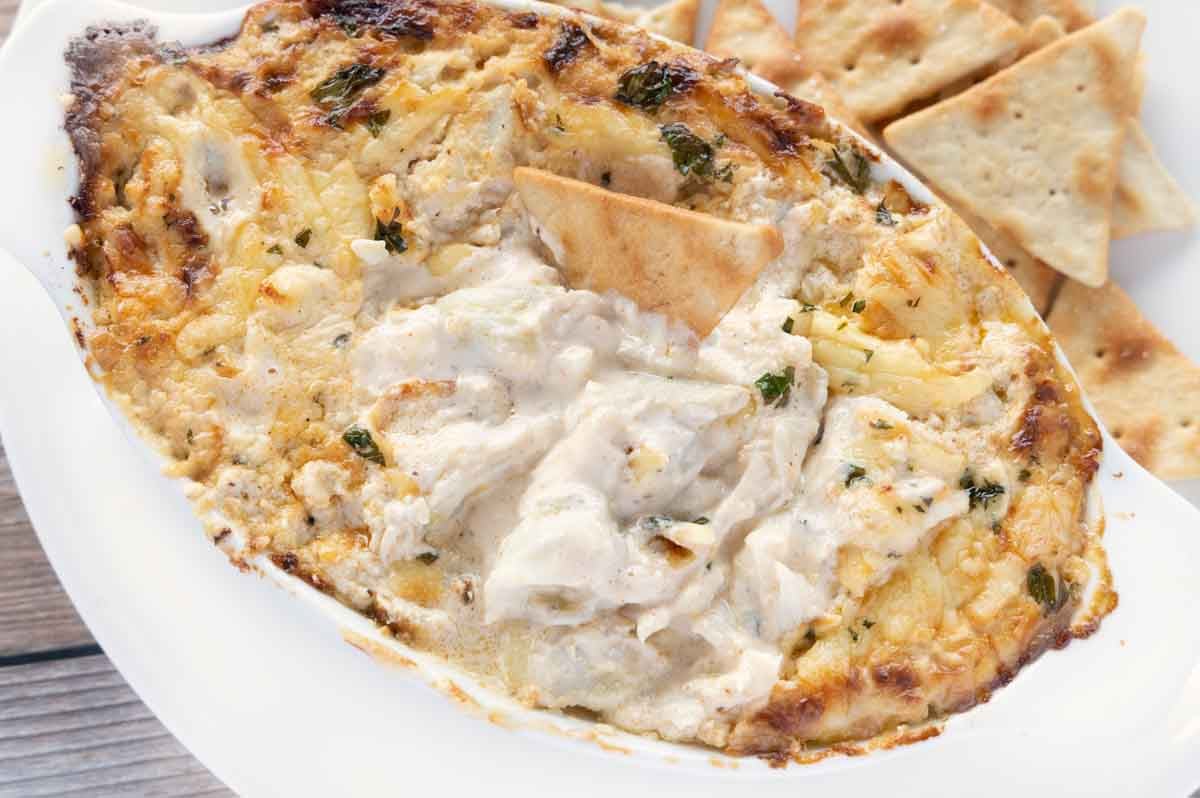 Serve my delicious creamy crab dip warm from the oven with your pita chips, tortilla chips, crackers, celery, or carrot sticks.
Recipe FAQ's
What is Crab Dip made of?
Hot Crab Dip is made by blending cream cheese, sour cream, mayonnaise, and shredded sharp cheddar cheese (or your favorite cheese) with crab meat and seasonings. It's a very simple process and is the perfect appetizer for any occasion.
What kind of crab meat should I use to make Crab Dip?
The best crabmeat to use is jumbo lump, but it's also the most expensive. Lump crabmeat as well as backfin are also good choices and are less expensive alternatives. I like using fresh crabmeat whenever possible, but canned pasteurized crabmeat also works well. If you're a fan of west coast crab, Dungeness or king crab can also be used.
Why is my crab dip watery?
The first reason could be that you could experience a loose, watery dip is that you didn't drain the crabmeat well. Some crab meat is dry and needs no draining, while others (as they get older) will give off a lot of liquid. I have found that some brands of sour cream are also too loose (which also happens as they get older). Make sure to use the freshest possible ingredients.
More Recipes You'll Love!