Slow Cooker BBQ chicken has to be one of the most delicious dishes I prepare using my slow cooker. My tangy sweet brown sugar barbecue sauce blended with the tender shredded chicken is simply heaven on a plate (or roll) for me.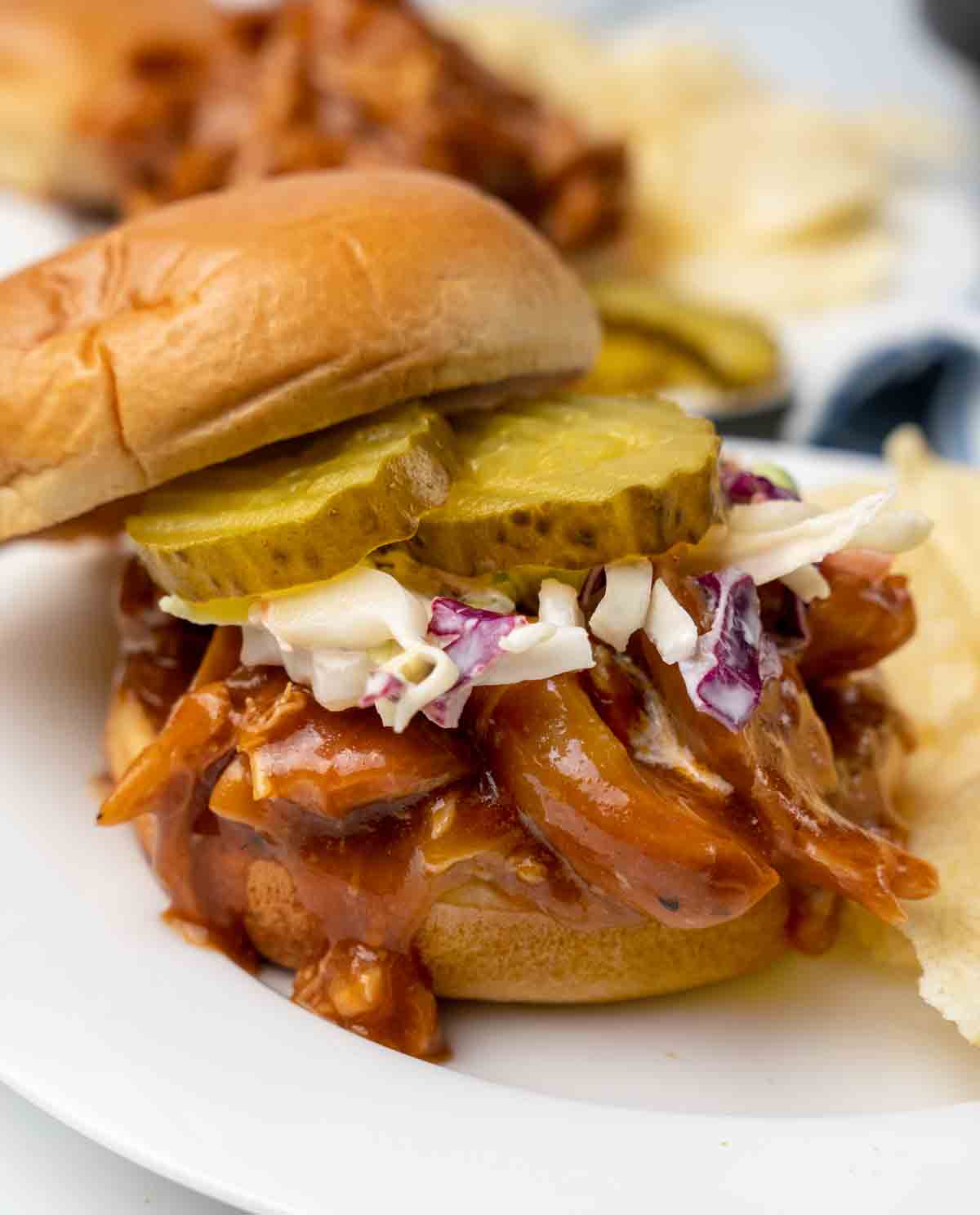 My easy slow cooker BBQ Chicken recipe is perfect for your next get-together or game day. Or simply because bbq chicken sandwiches are delicious!
This recipe is definitely a keeper, and If you want to know how long I've been making this delicious recipe, I use to call it crockpot bbq chicken.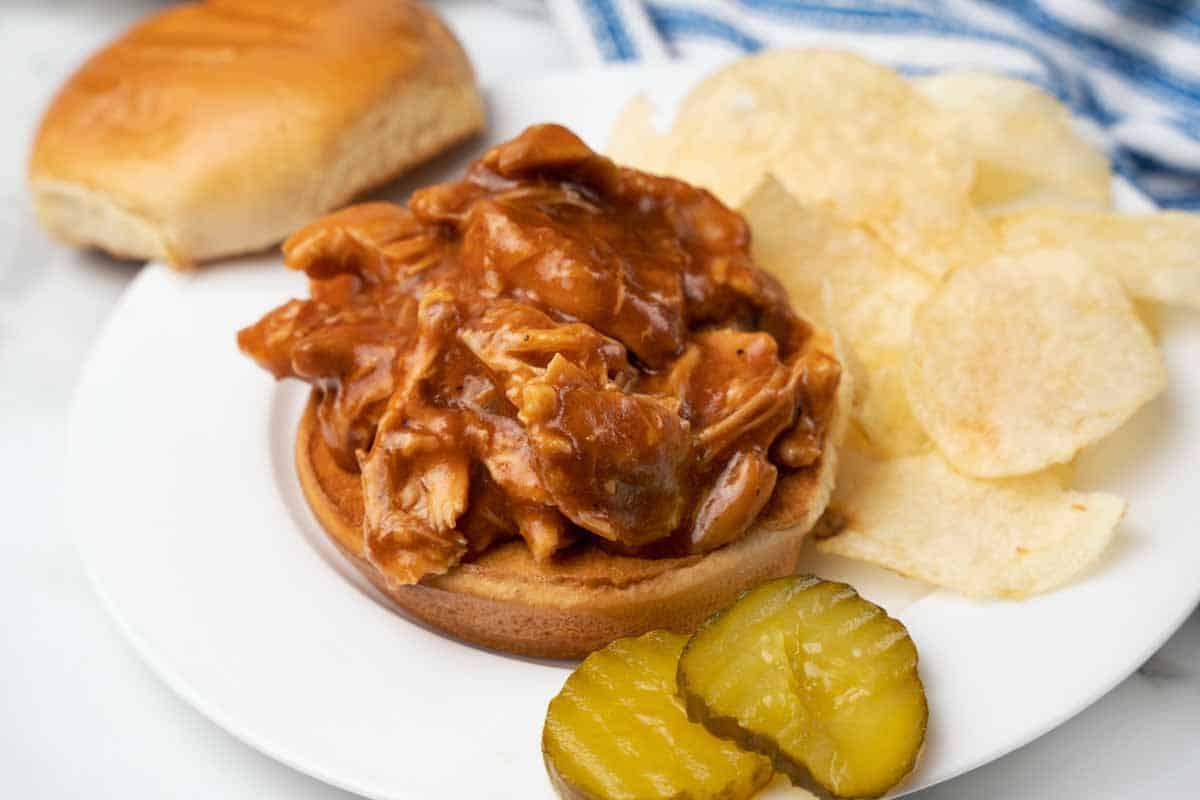 Wouldn't this make a delicious dinner tonight? Using my slow cooker is my favorite way to make Barbecue Chicken for sandwiches. The homemade bbq sauce is so incredibly flavorful and coats all of the tender shredded chicken, making each bite better than the last.
If you love delicious and Easy to make Barbecue, check out my Slow Cooker Pulled Pork.
Ingredients to make Slow Cooker BBQ Chicken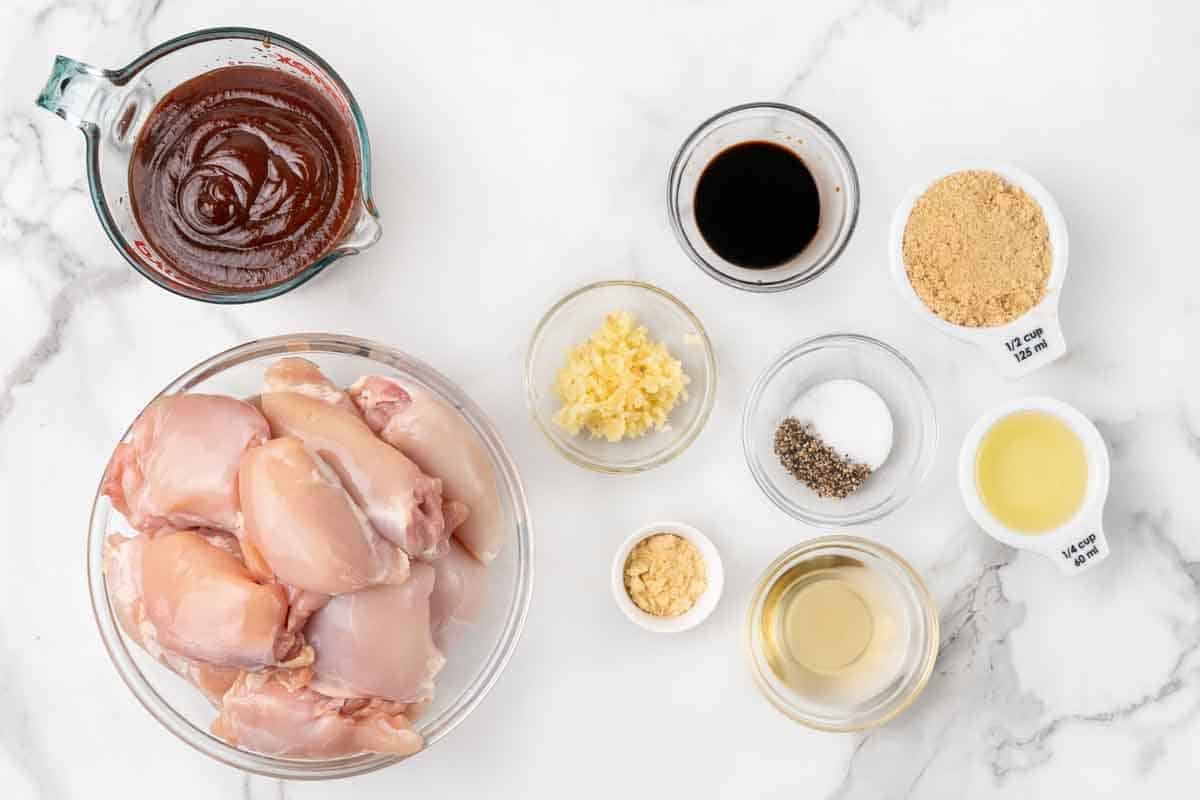 Let's start by gathering the ingredients we need to make Slow Cooker BBQ Chicken. In Chef Speak, this is called the "Mise en Place," which translates to "Everything in its Place."
Not only does setting up your ingredients ahead of time speed up the cooking process, it also helps ensure you have everything you need to make the dish.
Can I use chicken breasts to make BBQ Chicken?
You most definitely can use boneless skinless chicken breasts with this simple recipe. I prefer chicken thighs because the dark meat holds up better when cooked for longer times. But chicken breasts will work if you prefer them over chicken thighs.
How to make Barbecue Sauce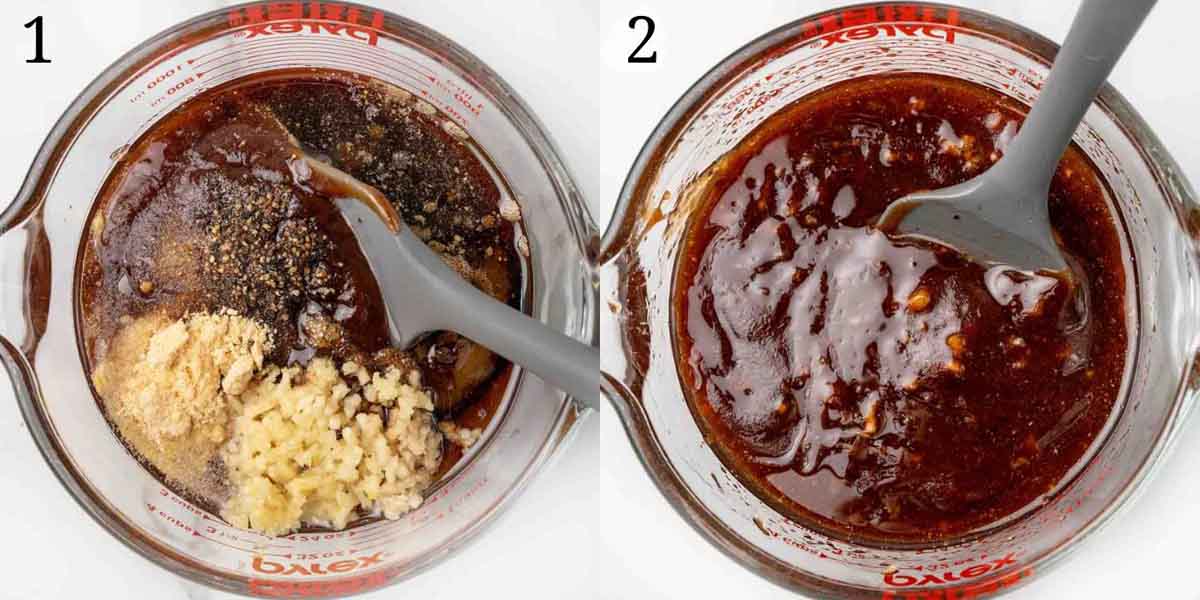 Add the vegetable oil, chopped garlic, brown sugar, apple cider vinegar, barbecue sauce, Worcestershire sauce, onion powder, black pepper, and salt to a small bowl.
Mix well to combine.
*I used Sweet Baby Ray to make my homemade sauce but feel free to use your favorite bbq sauce. You can also substitute garlic powder for the chopped garlic if you prefer, and use olive oil instead of vegetable oil.
How to make Slow Cooker BBQ Chicken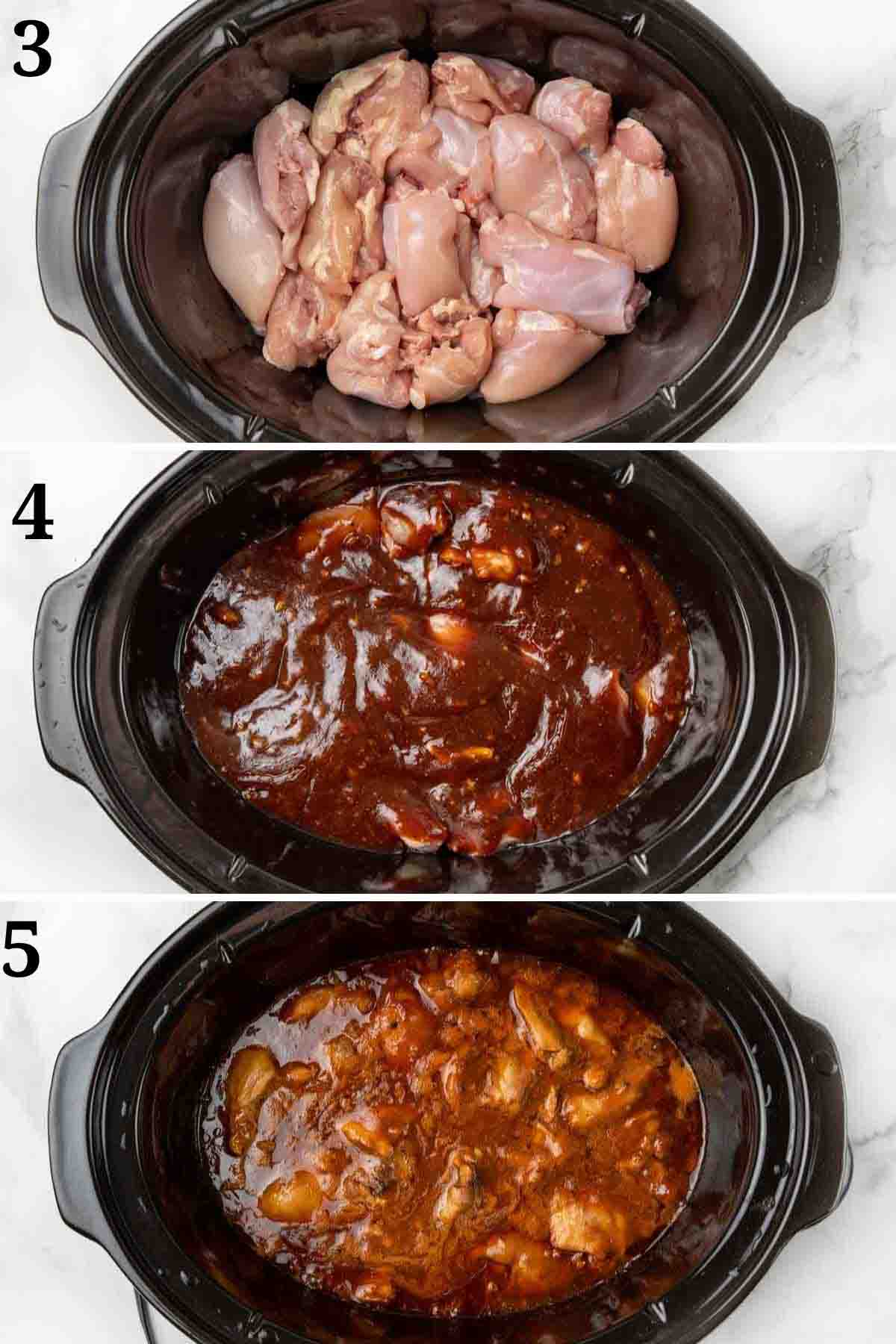 Pat dry the boneless skinless chicken thighs .
Pour the barbecue sauce on top of the chicken, covering it completely.
Turn the slow cooker on the high-temperature setting with a cooking time of 2½ to 3 hours. If you prefer using the low-temperature setting, cook for 5-6 hours. *I prefer using the high-temperature method for chicken.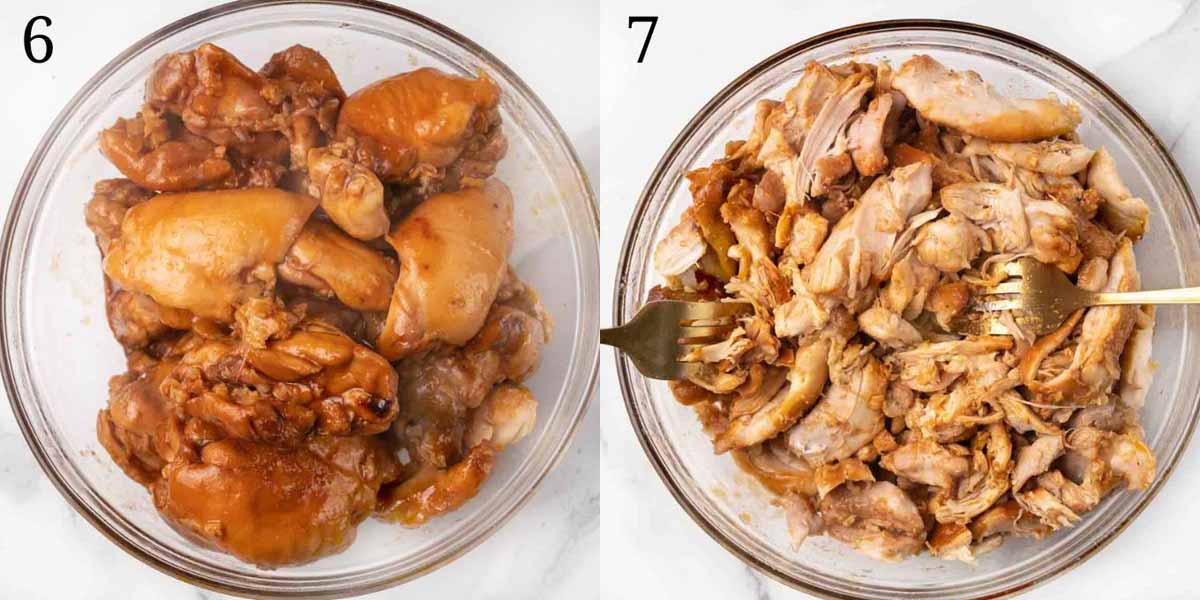 When the cooking process is finished, remove the chicken from the slow cooker (replace the lid to keep the barbecue sauce warm until ready to serve).
Use two forks to pull the chicken apart. Don't make the shreds too small.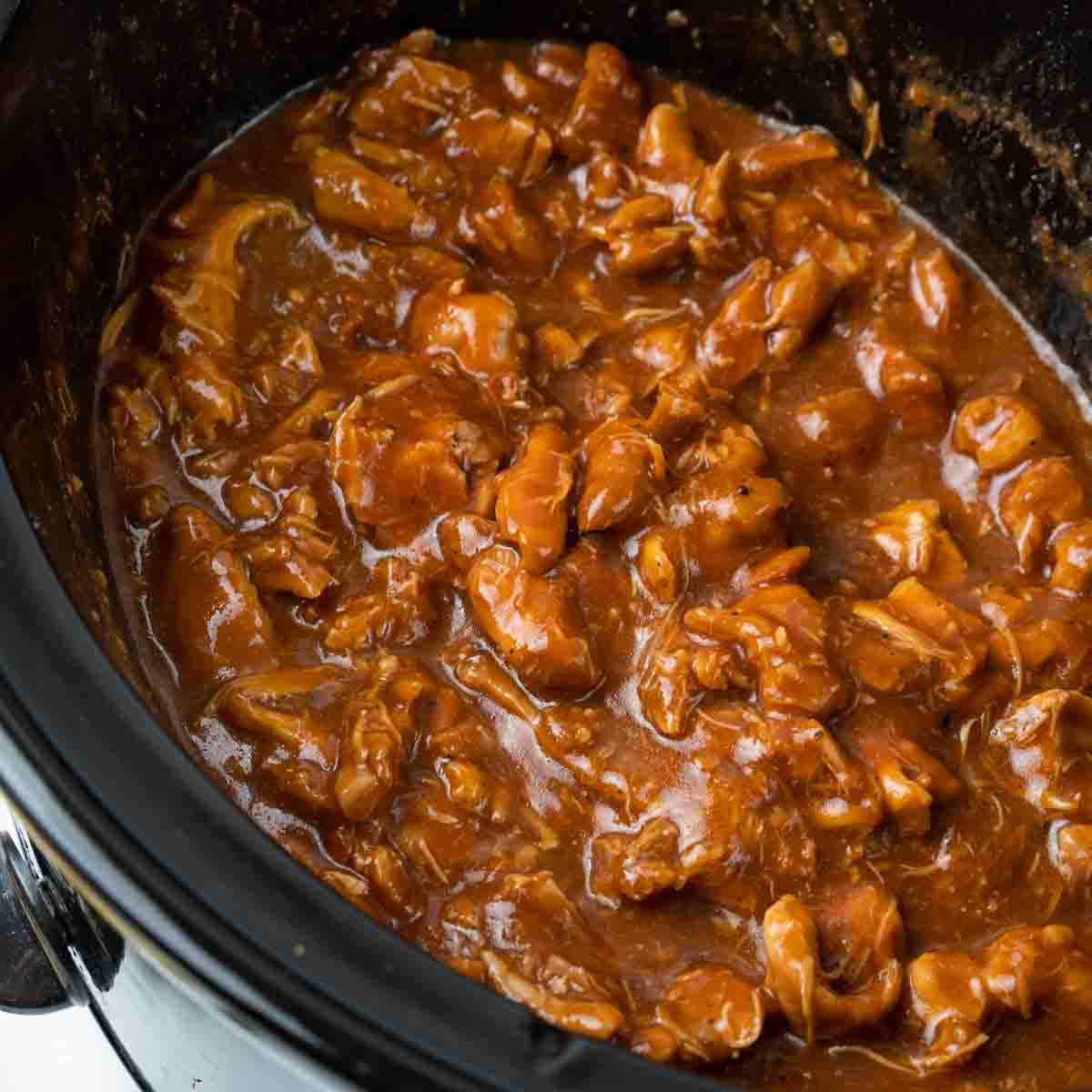 Return the shredded chicken to the slow cooker, making sure to coat all the chicken with the sauce.
Let the chicken simmer in the slow cooker for 30 minutes before serving.
*It shouldn't be a problem, but anytime you reheat food, make sure the internal temperature is at least 165 degrees F.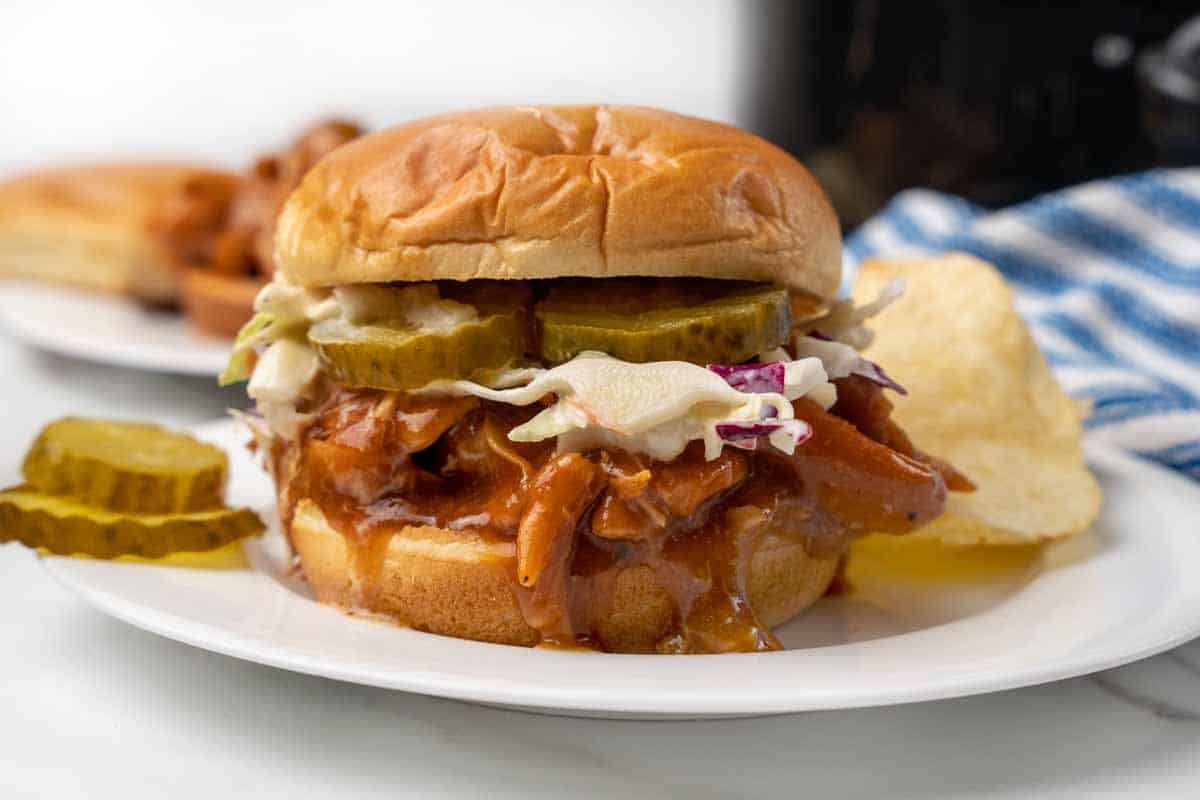 To make the ultimate barbecued pulled chicken sandwich, serve my slow cooker bbq chicken on a toasted brioche bun with cole slaw and pickles chips.
This is definitely my kind of sandwich, and if you love delicious messy sandwiches, make sure to check out my Sloppy Joes Recipe.
Recipe FAQ's
Can I freeze barbecue chicken?
Yes, you can. BBQ chicken freezes very well in an airtight container or freezer bag. It can stay frozen for up to 3 months.
Will barbecue sauce burn in the slow cooker?
As long as you add other liquids to the barbecue sauce, it will not burn during the cooking process. If you wanted to use just barbecue sauce, add water, beer, cola or apple juice to the sauce to thin it out, which will prevent it from burning
Is it better to cook chicken on low in a slow cooker?
Chicken thighs, legs, or wings can be cooked on a high-temperature setting, but if you are using chicken breasts is definitely better to cook chicken on the low-temperature setting of your slow cooker. Chicken breasts cooked on high will become tough and dry.
More Slow Cooker Recipes to Enjoy!