When it comes to making the best chicken salad, the star of the show should always be the chicken. With that being said there are many additions you can make to this classic recipe that will make it just the way you like it.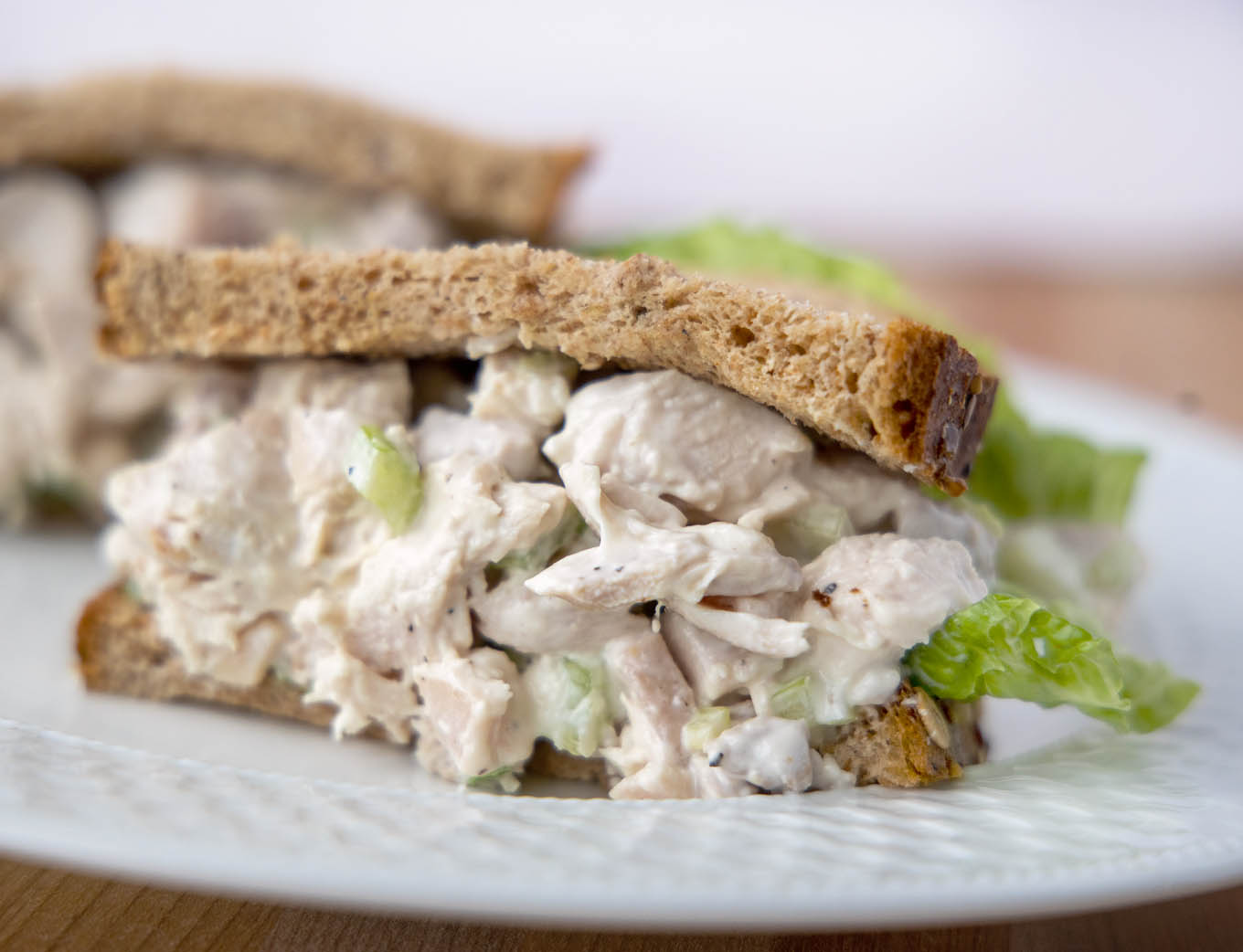 Personally, I like my chicken salad bare bones. Chicken, celery, mayonnaise, salt, pepper and granulated onion. That's my favorite chicken salad recipe (you can also add a squeeze of lemon juice or pinch of cayenne pepper if you like a little heat).
The truth is making a classic dish like chicken salad shouldn't be difficult. There are no special cooking techniques to master this dish. And in fact, it can be made of any leftover chicken you have on hand.
But in the restaurant, we cook chicken specifically for this dish. And how we cook it might surprise you. But I'll get to that.
Ingredients for Chicken Salad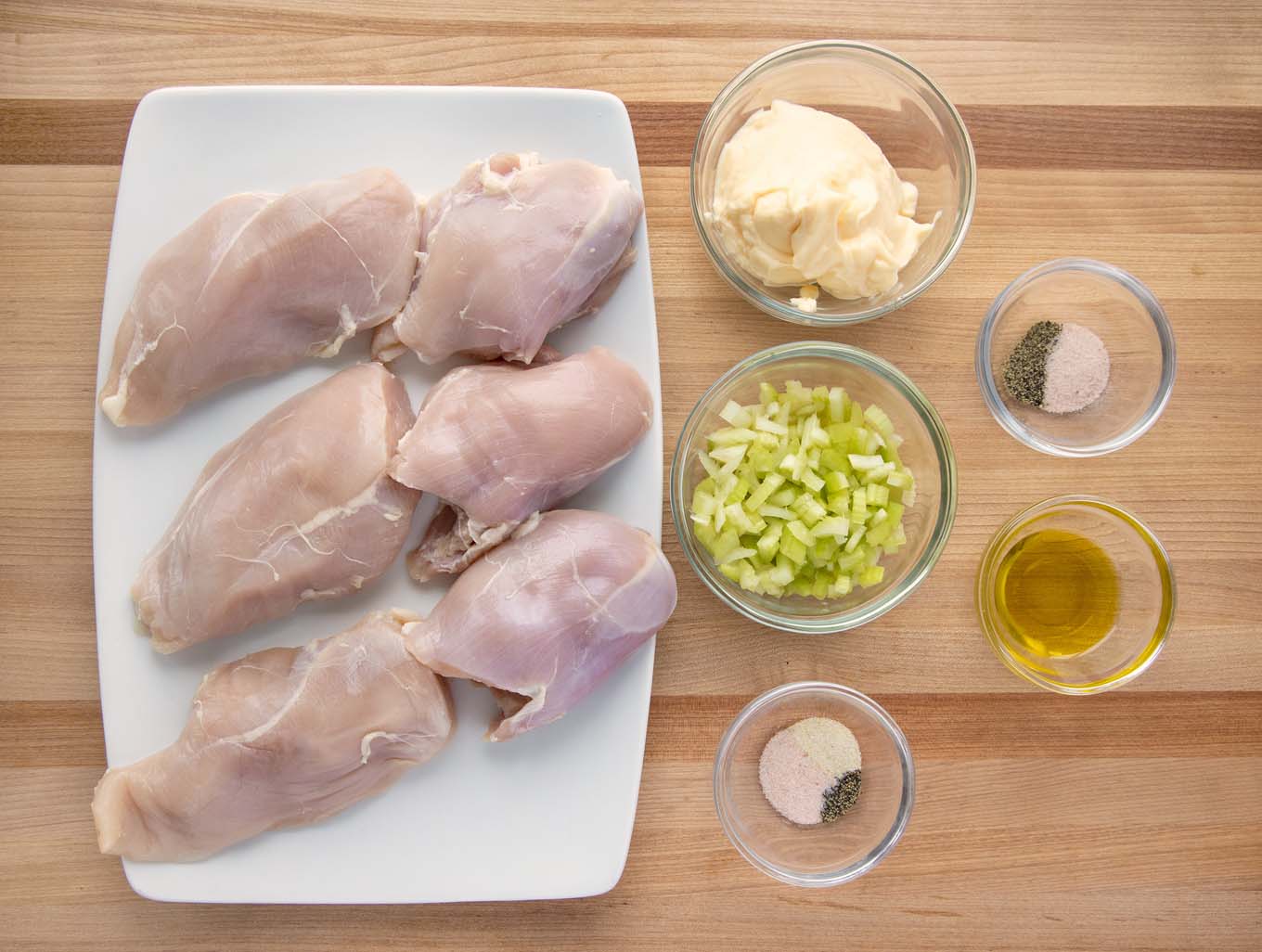 Start by gathering the ingredients to make this delicious classic deli salad. In Chef Speak this is called the Mise en Place which translates into Everything in its Place.
Not only does setting your ingredients up ahead of time speed the cooking process, but it also helps ensure you have everything you need to make the dish.
What type of chicken should I use for Chicken Salad?
When making this deli classic you want to use white and dark meat. The ratio is usually 60% white meat (chicken breast) and 40% dark meat (chicken thighs).
Of course, you can use whatever type of chicken you like. Some restaurants use all breast meat in their chicken salad thinking that their customers will perceive better quality ingredients. But the truth is those recipes lack the flavor the dark meat adds.
*There is more flavor in dark meat and that's why I use both when I make this dish. Of course, if I have leftover chicken and it's all breast meat, I use what I have.
Can I use Rotisserie Chicken for Chicken Salad?
You, sure can. It's a great way to cut down on prep time and the whole chicken can be used to make this deli classic!
It's all about adapting the recipe to the ingredients you have on hand.
How should I cook the chicken?
Many recipes will tell you to poach the chicken. Which means cooking it in water or stock on the stovetop. So basically you're cooking the chicken in water (sort of boiling the chicken), and lots of the flavor comes out in the water. And some chicken can get a little rubbery cooking this way.
If I'm making soup this is fine. But if I'm making chicken for a salad topping or chicken salad I'm going to roast the meat. This would be the same if I was cooking a whole chicken or pieces with the bone in and skin on.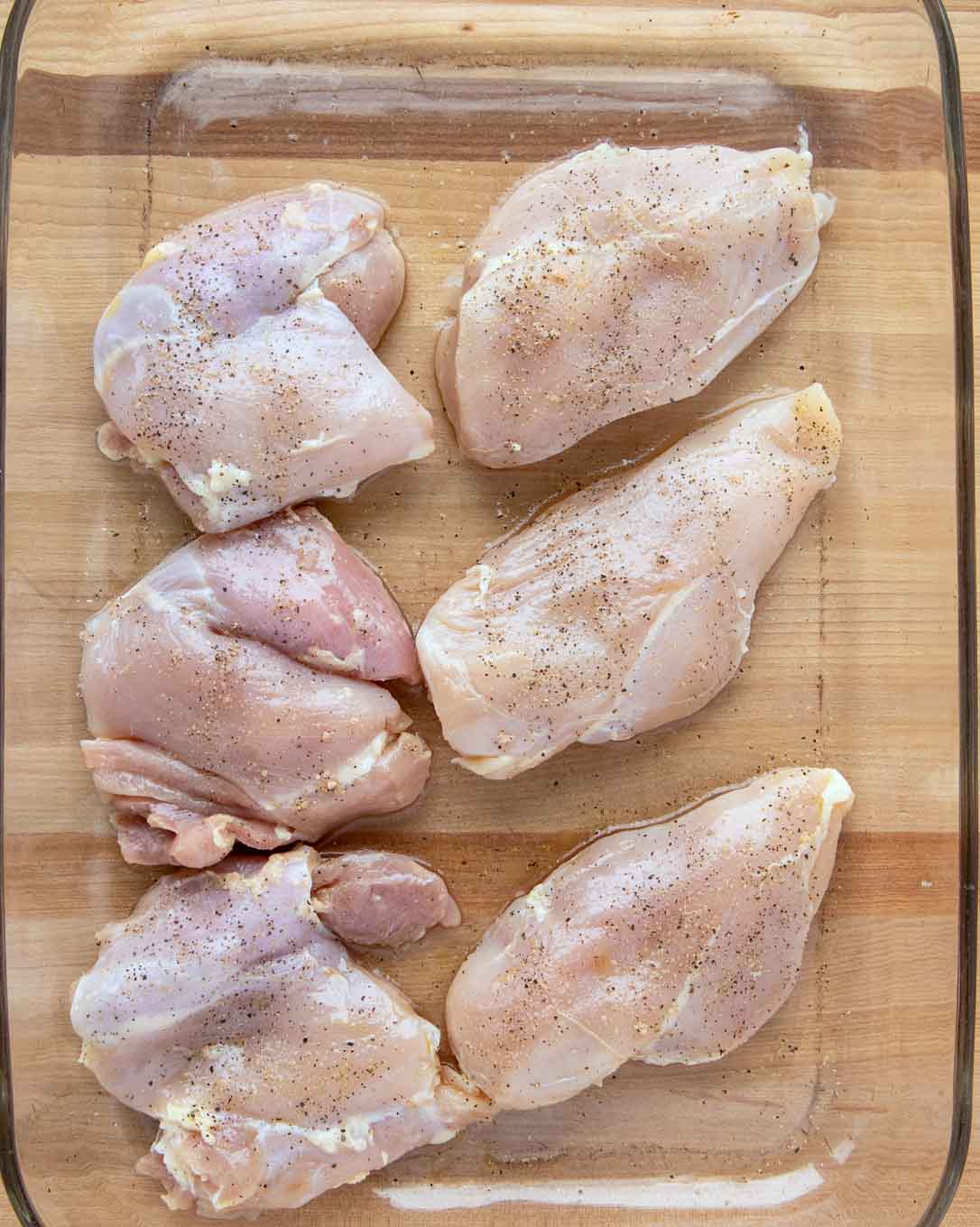 First coat the chicken with a little olive oil (or cooking oil of your choice), season with sea salt and black pepper.
Feel free to use any seasoning you like, to create your own flavor of chicken salad. These are some of the different spices I've used.
cajun seasoning
lemon pepper
old bay
Your favorite fresh herbs can be a nice addition as well.
Add a little water to the bottom of the baking dish (¼ cup) and cover the dish with foil. Place the dish in a preheated 350 degree F oven for 25-30 minutes or until a thermometer in the thickest part of the breast reads a minimum of 165 degrees.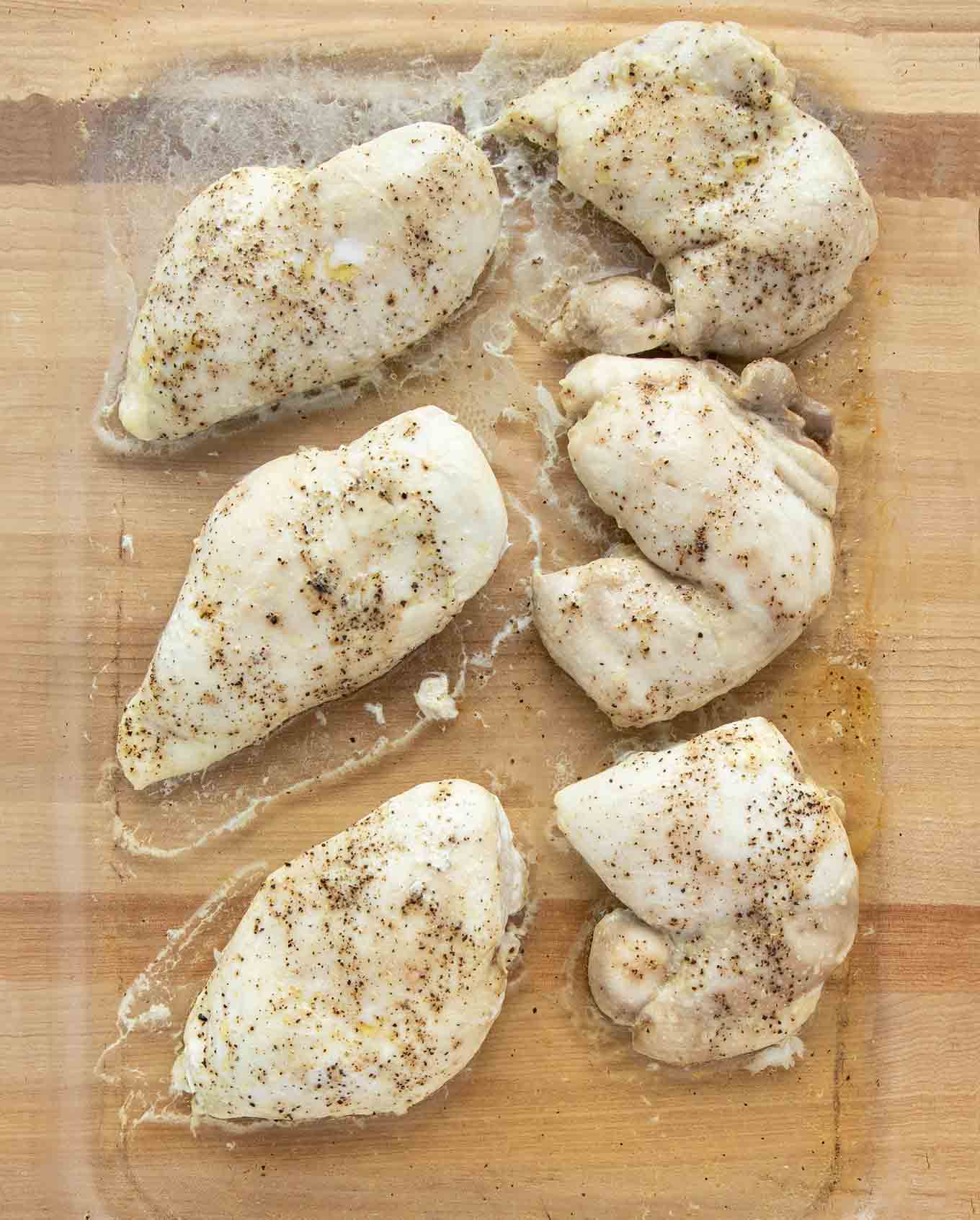 When the chicken is ready, allow the cooked chicken to cool to room temperature. When the chicken has sufficiently cooled, place it in the refrigerator for at least 2 hours to chill.
Cooking the chicken ahead of time is a good idea. Make it today for lunch tomorrow.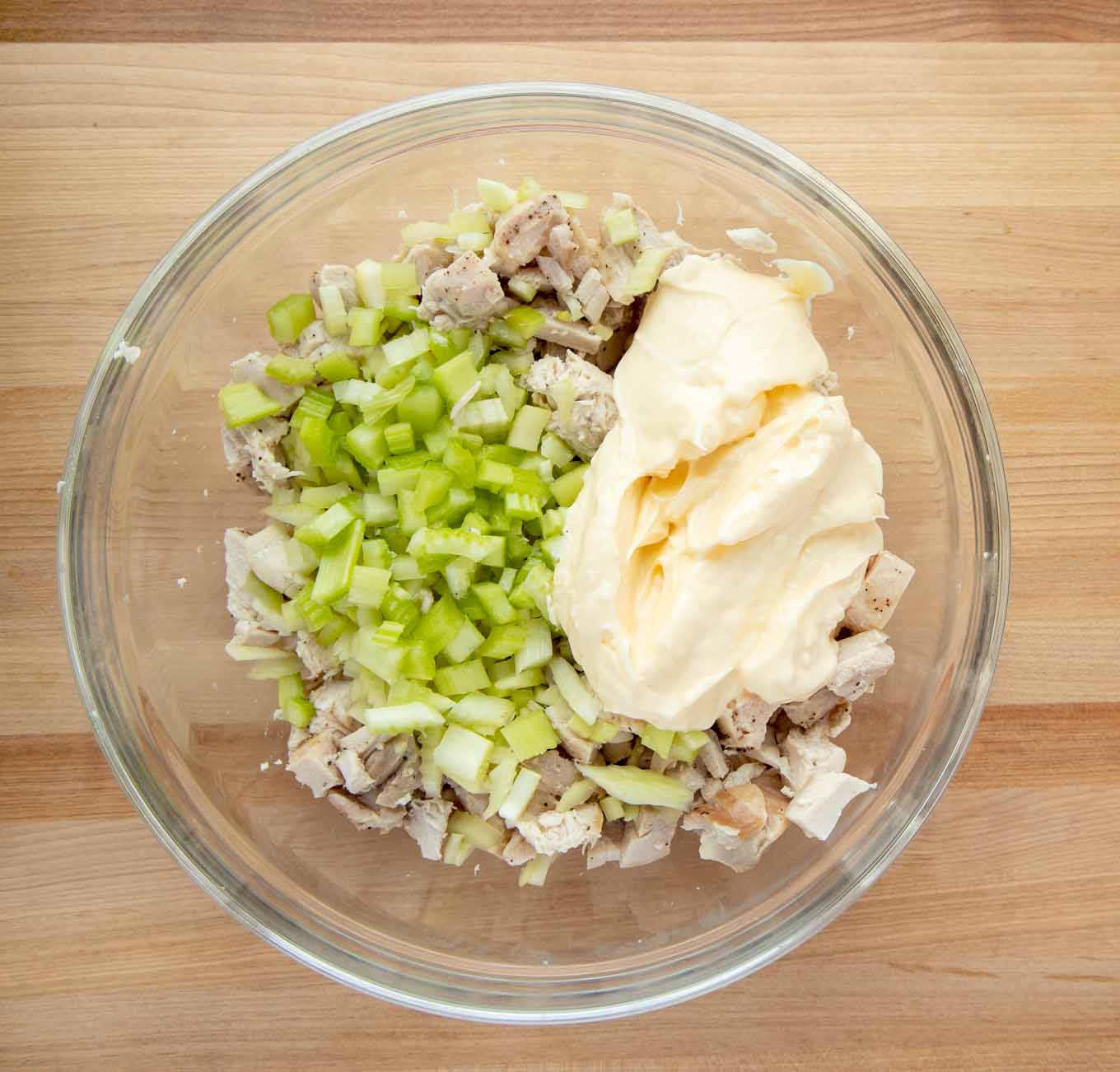 When the chicken has fully cooled in the fridge, you can cut it up into ¼ – ½ inch pieces. I like it on the smaller side, but not so small you can't recognize that it's chicken.
And don't get me started on the ground chicken version; I have teeth and want to see what kind of chicken you're using. If it's ground it could be anything.
Place the diced chicken into a large bowl with the celery, mayonnaise, and granulated onion (if you don't like onion leave it out) to make the chicken salad mixture.
I like to mix this all together so I can taste it before I reseason with sea salt and black pepper.
What can I use besides mayonnaise?
plain Greek yogurt
combination of sour cream (or Greek yogurt) and mayonnaise
blue cheese dressing (add hot sauce to the chicken) to make it buffalo style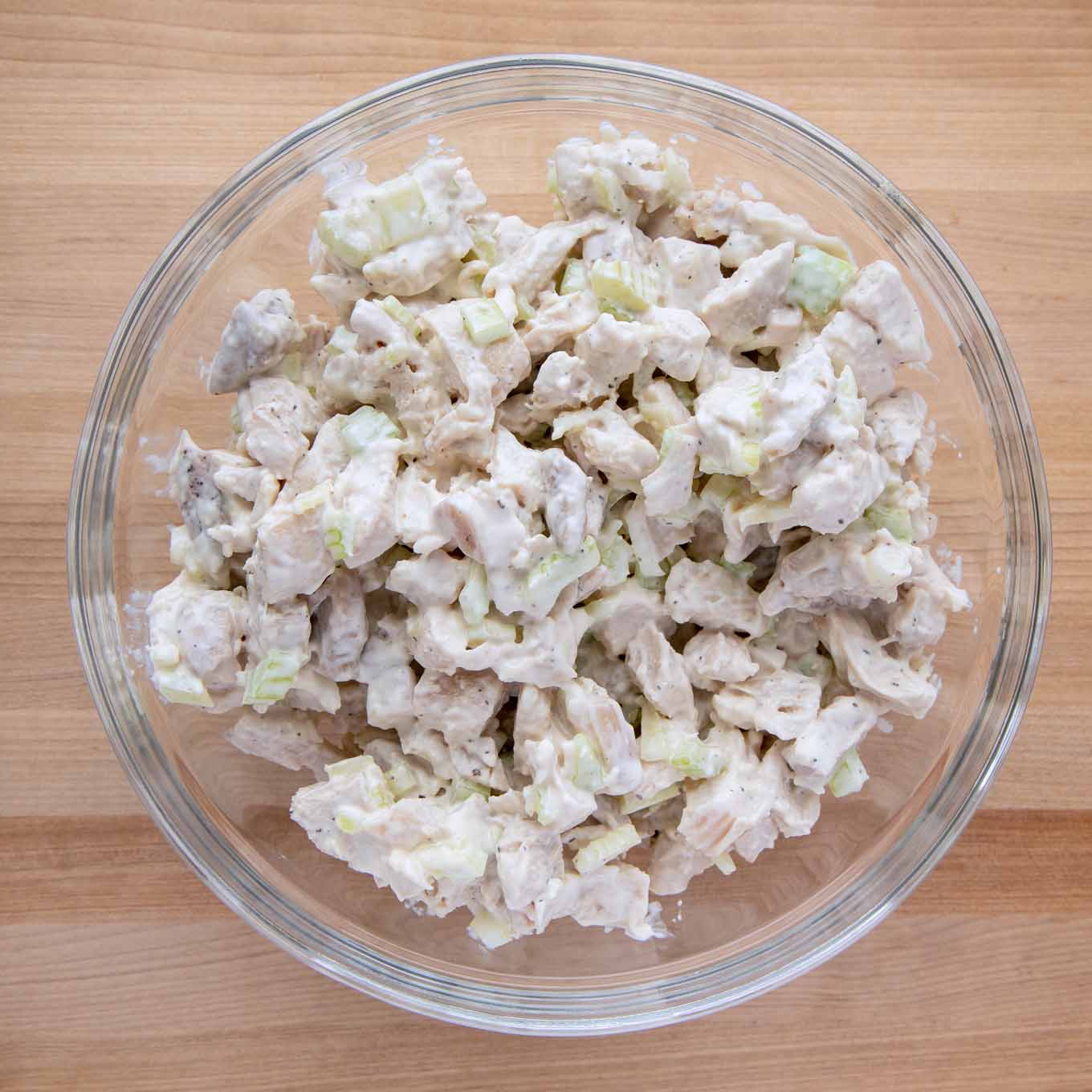 Reseason the chicken salad mixture if needed, then place the finished chicken salad in the fridge for a few hours to let the flavors build.
Making it early in the day or a day ahead of time will give you a better-tasting chicken salad.
Some of my other favorite salads using chicken are my Blackened Chicken Salad and Perfect Summer Salad.
What else can I add to Chicken Salad?
I've seen a lot of other ingredients show up in this American Classic, here are some of my favorites:
added vegetables: carrots, roasted red peppers, onion, scallions
chopped olives
walnuts, pecans or pistachios
avocado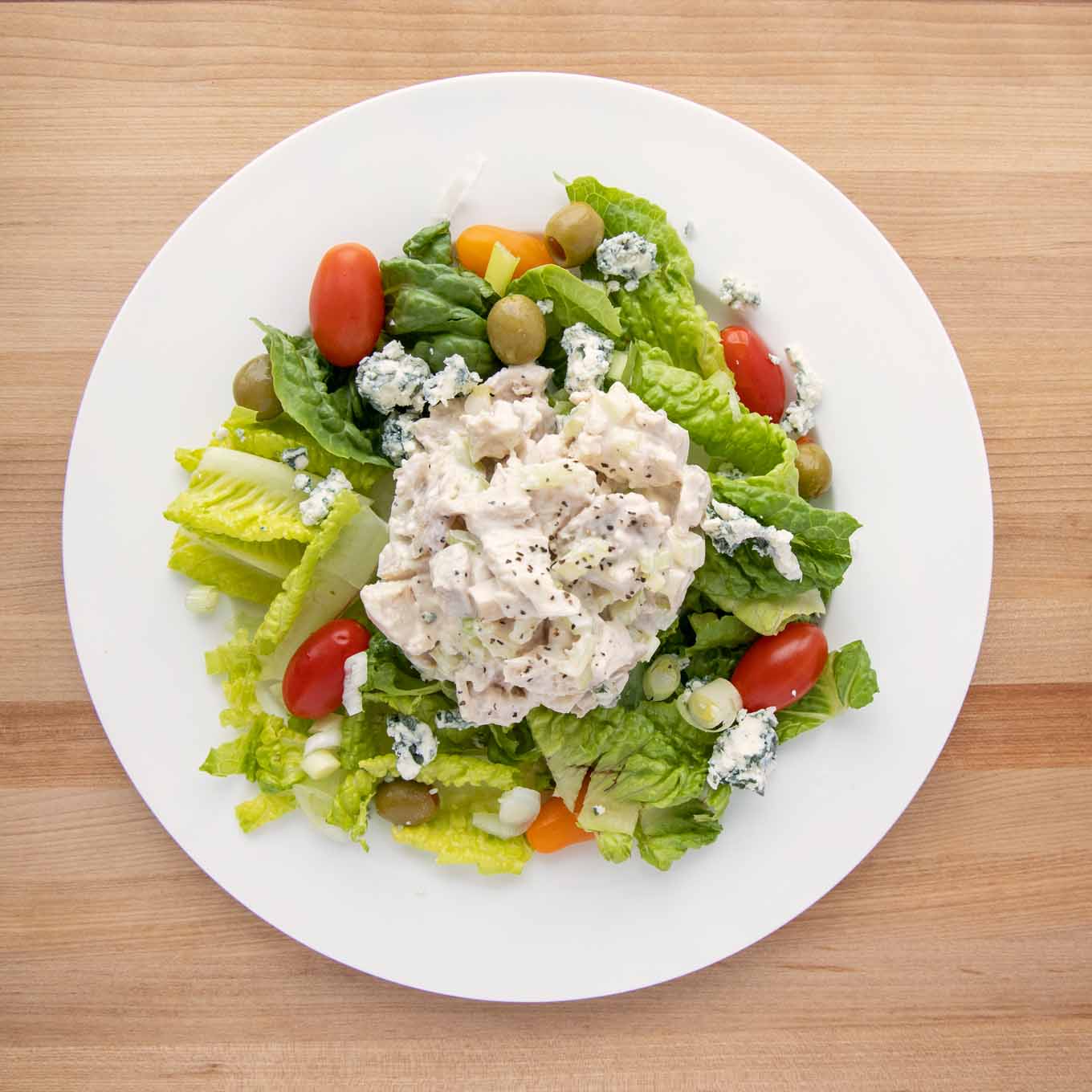 I love a big scoop of chicken salad on salad greens. Add your favorite dressing and toppings and you've got a light, delicious lunch or dinner.
It's also a nice filling for a stuffed tomato.
Serving Chicken Salad Sandwiches: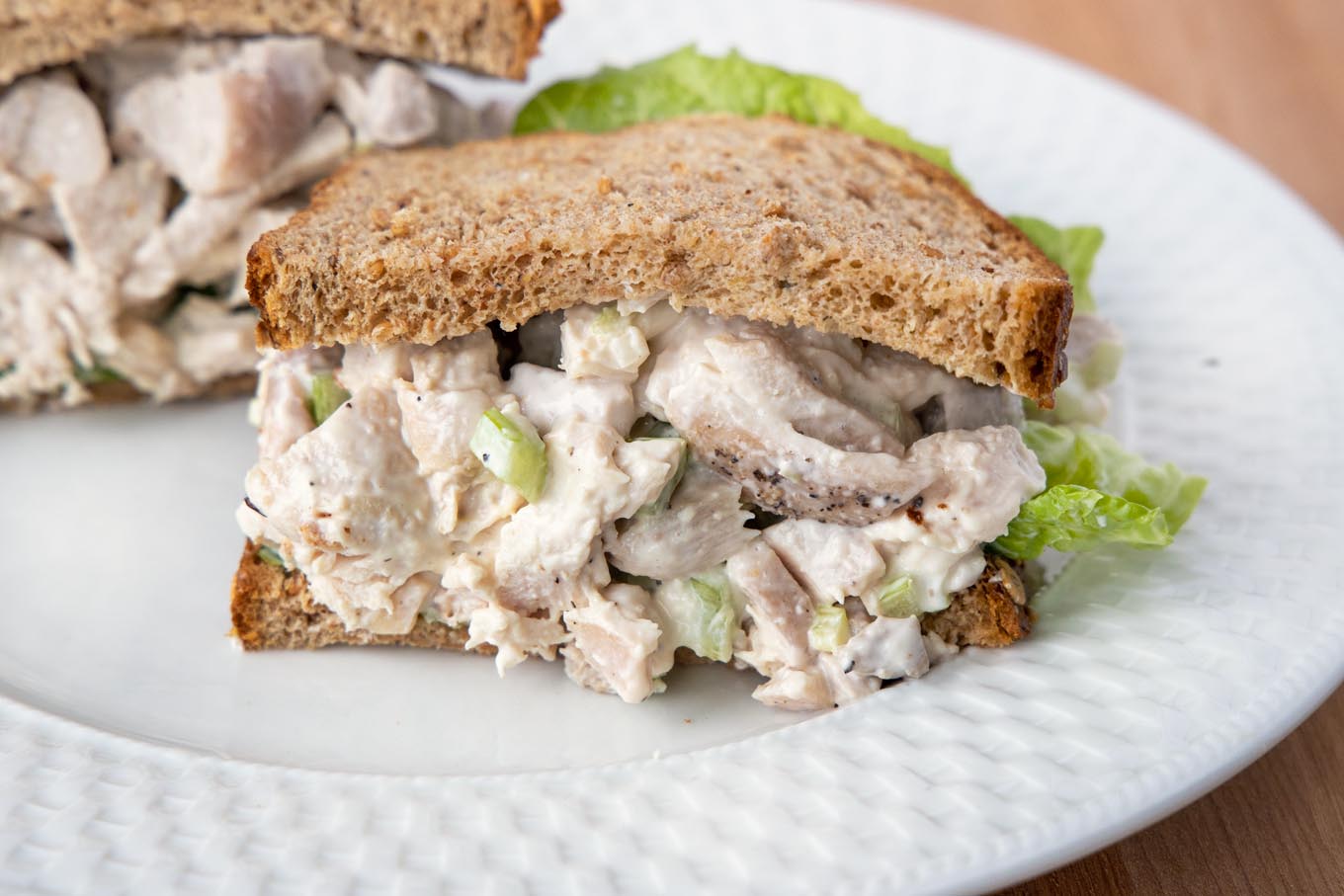 When it gets right down to it, nothing beats a good chicken salad sandwich. Whether you make a club sandwich by adding, lettuce, tomato, and bacon or simply adding a slice of cheese or garden-fresh tomato slices, it's going to be a sandwich to remember.
These Sandwiches can be served on any type of roll, bread, or lettuce wrap. I love my chicken salad on a croissant, 21-grain bread, hoagie roll, or good old-fashioned sandwich bread.
Recipe FAQ's:
Can you put eggs in chicken salad?
The classic southern recipe for chicken salad includes chopped hard-cooked eggs and dill pickle relish. It's an interesting combination that will add a lot of flavor to the salad.
How long is chicken salad good for?
Refrigerated in airtight containers, and properly stored, it will last for 3 to 5 days.
How do I fix salty chicken salad?
Adding an acidic ingredient such as lemon juice, or apple cider vinegar will counteract some of the saltiness. You can also add other ingredients such as avocado, hard-cooked eggs, or additional chicken and mayonnaise to cut the saltiness.