When it comes to sandwiches my Pepperoni Pizza Grilled Cheese Sandwich is one of my all-time favorites! Stuffed with mozzarella, pepperoni, American cheese it's a delicious twist on a classic sandwich!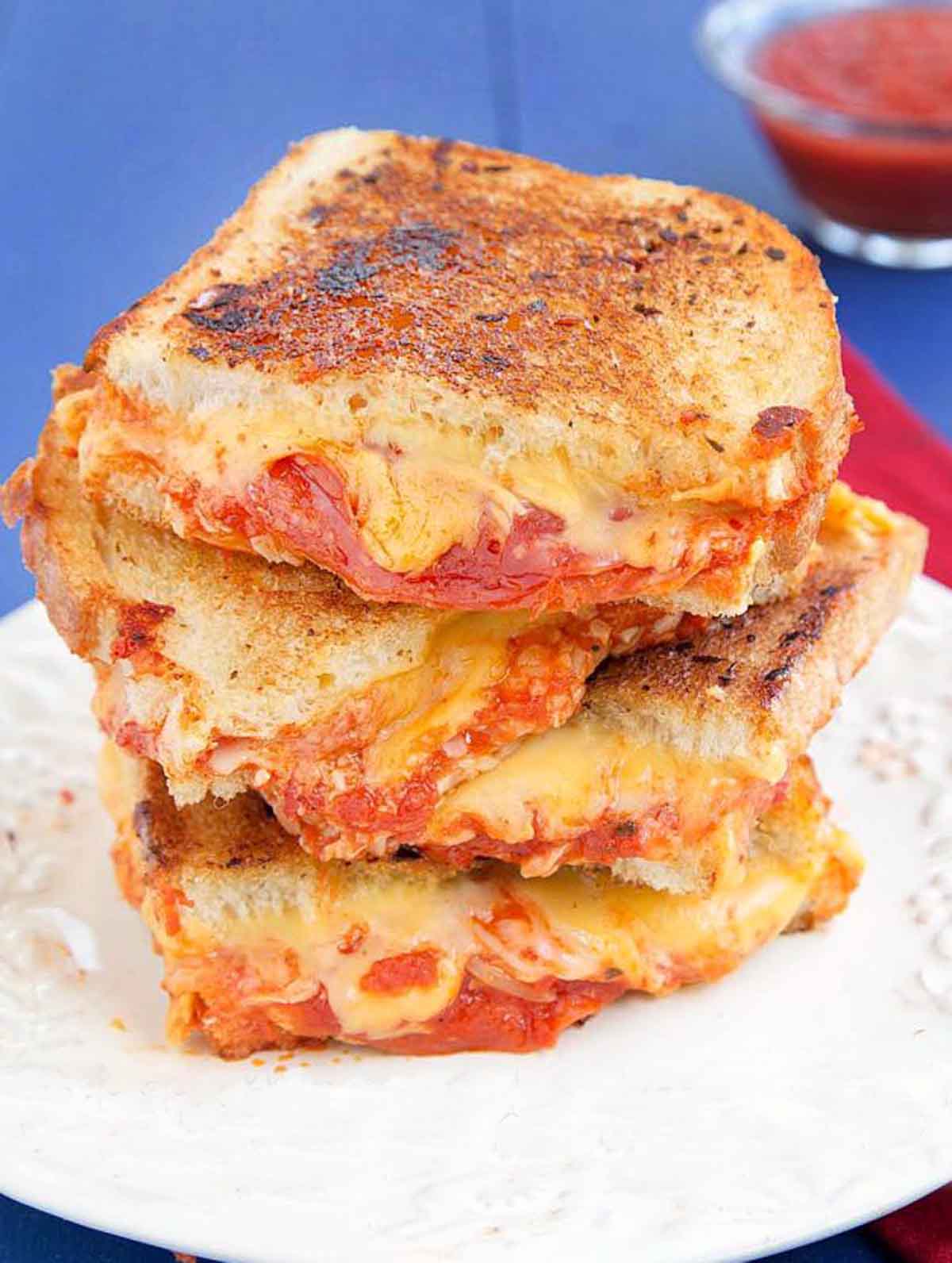 Trust me when I say combing Pepperoni Pizza sand Grilled Cheese is pure genius and a great way to make a boring lunch a culinary adventure!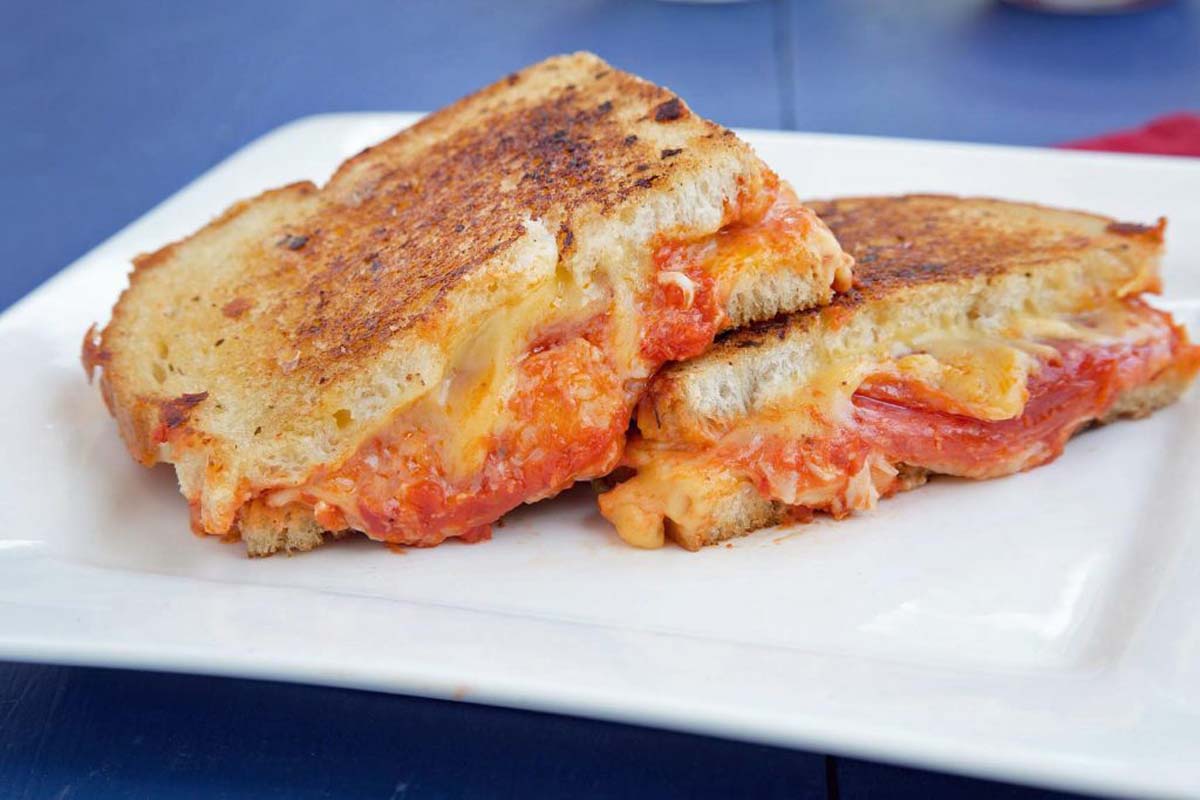 When it comes to grilled cheese sandwiches, I promise you'll love this sandwich, it adds the deliciousness of pepperoni pizza to grilled cheese.
What Ingredients do I need to make Pepperoni Pizza Grilled Cheese Sandwich?
Let's start by gathering the ingredients we need to make Pepperoni Pizza Grilled Cheese Sandwiches. In Chef Speak this is called the "Mise en Place" which translates to "Everything in its Place".
Not only does setting your ingredients up ahead of time speed up the cooking process, it also helps ensure you have everything you need to make the dish.
What type of bread can I use for my grilled cheese sandwiches?
My favorite bread for hearty grilled cheese sandwiches is sourdough. If I'm making standard grilled cheese, potato bread or good old white bread is a great choice, but you can use any type of bread you like to make these delicious sandwiches.
What type of cheese should I use to make grilled cheese sandwiches?
Using a cheese that melts well is a key factor in making your choice. I love to use a combination of cheese for my grilled cheese using American cheese and mozzarella cheese. But you can use cheddar cheese, Monterey Jack, or your favorite cheese with this recipe (as long as it melts well).
How do I make Pepperoni Pizza Grilled Cheese Sandwiches?
Start building your sandwiches by placing four slices of sourdough bread on the counter Cover each slice of bread with 2 cheese slices of American cheese on each slice of bread.
Place the slices of pepperoni on top of the american cheese on each of the bottom slices of the sourdough.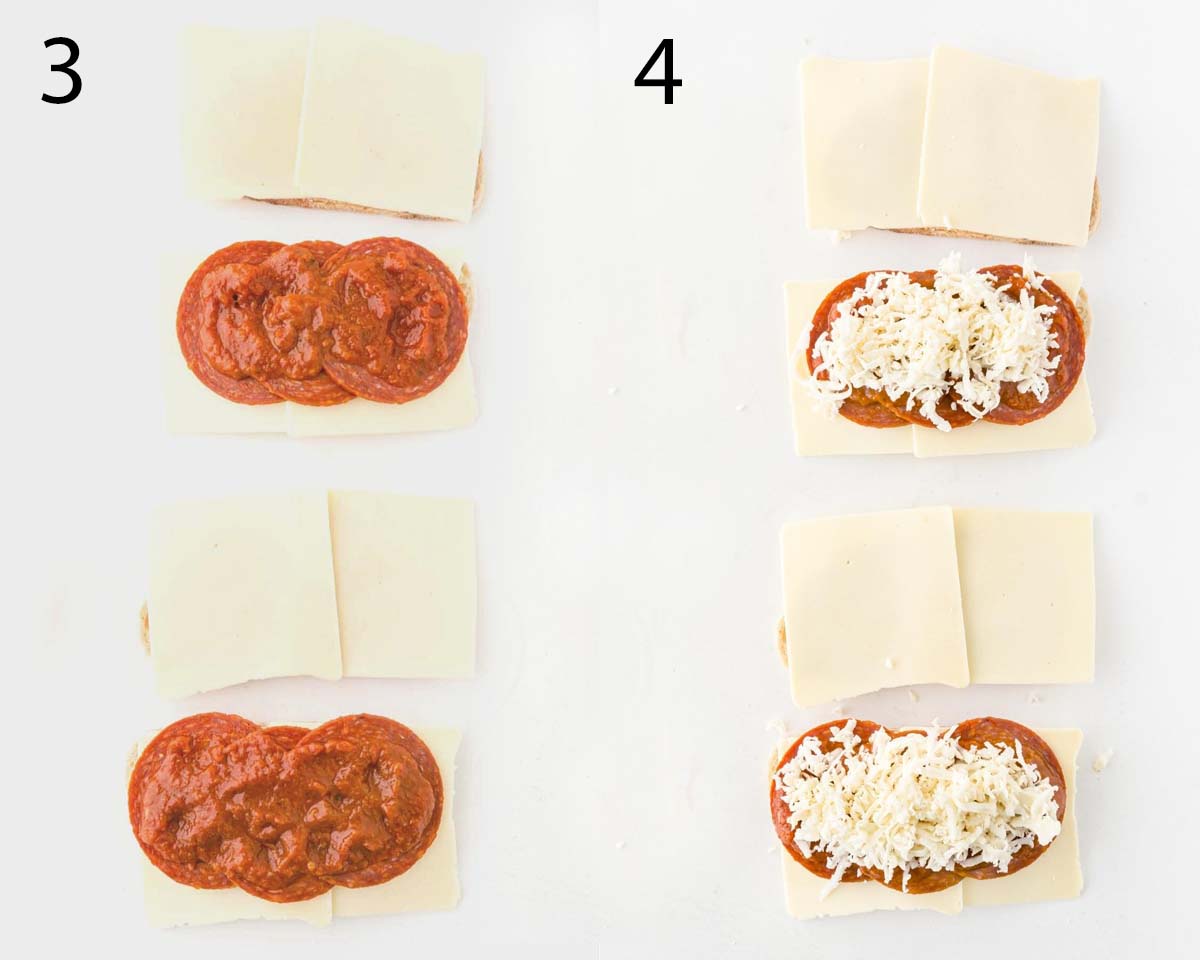 Spread about 1 ounce of pizza sauce on top of the pepperoni on each sandwich
Add the mozzarella on top of the pizza sauce on each sandwich.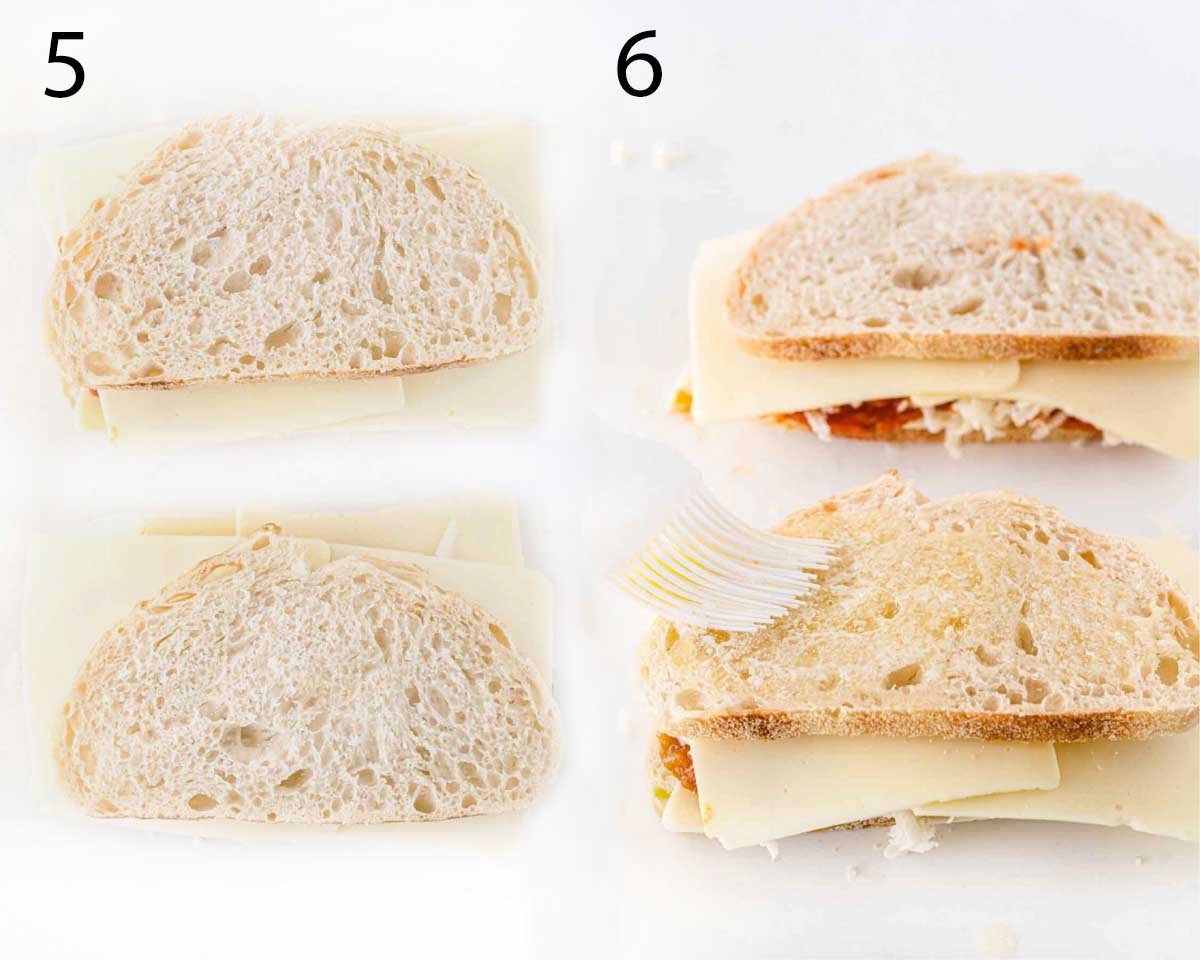 Top the two finished sandwiches halves, with the other slice of sourdough that you have cheese already on, with the cheese facing the pepperoni.
Melt the butter in a small pan over low heat, then using a pastry brush, brush one side of each of the sandwiches liberally with the melted butter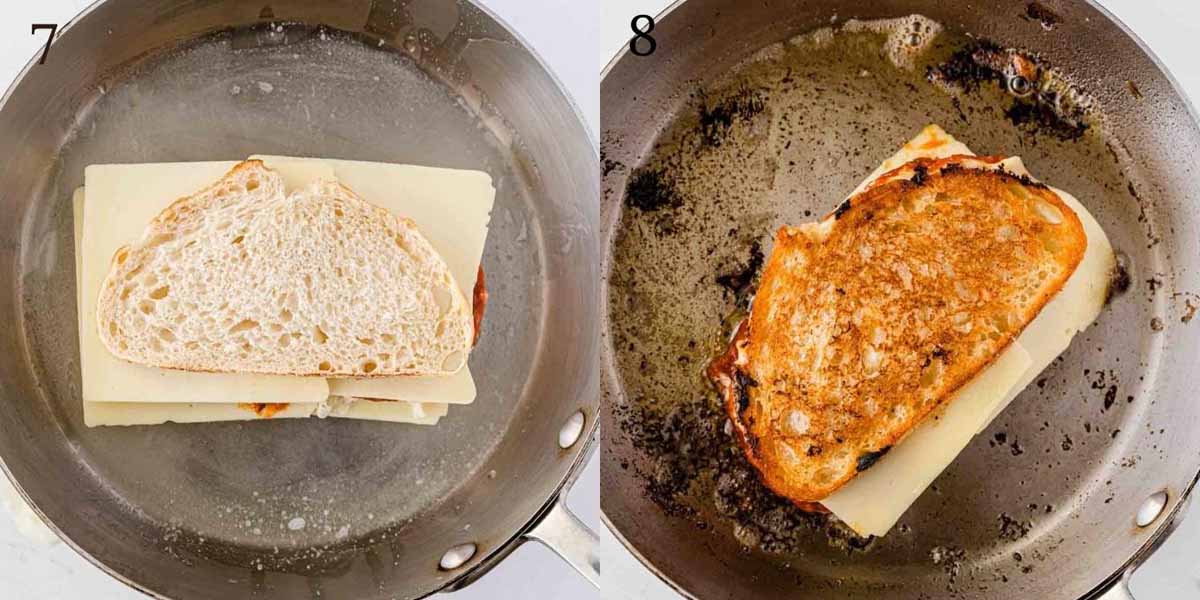 Heat your pan on the stove top until it is hot enough to toast the bread.
Place the buttered side down on the pan.
Turn the stove down to medium heat, and cover the sandwich with a pot lid to keep the heat in and help the cheese to melt. After about 3-4 minutes check the bread on the pan to see how the color is. It should be toasted a dark golden brown.
Brush butter on the side that is up, then turn it over to repeat the process of toasting the bread. (Use the pot lid again to help melt the cheese) After 3-4 minutes check that side, to see how the color is.
*If the cheese is not fully melted, turn the heat down to low and keep the lid covering the sandwich until the cheese has melted. Just be careful not to burn the bread.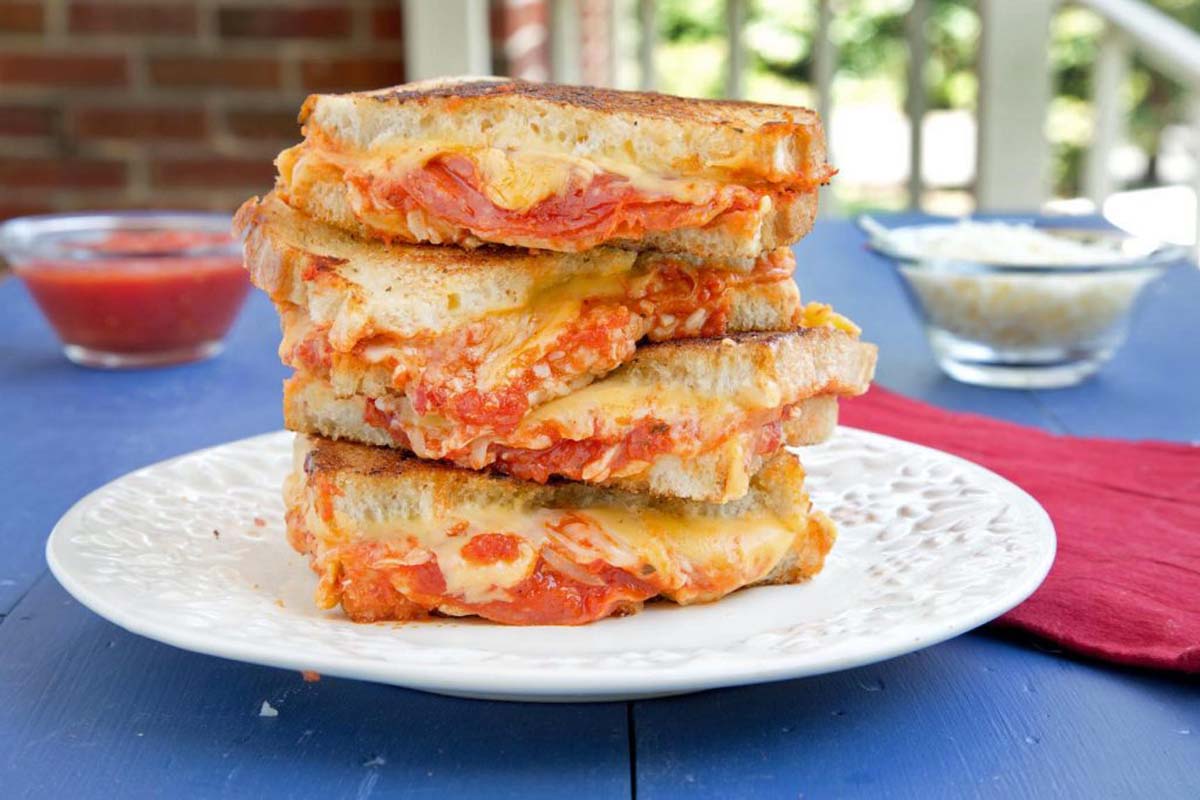 As far as Sandwiches go, this was too good. I should have had some self-control and not eaten them both, but the combination of flavors and the gooey cheese melting and oozing out the side the sandwiches made it impossible to resist!
These sandwiches would be perfect for an after-school snack, or a fast and easy dinner. Just serve them up with a side salad or a bowl of soup and you have a meal worth remembering!
Can I mak baked pepperoni pizza grilled cheese sandwiches in the oven?
Yes, you can! Brush the sandwiches with butter and place them on a sheet pan into a 425 degree preheated oven for 6-8 minutes or until the bread turns golden brown and the cheese melts
Carefully turn each of the sandwiches and bake for another 2-3 minutes on the other side.
*Watch the sandwiches carefully because the time can vary depending on the type and thickness of the bread used and the type of cheese. Golden brown to burnt will only take a little while.
Recipe FAQ's
What cheese goes well with pepperoni?
I love the taste of cheddar, and provolone with pepperoni slices, but just about any cheese you enjoy eating will pair well with pepperoni. Try it with gouda, gorgonzola or bleu cheese for a taste adventure!
What is sandwich pepperoni?
Sandwich pepperoni is also known as slicing pepperoni can be found at your grocer's deli counter. It's a wider version of stick pepperoni that most people are familiar with. It goes great in sandwiches and salads as well as a topping for pizza.
Can I use marinara instead of pizza sauce?
Yes, you can. The only issue with using marinara is it's not as thick as pizza sauce. Pizza sauce is also uncooked, whereas marinara is a cooked sauce.
More Recipes You'll Love!