This classic presentation of a timeless favorite is so easy to make it almost makes itself. And once you've tasted the decadent flavor of my crab imperial, it will become one of your all-time favorite recipes.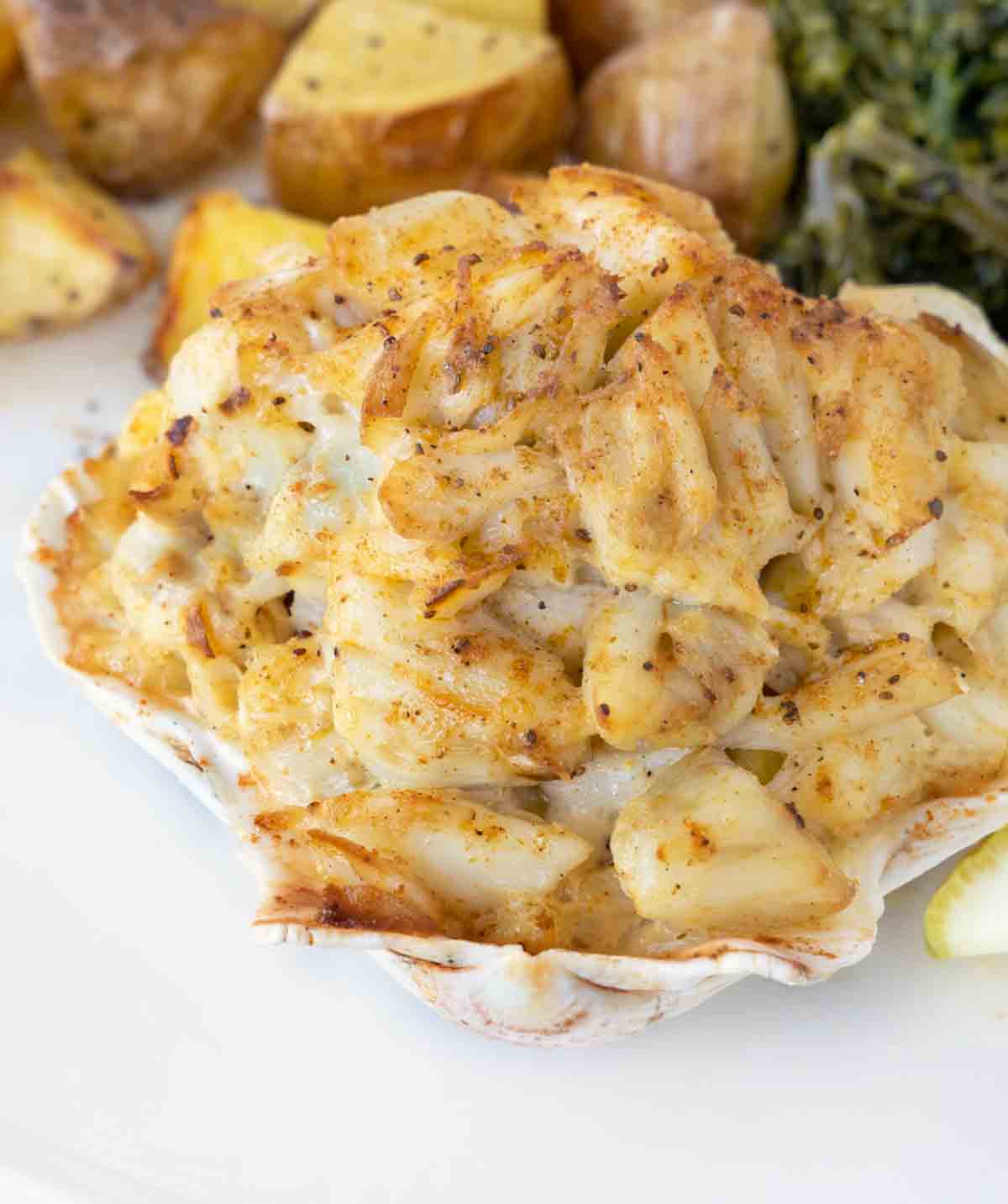 You don't see Crab Imperial on the menu very often anymore, and it's a shame. Besides being a classic restaurant dish, it's a delicious way to serve lump crabmeat. And this is the same stuffing I use for my Stuffed Flounder.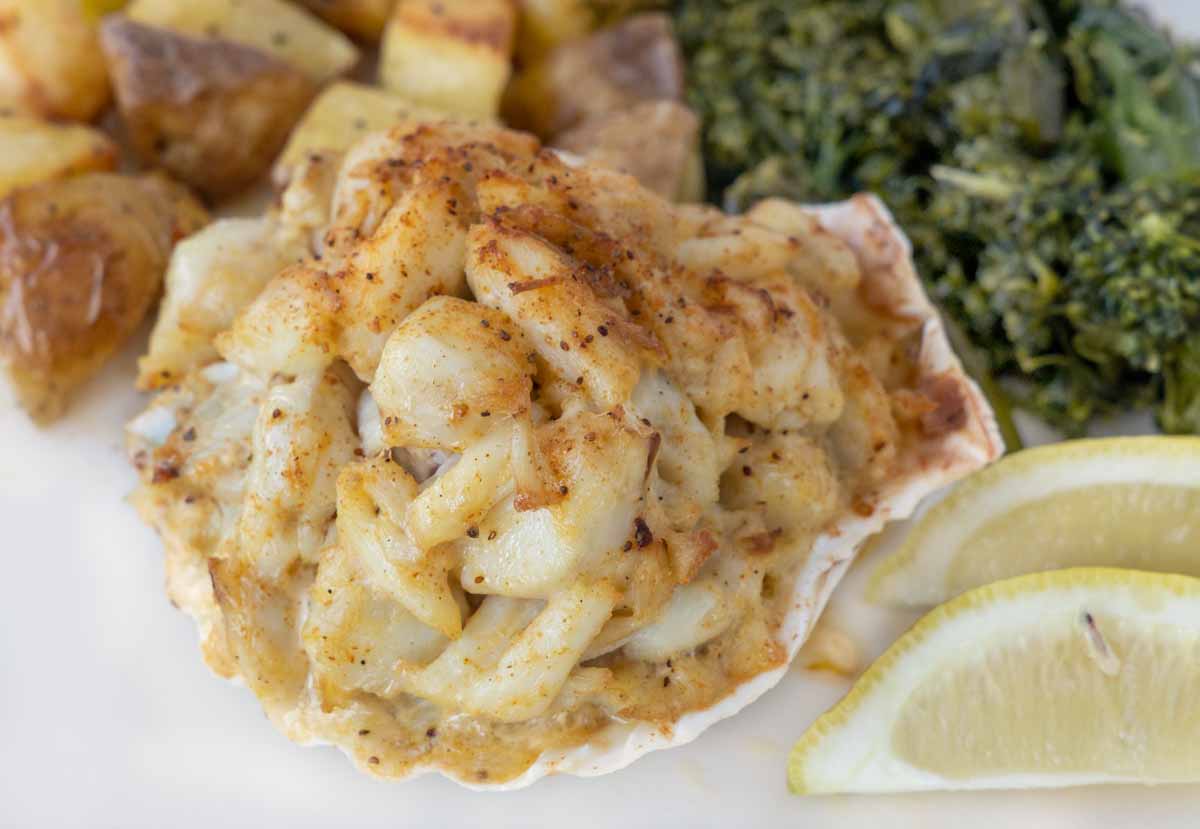 Other than simply sauteing crabmeat in butter there is no better way to serve Jumbo Lump crabmeat than a golden brown baked crab imperial. Serve it with your favorite sauteed greens and roasted potatoes for a delicious restaurant-style dinner.
What is Crab Imperial?
Crab Imperial is a dish made up of crab meat mixed with an imperial sauce then baked to golden perfection.
You might call it Virginia Crab Imperial, Maryland Style, or Jersey Shore style, but no matter who claims this Eastern Shore Classic, you're sure to call it delicious.
What is an Imperial Sauce?
An Imperial Sauce is a mixture of mayonnaise, whole eggs or egg yolks, and seasonings, usually including Old Bay. It's really easy to make and can be used with every type of crabmeat including imitation crabmeat.
**Hellman's Mayonnaise is best for this recipe, it holds up well to heat.
What ingredients do I need to make Crab Imperial?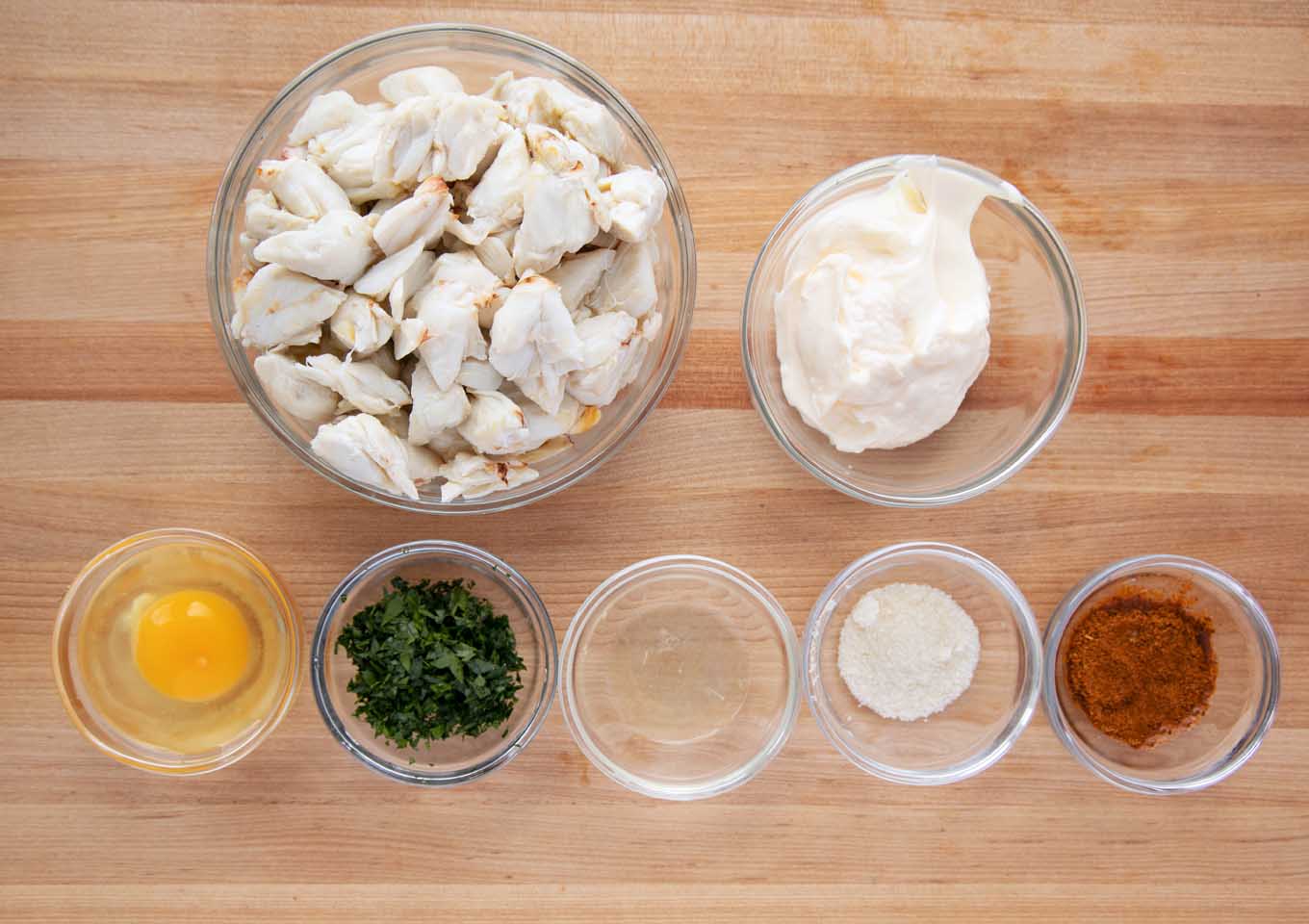 Let's start by gathering the ingredients we need to make this American Classic. In Chef Speak this is called the Mise en Place which translates into Everything in its Place.
Not only does setting up your ingredients ahead of time speed up the cooking process, but it also helps ensure you have everything you need to make the dish.
What Type of Crabmeat Can I Use?
The source of the crab meat can be from any part of the world that has crabs and includes varieties such as Blue Swimming, Dungeness, Snow, King and of course my favorite Blue Claw.
Jumbo Lump
Lump
Backfin
Claw
Imitation Crabmeat
How do I make Old Bay Seasoning?
If you can't find Old Bay at your markets it's easy enough to make at home.
1 tablespoon celery salt
2 teaspoons ground bay leaves
2 teaspoons smoked paprika
1 ½ teaspoon ground black pepper
¼ teaspoon cayenne pepper
¼ teaspoon allspice
1 teaspoon dry mustard
1 pinch nutmeg
1 pinch cinnamon
1 pinch ginger
If you'd rather not make the seasoning, you can always use the recipe as a guideline and use seasonings that you enjoy eating with seafood.
Do you add peppers to crab imperial?
That's a big no! This dish would never, ever contain bell peppers or onions.
How do I make imperial sauce?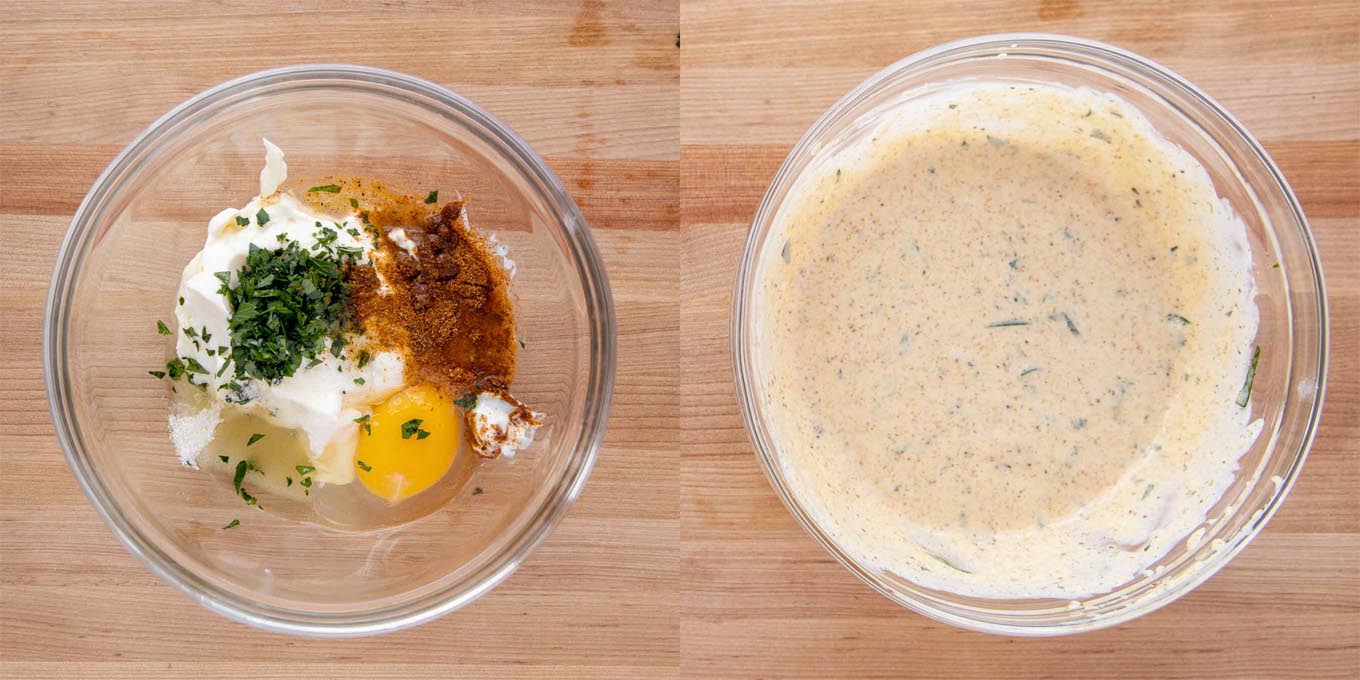 The first step is making the Imperial sauce for the dish. Place all the ingredients in a small bowl and mix well.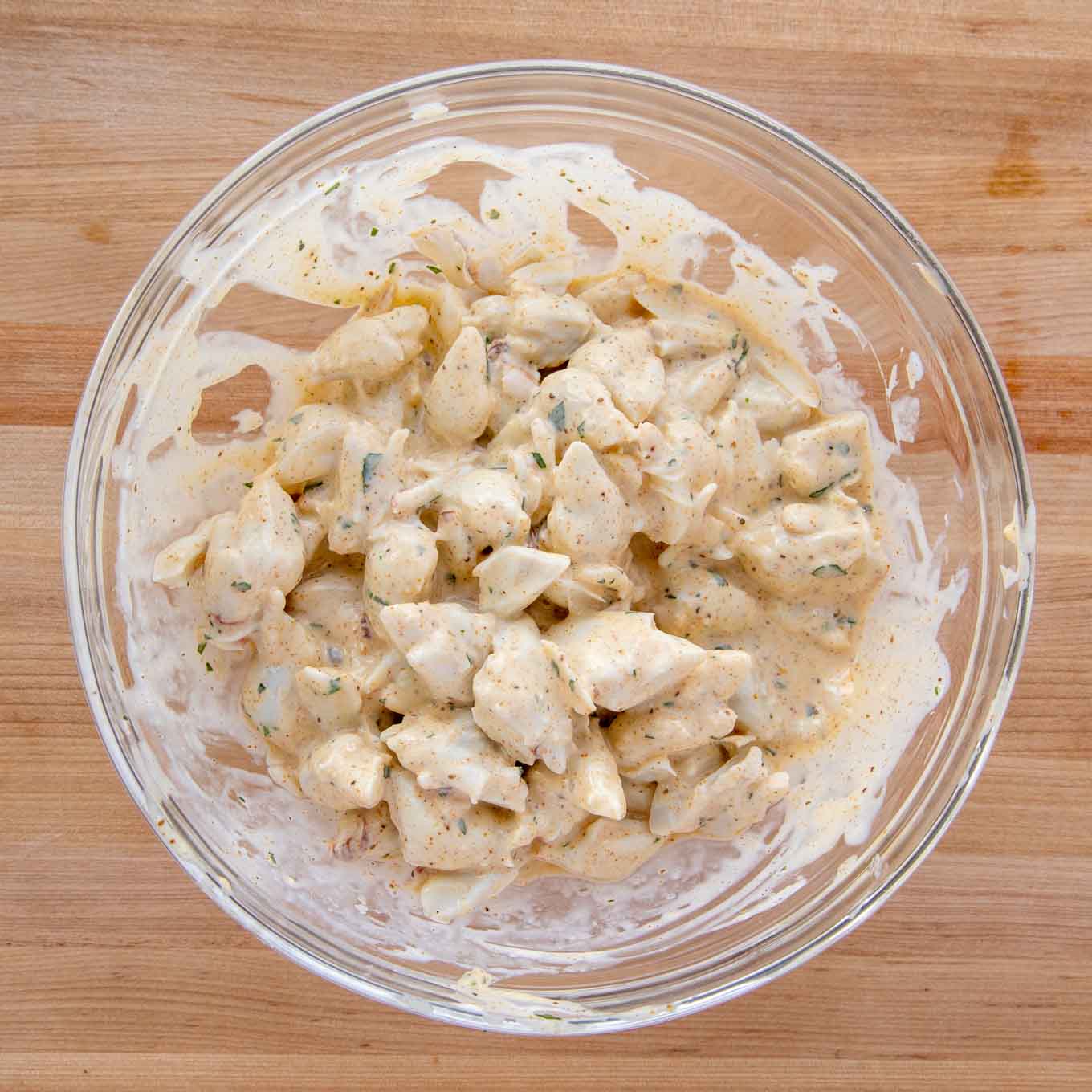 The next step is mixing the imperial sauce into the crabmeat…. gently! You don't want to break up the crabmeat, so mix carefully.
**Don't add all the sauce at one time. Reserve about ¼ of the sauce to add in if needed. The larger the pieces of crabmeat, the less sauce you will need. Smaller pieces will take more sauce. If you oversauce the mixture you can always add a tablespoon of bread crumbs if you can't drain out the excess sauce. Let the mixture sit for 20-30 minutes and it will absorb some of the sauce, so the mixture isn't as loose.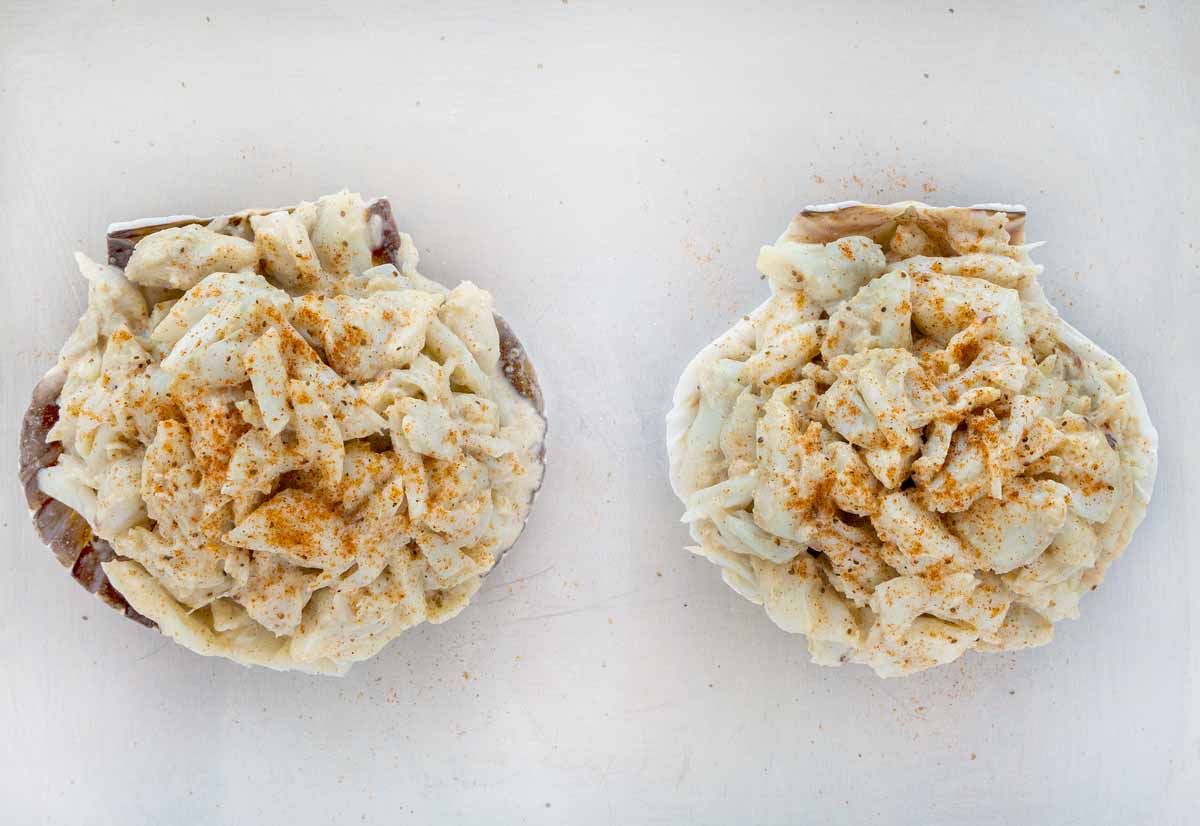 Then place the crab imperial mixture into a Scallops Shells or your choice of baking dish and place it on the center rack of your oven for 20-25 minutes at 350 degrees F.
Chef's Choice
Scallop Shells for Cooking
These scallop shells are perfect for crab imperial and other seafood dishes.
Buy On Amazon
This post includes affiliate links. As an Amazon Associate, I earn from qualifying purchases.
10/01/2023 06:18 pm GMT
Should I top Crab Imperial with Bread Crumbs?
While the bread crumbs may add texture and color to the dish, they are just stealing flavor from the crab meat. So I would never top something as elegant and delicious as crab imperial with bread crumbs.
What Else Can I use Crab Imperial For?
This crabmeat mixture is perfect for stuffing Lobster, Shrimp, or Mushrooms. And if you love crab meat make sure to try my Famous Crab Cakes Recipe!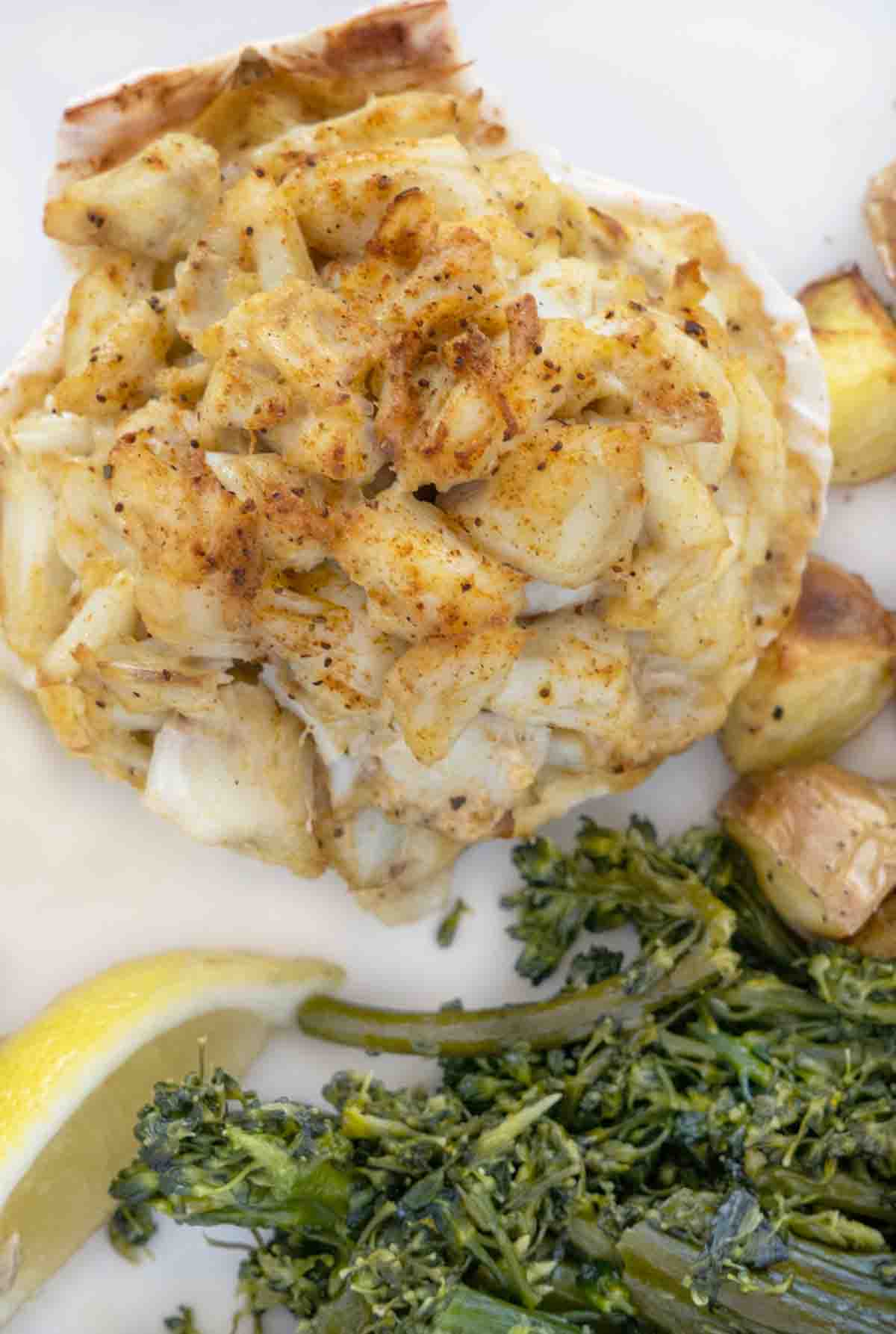 Wouldn't you love to sit down to this delicious dish? My Maryland Style Crab Imperial was always a hit at my restaurant and one taste will make you understand why.
This post includes affiliate links. As an Amazon Associate, I earn from qualifying purchases.
Cooking Tip:
Bake in a 350-degree oven for 20-25 minutes (top will turn golden brown) or until a thermometer gets an internal reading of 165 degrees. This will ensure that the eggs in this recipe are fully cooked and safe to eat.
Using a digital insta-read thermometer will help you cook this dish to perfection and be a great help in your kitchen.
If you're looking for an easy meal for a special occasion, or if you just want to treat yourself, do try this classic dish, you'll be very happy you did!
Recipe FAQ's
What is crab imperial?
Crab Imperial is a dish made up of (any type) crab meat mixed with an imperial sauce. It's then baked to a golden perfection
Can you freeze crab imperial?
No, freezing crab meat is not a good idea. The imperial sauce is not enough to offer protection from freezing and you'll be left with a very unsatisfying crab dish.
What is the difference between crab imperial and crabcakes?
Crab Imperial has a sweet and savory flavor and is very similar to crab cakes without the addition of a filler. It contains many of the same ingredients as a traditional crab cake recipe, but crab imperial is a richer version of the dish.
What is the best type of crabmeat to use for Crab Imperial?
My first choice will always be American Blue Claw crabmeat, Jumbo Lump is the best crabmeat for this dish, but lump crabmeat is also acceptable! It has the sweetest taste and richest flavor of all the crabmeat available, well worth the splurge.
And fresh crabmeat, generally found in plastic containers is the best crabmeat. Pasteurized crab meat comes from Asian waters these days and doesn't have the same flavor.
More Recipes You'll Love!