Tick-Tock, Tick-Tock……that's the sound of the clock moving ever so slowly as we near the end of the school year…..sigh    Now that's something else we're  going to have to explain to the next generation.  They won't understand why a digital clock would go tick-tock……
I don't think any other generation has gone though as many changes as we have, if it has anything to do with electronics, it has moved at the speed of light…..I just wish they could make those types of improvements in the Auto industry.  We're still driving gas guzzlers, and where are the flying cars they promised us!   I remember so clearly drawing pictures of what the future would look like in that far away year of 2010, and my friends everyone one of those drawings had flying cars………where has the time gone….sigh
But let's not dwell on what we can't change and sit down to eat instead, that always seems to make everything better!    When I went shopping this week, I found one of my favorite ingredients back in stock after being MIA all winter, Jumbo Lump Crab meat and that definitely means that summer is on its way!   Of course we won't talk about what I paid for it, or the fact that it really wasn't all  jumbo lump but more lump, because it was still fresh Maryland Blue Claw Crab Meat, and my friends it was delicious!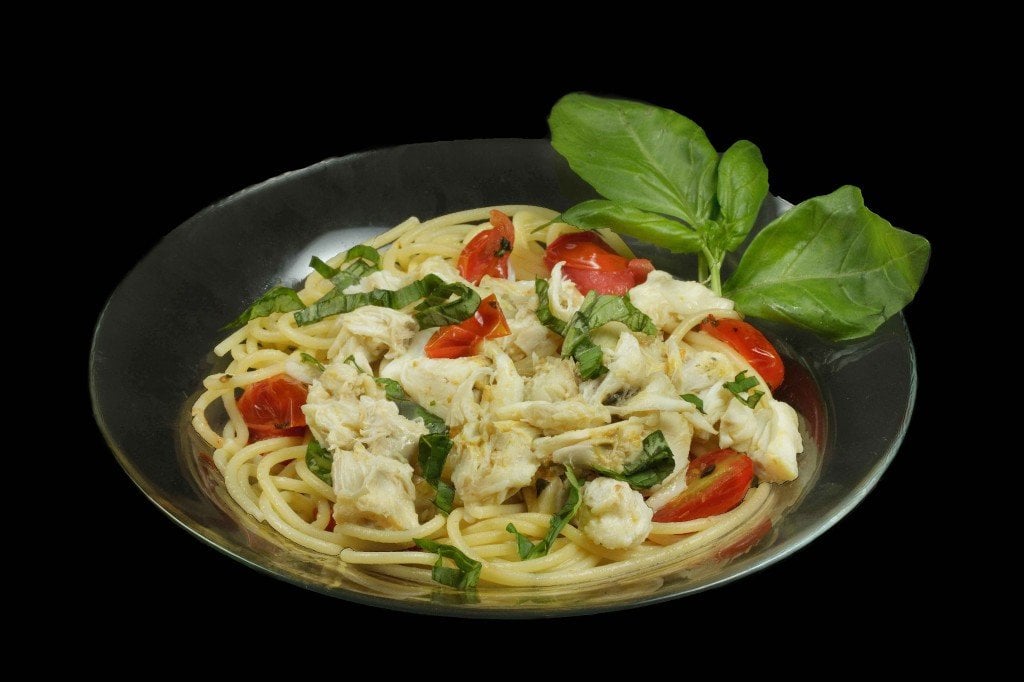 Lisa had asked for a white sauce but not to oily, so instead of a typical Aioli sauce, I decided to keep this pasta dish a little on the dry side by tossing it with the seasoned olive oil rather than dousing it with sauce.  The result was a fresh lightly oiled pasta dish where all of the ingredients retained their individual flavors.    The perfect meal to showcase that wonderful crab meat!  Pasta Fresca is really just garlic, and tomatoes sauteed in olive oil, seasoned with a little crushed red pepper flakes and sea salt, but as is the case with most Italian dishes, there are as many variations as there are Italian Grandmothers.  This is simply my very basic interpretation of this classic dish, so feel free to make changes!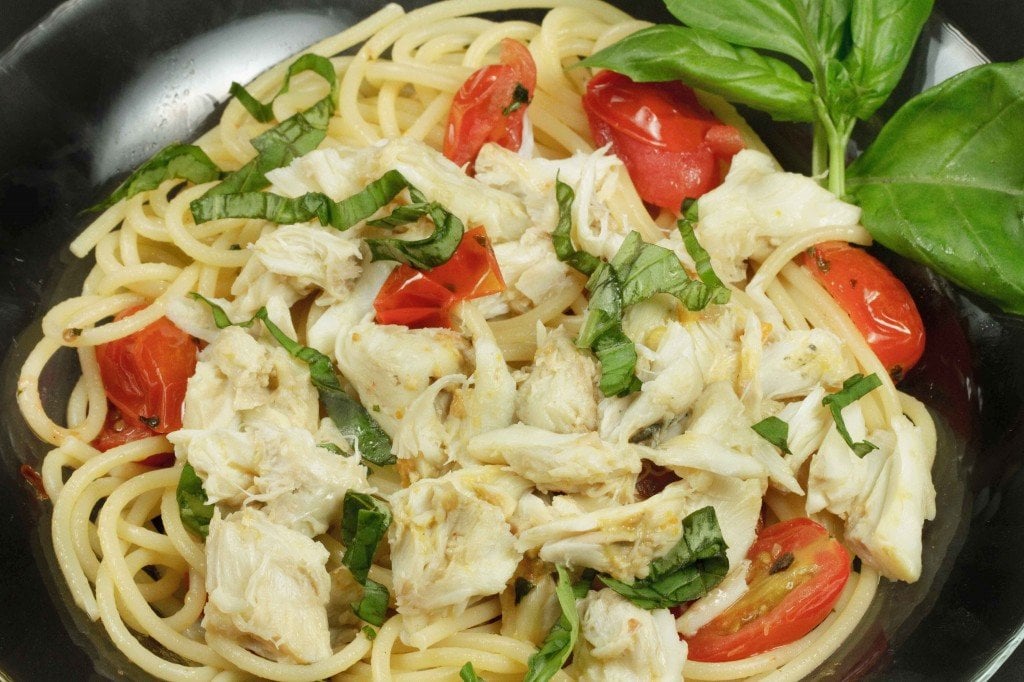 Ingredients
10-12

ounces

of Jumbo lump crab meat

2

Tbsp

chopped Basil Plus a sprinkle reserved for serving.

2

cloves

of garlic peeled and sliced

1

cup

of Grape Tomatoes sliced in half

4

Tbsp

Extra Virgin Olive Oil plus a drizzle

Sea Salt to taste

Crushed Red Pepper Flakes to taste

12

oz

dry spaghetti or linguine
Instructions
Prepare pasta water and cook pasta per instructions on the box*

In one saute pan add half the olive oil and the garlic and saute the garlic just until it starts to sizzle and cook

Add the tomatoes to the pan and continue cooking the tomatoes over high heat for a few minutes until they begin to break down, then reduce the heat to low and add crushed red pepper and sea salt*

Add the basil to the tomatoes and allow to continue cooking on simmer.

In another pan, add the rest of the oil and get it hot, then add in the crab meat and very gently saute it over a medium heat, until crab meat is warm. (you may need to add a little water or white wine if your drinking some to release the crab meat from the pan)

When the pasta is done, drain it and then toss it with the tomato-garlic oil until all the pasta is well coated and then divide into two portions.

Top each portion with the Jumbo lump Crab Meat

Top with additional basil and drizzle the best olive oil you have over the crab meat and pasta.

Serve immediately!
Recipe Notes
*you won't really need a full pound of pasta for these two servings, use about 3/4 of the box. *you will need to oversalt the tomatoes just a little bit otherwise the dish will be a little flat.
It really was an excellent meal and it was done in just a matter of minutes!  I will let you in on a little secret….shhh….  I know it's pretty much a mortal sin to serve grated cheese with a seafood pasta dish, but I always do because I love it!  So  don't forget to add a little grated Romano to the pasta (not the crab meat) and it will be even more delicious!
Thanks for stopping by today, and I'll see you all real soon!