You can make restaurant-style crabcakes in your own home with my World Famous Crabcake Recipe.  Not only will you amaze your friends with this delicious and easy recipe, you'll be able to bring the taste of the Eastern Shore to your table when ever you like.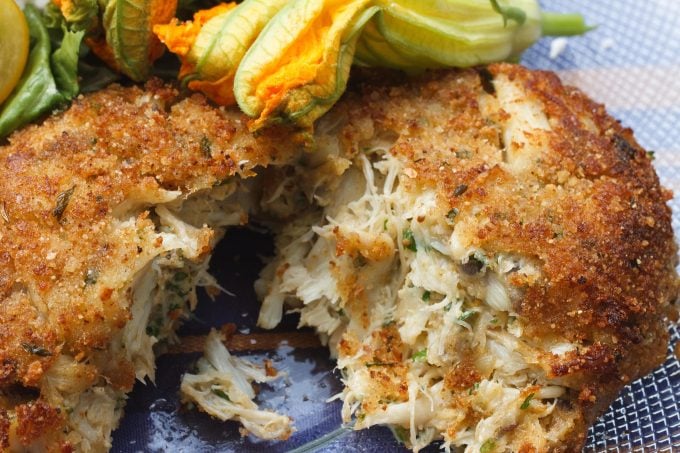 Over the years I have made more crabcakes than I care to remember, I'vee used claw, special, lump, jumbo lump and a mixture of two or more types of crab meat.  It all depends on what I could charge for the crabcakes and what was available in the markets.
At home my crabcake of choice is usually made with claw, its got a lot of flavor and is the least expensive type of crab meat to buy.  The only problem with claw or any crabmeat for that matter is finding a wild caught product from U.S. waters or the gulf down to South America.  If you buy crabmeat from other any waters, let the buyer beware!!
This time of year the crab meat is fresh and abundant, and I'm fortunate to have a reliable source in Wegman's to purchase Maryland Jumbo Lump crabmeat, at a reasonable cost!  You do have to think about what it would cost to go out for a really good crab cake dinner, and you can justify the cost very easily.  Of course, my justification is that Lisa loves good crab cakes, and any man who has lived as long as I have knows if Mama ain't happy, ain't nobody happy!
My recipe for crab cakes is pretty simple, it uses my standard imperial sauce as the binder with just enough bread crumbs to bind them.  You can also eliminate the breading step and broil these beauties and they are every bit as good, without the added calories of frying them.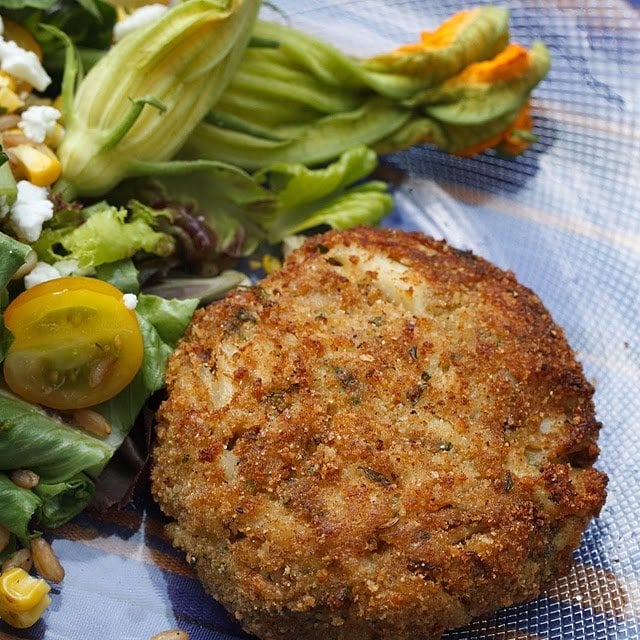 My Famous Crabcakes
Ingredients
Crab cakes
1

lb

crab meat jumbo lump

lump or claw, wild caught

1

tablespoon

. Italian parsley finely chopped

1

tablespoon

. of roasted red peppers or fresh red peppers finely chopped

may be left out

1

tablespoon

of sweet onions finely chopped

you may sub any type of onion you like

1/4

cup

of seasoned bread crumbs
Imperial Sauce
1/2

cup

Hellman's Mayonnaise

1

large egg

1

tablespoon

sugar

1

teaspoon

Old Bay Seasoning

1

dash of Worcestershire sauce

1

squeeze of fresh lemon juice
Instructions
Crab cakes
Mix crab meat, chopped parsley, onion, and peppers together. Gently mix them do not break up lump crabmeat.

In another bowl add the mayonnaise, and egg and mix together, then add the sugar, Old Bay, Worcestershire and lemon juice, mix well.

Add the imperial sauce to the crabmeat and mix together gently, add the bread crumbs and work them into the mixture.

Allow this mixture to sit for about 10 minutes, the bread crumbs will soak up any extra liquid so you can easily form the crab cakes

Divide the crabmeat mixture into 8 small or 4 large crabcake

If you are frying the crab cakes, lightly coat the crabcake in panko bread crumbs, and sauté in olive oil until golden brown on both sides. Place in a baking dish and bake at 350 degrees for 15 minutes.
Recipe Notes
**If you are broiling the crab cakes, place them directly into a baking dish with a little bit of water in the dish. Bake at 350 degrees for 20 minutes. (when I broiled them at the restaurant they got a little butter on the top of each before baking)