This post includes affiliate links. As an Amazon Associate I earn from qualifying purchases.
You can make restaurant-style crabcakes in your own home with my World Famous Crabcakes Recipe. Not only will you amaze your friends with this delicious and easy recipe, but you'll also be able to bring the taste of the Eastern Shore to your table whenever you like.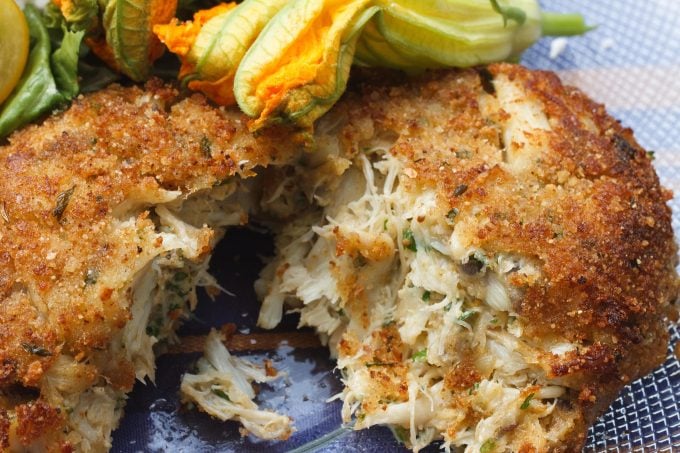 Wouldn't you love to sit down to a few of these OMG delicious homemade crabcakes?
What do I need to make Crabcakes?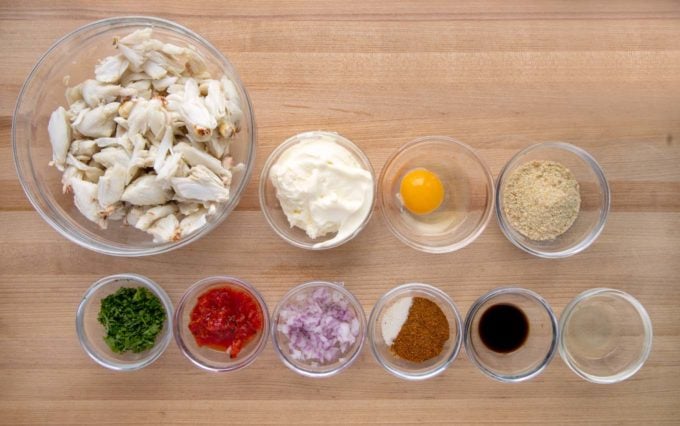 Let's start by gathering the ingredients we need to make the crabcakes. In Chef Speak this is called the Mise en Place which translates into Everything in its Place.
Not only does setting your ingredients up ahead of time speed the cooking process, but it also helps ensure you have everything you need to make the dish.
Do I have to put onions and peppers in my crabcakes?
No you don't. True Maryland style crabcakes would not contain either. I like added flavor that the onions give, but in all honesty the peppers and parsley are for color.
What Type of Crabmeat Can I Use to make crabcakes?
Over the years I have made more crabcakes than I care to remember, I've used claw, special, lump, jumbo lump and a mixture of two or more types of crab meat. It all depends on what I could charge for the crabcakes and what was available in the markets.
At home my crabcake of choice is usually made with claw meat, its got a lot of flavor and is the least expensive type of crab meat to buy. The only problem with claw or any crabmeat for that matter is finding a wild-caught product from U.S. waters or the gulf down to South America. If you buy crabmeat from other any waters, let the buyer beware!!
The source of the crabmeat can be from any part of the world that has crabs and includes varieties such as Blue Swimming, Dungeness, Snow, King and of course my favorite Blue Claw.
Jumbo Lump
Lump
Backfin
Claw
Imitation Crabmeat
How do I make Old Bay Seasoning?
If you can't find Old Bay at your markets it's easy enough to make at home.
1 tablespoon celery salt
2 teaspoons ground bay leaves
2 teaspoons smoked paprika
1 ½ teaspoon ground black pepper
¼ teaspoon cayenne pepper
¼ teaspoon allspice
1 teaspoon dry mustard
1 pinch nutmeg
1 pinch cinnamon
1 pinch ginger
If you'd rather not make the seasoning, you can always use the recipe as a guideline and use seasonings that you enjoy eating with seafood.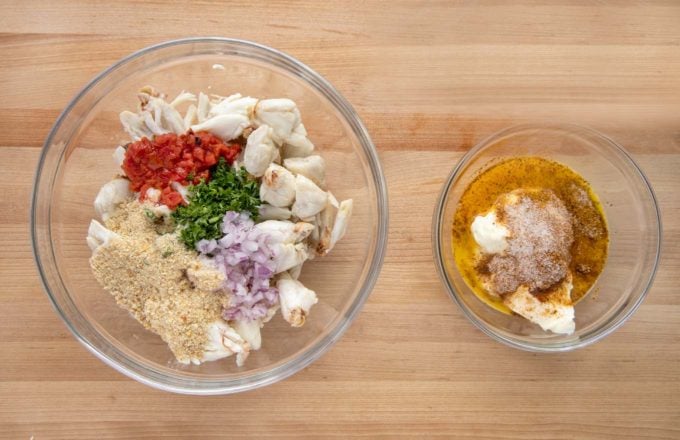 The first step is mixing the ingredients. Making the imperial sauce that will bind the crabcakes is an important step. And using a good mayonnaise, like Hellmann's is crucial to the success of the imperial sauce. I don't work for Helmann's but as a chef I have found it to be one of the few mayonnaises that holds up to heat.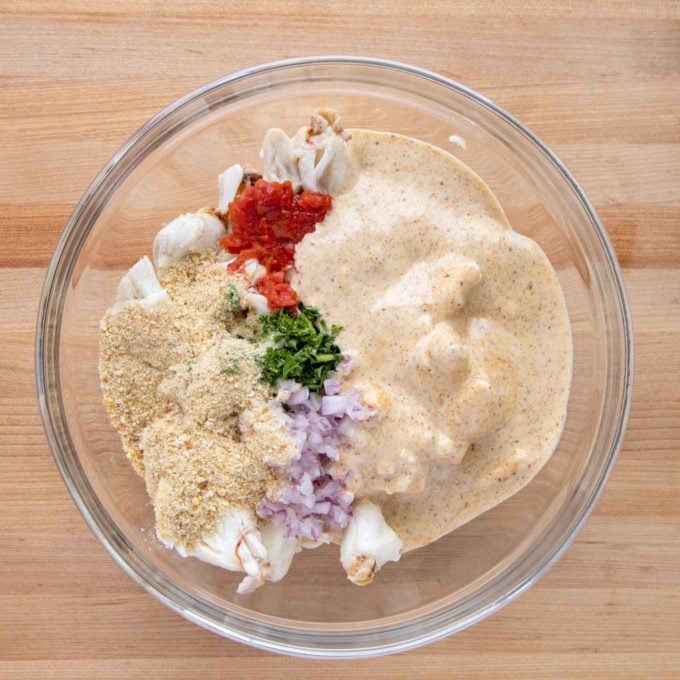 Add the imperial sauce into the crabmeat mixture.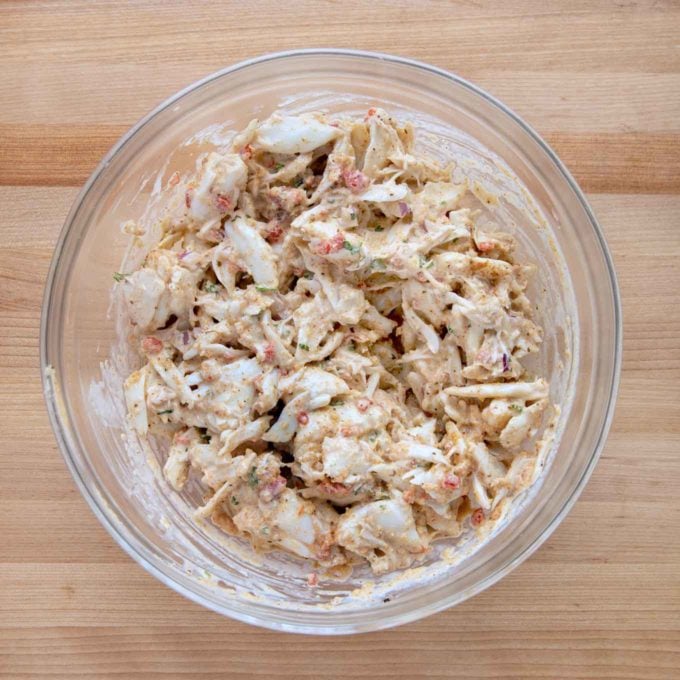 Gently mix the ingredients together, being careful not to break up the big lumps too much.
Refrigerate the mixture for 30 minutes to give the bread crumbs time to absorb the liquids.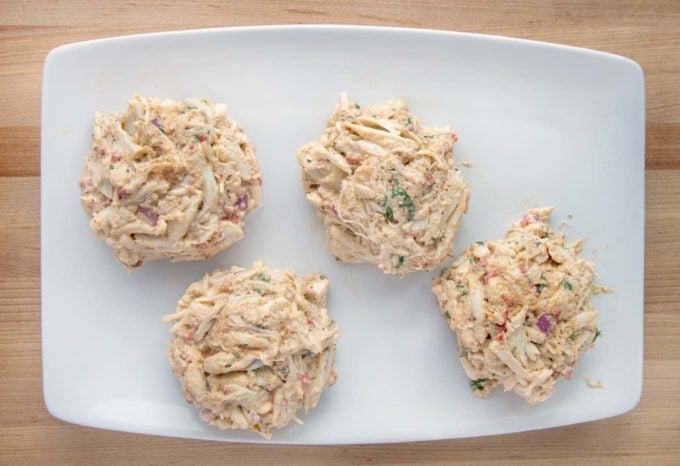 Shape the crabcake mixture into portions. Feel free to make them as big or small as you like. If you'd like to bake the crabcakes, there is no need to coat them in breadcrumbs. Just place the baking dish in the oven for 25-30 minutes or until golden brown with an internal temperature of at least 165 degrees F.
Using a digital insta-read thermometer will help you cook the perfect Crabcakes and be a great help in your kitchen.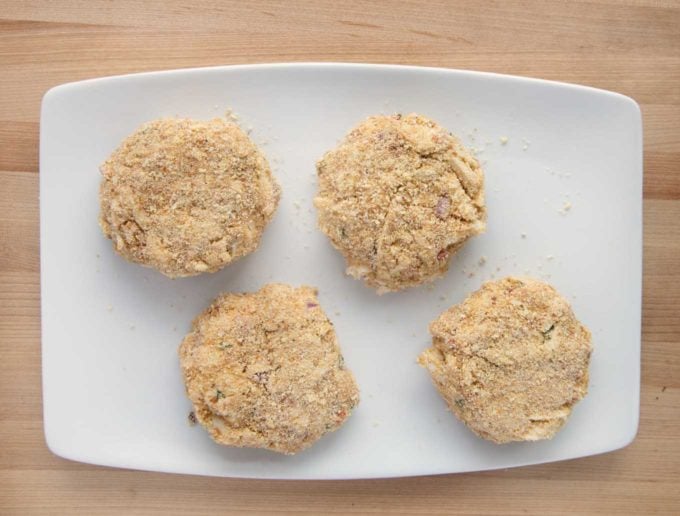 We love sauteed crabcakes, so that means a light coating of breadcrumbs on the crabcakes. You can use seasoned breadcrumbs, unseasoned, or panko bread crumbs.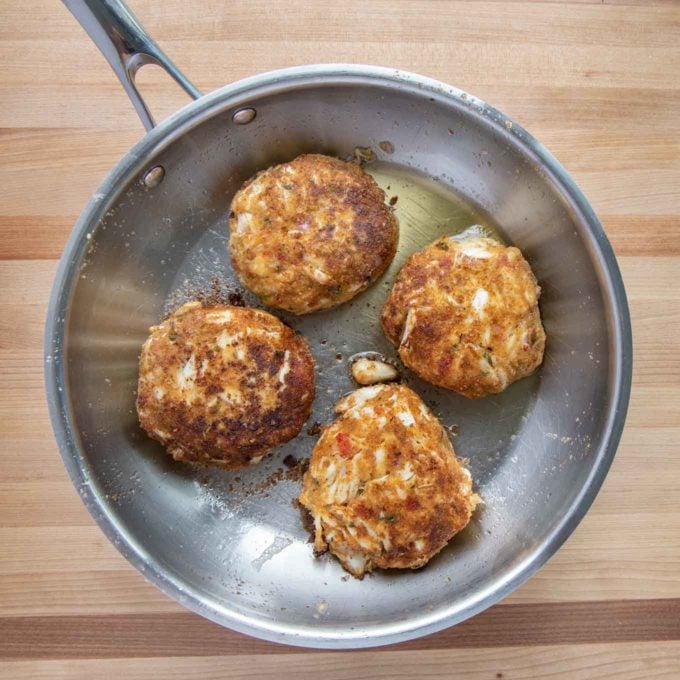 Then the crabcakes are sauteed in a hot pan with a little oil. Be careful when turning them over. Then place the finished crabcakes in a baking dish and bake at 350 degrees for 20 -25 minutes or until an internal temperature of at least 165 degrees is reached.
If they do break apart you can squeeze them back together gently to reform the crabcake
Do I have to fry crabcakes?
No, you don't. They bake up nicely with or without the final bread crumb coating.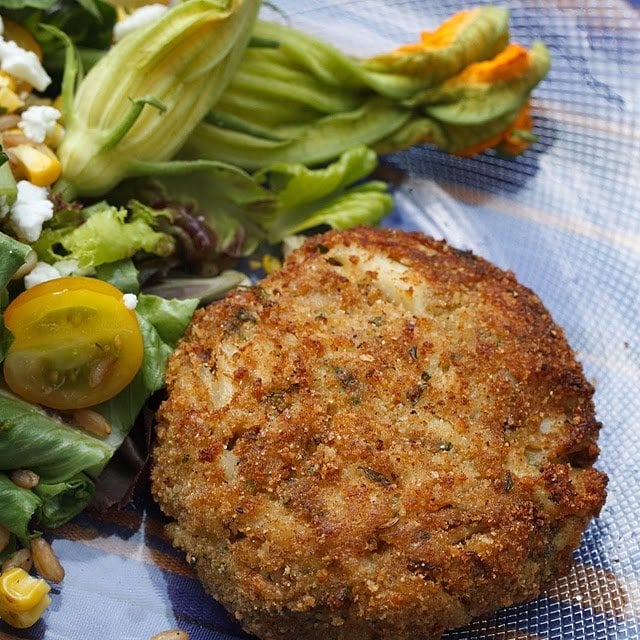 Then it's just a matter of serving them up with your favorite side dish and enjoying a restaurant-style dinner that would have cost you a lot more if you had gone to eat.
More Crabmeat Recipes You'll Love!