When it comes to cooking amazing restaurant-style dishes in your own home, they're easier than you think. It all about finding the right ingredients.
This post includes affiliate links. As an Amazon Associate I earn from qualifying purchases.
Lobster Stuffed with Crab Imperial – Outrageously Delicious!
In the restaurants, I've worked in and many that I've dined in, Lobster seems to always be King of the Menu, and when you stuff that lobster with lump crab meat you've just added to its crowning glory!
Thanks to places like Costco and Sam's Club, Lisa and I enjoy lobster on a regular basis. And no matter how you cook it, grilled, broiled or sauteed, it makes for a better and more affordable dinner in your own home, then you'd get going out. You'll even have money left over for a bottle of wine!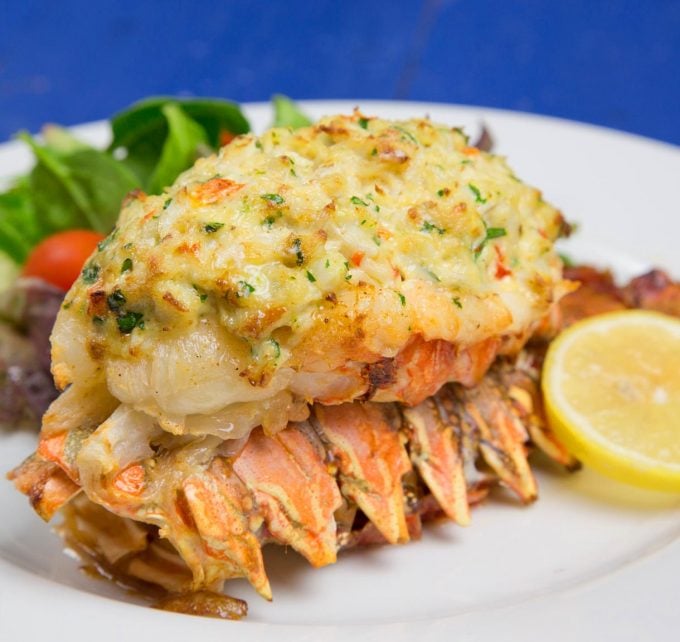 So as I was thinking of what to prepare for our special Christmas Eve dinner at home (because I waited too long to make reservations….sigh) I immediately thought of a Lobster Tail stuffed with Crab Imperial. After all, I had all the ingredients already in-house.
What struck me as funny as I served up my "surprise dinner" Lisa commented that I had never made this for her before. I guess I couldn't have picked a better time, Christmas Eve as the snow started falling we sat down to an amazing dinner in the warmth and comfort of our home, at a fraction of the price it would have cost us going out to dinner.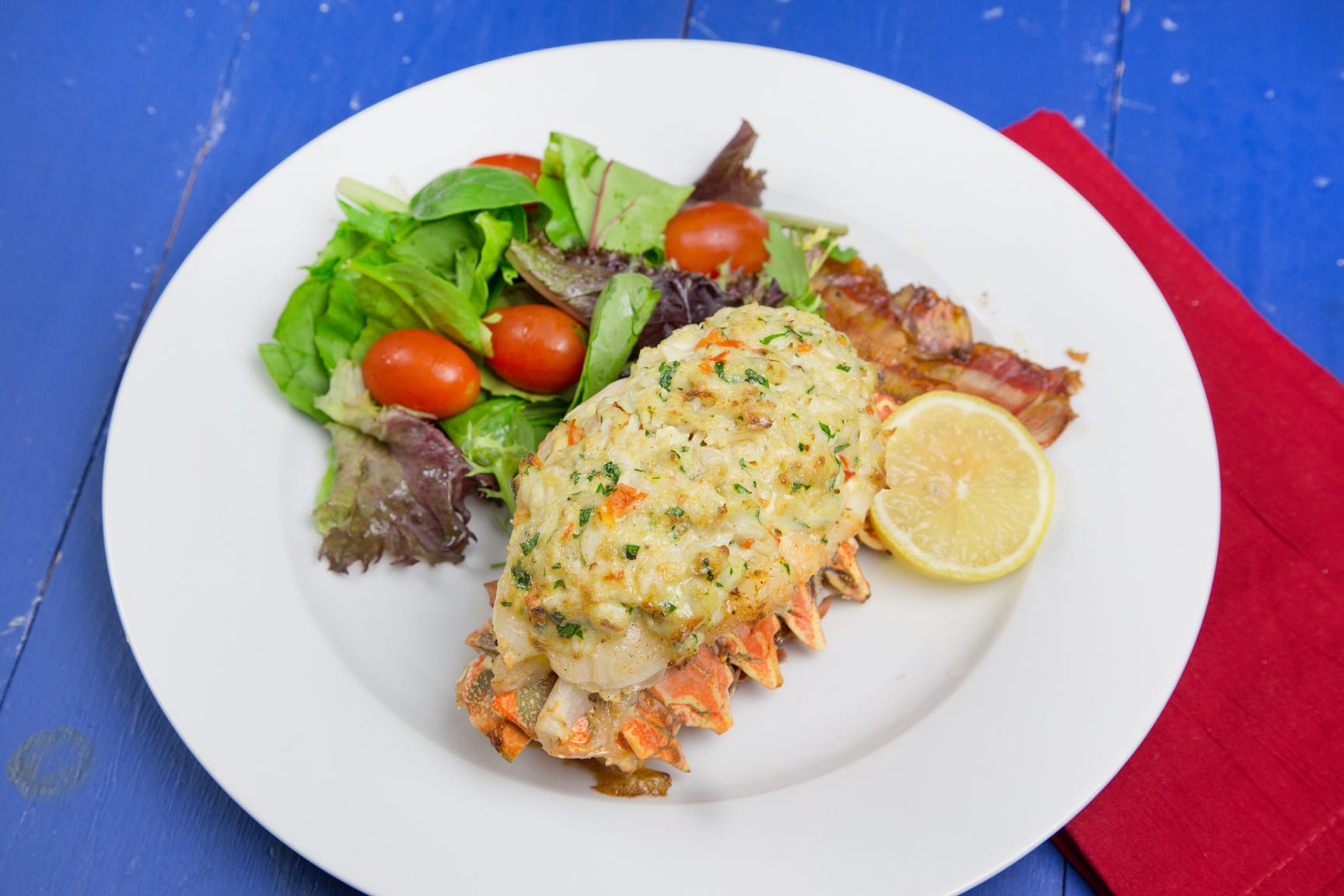 If you're looking for a meal to celebrate a special occasion, for entertaining or just because you can, I urge you to give this dish a try.
This restaurant-style dish is the perfect date night dinner or just to make any night a special occasion.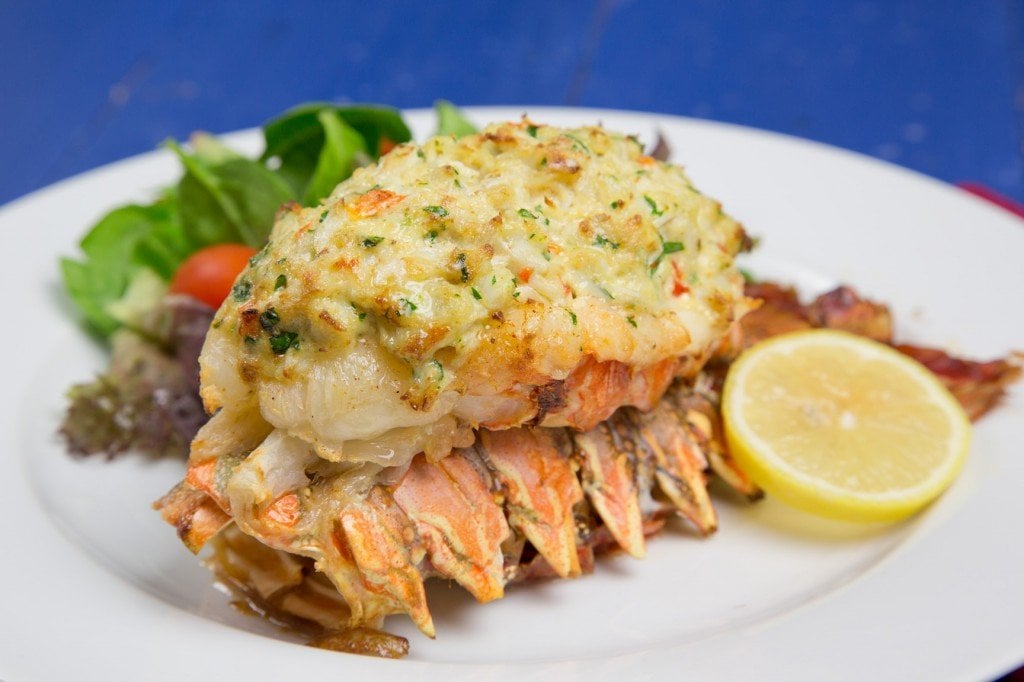 We enjoyed our Stuffed Lobster with a bottle of Prosecco, but even if it's just sparkling water make sure you raise your glass and toast to the good life as you enjoy this delicious creation!
If you love lobster you might want to check out a few of my other Restaurant Style dishes: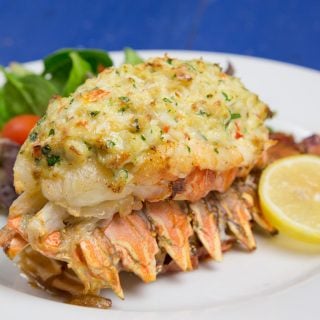 Print Recipe
Lobster stuffed with Crab Imperial
When it comes to cooking amazing restaurant-style dishes in your own home, they're easier than you think. It all about finding the right ingredients.
Ingredients
2 (8-10)

ounce

lobster tails

6

ounces

lump crab meat

1/4

cup

Hellman's Mayonnaise

1/2

tsp

sugar

1/2

tsp

old bay

1

tsp

finely chopped Italian parsley

1

tsp

finely chopped red pepper or roasted red pepper

1

large egg lightly beaten

squeeze of lemon juice

4

ounces

unsalted butter
Instructions
Crab Imperial
Mix mayonnaise, egg, sugar, old bay, peppers and parsley together and blend well, this is your imperial sauce.

Gently mix with lump crab meat

Refrigerate for 1 hour before using
Lobster Prep
Melt butter

Split lobster tail down the middle, being careful not to completely split the lobster

Pull the lobster meat out of the shell, leaving the end flap inside the shell.

Fan the tail and bend it upwards till you hear a little snap, this will help keep the fanned tail in place.

Push both sections of the shell together and place the split lobster on top of the shell.

Spoon some of the butter over top of the lobster, place in a baking pan and into 350 degree oven.

Allow lobster to bake for 5 minutes so that the area you are stuffing will get partially cooked.
Adding Stuffing to Lobster
Remove lobster from oven after the partial cooking and dividing the crab imperial mixture into two portions, stuff the top of the lobster tail, making a mound with the crab imperial.

Return lobster to the oven and continue baking for 15-20 minutes until topping has a nice golden color.

Remove Stuffed Lobster from the oven and spoon just a little bit more of the butter on the stuffed lobster.

Serve with your favorite side dish, and after presenting the dish to the table, gently remove the stuffed lobster completely from the shell and return to the plate.

Serve with melted butter and a squeeze of lemon and enjoy!
Nutrition
Calories:
758
kcal
|
Carbohydrates:
2
g
|
Protein:
29
g
|
Fat:
70
g
|
Saturated Fat:
33
g
|
Cholesterol:
331
mg
|
Sodium:
1195
mg
|
Potassium:
330
mg
|
Sugar:
2
g
|
Vitamin A:
1615
IU
|
Vitamin C:
14.9
mg
|
Calcium:
118
mg
|
Iron:
1.2
mg