Is there any side dish more comforting than creamy, buttery mashed potatoes? It's the perfect side dish weeknight meal, dinner parties, or holiday dinners.
There is something magical about mashed potatoes, it's definitely one of my favorite comfort foods and this easy mashed potatoes recipe will become your go-to recipe for this comforting side dish.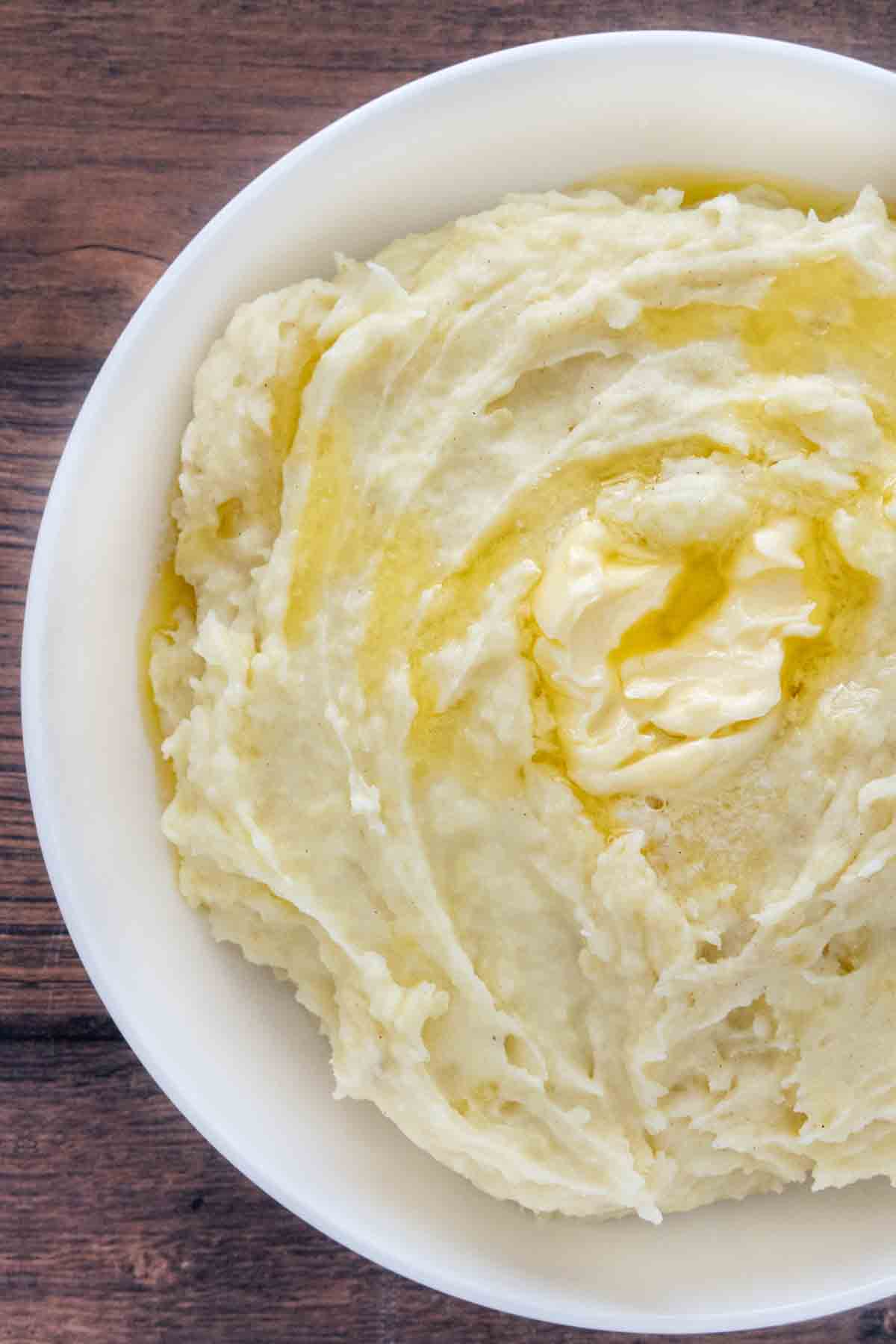 You don't need to be an expert chef to whip up mashed potatoes that your family will want to devour. This mashed potato recipe is so simple and straightforward that you might want to make these potatoes a weekly indulgence.
If you're a potato lover, you might also love buttery smashed potatoes, it's another easy recipe you're going to love!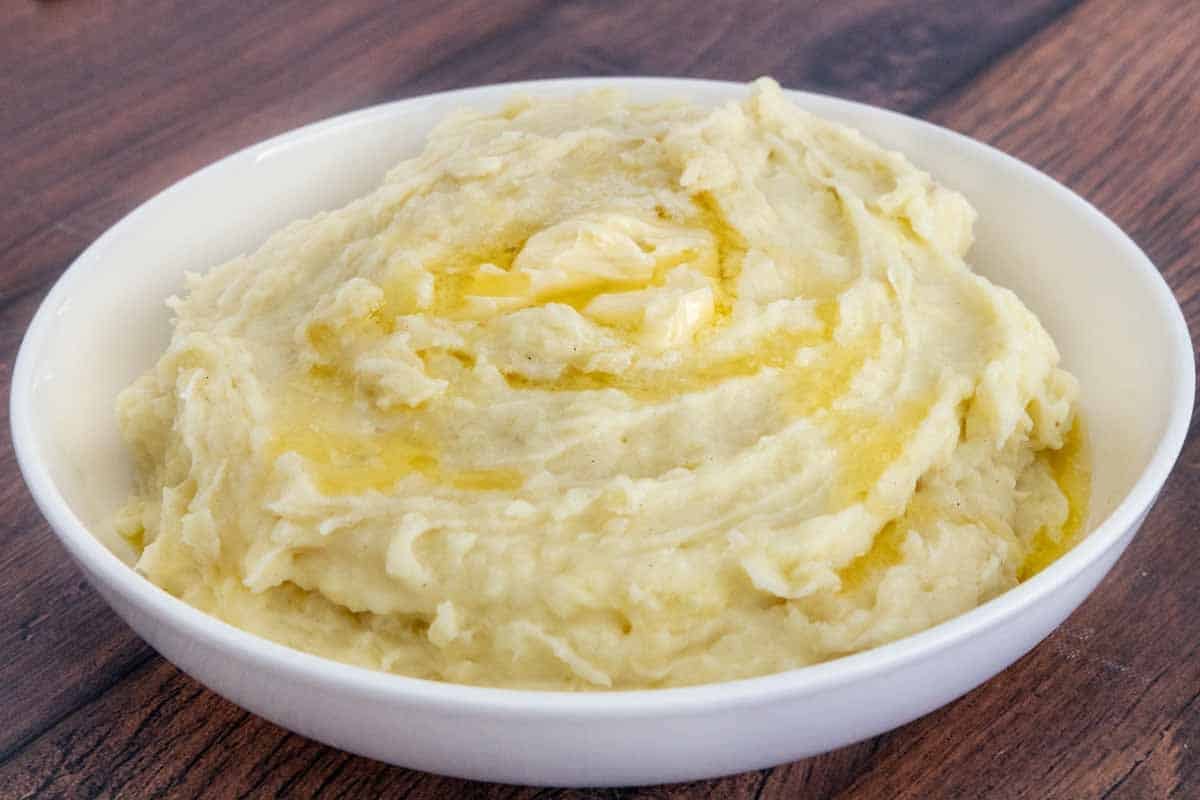 The next time you're looking for a side dish for your favorite entree, whip up a batch of my creamy mashed potatoes, they're like a hug on a plate, and after one taste I know you'll agree this is the best mashed potato recipe!
I always serve them with my Classic Meatloaf, Salisbury Steak, it's the perfect side dish for many of the classic dishes I prepare in my home kitchen.
Ingredients to Make Mashed Potatoes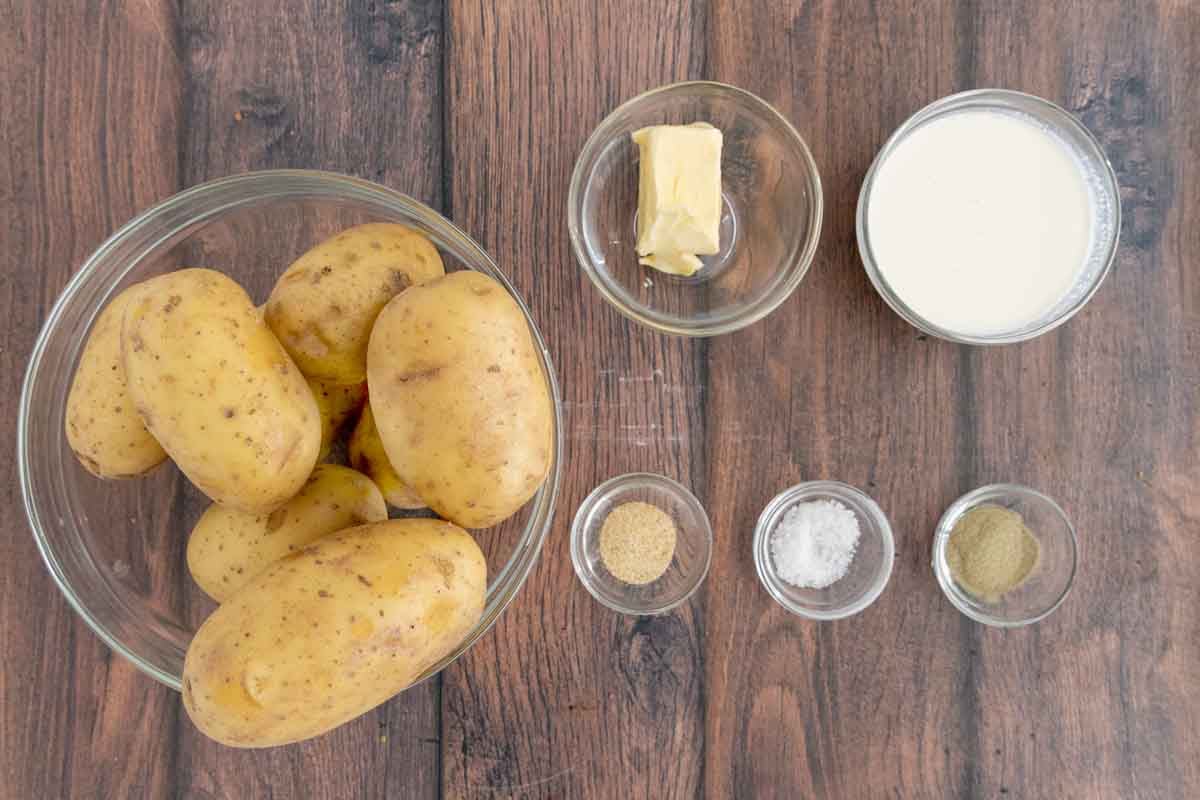 Let's start by gathering the ingredients we need to make my mashed potatoes recipe. In chef speak, this is called the "mise en place," which translates to "everything in its place."
Not only does setting up your ingredients ahead of time speed up the cooking process, it also helps ensure you have everything you need to make the dish.
Made with simple ingredients
Yukon gold potatoes
Heavy cream or whole milk
Unsalted butter
Kosher salt or table salt
Garlic powder
White pepper or black pepper
What type of potatoes is best for mashed potatoes?
When I want to make delicious, creamy mashed potatoes that I know everyone will love, I reach for Yukon Golds. They are definitely the best potato for any mashed potato recipe you decide to use. Yukon gold potatoes have a creamy texture that you won't find in other varieties and are my personal favorite.
Russet potatoes and Idaho potatoes have a high starch content making them excellent choices.
I will occasionally use red potatoes, but waxy varieties like Red Bliss and fingerling are not the best choice when making mashed potatoes. These varieties have a low starch content, and won't absorb dairy as well as starchier varieties, like Yukon golds and russet potatoes.
How to Make the Best Mashed Potatoes
Before beginning, wash the potatoes. Using a scrubbing tool can help to remove dirt.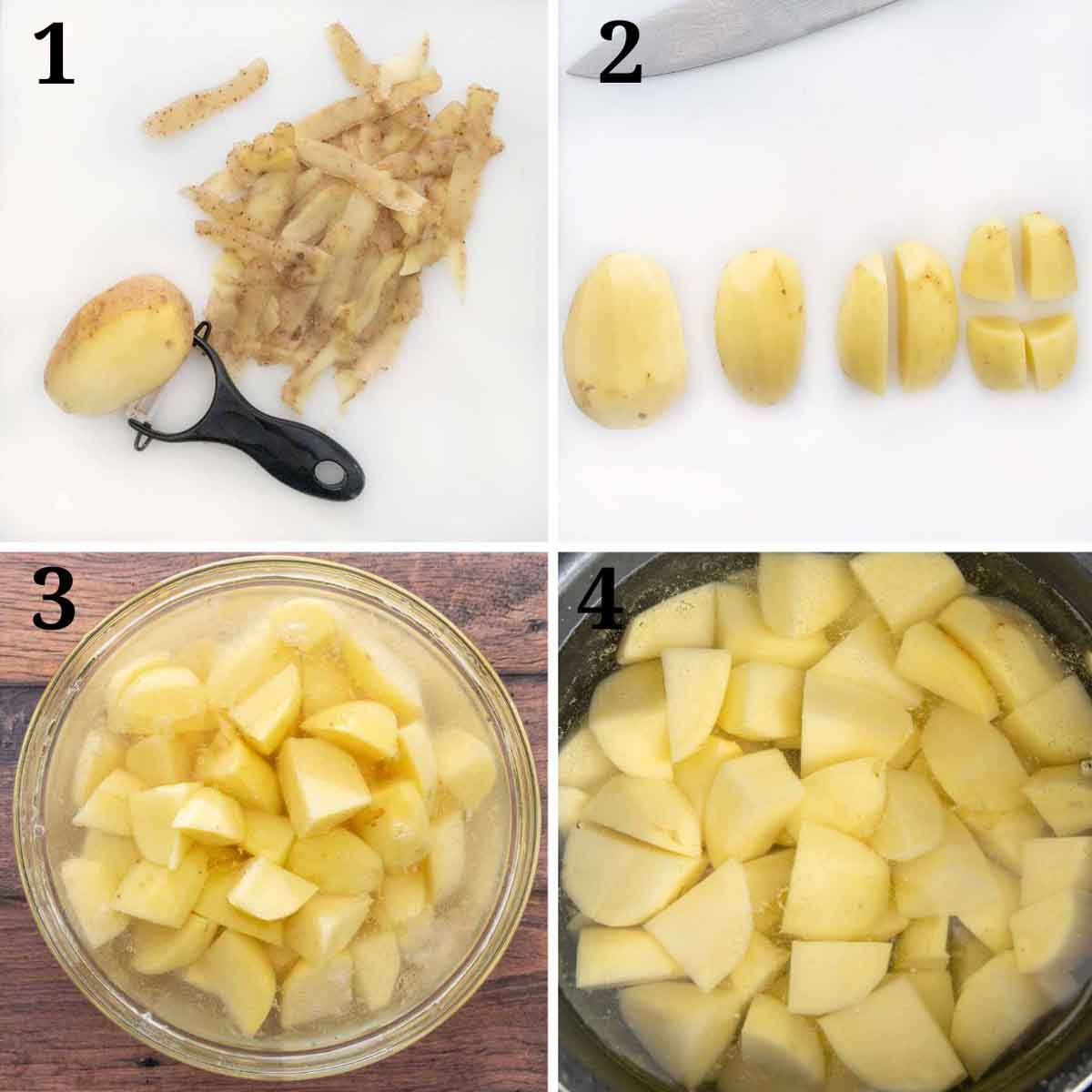 Using a vegetable peeler, take the skins off of the potatoes. *You can choose to leave the potato skins on if you prefer.
Using a sharp knife, slice the potato into quarters. *This cuts the cooking time, rather than boiling them whole.
As you cut the potatoes place them in a pot large enough to cook them, filling the pot with cold water. Drain the water and fill the pot back up to one inch above the cut potatoes with cold water so they are fully submerged. *Add a half a teaspoon of salt to the water before cooking the potatoes.
Place the saucepan on the stove top over medium high heat and let the potatoes come to a boil.
Cook the potatoes for 15-20 minutes until they are fork-tender.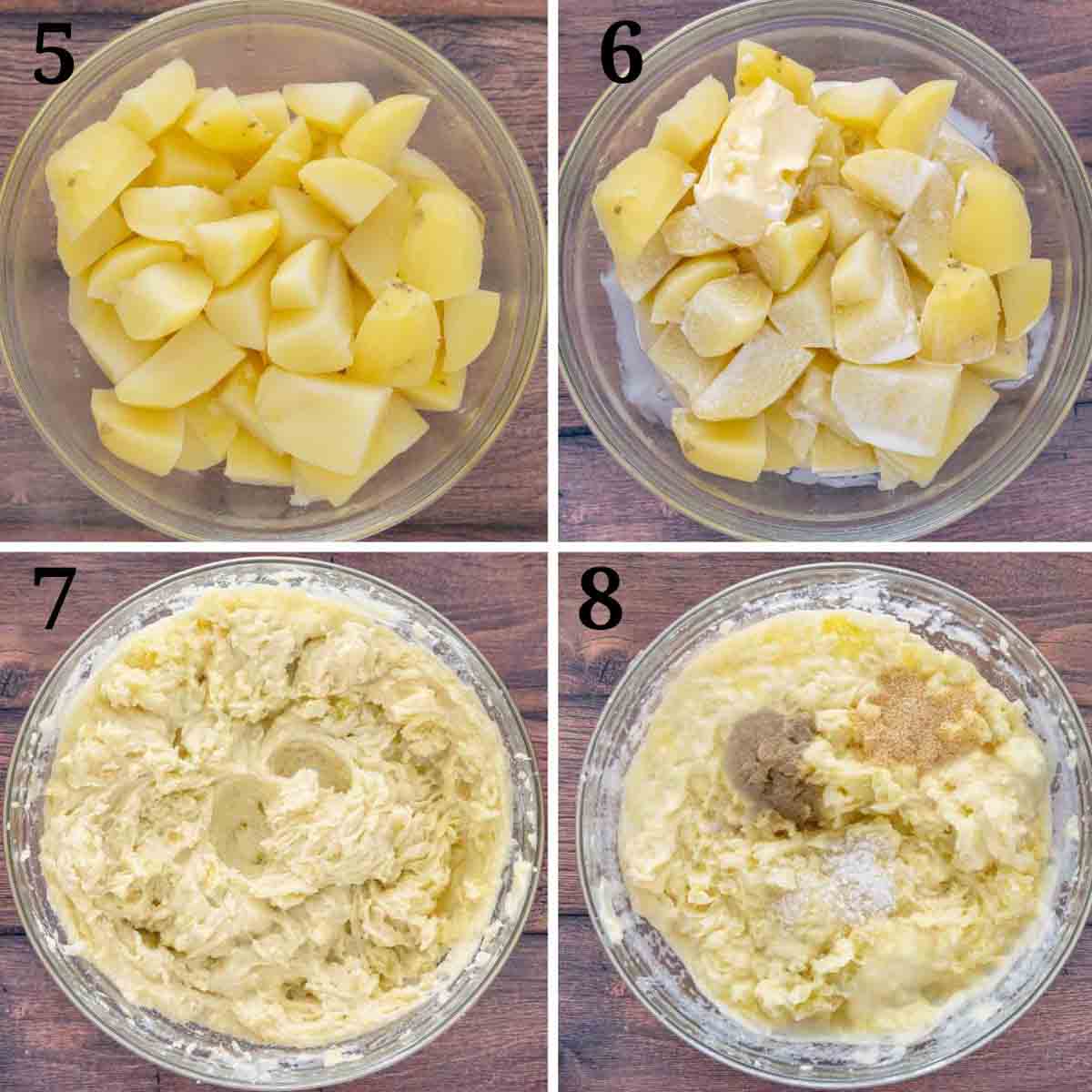 When the potatoes are fully cooked, carefully pour the hot potatoes into a colander to drain before transferring to a large mixing bowl.
Place the butter in the bowl with the hot potatoes and pour in the heavy cream. *It helps to have the cream at room temperature or warm it stovetop so that it can be easily absorbed by the potatoes.
Mash potatoes with a potato masher or electric mixer until the potatoes get smooth and creamy. You can also use a potato ricer if you have one.
Add the remainder of the ingredient and continue mixing until they reach the desired consistency, adding additional milk if necessary. *If you like chunkier mashed potatoes, it will take less time to mash them.
Taste and reseason with salt and pepper to taste.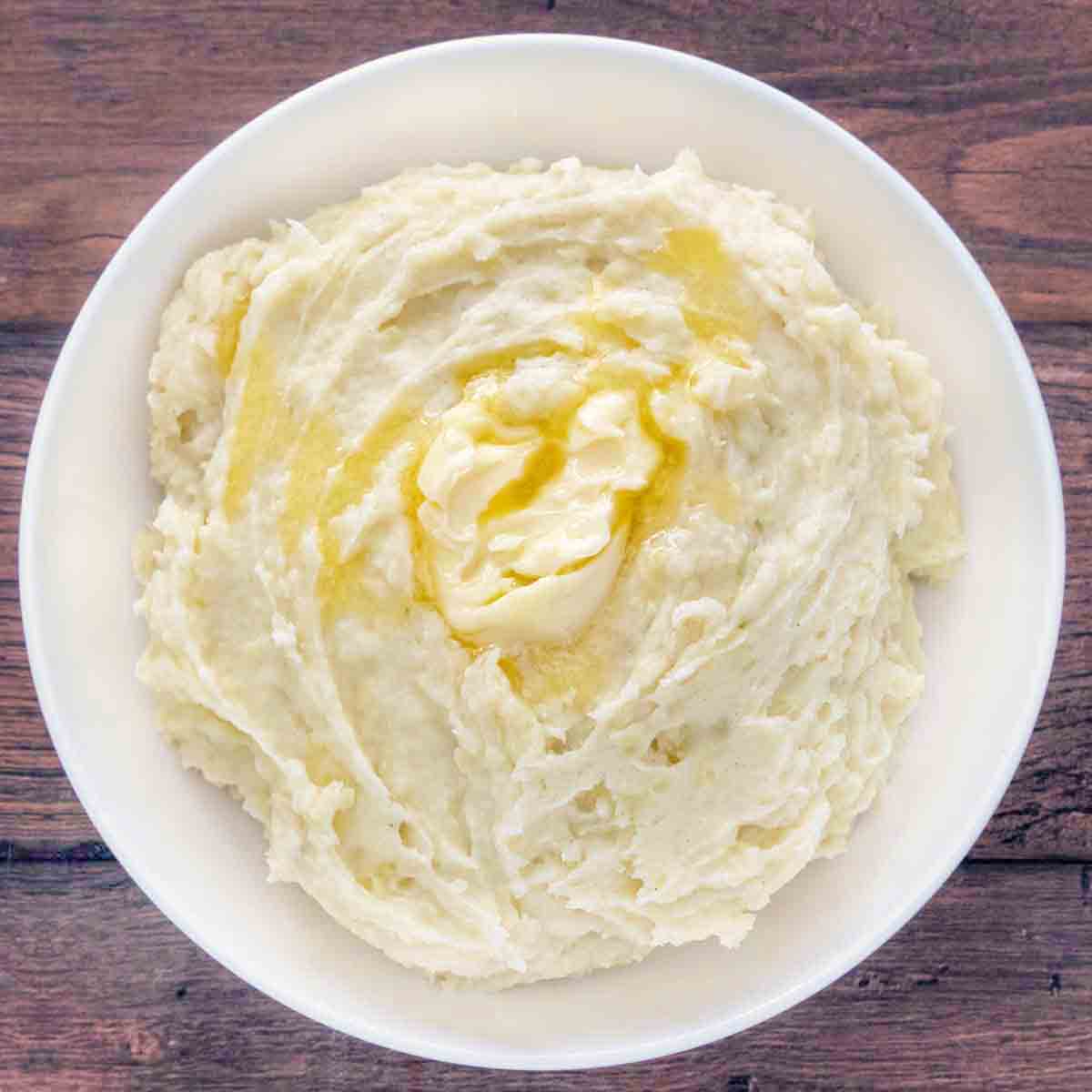 Wouldn't your family and friends love to sit down to these delicious, creamy mashed potatoes?
Store any leftover mashed potatoes in an airtight container, refrigerated for 3 – 4 days. To reheat the potatoes on stove top add a little milk and more butter if you're feeling indulgent. Food Safety is important, so use a digital thermometer to make sure they have reached an internal temperature of at least 165 degrees
​Chef Tips
You can experiment with this recipe and add any other ingredients you like. Add sour cream or cream cheese for some added creamy tanginess, toss in some fresh herbs to add extra flavor, or sprinkle in parmesan cheese for nutty cheesiness. Try adding roasted to garlic to the mixture to make the garlic mashed potatoes. They were a big hit in the restaurants I worked at.
For tools, use what you're comfortable with. I like to use a potato masher, but an electric mixer, stand mixer, or food processor will all work.
Recipe FAQ's
What is the key to good mashed potatoes? 
The best mashed potatoes start with the right type of potatoes. The best potatoes to use are Yukon Gold potatoes, or russet potatoes. Also starting the process with cold water is also an important factor, helping the potatoes to cook more evenly. Also, be sure not to overmix the potatoes to avoid gumminess. 
Is it better to boil potatoes whole or cut up for mashed potatoes? 
It is definitely a good idea to cut potatoes so that they cook more quickly. However, cutting them too small can result in too much water absorption, so cut them in fourths for the best results. 
How do you know when potatoes are done for mashed potatoes?
Boiled potatoes should be able to be pierced with a fork easily if they are done cooking. There should be no resistance when you push the fork into the potato. 
More Recipes You'll Love!