Balsamic Glazed Pork Chops
This week I even had time to prepare a few different dishes.  Lisa and I  are creatures of habit and we do tend to eat the same things over and over again, and while it does make life easier for me as the home cook, as a food blogger it presents its challenges.  I have to keep coming up with new ways to prepare the same foods or make entirely different meals.   We do enjoy trying new dishes, but there is something to be said for the comfort of a dish you know you're going to enjoy.
I don't eat red meat, but I do eat pork occasionally, and while shopping last week I saw some really good looking bone in organic pork chops, at the market.   Although I do usually buy boneless, I just couldn't resist those lovely chops and thought the bone and extra fat might help make them a little more tender.   I also did a quick 2-hour marinade to give them a fighting chance.   Brining pork can really help out the chops or roast by adding a substantial amount of water to them prior to cooking, but I didn't really have enough time to brine and I didn't want to add that much salt to them, so I opted for marinating instead.
They would have benefited from another couple of hours in the marinade, but the finished product was moist, and so very flavorful.  The balsamic vinegar and maple mixture not only added flavor but gave the chops a wonderfully caramelized color.
I served up the chops with a simple sauteed spinach topped with  some Gorgonzola crumbles for a nice contrast of flavors.  We also enjoyed a nice seasoned rice along with the chops and spinach.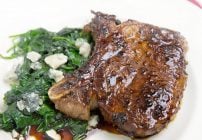 Balsamic Glazed Pork Chops
Ingredients
4

in

Bone Pork Chops - Organic if possible

1/2

cup

maple syrup

1/4

cup

balsamic vinegar

1/4

cup

tamari sauce

1/2

cup

olive oil

1

tbsp

sea salt

1

tbsp

cracked black pepper

4

cloves

garlic flattened

1/2

cup

water

optional
Instructions
Blend together all the ingredients, except the water.

Place the pork chops in a large bowl or baking pan and pour marinade over them

if the mix does not cover the chops almost completely add in a little water to until it does. (the pan should be just big enough to hold the chops touching)

Allow pork chops to marinate 2-4 hours

Heat saute pan until very hot using a paper towel dipped in oil, lightly coat the pan, or use pan spray.

Place the chops into the pan and allow them to remain on that side for at least two minutes, or until sugars in marinade caramelize ( you want the side to sear and get dark in color)

Turn over pork chops and allow the other side to sear and caramelize (2-4 minutes)

At this point the pork chops should almost be done.

Turn over chops one last time and add two tablespoons of the marinade to the pan, after one minute remove the pan from the heat.

Serve pork chops with your favorite sides
Nutrition Facts
Balsamic Glazed Pork Chops
Amount Per Serving
Calories 0
* Percent Daily Values are based on a 2000 calorie diet.