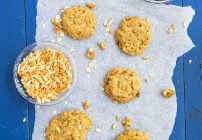 How to make Low Sugar Oatmeal Cookies
Some days you just want a cookie but don't want all the sugar that goes with them.  When I heard about Monk Fruit in the Raw I was curious and decided to give it a try with a cookie recipe.   I had a few boxes of cereal on hand, golden raisins and walnuts, which a pretty good start for making cookies.
I used a recipe I had found on the Joy of Baking site and adapted it to the cookie I wanted to make, and the recipe couldn't have been better.  The only change I might make the next time I make this wonderful cookie is to reduce the Monk Fruit in the Raw by 1/4 cup (down to 3/4 cup) because if anything the cookie may have been just a little sweet, which isn't surprising considering Monk Fruit in the Raw is 300 times more sweet than cane sugar.
The cookies were amazingly delicious and very satisfying,  just 2 or 3 cookies and I was a happy camper (instead of my usual half batch…sigh).  They also held up really well (since I was controlling myself) in a sealed plastic container for over a week.
Low Sugar Oatmeal Cookies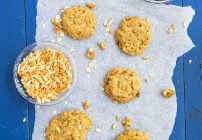 Ingredients
1

cup

unsalted butter at room temperature

1

cup

Monk Fruit in the Raw

2/3

cup

firmly packed light brown sugar

2

large eggs

1

teaspoon

pure vanilla extract

2

cups

all purpose flour

1

teaspoon

baking soda

1/4

teaspoon

salt

1 1/2

cups

old fashioned rolled oats

1 1/2

crispy brown rice cereal

3/4

cup

golden raisins

3/4

cup

walnuts - chopped
Instructions
Preheat oven to 375 degrees

Prep two baking sheet pans with parchment paper

In the bowl of your stand mixer with your beater attachment beat the butter until smooth

Add the sugars and beat until smooth and creamy for about 2 minutes

Add the eggs one at a time beating enough to just incorporate, scraping down the bowl after each egg

Add in the vanilla extract, mix just until incorporated

In another bowl whisk together the flour, baking soda and salt until well blended

Add the flour mixture to the creamed mixture and beat just until incorporated

Add the oats, walnuts and raisins and stir mixture by hand until well blended

Add in the Crispy Brown Rice Cereal and carefully stir in to the mixture until fully incorporated.

Refrigerate cookie dough for about an hour until mixture is firm

Using a tablespoon or a small ice cream scoop, place cookie dough on your prepared sheet pan about 2 inches apart in rounded dough balls, using a the tines of a fork flatten the dough ball slightly so they are about 1/2 inch thick

Bake cookies for 10-13 minutes or until the outer edges begin turning golden brown.

If you want your cookies to be crisper, leave them in the oven a little longer, mine were soft and chewy.