How to make pistachio cornmeal butter cookies and authentic Italian classic, perfect for dipping in your coffee or just a snack with a glass of milk.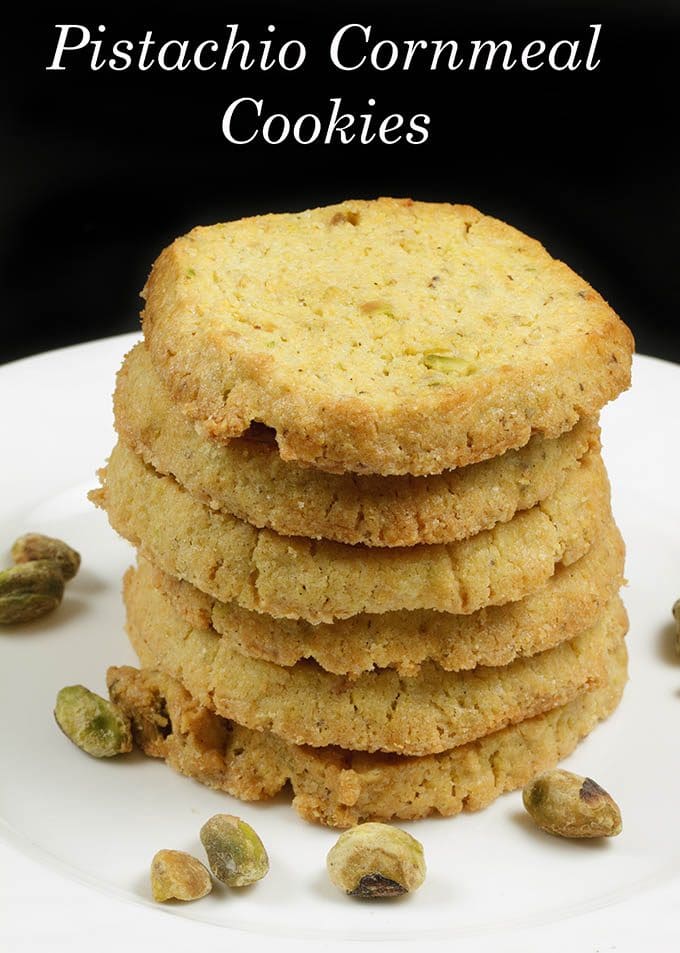 Sometimes memories come back to you for no reason at all, this morning as I sat having my coffee, I had a flashback to a time so many years ago at Mama Jeanette's table.  It was so very long ago, but it seems like it was just yesterday.   It's funny how something that happened yesterday can escape your memory, while something that happened 40 years ago can be crystal clear……sigh
I had gotten up earlier than usual that morning,  there was a lot of work to do on the house and I wanted to get as much done as I could before the afternoon heat settled in.   Summertime in Louisiana can be pretty rough as the day goes on, between the heat, humidity and mosquitoes the size of small birds, it makes it hard to want to stay outside much after lunch, so those mornings the earlier the better!  That morning I found a pot of coffee on the stove, and a plate of cookies on the table, with a note that read, "Sonny boy these are my Mama's famous Pistachio cookies, I hope you like them".
It was the first time Mama Jeanette had made those cookies for me, and as I devoured the first few, I thought there was something wrong with them, they were gritty, almost sandy.  But I was hungry so I popped another cookie in my mouth and got a glass of milk from the fridge…….. after a few minutes as I finished my glass of milk I looked down to see I had eaten the entire plate of cookies.
Those buttery sandy salty sweet cookies would always be my favorite version of her cornmeal cookies.  I don't know what triggered that memory this morning, some things just happen for no reason at all, but I'm sure glad it did.   I couldn't quite remember the exact proportions for Mama Jeanette's  cookie, so I ended up going to another Italian Mama to help me.  I found a recipe in one of Lydia Bastianich's cookbooks for a plain Cornmeal cookie and adapted it to include Pistachio's.  My cornmeal cookies came out pretty well for a first attempt, but I have to work on the ratio's a bit more to get to that state of Nirvana, Mama Jeanette always managed to achieve with her cookies, they were truly legendary!
Pistachio Cornmeal Butter Cookie
Ingredients
1/2

cup

Salted Pistachios *

chopped in food processor leave some pieces

1

cup

All Purpose Flour

3/4

Cup

Cornmeal

recipe called for medium grind polenta

2/3

cup

Sugar

pinch of salt

12

Tbsp

Unsalted Butter softened

6 oz

4

large Egg Yolks

1

tsp

Vanilla
Instructions
In the bowl of your food processor, chop the pistachios until some are finely ground but you still have pieces.

Add the flour, corn meal, sugar, and salt and pulse until blended

Add softened butter and pulse until fully incorporated into dry ingredients (scrape down the side of the bowl to make sure it gets fully blended)

Mix the eggs yolks and vanilla and add to the mixture, pulsing briefly until dough forms on blade.

dump dough onto counter and form into log, wrap in cellophane wrap and refrigerate for at least 30

Preheat oven to 350 degrees

slice dough into 1/4 inch circles and place on buttered cookie sheet

Bake for about 20 minutes or until the cookies are firm and golden, with a touch of brown on the outer edges.

Cool completely on wire rack
Recipe Notes
*if your not a fan of nuts omit them and just increase the cornmeal to 1 cup
If you've never tried a cornmeal cookie, please give this recipe a try, I promise after the initial confusion in your mouth, you'll love them.  If you don't like pistachios try them as a plain cornmeal butter cookie, I did a batch of those as well, and the flavor was amazing.