My pistachio cornmeal butter cookie recipe is for an authentic Italian cookie that was passed on to me years ago. It's perfect for dipping in your coffee or just a snack with a glass of milk.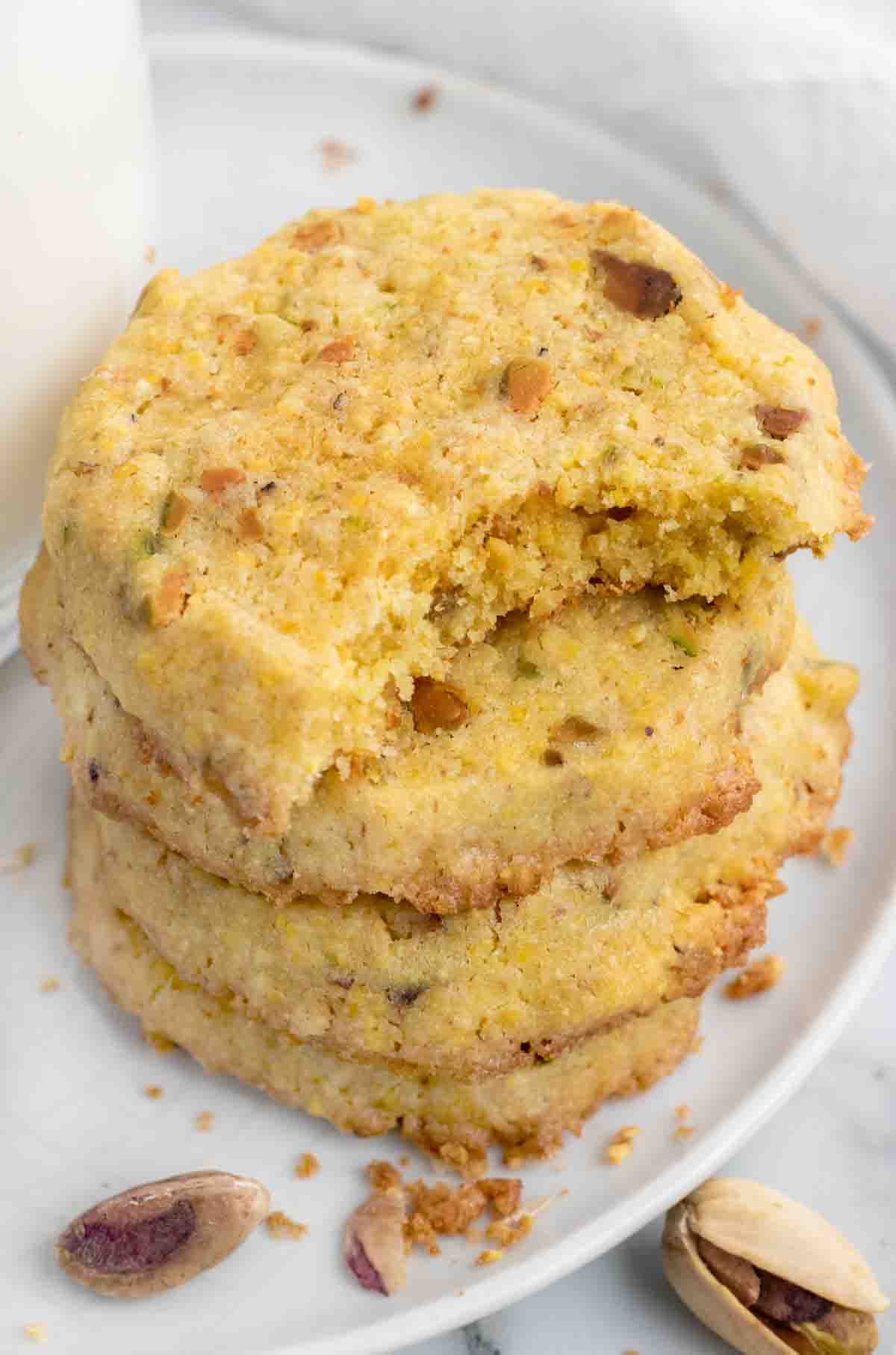 I have to warn you that these cookies are addictive and you may find yourself eating a plateful before you even notice they're gone!
What ingredients so I need to make Pistachio Cornmeal Butter Cookies?
Let's start by gathering the ingredients we need to make Italian Pistachio Cornmeal Butter Cookies. In Chef Speak this is called the "Mise en Place" which translates to "Everything in its Place".
Not only does setting your ingredients up ahead of time speed up the cooking process, it also helps ensure you have everything you need to make the dish.
How do I make Pistachio Cornmeal Cookies?
Add the pistachios to the bowl of your food processor.
Pulse the pistachios until some are finely ground but you still have some pieces.
Add the flour, corn meal, sugar, and salt and pulse until well blended
Add the softened butter to the dry ingredients in the food proceesor bowl.
Pulse until fully incorporated into the dry ingredients (scrape down the side of the bowl to make sure it gets fully blended)
Add the eggs yolks and vanilla to the mixture.
Pulse briefly until the dough forms on the blade.
Dump the dough onto counter.
Form the dough into a log and wrap it in plastic wrap.
Refrigerate the dough for at least 30 minutes. Overnight is fine
Slice the dough into ¼ inch circles and place on buttered cookie sheet (or parchment paper)
Place the cookies into a 350 degree preheated oven.
Bake for about 20 minutes or until the cookies are firm and golden, with a touch of brown on the outer edges.
Allow the pistachio cornmeal butter cookies to cool completely on a wire rack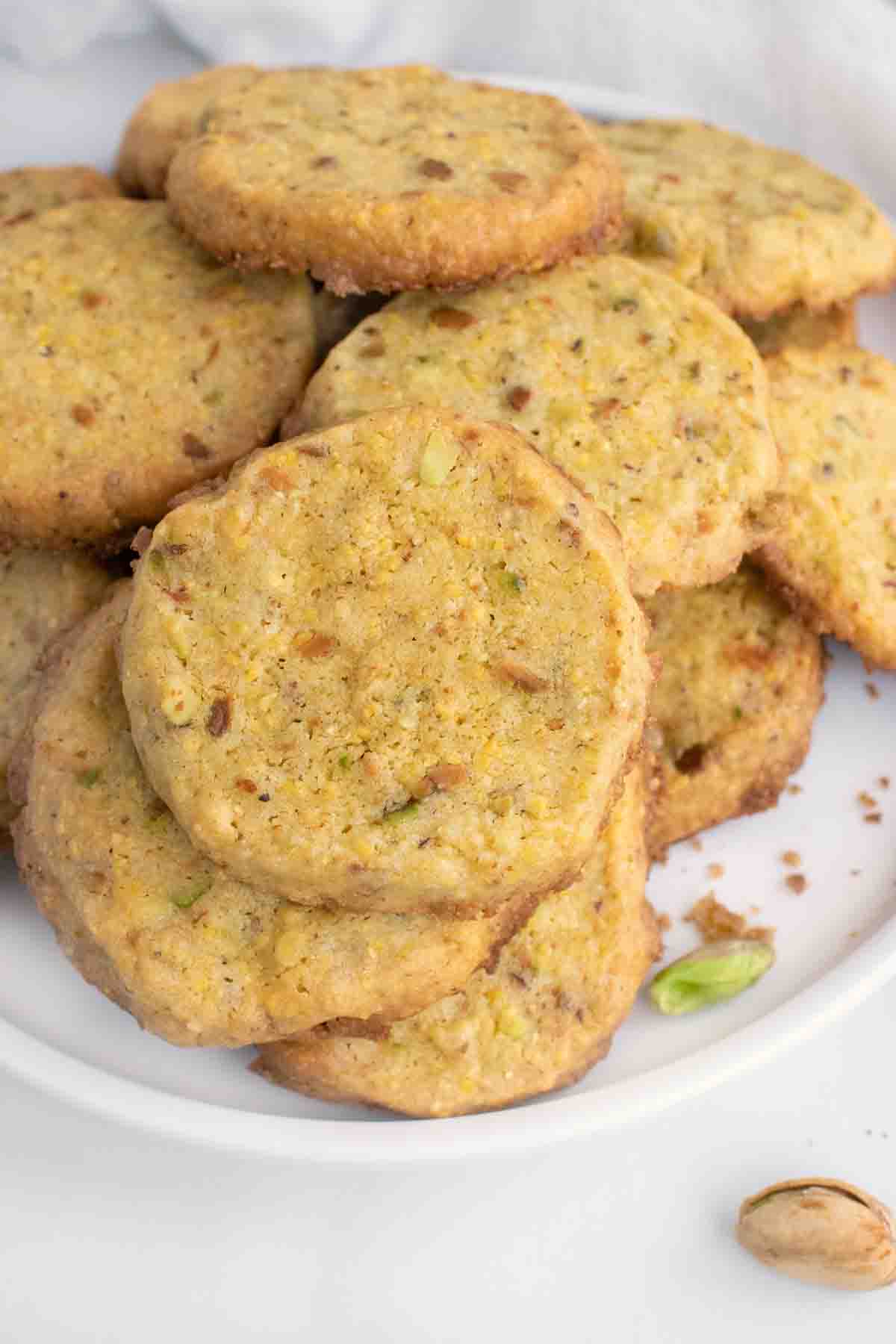 Those buttery sandy salty-sweet cookies will always take me back to my time with Mama Jeanette and I'm grateful for all the lessons learned in her kitchen and especially for these delicious cookies.
I promise these cookies will not dissapoint and your friends and family will beg you to make more.
Recipe FAQ's
What is the difference between shortbread cookies and butter cookies?
Shortbread cookies have a higher ration of butter to flour than butter cookies. Butter cookies still have a high proportion of butter, but the amount of flour and sugar is higher, which means they hold their shape better than a shortbread cookie.
Is cornmeal the same as polenta?
Polenta and cornmeal are very close to being the same ingredient, except for one thing, the consistency of the grain. Polenta is more coarsely ground than cormeal, which it allows it to have a less mushy consistency when cooked.
Why are my butter cookies too hard?
The most common reason that butter cookies are tough or hard is that the cookie dough was over mixed. When the flour is mixed into the dough, the gluten begins to form. While gluten helps hold baked goods together, too much gluten (which happens when you over mix the dough) can lead to tough cookies.
If you think you overmixed the cookie dough, let it rest for 30 minutes to allow the gluten to relax.
More Cookie Recipes for you to enjoy: