My favorite cookie has always been an oatmeal cookie, and adding dried cranberries to make cranberry oatmeal cookies was a no brainer for me. I was never fond of raisins in my oatmeal cookie, but the addition of crasins took this humble oatmeal cookie to a new level of chewy deliciousness.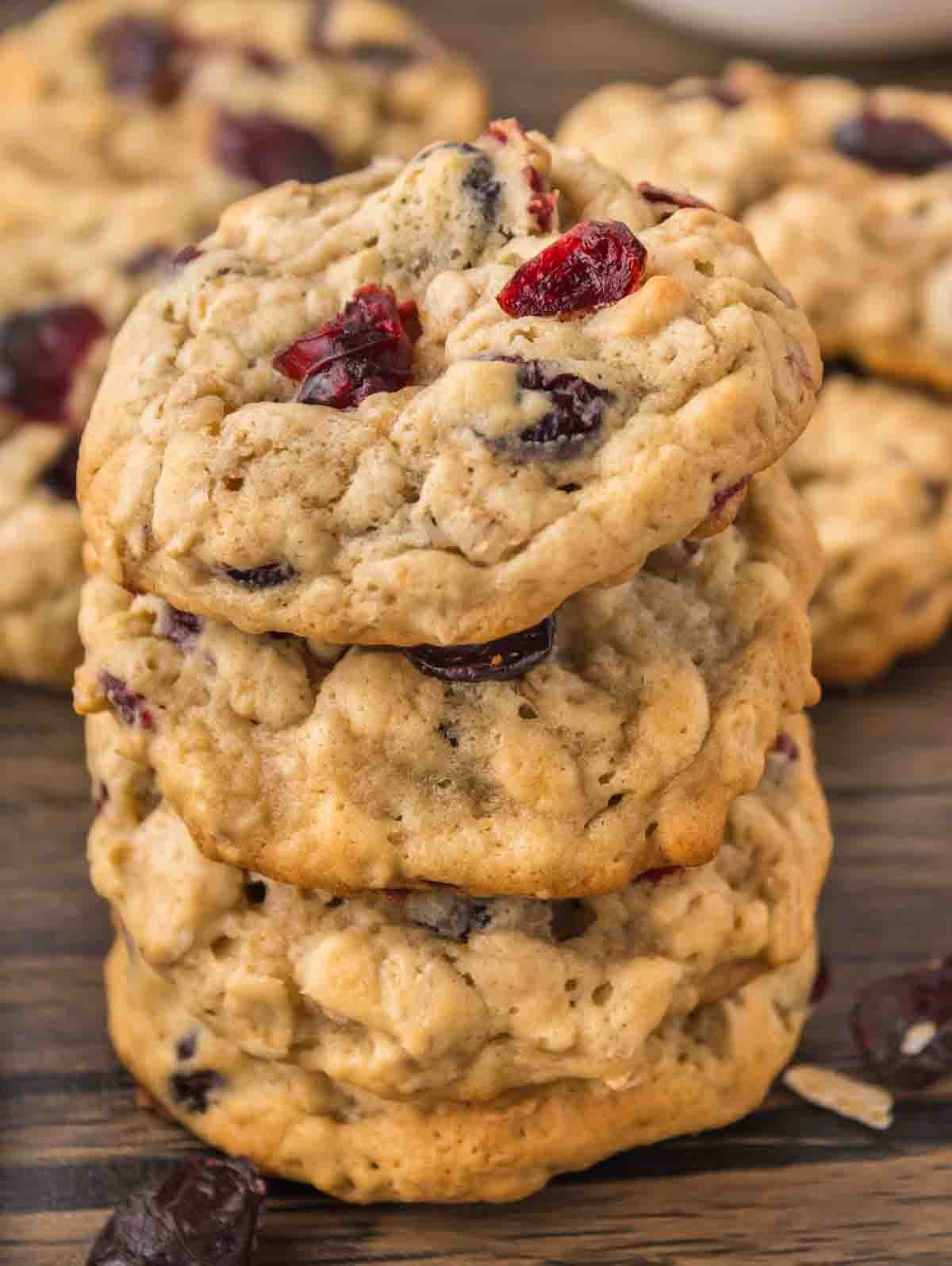 Trust me when I tell you, you're going to add my oatmeal cranberry cookies recipes to your list of favorite cookie recipes. It's just that good!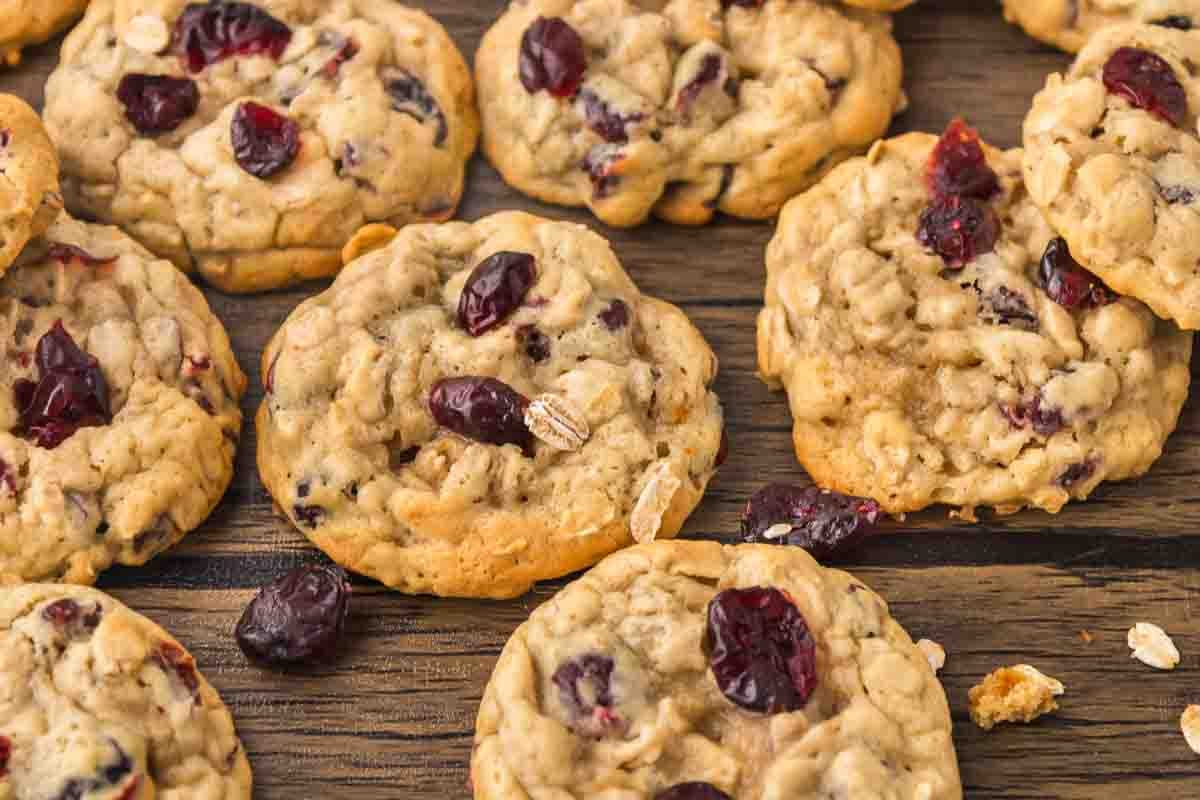 My oatmeal cranberry cookies recipe is easy and makes a delicious sweet treat all year long. It's not just for the holiday season!
If you love delicious chewy cookies, make sure to try my Heath Bar Cookies.
Ingredients for Cranberry Oatmeal Cookies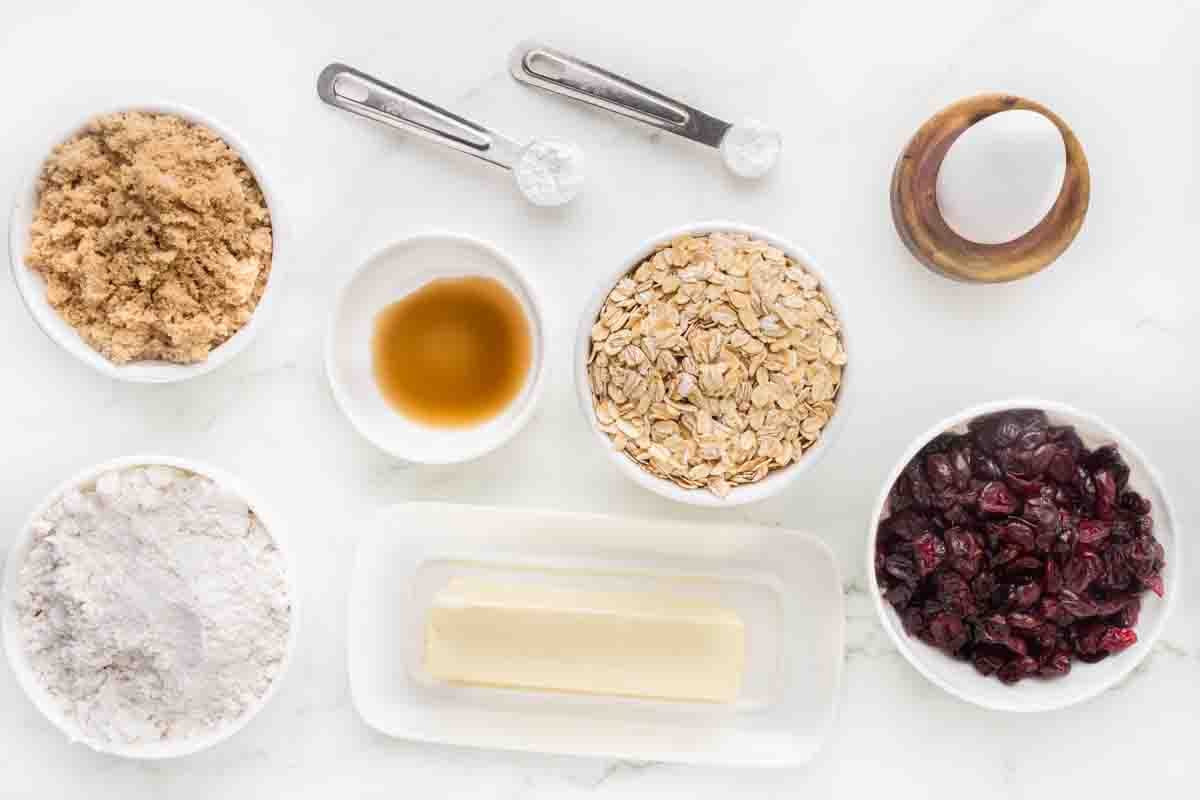 Let's start by gathering the ingredients we need to make Cranberry Oatmeal Cookies. In Chef Speak, this is called the "Mise en Place," which translates to "Everything in its Place."
Not only does setting up your ingredients ahead of time speed up the cooking process, it also helps ensure you have everything you need to make the dish.
Made with simple pantry ingredients
All-purpose flour
Dried cranberries (craisins)
Old fashioned whole rolled oats
Unsalted butter
Brown sugar
Vanilla extract
Large eggs
Ground cinnamon
Baking soda
Table salt
This is a basic oatmeal cookie with dried cranberries, and you can replace the craisins with regular or golden raisins if you prefer. Don't be tempted to use fresh cranberries, they won't work in this recipe.
You can also add white chocolate chips or your favorite chocolate chips to the cookie batter (my wife loves white chocolate cranberry oatmeal cookies).
For the perfect, chewy texture use old-fashioned rolled oats. You can use quick oats, but it will change the texture of the cookie. For my oatmeal cookie recipe it's best to use rolled oats. Don't even think about using instant oats.
You can use white sugar to make my recipe, but brown sugar does more than add flavor to the cookies, it reacts with baking soda to help leavening, making the cookie puffier.
How to make Cranberry Oatmeal Cookies
Preheat your oven to 350℉ and line a baking sheet with parchment paper.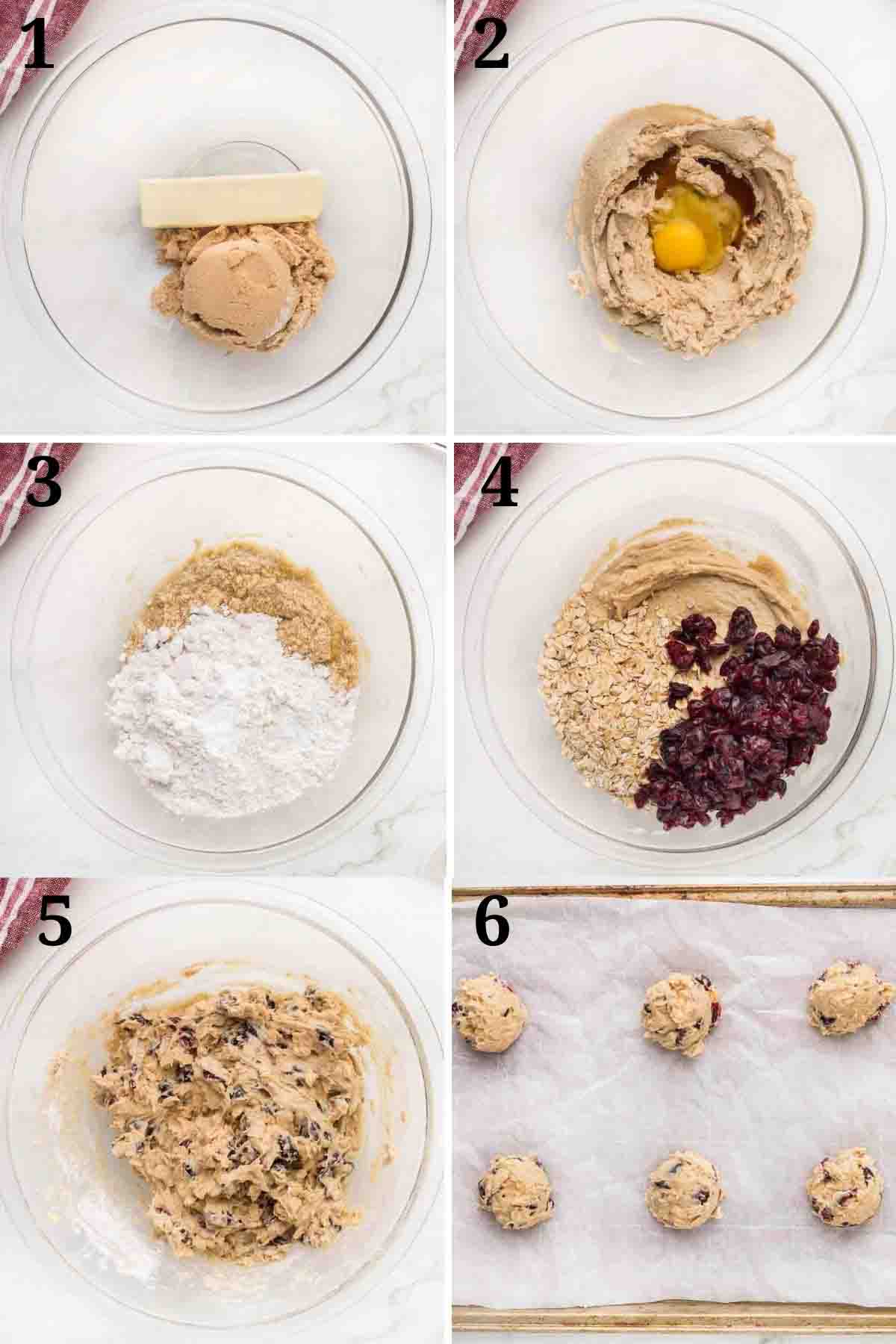 Add the room temperature butter and brown sugar to a large bowl (or the bowl of a stand mixer fitted with the paddle attachment) and cream the butter at high speed until light and fluffy (3-5 minutes). Scraping down the sides and bottom of the bowl as needed.
Add the eggs and vanilla extract to the creamed mixture and whip at low speed increasing to high and mix until light and fluffy. Scrape the bottom and sides of the bowl as needed.
Add the flour, baking soda, salt, and cinnamon to the mixture and mix on low until the dry ingredients are fully combined.
Add the oats and cranberries to the mixture.
Fold the ingredients in by hand, mixing just enough to incorporate.
Scoop about 2 tablespoons of dough for each cookie and place them on cookie sheet lined with parchment paper, 2-3 inches apart..
*Room temperature can be tricky, the butter has to be soft enough to whip so you can get air into it. When the butter is at the right temp, it forms trapped air pockets that result in risen, fluffy cookies. If the butter is any warmer, it won't incorporate enough air and your cookies will have less rise.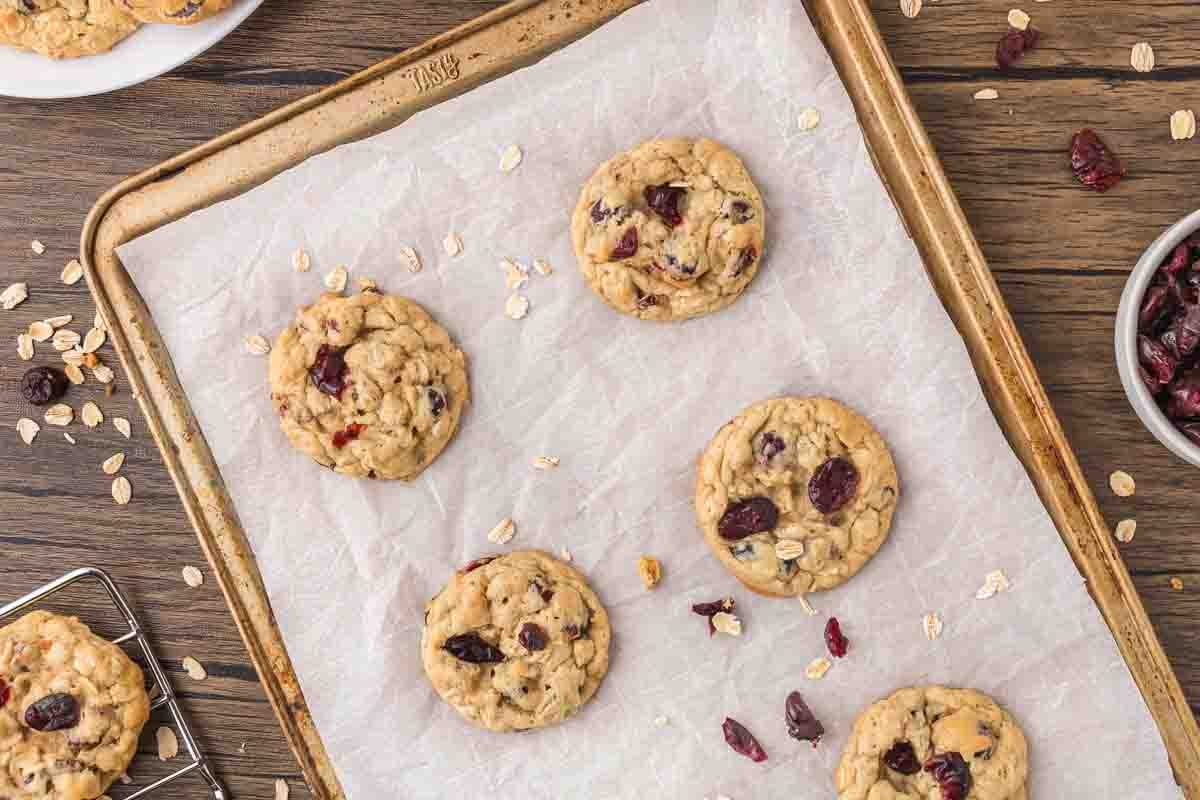 Place the cookie sheet on the center rack of the preheated oven and bake for 7-10 minutes or until slightly golden.
Repeat the process until all of the cookie dough has been used. Keep the cookie dough refrigerated while waiting to bake.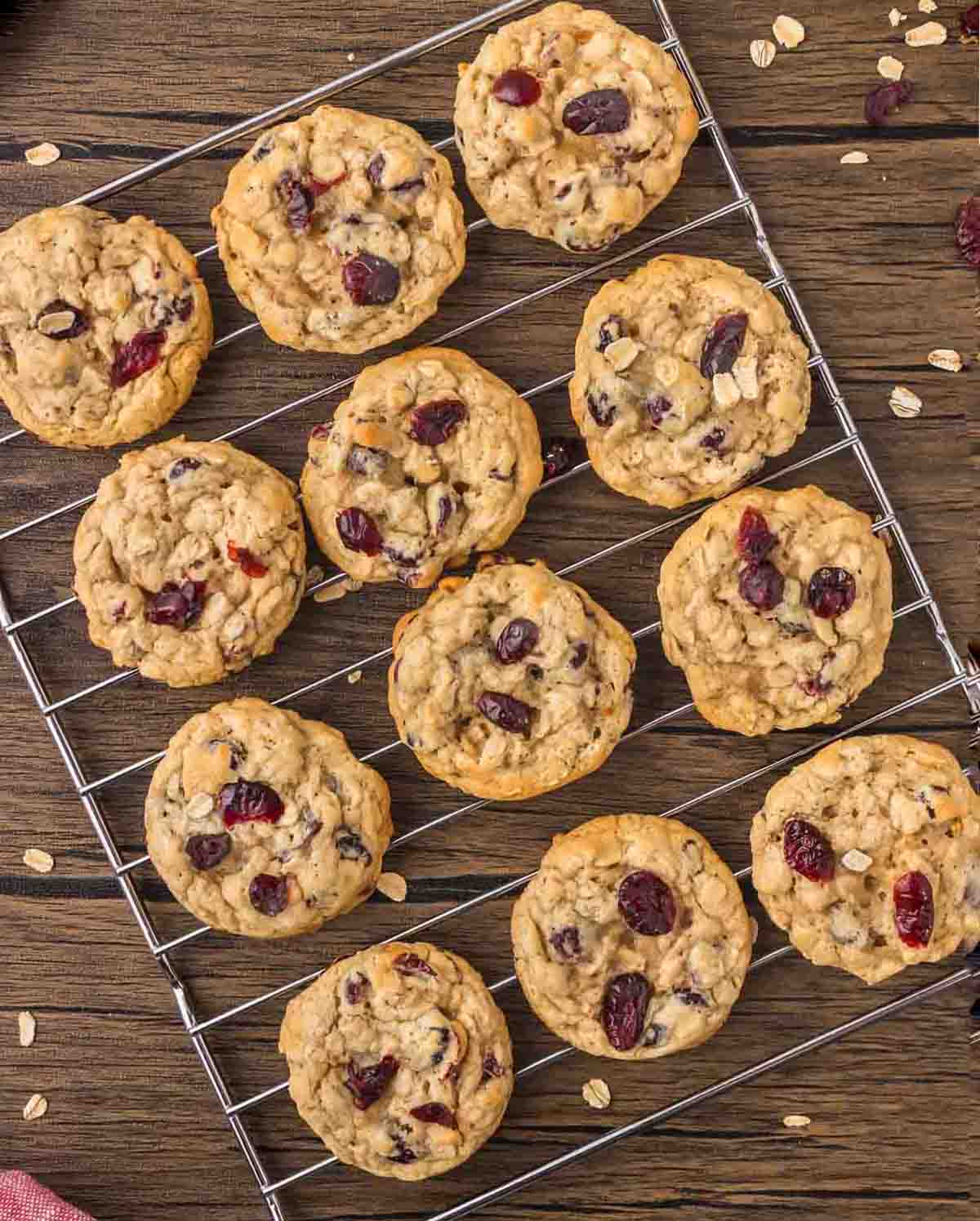 Let the chewy oatmeal cookies cool on the pan for 2-3 minutes then carefully move them to a wire rack to finish cooling.
Store any leftover cookies in an airtight container at room temperature for up to 7 days or refrigerated for up to 10 days.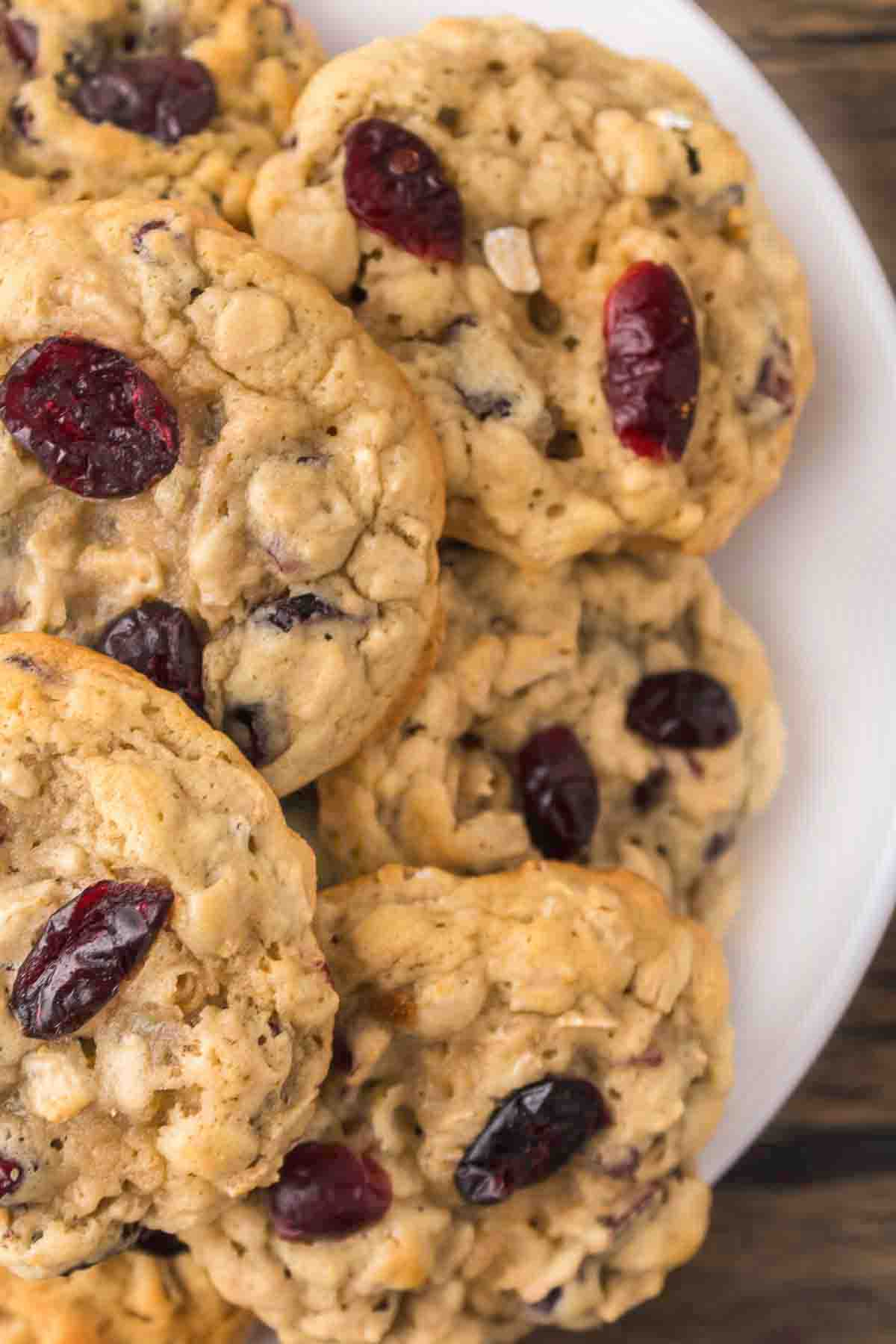 I guarantee that my chewy oatmeal cranberry cookies will become a family favorite and a cookie you'll make all year long. It's the perfect treat any time of day.
Store any leftover cranberry oatmeal cookies in an airtight container on the counter. for 5-7 days. They can also be refrigerated for up to 10 days, and frozen baked or raw in a well sealed airtight container for up to 3 months.
If you're a cookie lover make sure to try my Pistachio Cornmeal Cookie, it's one of my favorites!
Recipe FAQ's
Can I use instant oats to make this cookie?
You can, but the cookies will not be as good. Old-fashioned oats add a chewy, nutty texture and flavor to the cookies. They're thicker and heartier than quick oats (instant oats). If you're going to the trouble of making cookies, don't cut corners and use the right oats.
Can you freeze cranberry oatmeal cookies?
You certainly can. Once the cookies have cooled completely, transfer them to an airtight container, with pieces of parchment paper or wax paper in between the layers. They can be kept frozen for up to 3 months.
Can I use fresh cranberries instead of dried?
You can, but I wouldn't recommend it. The berries would need to be cooked and sugared before using and they would still be a little bitter.
More Recipes You'll Love!