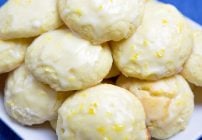 Bring sunshine into your world with these oh so delicious and easy to make Meyer Lemon Ricotta Cookies!
One of the great joys in life is baking cookies.  Most cookies don't take long to prepare and take little time to bake.  If you count eating the batter as you go, cookies are about as close to instant gratification as you can get!
For that reason I don't bake cookies too often, there just too hard to resist.
It's amazing what you can forget through the years, and the emotions that can surface when those memories come flooding back to you.    For so long I had blocked out the memories of my time with Mama Jeanette,  but over the past few years some of the dishes I've made have triggered those memories.
A few weeks ago I saw a post with ricotta cookies on Google+ and the memories of those lovely lemon cookies came rushing back to me.    Mama Jeanette was always making her own ricotta cheese, and used it in a wide variety of dishes,  but I remember the first time she made her lemon ricotta cookies for me  like it was yesterday…..sigh
Those delicious little cookies went so well with an espresso or just by themselves.   I'd often find a plateful waiting for me when I took my afternoon break.
The cookies had a light texture with an almost cheesecake like flavor, but its the lemon glaze that pushes them over the edge.   If  there are any left after the first day, store then in a loosely sealed container, otherwise the moisture will ruin the consistency of the cookie.
Mama Jeanette's original recipe was made with regular lemons, but when life gives you Meyer lemons, you adapt.
Meyer Lemon Ricotta Cookie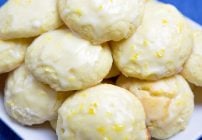 Ingredients
Cookies
2 1/2

cups

all-purpose flour

1

teaspoon

baking powder

1

teaspoon

fine sea salt

4

ounces

softened unsalted butter

2

cups

sugar

2

large eggs

16

ounces

whole milk ricotta

3

tablespoons

Meyer lemon juice

1

Meyer lemon finely zested
Lemon Glaze
1 1/2

cups

powdered sugar

3

tablespoons

Meyer lemon juice

1

Meyer lemon finely zested
Instructions
Preheat the oven to 375 degrees F.
Cookies
Mix the flour, baking powder, and sea salt together in bowl and set aside

In the bowl of your stand mixer combine the butter and the sugar, beat until light and fluffy, 2-3 minutes

Add the eggs one at a time until well blended.

Add ricotta, meyer lemon juice, and zest, mix until well blended

Add in dry ingredients and mix just enough to incorporate

Line two cookie sheets with parchment paper, and place cookies about and inch apart. I made my cookies about 2 tablespoons each .

Bake for 15-20 minutes, until the cookies begin to brown slightly on the edges.

Allow cookies to cool for 15 minutes on a wire rack or until cool to the touch
Lemon Glaze
In a small bowl mix the confectioners sugar, meyer lemon juice and zest together until well blended.

Using a tablespoon, spoon the glaze onto the cookie and spread it around using the bowl of the spoon.

Allow cookies to dry for about 30 minutes. (If the container is too air tight they will soften as they sit, and by the third day the texture will not be as good)
There's a country song that Trisha Yearwood sang quite a few years ago titled "The Song Remembers When"  it talked about how hearing a certain song would take you back to another time in your life…….  I think food can do the same thing.   So many wonderful memories include food, sharing it with friends and family, lovers and strangers.   Food can magically transport you to another place time…..  these cookies took me back to a time, when life was simpler and cookies made everything better.