I know I've been teasing you about some exciting news, and this morning at 10:00 am EST it finally happened!  I am proud to be a part of a new venture on Google+ called ChefHangout.com .  
At Chef Hangout, you'll find 24 chefs from around the world that have been brought together for this unique enterprise, and I am lucky enough to have been chosen!    So many different types of cooking will be offered by some of the most talented chefs I've ever had the pleasure to work with.
If you're not familiar with the hangouts on Google+, it's a pretty cool concept, you and 9 of your friends can get together on the hangout for a great evening, whether it's for online classes or just for a reunion of friends spread across the globe.    All you need is a profile on Google+, a laptop with a camera and a decent internet connection and your ready for business!  So stop by when you have the chance and take a look around, it might be the perfect gift for a  friend or relative!    Chefhangout.com
Today you will also find me guest posting for  my friend Betty Ann, on her Blog  Asian In America,  so stop by and check out my Torta de Mele,  aka Italian Apple Cake!   It is one of my favorite cakes, and promise you won't be disappointed!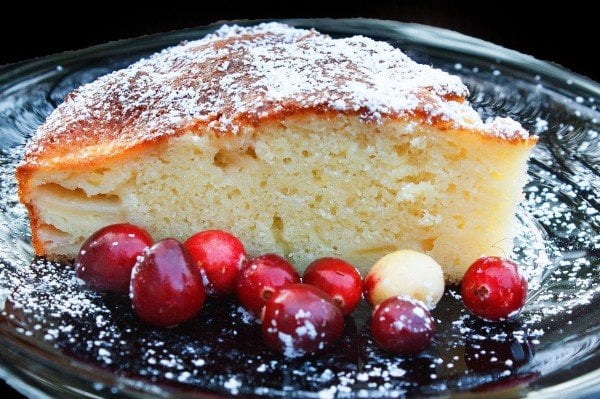 Ingredients
cup

½ unsalted butter

115 g

3

slices

apples cut into

2/3

g

cup flour

85

tsp

½ baking powder

2.5 g

tsp

½ salt

2.5 g

2

whole eggs plus 1 egg yolk

1

tsp

vanilla extract

5 ml

1

cup

granulated sugar

225 g

tsp

½ grated lemon zest

2.5 g

10

x sugar to dust
Instructions
preheat oven to 375, butter a 9" round cake pan

In a large frying pan over low heat, melt the butter, reserve 6 tbs for later. Add the

apple slices and cook until tender, about 10 minutes.

In a small bowl mix together flour, salt and baking powder. In a large bowl beat the whole eggs and egg yolks until blended. Add the butter, sugar, vanilla and lemon zest.

Stir in flour and apples. Spoon into prepared pan, smoothing the top.

Bake until cake is browned, 30-35 minutes. Transfer to a wire rack to cool in pan for

minutes. Invert cake onto plate to remove the pan and then invert again and return to rack to cool completely.

Before serving dust with 10x sugar