If you're a fan of sweet and flaky pastries, you're going to love my easy Apple Turnovers recipe! These deliciously sweet, fruit-filled treats wrapped in crispy, crunchy, flaky, buttery layers of puff pastry are perfect for breakfast, dessert, or a midday snack with a cup of coffee or a cold glass of milk.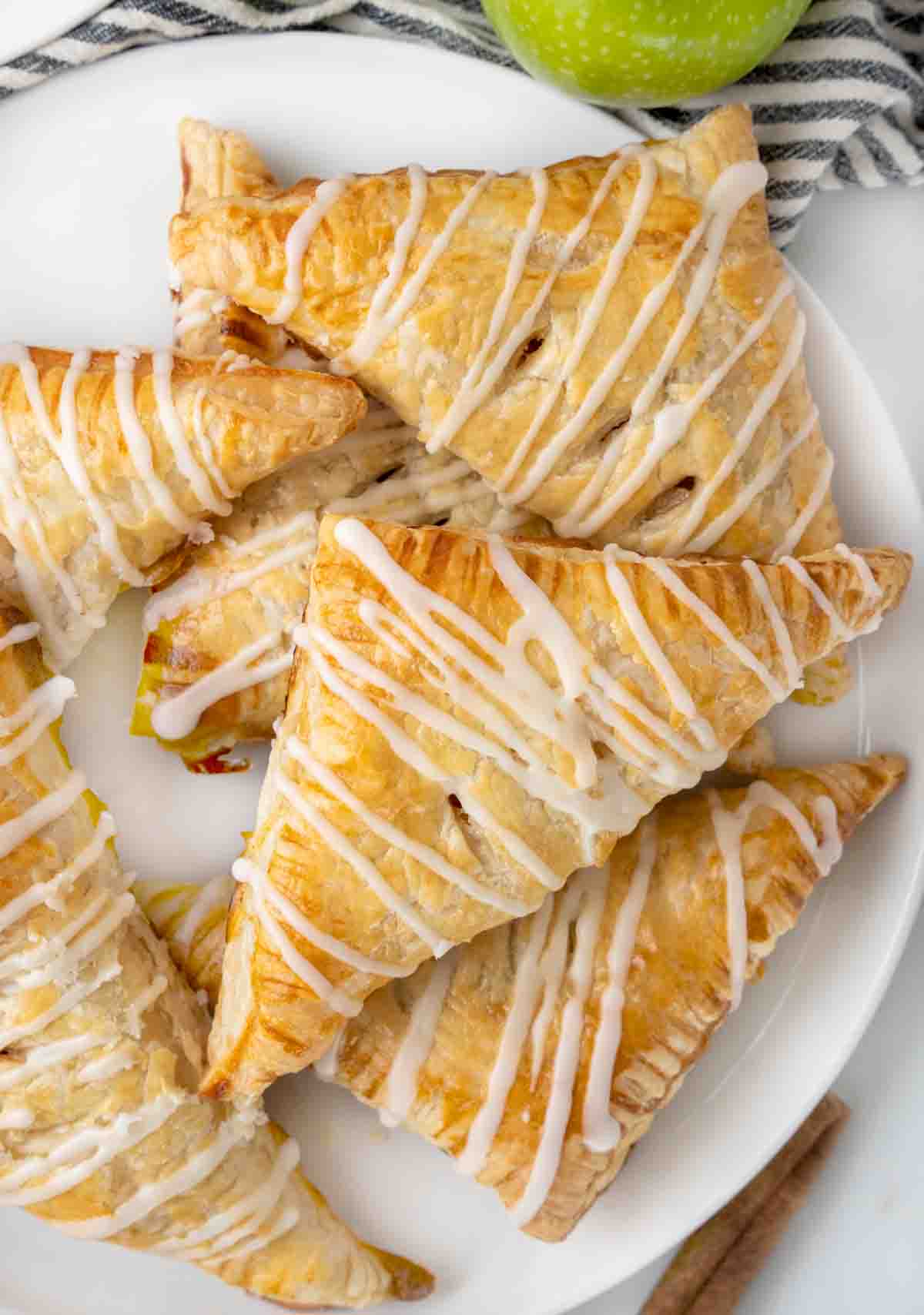 This was one of the treats I remember most from my childhood. My mother would make these using pie crust instead of puff pastry dough. She called them hand pies, but everyone else in my family referred to them as apple turnovers. But no matter what you call them, you'll be calling my homemade Apple Turnovers delicious!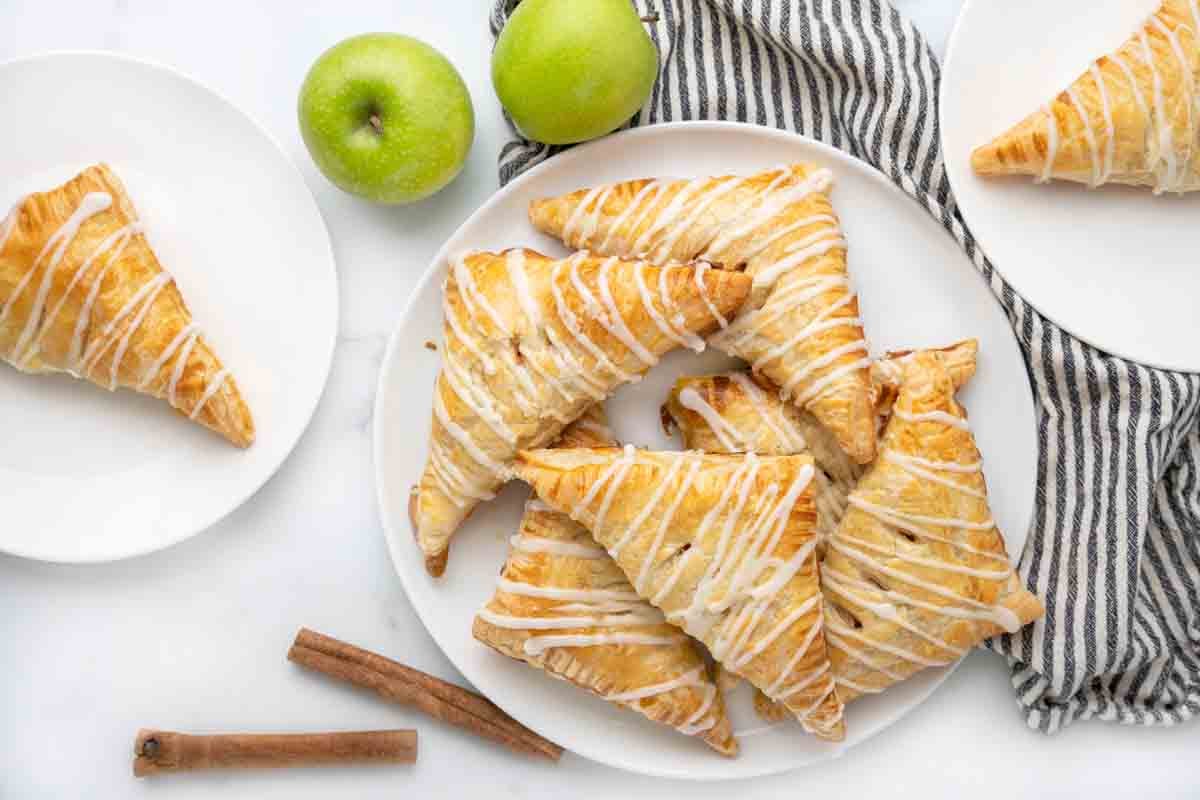 My bakery-quality puff pastry apple turnovers recipe is made with simple ingredients and it's guaranteed to become a family favorite. I'll have you looking like a superstar in the kitchen thanks to my easy apple turnover recipe. I mean what's better than flaky pastry filled with warm apple pie filling?
If you love apples, you're going to love my Apple Pie Foldovers.
Ingredients to make Apple Turnovers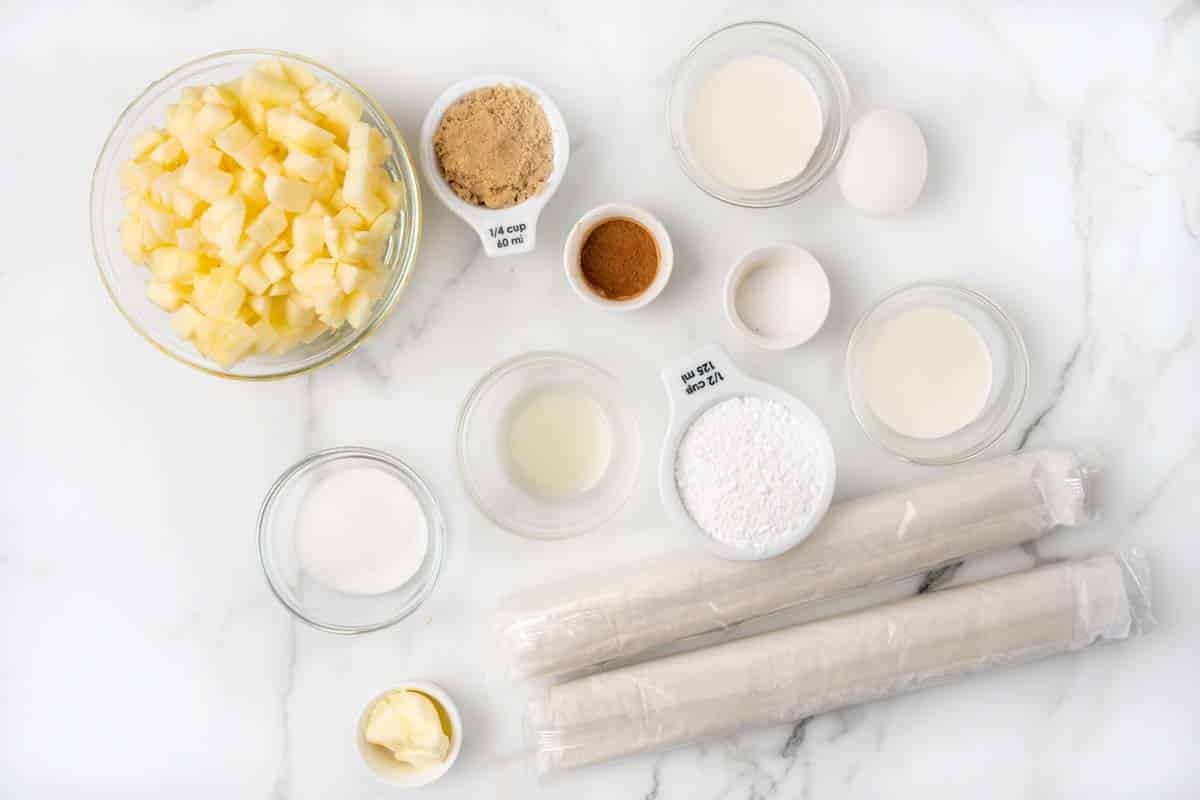 Let's start by gathering the ingredients we need to make Apple Turnovers. In Chef Speak, this is called the "Mise en Place," which translates to "Everything in its Place."
Not only does setting up your ingredients ahead of time speed up the cooking process, it also helps ensure you have everything you need to make the dish.
Made with simple ingredients
store-bought puff pastry dough
apples
granulated sugar
brown sugar
cinnamon
lemon juice
egg
unsalted butter
powdered sugar
heavy cream
table salt
What kind of apples should I use?
Every recipe you read will suggest Granny Smith apples, they're a tart apple and not my first choice for baking. I like to use Honeycrips apples, or Braeburn apples to make my sweet apple filling for the turnovers. Crispin, Jonathon, Nothern Spy, Gala and Pink Lady are also good choices.
How to make apple turnovers
Remove puff pastry from the freezer and thaw according to instructions while making and cooling the apple filling.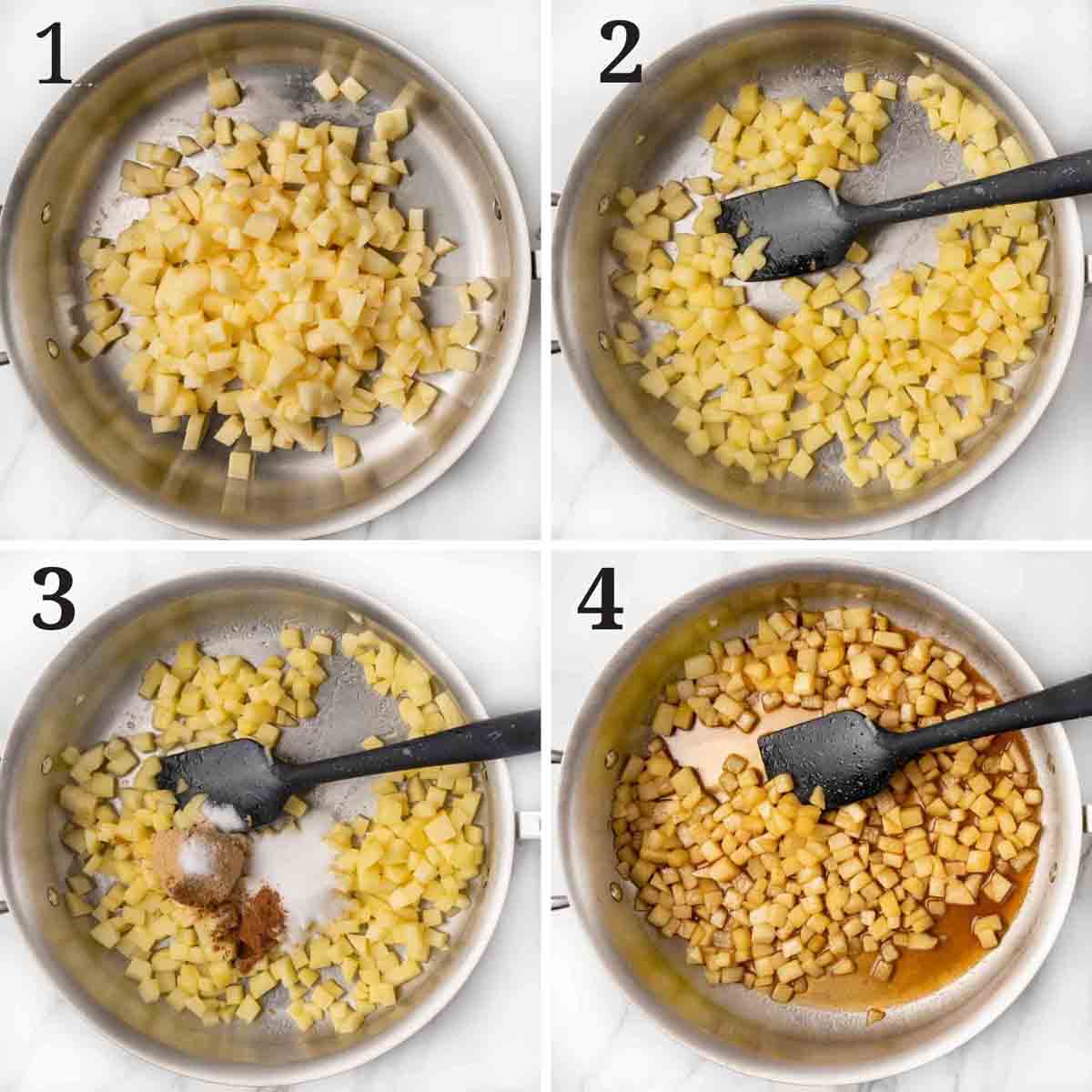 Melt the butter over medium heat in a medium pot or large skillet. Add the diced apples to the pan.
Cook the apples for 6-8 minutes, stirring as needed.
Reduce the heat to low and add the brown sugar, cinnamon, lemon juice, and salt. Stir to mix the cinnamon sugar into the apples.
Let the mixture cook for 4-5 minutes (stirring as needed) until the apples have slightly softened. Then remove the apples from the heat and set them aside to cool.
Preheat the oven to 400˚F
How to make an eggwash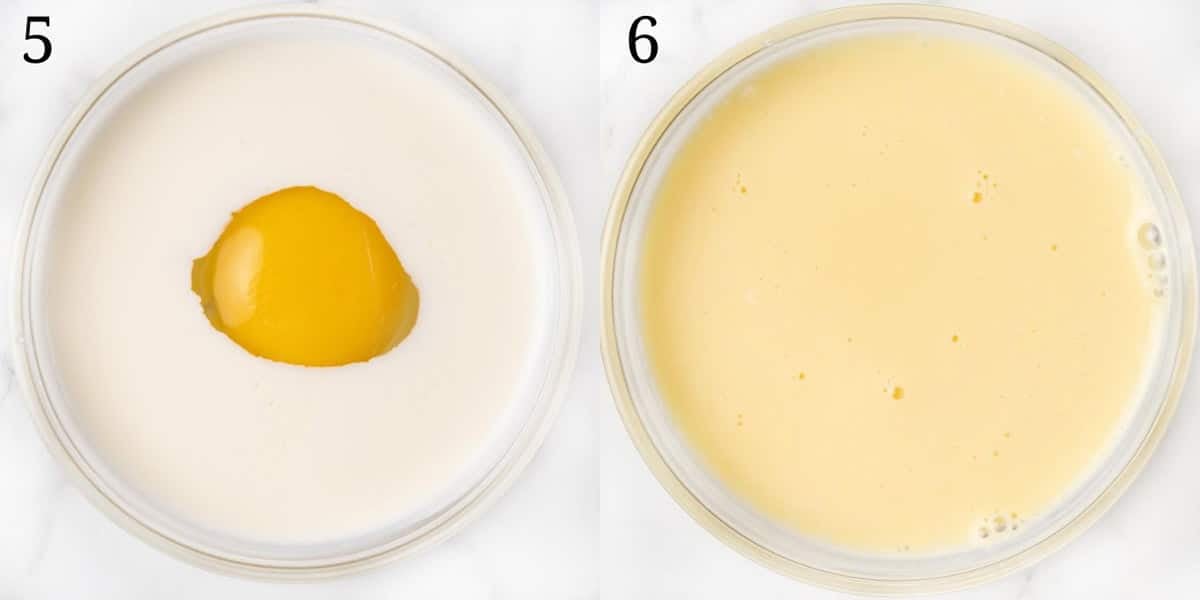 Add the egg and heavy cream to a small bowl.
Wisk the ingredients until evenly combined. Set aside.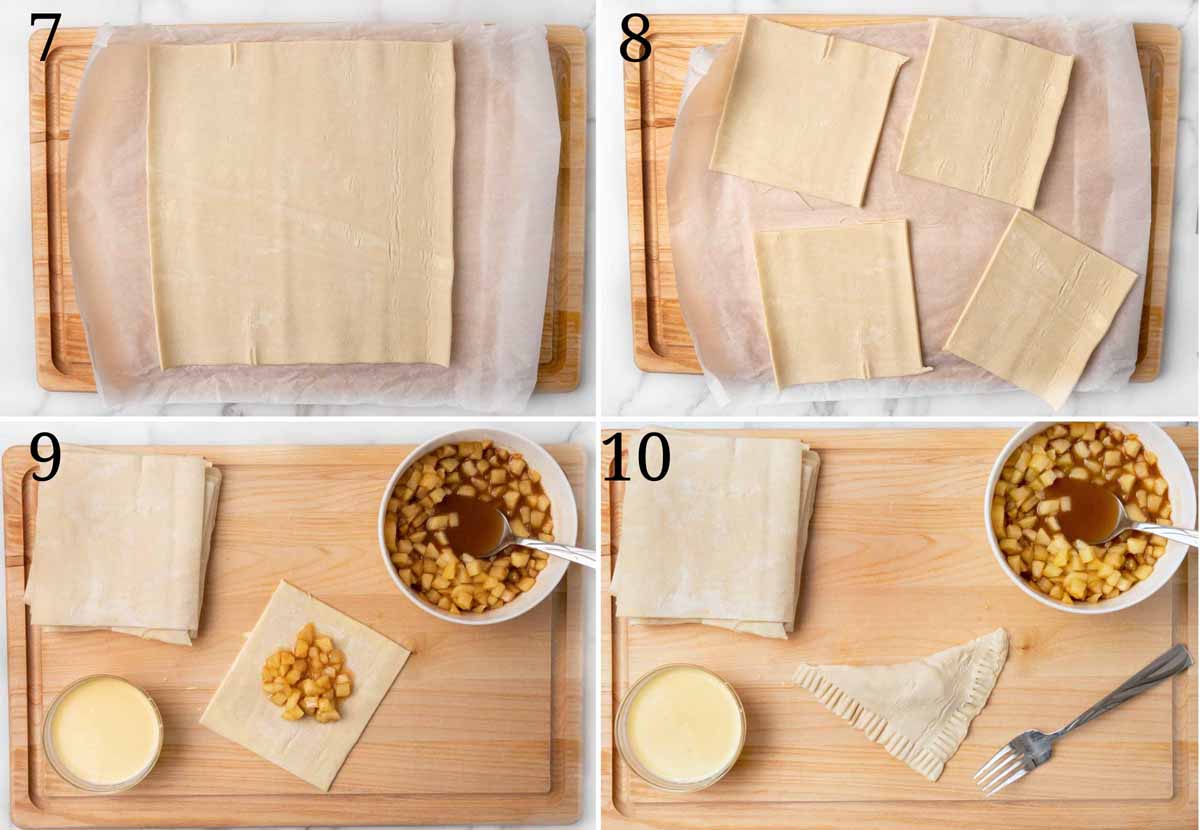 Place a sheet of parchment paper on a cutting board or directly on a lightly floured surface. Place one sheet of puff pastry dough on the parchment paper.
You need two puff pastry sheets for this recipe. Roll each puff pastry sheet into 10-inch squares using a rolling pin. Cut each sheet into four equal-sized squares, making eight squares. *Keep the puff squares refrigerated until it's time to add the apples.
Add a portion of the cooled apple mixture (2-3 tablespoons) to the center of each square, leaving at least a ½″ border around the square.
Brush eggwash lightly along the edges of the puff pastry square. Fold the dough over to make a triangle. Use a fork to crimp the edges together to get a good seal. Repeat the process until all of the squares are completed. If it's warm out or if this is taking more time than you anticipated, keep the puff dough or finished turnovers refrigerated until they are all completed.
*To reduce the chances of filling leaking out of pastries, refrigerate uncovered for 20 minutes before brushing with egg wash and baking (optional step).
Place the assembled apple turnovers on a parchment-lined baking sheet in a single layer, leaving one inch between each turnover.
Cut 2-3 small slits on top of each apple turnover using a sharp knife.
Brush the tops of the turnovers with the remaining egg wash.
How to make the vanilla glaze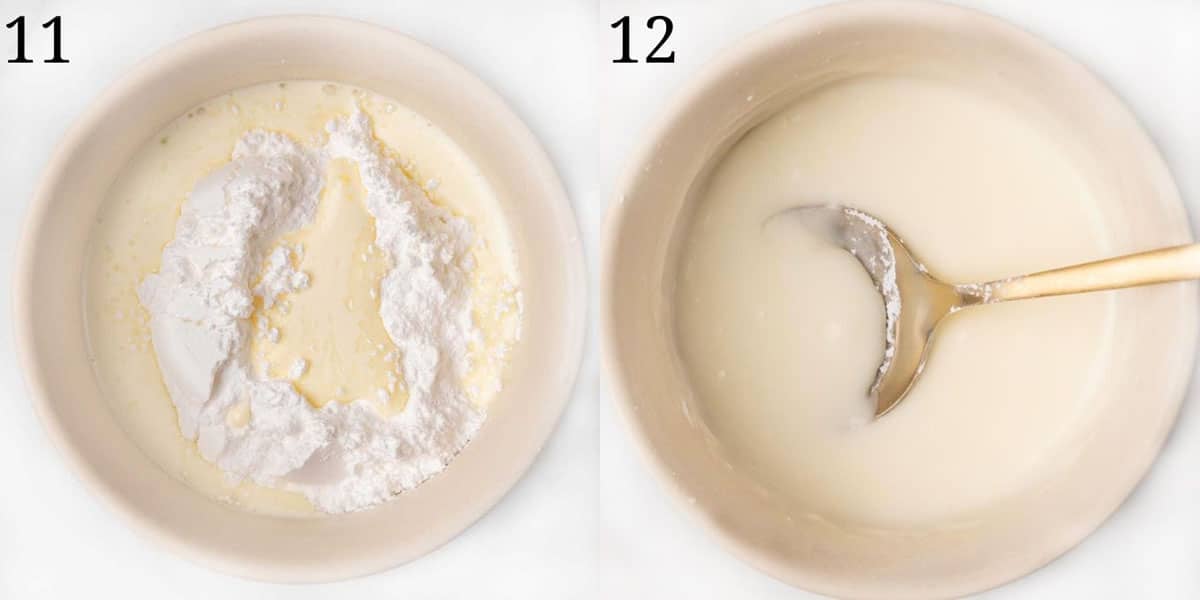 Add the powdered sugar and heavy cream to a small bowl.
Mix well to combine the ingredients to make the glaze
*Make sure not to skip the glaze. The pastry dough is not sweet and the glaze compliments the crispy, crunchy puff pastry. If you'd rather not use the glaze, you can sprikle coarse sugar on the top of the apple turnovers before baking.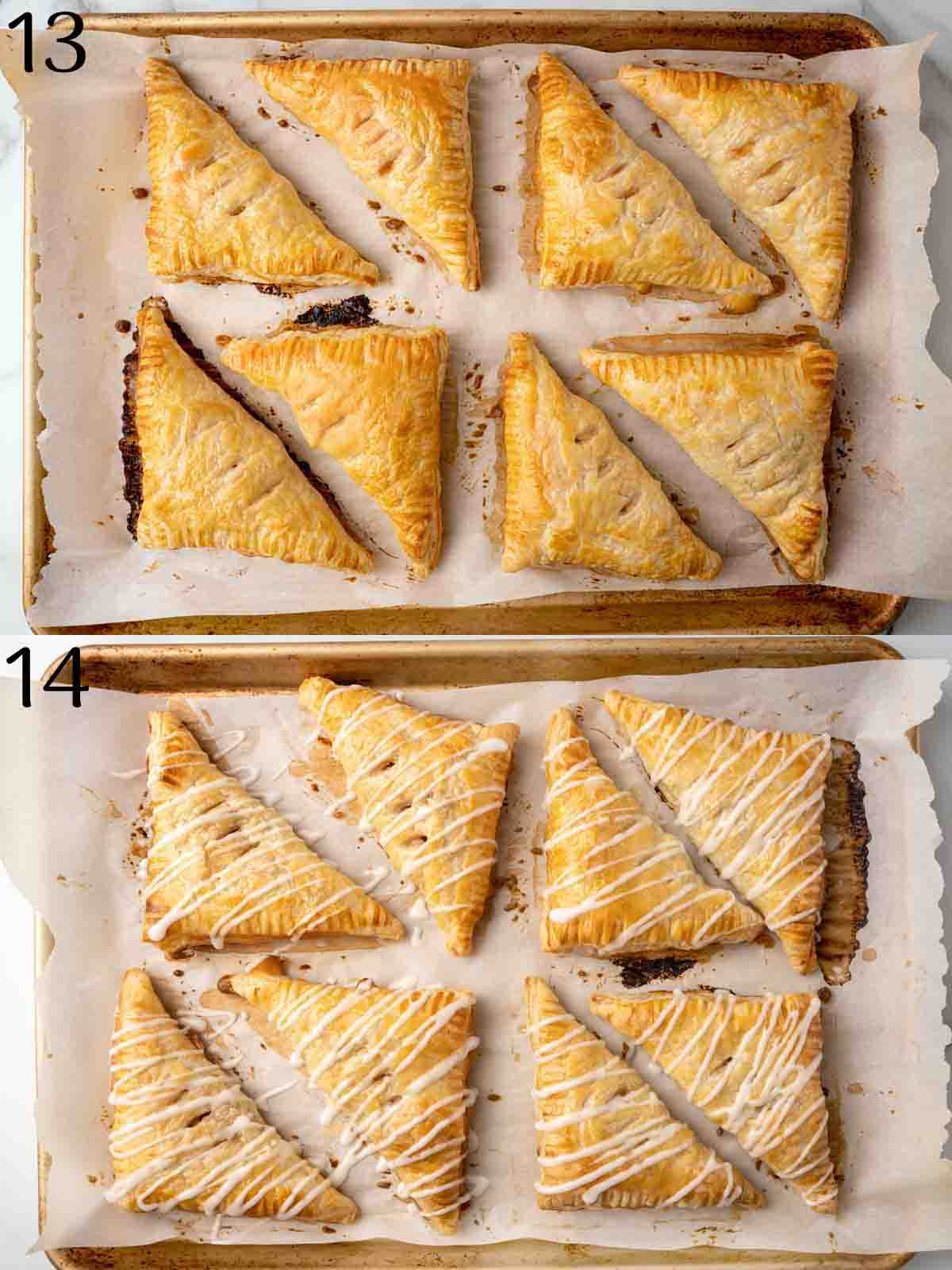 Place the baking sheet on the middle rack of a 400-degree F. preheated oven and bake the apple turnovers for about 20-22 minutes or until golden brown and puffed up. Don't worry If some of the juices leak out, that's normal.
Remove from the oven and let them cool on a wire rack.
While the turnovers are still warm, drizzle the glaze over the turnovers and give them a few minutes for the glaze to set up before serving.
I love biting into the flaky pastry with its crisp buttery crust that you get when using puff pastry dough. But if you prefer you can use pie dough to make these delicious apple treats.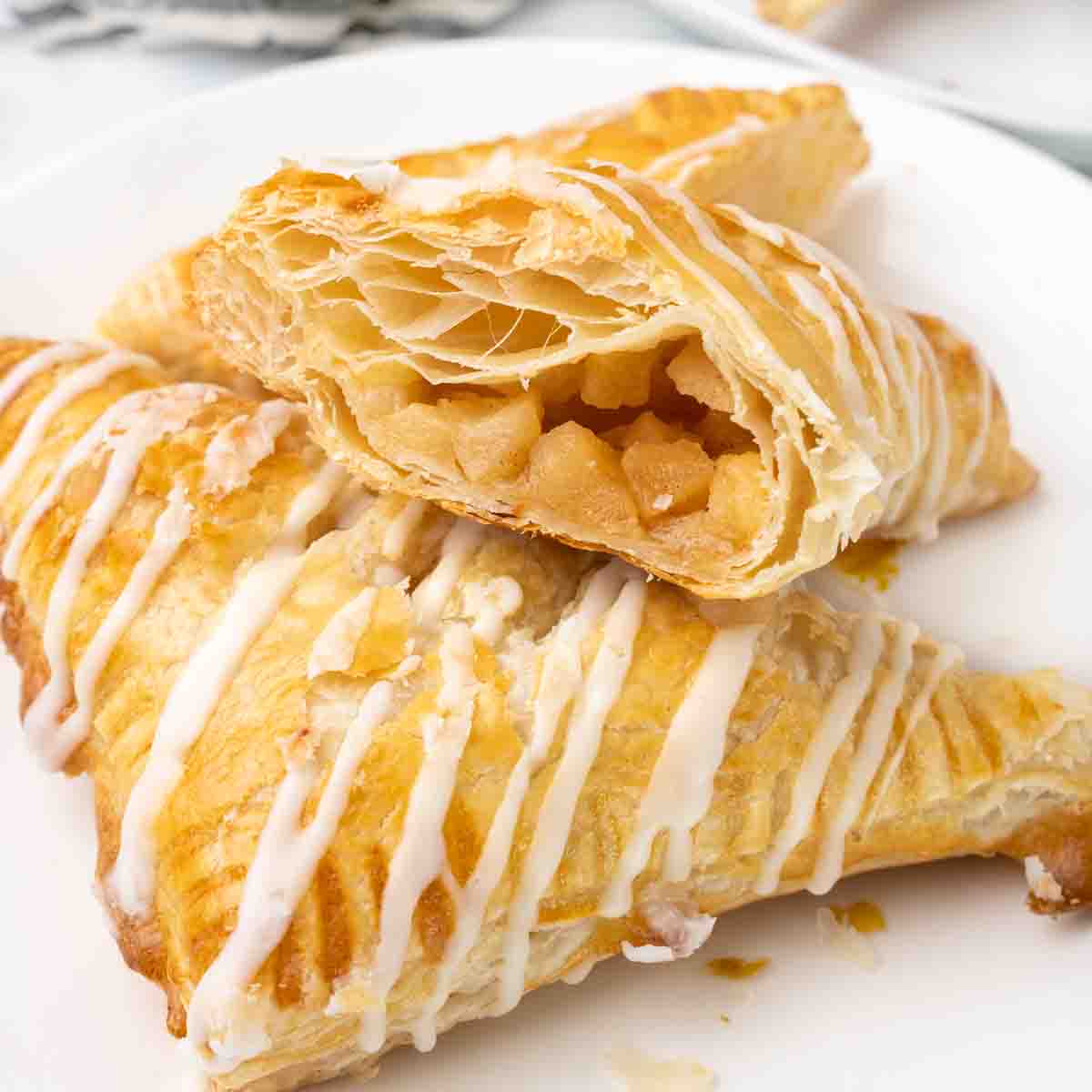 Apple turnovers are a delicious and easy-to-make pastry that is perfect for any occasion. With their warm, cinnamon-spiced filling and flaky puff pastry crust, these turnovers are sure to become a favorite among your family and friends.
Recipe FAQ's
What's the difference between apple pie and apple turnovers?
While apple pie and apple turnovers both utilize a sweet apple filling as the main ingredient, they have different types of crust surrounding the filling. Apple pies are made with a pastry crust, while apple turnovers are made with puff pastry dough. Pies are made to be sliced, and turnovers are individual servings of an apple dessert.
How do I keep the apple filling from leaking out?
Overfilling the turnovers with the apple filling can cause leakage. But most of the time, it's because the edges weren't properly sealed. Brush the edges with water or eggwash, and use a fork to crimp the edges of the pastry together to help seal the turnover.
Can I make apple turnovers ahead of time?
Yes, you can make apple turnovers ahead of time. They can be stored in an airtight container in the fridge for up to 3 days. To reheat, simply place them in the oven at 350°F for 5-10 minutes or until heated through.

Can I freeze apple turnovers?
Yes, you can freeze apple turnovers before or after baking them. To freeze before baking, assemble the turnovers and place them on a baking sheet lined with parchment paper. Freeze until solid, then transfer to a freezer-safe bag or container. To bake, simply place the frozen turnovers on a baking sheet and bake according to the recipe instructions, adding a few extra minutes to the baking time. To freeze after baking, let the turnovers cool completely, then wrap them individually in plastic wrap and store them in a freezer-safe bag or container for up to 3 months.
More Recipes You'll Love!