One of my go-to cakes for the fall is an Italian apple cake, so I thought I would adapt the recipe and turn it into a Pineapple Butter Cake. This cake is basically a very light butter cake batter that surrounds the tasty morsels of pineapple sautéed in butter…….sigh. In this case, Butter = Love!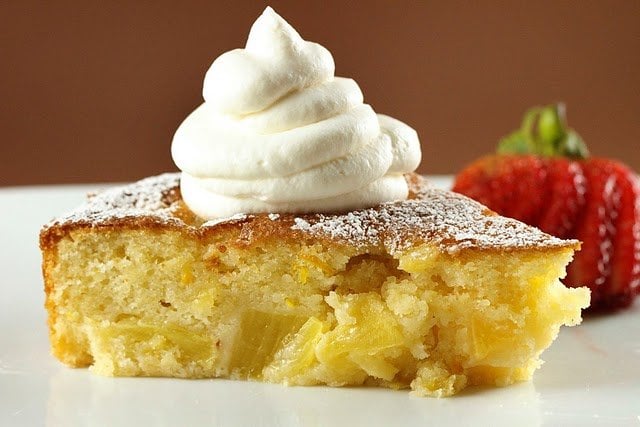 I think that's actually in the foodie dictionary somewhere (well, it should be if it's not!)
My wife loves pineapple, but like anything else, she only eats a little bit of it, and then I'm stuck with what's ever left…..sigh. That's why our neighbors greet me drooling when I knock on their doors; they know it's time for dessert! But with fresh-cut pineapple, I felt a little strange walking it over, so I decided to make a cake with what I had left.
Ingredients to make a Pineapple Butter Cake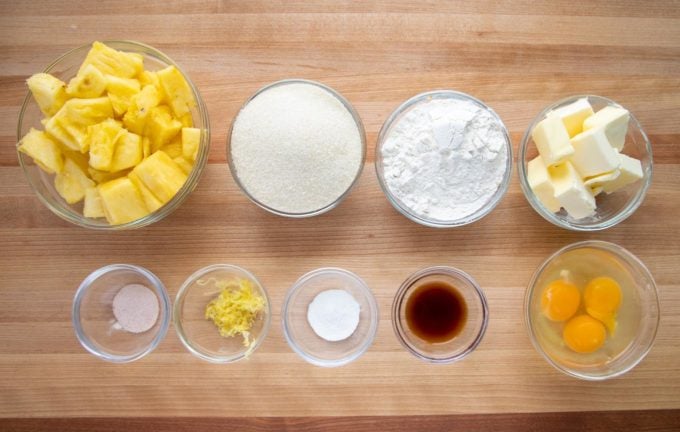 Let's start by gathering the ingredients we need to make this OMG delicious cake. In chef speak, we call this the Mise en Place, which translates into everything in its place.
It's a good idea to start all of your cooking adventures by gathering the ingredients first. Not only does it make the cooking process go more quickly it ensures you have everything you need on hand.
Do I have to use Pineapple to make this butter cake?
No, you don't. This is a very forgiving cake recipe and can be used with a variety of fruit. These are some of my favorites.
Apple
Mango
Peach
Blueberries
Pears
**You don't have to cook berries or stone fruit for this cake, but any firmer fruits like apples or pears would benefit from sauteing with butter. You can also mix different fruits together if you don't have enough of any one variety.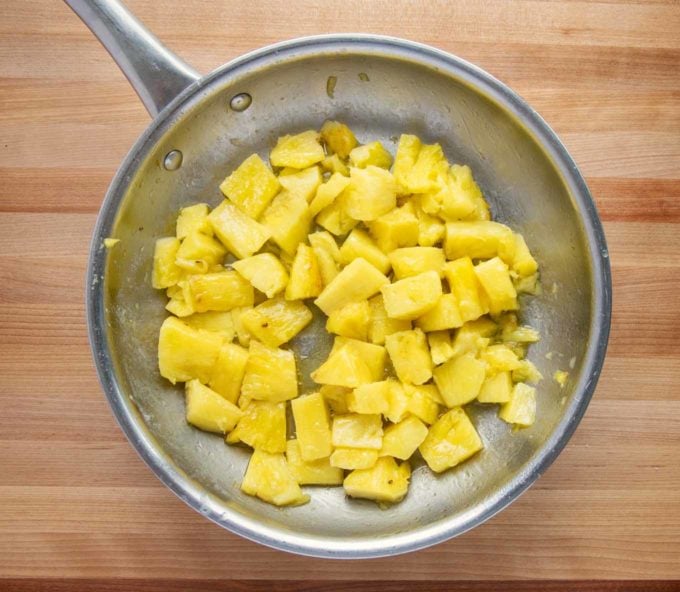 The first step in making this cake is to melt the butter for the cake, reserving 6 tablespoons for the cake batter. After melting the butter, add the pineapple (fresh, frozen or canned) to the butter and cook over medium heat for 7-10 minutes.
**If you use canned pineapple, don't add the juice from the can, only the pineapple.
While the pineapple and melted butter are cooling, you can move onto the next step.
What do I do with any leftover butter/juice in the saute pan?
Don't add the extra liquid to the cake batter, it will make the batter too thin.
What you can do is spoon any leftover butter/juice over the cake after it comes out of the oven, before it fully cools.
If there is a lot of extra juice, heat it over high heat to reduce the juice to a reasonable amount.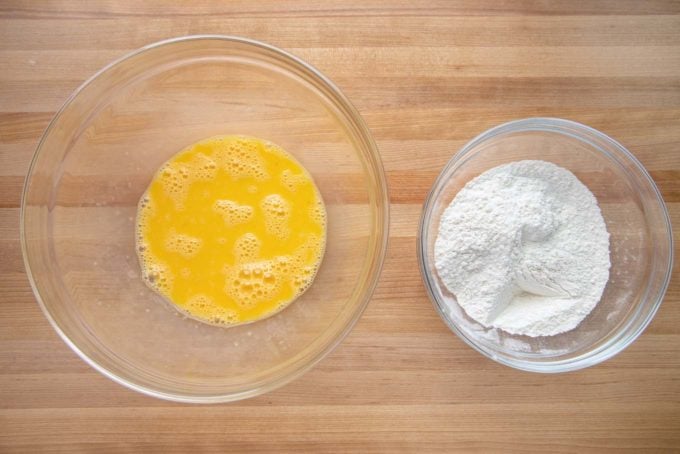 Whip the two eggs and one egg yolk in a large bowl. In a smaller bowl, mix together the flour, salt and baking powder.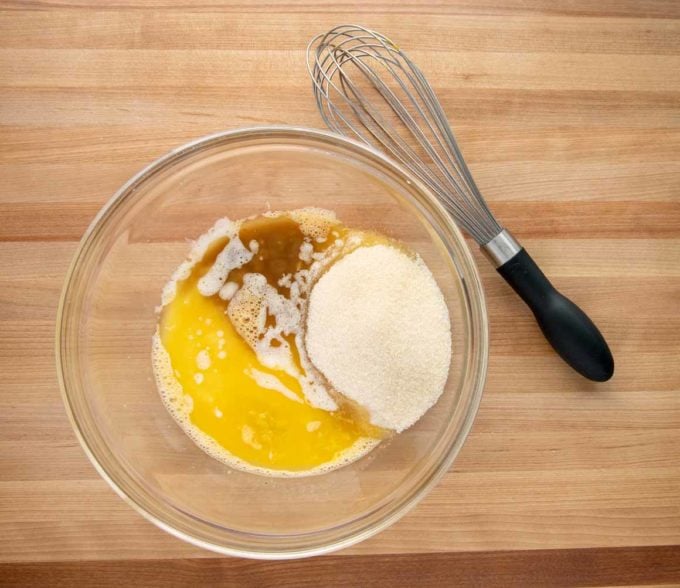 Add the 6 tablespoons of reserved melted butter, sugar and vanilla to the bowl and whip together until smooth.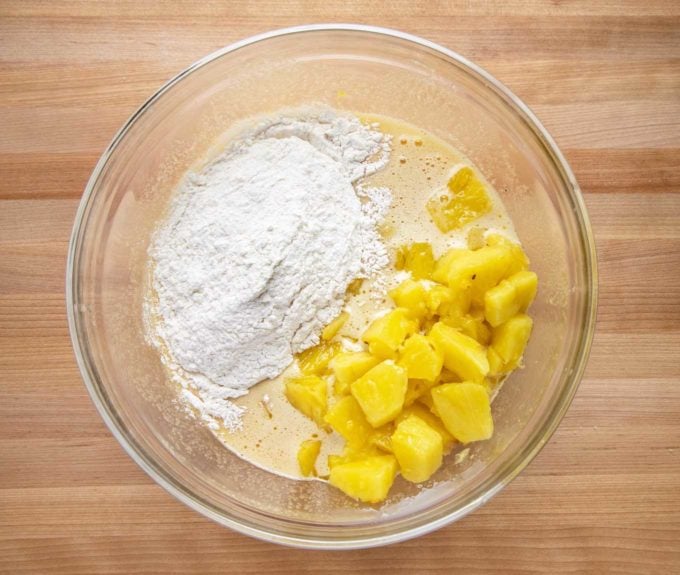 Next, add the pineapple (without any of the butter from the pan) and the flour mixture to the egg mixture and fold together just enough to mix.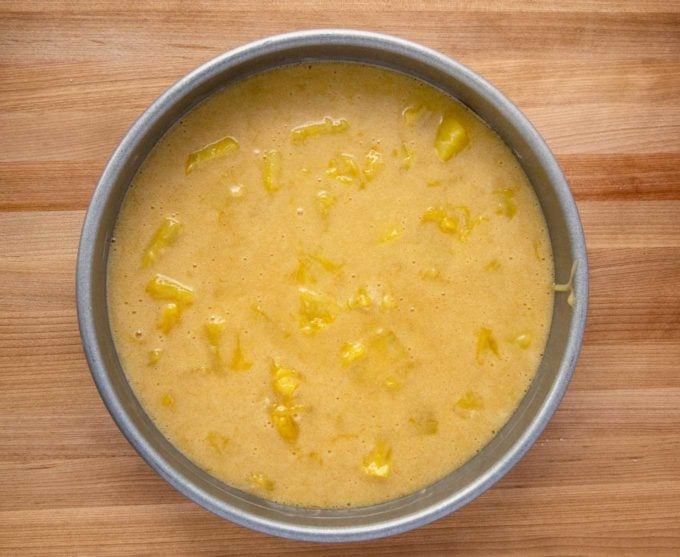 Pour the cake batter into a buttered pan. The batter may seem a little loose, but trust me, as long as you follow my recipe, it will turn out great.
Chef Dennis Tip**
Use parchment in the pan before you add the batter. It will be much easier to remove the finished cake from the pan.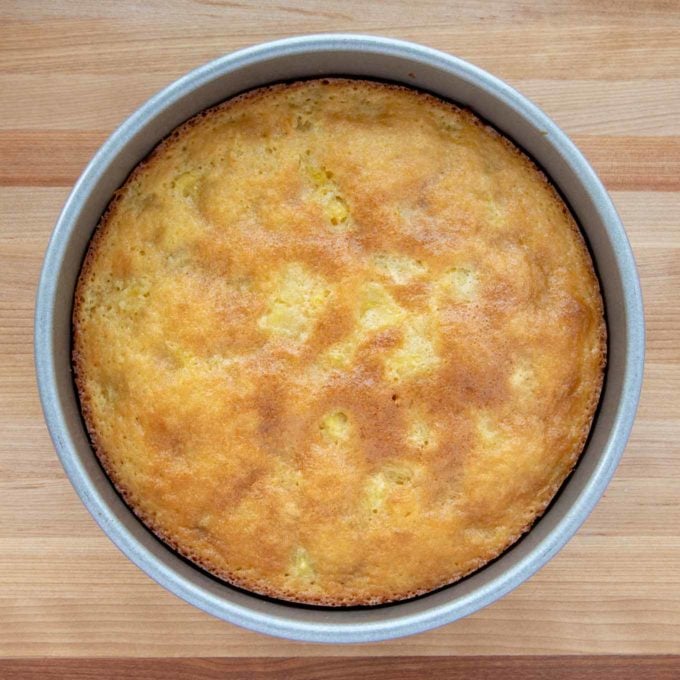 Don't expect this cake to rise very much. There isn't enough flour vs butter in the cake to get much of a rise. I use standard 9-inch baking pans. An 8-inch cake pan will give you a taller cake.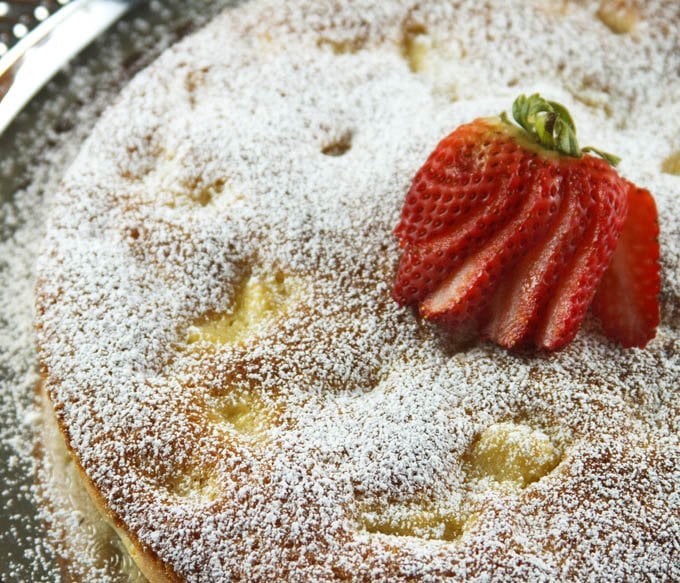 This cake is easy to make and is sure to please your family or guests. If my wife liked coconut, I may have added some a little coconut (½ cup) to the batter! Can anyone say Pina Colada? Tropical beaches, boat drinks, a little Jimmy Buffet on the radio….sigh, it just doesn't get better than that!!! But there I go again, getting off topic…….let's get back to the pineapple cake. I hope you enjoy it.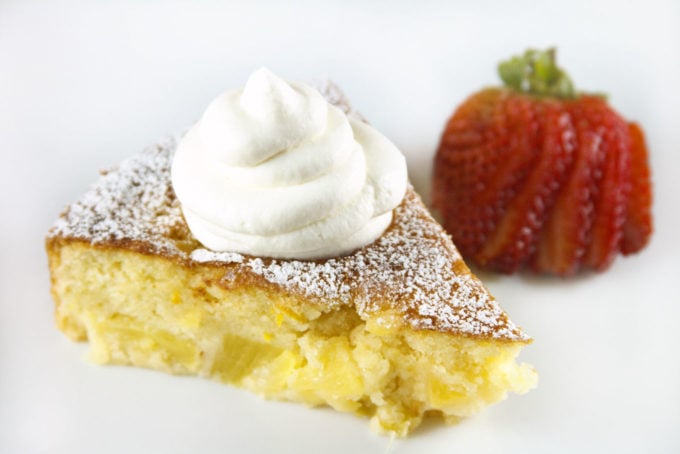 These are some of my favorite kitchen tools that I use in my home kitchen for baking.
Chef's Choice
Chef's Choice
Chef's Choice
Chef's Choice
More Cake Recipes You'll Love!