My Old Fashioned Apple Crisp is packed with gooey sweet cinnamon apples and a crunchy brown sugar oat topping. Top it off with a scoop of vanilla ice cream and you've just elevated this simple dessert to legendary status.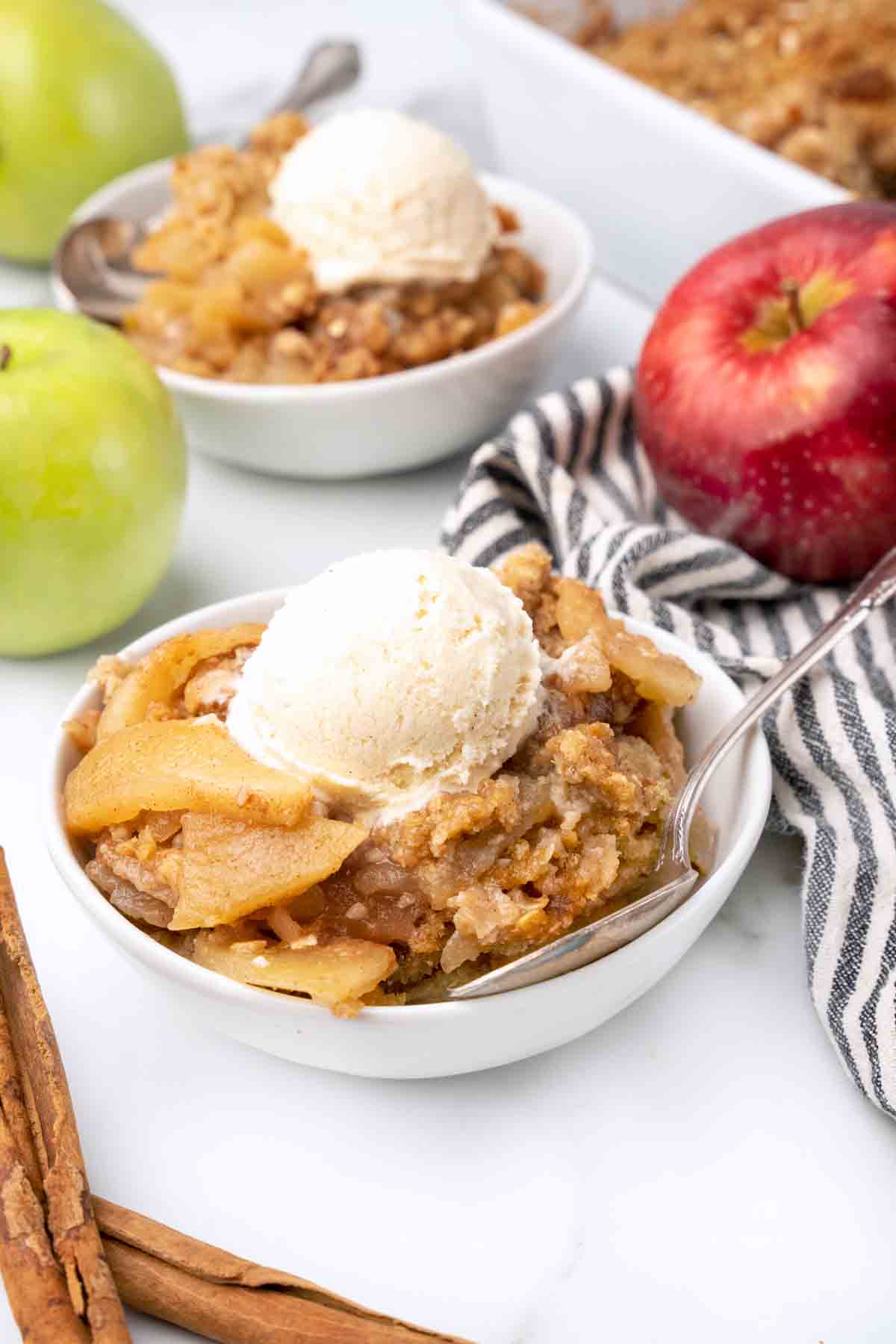 My mother wasn't the best cook, but growing up, Apple Crisp was one dessert she made every apple season. This is the recipe I learned to make at her side and it is the best apple crisp recipe I've ever had.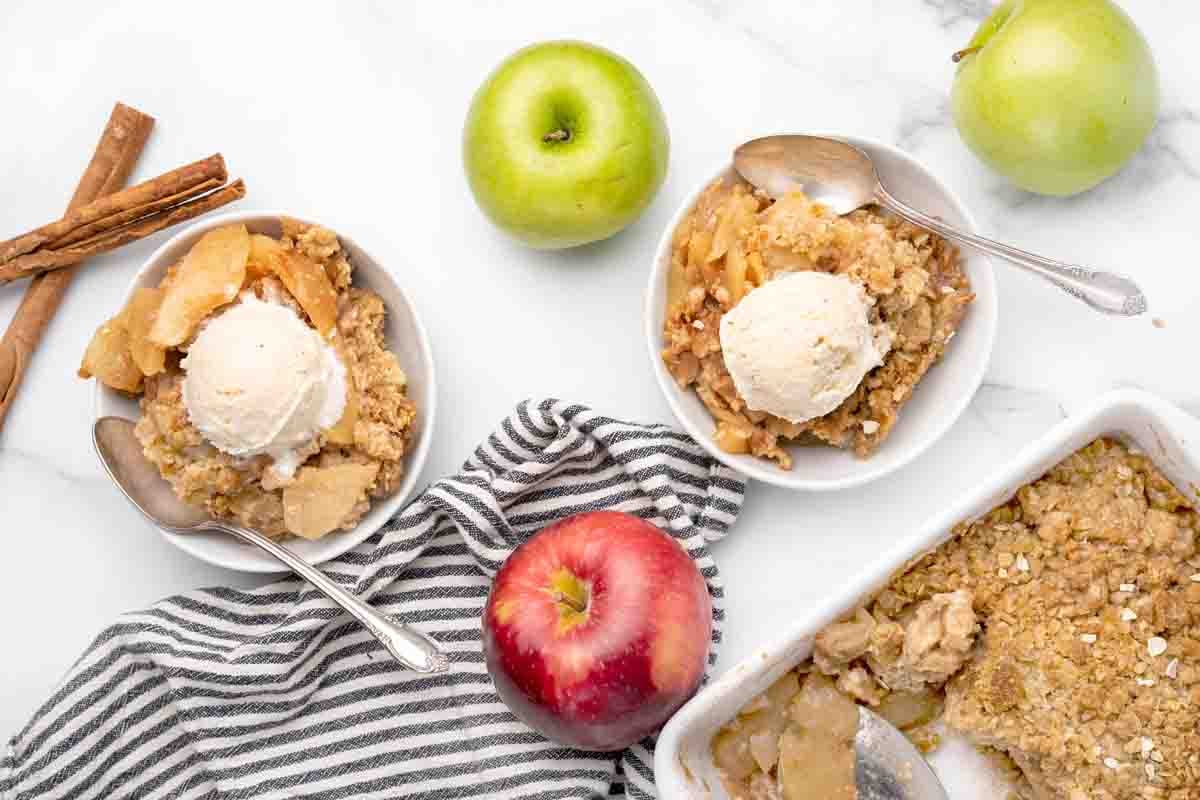 Apple crisp is definitely my favorite fall dessert, but these days fresh, delicious apples are available year round. And apple crisp is easier to make than apple pie, so it's a dessert that I make all year long.
If you love apples and apple desserts, my easy-to-make Buttery Apple Cake is guaranteed to please.
Ingredients to make Apple Crisp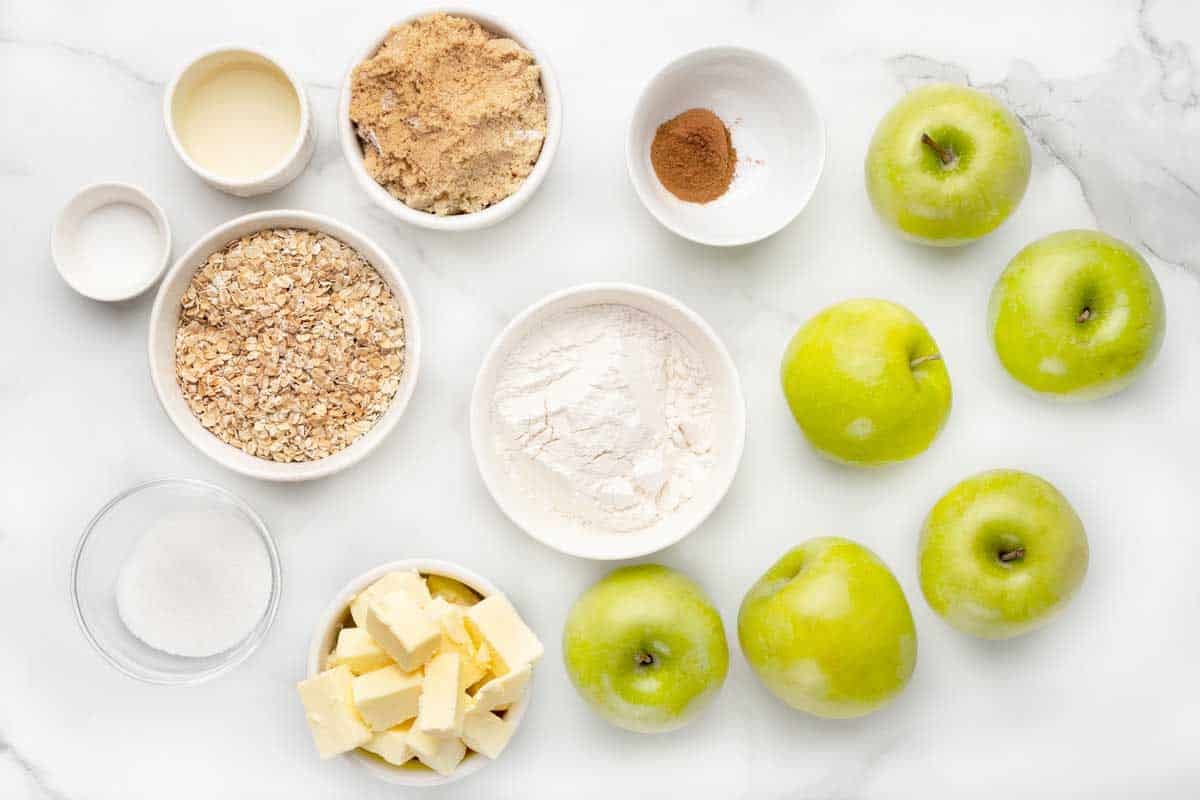 Let's start by gathering the ingredients we need to make Apple Crisp. In Chef Speak, this is called the "Mise en Place," which translates to "Everything in its Place."
Not only does setting up your ingredients ahead of time speed up the cooking process, it also helps ensure you have everything you need to make the dish.
Simple Ingredients
Granny Smith apples
granulated sugar
ground cinnamon
lemon juice
brown sugar
old fashioned oats
all-purpose flour
unsalted butter
salt
What type of apples should I use?
I used Granny Smith apples, but you can use Honey Crisp, Braeburn, Northern Spy, Jonathan, or your favorite baking apples.
Frozen sliced apples work really well with this recipe.
How to make crisp topping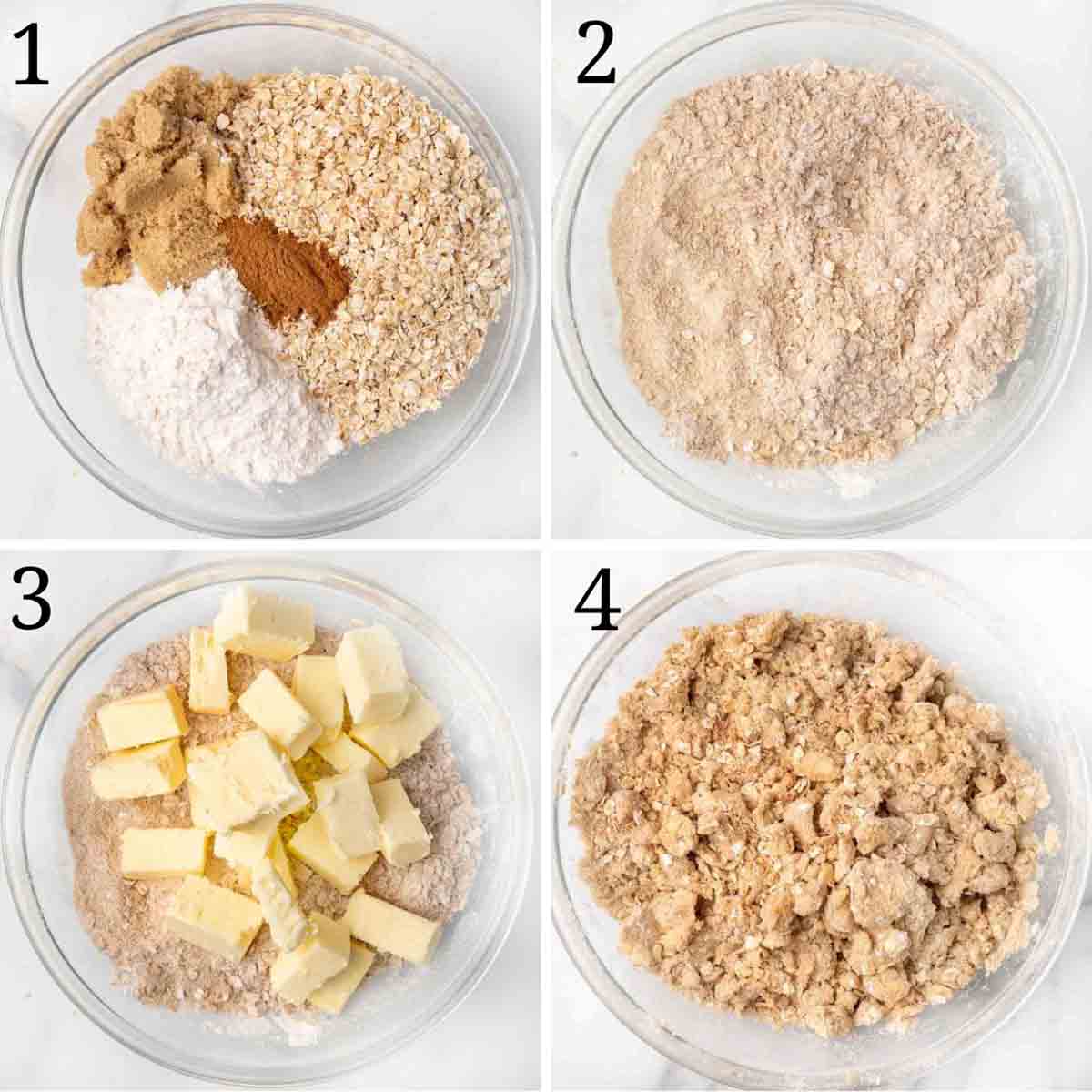 Add the dry ingredients to a large bowl.
Mix the dry ingredients until well blended.
Add the cold butter cubes to the flour mixture.
Use your hands to cut the butter into the oat mixture until the mixture resembles pea-sized crumbs.
If you have a pastry cutter, it's a great tool for making the crunchy topping for the apple crisp. But my favorite way to make the crisp topping is using my hands. That's how my mom taught me.
How to make Apple Crisp
Preheat oven to 350 F degrees.
Prepare an 8×8 baking dish by buttering the dish or spraying it with non-stick cooking spray. Set aside until needed.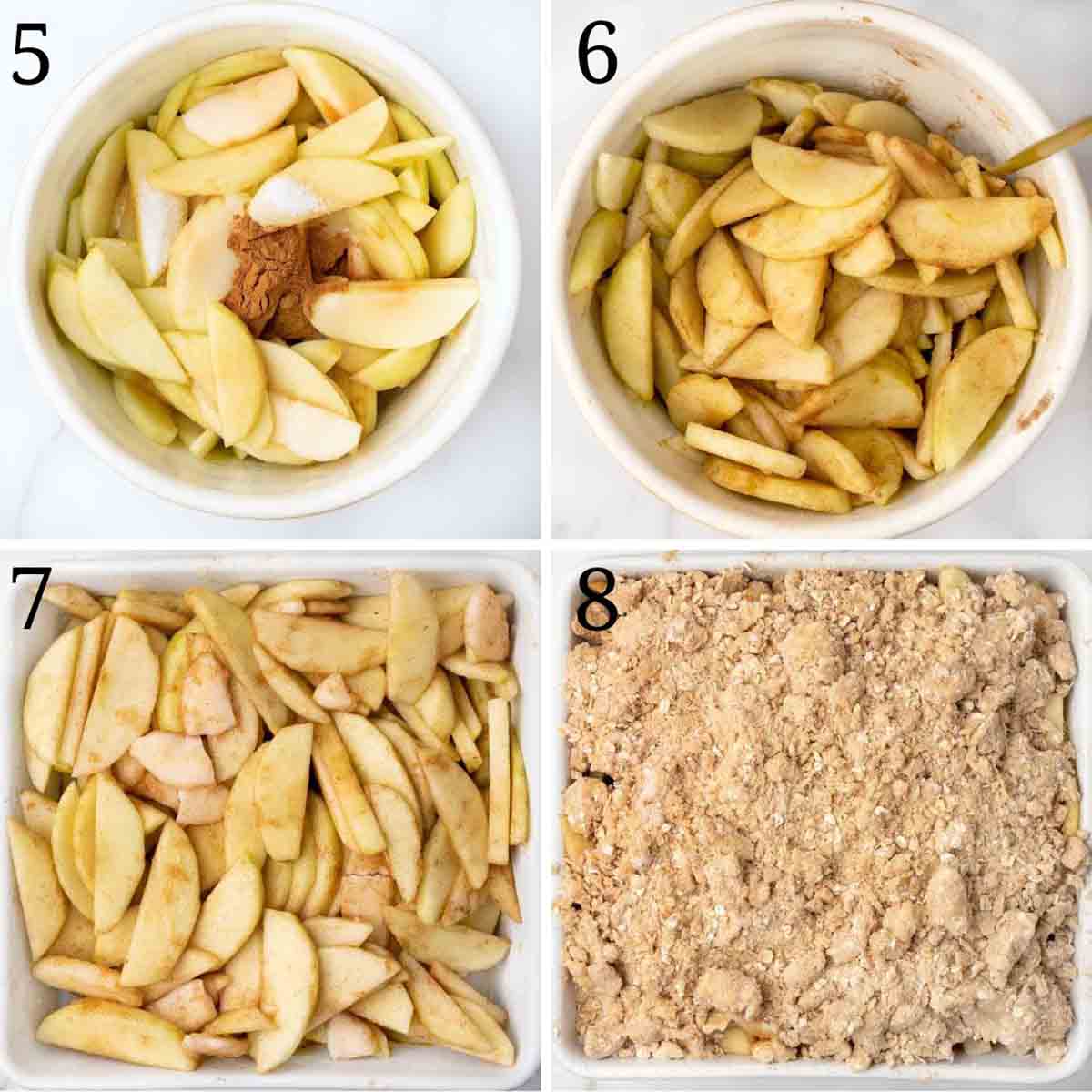 Add the sliced apples, granulated sugar, cinnamon, and lemon juice to a large bowl.
Mix the ingredients together until the tart apples are well coated with the cinnamon sugar creating the perfect apple filling.
Pour the apple mixture into the prepared baking dish.
Add the crumble topping on top of the apples. Smoothing the topping so its evenly distributed.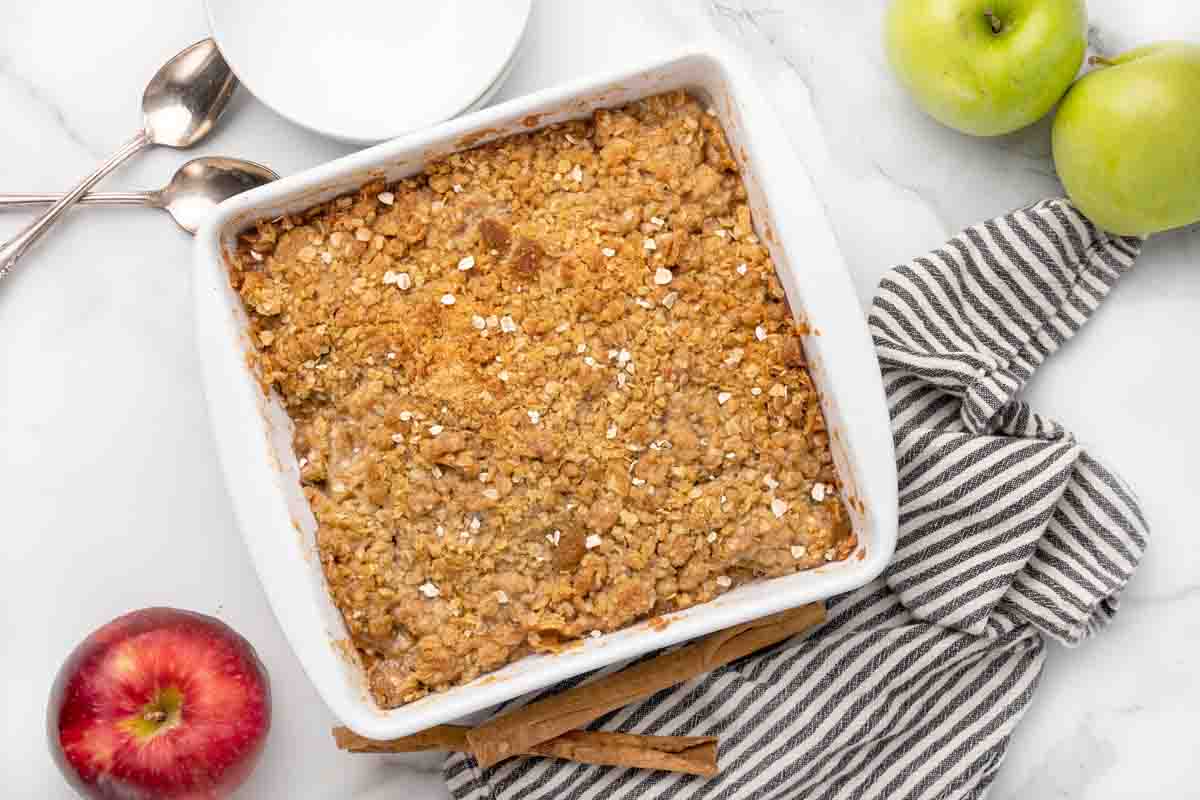 Place the baking dish on the center rack of the preheated oven and bake for 40-50 minutes, until golden brown and bubbly.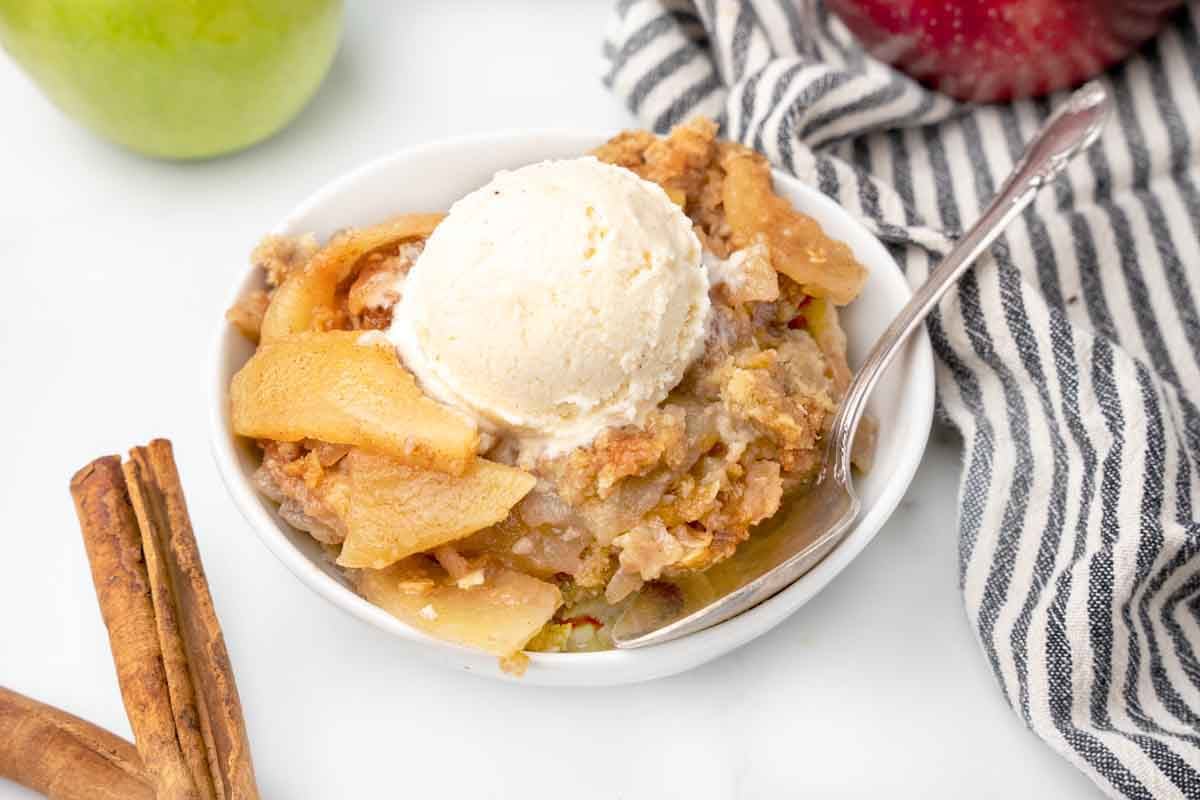 There is nothing more delicious than warm apple crisp with a scoop of vanilla ice cream….sigh. It's my favorite apple dessert, and I'm sure after one bite, it will become one of yours too.
Recipe FAQ's
What's the difference between apple crisp and apple crumble?
Apple crumble is comparable to a crisp as they are both baked fruit desserts with a layer of topping. But unlike the crisp, the crumble topping rarely includes oats. The topping used for a crumble is basically a streusel topping made with flour, sugar, and butter.
Can I use quick oats for the crisp topping?
Either quick oats or old-fashioned oats will work with the topping. What you don't want to use is steel-cut oats.
Should the crisp be covered while baking?
If you prefer a lighter topping on the apple crisp, cover the baking dish with aluminum foil for the first 20 minutes of the baking process. Then remove the foil for the remainder of the time in the oven.
More Recipes You'll Love!