When it comes to Salmon Patties, you won't find a better recipe! Moist, flavorful, and delicious, my salmon pattie recipe is made using fresh salmon. Of course, you can make salmon cakes with canned salmon but after one bite you'll never go back to the canned version.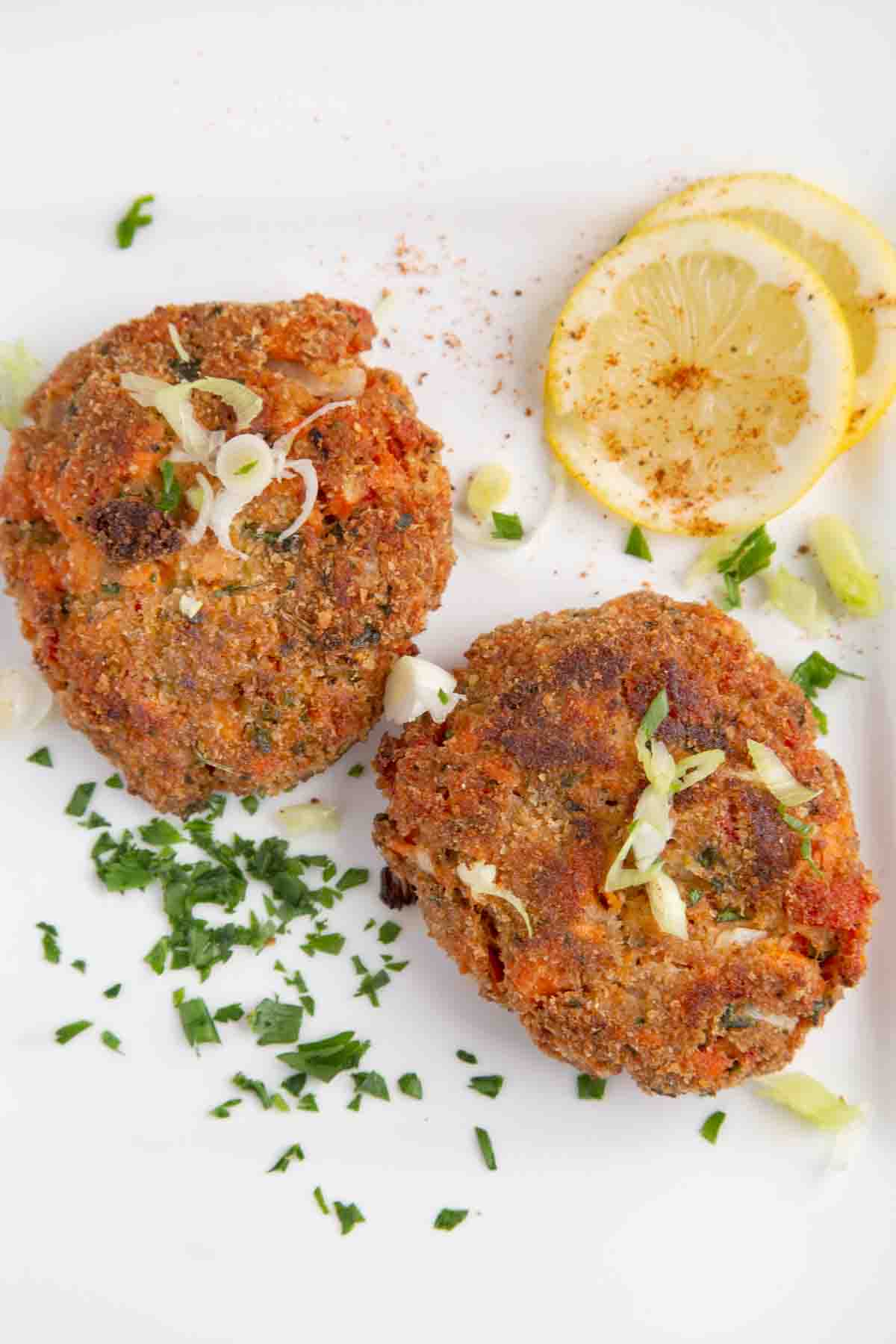 Don't confuse my salmon patties with fish cakes. Think more along the lines of crab cakes made with salmon. Actually, I use the same basic recipe as my Famous Crab Cakes and Crab Imperial.
If you have someone in your household that doesn't like salmon, I promise that this is the recipe that could turn them into salmon lovers. It really is that delicious!
Which Salmon is the Best to Eat?
When I found Pacific Northwest Salmon, everything changed! I'm not sure why those flavors agreed with my taste buds, but I've been enjoying salmon, sauteed, roasted, blackened and on salads since discovering this healthier version of salmon.
I say healthier because it's wild-caught (not farm-raised) from the pacific northwest waters where the better varieties of salmon can be found. Sockeye and coho have been the two that I've tried with Sockeye being my favorite because of the less fishy flavor and beautiful color.
Wild Alaskan salmon is all wild-caught. They spend most of their lives in open waters and generally have very low levels of toxins.
Coastal and farmed salmon, depending on the type of fish and meal they are fed, may have higher levels of toxins. The Environmental Defense Fund lists farmed Atlantic salmon as an "Eco-Worst" choice and recommends people eat no more than 2 servings a month due to high PCB levels.
What ingredients do I need to make Salmon Patties?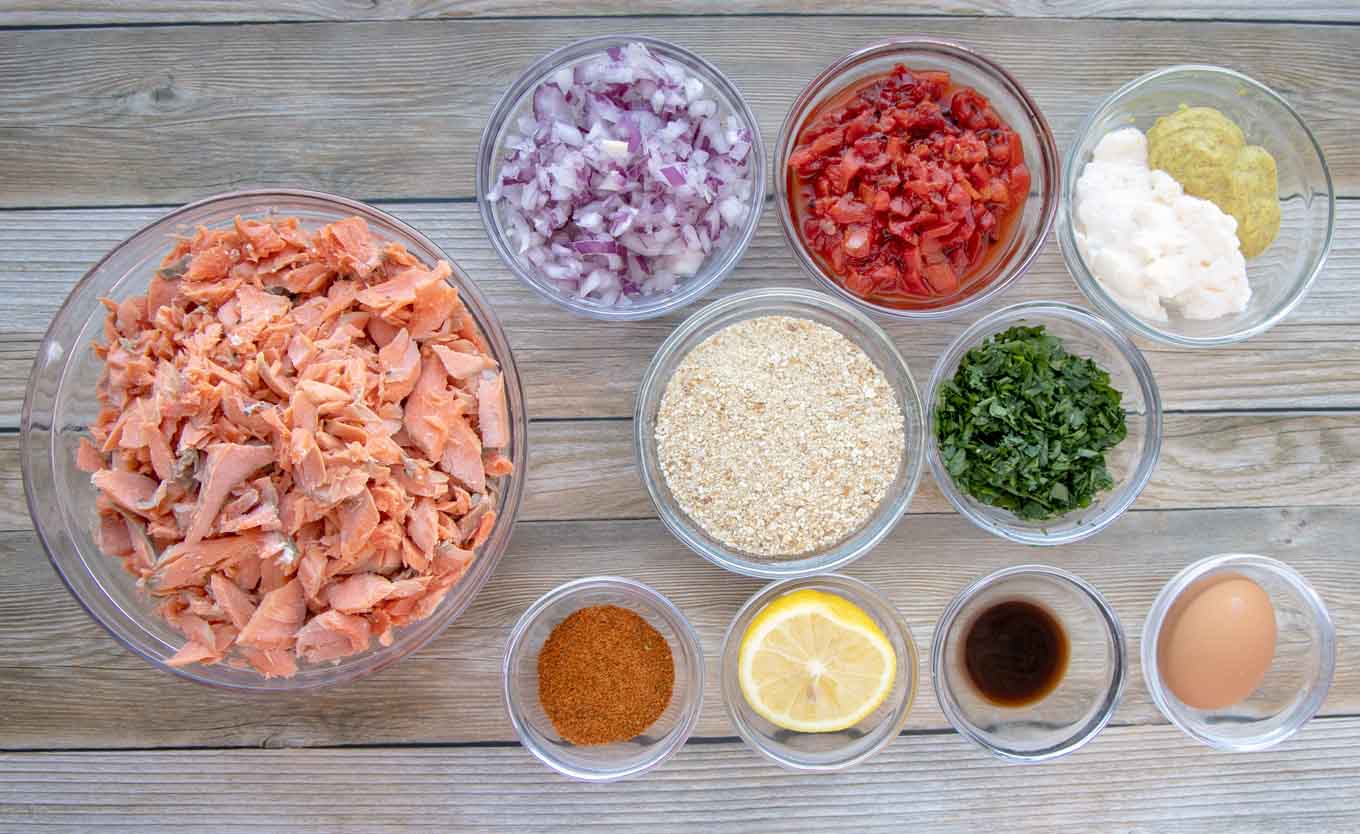 Let's start by gathering the ingredients we need to make Salmon Patties. In Chef Speak this is called the Mise en Place which translates into Everything in its Place.
Not only does setting your ingredients up ahead of time speed the cooking process, but it also helps ensure you have everything you need to make the dish.
How do I make Salmon Patties?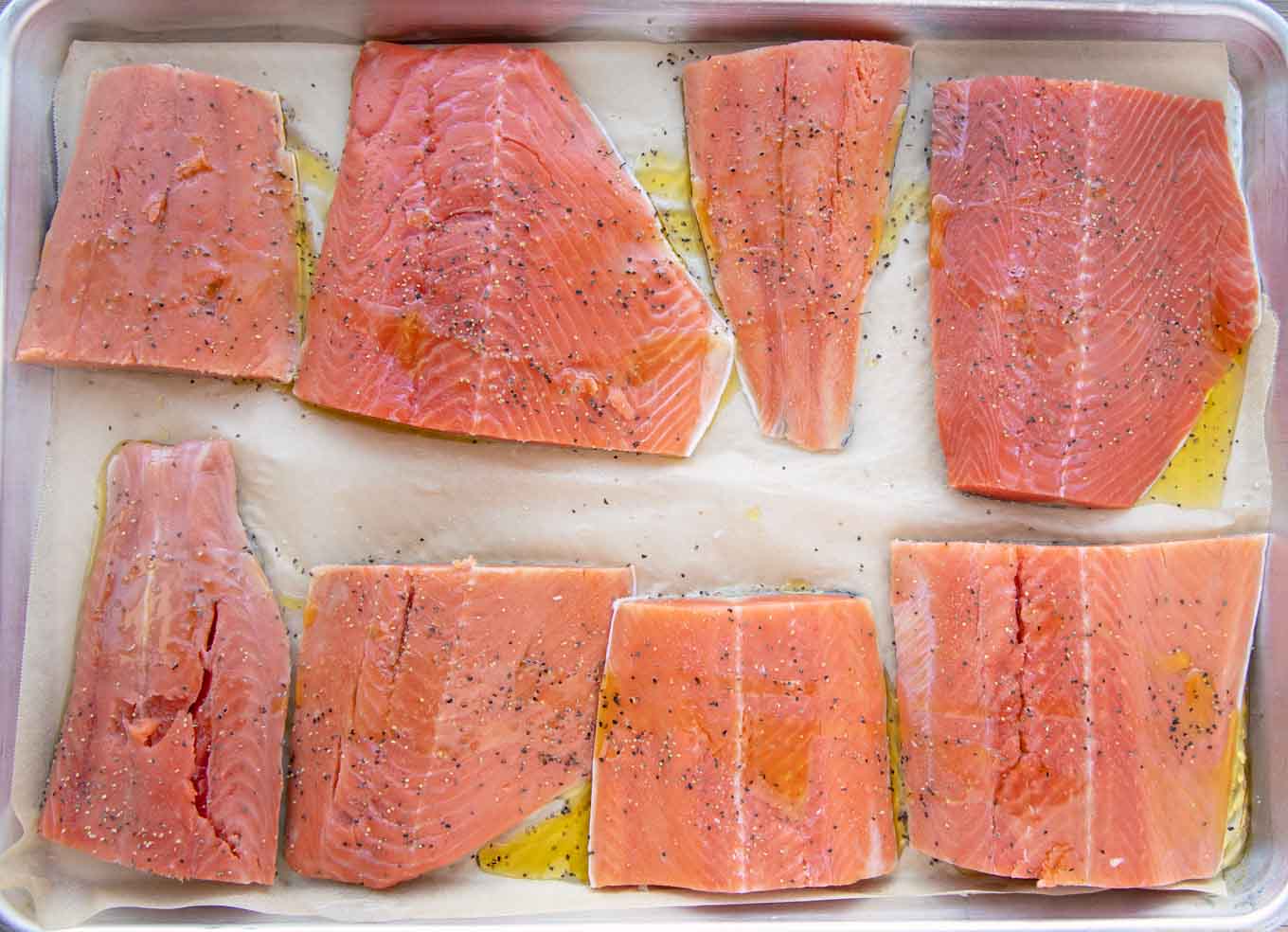 The first step is cooking the salmon fillets.
Coat the salmon fillet with a little olive oil and season it with sea salt and black pepper before cooking.
*Make sure to undercook the salmon a little. I cooked my salmon for 14 minutes at 350 degrees and it turned out well.
Do I have to cook the salmon to make Salmon Cakes?
For my recipe, you do need to cook the salmon. I have seen raw salmon used for salmon burgers, but this is an entirely different recipe.
You don't always need to use fresh salmon as this is a great recipe for leftover salmon.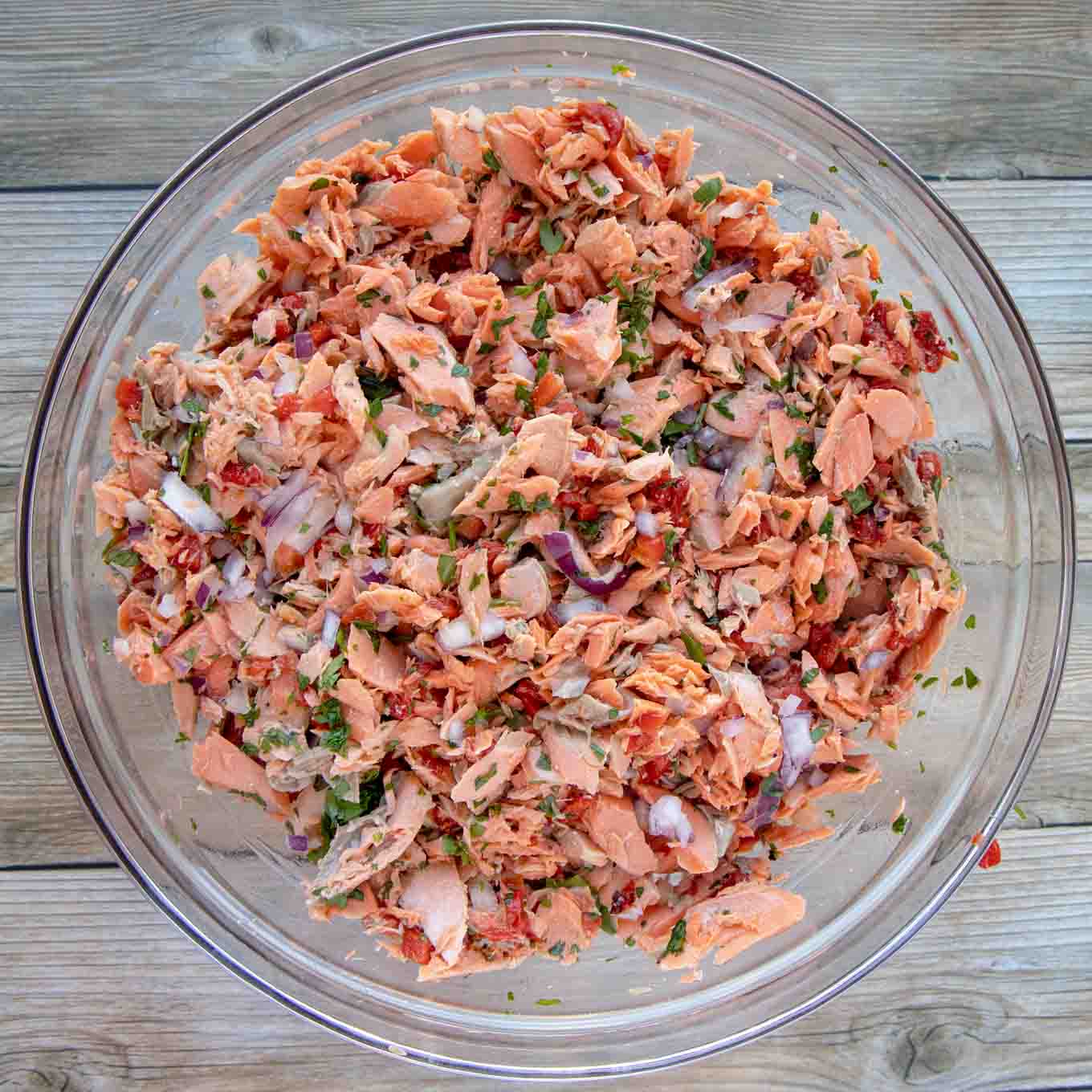 When the salmon has completely cooled, flake the pieces into a large bowl. Add in the chopped onion, roasted red pepper, and chopped parsley. If you like fresh dill that would be the one fresh herb I would add to the salmon cakes.
Gently mix and return to the refrigerator until needed.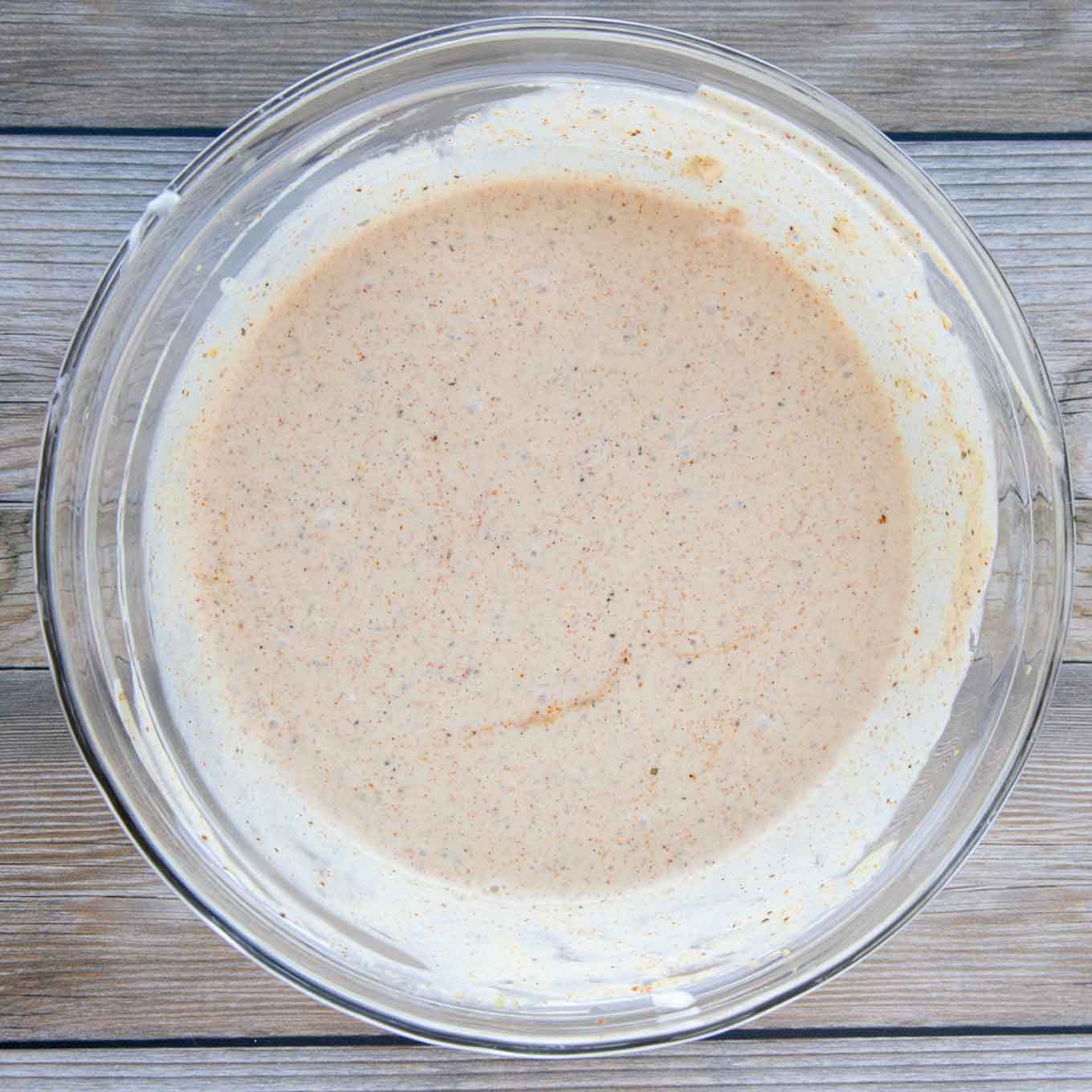 Add the mayonnaise, dijon mustard, old bay seasoning, lemon juice, Worcestershire sauce, hot sauce, and egg to a medium bowl. Mix the ingredients together until well blended.
This is the imperial sauce, which is used as a binder and adds flavor to the salmon cakes.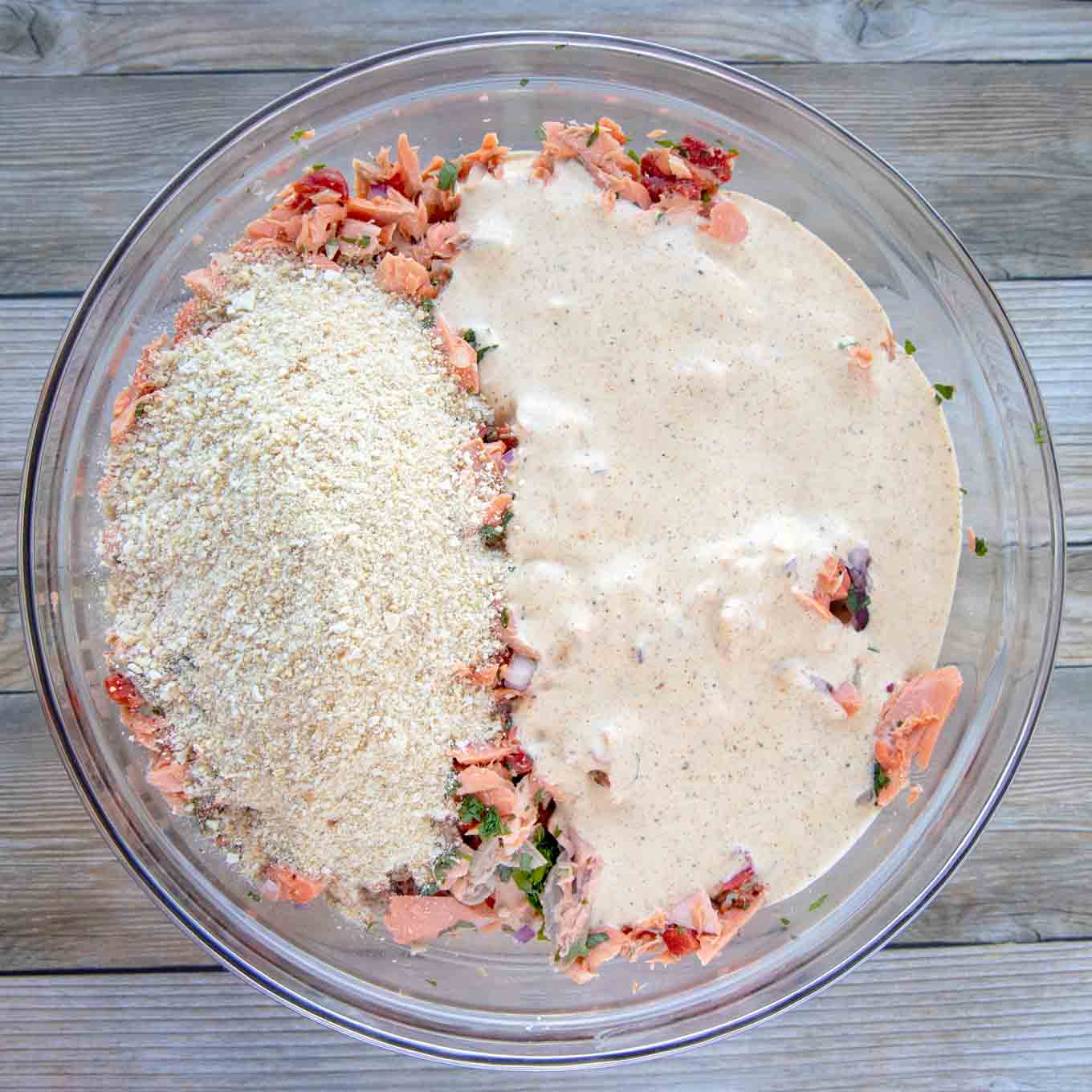 Add the imperial sauce and bread crumbs to the salmon mixture and mix together until well blended.
Try not to break up the salmon too much. (if the mixture looks too wet you can add additional bread crumbs).
Cover the mixture and allow it to chill in the refrigerator for 30 minutes to an hour. This will help you shape the salmon into cakes more easily.
*I use an ice cream scoop to portion my salmon patties.
Do I have to add onions and peppers to my salmon patties?
No, you don't. These are your salmon patties and should be made with ingredients you enjoy eating.
While the onions do add flavor, the roasted red peppers are more for color.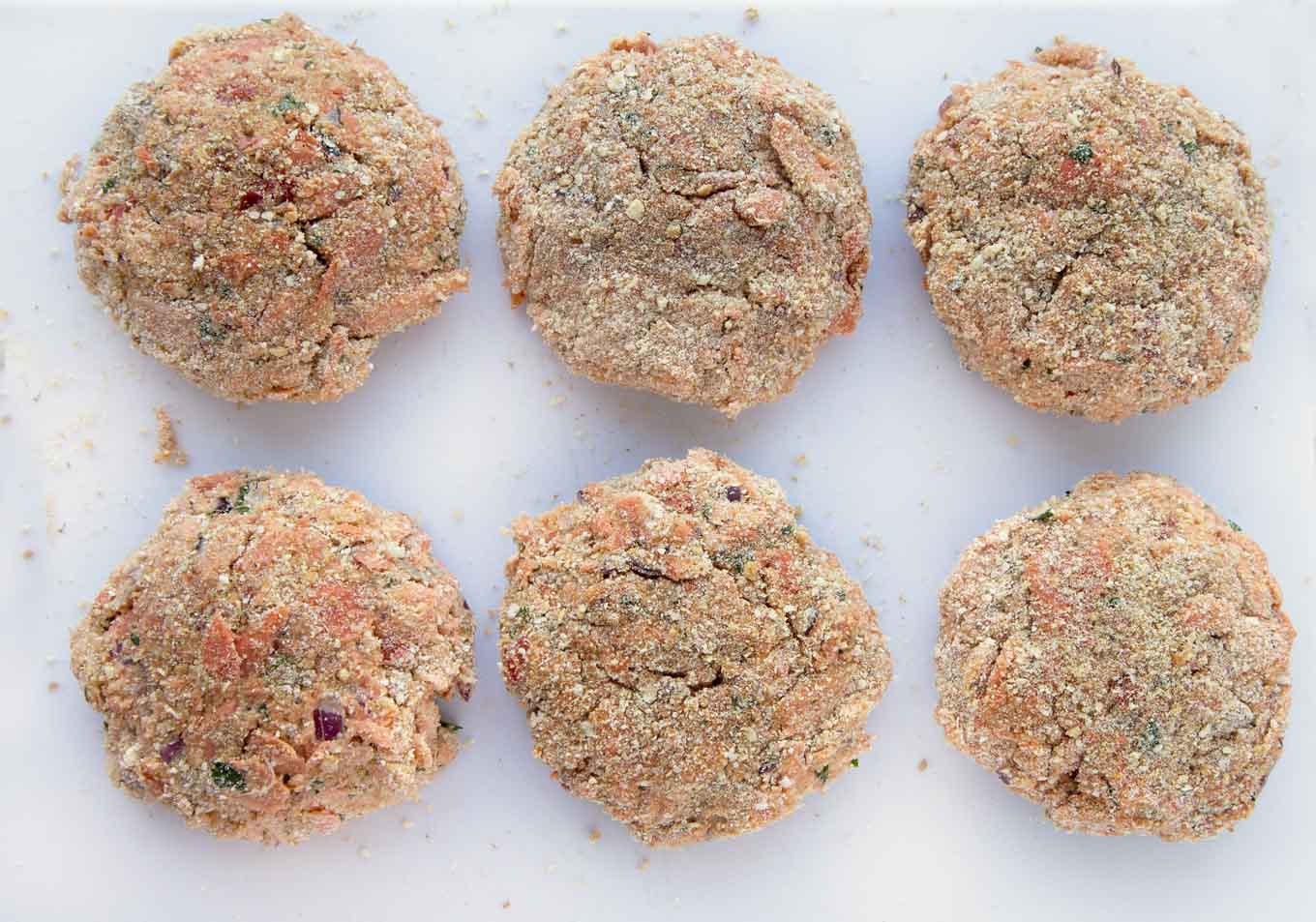 After shaping the salmon cakes, dredge the cakes in bread crumbs. Seasoned, unseasoned or panko, it's your choice.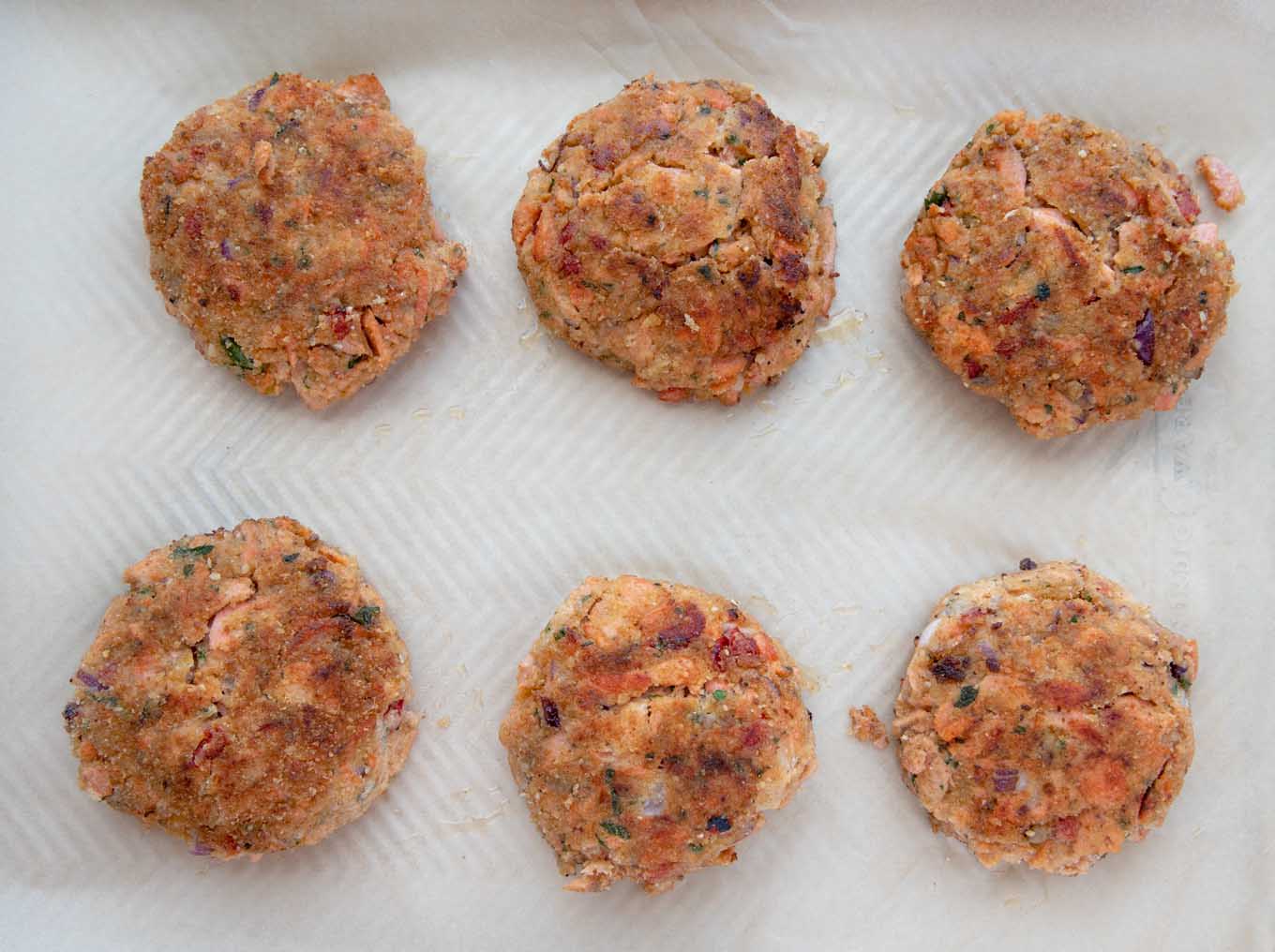 When all your salmon patties are ready, it's time to fry them up to a nice golden brown. *Allow the cakes to drain for a few minutes on paper towels or a wire rack.
Then place the salmon patties on a baking sheet lined with parchment paper and bake for 20 minutes at 350 degrees or until an internal temperature of 165 degrees F has been reached.
Do I have to fry Salmon Cakes?
No, you don't. You can bake them in the oven (with or without the breadcrumb coating). If you'd rather bake the cakes, 350 degrees for 20-25 minutes should do the trick.
And you can also use an Air-Fryer to cook up these delicious salmon cakes.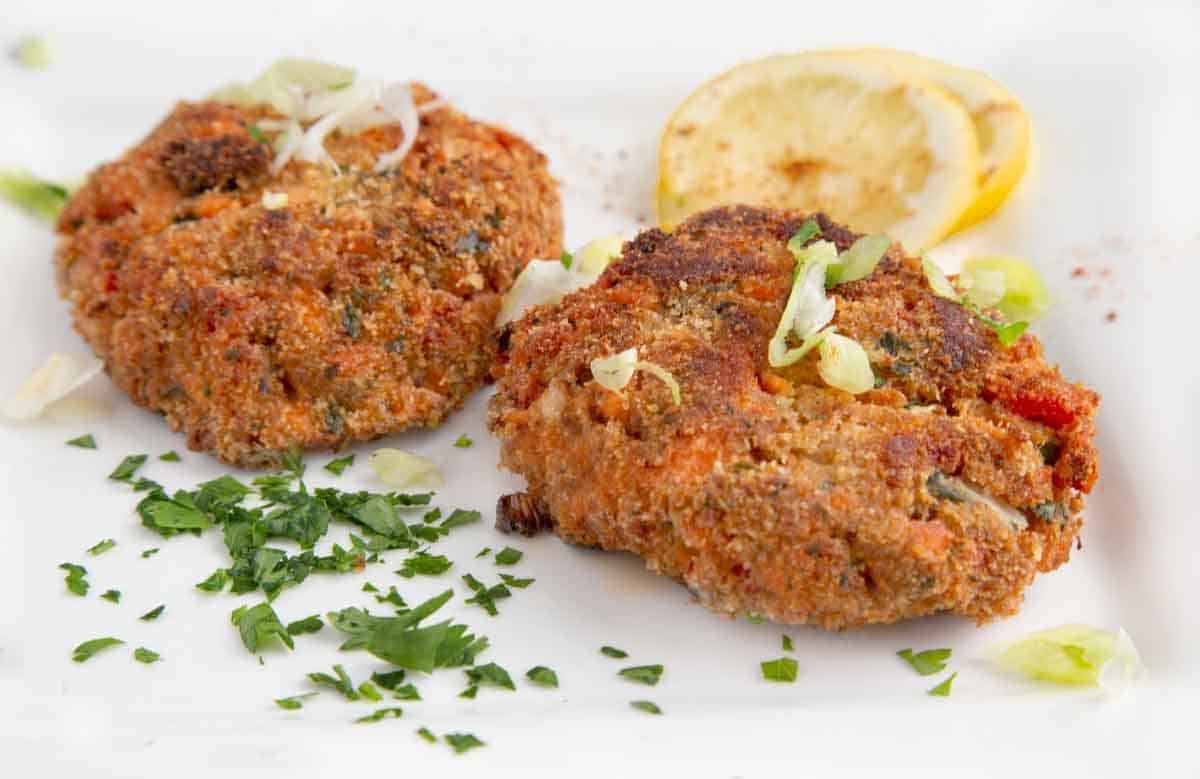 This is definitely the best salmon pattie recipe I've tried, I like to make up a big batch and freeze them after browning them. Having salmon cakes in the freezer makes this dish the perfect meal for busy weeknights.
Serve the salmon cakes with lemon wedges and your favorite sides and watch the smiles around the dinner table!
How to make Remoulade Sauce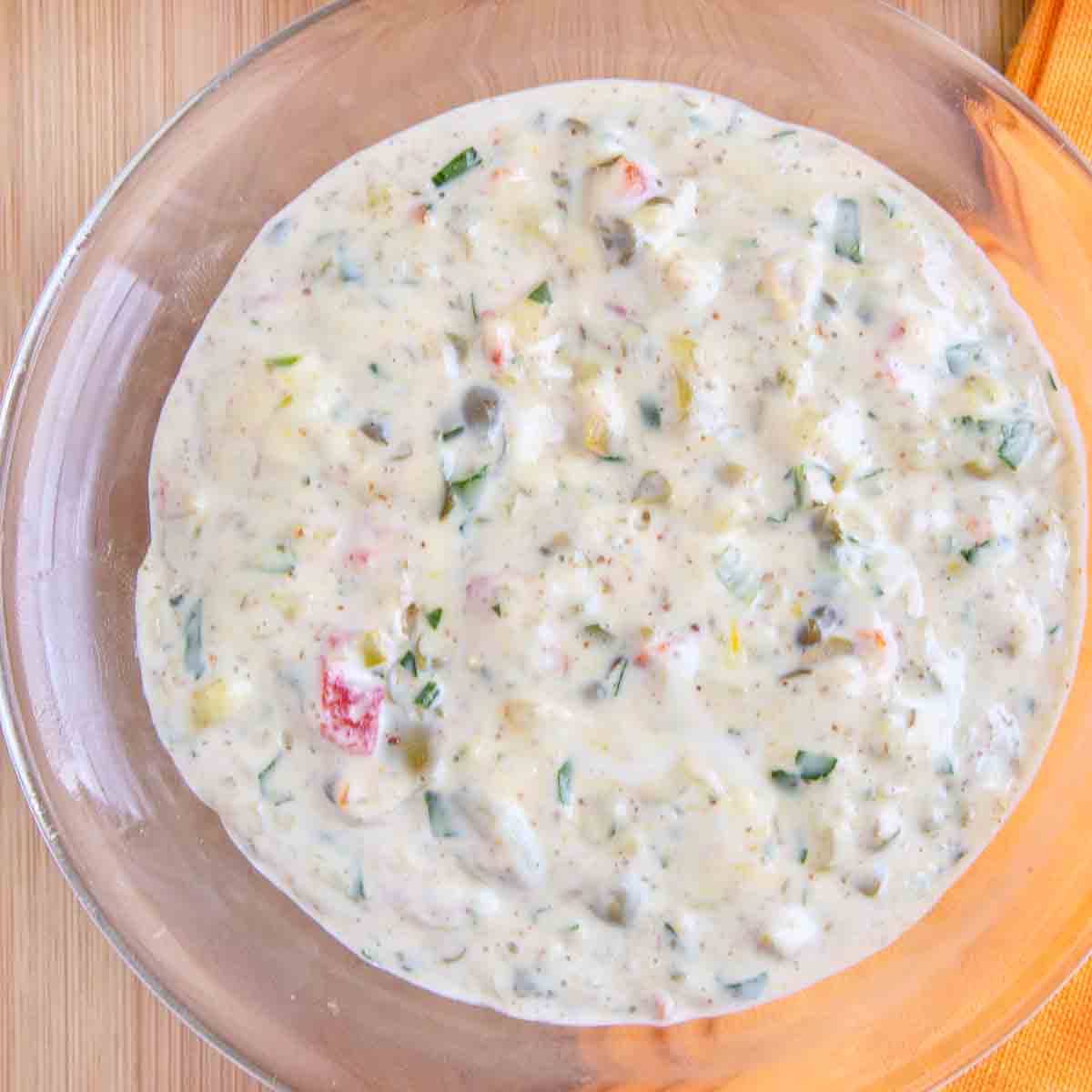 Remoulade is my sauce of choice for salmon patties aka salmon cakes. It's easy to make and although it's basically just a fancy tartar sauce, it makes quite the impression.
The ingredients can vary according to your taste, using horseradish and even Greek yogurt to change the flavors. You'll see some remoulades that contain chili sauce, I listed that as optional and didn't use it in my version because mama doesn't like it that way.
Recipe FAQ's:
How do I keep salmon patties from falling apart?
The important ingredient when making salmon patties is the binder which should include eggs. I use an imperial sauce as the binder for my salmon cakes. The amount of the extender, (bread crumbs or cracker crumbs) is important. Use too much and the salmon patties will fall apart; use too little and they will not bind together. It's important to follow the recipe instructions and amounts.
What should I serve with Salmon Cakes?
I like to serve rice with my salmon cakes, but roasted potatoes are also a good choice. A tossed salad or a green vegetable, such as green beans, spinach, or asparagus are also good choices. And of course, you can go old school and serve mac and cheese, stewed tomatoes, and cole slaw.
Can I freeze salmon patties?
Yes, you can. I like to saute the salmon cakes to give them a nice color, then freeze them on a tray. Once completely frozen I place them in a ziplock bag and save them for nights I don't feel like cooking. Frozen, can last about two months in the freezer.
More Salmon Recipes You'll Love!