Creating restaurant-style dishes like my pan-seared seasoned salmon in your own kitchen is easier than you think. Add in my mango salsa and you've got a meal to remember!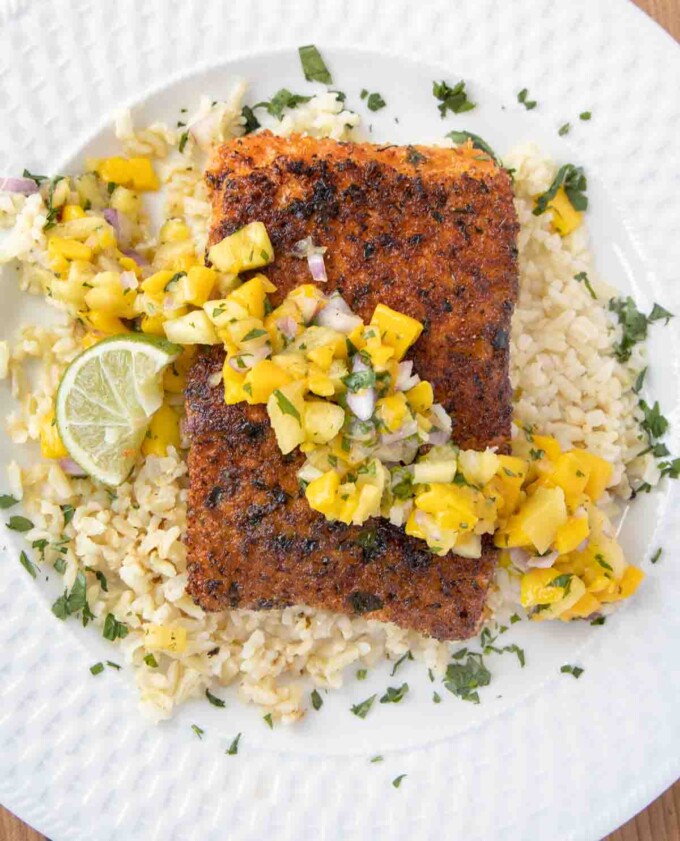 I love salmon and as a chef, I'm always looking for new ways to serve salmon and seasonings play a major role in the delicious recipes I come up with. And that my friends is how I came up with this delicious dish!
What ingredients do I need to make Pan Seared Seasoned Salmon?
Let's start by gathering the ingredients we need to make my Pan Seared Seasoned Salmon. In Chef Speak this is called the "Mise en Place" which translates to "Everything in its Place".
Not only does setting your ingredients up ahead of time speed up the cooking process, but it also helps ensure you have everything you need to make the dish.
Can I use other seasonings on the salmon?
You sure can. Make up a custom blend using seasonings that you and your family enjoy. You can also use ready-made seasoning blends instead of creating one.
How do I make Pan Seared Seasoned Salmon?
Start by mixing the spices with panko bread crumbs and placing them on a plate.
Do I have to use breadcrumbs in my seasoning mix?
No, you don't. You can simply create a rub made up of your favorite seasonings or blends. You can also use flour instead of breadcrumbs.
Flour and breadcrumbs will add another dimension to the crust you're creating on the salmon. *Gluten-Free flours and breadcrumbs can also be used.
Place the salmon down in the seasoning blend, making sure to fully coat the non-skin side of the salmon fillets. If the fillets aren't fully coated when you turn them over, use the seasoning that didn't attach to the fillets to fill in the spots, pressing it down into the salmon.
Heat a saute pan over high heat, then (carefully) add 1-2 teaspoons of vegetable oil to the pan. Turn the heat down to medium-high and place the coated salmon fillets seasoned side down in the pan.
The trick is to get the pan hot enough to sear the salmon, but then turning it down so the seasoning doesn't burn. This process should take 3-4 minutes. If it looks like the seasoning is burning, turn it over sooner.
Once you've seared the salmon on the seasoned side, continue cooking the skin side down for an additional 5-7 minutes over medium heat. If you prefer a less cooked salmon, you can cut down that cooking time.
**After searing the seasoned side, you can also finish the salmon in a 350-degree oven, giving it 8-10 minutes to finish cooking. This is a good method if you're entertaining or just want to prep this meal in advance. Just pop it in the oven to finish.
How do I make a Mango Salsa?
Making mango salsa or any kind of fruit salsa is really easy. Chop up the mango and in this salsa I used pineapple. You can use peaches, nectarines, watermelon, cantaloupe, or any other type of melon to make a fruit salsa.
You can even use blueberries or strawberries. Although berry salsa doesn't hold up as well.
The only other staple ingredients you need to make a fruit salsa are red onions, lime juice and cilantro.
Serve the pan-seared crusted seasoned salmon on a bed of rice (or your favorite grain) with the mango salsa and lime wedge. Now that's one delicious restaurant-style dinner and it can be on your table in less than 30 minutes.
Can I grill seasoned salmon?
Yes, you can, just make sure that the grill is clean and use a pan spray on the grates, so it doesn't stick.
Can I cook seasoned salmon in the oven?
You sure can. Just brush the salmon with vegetable oil before placing it in the seasoning mixture. This will help the coating crisp up a bit.
Can I make seasoned salmon in an air fryer?
Yes, you can. Prepare the salmon as you would for oven cooking, brushing the fillet with oil before placing it in the seasoning mixture. Then place the salmon skin side down in the basket of your air fryer. Turn the air fryer to 400 degrees and cook for 9-10 minutes.
More Salmon Recipes You'll Love!