My easy-to-make Tex-Mex Chicken Enchiladas have a perfect blend of seasoned pulled chicken and cheese. Topped with homemade enchilada sauce and more ooey gooey cheese to make the best chicken enchiladas this side of the Pecos!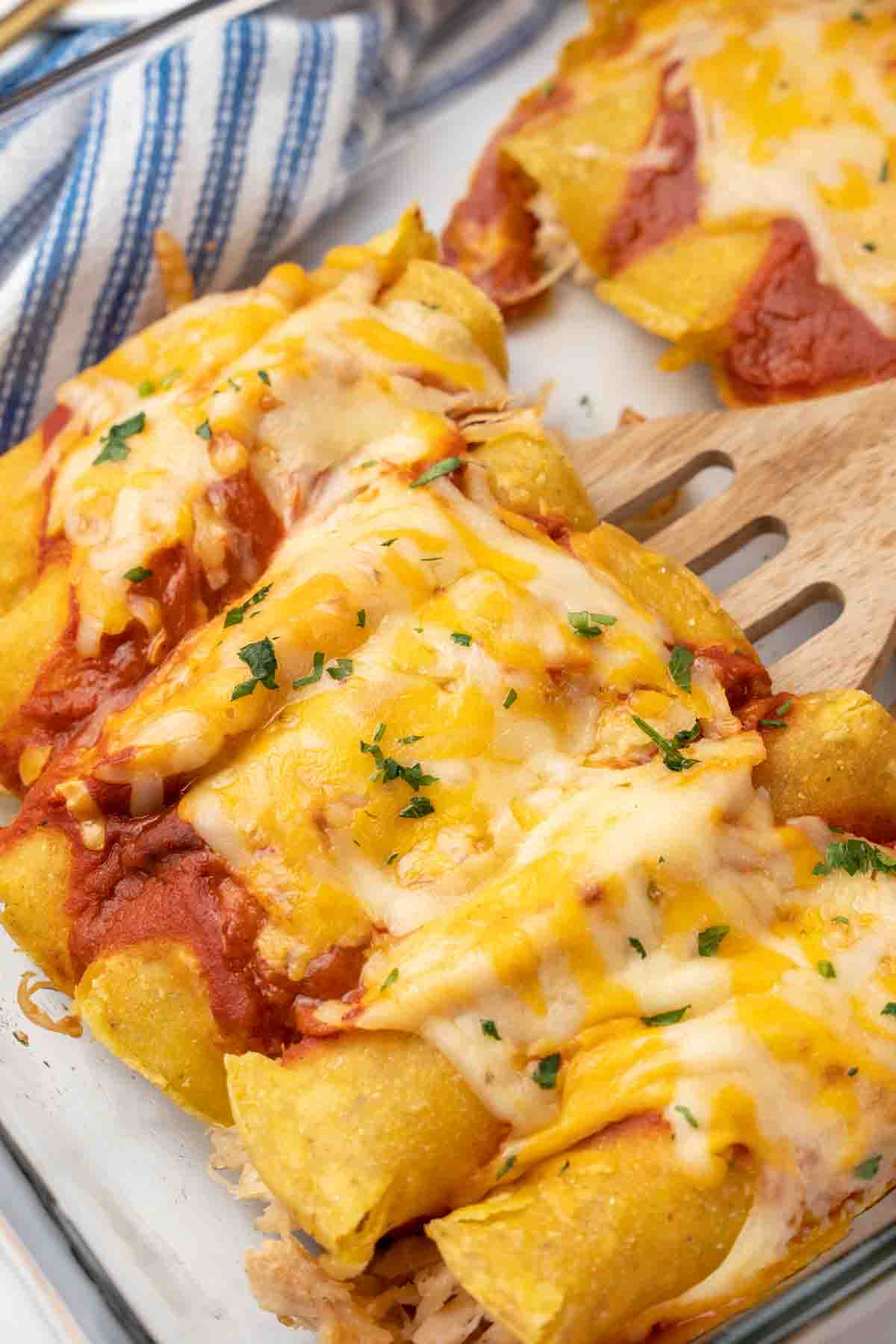 Being half Mexican and growing up in San Antonio, I learned to love Mexican food at an early age, and that meant Tex-Mex Mexican food to me. When it comes to Mexican food, Tex-Mex is king!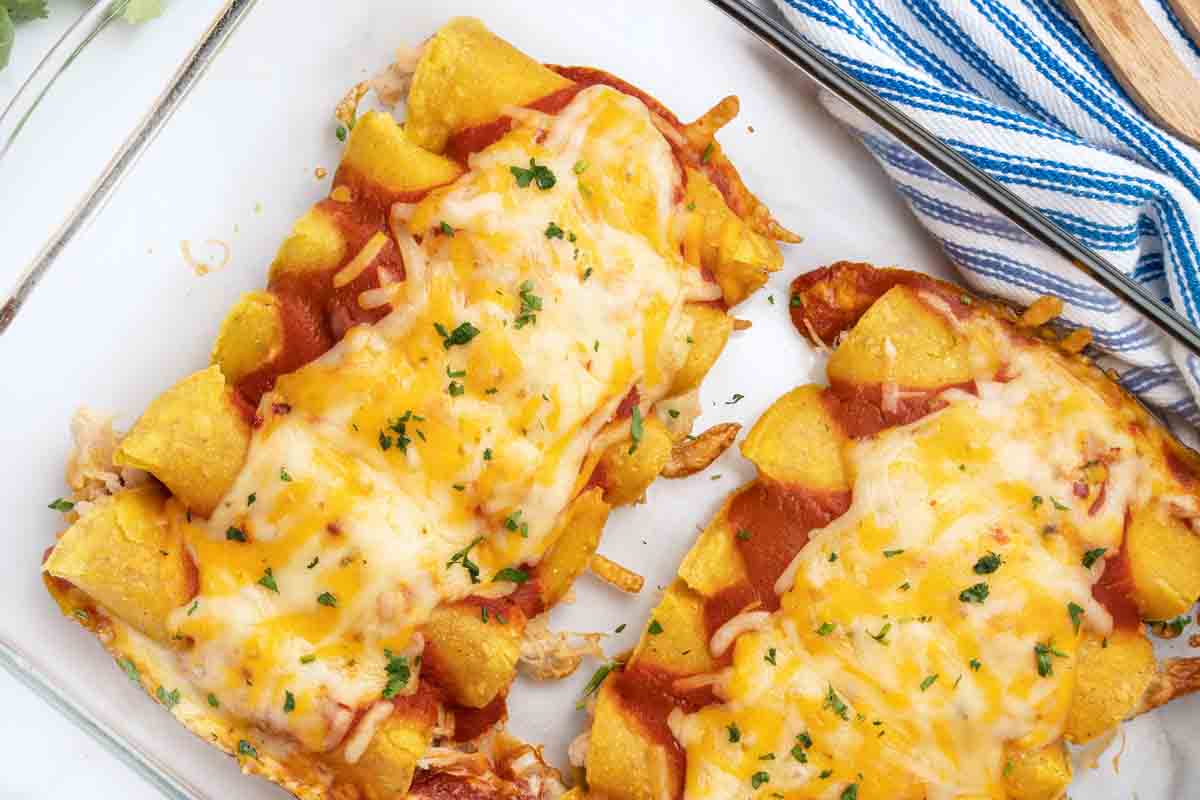 One of my earliest memories is my Grandmother sending me down the block to Alejandro's to buy red corn tortillas so she could make me Enchiladas. Although there was no enchilada sauce involved in her simple cheese and onion enchiladas, they were no less delicious, and I would eat them as fast as my Abuela could make them.
Truth be told, I'm not sure which one of us enjoyed the process more because she loved to see me eat and would grab my pudgy little cheeks and speak to me in Spanish that I didn't understand. But I didn't need a translator to know she was telling me how much grandma loved me.
Ingredients to make Chicken Enchiladas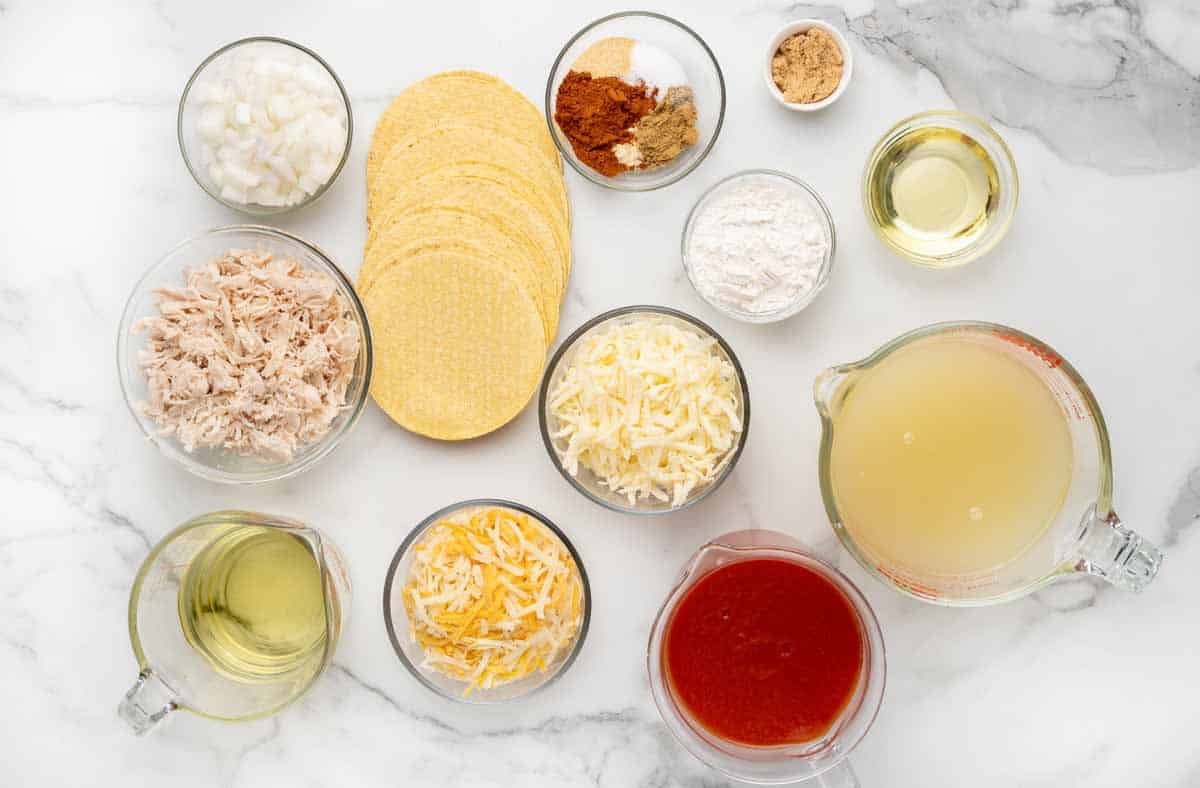 Let's start by gathering the ingredients we need to make Tex-Mex Chicken Enchiladas. In Chef Speak, this is called the "Mise en Place," which translates to "Everything in its Place."
Not only does setting up your ingredients ahead of time speed up the cooking process, it also helps ensure you have everything you need to make the dish.
Can type of tortillas should I use?
Enchiladas are traditionally made with corn tortillas. You can make them with flour tortillas if you like, but I think they taste better with corn tortillas.
What type of chicken should I use?
Honestly, I love using rotisserie chicken to make anything with using pulled chicken. You get a mix of white and dark meat, and rotisserie chicken is very flavorful. You can, of course, use chicken breasts or chicken thighs to make the enchiladas.
How to make Enchilada Red Sauce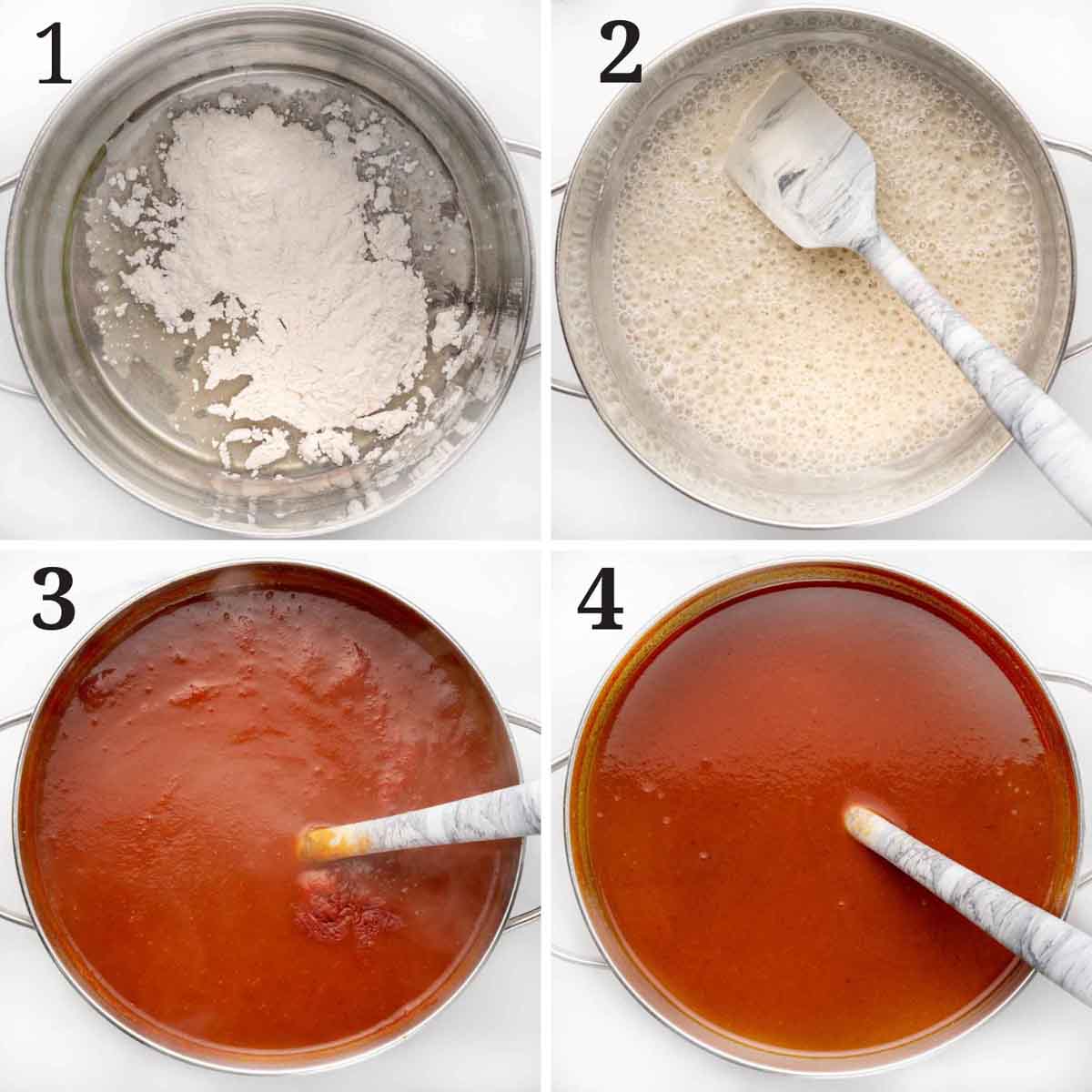 Add the vegetable oil to a saucepan over medium heat, then add the all-purpose flour and mix well.
Turn down the heat to low and allow the flour/oil mixture to cook for a few minutes. This is a roux that will help thicken the sauce.
Add the tomato sauce, chicken broth, spices, and brown sugar to the saucepan and mix well using a wire whisk. Increase the temperature to medium-high heat.
Bring the mixture to a light boil, then reduce the heat to a simmer and allow the enchilada sauce to cook for 10 minutes.
My homemade red enchilada sauce is what I use to make Tex-Mex enchiladas. You can use a green enchilada sauce (Verde sauce), which is made with tomatillos, green chilies, onions, and garlic. Or a white sauce to make white chicken enchiladas.
*Leftover red sauce can be stored refrigerated in an airtight container for up to two weeks or frozen for up to three months.
How to make Chicken Enchiladas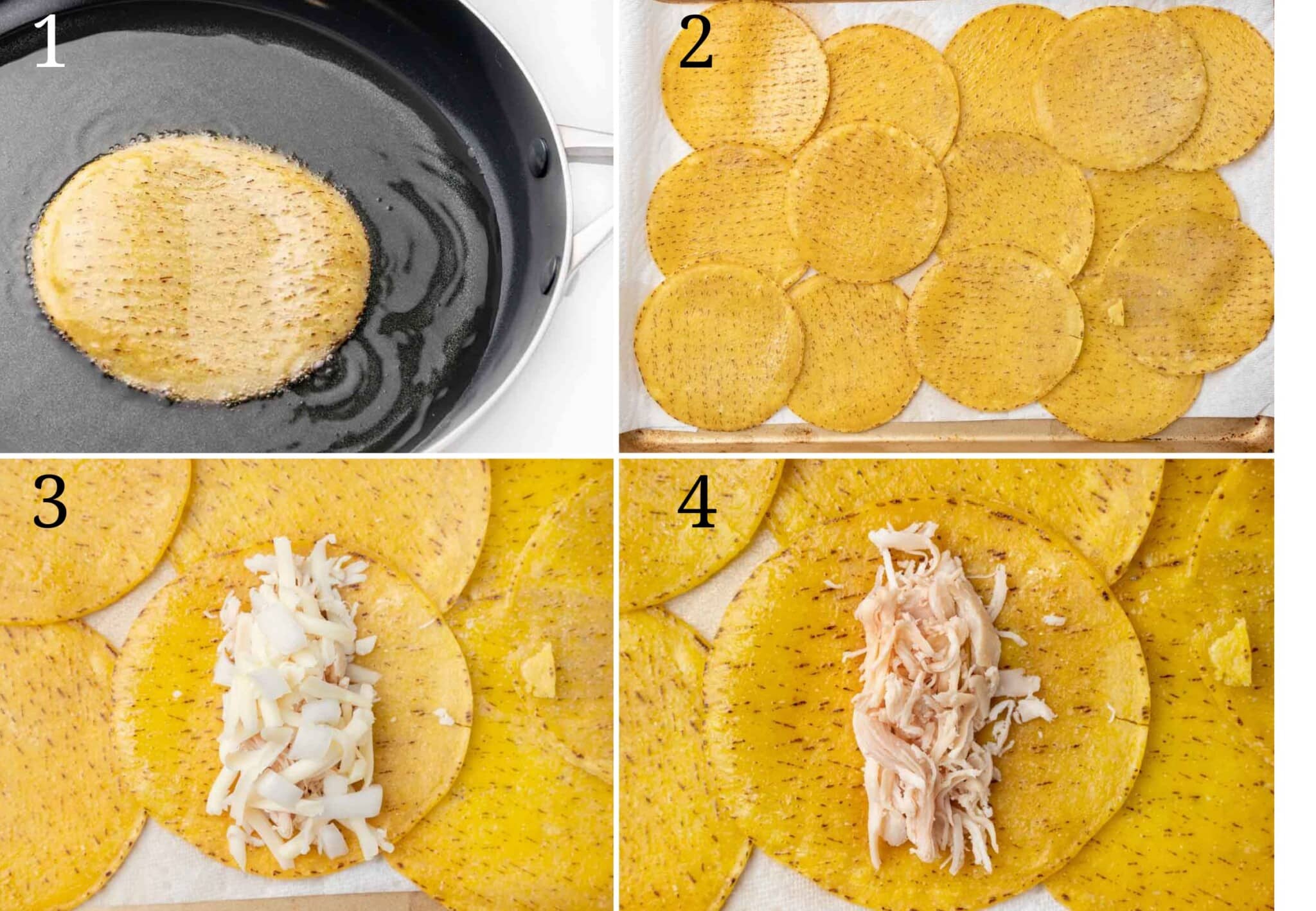 Add vegetable oil to a frying pan and allow the oil to get hot. When the oil is hot, add the corn tortillas to the pan and cook for about 10 seconds on each side. Place them on paper towels or a wire rack to drain as you continue the process. Make sure to pat excess oil off of both sides and handle the tortillas gently, as they will easily tear.
When all the tortillas have been fried, you can begin the assembly.
Add a tablespoon of shredded Monterey jack/cheddar cheese combo on the tortilla. Then add a tablespoon of chopped sweet onions.
Add about 2 tablespoons of shredded onions.
I prefer sweet Vidalia onions to make my chicken enchiladas but feel free to use red onions. You don't want the onions overpowering the flavor, so look for mild onions.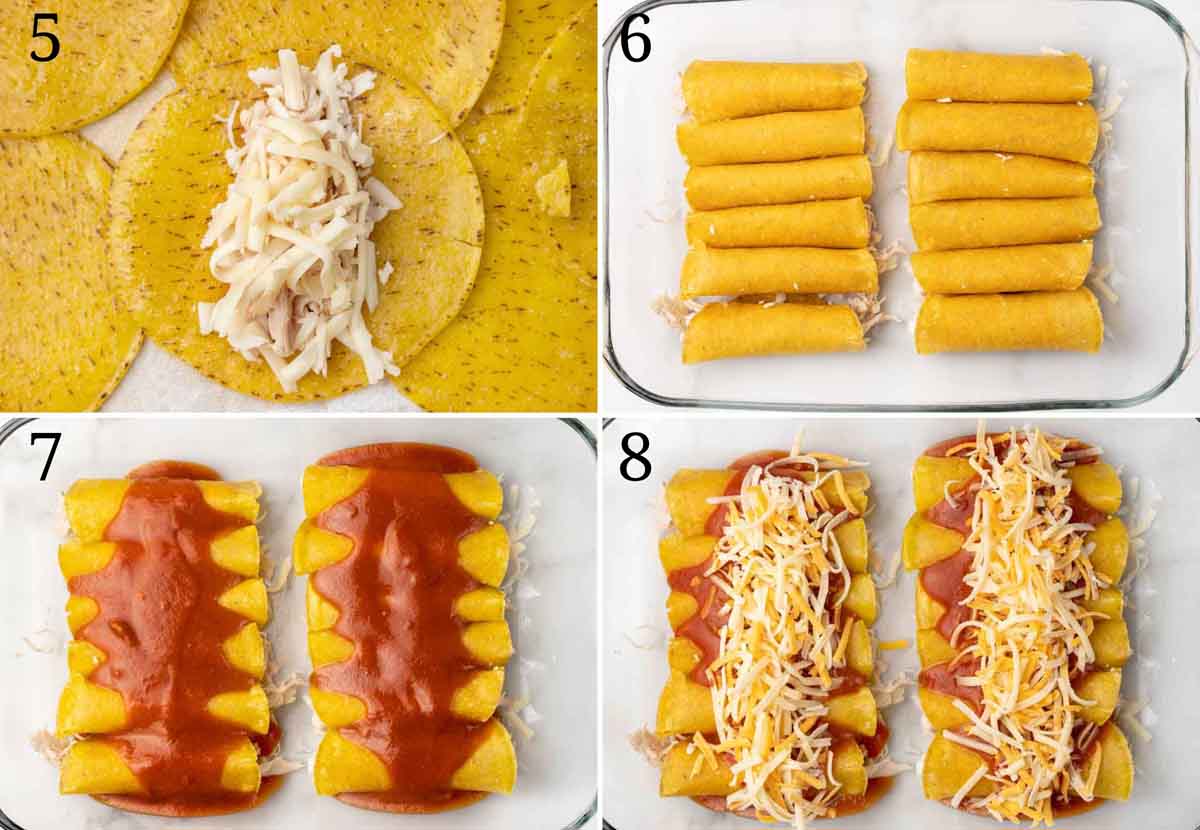 Add another tablespoon of shredded cheese on top of the chicken.
Roll the enchiladas up and gently place them into a baking dish. Repeat the process until completed.
Spoon enchilada red sauce on top of the rolled filled tortillas.
Top with shredded cheese to finish the dish.
What type of cheese should I use?
Cheddar cheese and Monterey Jack cheese are my first choices, simply because I like the flavors. You might also find a Mexican cheese blend at your local grocery store to make enchiladas.
Traditionally my grandmother used Longhorn cheddar which is a type of Colby. I have seen recipes for creamy chicken enchiladas where cream cheese has been added.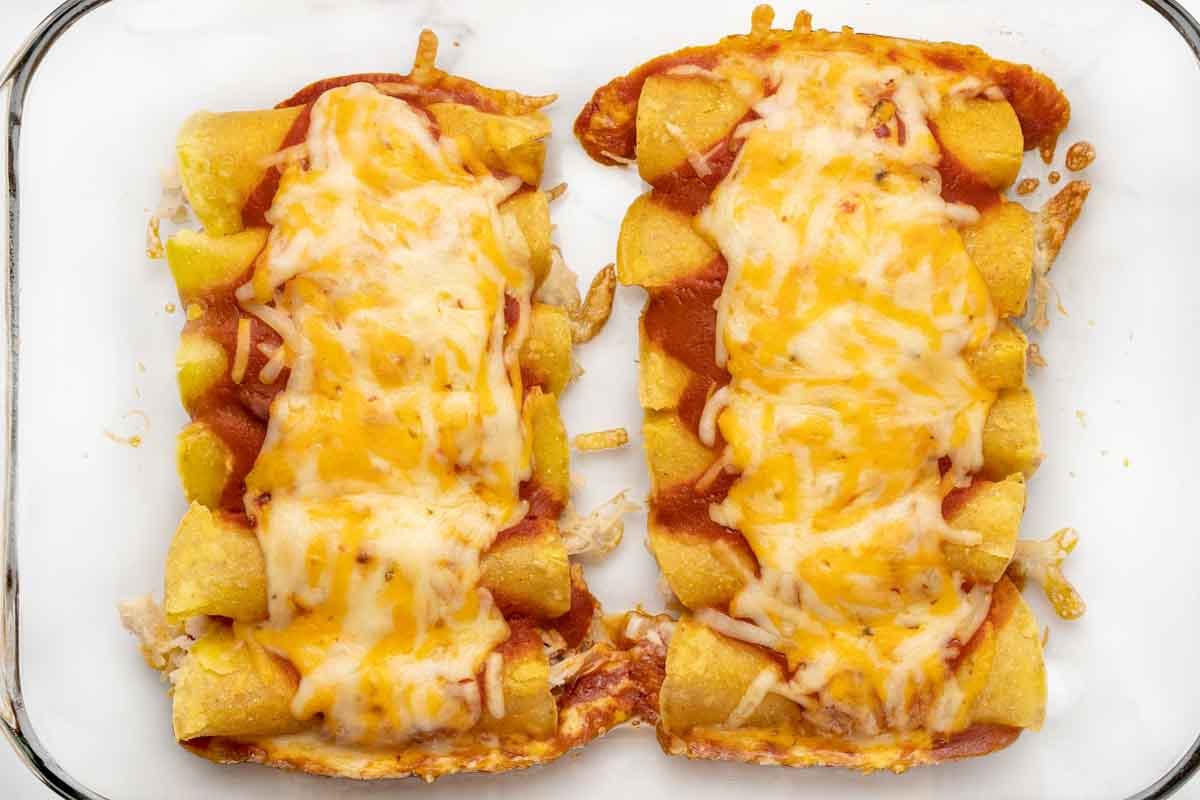 Place the baking dish on the center rack of a 350-degree preheated oven and bake for 20 minutes (or until an internal temperature of 165 degrees has been reached).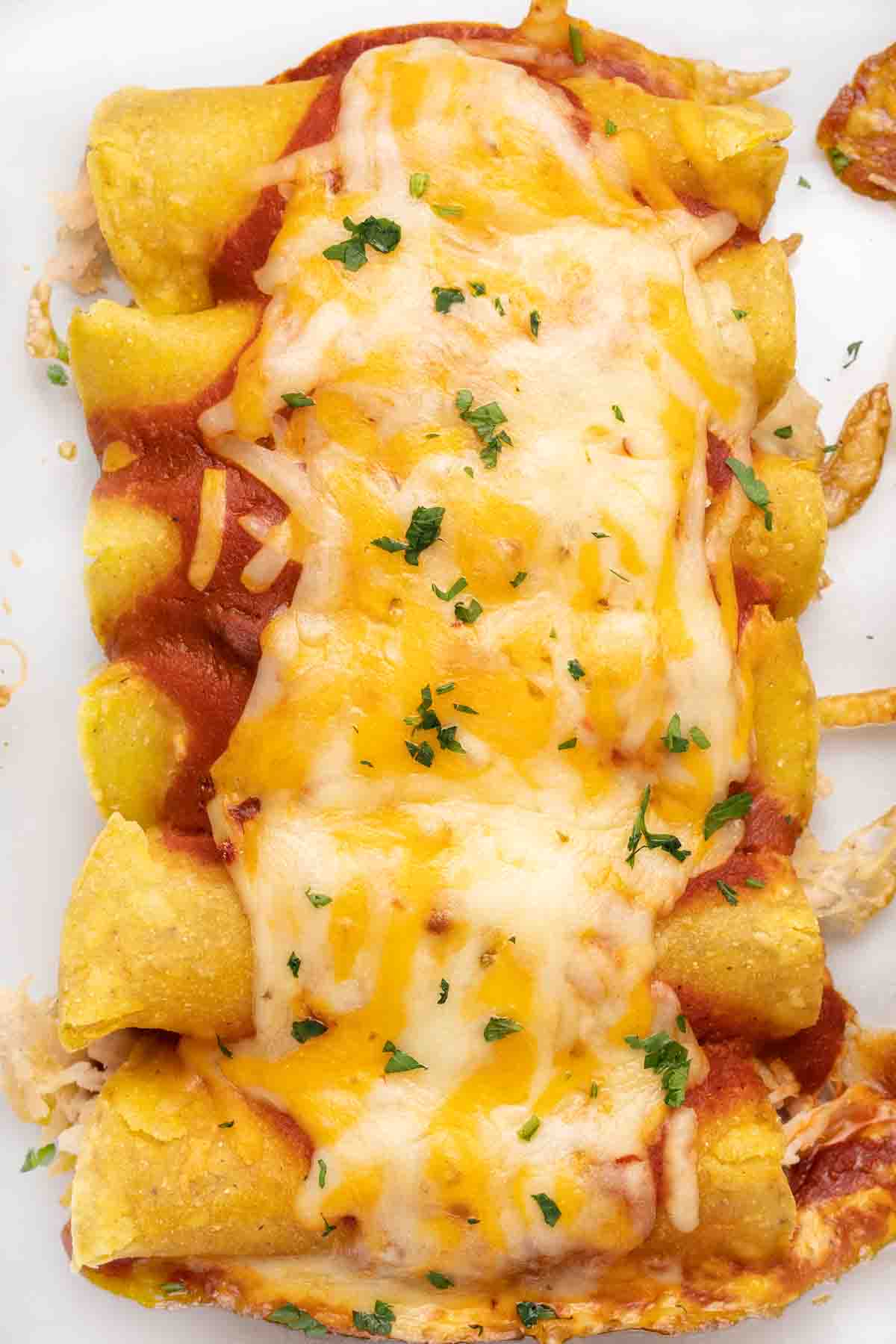 Garnish these delicious chicken enchiladas with chopped cilantro or Italian parsley. Serve Mexican rice, refried pinto beans or roasted corn with them to complete the meal.
Why not change up your next taco night with my homemade chicken enchiladas? Your family will love them!
I like to make a double batch and freeze some for another night.
Recipe FAQ's
What is the secret to great enchiladas?
Quick frying corn tortillas for about 10 seconds on each side, is how you make the absolute best enchiladas. Whether you stuff them with chicken or just cheese, it's how to make the most flavorful enchilada. Besides adding flavor, frying the tortilla creates a type of barrier that keeps the tortilla from absorbing too much sauce.
What are chicken enchiladas made of?
Chicken enchiladas are made with just a few simple ingredients. Corn tortillas, shredded cheese (cheddar, Monterey jack, or queso fresco). Shredded or pulled chicken, chopped sweet onions, and red enchilada sauce.
You won't find any black beans in Tex-Mex cooking, it's strictly pinto beans. So if you'd like to make a vegetarian version of my enchiladas, use pinto beans instead of chicken.
Can I use beef or pork instead of chicken to make enchiladas?
You can use any type of shredded meat to make enchiladas. You can also make vegetarian enchiladas using beans, corn, onions and cheese.
More Recipes You'll Love!