My quick and easy Enchilada Sauce recipe is made using simple pantry ingredients and takes less than 20 minutes to make. You'll never buy store-bought enchilada sauce again after one taste of my bold and tangy with the authentic flavor you love.
My Tex-Mex Enchilada Sauce recipe can be used with many of your favorite Mexican recipes. It's super easy to make and can last up to two weeks in the fridge.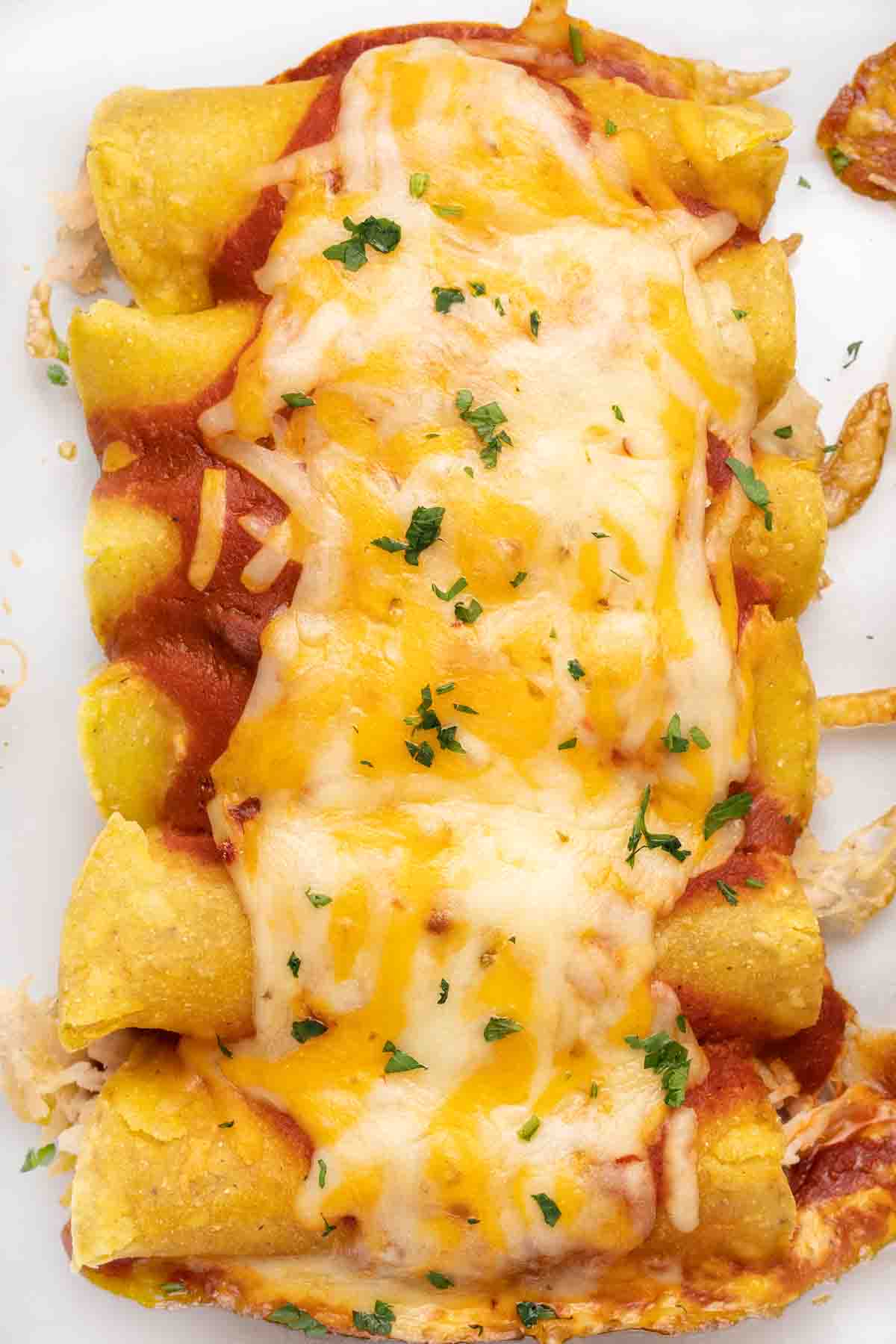 Homemade enchilada sauce (aka salsa roja) is so much better than the canned stuff! It's what I used to make my Tex-Mex Chicken Enchiladas and they were ah-mazingly delicious. You can use this sauce for cheese, pork, or beef enchiladas.
Ingredients to make Enchilada Sauce
Let's start by gathering the ingredients we need to make my Red Enchilada Sauce recipe. In Chef Speak, this is called the "Mise en Place," which translates to "Everything in its Place."
Not only does setting up your ingredients ahead of time speed up the cooking process, it also helps ensure you have everything you need to make the dish.
Made with simple ingredients
tomato sauce
chicken broth or vegetable broth
garlic powder
onion powder
chili powder
cumin
salt
black pepper
brown sugar
all-purpose flour
vegetable oil or olive oil
Can I make changes to the enchilada sauce?
Changing the enchilada sauce to suit your taste or dietary needs couldn't be easier. Here are a few of my suggestions.
For gluten-free sauce, use gluten-free cup-for-cup flour instead of all-purpose flour. You can also use cornstarch or arrowroot to thicken the sauce.
Do you want a spicier sauce?  That's an easy fix. You can add your favorite hot sauce to kick up the heat. Or use chipotle or ancho chili powder to make the spicy sauce. You can also add cayenne pepper. Just be careful; a little goes a long way.
Can I make a mild enchilada sauce? To cut back on the spicy flavor of the sauce, simply reduce the amount of chili powder. Start with one tablespoon of chili powder and see how that tastes. You can always add more.
To add a smoky flavor to the sauce, use chipotle chili powder instead of plain chili powder. You can also add a teaspoon of smoked paprika to the sauce if you don't want to add any additional heat.
If you like creamy sauces, add a quarter cup of heavy cream or sour cream to the sauce. This will also cut back on the heat level.
How to make Enchilada Sauce
Add the vegetable oil to a saucepan over medium heat, then add the all-purpose flour and mix well.
Turn down the heat to low and allow the flour/oil mixture to cook for a few minutes. This is a roux that will help thicken the sauce.
Add the tomato sauce, chicken broth, spices, and brown sugar to the saucepan and mix well using a wire whisk. Increase the temperature to medium-high heat.
Bring the mixture to a light boil, then reduce the heat to a simmer and allow the red sauce to cook for 10 minutes.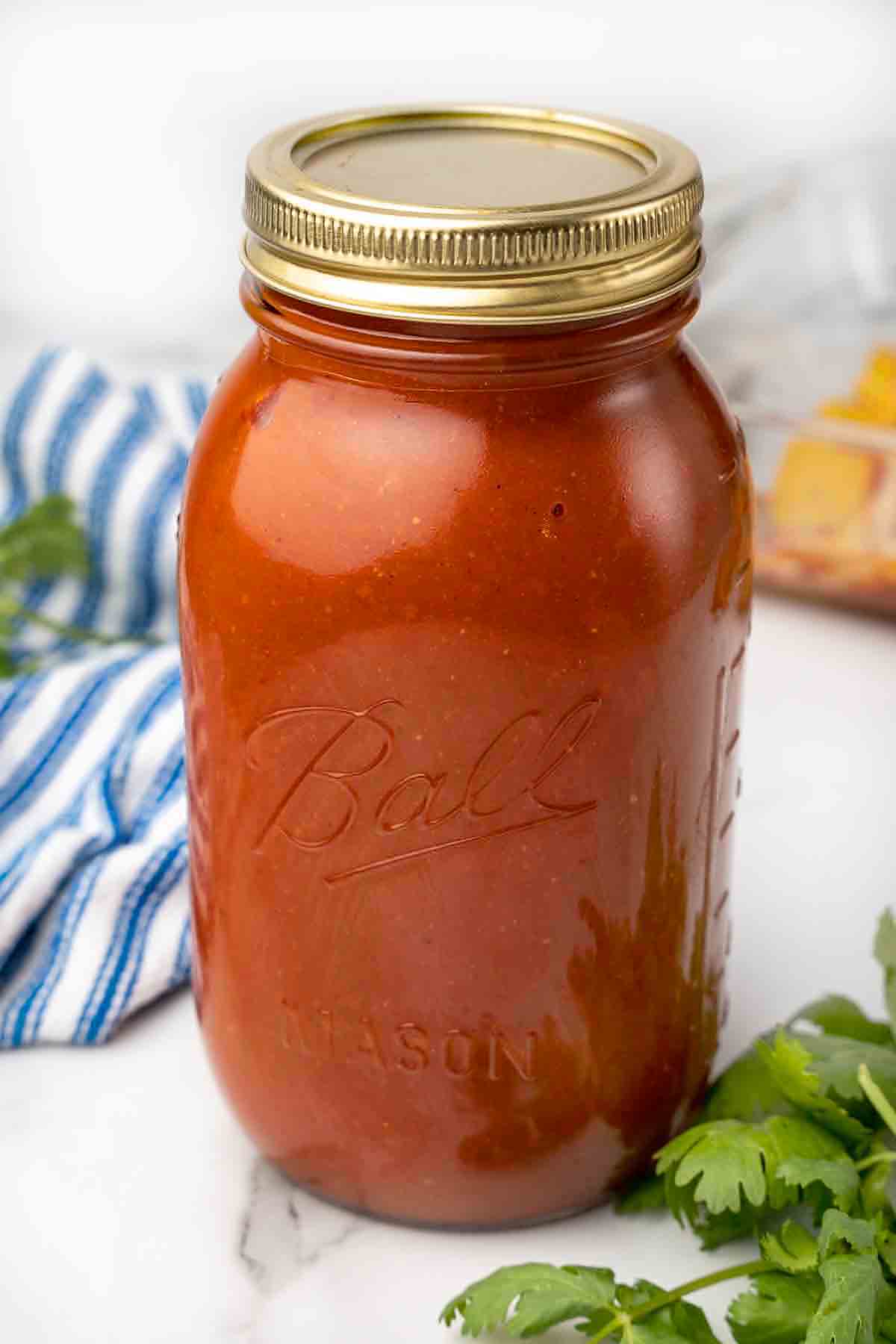 Let the enchilada sauce cool, then store it in an airtight container in the refrigerator. You're going to love this sauce; it makes amazing enchiladas but can also be used as a taco sauce and a dip for tortilla chips.
It really is the best enchilada sauce recipe you'll ever make, and my authentic enchilada sauce will definitely improve your Mexican cooking!
*Leftover red sauce can be stored refrigerated in an airtight container for up to two weeks or frozen for up to three months.
Recipe FAQ's
Can I make enchilada sauce less spicy?
You sure can. Just cut back on the chili powder until you get the heat level you're comfortable with. Do you like your sauce spicier? That's an easy fix too. Just add your favorite hot sauce to the sauce to kick it up to the heat level you're looking for.
Can I use enchilada sauce for other recipes?
Absolutely! This sauce can be used in a variety of Mexican and Tex-Mex dishes, such as chiles rellenos, tamales, or huevos rancheros. It can also be used as a marinade for meats or as a base for a spicy soup.
Is enchilada sauce supposed to be spicy?
Traditional salsa roja has a bit of a kick but isn't overly spicy. However, you can adjust the spice level to suit your taste by adding more or less chili powder or your favorite chilies.
More Recipes You'll Love!