When its time to spice up a family night dinner try my Blackened Chicken Taco Bar. It's guaranteed to bring smiling faces to your dinner table. Add your own special touch to the toppings to make sure everyone gets what they want on their taco.
This post includes affiliate links. As an Amazon Associate I earn from qualifying purchases.
Mission Organics® are for those who believe that the quality and flavor of their tortilla and chips are just as important as what goes into them
This is a sponsored post written by me on behalf of Mission®. All opinions are entirely my own
My early years in Texas were filled with the delights of tacos. My Mexican grandmother was always in the kitchen cooking up some sort of deliciousness for me. My Abuela was years ahead of the street taco scene using different meats and toppings. Of course, at the time we didn't know it was a taco bar, it was just dinner at grandmas.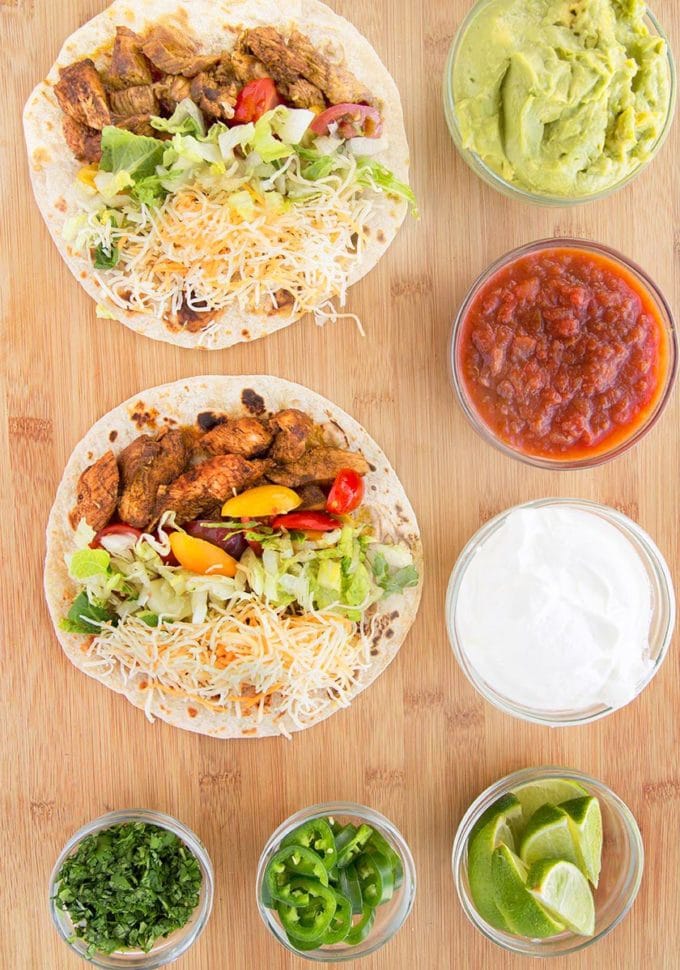 Unfortunately, when we moved to New Jersey, tortillas were hard to come by. So our family taco nights were limited to the times we went back to Texas and could bring home a suitcase full of tortillas.
Can you imagine not knowing the joy of taco night in your house? Thankfully, over the years tortillas in many shapes and flavors have become a mainstream ingredient available in supermarkets from coast to coast. And my favorite will always be Mission Organics Flour Tortillas!
In case you're wondering why I use Mission Organics Flour Tortillas for my Mexican dishes, I've listed some important facts below.
USDA organic certified
Non-GMO project verified
No artificial preservatives
No artificial colors or flavors
And the best way to enjoy Mission Organics Flour Tortillas is to serve them warm off the griddle. That way you get the full flavor of the tortilla.
You can find Mission Organics Tortillas in the tortilla section of your grocery store and they are available nationally.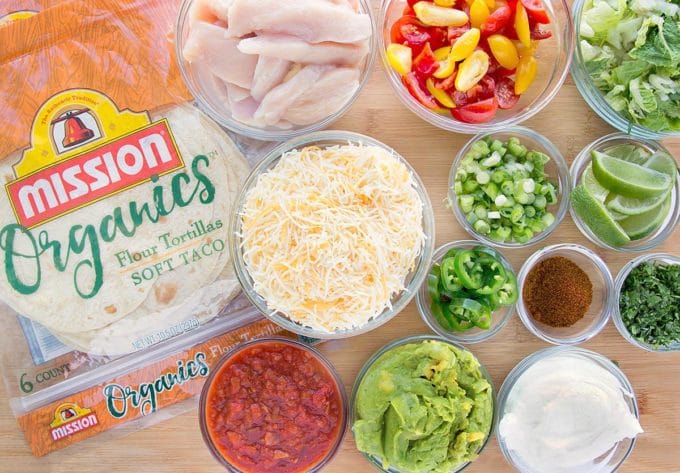 I had some friends coming over for lunch so I thought I'd cook up a batch of Blackened Chicken and set up a taco bar for them to make their own tacos. Here are the ingredients I set up before I started cooking. In the culinary world, this is known as a mise en place.
Luckily I had plenty of tortillas on hand because they devoured my taco bar! Which made me smile…..sigh. I love making people happy with food.
I love experimenting with different seasonings, even adding to prepacked blends. Don't be afraid to add in the flavors that you and your family like. You can create your own seasoning blend for every type of dish you cook up in your kitchen.
If you'd like to try more of my Mexican style recipes click on this link for my Huevos Rancheros recipe and my Grilled Chicken Fajitas Bar.
If you love tacos you might like these recipes:
If you're looking for a great snack option or you're making your favorite nachos, make sure to use Mission Organics® Blue Corn Tortilla Chips. You can find them in the chips aisle of your local grocery store.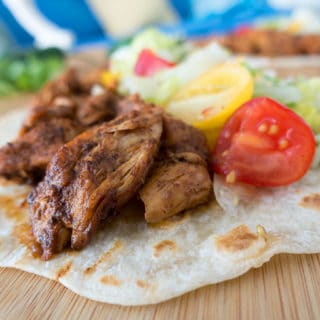 Print Recipe
Blackened Chicken Taco Bar
When its time to spice up a family night dinner try my Blackened Chicken Taco Bar. It's guaranteed to bring smiling faces to your dinner table. Add your own special touch to the toppings to make sure everyone gets what they want on their taco.
Ingredients
12

Mission Organics® Flour Tortillas

2

pounds

boneless skinless chicken breasts

cut into strips

2

tablespoons

Cajun seasoning

or your favorite taco seasoning

2

cups

tomatoes

diced

4

cups

romaine

or lettuce shredded

2

cups

Mexican cheese blend

or cheddar

2

jalapeños

seeded and sliced

1 1/2

cups

sour cream

1 1/2

cups

guacamole

1

cup

salsa

your favorite brand or homemade

2

tablespoons

cilantro

finely chopped

1

bunch

scallions

sliced midway through the green

1

lime

cut into wedges
Instructions
Prep ingredients for the taco bar and set up bowls with sour cream, salsa, guacamole and all the other toppings.

Cut chicken breast into strips.

Add seasoning to chicken breast strips and toss to coat all the pieces with the seasoning.

Add one tablespoon of olive oil to a sauté pan or cast iron skillet. When the pan has gotten hot, carefully add the seasoned chicken strips. Be careful not to get splattered with hot oil.

Let the chicken strips stay in place for 3-4 minutes or until the chicken is dark golden brown. Turn over the pieces and continue to cook for 3-4 minutes on the other side or until done. Make sure to have your kitchen fan running!

When finished remove the chicken from the pan and allow to rest for a few minutes. After the chicken has cooled slightly cut into small pieces.

Add a little water to the pan to loosen up all the spices and dark bits in the pan. You're making a little sauce to toss the chicken in before serving. It shouldn't be too watery, just enough to make it cling to the chicken.

While chicken is cooling begin toasting the Mission Organics® Flour Tortillas on a hot skillet. Let them cook until they begin to get those dark brown spots and tortilla gets a little puffy in spots. You can see the semi-translucent color of the tortilla turn more solid as they toast.

Keep heated tortillas in a moist towel until they are ready to serve.

Toss the chicken back into the heated pan that you cooked them in. Pan should have enough liquid to coat the chicken.

Serve immediately and enjoy!
Nutrition
Calories:
737
kcal
|
Carbohydrates:
47
g
|
Protein:
50
g
|
Fat:
39
g
|
Saturated Fat:
16
g
|
Cholesterol:
162
mg
|
Sodium:
1210
mg
|
Potassium:
1472
mg
|
Fiber:
8
g
|
Sugar:
9
g
|
Vitamin A:
5340
IU
|
Vitamin C:
27
mg
|
Calcium:
428
mg
|
Iron:
4.4
mg