I love Garlic Shrimp and I love the simplicity and ease of creating pasta dishes. Tossing aldente pasta with perfectly sauteed shrimp and pan sauces is a thing of beauty.
Just the words Garlic Shrimp start the juices flowing, and trust me this simple and delicious dish did not disappoint.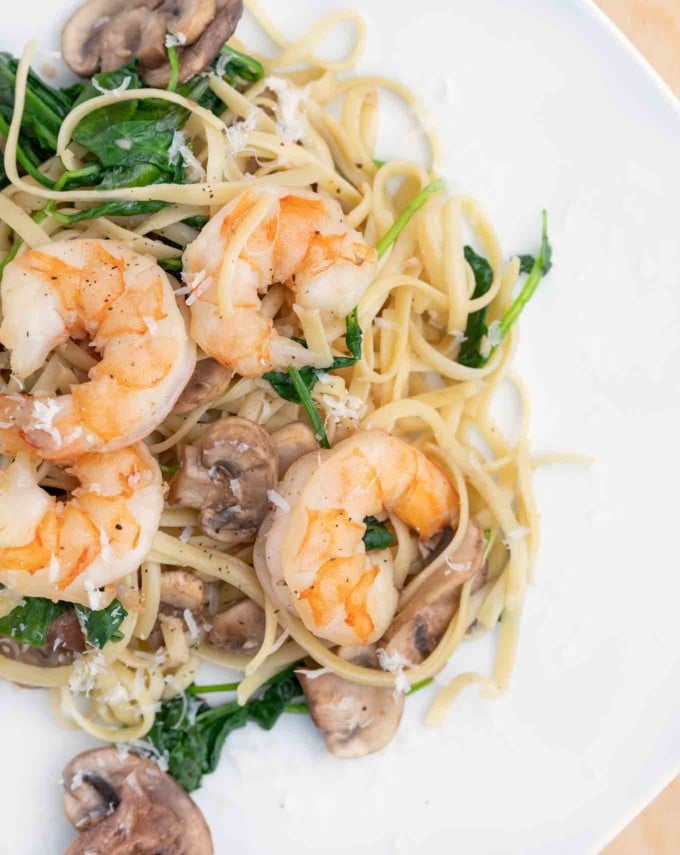 This is how dishes are created in a restaurant. Easy to make saute dishes that keep customers coming back time and time again because they don't think they can make it at home.
And that my friends is far from the truth. Most pasta dishes are amazingly easy to make and are easily adaptable. You can add or detract your favorite ingredients changing up this dish each time you make it.
What Ingredients do I need to make Garlic Shrimp with Linguine?
Let's start by gathering the ingredients we need to make Garlic Shrimp and Spinach with Linguine. In Chef Speak this is called the "Mise en Place" which translates to "Everything in its Place".
Not only does setting your ingredients up ahead of time speed the up cooking process, but it also helps ensure you have everything you need to make the dish.
Do I have to use Mushrooms in this dish?
No, you don't. I love mushrooms. They're a rich, low calorie source of fiber, protein, and antioxidants. They taste great and more volume to the dish.
But if you don't like mushrooms, leave the out. It's just that easy!
Can I use other Vegetables in this dish?
You sure can. If don't like spinach, substitute your favorite greens, or other vegetable in its place. If you're anti-veggie, just make garlic shrimp.
Some of other favorite vegetables to use in this are:
broccoli
artichokes
zucchini
asparagus
This is your dinner, so use ingredients you like to eat or have on hand. Just use the recipe as a guideline.
How Do I make Garlic Shrimp and Spinach?
Start by adding olive oil to a pan over medium-high heat. Add the chopped garlic and shrimp. Turn down heat to medium and stir shrimp around so neither the shrimp or garlic burn.
Remove shrimp and most of the garlic from the pan when shrimp are about ¾ of the way cooked (about 2 minutes). Set aside until they are needed.
What kind of shrimp should I use?
When you buy shrimp I can't stress enough that you look to see where they are sourced from. If you live in the US shrimp should come from the Gulf of Mexico, Pacific Ocean or local Southern states. Be very cautious if buying shrimp from India or any Asian country. Many times you'll be buying farmed shrimp and the waters the shrimp are raised in are not regulated. So buyer beware!
There are many European countries where the shrimp are amazing, but we rarely see them in our stores.
*Headless shrimp are always frozen. If you see them in a supermarket and they're not, they've been thawed.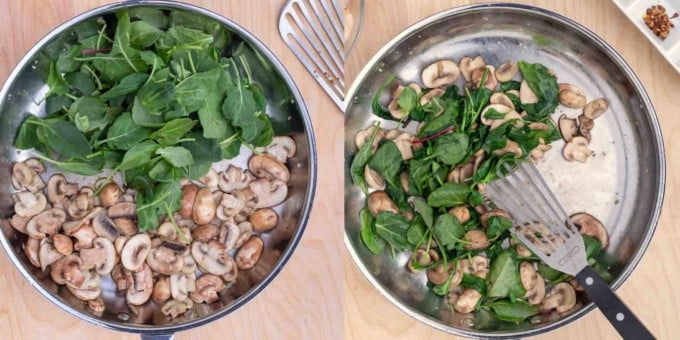 After removing the shrimp and the garlic, add the mushrooms to the pan, along with additional olive oil if necessary and saute for 2-3 minutes
Add the spinach to the pan and stir until they begin to wilt.
Add the sauteed shrimp and garlic back to pan. Season with crushed red pepper, sea salt and pepper to taste. Toss the mixture and allow shrimp to become fully cooked.
*Add more olive oil if necessary (or chicken stock)
Drain the cooked pasta and toss the pasta with the shrimp and spinach saute.
*Add additional olive oil or stock if its too dry.
Add a sprinkle of grated Romano cheese, serve and enjoy!
More Shrimp Recipes You'll Love!