I once had someone describe my French Silk Pie as "heaven on a plate".
This creamy, rich, chocolaty dessert is also known as Chocolate Silk Pie. And although it's not as heavy as chocolate mousse it's every bit as decadent and delicious.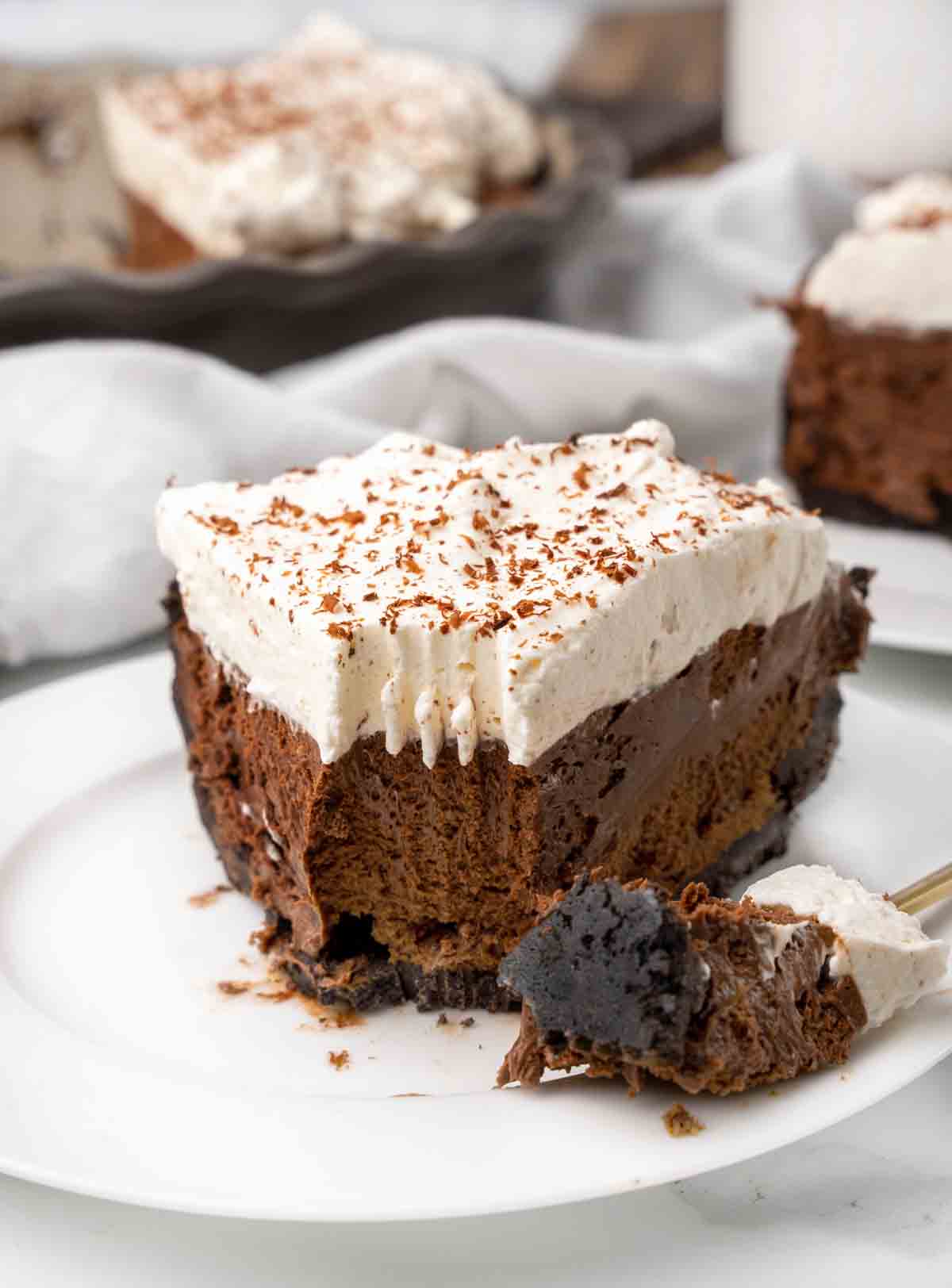 There really aren't words to describe just how delicious this French chocolate silk pie tastes. The addition of the oreo crust to my French Silk Pie Recipe adds another layer of chocolate goodness to my chocolate pie taking it to another level of deliciousness.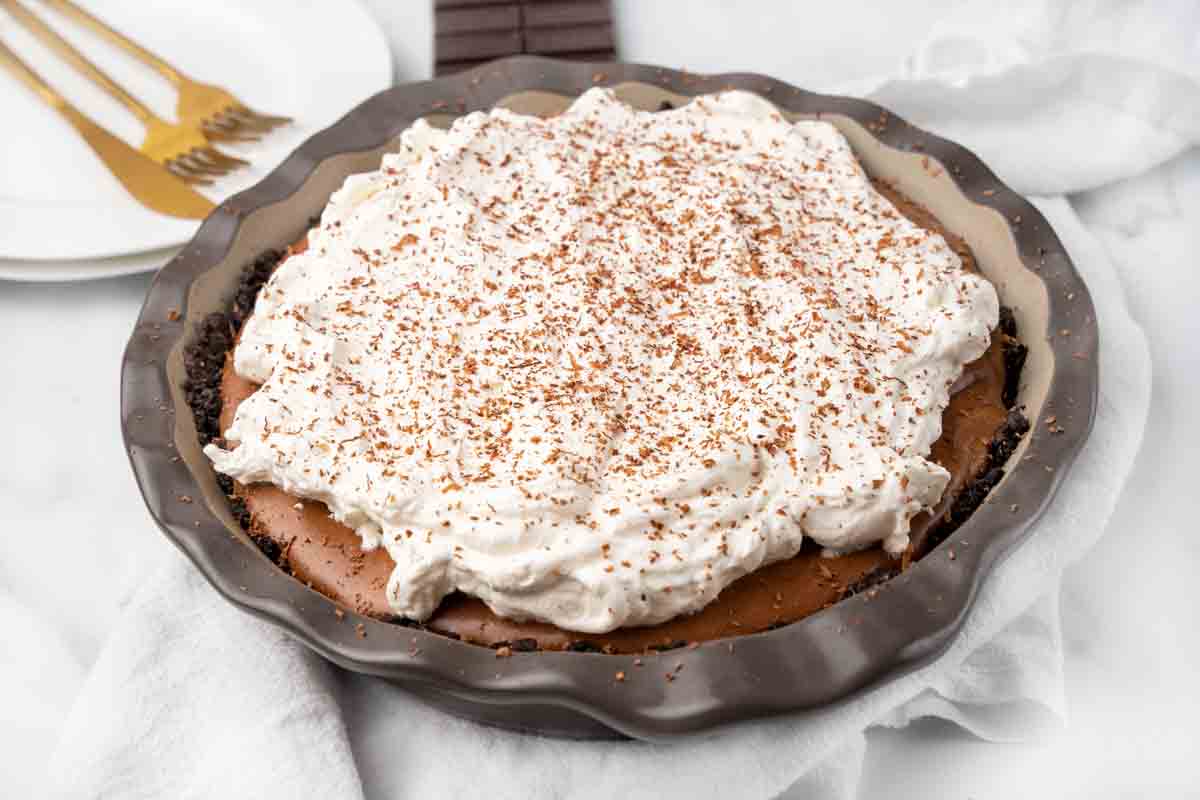 Topped with homemade whipped cream and chocolate shavings, this French silk chocolate pie is truly a culinary masterpiece!
*For a more dramatic effect, use chocolate curls.
What ingredients do I need to make a Chocolate Silk Pie?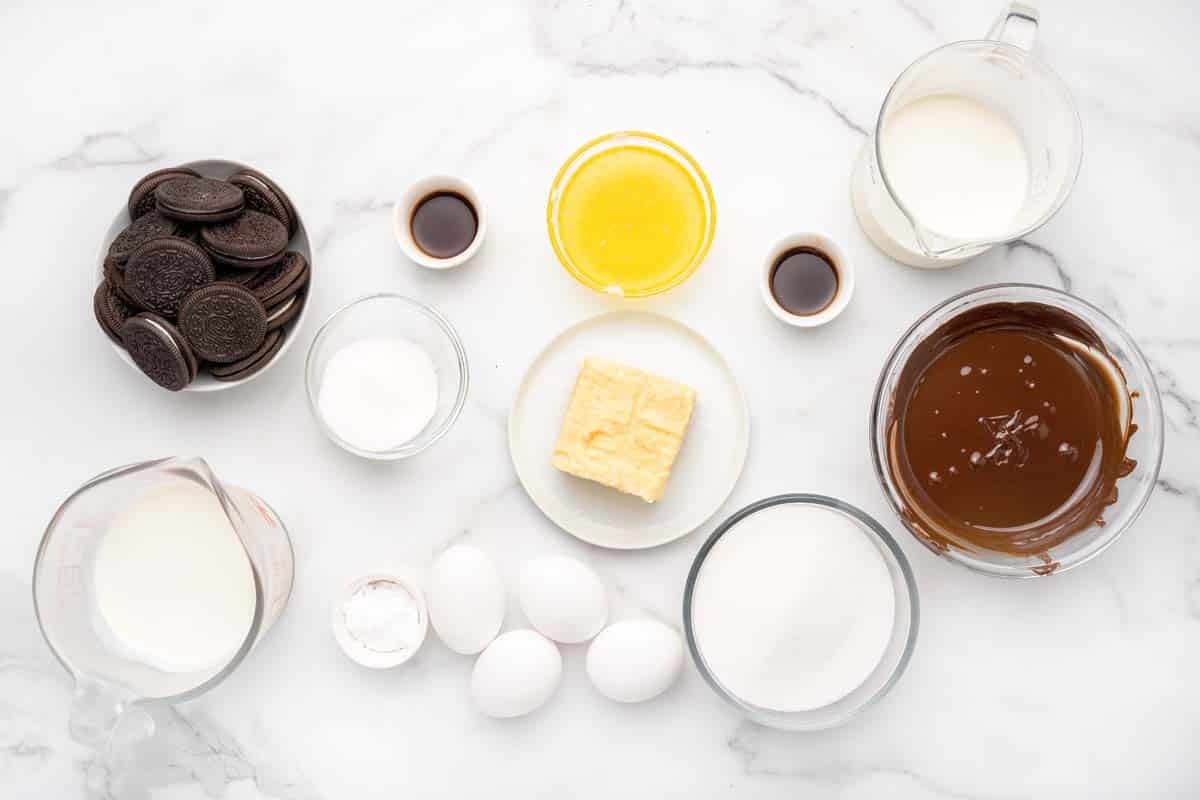 Let's start by gathering the ingredients we need to make Chocolate Silk Pie. In Chef Speak this is called the "Mise en Place" which translates to "Everything in its Place".
Not only does setting your ingredients up ahead of time speed up the cooking process, it also helps ensure you have everything you need to make the dish.
How to Make an Oreo Crust
Preheat the oven to 350°F.
Spray a 9-inch deep pie dish with pan spray.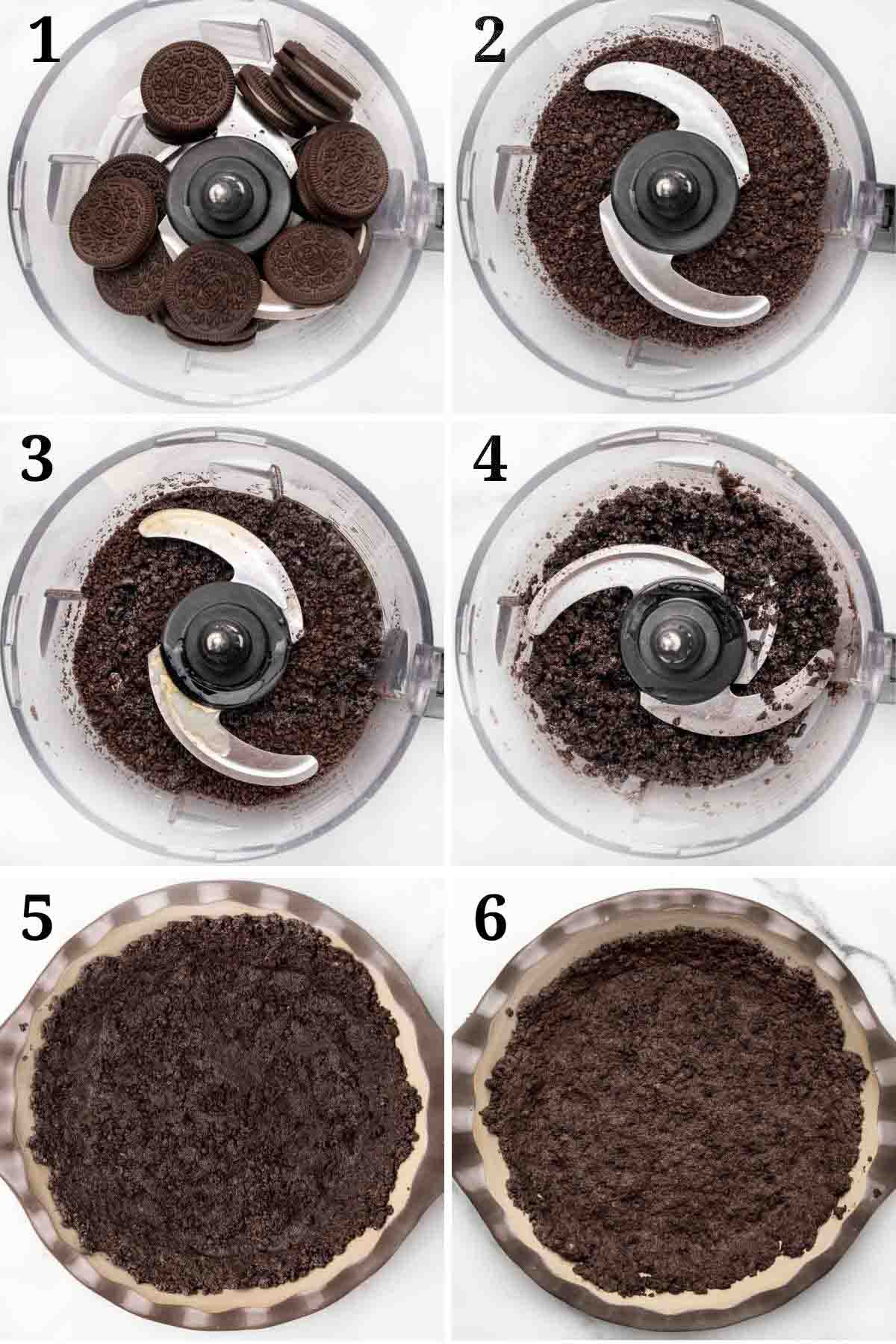 Place the Oreo cookies (whole Oreos not just wafers) in the bowl of a food processor
Pulse the Oreos until they are cookie crumbs.
Add the melted butter to the oreo crumbs.
Pulse the crumbs and melted butter until the crumbs are moistened.
Press the cookie mixture into the bottom and partially up the sides of the prepared pie dish.
Bake for 10 minutes, or until fragrant and the crust has set. Let the cookie crust cool on a wire rack.
If you'd rather have a flaky pie crust or graham cracker crust, both work really well with this dessert. If you'd rather not use the oreo filling, add another 10 wafers and 2-3 additional tablespoons of melted butter.
Make the chocolate filling for a French Silk Pie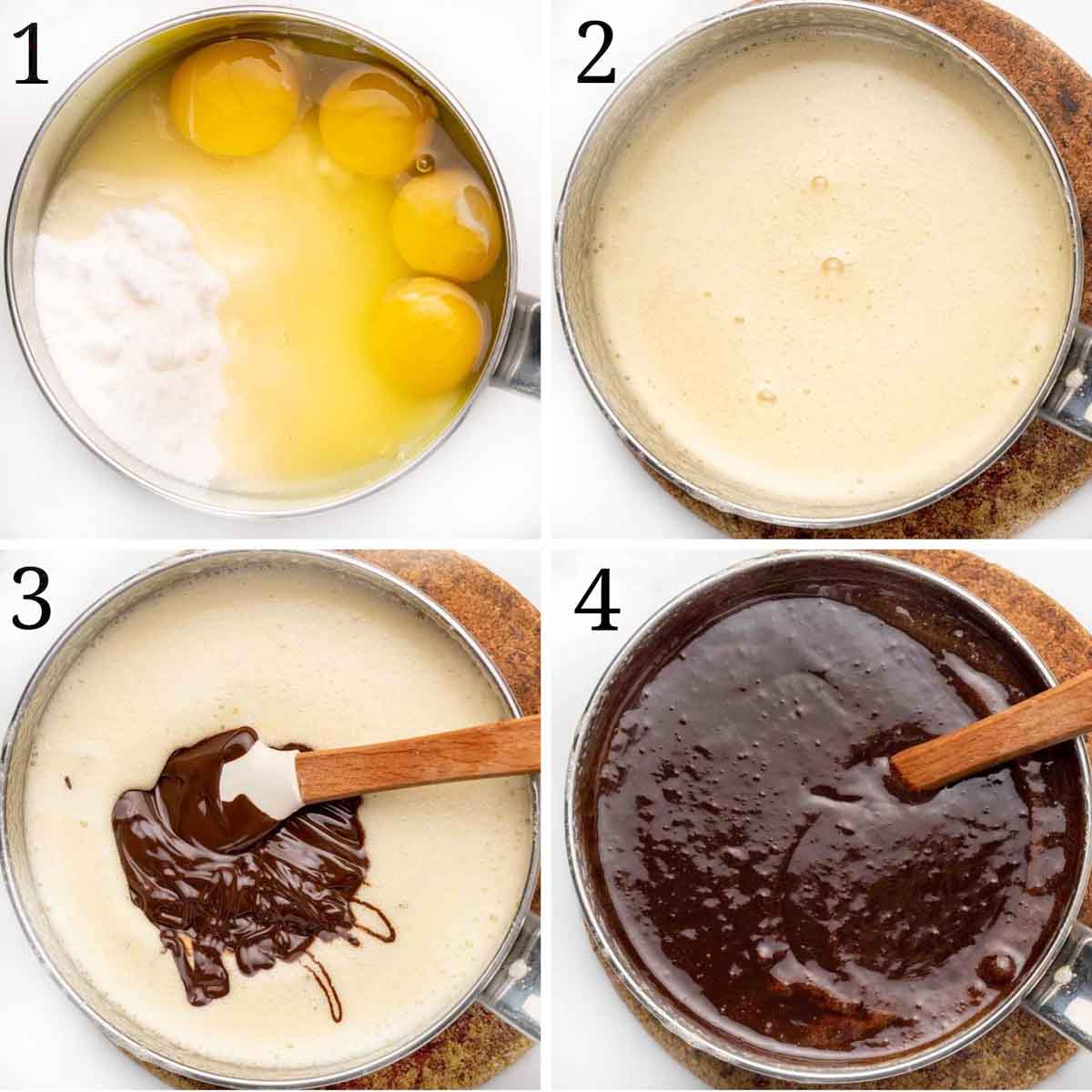 Add the eggs and granulated sugar to a small saucepan.
Whisk the ingredients together until well blended.
Place the saucepan over medium-low heat. Continue whisking the egg mixture while it's cooking. When the egg mixture has reached a temperature of 165° F and coats the back of a metal spoon it's done.
Remove the pan from heat and stir in the melted chocolate and vanilla extract. Mix until smooth. Allow the mixture to cool until it's just warm.
*Bittersweet chocolate (not unsweetened chocolate) is the best choice for this chocolate pie. Semi-sweet chocolate will also work with this recipe it just won't be as strong a chocolate flavor, which isn't necessarily a bad thing.
Always buy the best chocolate available and don't use chocolate chips for this cake; chocolate chips are generally not the best quality chocolate.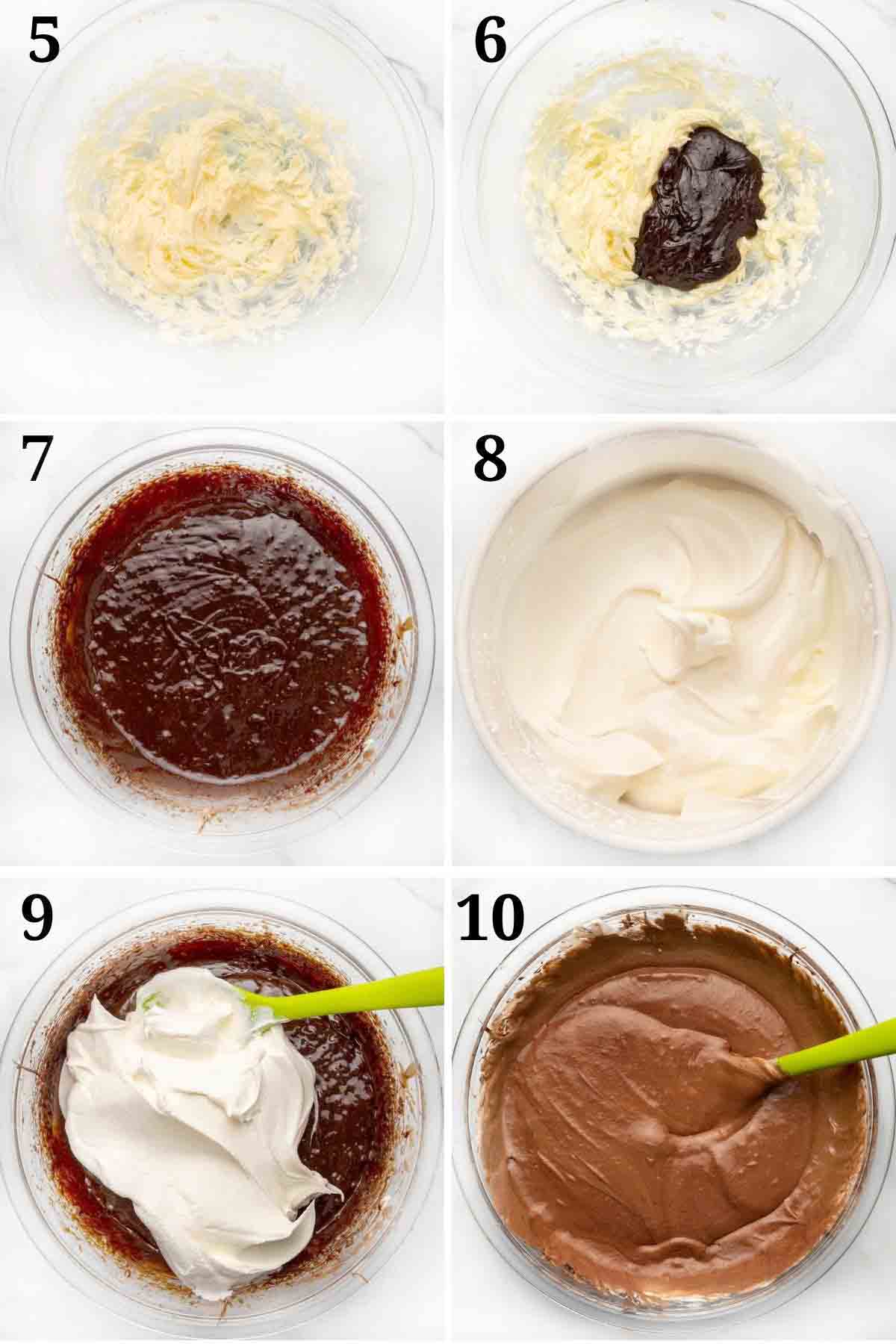 With an electric mixer, beat the butter until light and fluffy, about 2 to 3 minutes.
Gradually add the cooled chocolate mixture to the butter until it's all incorporated.
Beat the chocolate butter mixture on high speed for 5 minutes, or until it's light and fluffy. Make sure to scrape the sides and bottom of the bowl during the process.
In a clean bowl use an electric mixer to whip the cream until it begins to thicken. Add the sugar and beat until stiff peaks form. *Take your time whipping the cream. The faster it whips the faster it breaks down.
Fold the whipped cream into the chocolate mixture.
Mix the chocolate silk pie filling until smooth. Don't overbeat!
How to make assemble a French Silk Pie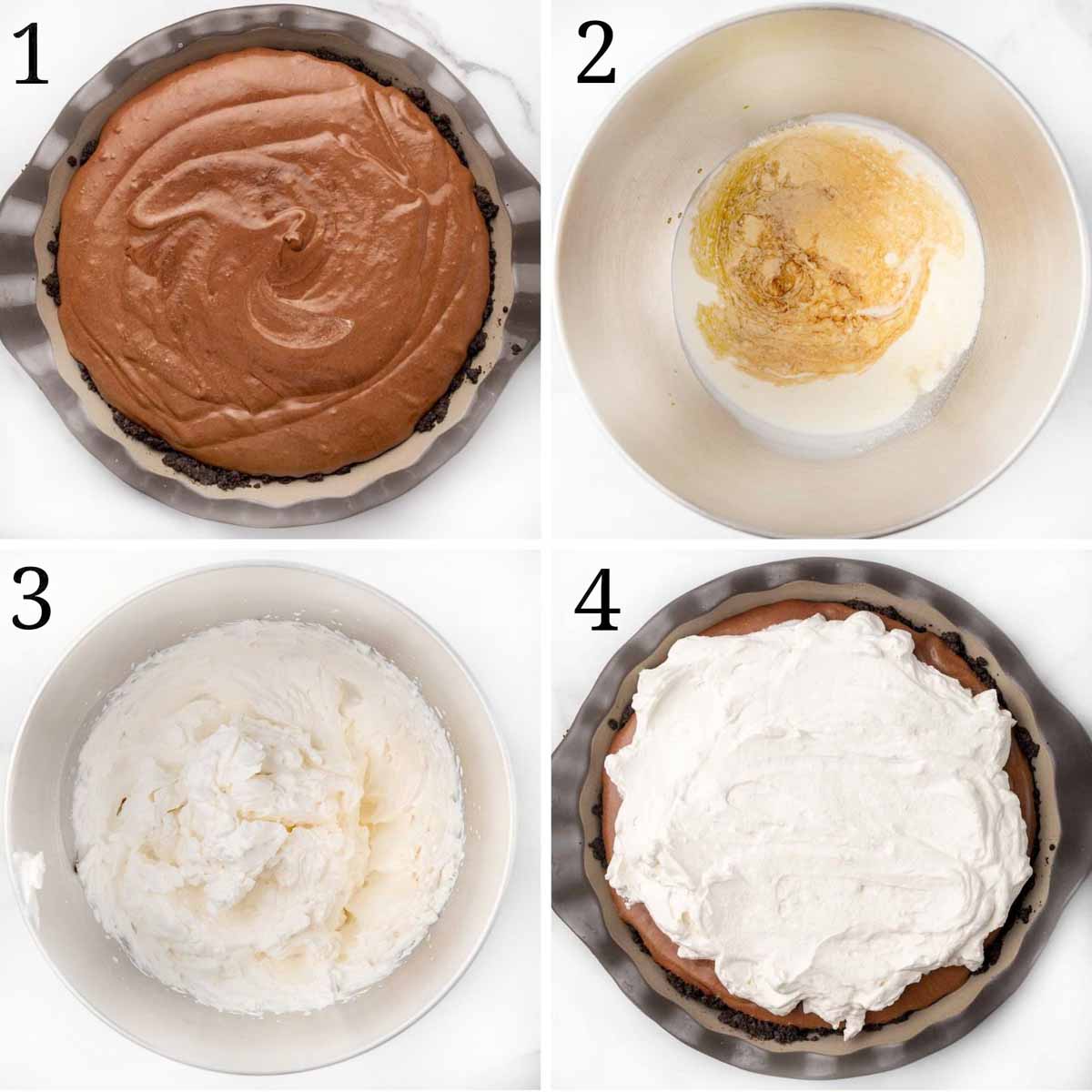 Pour the mixture into the pan, smoothing evenly. It will be above the level of pan.
Add the heavy cream, sugar and vanilla into a mixing bowl.
Whip the cream mixture on low and gradually increase the speed over 8-10 minutes until stiff peaks form.
Add the whipped cream to the top of the Chocolate Silk Pie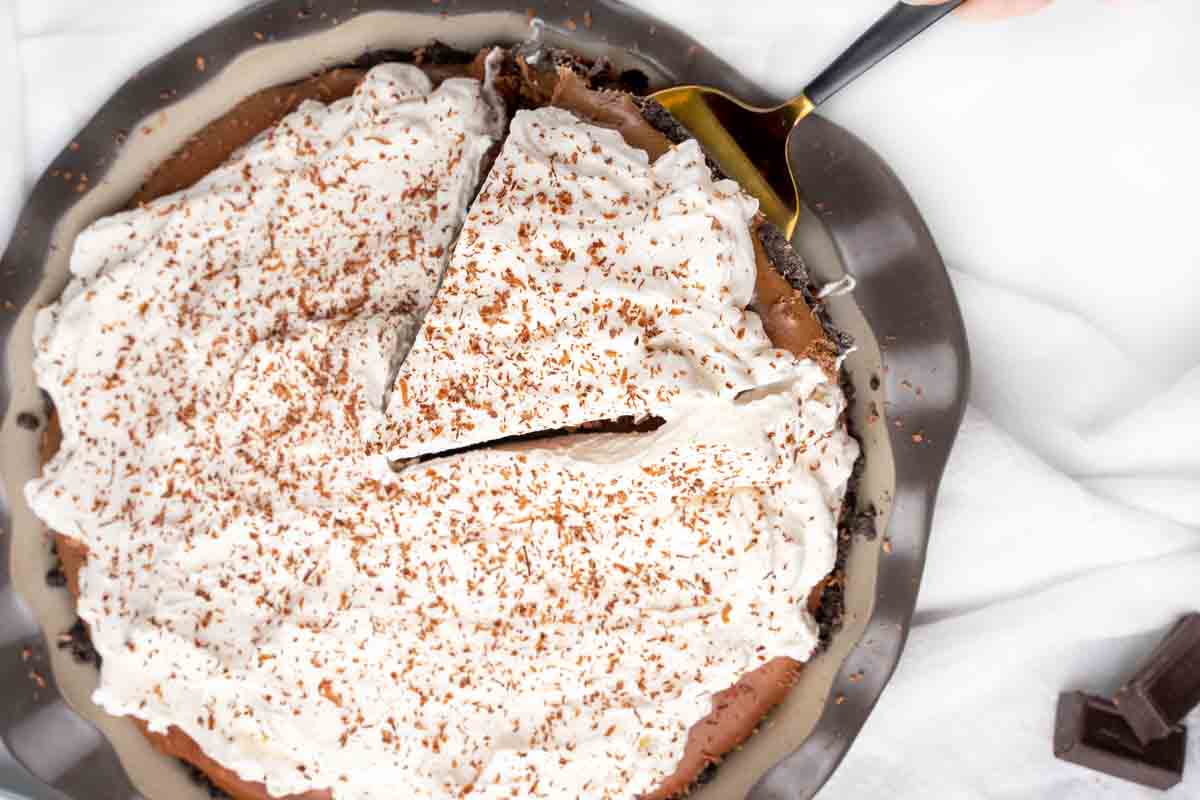 Refrigerate the pie for at least 6 hours so it can set up. Overnight is best.
Before serving sprinkle the top of the chocolate silk pie with shaved chocolate or chocolate curls.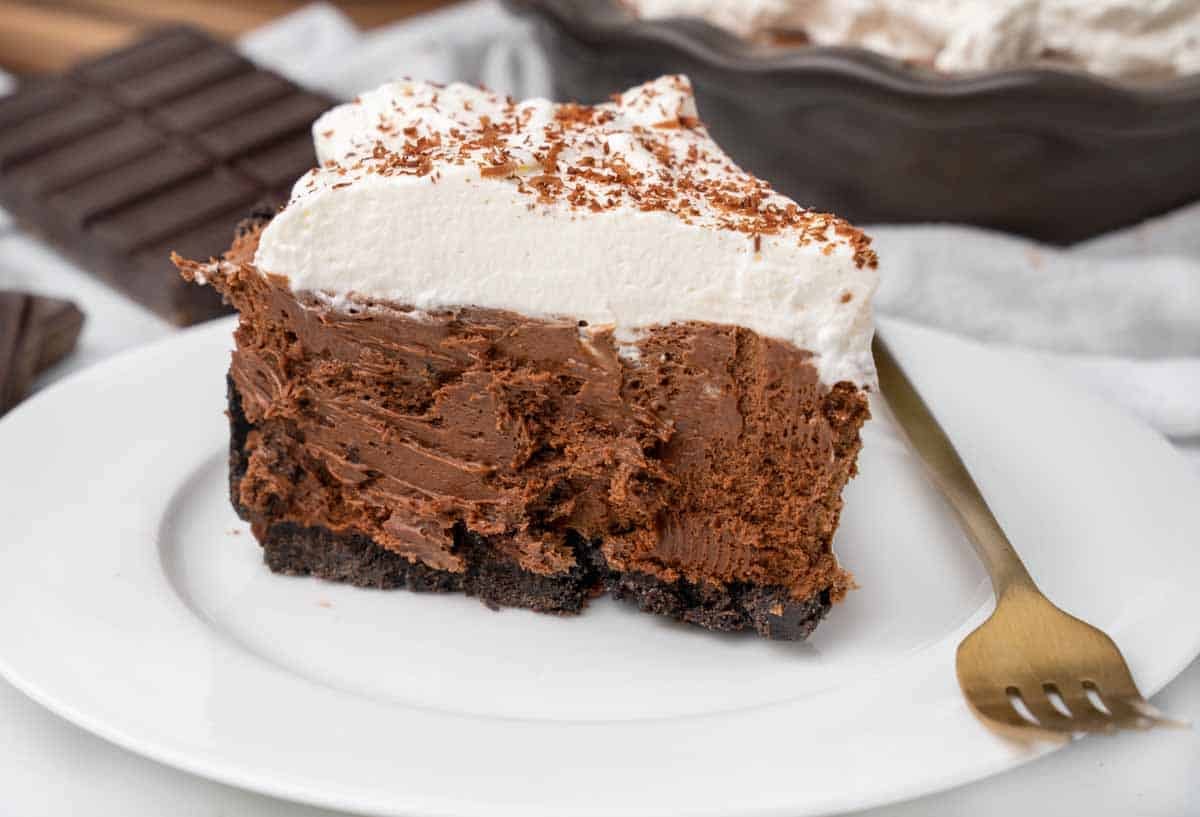 This French Silk Pie is one of my favorite pies and one I make when I want to impress my guests. It's a decadent, rich dessert that's perfect for a dinner party, brunch or just to make dinner a special event.
Recipe FAQ's
What is the difference between French silk pie and chocolate cream pie?
The American chocolate cream pie is a homestyle version of this French classic dessert. While Classic American Chocolate Cream Pie has more of a pudding-like consistency, the French Chocolate Silk Pie has a silkier, smoother texture.
The French version is also much richer and decadent, getting its silky texture and rich flavor from heavy cream and butter.
Why is it called a French Silk Pie?
This delicious pie got its name because of how silky and smooth the chocolate is. I promise, one bite and you'll agree that this is the smoothest and best chocolate pie you've ever had.
Are there raw eggs in French Silk Pie
There are no raw eggs in my version of a French Silk Pie, and it is not advisable to eat raw eggs that are incorporated into any food product that isn't cooked.

More Chocolate Recipes You'll Love!