This post includes affiliate links. As an Amazon Associate I earn from qualifying purchases.
It's been a long year, for what ever reason it seemed that what ever could go wrong did, tasks were more difficult, sales were off, and I just didn't quite feel as productive as I should have been. But the good thing about a school year is that it ends, you get rest, a chance to recuperate, to re invigorate and to come back stronger the next year! Well that's the plan at least.I hate to think that the old chef is just getting too old to be productive, and to quote Monty Python's The Life of Brian, "I'm not dead yet, I feel happy!", I hope some of you are old enough to have seen that movie,  if not I highly recommend it! So the plan is to survive the next few weeks, get lots of rest, cook lots of great food this summer and come back with a menu that wow them! What other school food service really worries about wowing the kids? I am so lucky to be part of such an incredible organization as Flik Independent School Dining. I don't really talk about my company often, but in a world of sub par food service, we are the oasis. It's not rocket science, its common sense. Feed your students good, wholesome, tasty food made with quality products and when ever possible make it from scratch. Ok, now I've let out our secret formula for success…lol….unfortunately you won't see our competition running to implement it any time soon. So let me say it once again, I am lucky! Thank you Ray, Eileen, Joann, Peter, and Michael for everything you do to make this company something to be proud of!Now lets talk about my recent creation for today's post. I borrowed a recipe from one of my favorite magazines
La Cucina Italiana
, and while I rarely follow recipes without making adjustments, I was so taken by the image of this cake, I decided to follow it very closely. That was my mistake….sigh
Now the cake was magnificent, but the pan size was wrong, which made the cooking time wrong, which gave me a drier cake, than I think it was meant to be. But it was still pretty darn tasty, and if I had included one of the ingredients it called for I think it would have improved the flavor… I left out the candied ginger, not being a fan of ginger…but in hindsight I think it would have been a good addition.
I will try this cake again, with the ginger, and a smaller pan……oh yes and more chocolate glaze!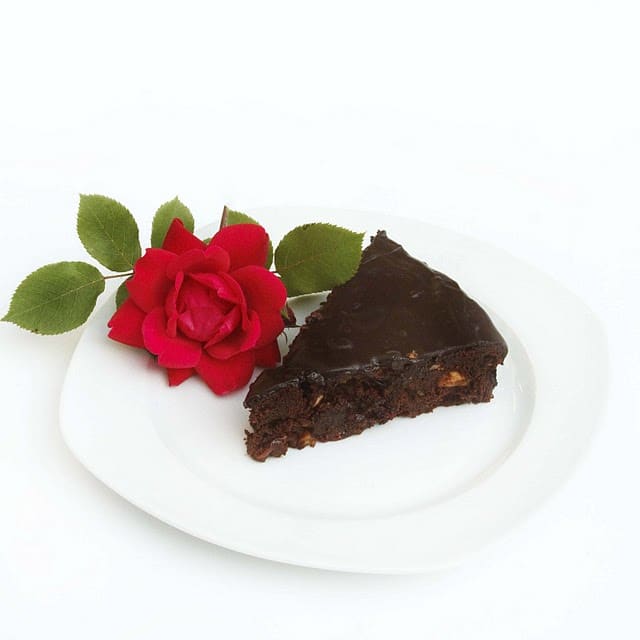 Torta Ricca con Frutta Secca e Disidratata  (Italian Chocolate Torte)

1 1/2 cups Mixed Nuts (I used pecans, cashews, pistachio's)
8.75 oz Bittersweet Chocolate (65% cocoa or better)
10 1/2 Tbsp Butter Softened
1/2 cup + 2 Tbsp  Light Brown Sugar (packed)
1/4 cup Plain Greek Yogurt
1/4 cup Mascarpone
3/4 cup + 1 Tbsp Whole Wheat Flour
3 Large Eggs separated
2 Tbsp unsweetened Cocoa
2 Tbsp Rum
3/4 cup dried Cranberries
1/2 cup dried pineapple cut in small pieces( I used Cherries)
1/2 cup candied ginger cut it small pieces
1/8 tsp Sea Salt
10 ounces of canned cherries for garnish (optional)
Chocolate Glaze (adjusted)
8 oz semi sweet chocolate
4 tbsp Unsalted Butter
3 tbsp Heavy Cream
Preheat the oven to 350 degrees with the rack in the middle of the oven.
The original recipe called for a 9″ springform pan, and I think this is where the problem was, the picture was almost twice as high as my cake, so I would use a 7 inch springform pan, or reduce the cooking
time. Coat the inside of the springform pan liberally with butter.
Spread the nuts on a sheet pan and roast them for about 10 minutes stirring them once. After allowing them to cool, chop them into smaller pieces.
Chop the chocolate into small pieces and in a bowl over simmering water allow the chocolate to melt completely. Allow the chocolate to cool slightly.
In your mixer whip the softened butter with the brown sugar for about 10 minutes using the whisk attachment of your mixer.
Add in the mascarpone, and Greek yogurt mix to combine then add the  melted chocolate,flour,  egg yolks, and cocoa, mix just enough to combine.
Then add your cranberries, roasted nuts, pineapple and candied ginger, fold these ingredients in.
In a clean mixing bowl, whip the egg whites with the salt, until soft peaks are formed, then carefully fold them into the chocolate mixture.
Pour into your prepared springform pan and place on a cookie sheet in the oven. If your using a 9 inch springform pan, start checking your cake around 30 minutes. The cake should start to pull away from the sides slightly. If you are using a 7 inch spingform pan, start checking your cake at around 40 minutes.
This is where my mistake came, the cake should have been moister, it was just a little dry and started to fall apart slightly. While I have never seen a cake like this, I think a moister almost brownie like consistency is what you are looking for. It is a dense cake, but not quite as dense as a flourless torte.
Remove the cake from the oven and allow to cool on a wire rack while you make the glaze.
Let the glaze cool for about 10 minutes then using an offset spatula spread the chocolate evenly and allow it to drip down the sides of the cake. I increased the recipe for glaze so you would have enough to do the cake justice.
Serve with fresh whipped cream and berries, or just by itself. This cake will go wonderfully with coffee or a glass of red wine!
Thanks for stopping by today, I hope if you give the cake a try that you enjoy it as much as my neighbors did, but then again there an easy crowd! Have a wonderful week and until next time, ciao!