For as long as I can remember, I've dreamed of visiting Greece, and it's Islands. Reading about Greek Mythology and the heroes of that time took me to the faraway land to discover Greece.
This is a sponsored post for Collette Travel. All opinions and images are my own.
Traveling is one of the great joys in life, but the thought of making all the arrangements for a trip to a foreign country can be daunting. But it doesn't have to be difficult if you let Collette Travel help you.
Your trip will be more enjoyable if you don't have to do all the planning. Wouldn't it be nice to sit back and relax, enjoying all the shades of beautiful you'll experience on your trip to Greece!
How Can You Make Traveling the World Easier?
Guided Tours take all the hassle out of travel, and that's why I enjoy traveling on guided tours with Collette Travel.
But that's not the only type of travel options Collette offers. Let them make your travel dreams come true with the kind of travel that fits your lifestyle.
Classic Tours: Enjoy a refined take on the Art of Group Travel.
Explorations: Experience True Adventures on Collette Small Group Tours.
Spotlights: Come to know your destination during a Single Hotel Stay.
River Cruise: The Best of Land and Sea, exploring the Worlds Most Beautiful Waterways.
Faith: Set out on an inspiring journey on a Faith-Based Travel Experience.
Private Touring: Enjoy a Travel Experience where you control the guest list.
What type of travel fits your lifestyle?
What Will I See on my Tour of Classical Greece and its Islands
Greece is a gorgeous island rich with history. And although it's not a big country (about the size of Florida) one thing to keep in mind is that 80% of the country is covered with mountains.
And that means hills and stairs to climb. But the sights you get in return are well worth the effort.
We started in Athen's before heading to Delphi and seeing the ancient ruins of the Acropolis in person will leave you speechless.
To think of all the great minds that walked those stairs before you. Socrates, Plato, and Aristotle all called Athens home.
But we also had time to sample the local cuisine on a food tour of Athens. This Octopus Salad was ah-mazing, and although I've never been a big fan of octopus, this dish began changing my mind about one of the Mediterranean's favorite seafood.
From Athens head north to Thermopylae, Metéora, and Kalambaka
Thermopylae was made famous by King Leonidas of Sparta, where his band of 300 Spartans and other Greek soldiers held off a Persian Army of 150,000+ for seven days, before being betrayed by a fellow countryman and slaughtered in an epic last stand.
Metéora, a UNESCO World Heritage site, is the next stop on our tour of Greece. These colossal rock pillars began their formation more than 60 million years ago through a series of earth movements, water, wind, and extreme shifts in temperature.
Until the seventeenth century, the primary means of moving goods and people up the pillars was utilizing baskets and ropes, which I'm sure required a good deal of faith.
In the 1920′ steps were cut into the rock making the complex more accessible via a bridge from a nearby plateau.
"The first monks of Meteora arrived as early as the 9th century establishing an entire monastic community of 24 Monasteries on top of the giant cliffs, by the end of the 14th Century. They chose to do this not because it was easy but because it was hard, almost impossible. And they succeeded in this great achievement through their faith."
After our adventure in Meteora, we moved on to Delphi, where the Oracle foretold the future of Man. What secrets did the oracle foresee? Do you think she saw the state of the world we now live in?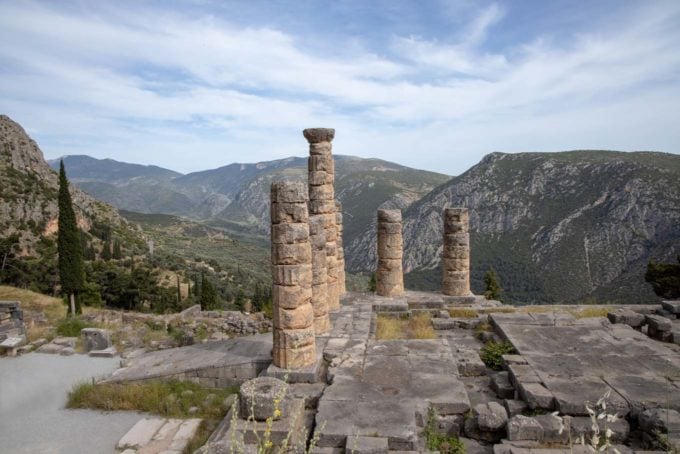 This view from the top of Mount Parnassus was spectacular. This was after consulting the Oracle at Delphi, where I was told I must visit the Sanctuary of Apollo at the top. Who was I to argue?
The Greeks have given us many things. Mathematics, medicine, philosophy, democracy, and the Olympics. And a trip to Greece wouldn't be complete without visiting the site of the original Olympics
The ancient Games were staged in Olympia, Greece, from 776 BC through 393 AD. Their return wouldn't happen for 1500 years when the first modern Olympics were held in 1896. Can you imagine the athletes that walked these paths?
Mycenae
Greece may not be a big country, but what it lacks in size it makes up in the diversity of the landscape. On our tour, one of my favorite towns we visited was Nafplio. It's one of the most beautiful cities in the area of Argolis (eastern Peloponnese).
When your hotel room has a view like this, it makes your stay even more memorable.
We had a cooking class in Nafplio, and they even got me involved in preparing one of the dishes. The cooking class was a lot of fun, and we enjoyed a delicious lunch after class.
The extra special touches like the cooking class are what makes Collette Tours shine.
Dinner in Napflio was a special occasion. We met up with long-time blogging friends and let them pick our dining spot and ended up at a local restaurant whose name translates to The Stables.
When I asked the owner what the special was he, and the chef brought out sides of meat which the chef said was Ewe (female sheep).
And it was spectacular! It was definitely the best-grilled lamb I had in Greece!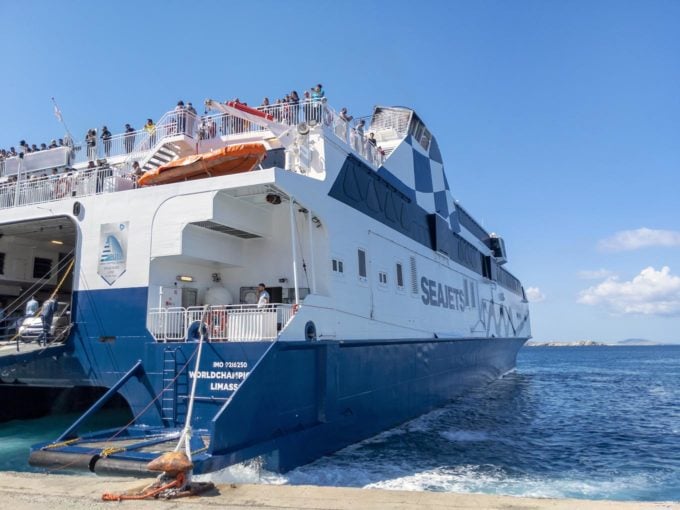 After our stay in Nafplio, we were off to discover the islands of Greece. That meant taking a ferry from the port of Athens to our fist stop Mykonos. It was a beautiful morning to be out to sea.
When we arrived in Mykonos, we were taken to our hotel and then taken on a brief tour of the island.
Mykonos is a magical destination, and my favorite of the two islands we got to see. The water was beautiful and was a serene background for this idyllic Greek town. Having our own tour guide helped us see more of this beautiful country.
Our tour manager Artemis (daughter of Zeus and Leto, and the twin sister of Apollo) was always there to make sure we had everything we needed to make our trip as enjoyable as possible.
When you're on an island, fresh seafood is most definitely the way to go. This perfectly cooked sea bass is one example of the seafood we enjoyed on Mykonos.
It's all about service when you visit Greece. And our stay at the San Marco Luxury Hotel & Villas was a prime example of just how good service can be at a Greek hotel.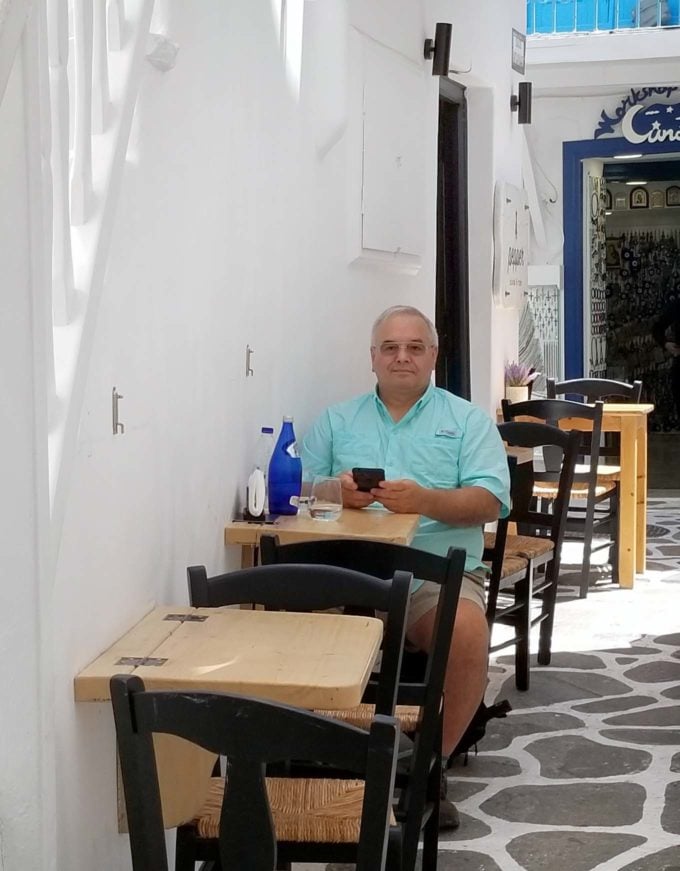 We had a good deal of free time on Mykonos, and we took advantage of the hotel's free shuttle to get back and forth to town. Lunch at a small cafe off the tourist path was a delightful way to spend some time relaxing and catching up on emails.
The iconic Windmills of Mykonos were built by the Venetians in the 16th century and were primarily used to mill wheat up until the middle of the 20th century.
Everywhere you turn in Mykonos is a picture ready to be taken. Postcard-perfect scenery that will make memories to last a lifetime.
After a few days enjoying the peaceful, beautiful island of Mykonos, we took another ferry to Santorini. Our first stop was Oia, a coastal town on the northwestern tip of Santorini.
When you visit Santorini, it's easy to see why the Blue Church Domes of Oia are found in every advertisement for Greece. Among the white-washed houses of the island, these blue domes stand out like jewels along the landscape.
If you're looking for a memorable experience while in Santorini, I would suggest taking a catamaran cruise around the island. This cruise is a great way to see more of the landscape of Santorini and enjoy a fantastic afternoon or evening at sea.
The cruise Include a delicious meal, grilled on board with unlimited beverages of your choice.
The catamarans provide towels, noodles, life vests, snorkeling gear and even has wifi onboard so you can share your pictures on the cruise. This was one of the highlights of our stay on Santorini, and I highly recommend having your hotel arrange the cruise for you.
While on Santorini we stayed at El Greco Hotel and couldn't have been happier. The property was gorgeous, and our suite spacious and close to the pool and restaurant.
And speaking of the El Greco restaurant, their talented chef created delicious dishes expertly presented. A feast for the eyes as well as the stomach!
I do love trying the local beers when we travel. Volkan Beer is made with lava rock filtered mineral water and the best of local ingredients. Only rare Santorini grape honey and ancient Kitron citrus medica essence from Naxos are used in the brewing of Volkan beer.
Volkan makes four varieties of beer; Blonde, Black, Grey and White. During our stay, I stayed with the black, loving the color and flavor of the dark brew.
After a fantastic stay in Santorini we had a short flight back to Athens for one more night before our return home. We had time to explore the area around our hotel and found a quaint little restaurant at the top of the stairs pictured, where we enjoyed a delightful lunch.
Wouldn't you like to discover Greece and its Islands? Let Collette Travel make your dream vacation a reality. If you're like me, you'll how easy guided travel can be and how much more you can see and do when your travel plans have been thoughtfully crafted by professionals.
If you love to travel check out these posts: