I love to travel, and Northern Italy was an excellent choice for my first guided tour with Collette Travel. I hope you enjoy the second in my series of Italy's Treasures.
This is a sponsored post for Collette Travel, all the opinions and images are my own.
What is a Guided Tour?
Guided tours are usually all-inclusive group travel experiences led by a local guide following a specific itinerary. You can find these types of tours with destinations around the world that fit your lifestyle and budget.
Guided group tours are a great way to see a destination without having to do any of the leg work required to make your trip memorable. Guided tours are convenient and include local guides that have a wealth of knowledge about the area you're traveling to. Your hotels, most meals, and travel to and from locations are all taken care of your tour company, which can make your travel experience more enjoyable (especially when they schlep your luggage from place to place).
Are All Travel Companies the Same?
The answer to that would be a big no! And that's why it's important to find a reputable company that has glowing reviews. For years I steered clear of tour groups specifically for that reason.
You might think I'm promoting Collette Travel simply because they sponsored my trip to Italy. But you'd be wrong; I chose to travel with Collette Travel because I trust them.
I get frequent emails from companies asking me to work with them, but the truth of the matter is I turn them down due to their reviews or lack of reviews. You have to be careful where you spend hard earned money; it's easy to fall prey to misleading advertising and false promises. And I won't promote a company or service I haven't tried and didn't believe in.
So Who is Collette Travel?
This year Collette celebrated their 100th anniversary as a travel company. That's quite an accomplishment for any business, especially in the travel industry. It's easy to check for yourself, just Google, Collette Tours, Collette Travel, Collette Vacations or Guided by Collette to see what people or saying.
Or you can click on my link for Collette Travel and let them help you make your travel dreams come true.
If you want to Experience Italy as I did, they have just the tour for you, along with many other Italian adventures to choose from. Can't you see yourself at the beach in Vernazza or one of the other beaches along the Cinque Terre?
As a chef one of the perks of traveling to Italy is all of the amazing food I get sample along the way. And it's not just about pasta.
These pork chops were not only tender, moist and delicious; they were a work of art. Perfectly plated food always tastes better!
One of the great joys I experienced on my trip was staying a Villa Lecchi.
You'll fall in love with this Tuscan Villa surrounded by a beautiful vineyard and olive groves with a cypresses-lined drive. Located upon a hill in the Chianti area, overlooking the outstanding landscape of the Elsa valley it's just a few minutes from Siena and about an hour from Florence.
And if you ask nicely, they might prepare you a lunch including their own cured meats and homemade cheese from their neighbors. Now that's what I call living!
Of course, it isn't just about the food. Who am I kidding its all about the food! And it's not just about the meals; it's the out of the way places you visit on your tour.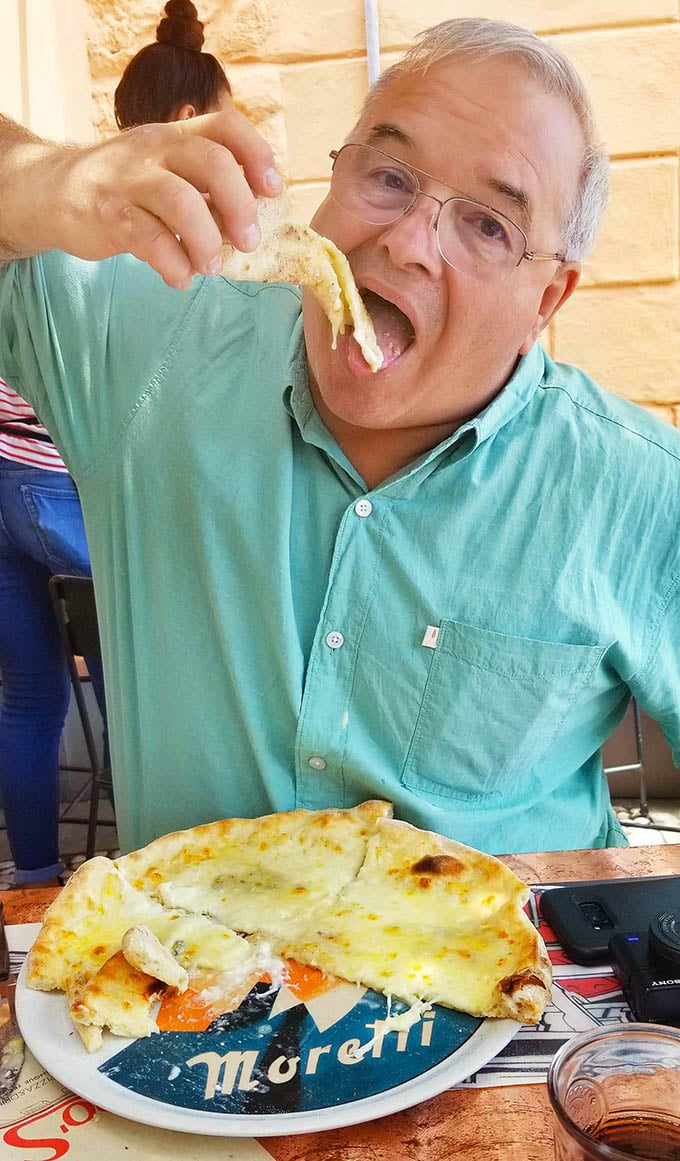 Touring can take a lot out of you and from time to time you need a snack. From pasta to pizza you can snack on all the flavors that Italy is known for. Have you ever had a Quattro Fromage Pizza?
Traveling with a knowledgable local guide and good traveling companions makes all the difference in the world.
Our guide Maria Angela even suggested restaurants she knew I would like on our free evenings. Good food, good wines and good company made for an exceptional trip!
We visited places of legend, Unesco sites that have been in existence for millennia. Haven't you always wanted to ride down the canals of Venice in a gondola? Or seen Michelangelo's David in Florence. Collette can make it happen and so much more.
You'll see churches that are architectural marvels like the Cathedral in Sienna.
Visit local neighborhoods in Venice.
And enjoy the serenity of a small fishing village.
This is just one of the many guided tours you can take with Collette. Where would you like to go this year? Don't wait forever to work on your travel bucket list, time is something you can never get back.
Click on this link to read my first post and learn more about my trip with Collette.
Click on this link to visit the Collette Website.
If you enjoyed my post about traveling through Italy please leave a comment, I love hearing from you!