Come to Dublin they said. You can help us dispell the myth that the Irish don't know how to eat….sigh
At the time they asked it seemed like a daunting task. I'd never been to Ireland but I always wanted to visit, I just never thought it would be for the food. So I off I went to Ireland hoping for the best.
Do you like Irish food?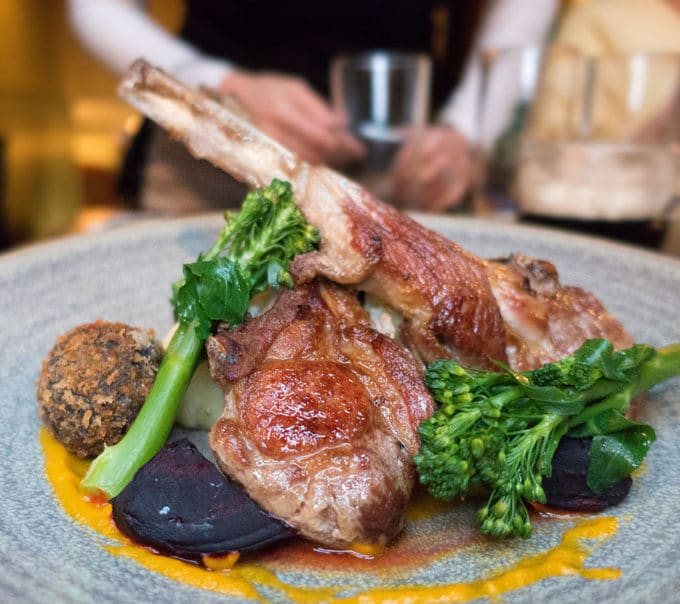 I wasn't so sure I did, but then I sat down for my first meal and I discovered an unexpected truth. Ireland is a Culinary Destination.
Those delectable lamb chops were served at L. Mulligans Grocer.
You might not think that you'd be served dishes like these Scotched Eggs at a neighborhood pub. But this is normal fare at L. Mulligans.
Years ago when you visited a pub in Dublin you might expect to get some cold roast beef, pickled eggs and a few other unappetizing items. But these days the sky's the limit and most pubs serve up deliciousness on a regular. Locally sourced and produced by people that care about what they eat.
What we call Farm to Fork, they call dinner. The culinary movement in Ireland has really taken off and young chefs are showing off their skills creating masterfully delicious in some of the most unexpected places.
This perfectly seared Halibut was served at Ely's Wine Bar. This location completely blew me away not only with the food but with the bar and dining areas.
The downstairs dining area at Ely's Wine bar was completely unexpected. The ambiance was a perfect setting for the delicious dishes they served.
This roasted plum dessert was a delicious end to a sumptuous meal at Ely's Wine Bar!
And a trip to Dublin isn't complete without a visit to Dylan MeGrath's Fade Street Social for their world famous Gastro Pub Fare. These Chunky Chips with truffled goats cheese, ventreche
bacon and lardo crudo were to die for!
The culinary team at Fade Street Social is one of the best in the city and Dylan McGrath showcases his innovative and creative menus at his five restaurants in Dublin.
And Classic Irish Stew at Fade Street Social was delightful. Dylan McGrath took Irish Stew to a whole new level.
Have you heard about Howth?
On the outskirts of Dublin surrounded by the Irish Sea, we find the Penninsula of Howth. And here is where I found the Abbey Tavern. We were just stopping in for a snack but the owner had other ideas….sigh
You gotta love the Irish hospitality. And the selection of beers (please ignore the Budweiser tap) at the Abbey Tavern kept us well hydrated as we sampled the different local brews.
And then there was dessert…sigh. I finally found a bread pudding better than my recipe. Sadly they wouldn't divulge the recipe.
Take a Cooking Class in a Castle
One of the highlights of my visit to Howth was a cooking class given at the Howth Castle Cookery School.
Even Lisa put on an Apron and tried out her culinary skills.
And we cooked up some serious deliciousness at the Howth Castle Cookery School!
What's not to love about taking a cooking class in a castle? Especially when you get to sit down to dinner afterward.
Don't forget your afternoon tea
My wife ordered hot tea and was politely told in Ireland its just tea. And the Irish certainly know how to make a delicious cup of tea.
We stopped by the Merrion Hotel for the Afternoon Tea which included these delicious scones and cakes.
Art Tea' at The Merrion hotel is the most lavish afternoon tea in Dublin. Treat yourself to a slice of 19th- or 20th-century art served on fine china with miniature sweet creations inspired by the work of the Irish masters.
What about Irish Whiskey?
You can't leave Dublin without a pint of Authentic Guinness and a taste of real Irish whiskey.
A visit to the Jameson Distillery in Dublin is indeed and experience you won't forget. Especially when you get to taste the good stuff and see why its so much better than our American counterpart.
We also got to visit one of the newer small-batch distillers in Dublin, Teeling Whiskey.
Sampling the different blends of whiskey available at Teeling gave us an insight into how they are made and the differences in the blends.
And since we're talking about Irish Whiskey there is no better place to learn about the history of this delicious nectar. And the Irish Whiskey Museum is the just the spot.
You get a look into the history of Irish Whiskey and how the process hasn't changed over the years. You also get to sample a variety of whiskeys so you can see for yourself which is best.
And after a day of sampling Irish Whisky, I did my best Quiet Man pose before leaving the Jameson gift shop. I was thinking about all the deliciousness I enjoyed on my Culinary Journey through Dublin.
When you plan your trip to Dublin, don't forget your stretchy pants, you're going to need them because the Irish do know how to eat!
Planning a trip to Ireland? Read about my adventures in Killarney.
If you enjoyed my post about Dublin please leave a comment, I love hearing from you!