Have you ever wanted to experience Italy and all the deliciousness they have to offer?
This post has been sponsored by Collette. All opinions, text and images are 100% my own.
We all dream of traveling the world, but sometimes planning the logistics of a trip sends us back to simply dreaming about travel, instead of experiencing the life-changing moments that only travel can bring us. And that my friends is sad.
Planning a trip should be part of the adventure and not a stressful situation. And that's why I let my favorite travel company Collette plan my trip. It takes all the hard work and stress out of the planning my vacation and lets me enjoy each and every moment of the journey.
Who is Collette Tours?
When I talk about my experience with Collette, a lot of my friends have never heard of them. And when I was first introduced to their tour company I didn't know a lot about them either. But you can rest assured that you can trust your vacation plans and hard earned money to Collette. This year Collette celebrated their 100th anniversary as a travel company. That's quite an accomplishment for any business, especially in the travel industry.
How do I find Collette tours?
The easiest way would be to follow my link to Collette. Or you can Google, Collette Tours, Collette Travel, Collette Vacations or Guided by Collette. When you've been around for as long as they have, you're not hard to find!
Where can I travel with Collette?
If you can find it on the map there's a good chance that you can travel there with Collette. And if you want to experience Italy like I did, they have just the tour for you, along with many other Italian adventures to choose from.
We arrived in Milan and after a short drive to the Regina Palace Hotel in Stresa, we began our Italian adventure.
When the view from your room takes your breath away you know you've made the right vacation decision.
And the room you're staying in makes you feel like you really are staying in a palace, life is good! But what else could you expect from a tour that was #GuidedbyCollette?
What will type of food will you eat on a Collette Tour?
We had a good combination of guided tours and free time on our trip. Most meals were scheduled but we did have some free nights to go out and explore on our own and find those special little restaurants to make even more delicious memories. And when you're in Italy you eat pasta dishes every chance you get!
This homemade ravioi in a spinach sauce were indescribably delicious….sigh
And oh the places you'll see
From Stresa, we moved on to our next stop the Hotel Vis a Vis on the Italian Riviera in Sestri Levante. And as you can see the view was spectacular. Lisa even made it down to the Baia del Silenzio (bay of silence) for a swim.
This was the perfect home base for us to visit the Cinque Terra. Rio Maggiore was simply spectacular!
I could have stayed all week at the beach in Monterosso it was such a beautiful location.
But there was more to see on our tour, including the magnificent city of Florence aka Firenze. This is a must visit city. The majesty of this fabled city is simply amazing. And let's not forget the museums. Some of the world's finest works of art are in the Ufizzi and the Accademia.
And when you're in Tuscany life couldn't be better. Especially when you're staying in a Tuscan villa with views that just take your breath away.
The Villa Lecchi was my favorite accommodation on this trip. We found that Andrea Bocelli had stayed in the same suite we had overlooking the Tuscan landscape.
Our Collette vacation was a dream come true. We were able to visit so many of the places we'd always hoped to see. From our Tuscan villa, we were taken to the hill town of Sienna. It was a special time in Sienna as they were preparing for the Palio. Their annual horse race for bragging rights to the city. It was such a fun experience!
We also got to visit Bologna on our tour and I think this is one of the cities I would choose to live in if I moved to Italy. And I think you can see why. The markets had me thinking of all the deliciousness I could create in the kitchen.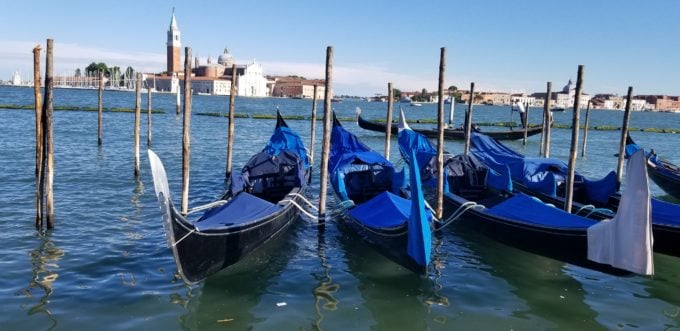 Last but not least on our Collette Tour of Italy's Treasure was the city of Venice. And it was glorious!
Venice is everything you've ever dreamed it would be. The city hasn't changed much over the centuries and it beckons to you to explore this city of canals and bridges. Don't worry about getting lost, no matter where you wander, you'll always find a water taxi to get you back to your hotel.
And a trip to Venice isn't complete without visiting the island of Murano. It's just across the bay, just a short water taxi ride away.
On this trip we visited Murano to watched a master glass blower at work. We had front row seats for this demonstration and then toured their showroom.
Our last evening in Venice was spent at a cozy little restaurant where we were wined and dined while a movie was projected onto a wall behind us. Life just doesn't get any better than this.
It was an amazing trip and we got to experience Italy in a way most tourists won't. Traveling with a local tour guide our trip with Collette allowed us to travel deeper and make memories that will last a lifetime.
If you enjoyed my post about traveling through Italy please leave a comment, I love hearing from you!