My first Viking River Cruise – My Viking Story
When I first started thinking about a Viking River Cruise I really didn't know what to expect, but I knew they were the gold standard of River Cruises and if I was going to experience a river cruise it had to be on board a Viking Longship.
This post has been sponsored by Viking River Cruise. All opinions, text and images are 100% my own.
The first day of our journey began in Budapest at the Intercontinental Hotel along the Danube River. We got lucky with a river view room and had an amazing view of the Buda side of Budapest and the Danube River. We didn't want to leave the room; we had been awake for 31 hours and although we should've been tired we were too excited to sleep.
We took a hop on hop off bus but didn't have the energy to hop off, so we sat there and took in the sites of the city and later dinner at an authentic Hungarian restaurant.
After a good night's sleep and breakfast, we took a short taxi ride to the dock where the Viking Longship Vilhjalm was moored. What we discovered once we boarded was better than anything we could have imagined.
As we entered the ship we were greeted by the Cruise Director Edina, the Hotel Manager Mariana, and other members of the crew. Our Stateroom wasn't quite ready, so we went on a tour of the ship to get an idea of where we would be living for the next 8 days. In this picture of the stairway leading from the second to the third level, you see our maître d' Alex speaking with some guests.
On the third level of our Longship, we found the bar and lounge area. This is where we would meet after dinner for a drink and to listen to our classically trained piano player Lazlo.
Situated at the front of the ship you'll find the Aquavit Terrace, a sun-filled quiet alternative to the main restaurant located one deck below.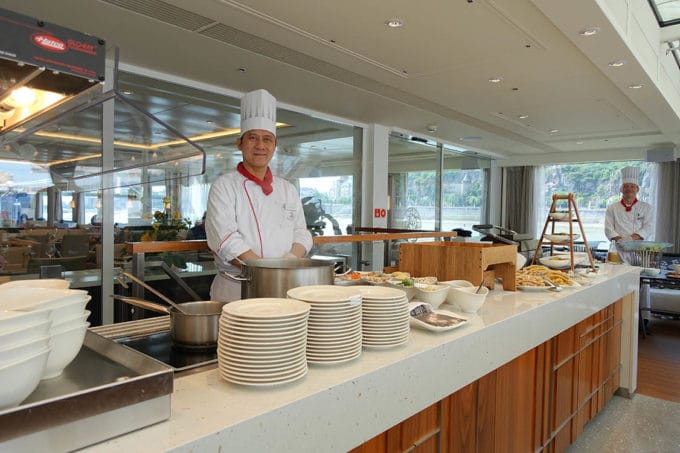 Open early for a light breakfast and lunch and dinner, you'll find it's a great spot to enjoy your meal and unwind from the day's activities.
You'll find a computer station and a library on the ship as well as a 24-hour beverage station with snacks for those late night or early morning strolls.
I like to get my cup of coffee in the mornings and sit on the upper deck and watch the world go by as we sailed down the Danube.
All Along the Danube, You will see Castles and Monasteries
One of the most picturesque regions of the Danube is the Wachau Valley (UNESCO World Heritage Site). This is where we find the little town of Dürnstein. The blue and white tower of the Dürnstein Abbey Church is a regional landmark.
The Wachau Valley is west of Vienna and is known for its rolling hills, vineyards and fortresses. Richard the Lionheart was imprisoned in the castle above the town of Dürnstein, its ruins visible atop the hill overlooking the town.
Further down the river, we passed Schloss Schönbühel, a private castle on the Danube River. Built as a defensive fortress in the early 12th century where once a Roman fortress stood, the castle stands 130 feet above the river level built on top of solid rock.
What Kind of Excursions Can you Expect on Viking Cruises
Our daily excursions included trips through the countryside of Austria where I took part in a bread making class at the Organic Farm we visited.
Later that day we enjoyed a delicious lunch of meats and cheese to accompany all the different rolls our group had made earlier in the day.
You can't go to Hungary without tasting the goulash and seeing their legendary Hungarian Horseman. We attended a display of horsemanship at Lazar Equestrian Park in the Gödöllő hills about 30 Km from Budapest.
Excursions are offered at every port along the river and while in Vienna we were fortunate enough to take a trip to the Vienna Woods for a traditional Heurigen Evening. We had a fun evening sampling the new local wines, eating traditional fare and listening to the music of the Vienna Woods.
To me, one of the best parts of experiencing Europe is the magnificent old churches that dominate the small towns that we visit. It feels as though we're going back in time when we step into these churches. The abbey church of Dürnstein is a prime example. The ornate beauty of the church is evident, but what you begin to feel after a few minutes in one of these old churches is the peace and calm that it bestows upon you.
The Food on Viking River Cruises is Five Star Quality
With so much of Europe to see and experience you wouldn't think there would be much else to think about on a Viking River Cruise. And you would be partly right. You certainly don't have to think about it, but you do get to enjoy the delicious dishes that are prepared daily on the cruise. It was like having your own personal 5-star restaurant on board our Viking River Cruise Ship.
One of my favorites was this Sliced Roasted Lamb served with Pumpkin Mousse Ravioli and a Balsamic Reduction. It was heaven on a plate!
From appetizers to dessert, the Viking Chefs masterfully prepared the dishes. This Salmon Tartare was beyond delicious! Served with baby field greens and a light honey mustard sauce. It was the perfect beginning to an ah-mazing meal.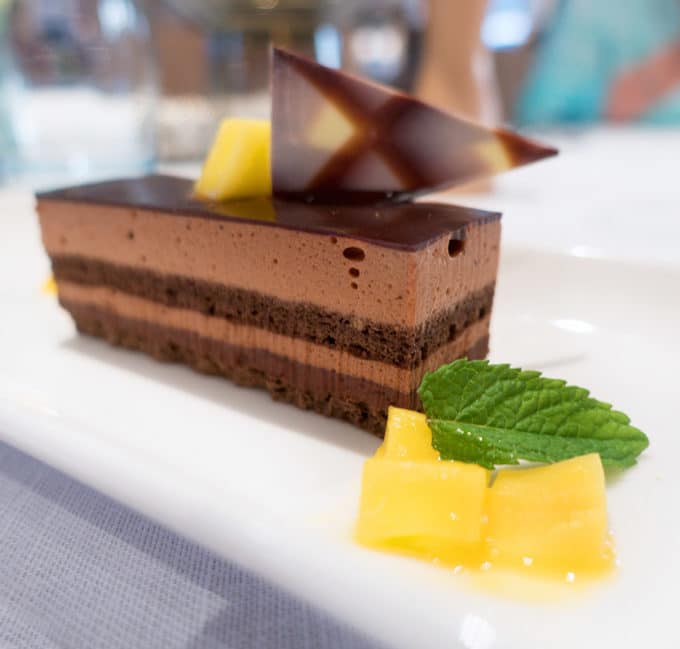 And what meal would complete without dessert? The nightly desserts were as beautiful as they were delicious. This chocolate mousse cake was sinfully delicious!
You'll Enjoy Regional Entertainment On Board Viking Cruises
After dinner each night we would make our way to the upper lounge for the night's entertainment. Our entertainment ranged from a Viennese Opera to lounge music provided by our resident classically trained pianist Lazlo.
The crew of our longship even got into the act on the night of our Austrian Dinner. Here you see our lovely hotel manager Mariana and our maître d' Alex wearing traditional outfits of Austria.
You'll Make New Friends on a Viking Cruise
But what they don't tell you about in the travel brochures are the friends you'll make on your Viking River Cruise. And how those friendships will enhance your experiences.
We were lucky enough to meet 3 wonderful couples on the first night of our voyage and from that moment on, we knew we would be friends for life. We're already planning our reunion later this year to celebrate that friendship.
So the question everyone has been asking me would I ever do another Viking River Cruise? And my answer without hesitation is absolutely! Lisa and I both had expectations of what we would experience on our cruise and what we experienced went far above anything we could have dreamed of.
There's a reason that Viking is the industry leader. They excel in every aspect of your cruise experience. And Viking understands that it's not just about a beautiful new ship, it's about the people they bring together as your crew that makes your trip exceptional.
This is a very special year for Viking as it Celebrates 20 years of Exploration. From its humble roots on Russia's rivers to its innovative European Longships and elegant ocean vessels spanning the globe, Viking celebrates two decades of growth and acclaim.
Click on this link to learn more about Viking River Cruises and their new Viking Ocean Cruises.
My second post about our Viking River Cruise focuses on the food they served during our cruise. Click on this link to see the culinary delights await you on your Viking River Cruise.
If you enjoyed this post you may like my other cruise posts: