When it comes to comfort foods, soups like my Tuscan Bread Soup (also known as Ribollita) are at the top of my list. This hearty soul-warming soup is a delicious way to ward off the cold and fill your belly!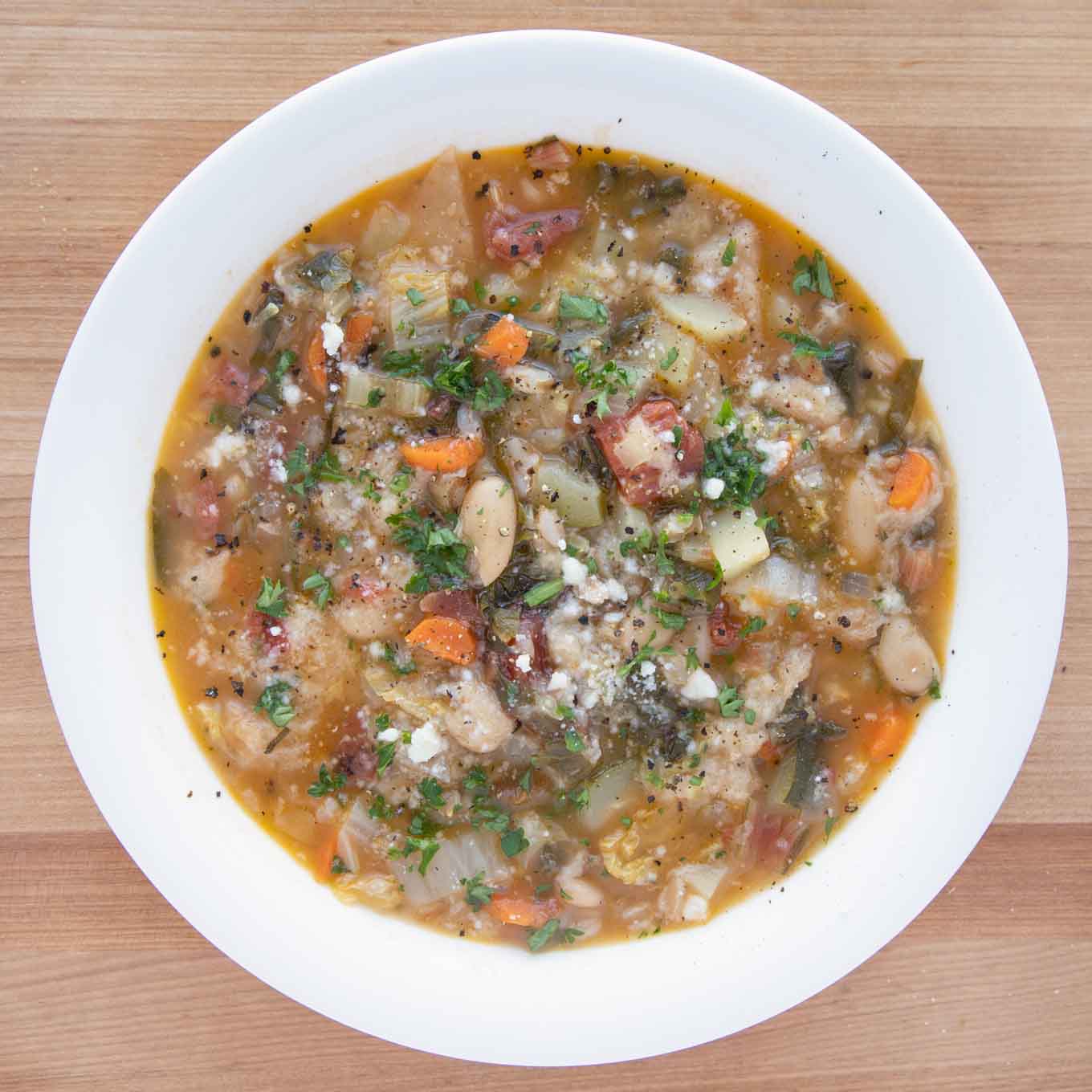 Loaded with fresh produce, this tasty Tuscan soup is a thick and dense soup. So thick you might be tempted to eat my Tuscan Bread Soup with a fork!
It Italian "ribollita" translates to "reboiled." A hearty vegetable soup that was leftover would be thickened the next day with day-old bread and reboiled. This type of dish is typical of "la Cucina Povera," which translates to "poor cooking" this traditional style of Italian cooking is another example of repurposing leftovers so they didn't get wasted.
Ingredients to make Tuscan Bread Soup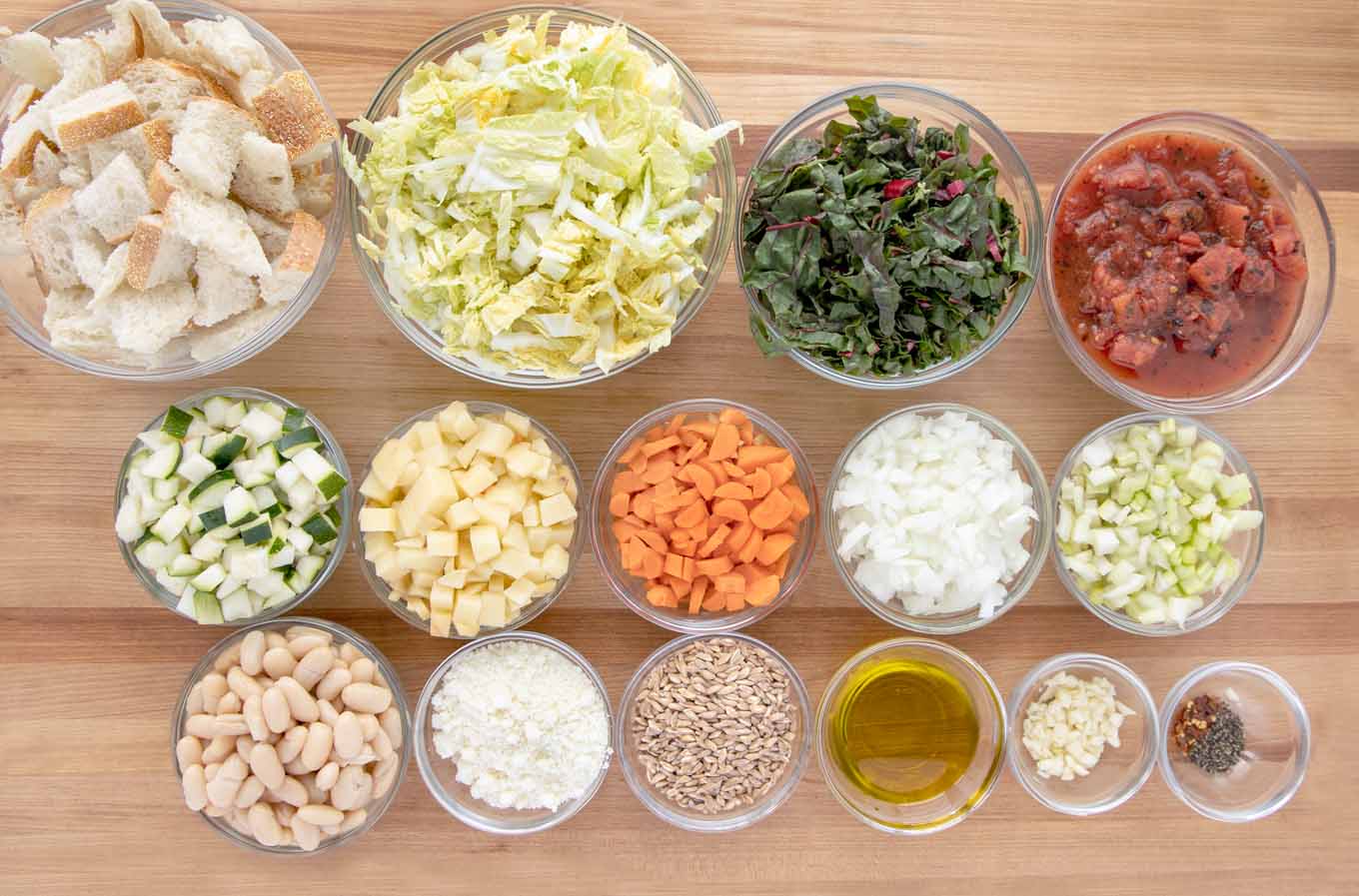 Let's start by gathering the ingredients we need to make Tuscan Bread Soup. In Chef Speak, this is called the "Mise en Place," which translates to "Everything in its Place."
Not only does setting your ingredients up ahead of time speed up the cooking process, but it also helps ensure you have everything you need to make the dish.
Can I substitute ingredients to make Ribollita?
You sure can; this soup recipe is definitely adaptable. After all, soups were originally made by utilizing leftovers. Think of most of the ingredients in a soup as suggestions.
You don't like beans? Leave them out. You don't like savoy cabbage or chard? No problem; use spinach, escarole or any of your favorite greens.
You don't want to add bread to the soup, no problem. How about tortellini or other types of noodles?
No farro on hand; rice or another grain will work just as well.
Enjoying your experience in the kitchen is a lot easier when you cook what you like to eat!
How to make Tuscan Bread Soup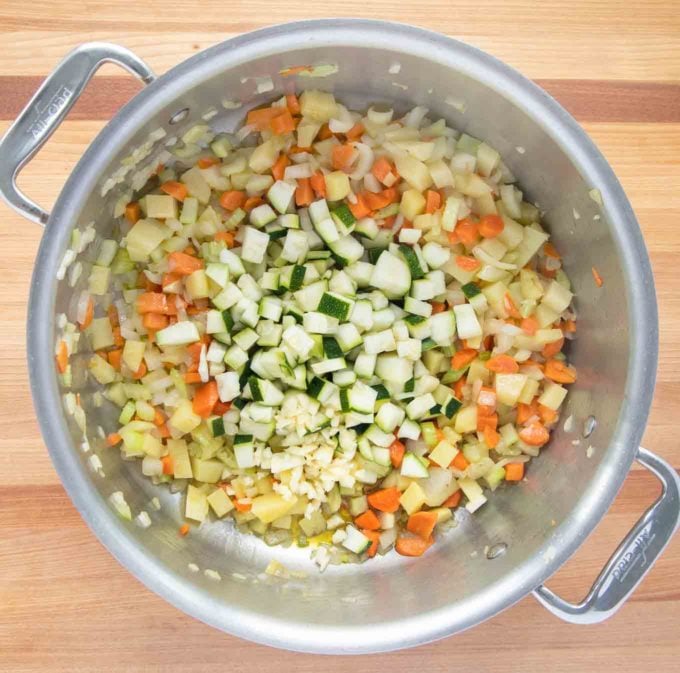 in a large stockpot over medium-high heat add the olive oil, onion, carrot, celery, and potatoes. Let the veggies cook for 4-5 minutes, then add in the zucchini and garlic. Continue to cook the ingredients for an additional 1-2 minutes.
**Always saute the vegetables first; this will help the vegetables develop more flavor. Never just boil your soup vegetables.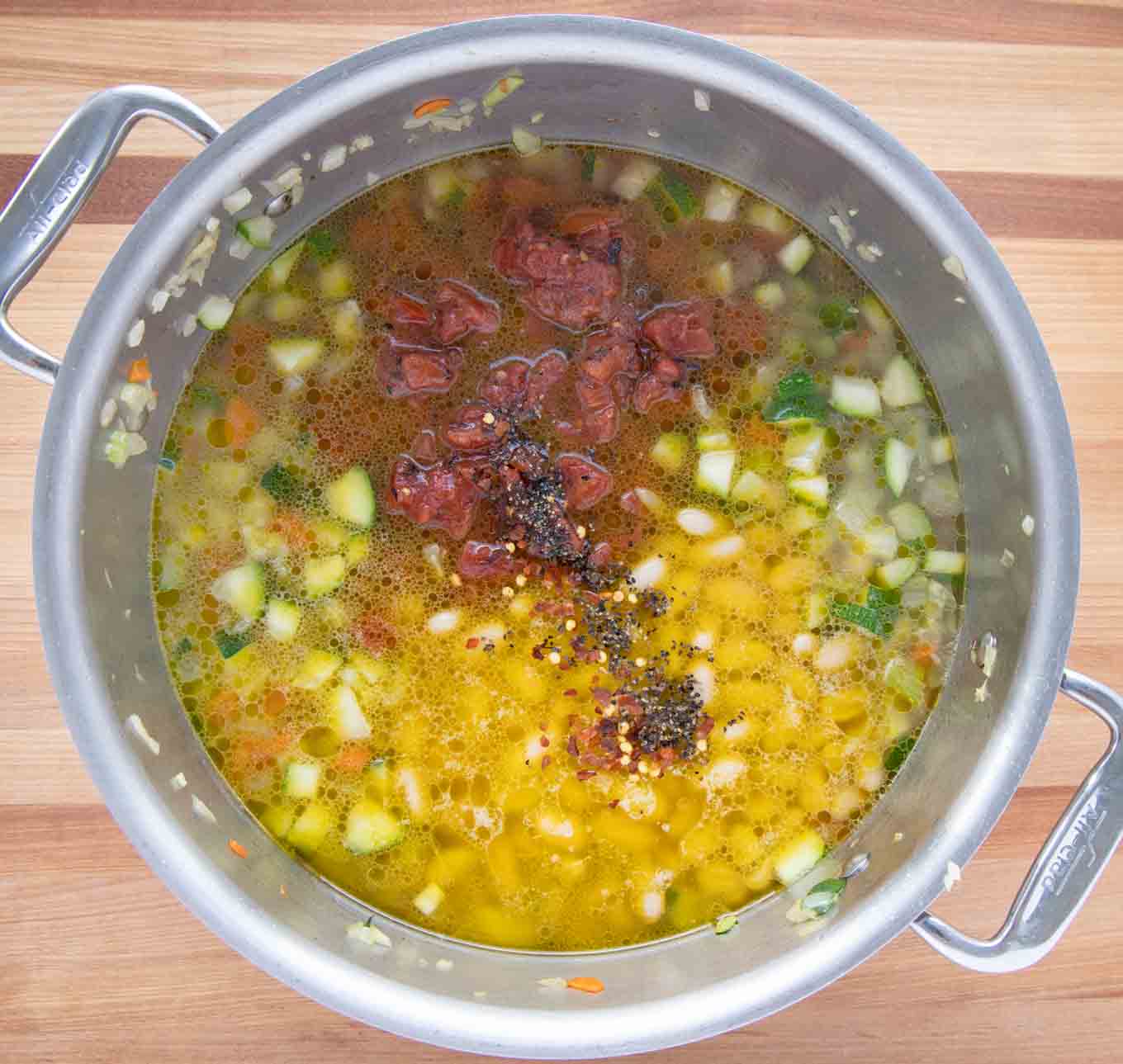 After allowing the vegetables to release their natural flavors, add in the vegetable stock, crushed tomatoes, and cannellini beans. Bring to a boil and move on to the next step.
Add in the chopped savoy cabbage, chard, and farro.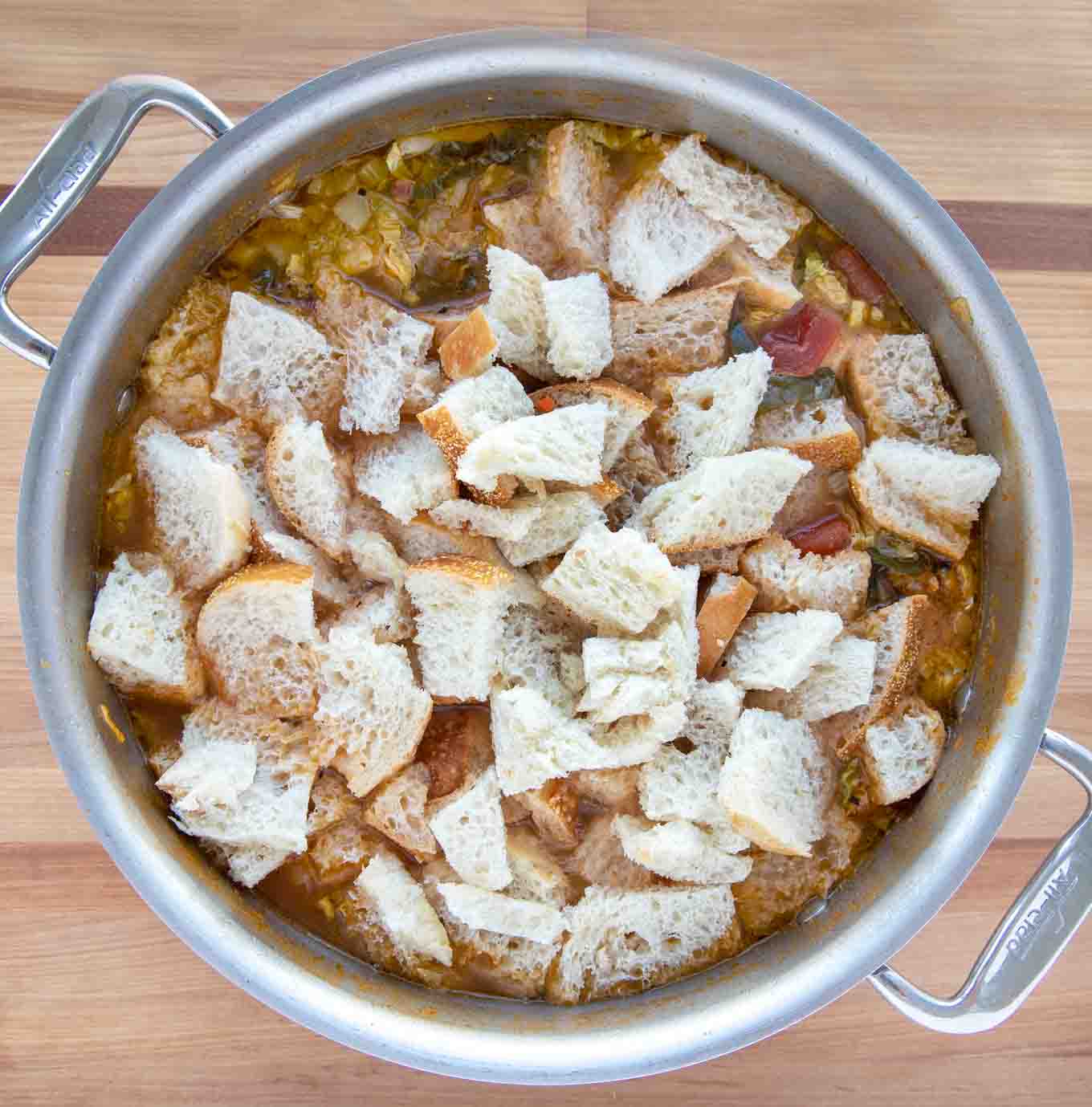 The last step is adding the bread to the Ribollita. Bring the soup to a boil and lower the heat to a simmer.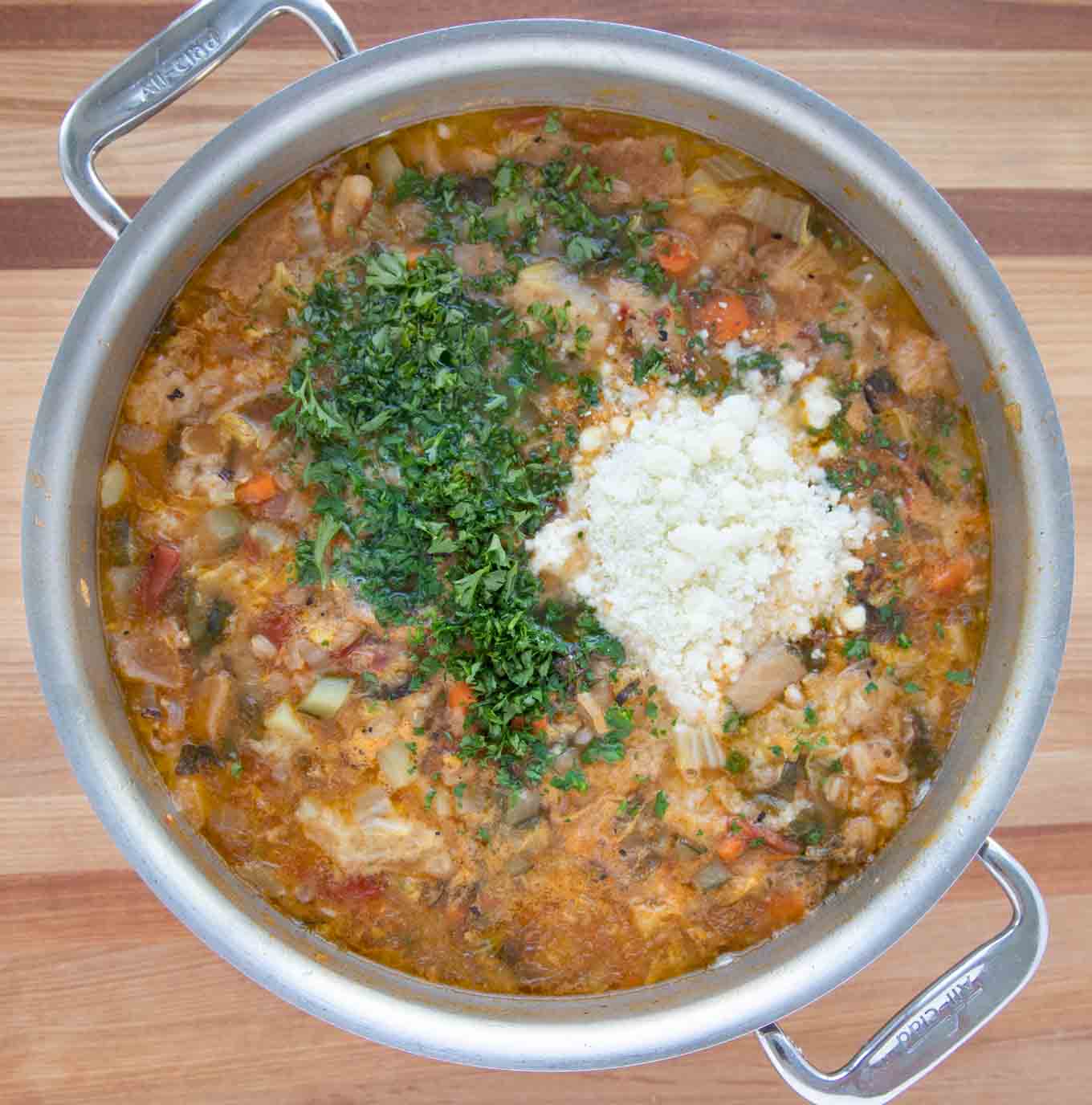 The final step before serving Tuscan Bread Soup is to add the grated Romano cheese, parsley and re-season with salt and pepper as needed.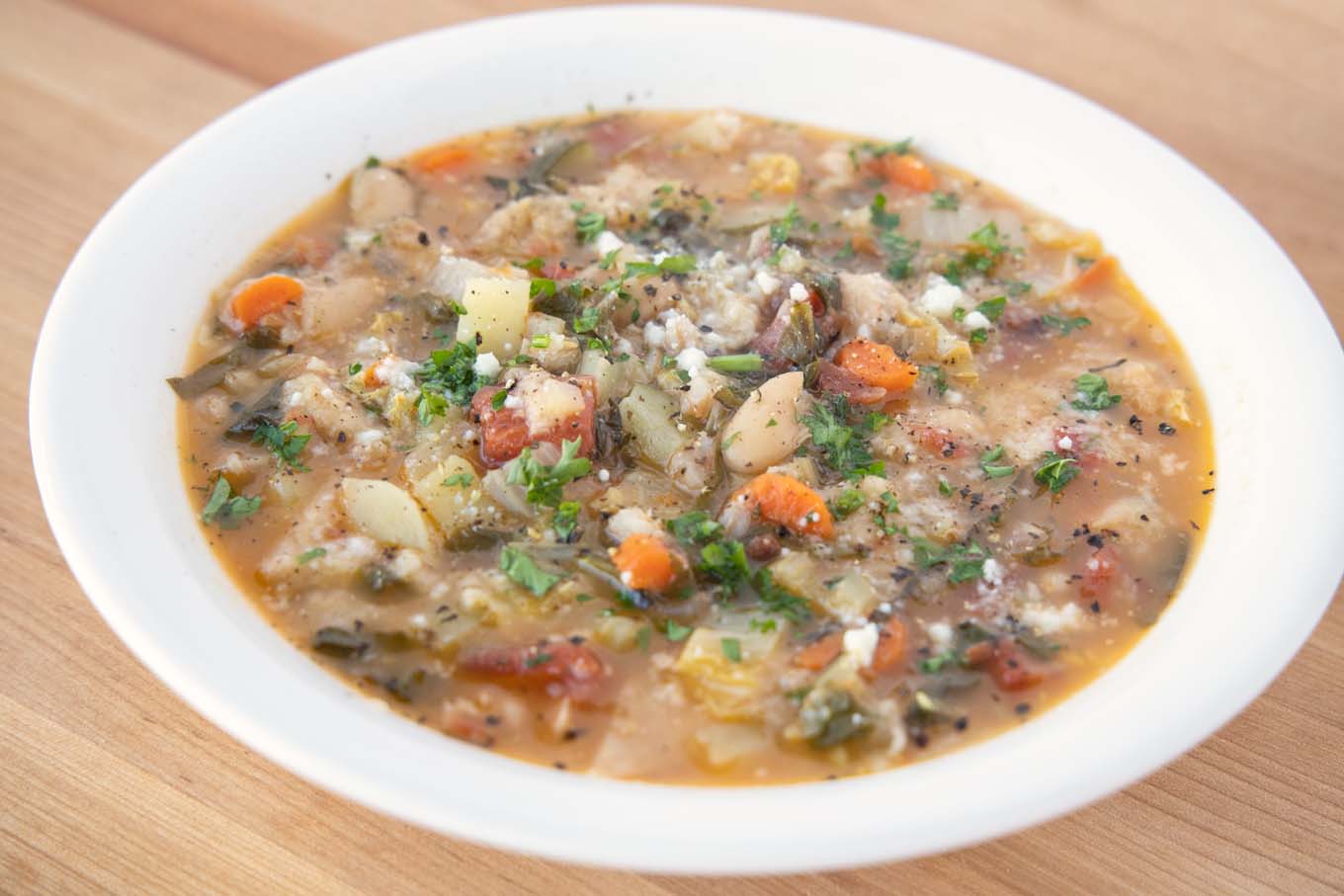 Garnish the Ribollita with chopped parsley and a sprinkle of grated Romano cheese and serve up deliciousness to your family.
More Recipes You'll Love!