Chocolate Mud Cake is a dense, moist cake with a fudgy flavor. It's similar to a flourless chocolate cake and tastes like a combination of brownies and fudge. Mud cakes are cooked low and slow, which contributes to the tight crumb, delicious consistency, and rich chocolate flavor.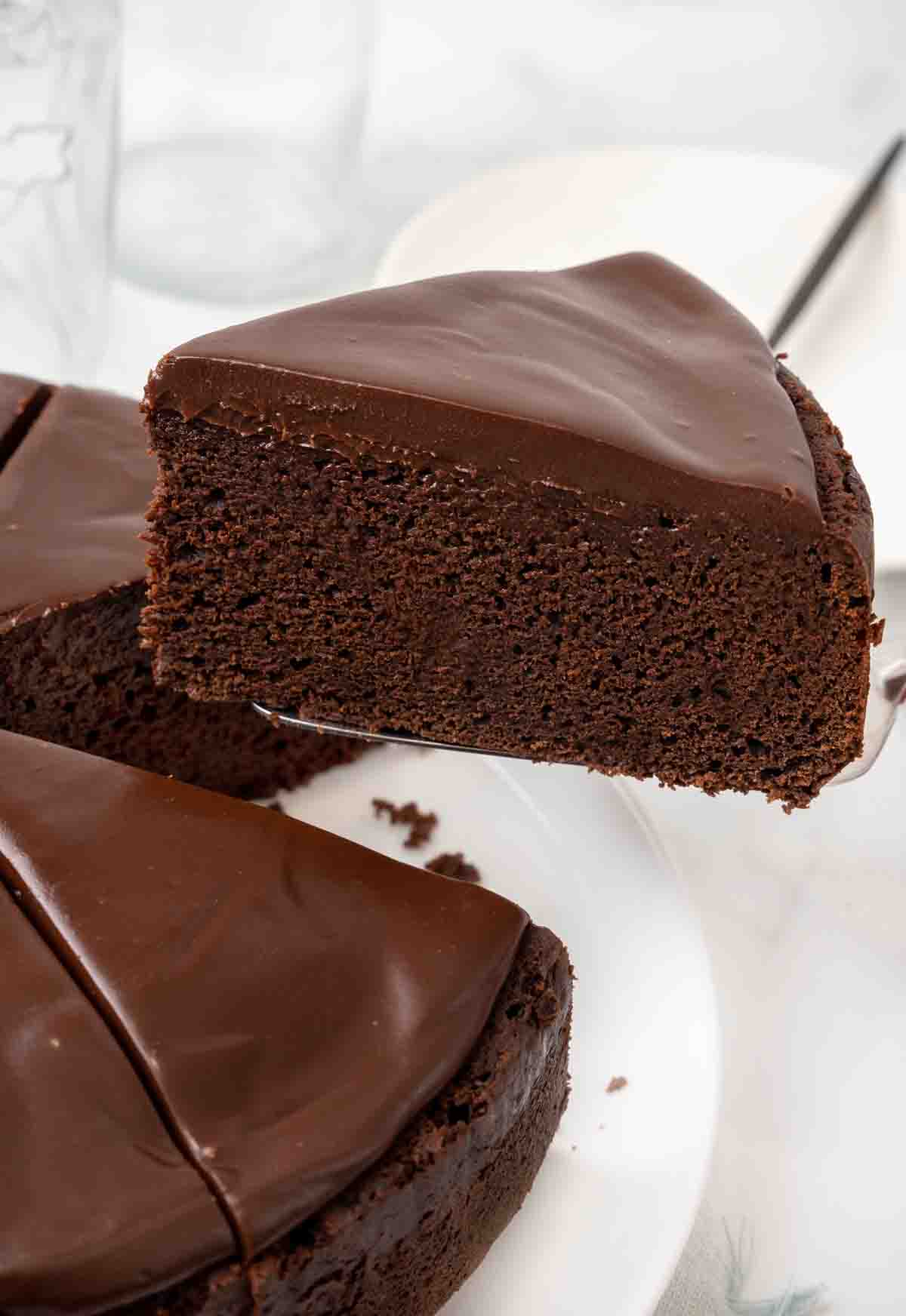 Don't confuse my Australian chocolate mud cake with a Mississippi mud cake; they are both delicious, but this cake is a show-stopper. It's the perfect cake for birthdays or family get-togethers while elegant enough for fancy dinner parties or special occasions.
This is definitely going to be my next birthday cake, even if I have to make it myself!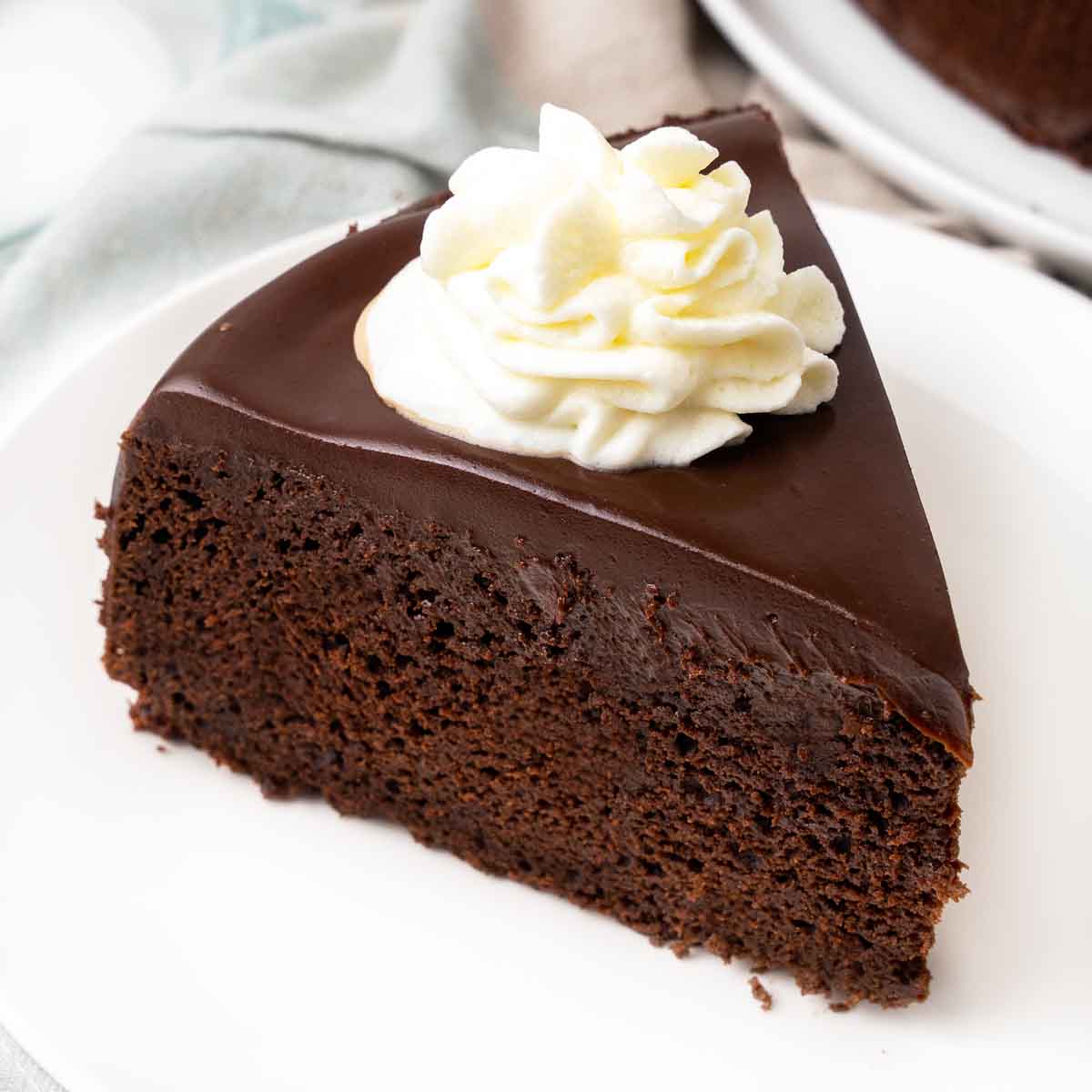 I love dark chocolate, and this rich chocolate mud cake is loaded with chocolate flavor that will satisfy your chocolate cravings.
If you love delicious chocolaty desserts, make sure to try my Italian Chocolate Torte; it's one of my favorite chocolate cake recipes.
Ingredients to make Australian Chocolate Mud Cake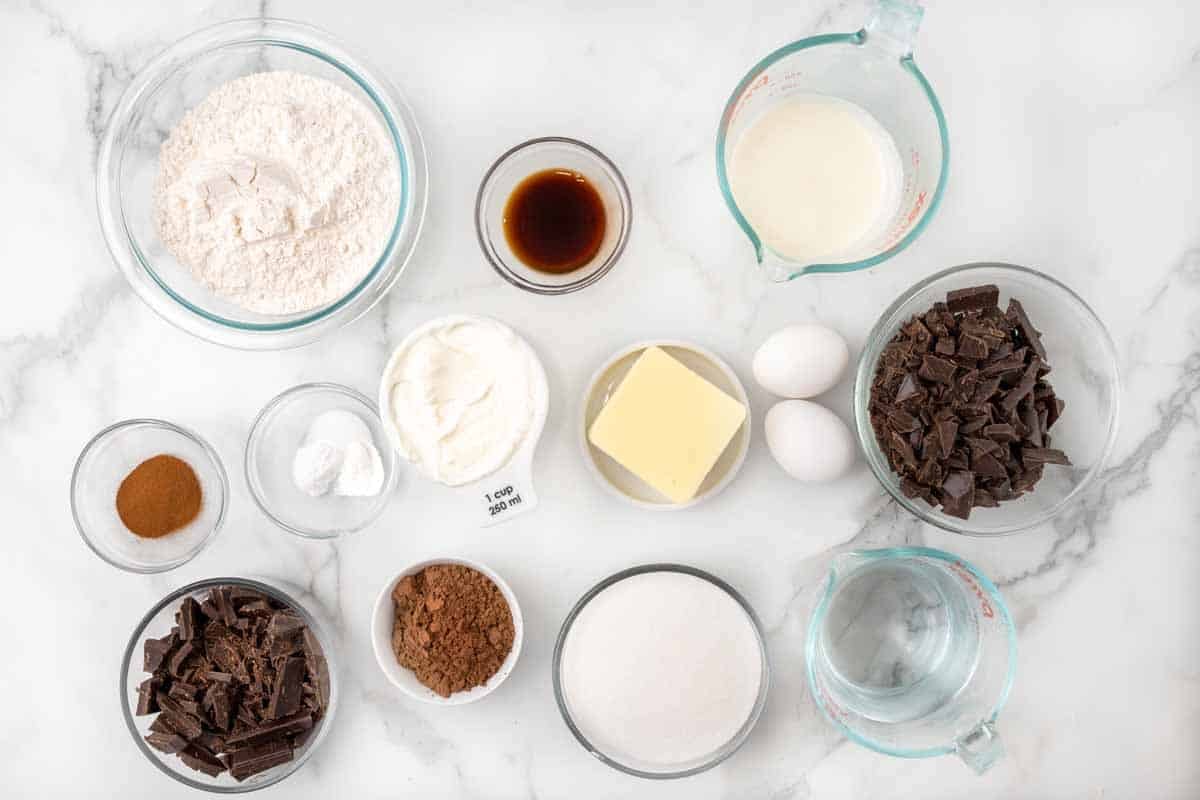 Let's start by gathering the ingredients we need to make my Chocolate Mud Cake recipe. In Chef Speak, this is called the "Mise en Place," which translates to "Everything in its Place."
Not only does setting up your ingredients ahead of time speed up the cooking process, it also helps ensure you have everything you need to make the dish.
Made with simple pantry ingredients
Dark Chocolate
All-purpose flour
Unsalted butter
Granulated sugar
Unsweetened cocoa powder
Baking powder
Baking soda
Table salt
Vanilla extract
Sour cream
Heavy cream
Dark chocolate has the deepest flavor, but you could use part milk chocolate if you prefer a lighter flavor profile. I made the ganache using dark chocolate, but you can use white chocolate to make a ganache for a contrast of color and flavor for my classic mud cake.
Some recipes will use self-raising flour, which can be used, but you'll need to eliminate the baking powder and salt from the dry ingredients.
You'll also see caster sugar used instead of granulated sugar. Caster sugar is finer and dissolves more easily. It's a good substitute, but you'll need to reduce the amount of sugar by 5-10% unless you prefer a sweeter taste. I like to use caster sugar when making my Tiramisu recipe; it dissolves very nicely in the sabayon.
I use instant coffee or instant espresso when called for in baking recipes. Coffee enhances the natural chocolate flavor and takes my chocolate mud cake to a new level of deliciousness. And trust me, the cake will not taste like coffee.
You can substitute hot coffee for water and instant coffee, and decaf can be used if you want to cut back on caffeine. You can also leave out the coffee, simply using hot water in the recipe.
Chef's Choice
Chef's Choice
Chef's Choice
Chef's Choice
How to make Chocolate Mud Cake
Preheat the oven to 300 degrees F.
Line the bottom of a 9-inch springform pan with parchment paper. Then, line the sides with strips of parchment paper.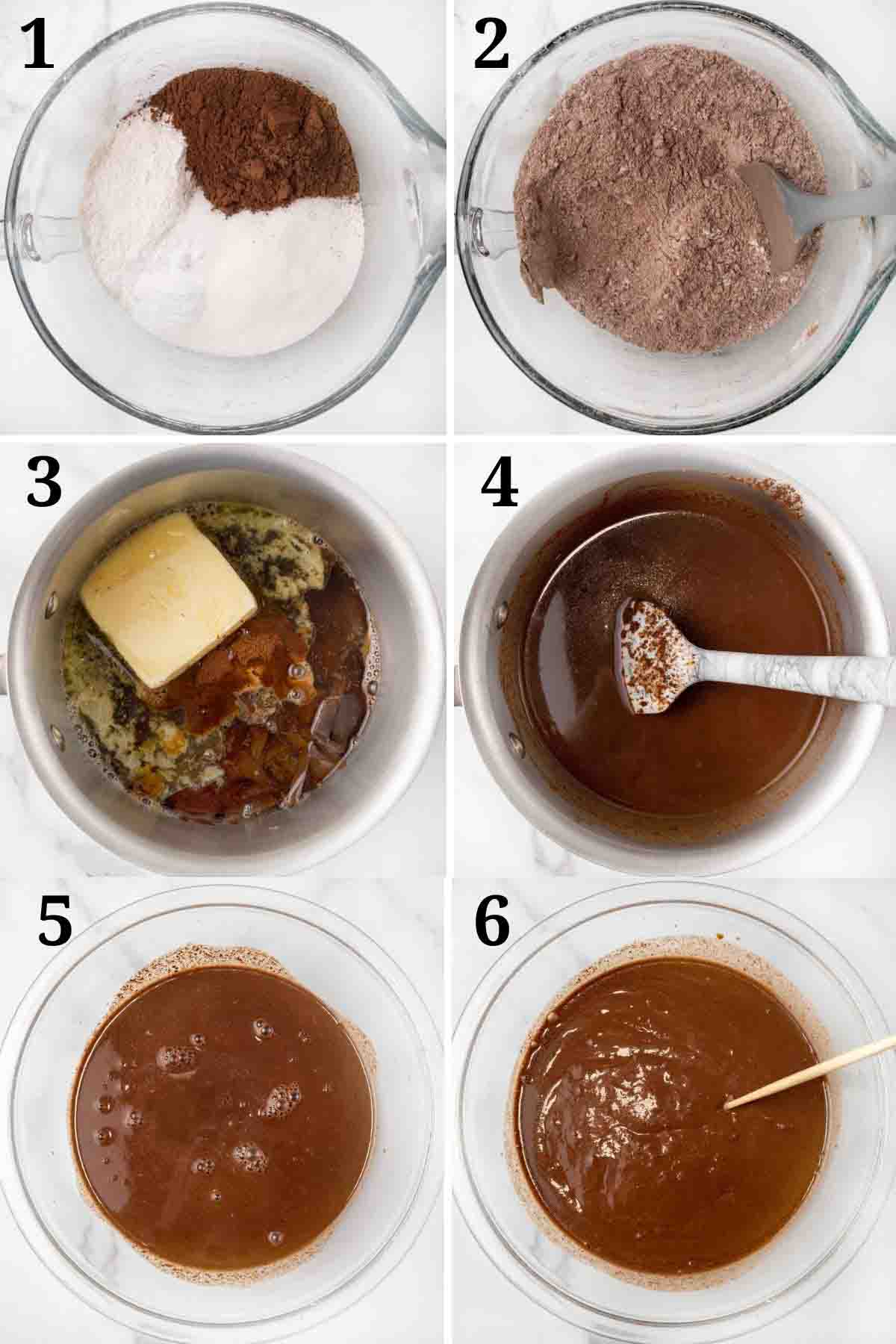 Add the flour, cocoa powder, sugar, baking soda, baking powder, and salt to a large mixing bowl.
Whisk to combine the dry ingredients.
Add the butter, chocolate, hot water, and instant coffee powder to a large saucepan over low heat.
Heat until they have melted, mixing the ingredients together until smooth.
*Scrape the bottom and sides of the pan with a rubber spatula as needed.
Remove the pan from the heat and pour the melted chocolate into a large bowl to cool slightly (about 5 minutes).
Add the eggs to the warm (not hot) chocolate mixture, whisking to combine.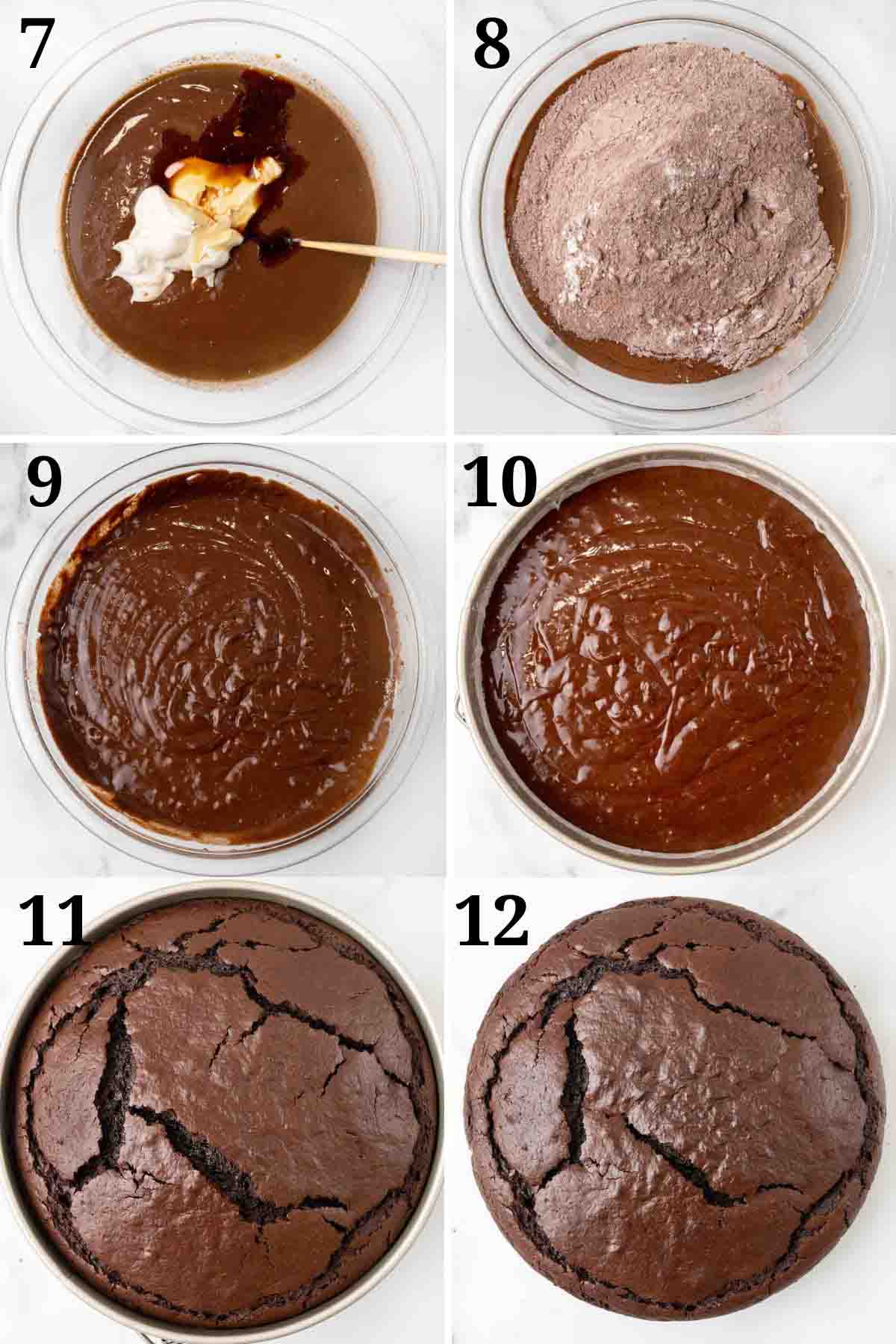 Add the sour cream and vanilla extract to the mixture, stirring to combine.
Add the dry ingredients to the large bowl with the wet ingredients. Use an electric hand mixer (you can use a stand mixer or mix by hand) and mix just enough to combine. You want a smooth batter, but don't be tempted to overmix; that will only make the cake tough.
*Scrape the bottom and sides of the bowl as needed.
Pour the cake batter into the prepared springform pan.
Place the springform pan on the center rack of a preheated oven and bake for 75-90 minutes, or until a toothpick inserted in the center of the cake comes out clean.
*The cake shouldn't jiggle if you nudge the pan.
Remove the cake pan from the oven and place the pan on a wire rack to cool for 30 minutes.
After 30 minutes, remove the chocolate mud cake from the springform pan to finish cooling to room temperature.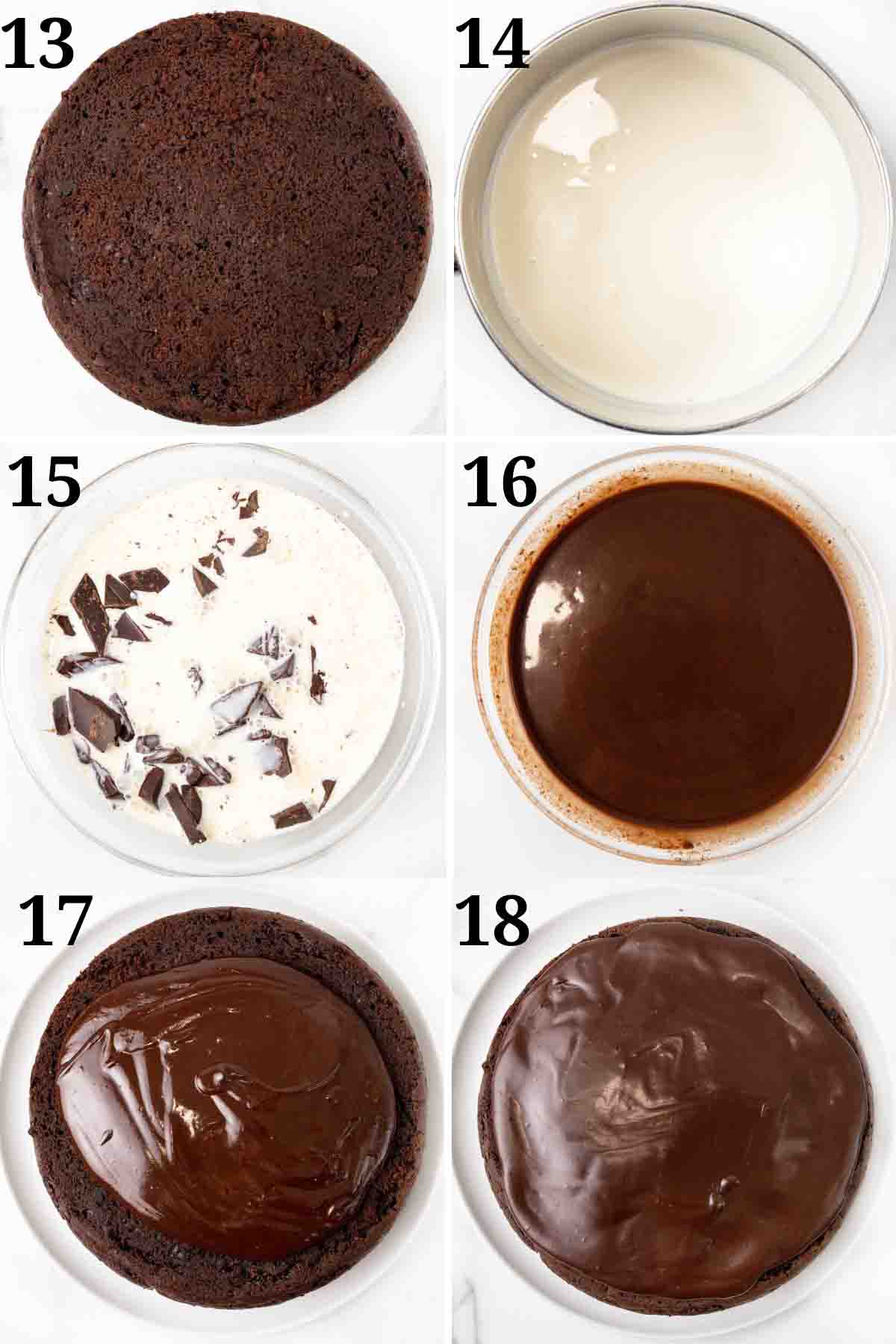 When the cake is fully cooled, use a serrated knife to remove the dome from the cake so you have a relatively flat surface.
Add the heavy cream to a small saucepan and heat over medium-high heat until very hot. Do not let the cream boil.
Pour the hot cream over the cut-up chocolate pieces (in a heatproof bowl) and let it sit for 3-5 minutes.
Whisk the ingredients together until smooth and creamy.
Let the ganache cool for 30 minutes until it has firmed up.
Pour the chocolate ganache on top of the chocolate mud cake.
Spread the ganache evenly over the top of the cooled cake using a frosting spatula.
If you prefer a more traditional frosting for the chocolate mud cake, you can use my chocolate buttercream or chocolate cream cheese frosting.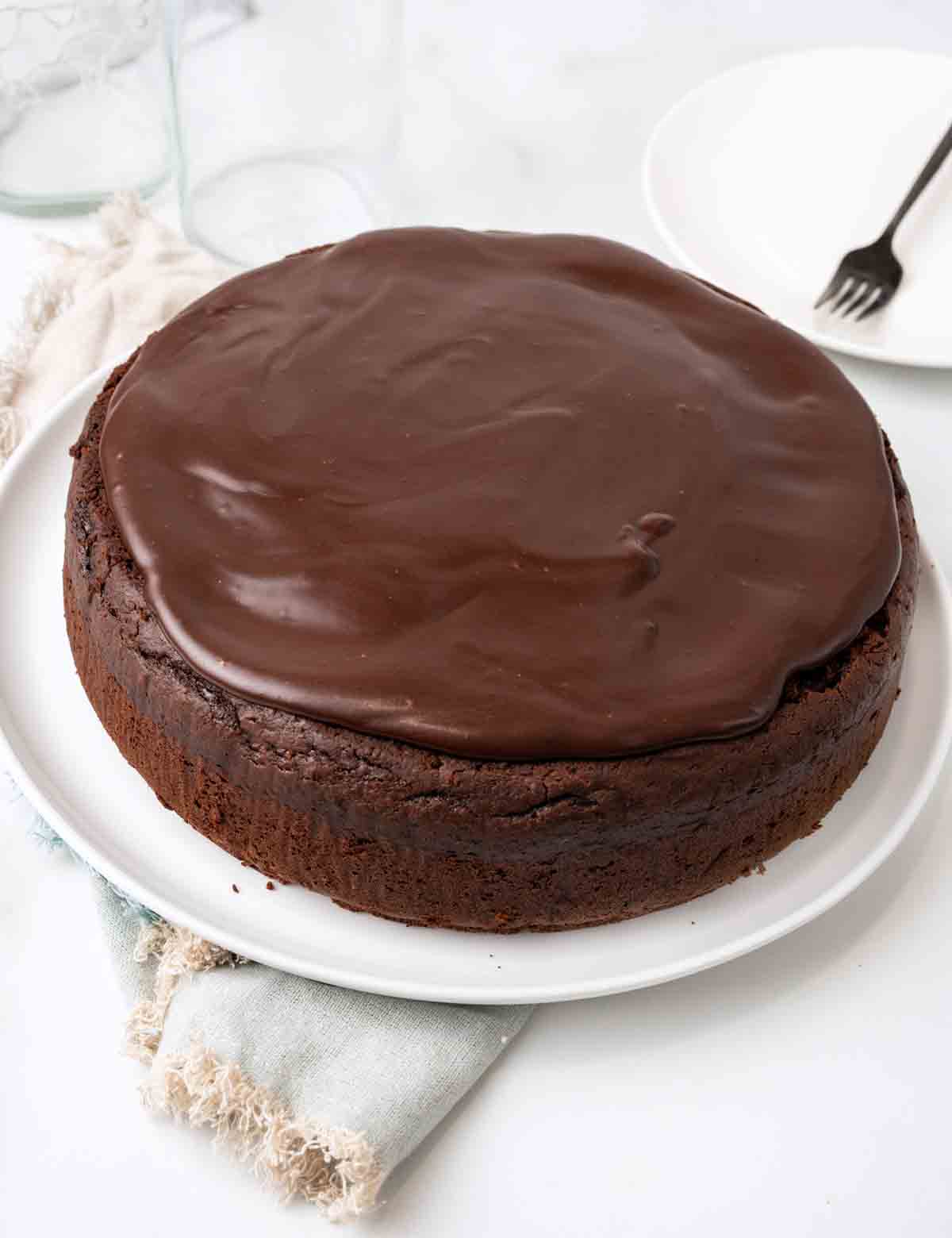 The whole cake is quite an impressive sight. And the good thing is it tastes even better than it looks. It's the perfect chocolate mud cake!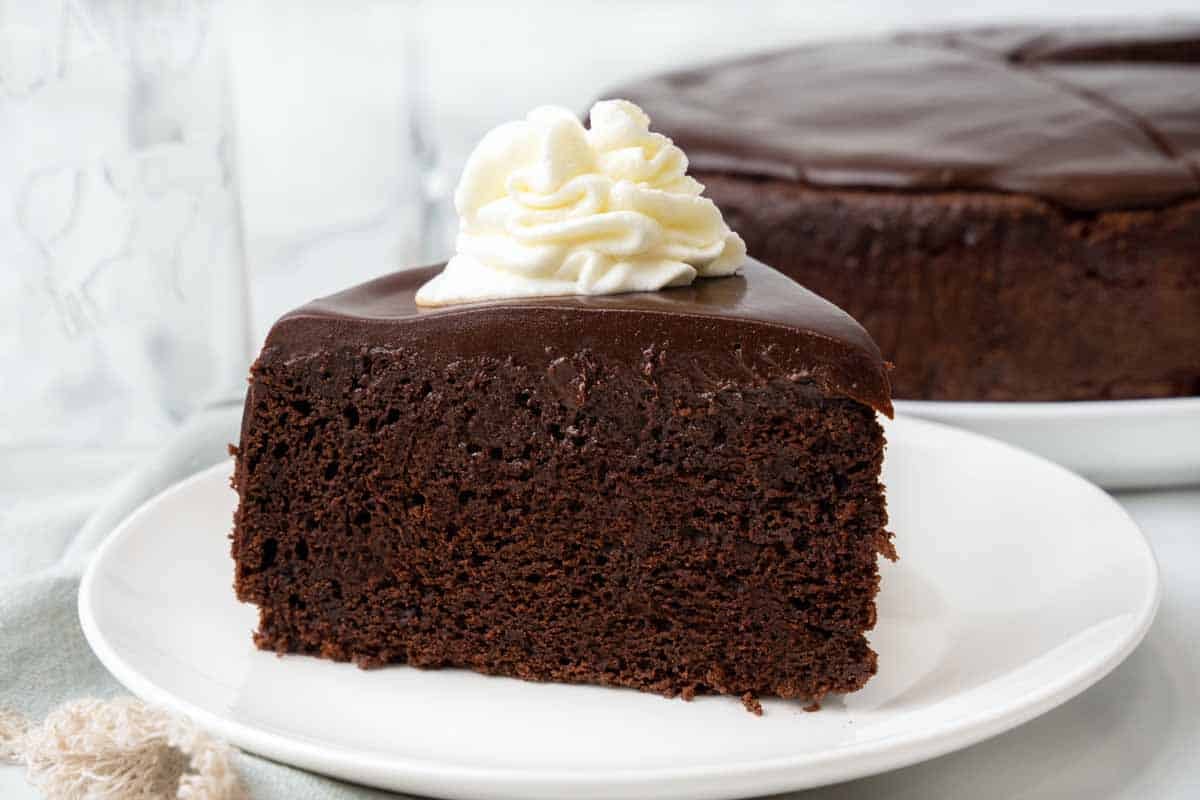 Serve the chocolate mud cake with homemade whipped cream or vanilla ice cream for an extra special treat.
Store any leftover mud cake in an airtight container (or covered with plastic wrap), either refrigerated for 5-6 days or at room temperature for 3-4 days. It can also be frozen, wrapped tightly in plastic wrap, and then aluminum foil for up to 3 months.
Recipe FAQ's
What is an Australian mud cake?
An Australian mud cake is a type of chocolate cake that's known for its dense and moist texture. It's one of the most popular cakes in Australia, and thanks to the internet and food bloggers has slowly found its way to the rest of the world.
Why is it called a mud cake?
It's called a mud cake because of its moist, dense texture that somewhat resembles the consistency of wet mud.
Why is my mud cake dry?
The fry texture can be from over-baking or measuring the ingredients incorrectly. Overmixing the batter can also lead to a dry and tough crumb.
More Recipes You'll Love!