Made with simple ingredients, my rich and creamy Chocolate Cream Cheese Frosting will elevate your cakes to the next level of deliciousness. My easy, foolproof recipe makes a super chocolaty frosting for your favorite cakes and cupcakes, turning them into extra special treats.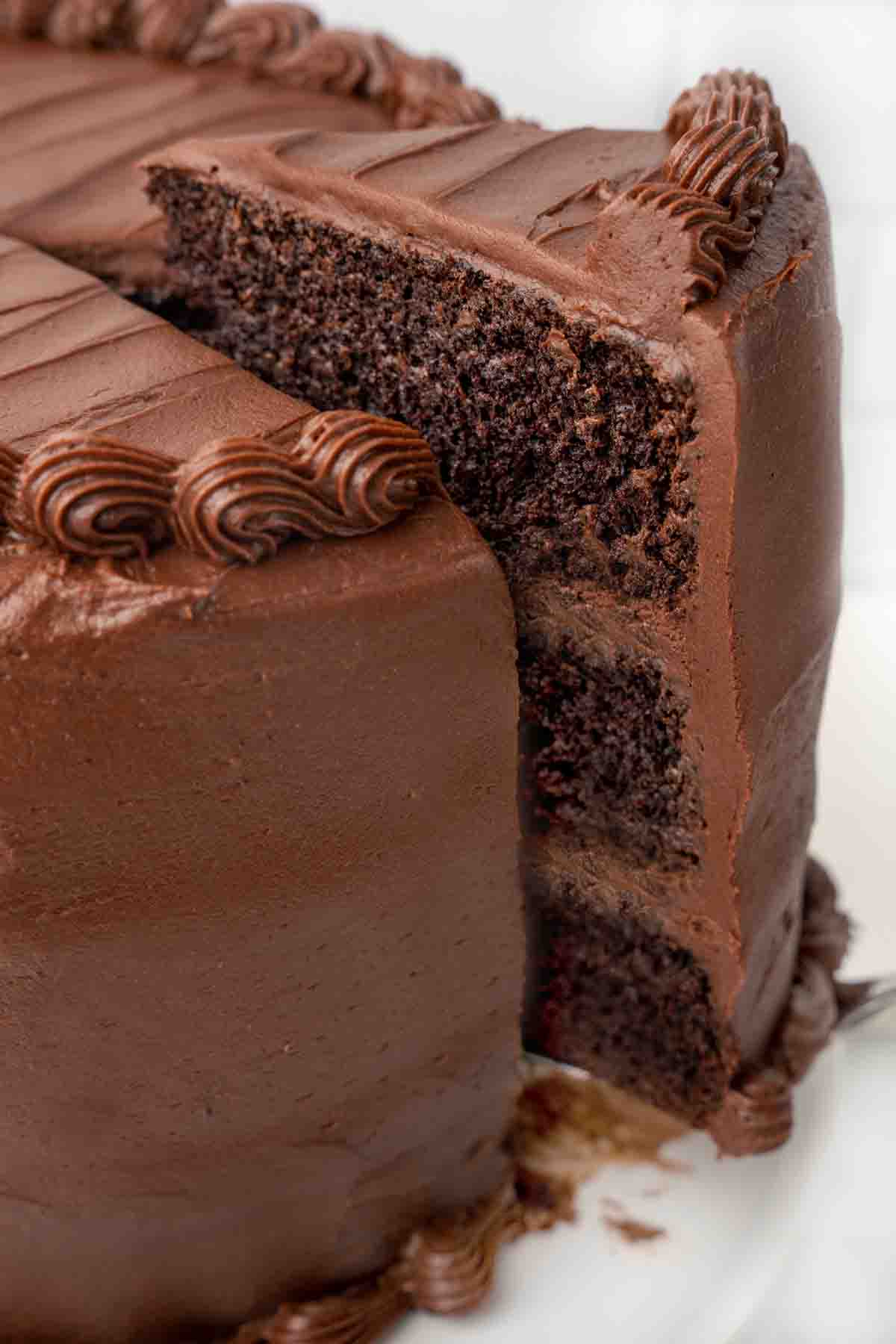 My chocolate cream cheese frosting recipe makes a delicious and decadent frosting. It's creamy, smooth and has a tangy twist from the cream cheese that adds another dimension to the frosting.
You might also hear my homemade frosting referred to as chocolate cream cheese buttercream frosting. But whatever you call it, I guarantee you'll be calling it delicious!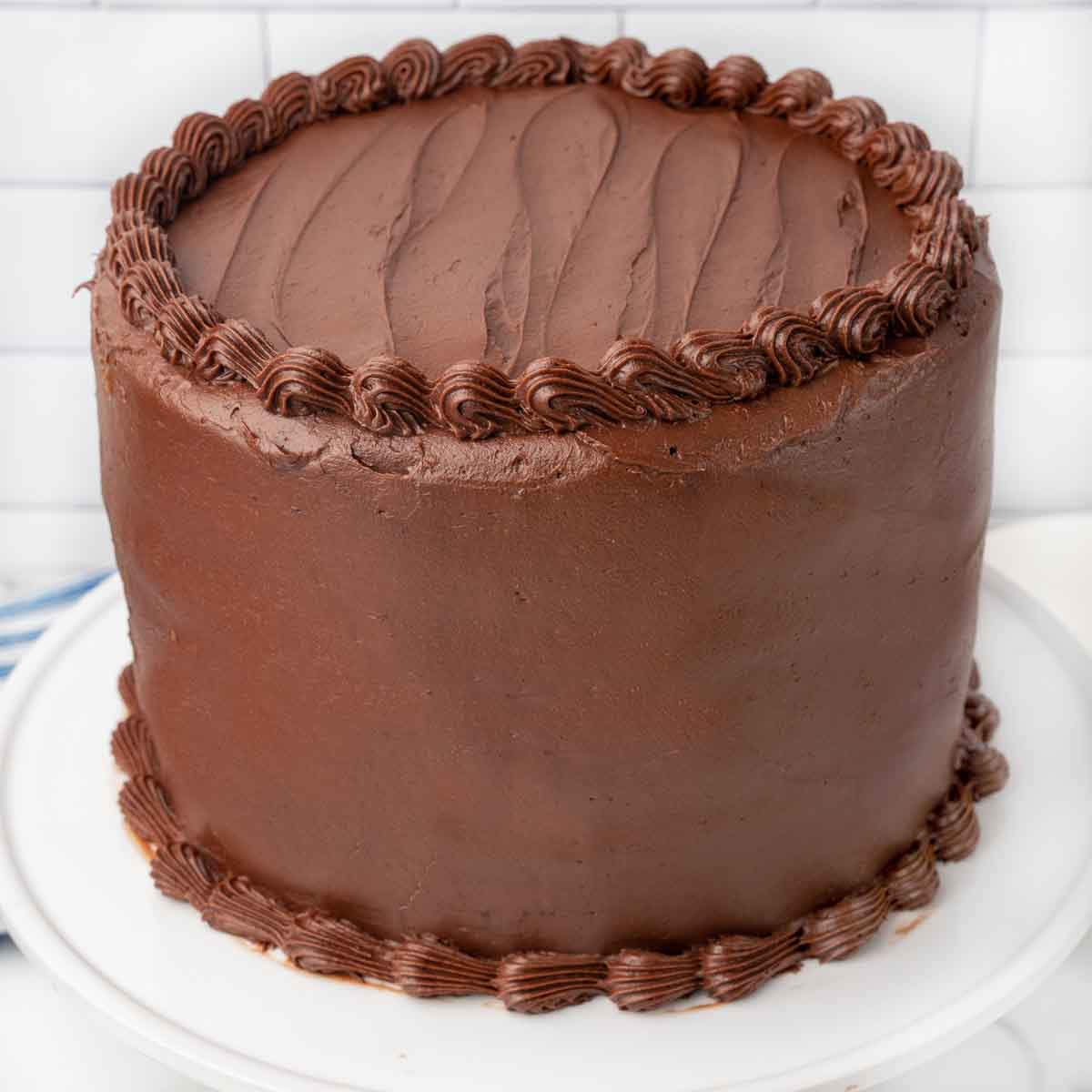 I used my chocolate cream cheese frosting on the Best Chocolate Cake Recipe I shared on my blog. It gives this cake even more of a delicious chocolate flavor! It's also the perfect frosting for your favorite yellow cake.
It's easy to look like a professional baker when you add this creamy chocolate cream cheese frosting to a piping bag and make a simple decorative border around the outside and top of the cake.
Ingredients for Chocolate Cream Cheese Frosting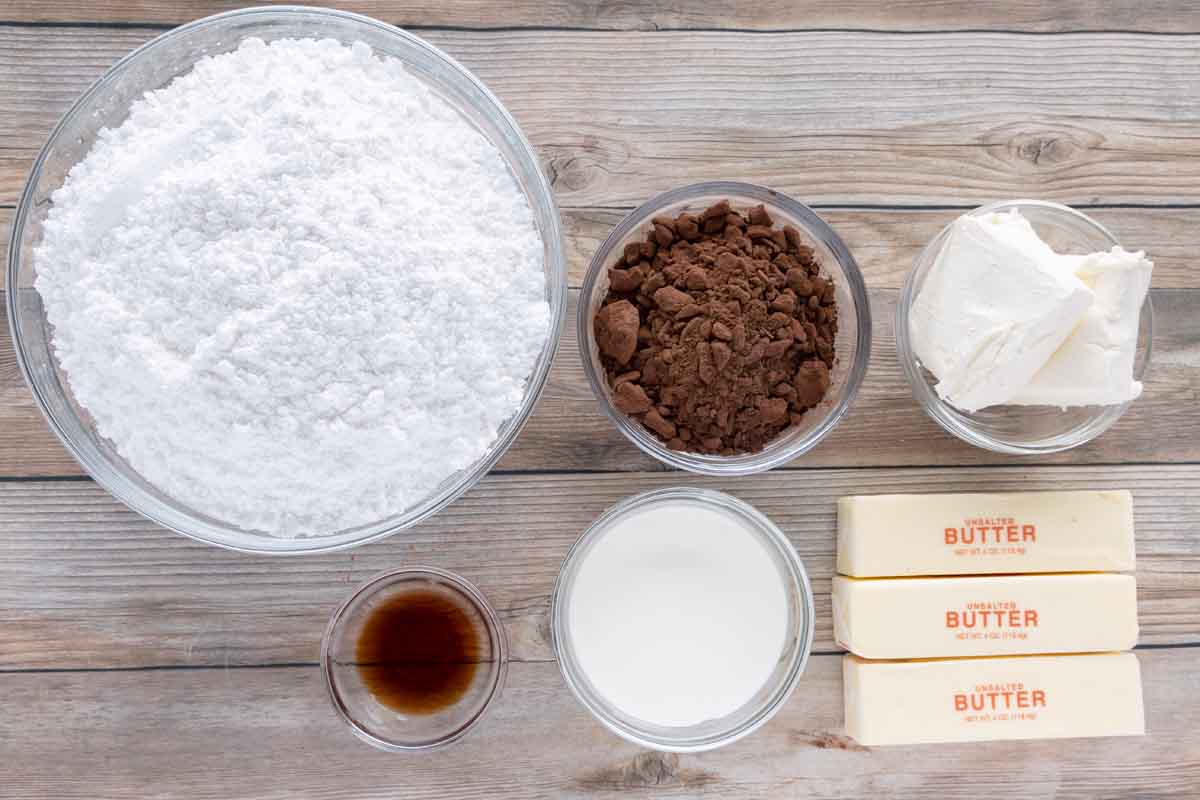 Let's start by gathering the ingredients we need to make this delicious frosting. In Chef Speak, this is called the "Mise en Place," which translates to "Everything in its Place."
Not only does setting up your ingredients ahead of time speed up the cooking process, it also helps ensure you have everything you need to make the dish.
Just six simple ingredients
full-fat cream cheese
unsalted butter
powdered sugar (confectioners sugar)
unsweetened cocoa powder
vanilla extract
whole milk
How to make chocolate cream cheese frosting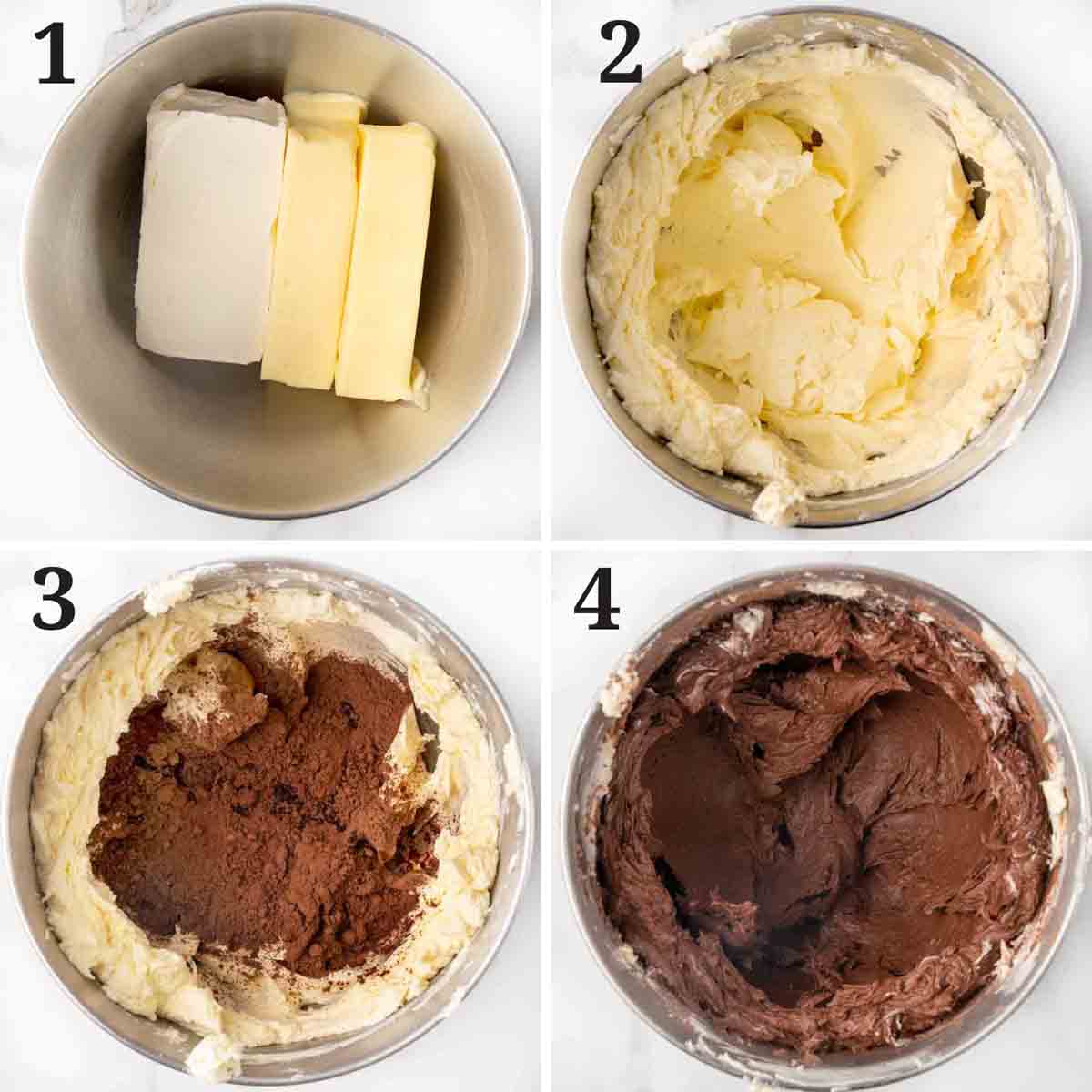 Add the softened butter and room-temperature cream cheese to the bowl of a stand mixer fitted with the paddle attachment (or a large bowl using an electric mixer with beater bars).
Beat for 3-4 minutes until light and fluffy on medium speed. Stopping as needed to scrape down the bottom and sides of the bowl with a rubber spatula.
Add the cocoa powder and vanilla extract to the cream cheese mixture.
Beat until just combined (about 45 seconds)
*Make sure the butter isn't too soft. It should be soft enough that your finger will make an imprint with no resistance but not so warm that the butter looks shiny or greasy.
*I like to use dark cocoa to make my frosting, it has a deeper chocolate flavor. But whatever cocoa you use, just make sure it's unsweetened.
Add the powdered sugar to the mixture, one cup at a time on the lowest setting of your mixer.
Whip the frosting continuously during the process. Your mixer should be on a lower setting as your adding the confectioner's sugar.
Add one tablespoon of milk at a time to the frosting to get the desired spreadable consistency. If you like a thicker frosting, add less milk.
Whip until smooth and creamy.
*Remember that the frosting will achieve a thicker consistency as it gets colder. If the frosting thickens up too much as it gets cold, re-whip it to soften it up.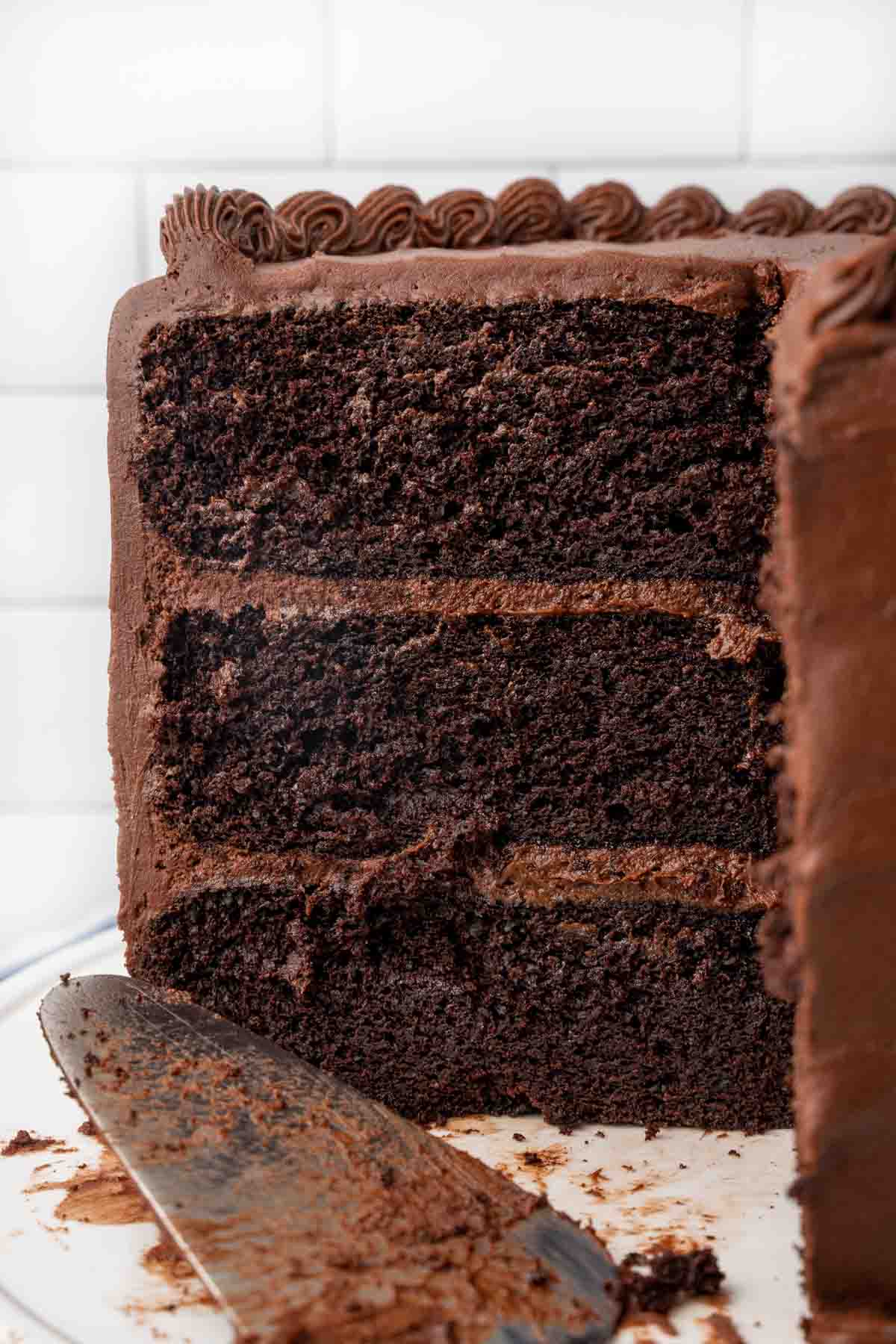 I've had a lot of cakes in my life, and this is definitely the best chocolate cream cheese frosting I've ever had. This might even be my favorite frosting, it's just that good! I know after one taste, you'll agree.
This frosting is versatile and can be used on just about any type of cake you like to make. It's the perfect topping for a sheet cake, cupcakes, or a bundt cake. It's so much better than store-bought frosting (if you can even call those cans of sugary fat frosting) and will elevate your homemade or box cakes to a whole new level of deliciousness.
Recipe FAQ's
Does chocolate cream cheese frosting have to be refrigerated?
Yes, any type of cream cheese frosting needs to be refrigerated. Otherwise, it may spoil. Cream cheese frosting can be left at room temperature for up to two hours, so you don't have to serve your guest cold cake.
Can I make chocolate cream cheese frosting ahead of time?
Yes, you can. Chocolate cream cheese frosting can be made ahead of time and stored in an airtight container in the refrigerator for up to 3 days. Before using it, allow it to come to room temperature and re-whip it briefly to make it smooth and creamy.
Can I freeze chocolate cream cheese frosting?
Yes, you can freeze chocolate cream cheese frosting for up to 3 months. Place it in an airtight container and freeze it. Before using it, allow it to thaw in the refrigerator overnight, then let it come to room temperature and re-whip it briefly to ensure it is smooth and creamy.
More Recipes You'll Love!