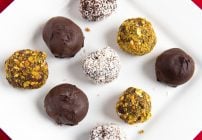 With Valentines Day quickly approaching my thoughts turn to chocolate! Well that's not really a surprise, my thoughts turn to chocolate quite often, and not just because I like chocolate.
I haven't gotten to be this old to know that there's a special relationship between women and chocolate. I've also learned that "Chocolate has charms that soothe a savage breast"  ( and no I didn't make that phrase up, that's actually how it was written by William Congreve in 1697….except I switched Music for Chocolate)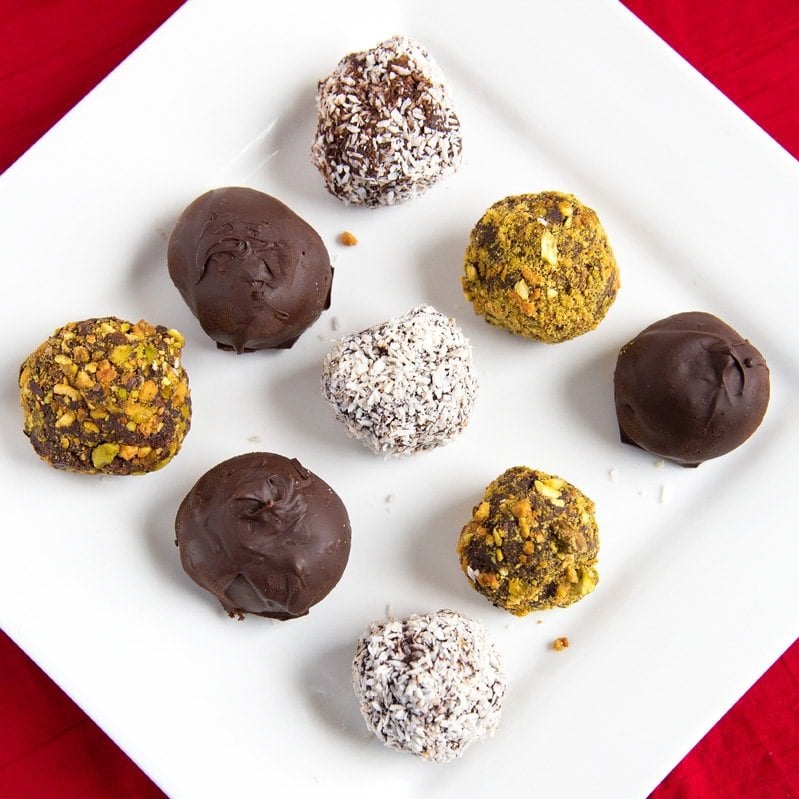 Anyway lets get back to Valentine's Day and Chocolate, and more importantly Chocolate Ganache Truffles!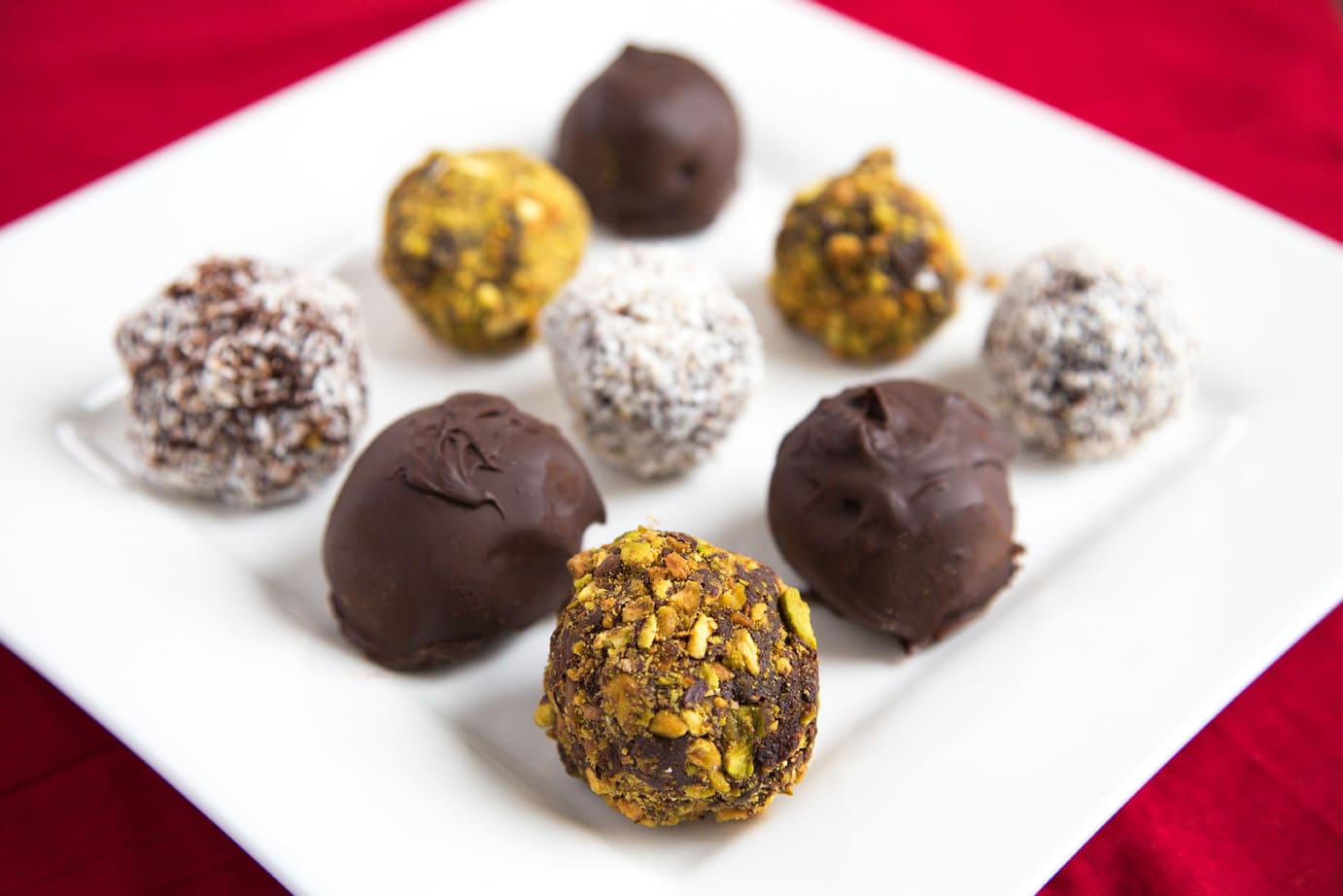 Truffles can be made flavored with your favorite liqueur and even stuffed with another flavored chocolate, fruit or nut. You can roll them in cocoa, or as I have ground salted pistachios for a salty sweet experience. But a classic truffle will simply be dipped in chocolate so the outside is crisp shell and the inside a melt in your mouth satiny smooth bite of chocolate heaven.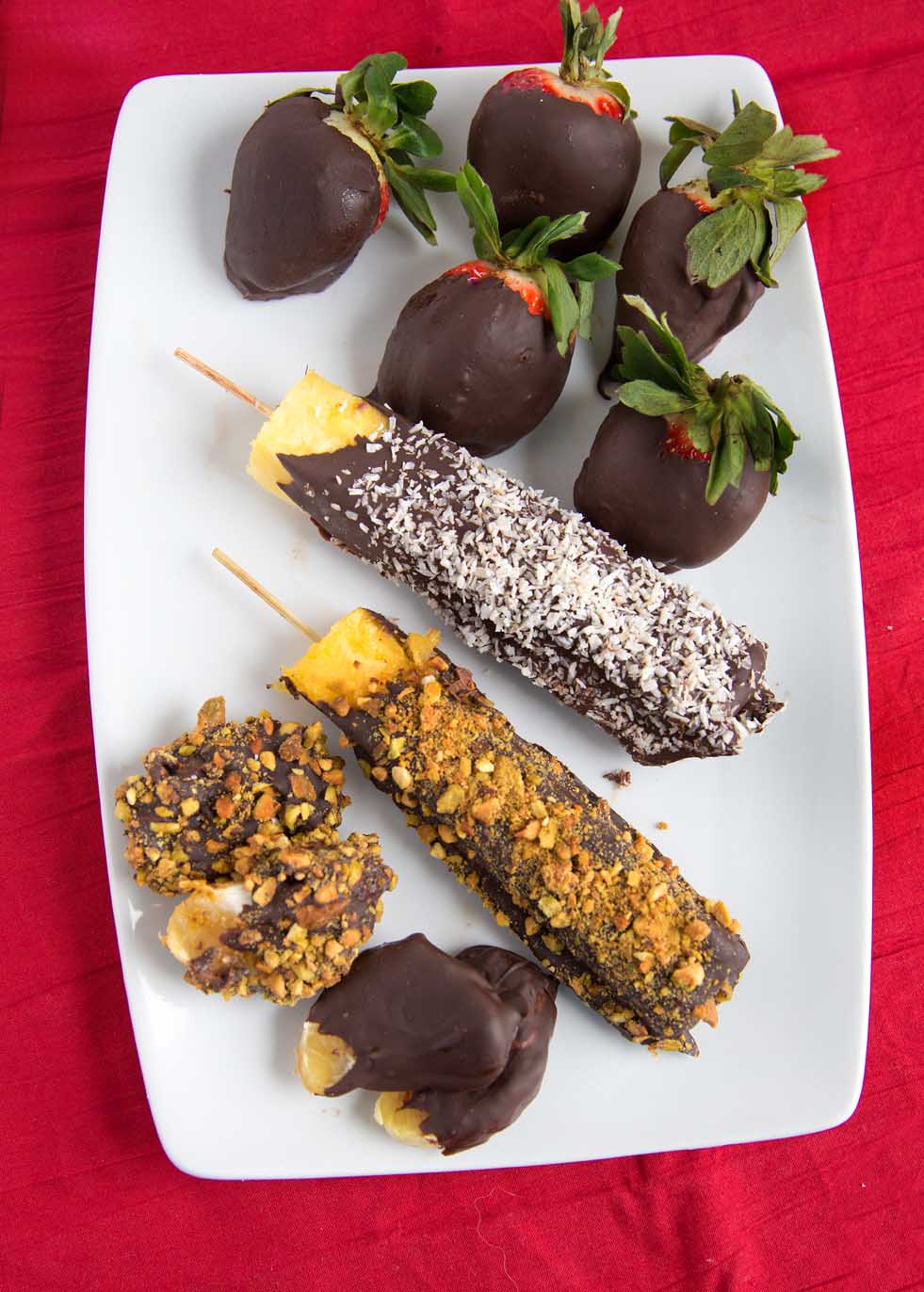 Since I was melting chocolate I thought I'd have some fun with the fruit I had in the house.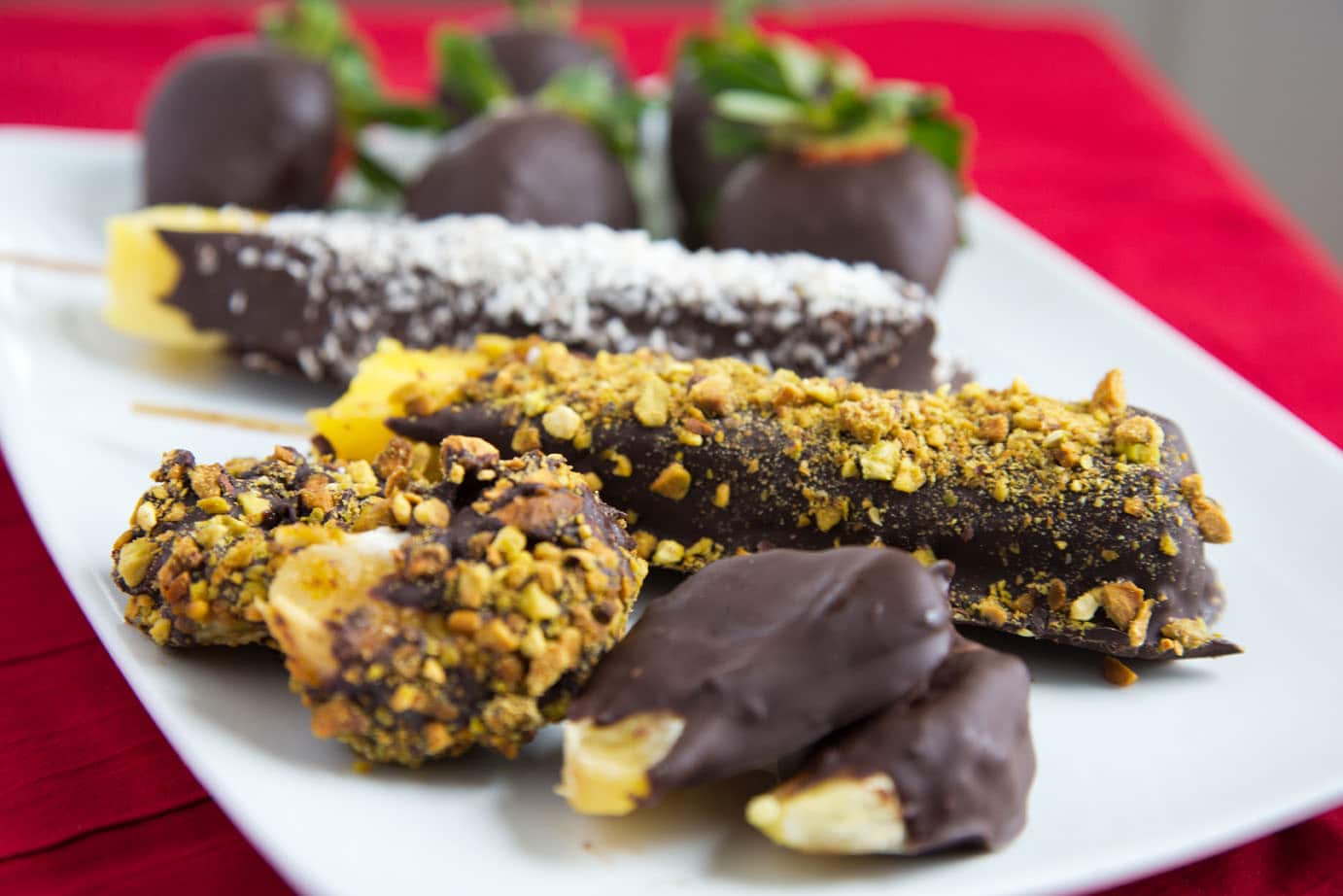 Lisa's favorite is chocolate dipped pineapple, so I did a few of those and coated one with pistachios and the other with coconut. I also dipped some orange segments and of course you can't go wrong with Chocolate Dipped Strawberries, and in Florida the berries are plentiful, fresh, super sweet and juicy as we come into our strawberry  season.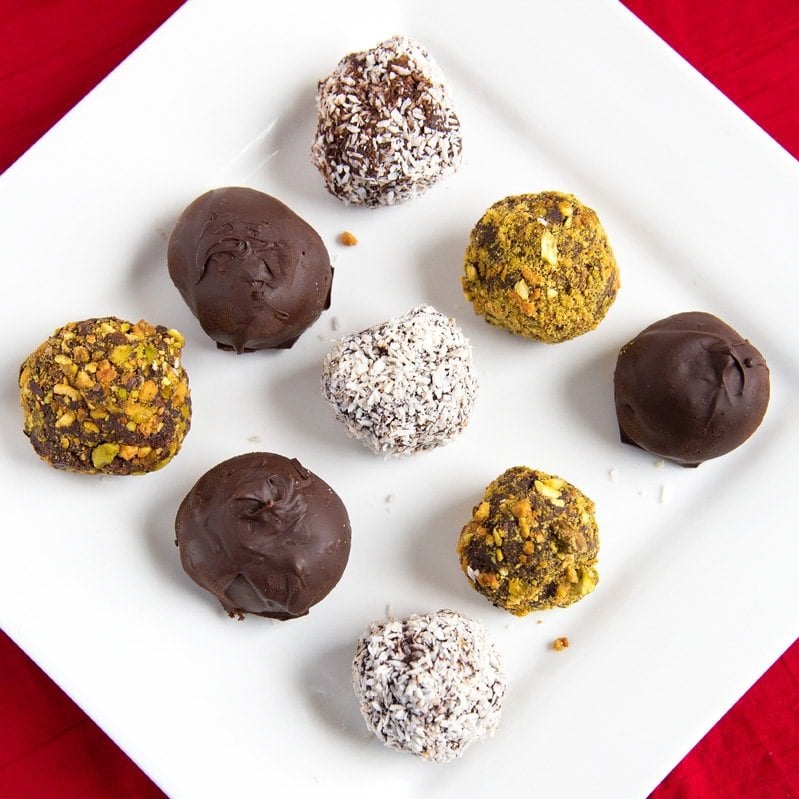 Print Recipe
Chocolate Ganache Truffles adapted form Alice Medrich's Bittersweet
Ingredients
11

ounces

of semisweet Chocolate roughly chopped into small pieces

3/4

cup

heavy cream

2

tablespoons

Kahlua

or your favorite liquor

4

ounces

chocolate of your choice for dipping truffles some of the truffles

optional

1

ounce

cocoa powder

optional

2

ounces

chopped salted pistachios

optional

2

ounces

coconut

optional
Instructions
line a 8 inch square baking pan (or similar size pan) with film going across both ways leaving overhangs, then set aside

make a double boiler using a small pot and metal or glass bowl that fits on top of the pot (not touching the bottom of the pan or water)

place an inch of water in the pan and bring to a boil and reduce to simmer

Place chocolate in small bowl and place over simmering water

stir chocolate frequently as it melts

When chocolate is almost completely melted remove from heat and continue stirring until all of chocolate is melted and smooth, set aside to cool slightly

place heavy cream in a small saucepan and bring to a boil, remove from heat and allow to cool for 2-3 minutes

add cream and Kahlua to chocolate and using a whisk, gently mix the ingredients.

keep the whisk touching the bottom of the bowl, alternating from sides to center mixing slowly so that air does not get into the chocolate.

Only mix the chocolate until the cream is fully incorporated. It should look glossy, velvety and slightly thickened, resembling pudding.

Using a rubber spatula pour mixture into prepared pan and allow to sit to cool for 15 minutes

cover the mixture with the overhanging plastic wrap and place on the counter undisturbed overnight.

Do not place this mixture into the refrigerator until it has set up. This will keep the chocolate satiny smooth.

When chocolate has set, it can be placed in the refrigerator.

Using a small cookie scoop, or melon baller form balls of the chocolate truffle mix, rounding them as good as possible. (if you use your hands the chocolate will melt, I have found that chilling it helps keep it more workable)

after you have made all of the truffles, place them into the fridge to chill.

Dip your Truffles in your choice of toppings, Cocoa, ground pistachio's, coconut, or dipped in melted chocolate.

serve at room temperature and they will melt in your mouth!