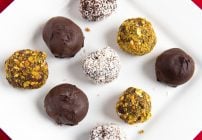 Chocolate Ganache Truffles are easiest truffles to make and still velvety smooth with a melt in your mouth deliciousness. A short video is included to help
This post includes affiliate links. As an Amazon Associate I earn from qualifying purchases.
With Valentines Day quickly approaching my thoughts turn to chocolate! Well, that's not really a surprise, my thoughts turn to chocolate quite often, and not just because I like chocolate.
I haven't gotten to be this old to know that there's a special relationship between women and chocolate. I've also learned that "Chocolate has charms that soothe a savage breast" ( and no I didn't make that phrase up, that's actually how it was written by William Congreve in 1697….except I switched Music for Chocolate)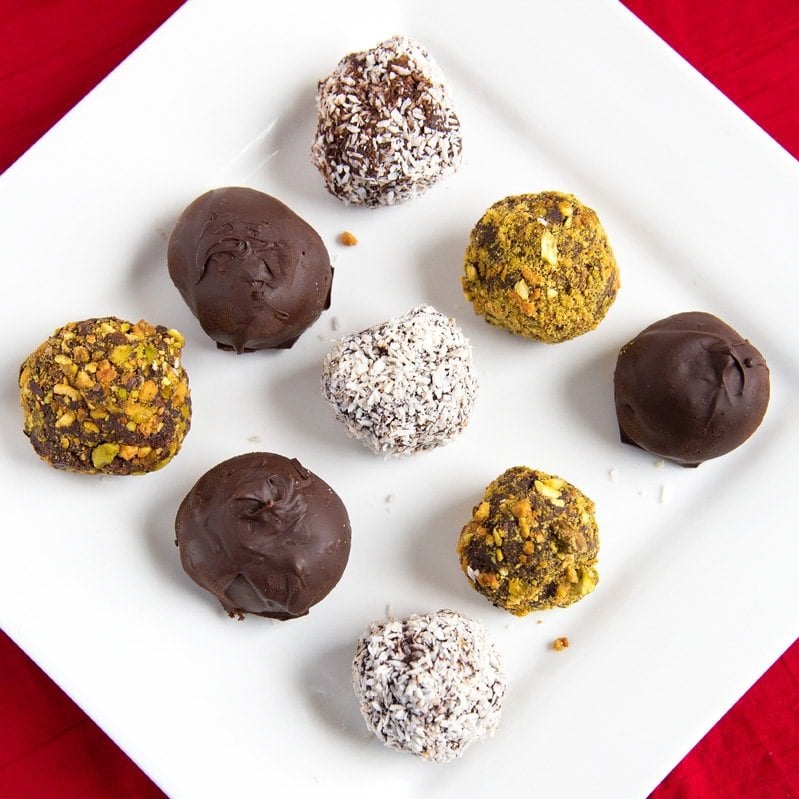 Anyway, let's get back to Valentine's Day and Chocolate, and more importantly Chocolate Ganache Truffles!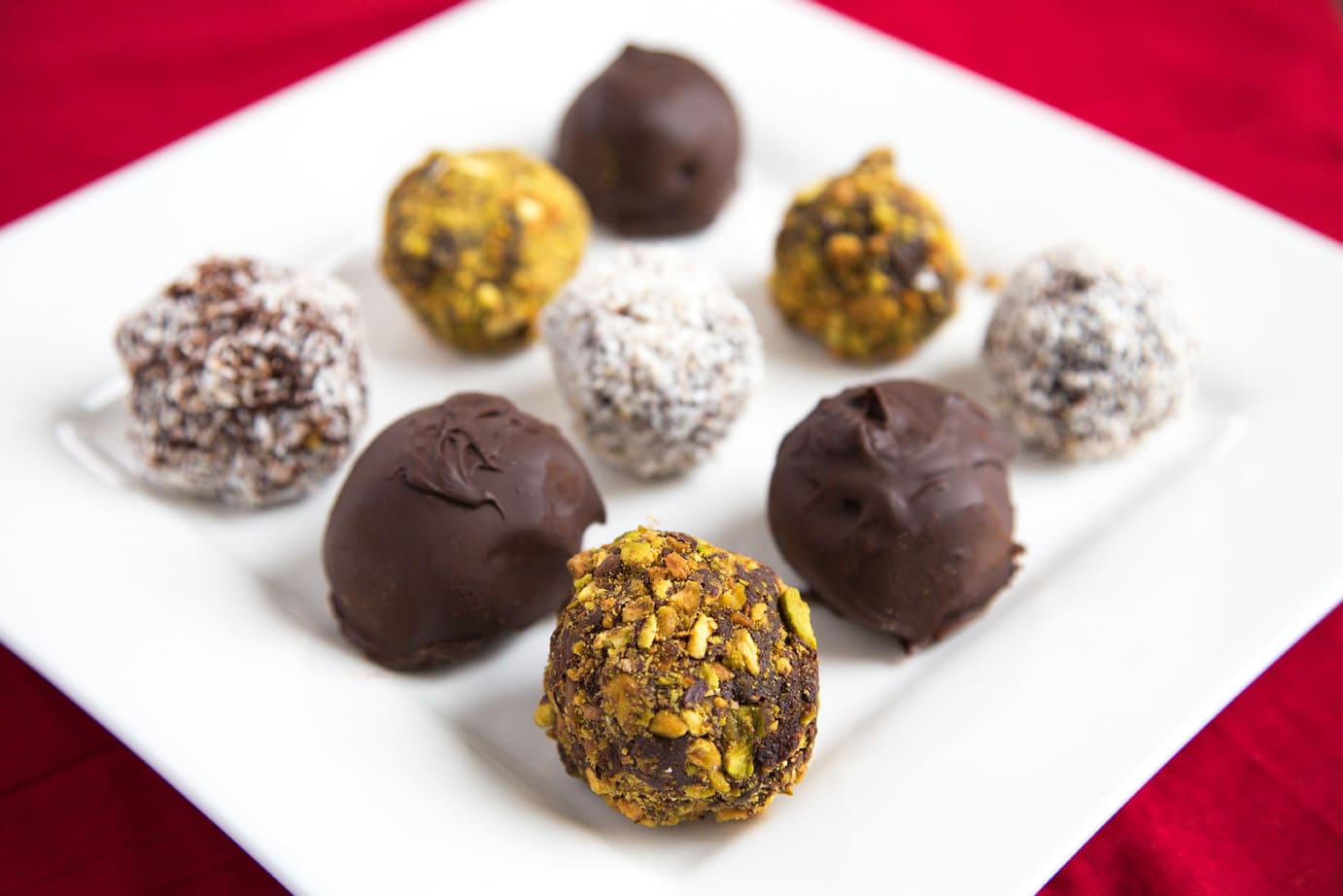 Truffles can be made flavored with your favorite liqueur and even stuffed with another flavored chocolate, fruit or nut. You can roll them in cocoa, or as I have ground salted pistachios for a salty-sweet experience.
But a classic truffle will simply be dipped in chocolate so the outside is a crisp shell and the inside of the truffle a melt in your mouth satiny smooth bite of chocolate heaven.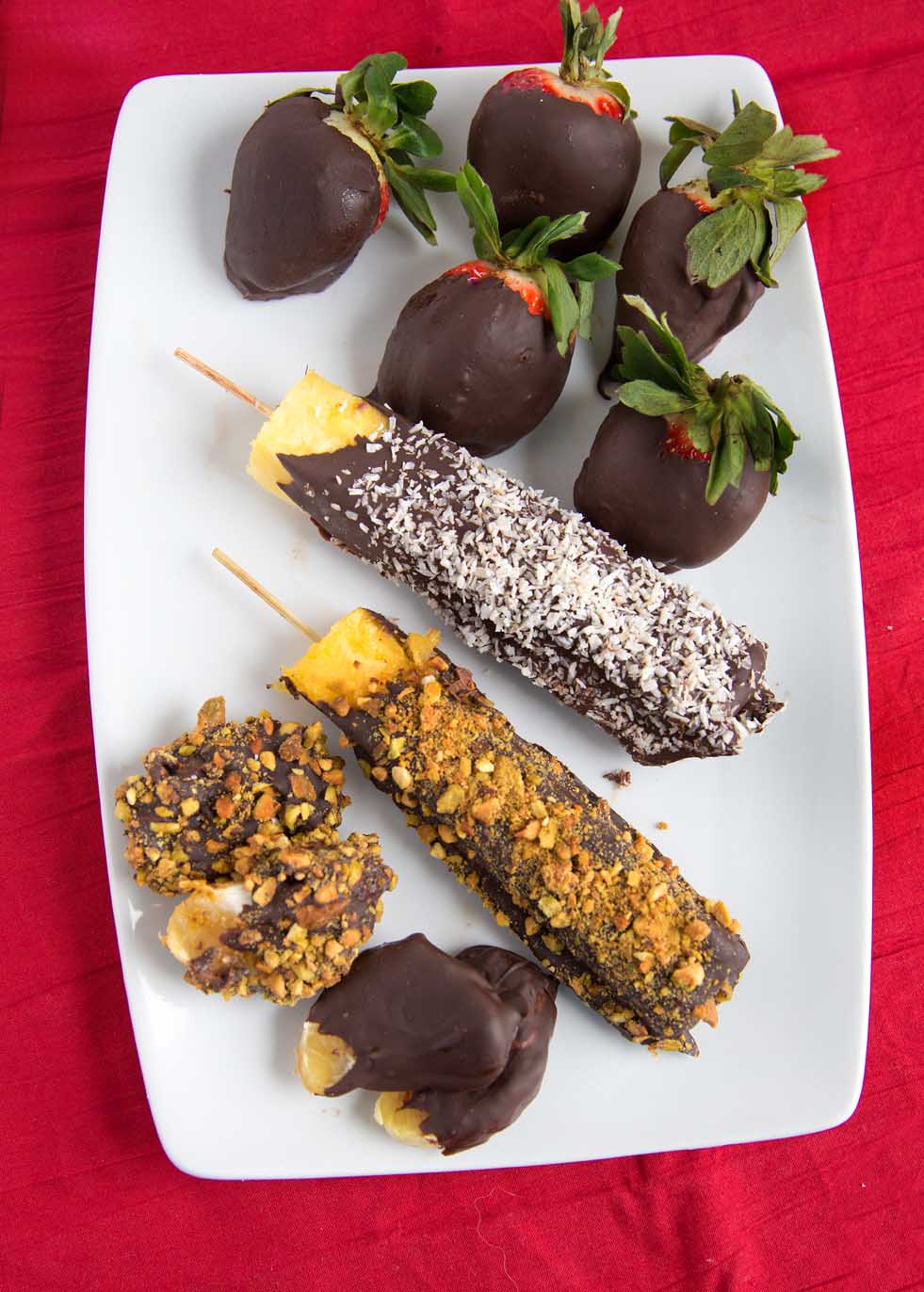 Since I was melting chocolate I thought I'd have some fun with the fruit I had in the house.
What Can I dip in Chocolate?
When it comes to food and chocolate, just about any fruit can find it's way into a bowl of melted chocolate. My favorites are strawberries and pineapple. But you can dip most fruits as long they're big enough and sturdy enough. I wouldn't dip raspberries because they're too fragile and watermelon would be challenging because of the high water content.
The amount of liquid in the fruit has a lot to do with how it will hold up to chocolate. Also, some fruits just won't hold up very long when dipped.
I also love dipping cookies (halfway, leaving some of the cookie exposed), pretzels and even potato chips. There is something magical about salty and sweet together.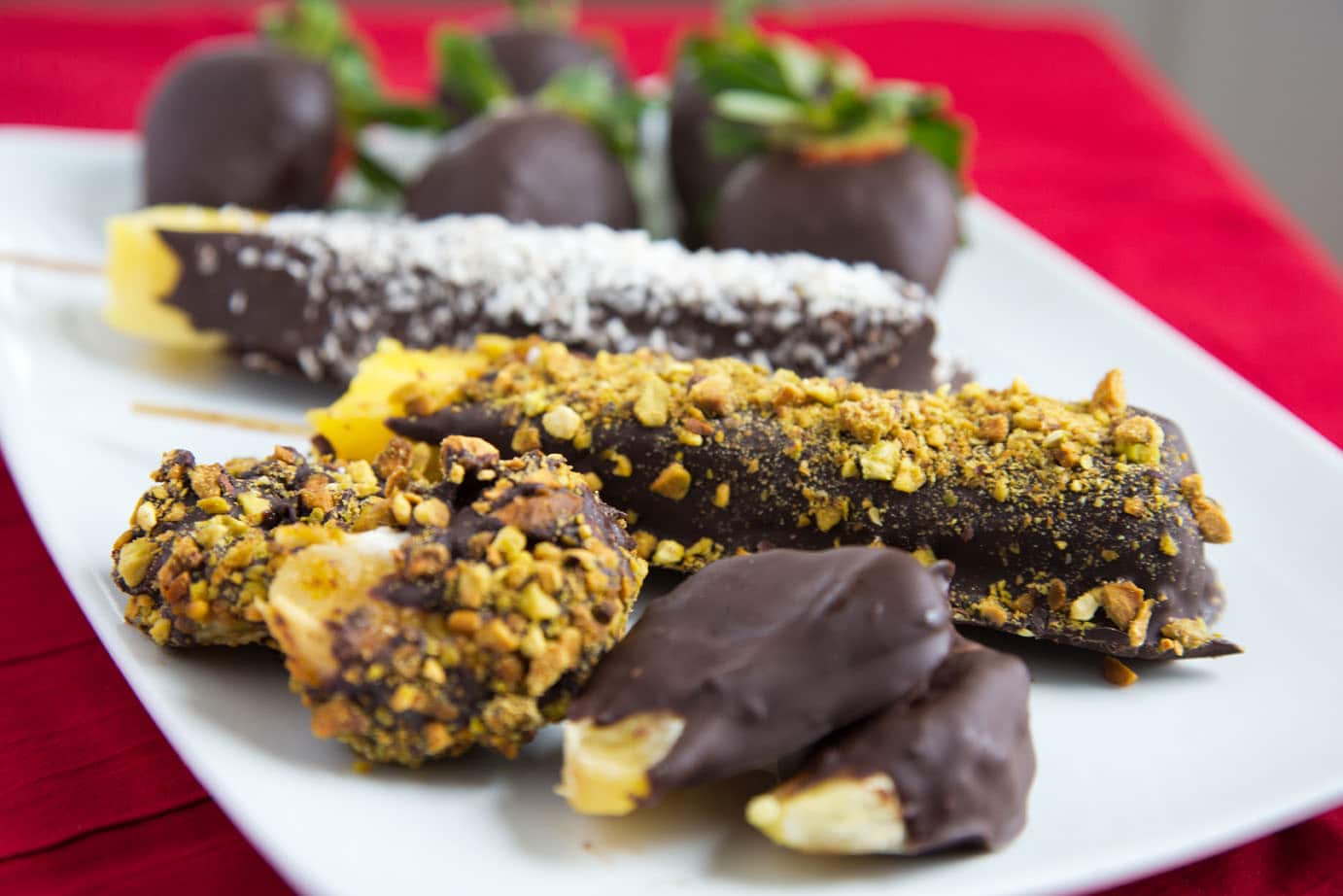 What type of chocolate can I use for dipping?
Chocolate Chips are the easiest and most accessible chocolate to use. But chips don't contain enough cocoa butter to temper, so the melted chocolate will harden with a streaked or swirled appearance.
Couverture chocolate has a higher ratio of cocoa butter to cocoa, which helps it melt more smoothly. This can be found in craft shops if not at the supermarket. AC Moore has it on hand in their baking section.
Any good quality chocolate like Ghirardelli is also a good choice. The better the chocolate the easier it will be to melt. White chocolate will be very challenging and wouldn't advise it for a beginner.
How do I Temper Chocolate?
This is always the question I get when talking about melting chocolate. You'll need an instant-read thermometer to do it properly.
To prepare the chocolate for melting start by grating or chopping the chocolate. Place two-thirds of the chocolate in a stainless steel bowl on top of a small saucepot of simmering water (don't let it boil). Keep stirring the chocolate until it reaches 110°–115°F.
When the chocolate is melting and has reached the temperature range, remove the bowl of chocolate from the saucepot and place the bowl on a towel. Allow the chocolate to cool to a temperature of 95°–100°F. Add the remaining chocolate to the bowl, stirring until melted. The chocolate is now ready for dipping.
Chef Dennis Tip*
I prefer using a bowl that sits on top of a saucepot instead of a conventional double boiler. The rounded insides of a bowl make it much easier to stir and not have unmelted bits in the hard to reach corners.
Lisa's favorite dipped fruit is pineapple, so I did a few spears and coated one with pistachios and the other with coconut. I also dipped some orange segments and of course, you can't go wrong with Chocolate Dipped Strawberries, and in Florida, the berries are plentiful, fresh, super sweet and juicy as we come into our strawberry season.
What toppings can I add to dipped chocolate treats?
The skies the limit in what type of topping you can add to your chocolate treats. As long as it's not too big and will stick to the chocolate you can use it. Think along the lines of salty-sweet for the best results. Holiday sprinkles are always a good choice and you can find many options in the baking section of your grocer. For purists, just the delicious chocolate will be enough.
If you enjoyed this recipe you may also like these;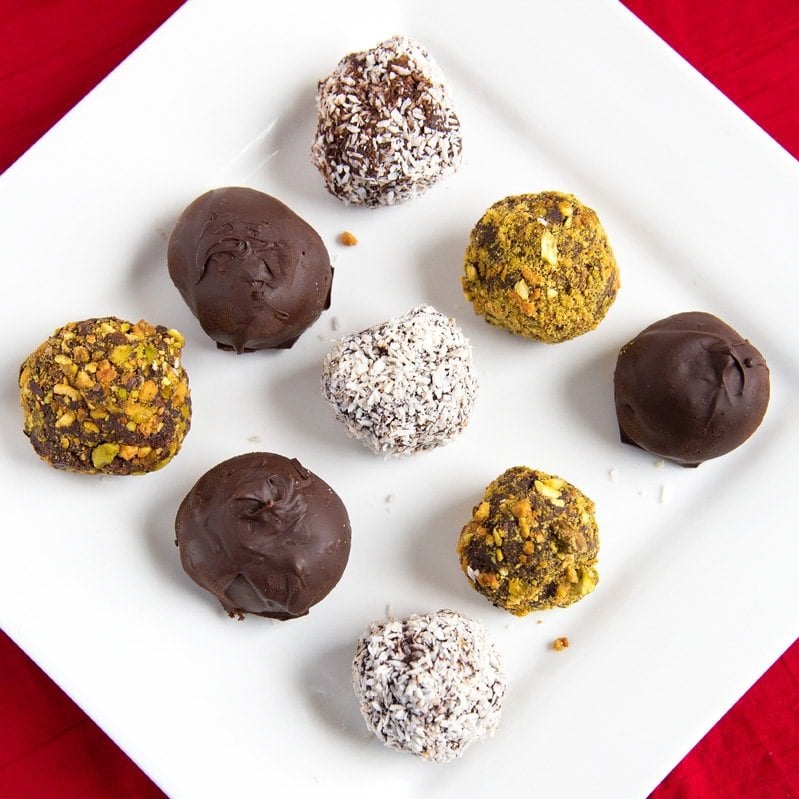 Print Recipe
Chocolate Ganache Truffles adapted from Alice Medrich's Bittersweet
Chocolate Ganache Truffles are easiest truffles to make and still velvety smooth with a melt in your mouth deliciousness. A short video is included to help
Ingredients
11

ounces

semisweet chocolate

roughly chopped into small pieces

3/4

cup

heavy cream

2

tablespoons

Kahlua

or your favorite liquor

4

ounces

chocolate of your choice

optional (for dipping truffles some of the truffles)

1

ounce

cocoa powder

optional

2

ounces

chopped salted pistachios

optional (chopped)

2

ounces

coconut

optional
Instructions
line an 8-inch square baking pan (or similar size pan) with the film going across both ways leaving overhangs, then set aside

make a double boiler using a small pot and metal or glass bowl that fits on top of the pot (not touching the bottom of the pan or water)

place an inch of water in the pan and bring to a boil and reduce to simmer

Place chocolate in small bowl and place over simmering water

stir the chocolate frequently as it melts

When chocolate is almost completely melted remove from heat and continue stirring until all of the chocolate is melted and smooth, set aside to cool slightly

place heavy cream in a small saucepan and bring to a boil, remove from heat and allow to cool for 2-3 minutes

add cream and Kahlua to chocolate and using a whisk, gently mix the ingredients.

keep the whisk touching the bottom of the bowl, alternating from sides to center mixing slowly so that air does not get into the chocolate.

Only mix the chocolate until the cream is fully incorporated. It should look glossy, velvety and slightly thickened, resembling pudding.

Using a rubber spatula pour the mixture into prepared pan and allow to sit to cool for 15 minutes

cover the mixture with the overhanging plastic wrap and place it on the counter undisturbed overnight.

Do not place this mixture into the refrigerator until it has set up. This will keep the chocolate satiny smooth.

When the chocolate has set, it can be placed in the refrigerator.

Using a small cookie scoop, or melon baller form balls of the chocolate truffle mix, rounding them as good as possible. (if you use your hands the chocolate will melt, I have found that chilling it helps keep it more workable)

after you have made all of the truffles, place them into the fridge to chill.

Dip your Truffles in your choice of toppings, Cocoa, ground pistachio's, coconut, or dipped in melted chocolate.

serve at room temperature and they will melt in your mouth!
Nutrition
Calories:
232
kcal
|
Carbohydrates:
17
g
|
Protein:
3
g
|
Fat:
17
g
|
Saturated Fat:
11
g
|
Cholesterol:
22
mg
|
Sodium:
10
mg
|
Potassium:
211
mg
|
Fiber:
3
g
|
Sugar:
11
g
|
Vitamin A:
232
IU
|
Vitamin C:
1
mg
|
Calcium:
29
mg
|
Iron:
2
mg