These Triple Chocolate Pecan Fudge Brownies are without a doubt the most chocolaty brownie you'll ever make…. yes they are truly insanely delicious!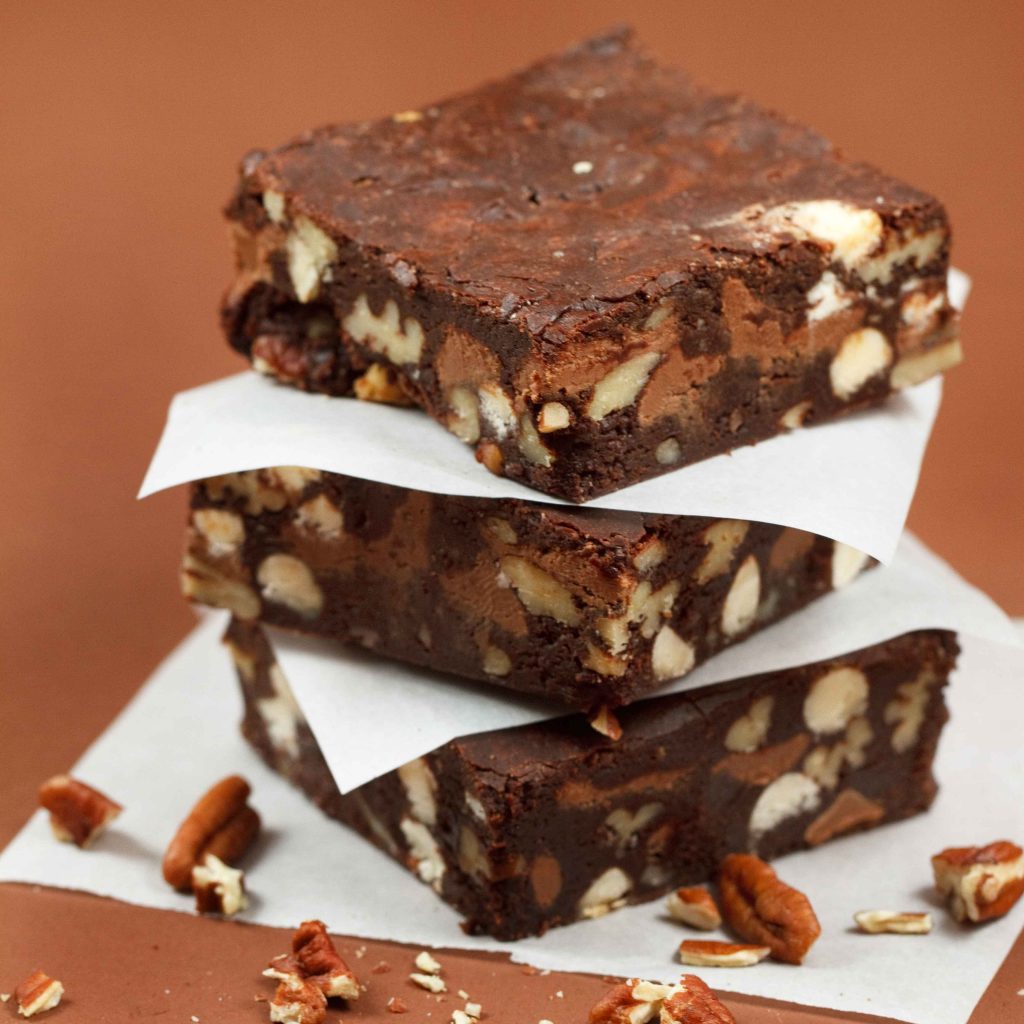 When I first found this recipe, I had my doubts about a cocoa brownie being that chocolaty. Well, I'm certainly not a doubter anymore.
It was really no surprise that I turned to Alice Medrich for the recipe. After all, she is "The Queen of Chocolate" and Alice knows chocolate!
What ingredients do I need to make Triple Chocolate Pecan Fudge Brownies?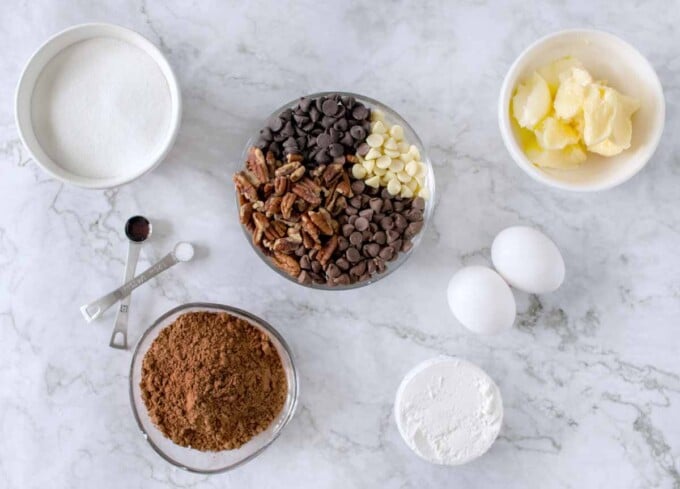 Let's start by gathering the ingredients we need to make my Triple Chocolate Pecan Fudge Brownies. In Chef Speak this is called the "Mise en Place" which translates to "Everything in its Place".
Not only does setting your ingredients up ahead of time speed up the cooking process, it also helps ensure you have everything you need to make the dish.
Do I have to use Pecans in my Brownies?
No, you don't. If you have nut allergies or just don't like nuts, leave them out.
Can I make these brownies with only one type of chocolate chip?
Yes, you can. I love adding the different chips for flavor and fun, but your favorite chip can be substituted instead of using the different chocolate chips.
Can I make Triple Chocolate Pecan Fudge Brownies Gluten Free?
You sure can, just substitute your favorite cup-for-cup gluten-free flour brand for the all-purpose flour. You won't notice a difference.
How do I make Triple Chocolate Pecan Fudge Brownies?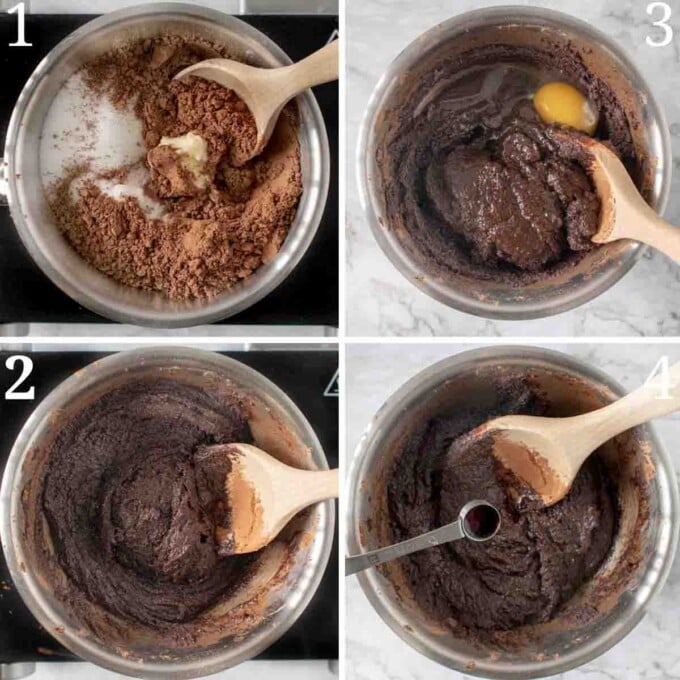 Preheat your oven to 325 degrees and prepare a 9″ square baking pan by lining the baking pan with parchment or aluminum foil. Allow an overhang on opposite sides so you can lift out the brownies from the pan when they are finished baking
Combine the butter, sugar, cocoa and salt in a heatproof bowl and place it over a small sauce pot with simmering water, to create a double boiler.
Stir until the butter is melted and the mixture is smooth.
Remove the bowl from the heat and allow to cool just a little bit.
Add the vanilla and stir with a silicone spatula or wooden spoon.
Add the eggs one at a time, stirring vigorously after each egg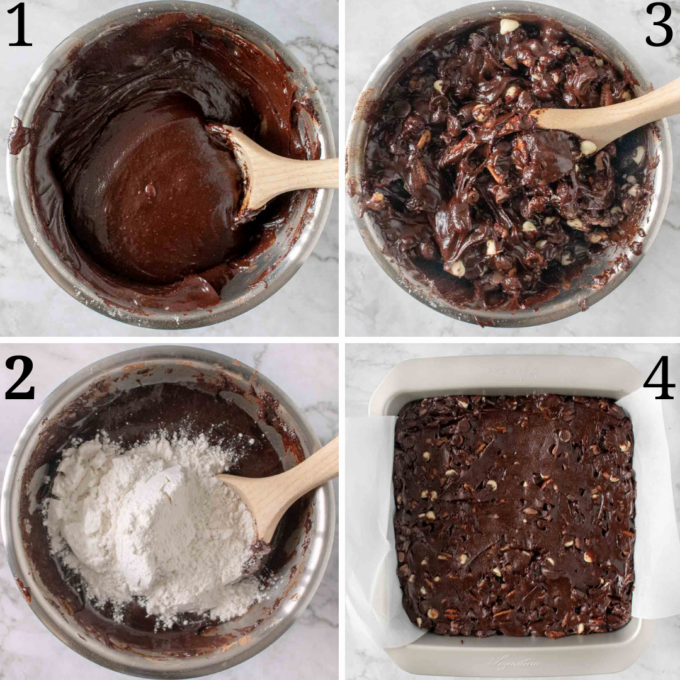 When the batter looks thick, shiny and well blended add the flour and stir until you can no longer see it, and then beat it vigorously for 40 strokes with your spatula or wooden spoon.
Add the nuts and chocolate chips, mix well, then spread the batter evenly in the baking pan.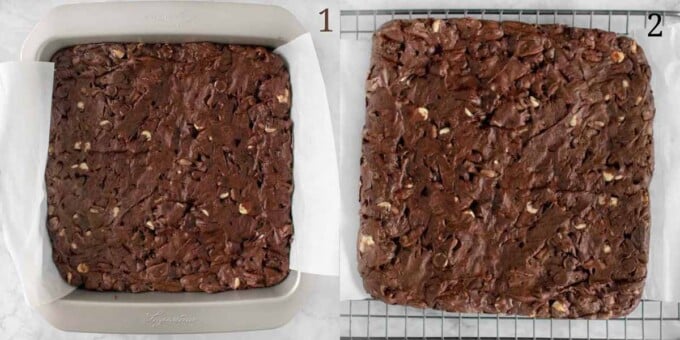 Bake the brownies for 20-25 minutes at the convection setting of your oven or until a toothpick inserted into the center of the pan comes out slightly moist with batter.
Let cool completely on a wire rack.
After they have cooled lift the brownies out of the pan and gently remove the foil or parchment from the sides of the brownies.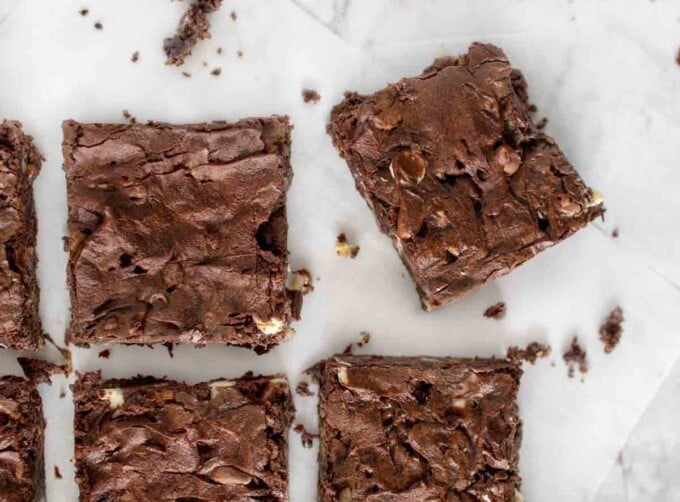 After the brownies have fully cooled, slice them into squares and enjoy!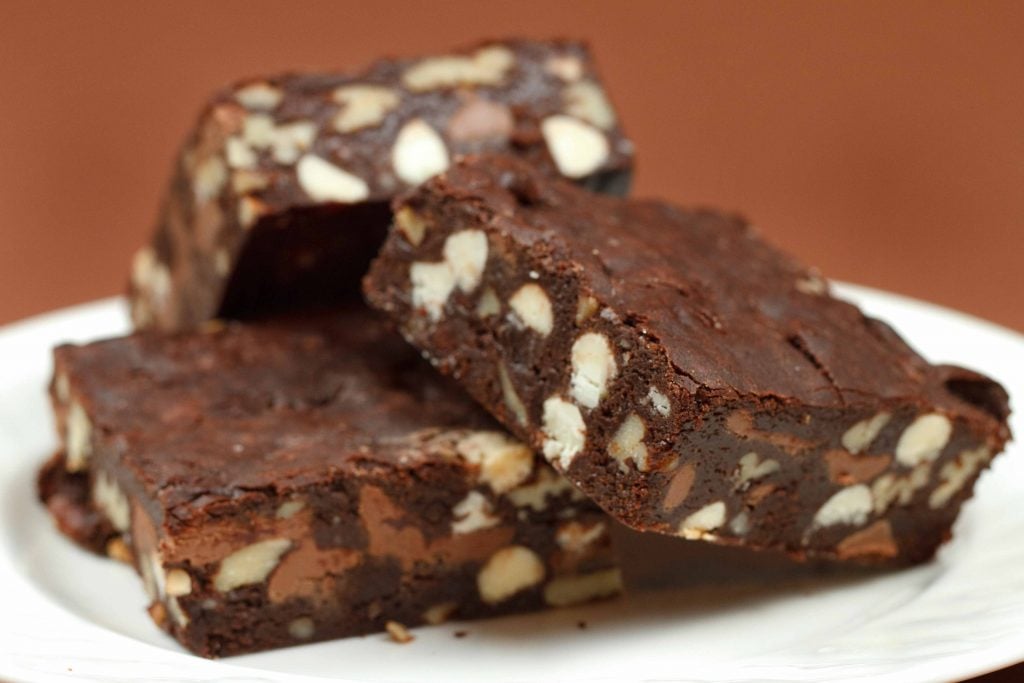 These Brownies were so rich and delicious, I actually cut them into 4 small pieces each, although I will admit that I still ate 4 of them, but it kept me from eating two of the full-size brownies!
Recipe FAQ's
What makes brownies fudgy?
It's all about the fat-to-flour when it comes to fudgy brownies. More fat = a fudgy consistency. So, add more fat if you want creamy fudgy brownies, and that means butter or chocolate. With these brownies since cocoa is used instead of chocolate, the butter content is high.
*The amount of sugar and eggs does not change the consistency of the brownie.
Why are cocoa brownies better than brownies made with chocolate?
Cocoa brownies are far superior to those made with chocolate. They have a richer, more intense chocolate flavor.
-Cocoa brownies stay softer than those made with chocolate. They won't feel dry or crumbly and refrigerate well.
-Because butter is much softer than cocoa butter(found in chocolate) cocoa brownies stay tender and velvety. 
-Cocoa powder is 100% chocolate, whereas chocolate bars contain less chocolate.
Why are my brownies dry?
You left them in the oven too long. The toothpick trick doesn't work with brownies. If you wait until nothing is on the toothpick the brownies will be seriously overbaked. Take them out of the oven when there are still some crumbs on the toothpick.
More Chocolate Recipes You'll Love!