You're going to love this over the top fudgy and delicious chocolate cake. And if you leave off the whipped cream it's completely vegan...
This post includes affiliate links. As an Amazon Associate I earn from qualifying purchases.
This is the most delicious Vegan Chocolate Fudge Cake you'll ever taste!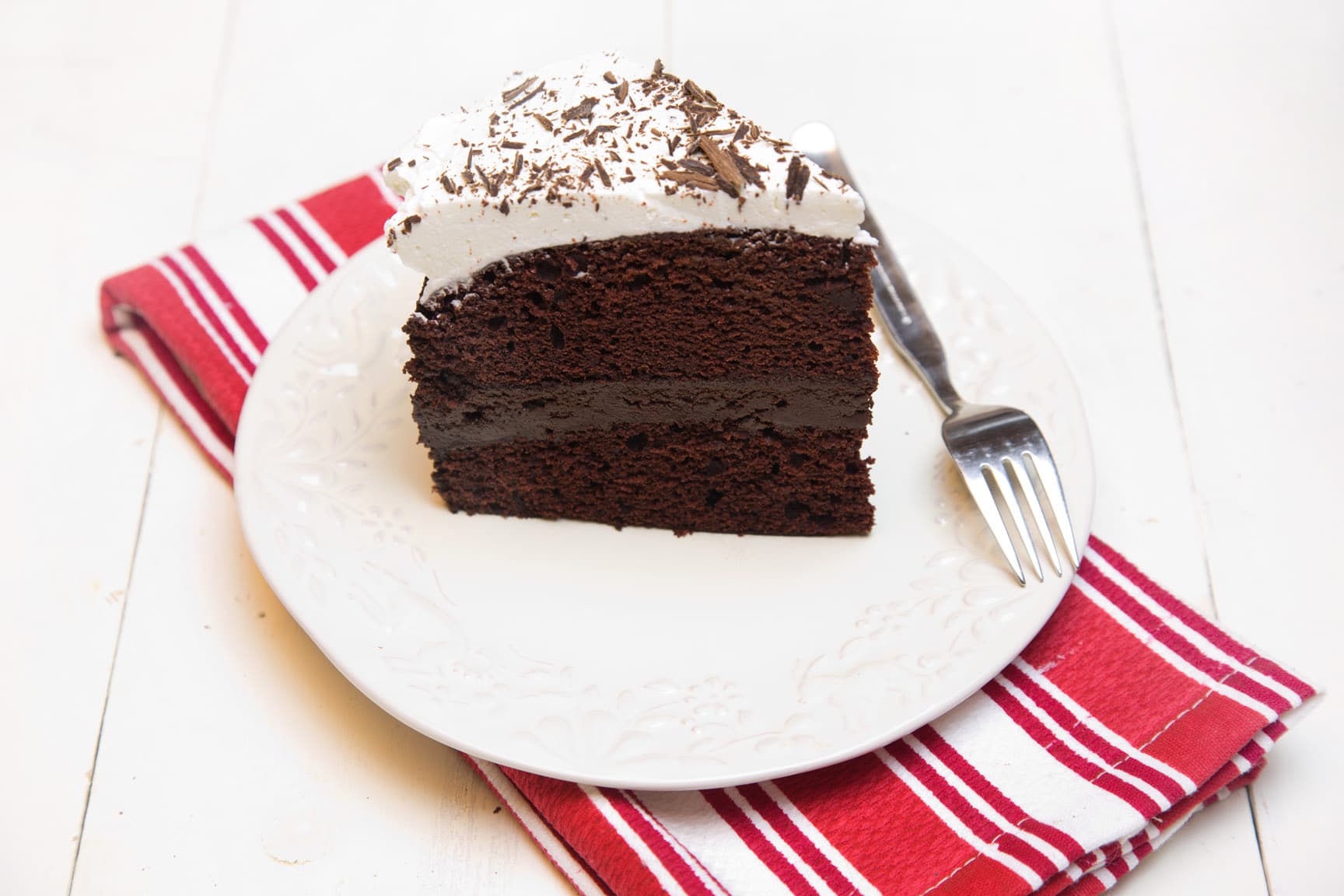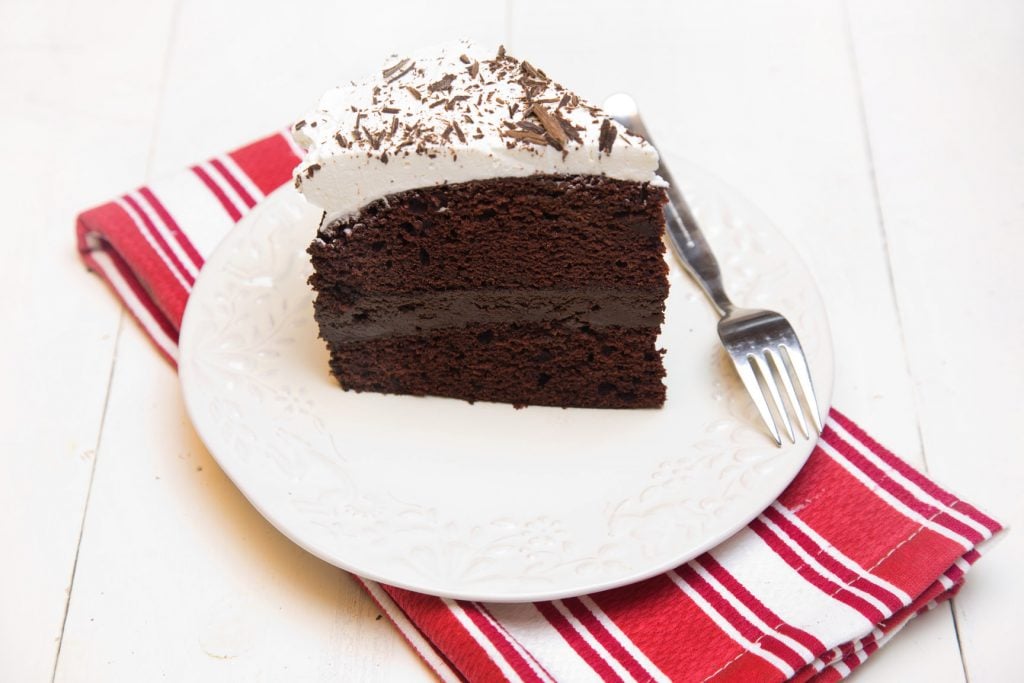 One of my great childhood memories will always be chocolate cake for breakfast…sigh. It was a wonderful thing! But that was in the days of Duncan Hines and Betty Crocker when mixes somehow began taking the place of homemade cakes. Now I'm not knocking the mixes, everything has its time and place, and they did come up with some pretty darn good cakes. But even as good as they were, they're not homemade.
I came across an old recipe for a Vegan Chocolate Cake, although at the time they had no idea it was Vegan, or even what a Vegan was, but they knew what delicious was! It was a simple recipe using oil, and vinegar instead of eggs and butter….who knew?
Well evidently those bakers from the depression knew, and when they couldn't get eggs or butter, they still came up with a recipe for the best chocolate cake I've ever had.
With my quest to eat healthier, I've been changing my dietary intake whenever possible, using Greek yogurt instead of heavy cream and sour cream, and using coconut oil instead of other oils.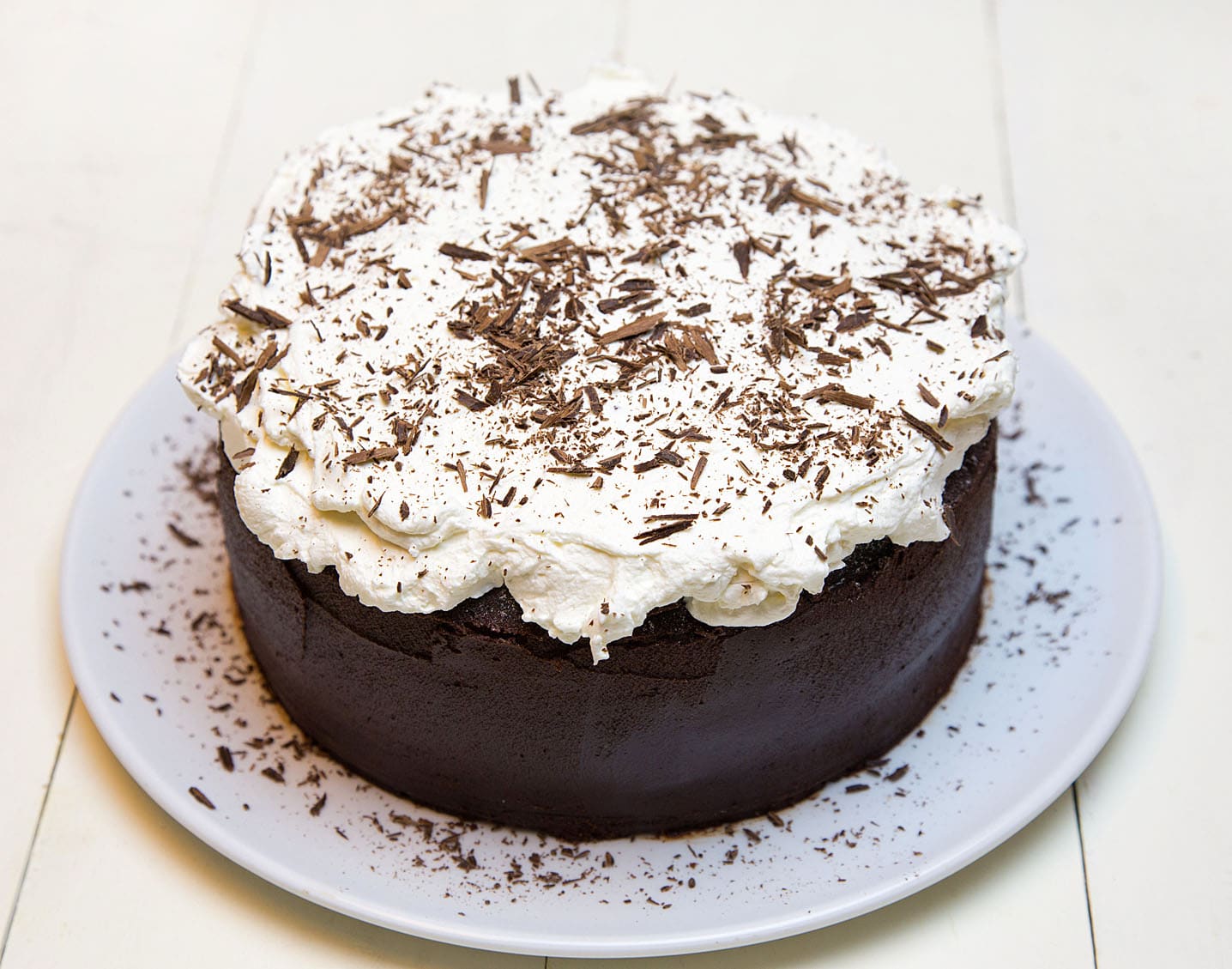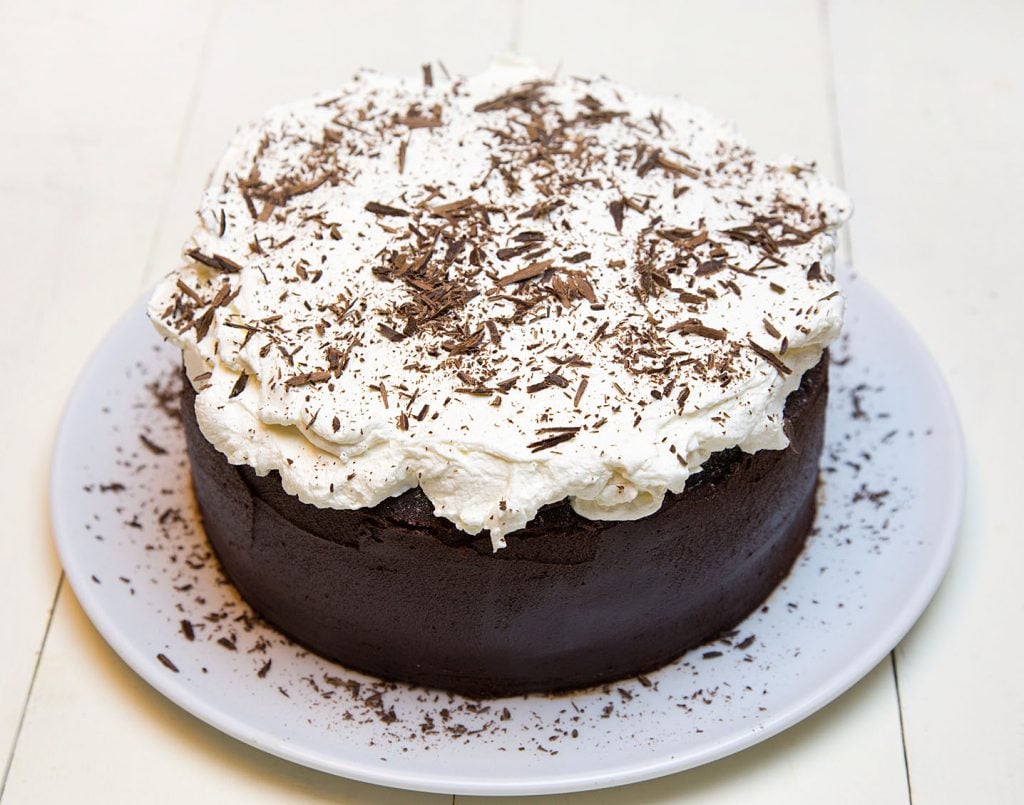 So what could I do but make my favorite chocolate cake of all time, using coconut oil.
I decided to throw a fudge layer in between the layers and used coconut oil instead of butter and it was fudgelicious!
To keep the cake Vegan I finished it with mounds of whipped coconut cream…….. it was a beautiful thing!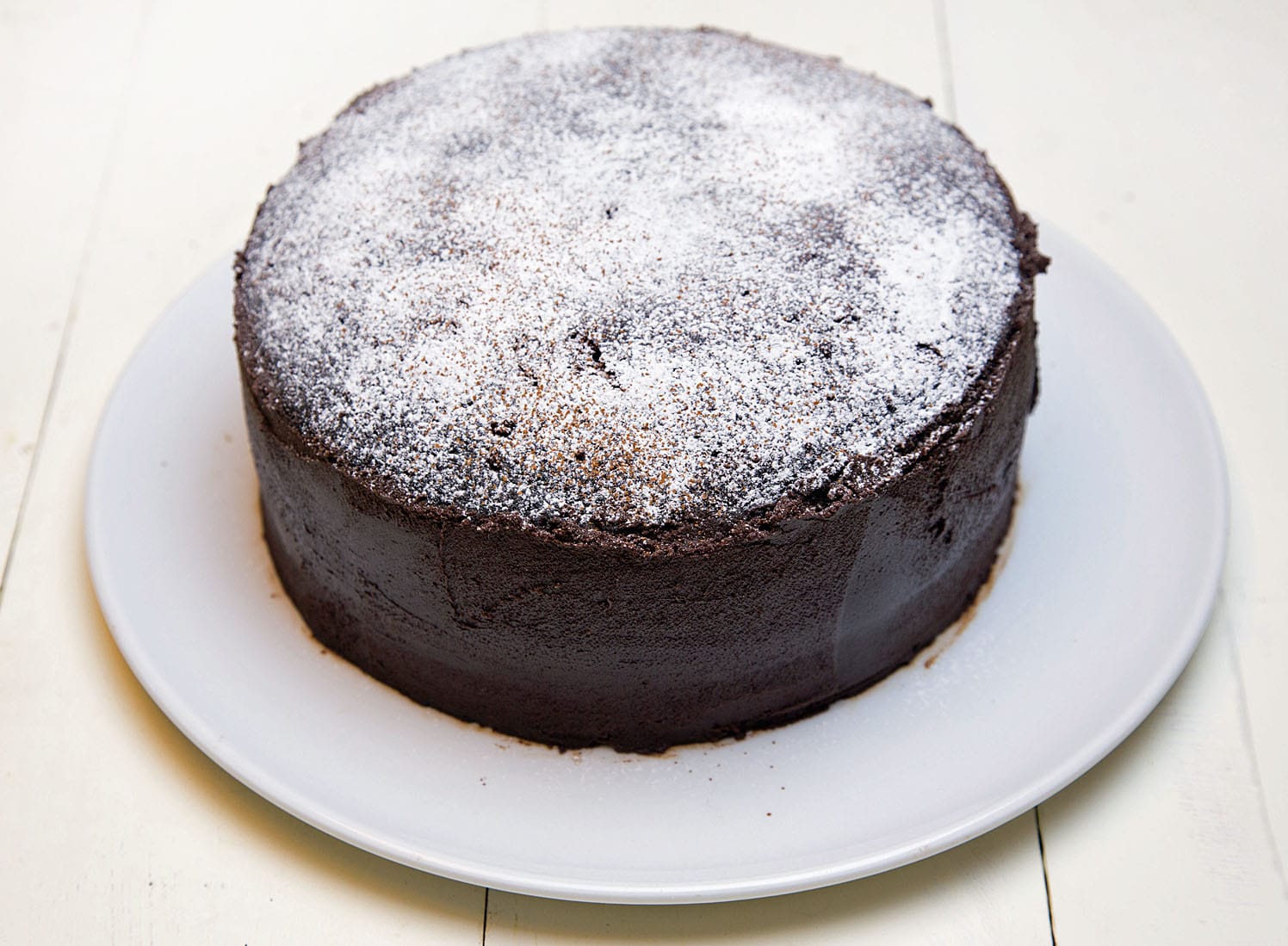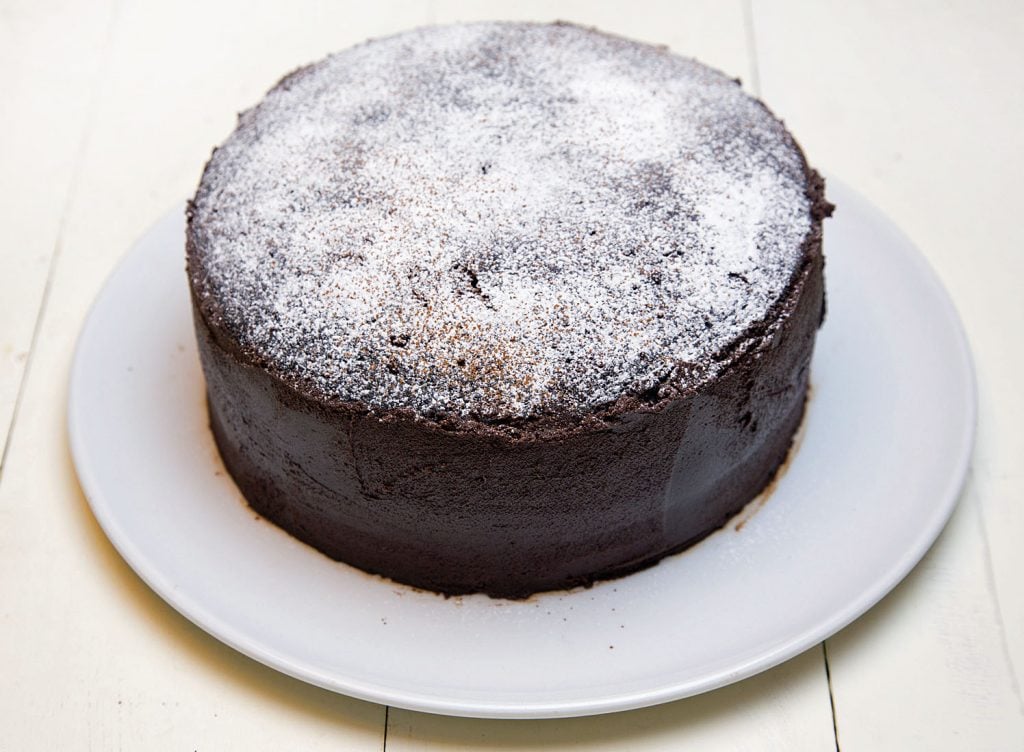 If you're not into whipped coconut cream you can always dust the cake with powdered sugar.
If you enjoyed this recipe you may also like these: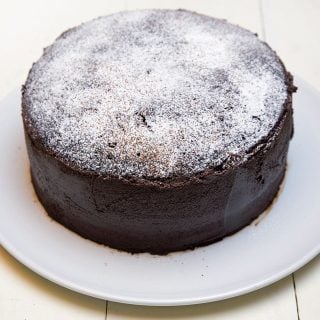 Print Recipe
Vegan Chocolate Fudge Cake
You're going to love this over the top fudgy and delicious chocolate cake. And if you leave off the whipped cream it's completely vegan...
Ingredients
Cake
3

Cups

All Purpose Flour

2

cups

sugar

6

tablespoons

unsweetened cocoa

2

teaspoons

baking soda

1/2

teaspoon

salt

3/4

cup

Coconut Oil

2

tablespoons

white vinegar

1

tablespoon

vanilla extract

2

cups

cold water
Chocolate Fudge Frosting
1

cup

coconut oil

1

cup

cocoa powder

unsweetened

1/2

cup

maple syrup

2

teaspoon

vanilla extract

1

tablespoon

hot coffee
Whipped Cream
14

oz

Coconut cream

or heavy cream

2

tablespoons

granulated sugar

1

tsp

vanilla extract
Instructions
Cake
Preheat the oven to 350ºF.

Mix the flour, sugar, cocoa, baking soda and salt together in a large bowl.

With your mixer on low speed beat in the coconut oil, vinegar, vanilla, and water until smooth.

Pour the mixture into the two 9″ prepared pans, coated with pan spray.

Bake for 30 minutes or until a cake skewer inserted in the center of the cake comes out clean. Do not over bake the cake. It should be firm to the touch, and a cake skewer inserted in the middle of the cake should come out clean.

Put the cake pans on cooling racks and cool for 15 to 20 minutes before removing the cakes from the pans to cool completely.

Allow to cool completely before frosting.
Chocolate Fudge Frosting
mix all ingredients in the bowl of your mixer and whip until well blended
Whipped Cream
Refrigerate can of coconut milk, 8 hours or overnight. Place a metal mixing bowl and beaters in the refrigerator or freezer 1 hour before making whipped cream.

Open the can of coconut milk, taking care not to shake it. Scoop out the coconut cream solids into a cold mixing bowl. (Reserve remaining liquid for another use)

Beat the coconut cream using an electric mixer with the chilled beaters on medium speed for a few minutes then turn to high speed. Beat until stiff peaks form, about 7 to 8 minutes.

Add sugar and vanilla extract to coconut cream; beat 1 minute more.
Assembly
place one layer on cake plate and add layer of chocolate fudge.

place second layer on cake and fill in any spots in the chocolate fudge layer.

coat sides of cake with chocolate fudge (wet the blade of your spatula while smoothing it will help)

top cake with whipped cream, cut and serve!
Nutrition
Calories:
516
kcal
|
Carbohydrates:
74
g
|
Protein:
5
g
|
Fat:
24
g
|
Saturated Fat:
18
g
|
Cholesterol:
27
mg
|
Sodium:
293
mg
|
Potassium:
225
mg
|
Fiber:
4
g
|
Sugar:
43
g
|
Vitamin A:
290
IU
|
Vitamin C:
0.1
mg
|
Calcium:
46
mg
|
Iron:
2.8
mg