My Chocolate Zucchini Bread is a delicious and healthy way to satisfy your sweet tooth. Not only does it taste amazing, but it's also a great way to add more vegetables to your diet.
This moist and rich chocolate quick bread recipe is perfect for breakfast, dessert, or an afternoon snack.
My easy chocolate zucchini bread recipe is a chocolate lovers dream come true with its rich chocolate flavor. This is the perfect way to use up all the zucchini your garden produces.
I usually make two loaves of zucchini bread when I make the recipe, That way, I can freeze one loaf and have a chocolate treat on hand when guests stop by.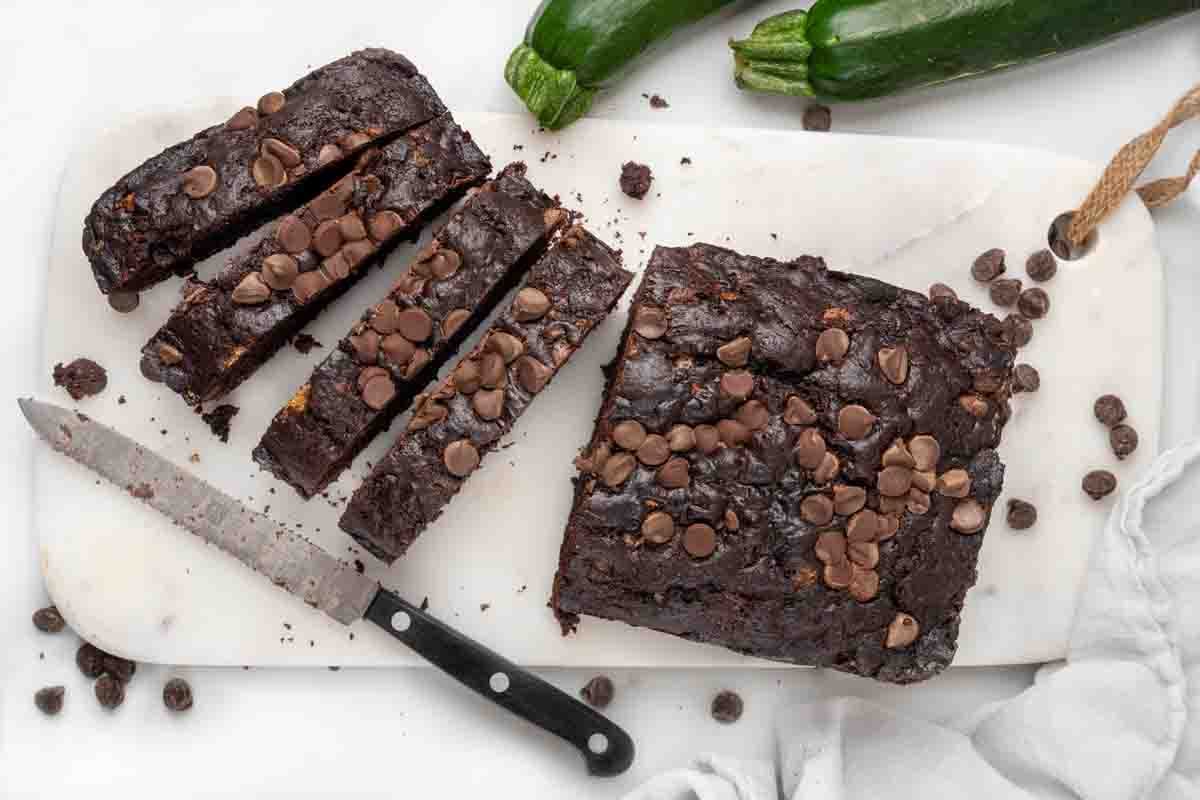 I know after one bite, you'll agree that this is the best zucchini bread recipe, and the moist, rich, chocolaty flavor will remind you of your favorite chocolate cake. No one will ever know it was made using vegetables!
Adding chocolate is a delicious variation to classic zucchini bread, and no one will ever know that you've snuck an abundance of zucchini into this delicious loaf cake.
If you love my chocolate zucchini bread, make sure to check out the recipe for my double chocolate banana bread.
Ingredients to make Chocolate Zucchini Bread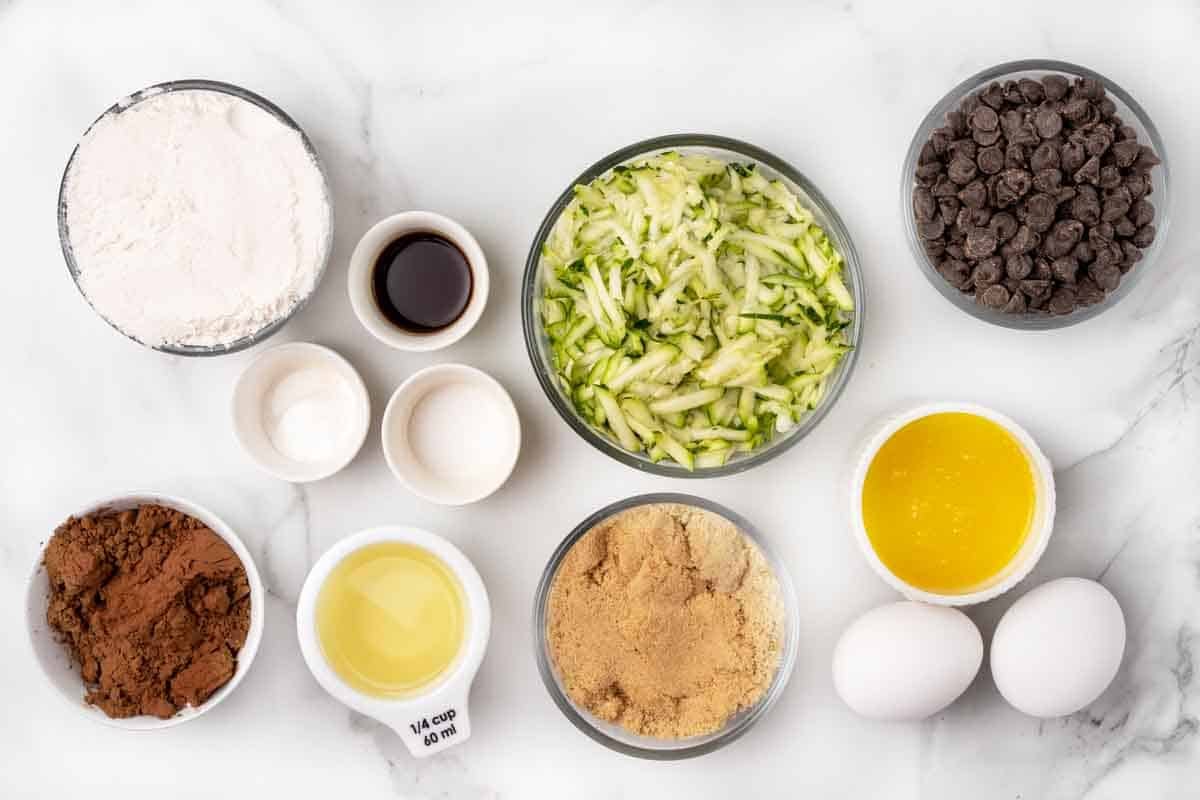 Let's start by gathering the ingredients we need to make Chocolate Zucchini Bread. In Chef Speak, this is called the "Mise en Place," which translates to "Everything in its Place."
Not only does setting up your ingredients ahead of time speed up the cooking process, it also helps ensure you have everything you need to make the dish.
Made with simple ingredients
fresh zucchini
semisweet chocolate chips (or dark chocolate chips)
natural unsweetened cocoa powder
all-purpose flour
brown sugar
vegetable oil
vanilla extract
eggs (room temperature)
unsalted butter
baking soda
table salt
I sometimes add instant espresso powder or instant coffee powder to my chocolate recipes, as it enhances the chocolate flavor. I didn't use it in this recipe but feel free to add a teaspoon of the powder to the dry ingredients.
How to make Chocolate Zucchini Bread
Preheat the oven to 350°F.
Butter a 9-by-5-inch loaf pan and set aside.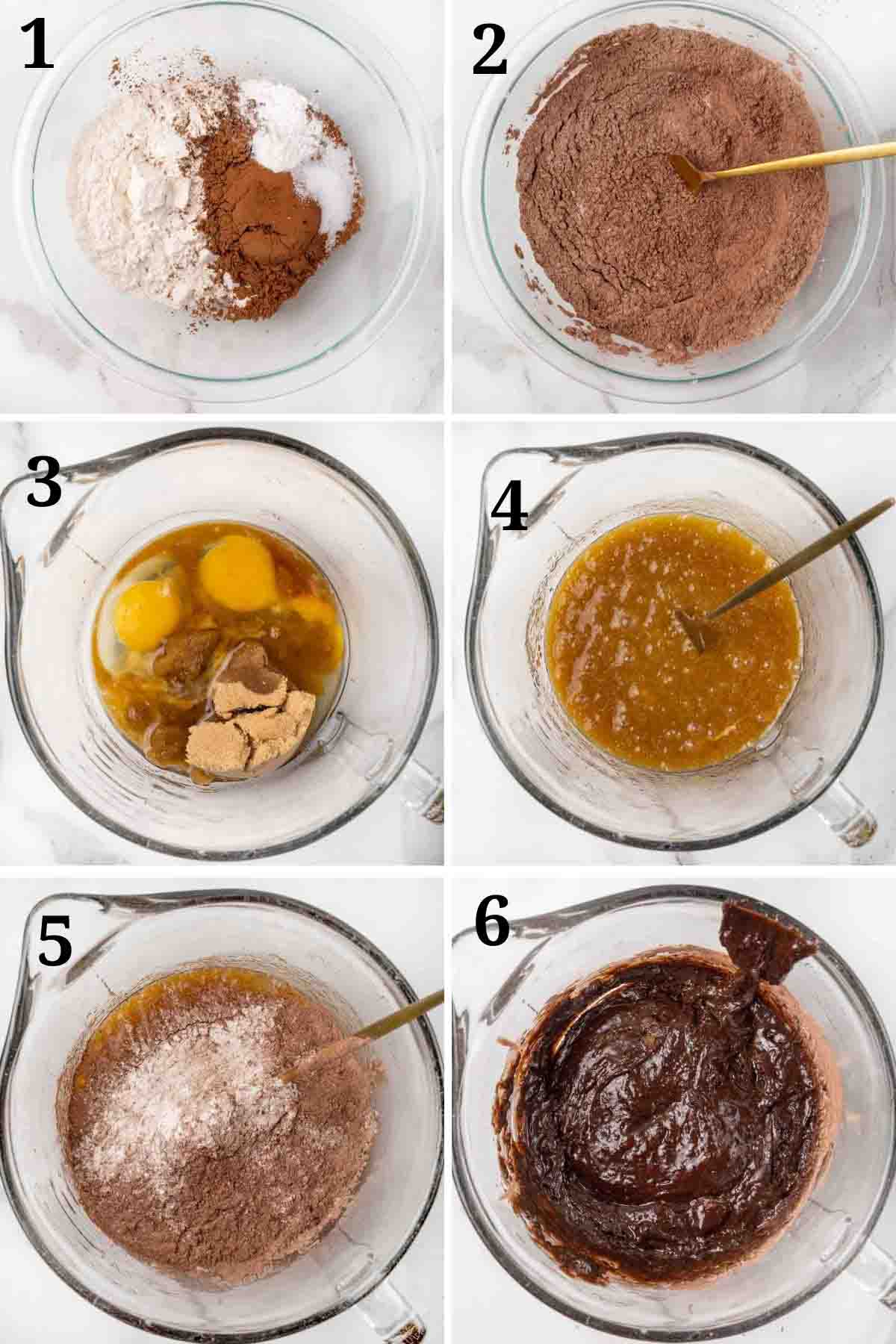 Add the flour, cocoa powder, baking soda, and sea salt to a medium bowl.
Whisk the dry ingredients until well blended. Set the flour mixture aside until needed.
Add the eggs, melted butter, vegetable oil, vanilla extract, and brown sugar to a large bowl.
Mix the wet ingredients until well blended and smooth. *Don't worry if there are a few small clumps of brown sugar.
Add the dry ingredients to the wet ingredients.
Mix them together just enough to blend. Mix by hand, don't use an electric mixer so you don't overmix the batter.
*Since this recipe doesn't use much flour, it makes it easy to substitute gluten-free flour, oat flour, or whole wheat flour instead of all-purpose flour. For a vegan version of this quick bread, use flax eggs and melted coconut oil instead of eggs and butter.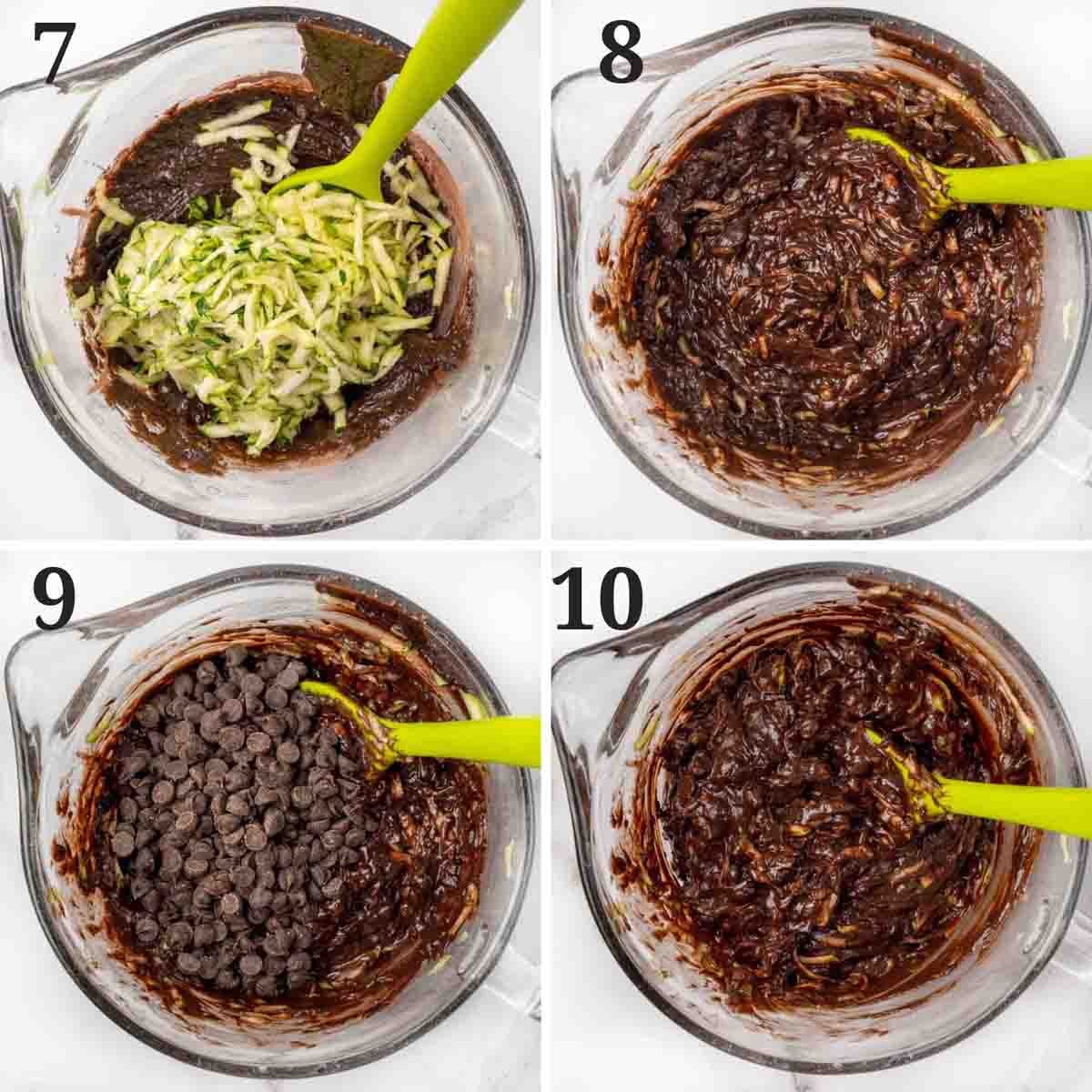 Add the shredded zucchini to the mixture.
Mix until just combined.
Add ¾ cup of the chocolate chips to the mixture.
Blend the chips into the mixture using a rubber spatula.
*Use a box grater or food processor to prepare the zucchini. Grated zucchini or shredded zucchini will both work for my chocolate zucchini cake recipe.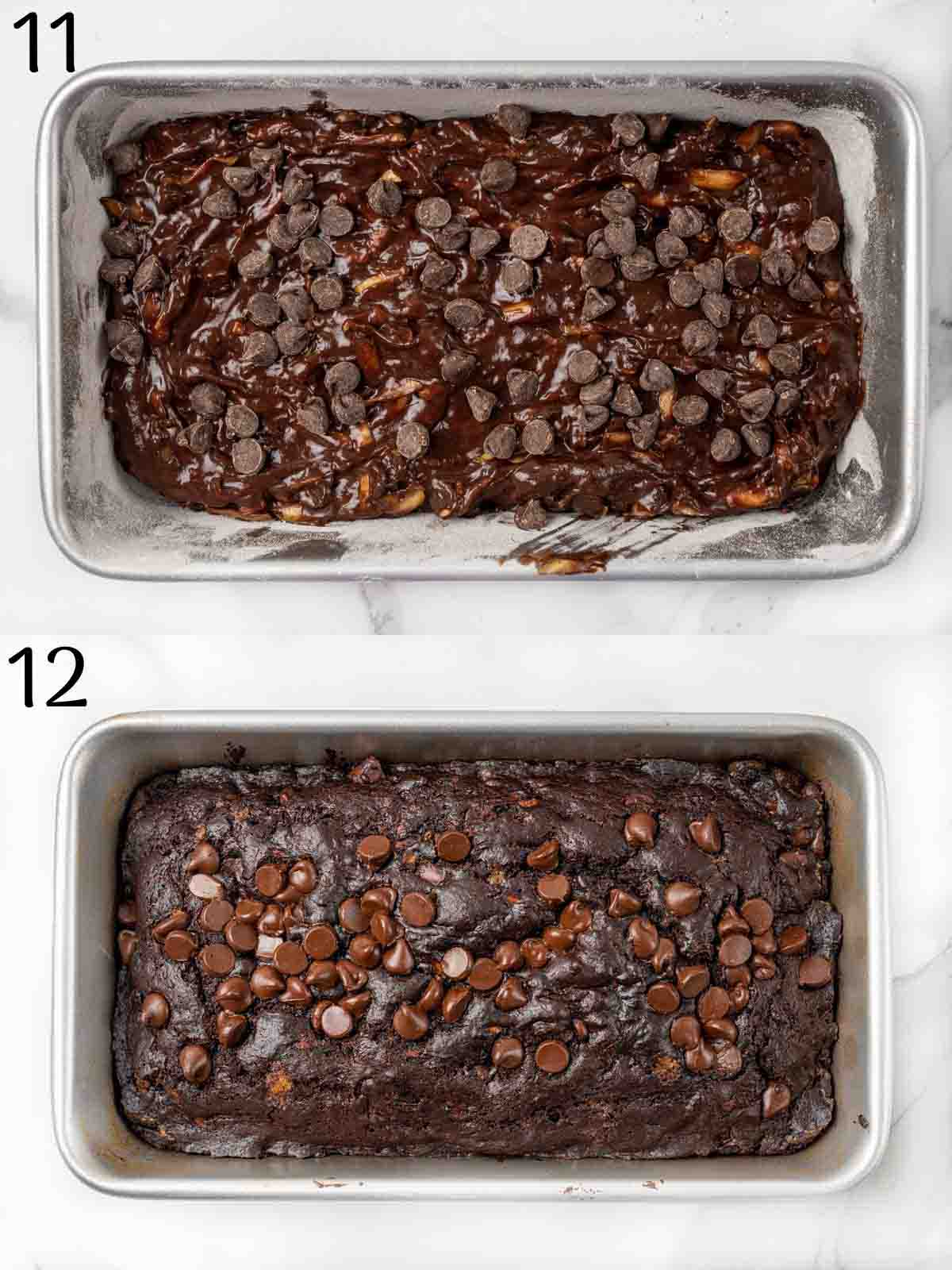 Pour the zucchini bread batter into the prepared loaf pan. Top the batter with the remaining chocolate chips.
Place the loaf pan on the center rack of the preheated oven and bake for 50-60 minutes, or until a toothpick or cake tester inserted into the center of the bread comes out mostly clean. *Don't confuse melted chocolate with the batter. You don't want to overbake the Chocolate Zucchini Bread.
Remove the pan from the oven and set it on a wire rack to cool. After 10 minutes, remove the fudgy chocolate zucchini bread from the pan and let it continue to cool on the wire rack before cutting it up into individual slices.
*You can also make chocolate zucchini muffins from this decadent chocolate zucchini bread batter.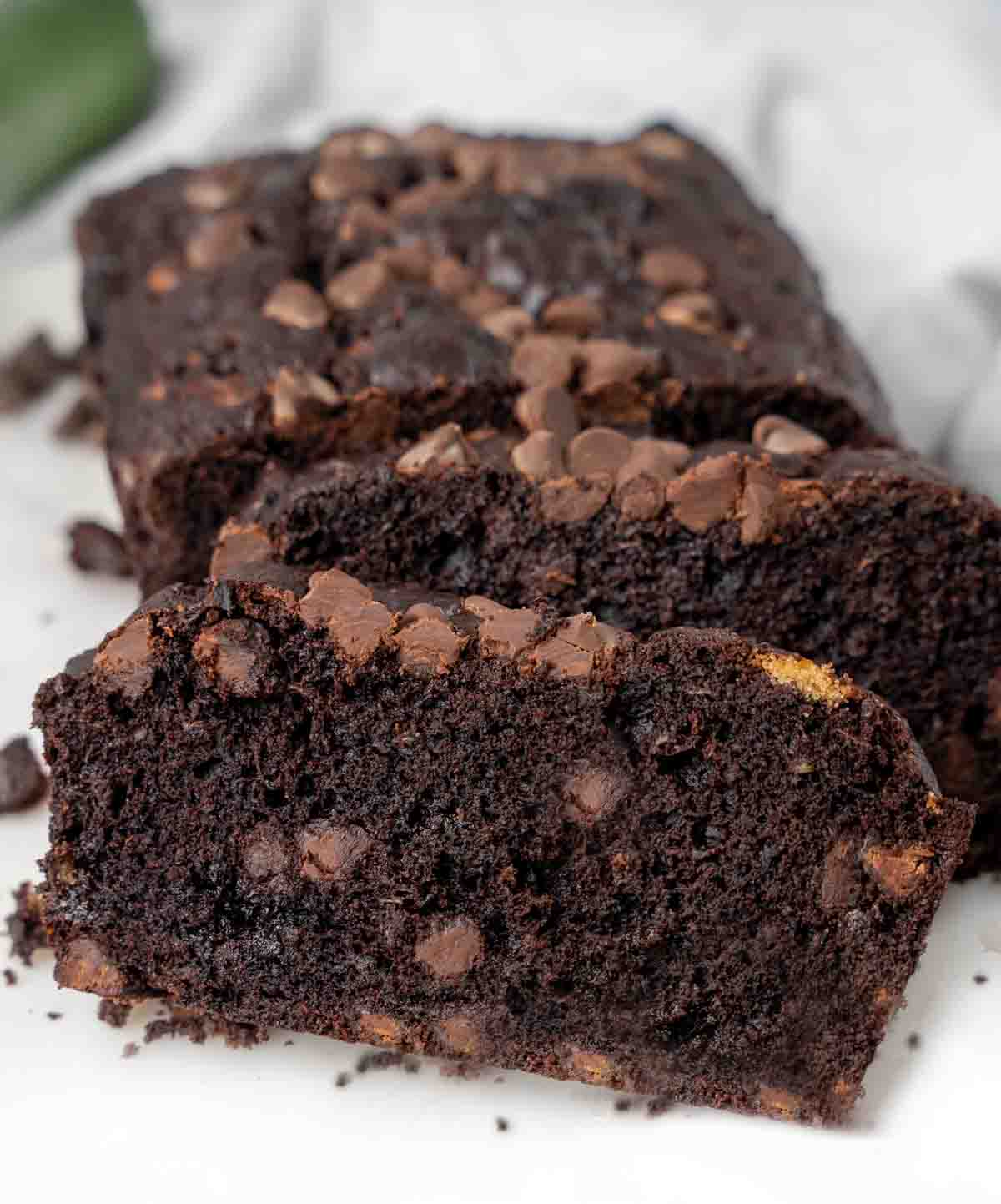 Not only is my Chocolate Zucchini Bread delicious it's a great way to use up the abundance of zucchini you may have in your garden or fridge. It's also a healthier alternative to traditional chocolate cake or bread, as it's packed with fiber and nutrients from the zucchini.
I know this will become one of your favorite zucchini recipes with its rich chocolate flavor and moist crumb.
Recipe FAQ's
Should you squeeze the water out of zucchini to make bread?
It depends on the recipe you are using. If not stated, the extra liquid was taken into account. Unless the zucchini you're using is excessively juicy, squeezing the squash could be removing some of the moisture needed to make the bread.
Should I peel the zucchini to make bread?
No, don't peel the zucchini. As tempting as it may be to peel the zucchini, it's a completely unnecessary step.
Can I freeze chocolate zucchini bread?
Yes, you can freeze chocolate zucchini bread for up to 3 months. Wrap it tightly in plastic wrap and then foil, or place it in an airtight container before freezing.
More Recipes You'll Love!