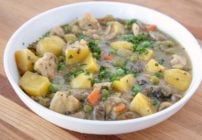 When it comes to comfort food my Homestyle Chicken Stew is definitely a dish your family will love! It's easy to make and very adaptable to what you have on hand.
This post includes affiliate links. As an Amazon Associate I earn from qualifying purchases.
Nothing says comfort like a bowl of hearty delicious chicken stew. It's an easy dish to make for yourself or your family and can be made with the vegetables you have on hand.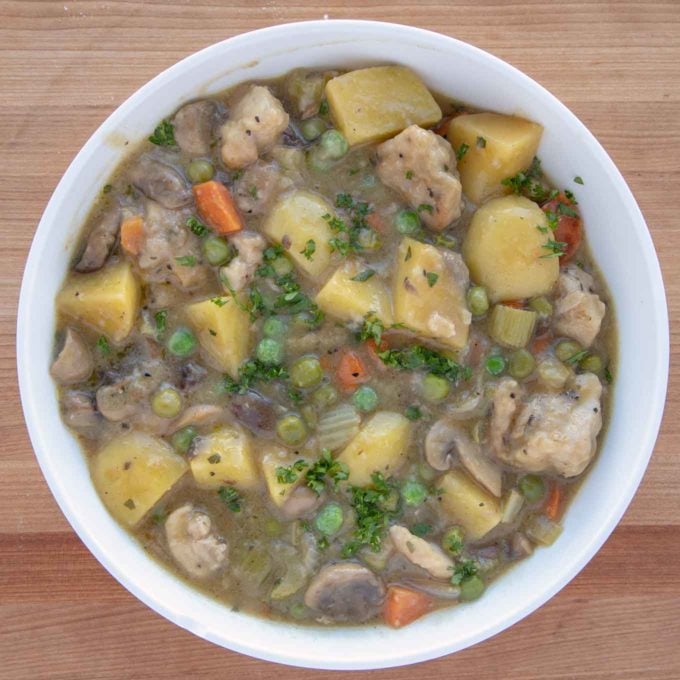 Stews are one of our favorite cold weather foods. And chicken stew takes a lot less time than beef so it's usually my go to stew when I want to fill up on comfort food.
It takes a little longer than most of the dishes share, but that's only because it needs about 30 minutes to simmer. But it couldn't be any easier to make!
What ingredients do I need to make Chicken Stew?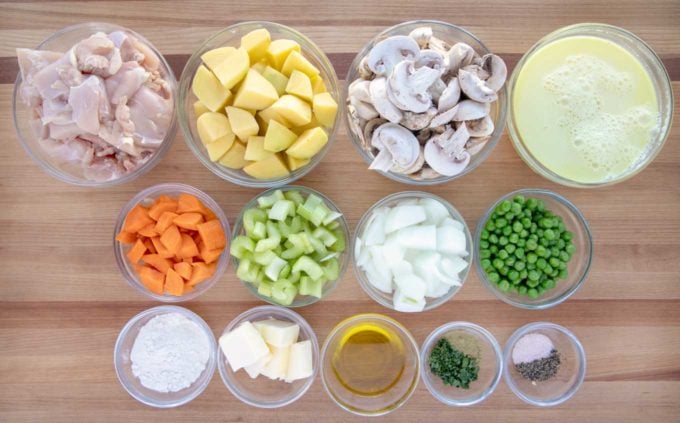 Let's start by gathering the ingredients we need to make Rustic Chicken Stew. In Chef Speak this is called the "Mise en Place" which translates to "Everything in its Place".
Not only does setting your ingredients up ahead of time speed the up cooking process, but it also helps ensure you have everything you need to make the dish.
Do I have to use peas or mushrooms in my stew?
No, you don't. If you're not a fan of green peas or mushrooms, leave them out. The best way to make a delicious stew that you're family will love is to use vegetables you enjoy eating. You can also add whatever vegetables you have on hand, these are some of my favorites.
corn
green beans or lima beans
okra
spinach or other greens
sweet potatoes or yams
turnips, parsnips, rutabagas or fennel
**Stews are made up of vegetables and protein, but that's not saying you can't add what you like to eat to the stew. Beans could also be added for extra protein and flavor. This recipe would work well with pork or beef.
How do I make Chicken Stew?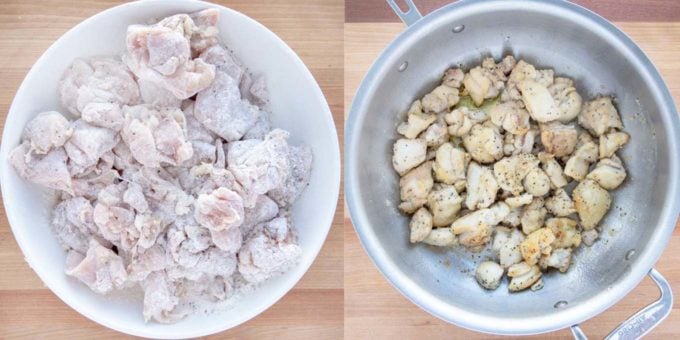 The first is preparing the chicken for the stew. Clean any visible fat or skin from the thighs and cut the chicken into chunks.
Prepare seasoned flour by adding half teaspoon of salt and quarter teaspoon of black pepper into half cup of flour. Mix well and coat the chicken chunks with the seasoned flour.
Add olive oil to a hot pan over medium high heat and sauté the chicken until all the sides have been seared. Remove the chicken from the pan and hold till needed.
Can I use Chicken Breast in my stew instead of thighs?
You sure can. I like using thighs, because they have a higher fat content, which means more flavor. But you can always substitute boneless chicken breasts.
**You could even stew a whole chicken and use the meat and broth to make your stew. The pieces would be smaller but it would be amazingly delicious.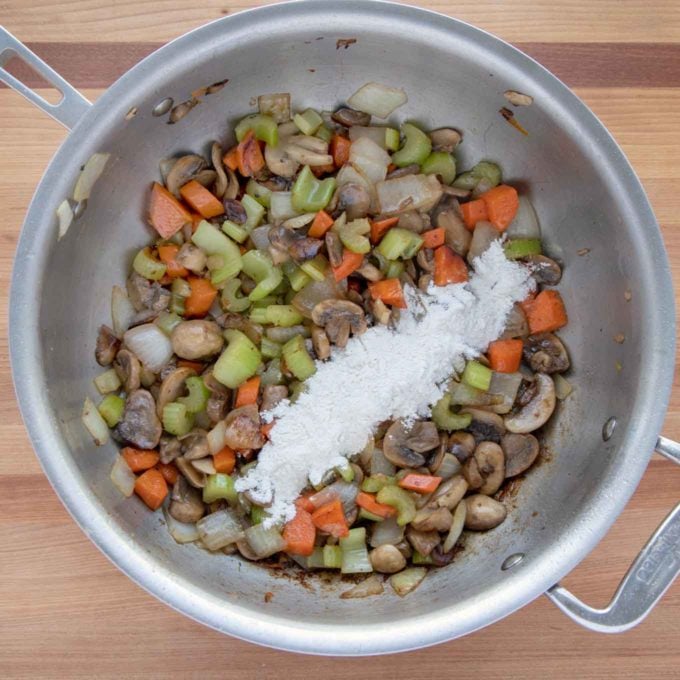 Once the chicken has been cooked you can move onto the stew vegetables.
In the same pan over medium-high heat add additional olive oil and the carrots, onions, celery and mushrooms. Allow them to cook for 2-3 then reduce the heat to medium and cook an additional 2-3 minutes until they begin to caramelize. Stirring the mixture as needed so the veggies don't burn.
**This brings out the natural sugars in the vegetables adding flavor to the dish.
Add the flour to the pan and mix well. Turn the heat down to low and allow the mixture to cook for 3-4 minutes, stirring often. Don't let the roux burn. Allowing the flour to cook will improve the overall flavor of the sauce.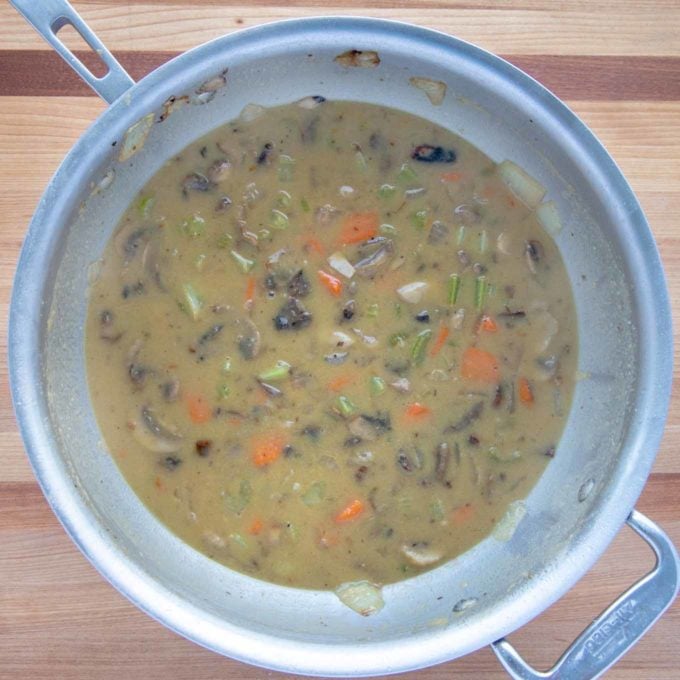 Add the stock to the veggie mixture one cup at a time. Mix well so there are no lumps in the sauce. Increase the heat to medium-high and bring the sauce to a light boil and reduce the heat to medium.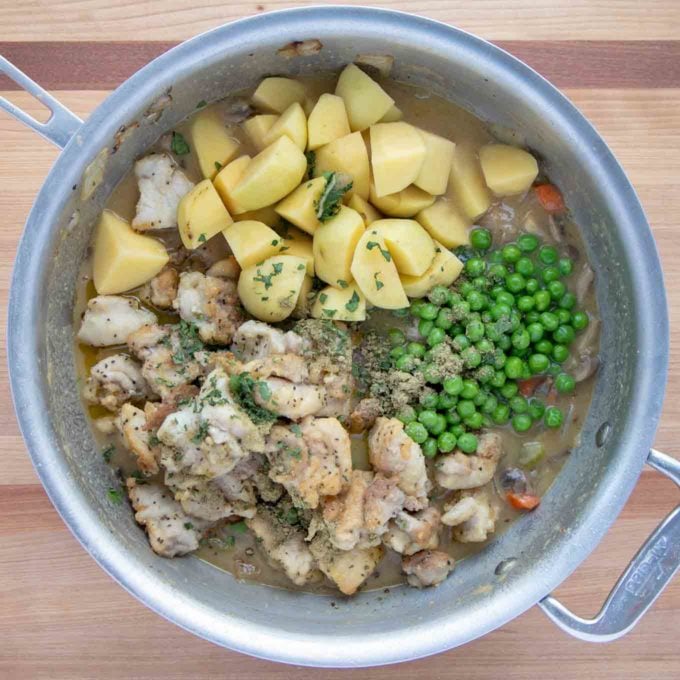 Add the chicken, potatoes, peas and seasonings to the stew. Mix well, bring back to a boil, and reduce the heat to a simmer. Continue cooking for 20-30 minutes.
**If you want the peas to be bright green, hold off adding them until you're ready to serve. Add the peas in at the last minute and they will warm up in the gravy and be a brighter shade of green.
**You can also par-cook the potatoes, or cut them into smaller pieces if you want the stew to cook faster.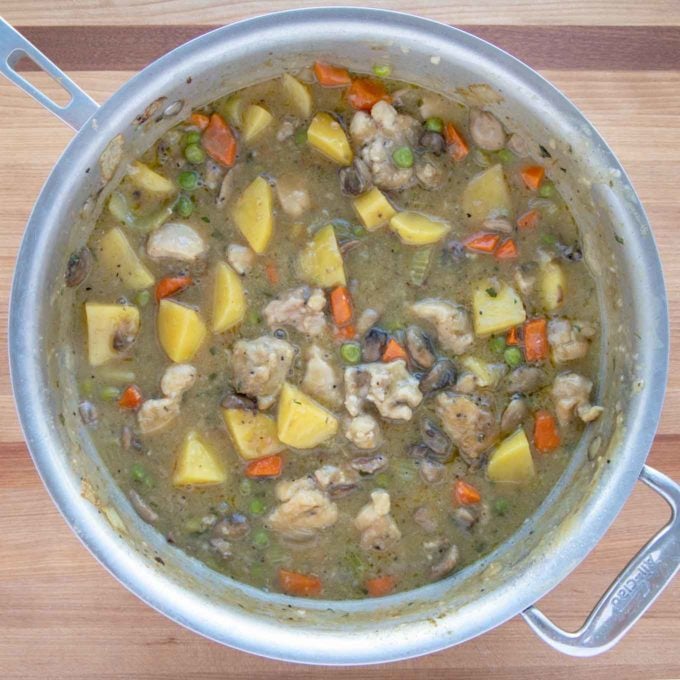 If the stew is too thick add additional stock or water to the mixture. If the stew is too thin, increase the heat to medium and allow the sauce to reduce a little longer.
**If you want the gravy to be a lighter color, add a quarter cup of heavy cream to the stew. This will lighten the color.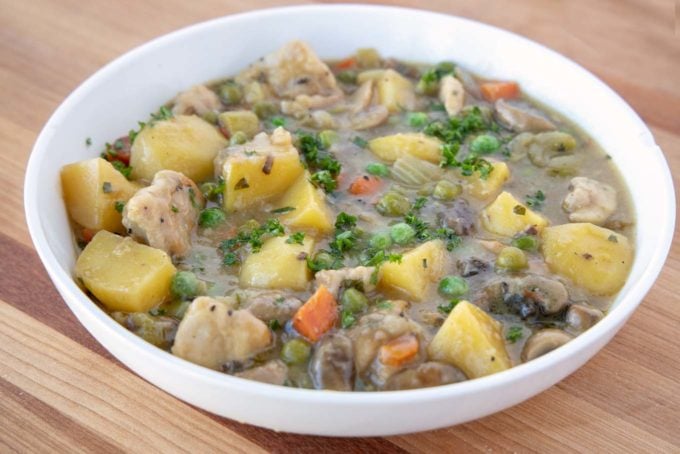 Serve the stew over egg noodles, rice or all by itself with a loaf of crusty bread. Anyway you serve it your family is going to love this delicious comforting chicken stew!
More Recipes You'll Love!