Classic Beef Stroganoff is a hearty Russian dish that is made with tender strips of beef served in a rich and creamy mushroom sauce and served over a bed of egg noodles. It's the perfect comfort food for a cozy night at home.
Made with simple ingredients, this easy-to-make dish can be on your dinner table in about 30 minutes, from start to finish.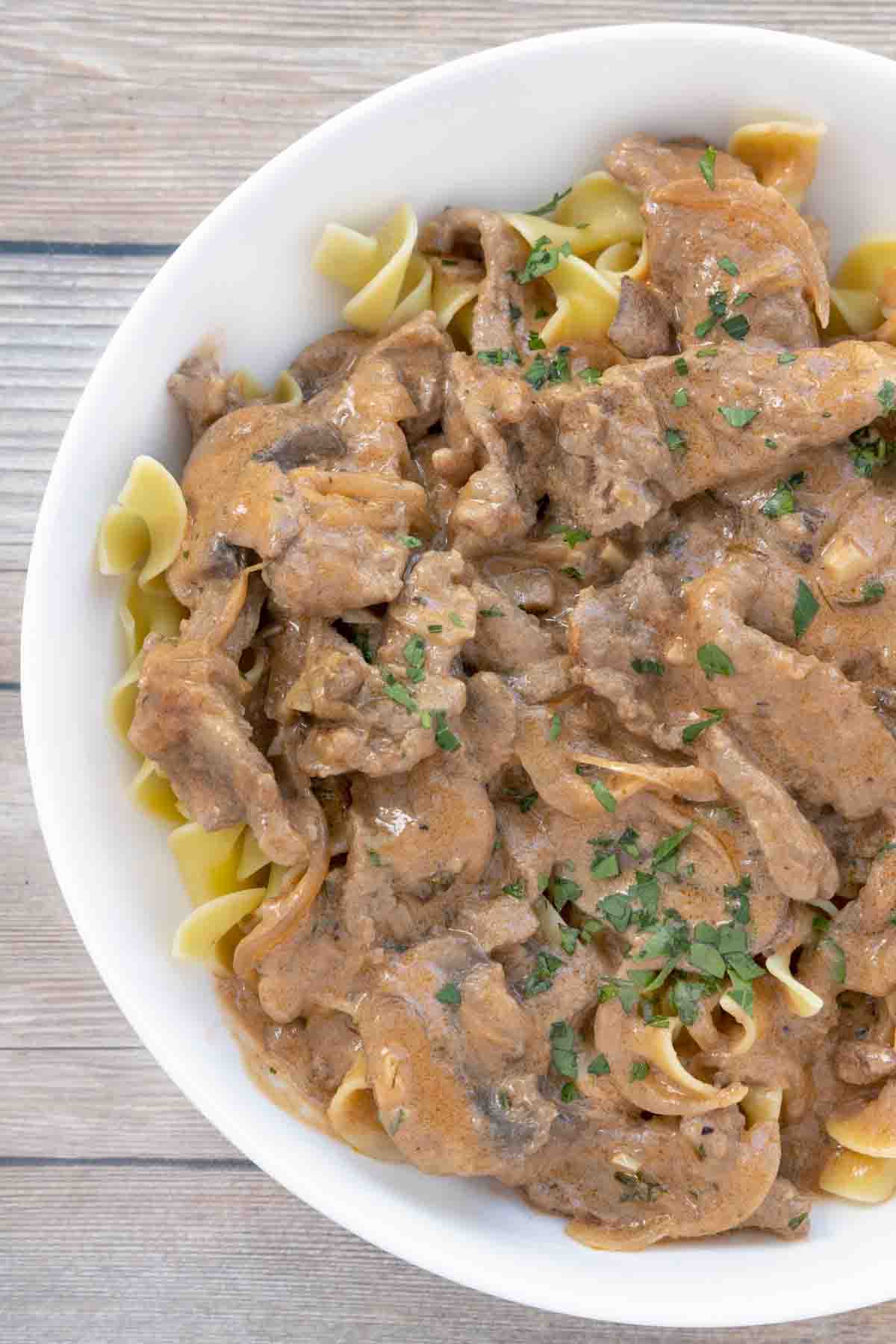 My easy beef stroganoff recipe is one of the oldest recipes I have in my repertoire. This classic Rusian dish was developed by a French chef for a cooking contest in St. Petersburg in 1891. After winning the competition, he named the dish after his employer, Count Pavel Alexandrovich Stroganov.
This creamy beef stroganoff was at the height of its popularity from the 1950s through the early 70s but fell out of popularity, as did many of the classic dishes of that era, such as my Steak Diane and Crab Imperial.
Just imagine tender chunks of beef in this luxuriously creamy sauce….sigh.
And it's easy to make Beef Stroganoff to suit your tastes. if you prefer a richer and creamier sauce, add more sour cream or heavy cream to the recipe. You can even add green peas or red bell peppers to the dish for a splash of color.
Ingredients to make Beef Stroganoff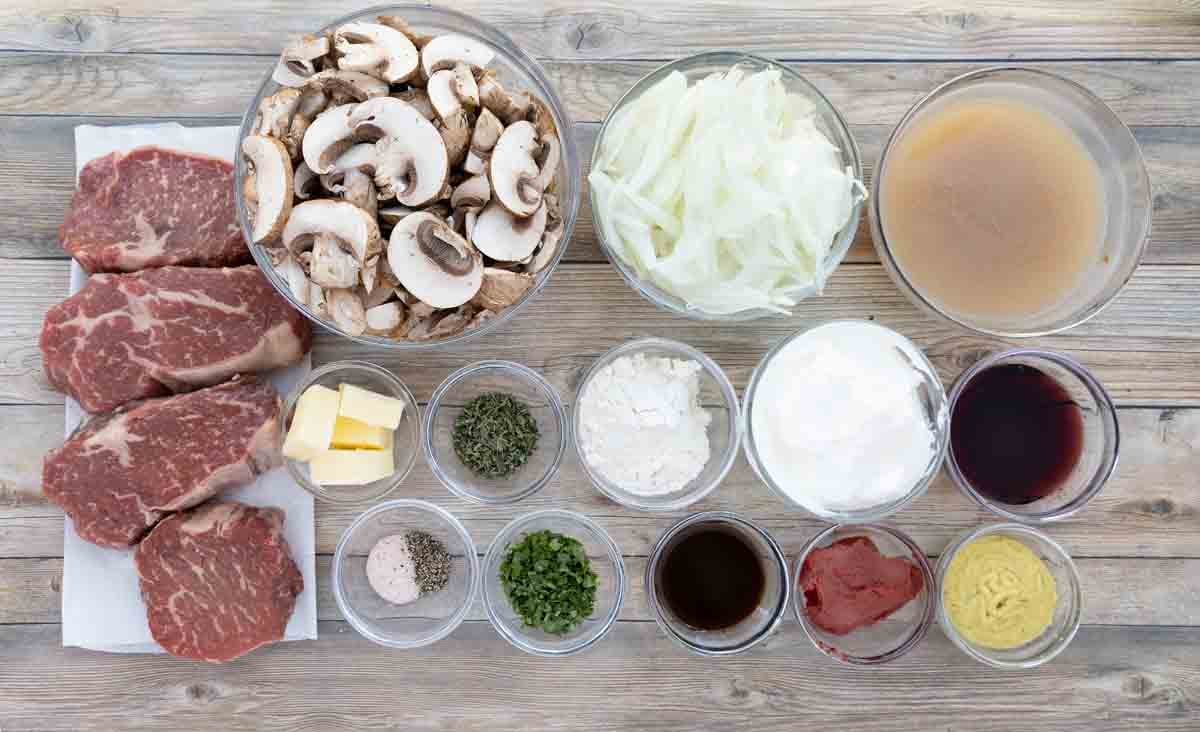 Let's start by gathering the ingredients we need to make Beef Stroganoff. In Chef Speak, this is called the "Mise en Place," which translates to "Everything in its Place."
Not only does setting up your ingredients ahead of time speed up the cooking process, it also helps ensure you have everything you need to make the dish.
What cut of beef should I use?
Traditionally, beef stroganoff is made with tender cuts of beef such as top sirloin or beef tenderloin. I used boneless ribeye filets to make this dish.
Chuck roast and eye roast would be too tough for this dish. For a more economical version you could use ground beef to make this recipe.
How to make Beef Stroganoff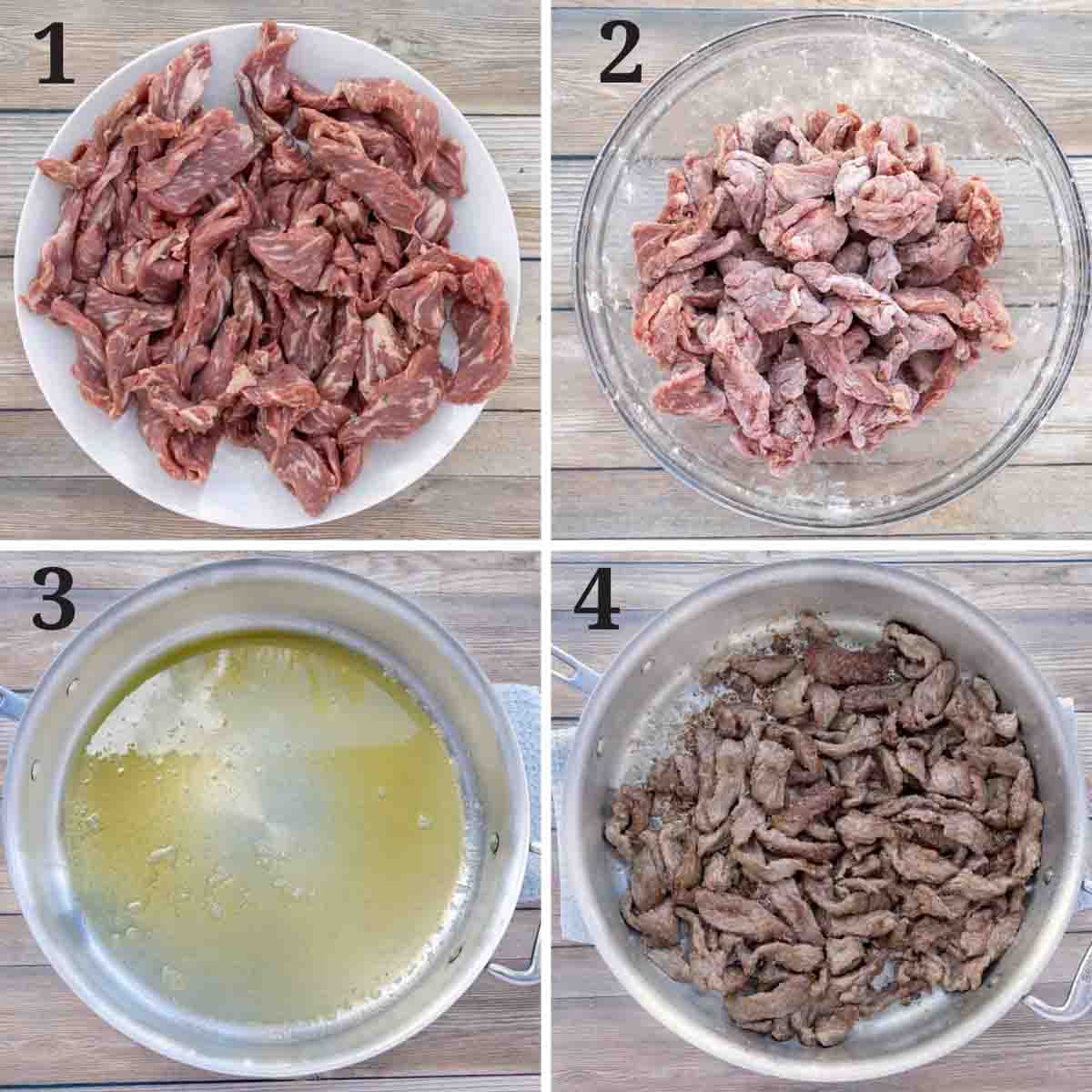 Thinly slice the beef against the grain.
Toss the sliced beef with two tablespoons of the flour
Heat one tablespoon of butter and one tablespoon of olive oil in a large skillet over medium-high heat.
Add the floured beef in a single layer to the hot pan and cook for 2-3 minutes, stirring to brown both sides of the beef. *If the pan isn't big enough for all the beef, cook it in batches.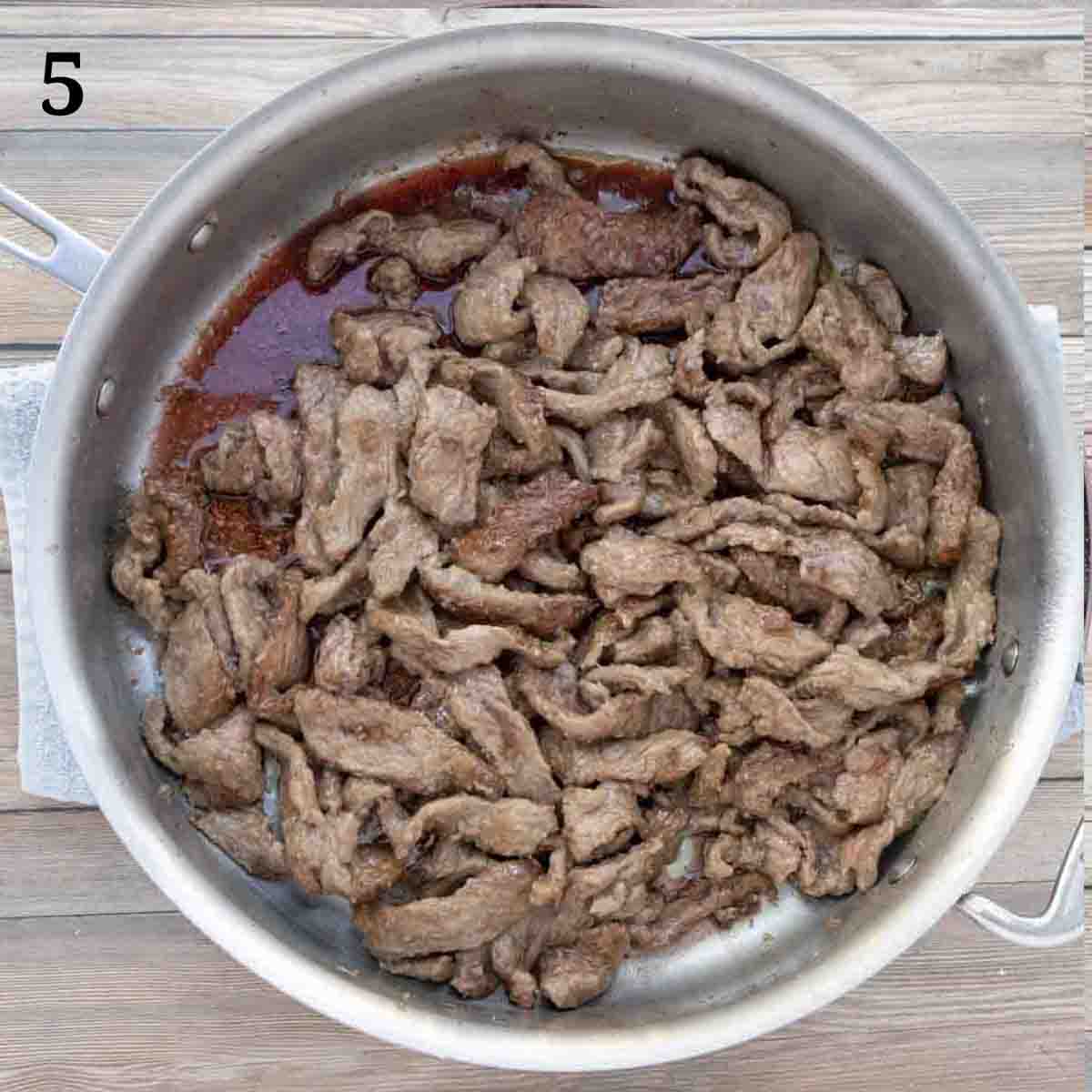 Deglaze the pan with the red wine. Use a large spoon to scrape all the browned bits off the bottom of the pan.
Remove the beef from the pan along with any juices and set aside until needed.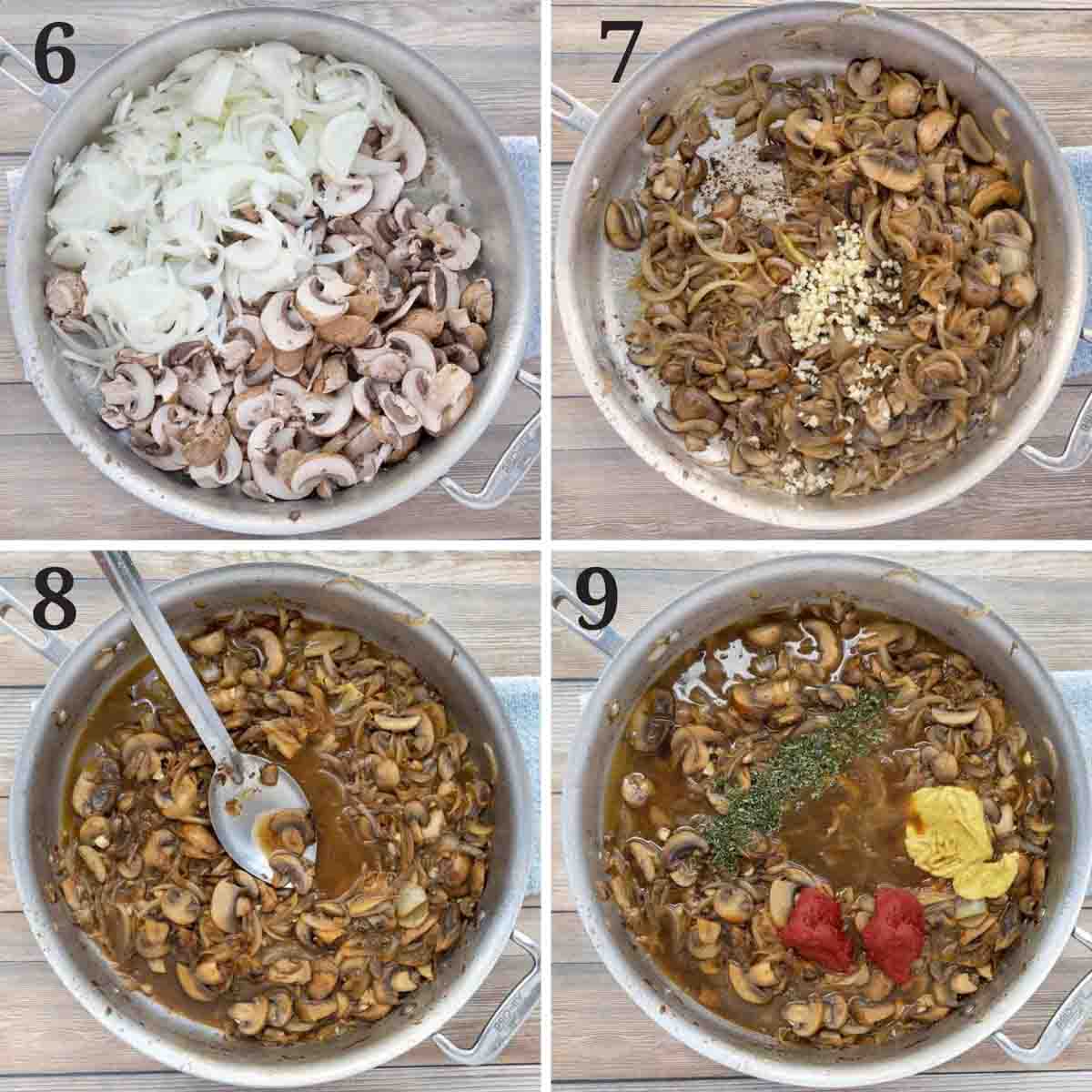 Using the same skillet, add one tablespoon of butter and one tablespoon of olive oil to the pan over medium-high heat.
Add the sliced mushrooms and sliced onions to the pan and cook for 3-4 minutes, then reduce the heat to medium and continue cooking for another 3-4 minutes.
Add the chopped garlic to the pan, mix it together, and cook for one minute.
Add the beef stock and stir with a big spoon to release any browned bits stuck to the pan.
Add the Worcestershire sauce, mustard, tomato paste, and thyme.
*I used baby bella mushrooms but white button mushrooms can be substituted.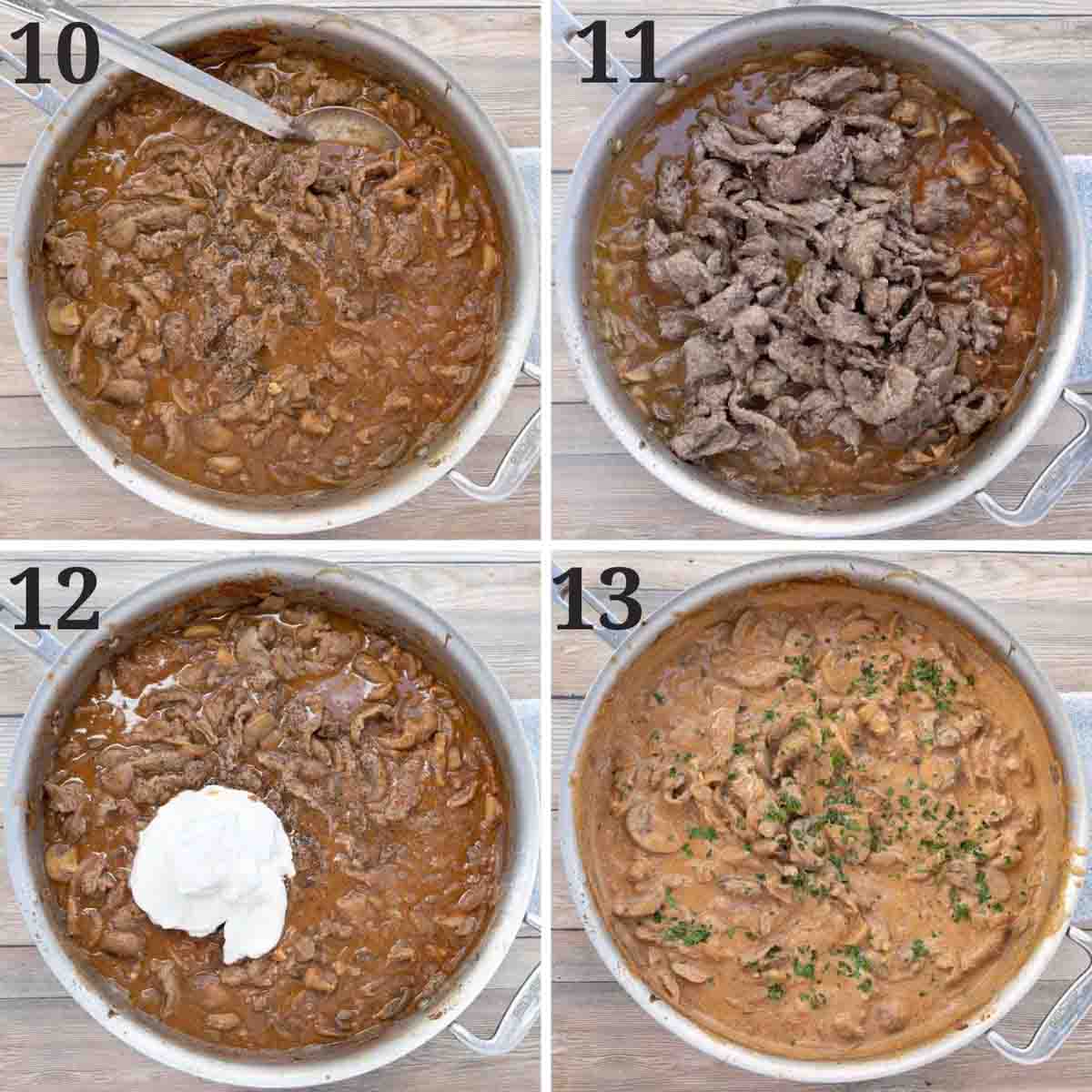 Bring the mixture to a boil. Reduce the heat to low heat and simmer for 4-5 minutes.
Add the cooked beef (with any juices) back into the pan. Bring the mixture back to a boil.
Add the sour cream to the stroganoff sauce and season as needed with black pepper and salt. Heat the mixture until it begins to boil.
Add half of the chopped parsley to the dish and mix. *If the sauce is too thick, thin it with additional beef broth or water until you have the desired consistency.
*I have a friend that uses my recipe, but instead of sour cream, she uses Greek yogurt. Either will work with this dish.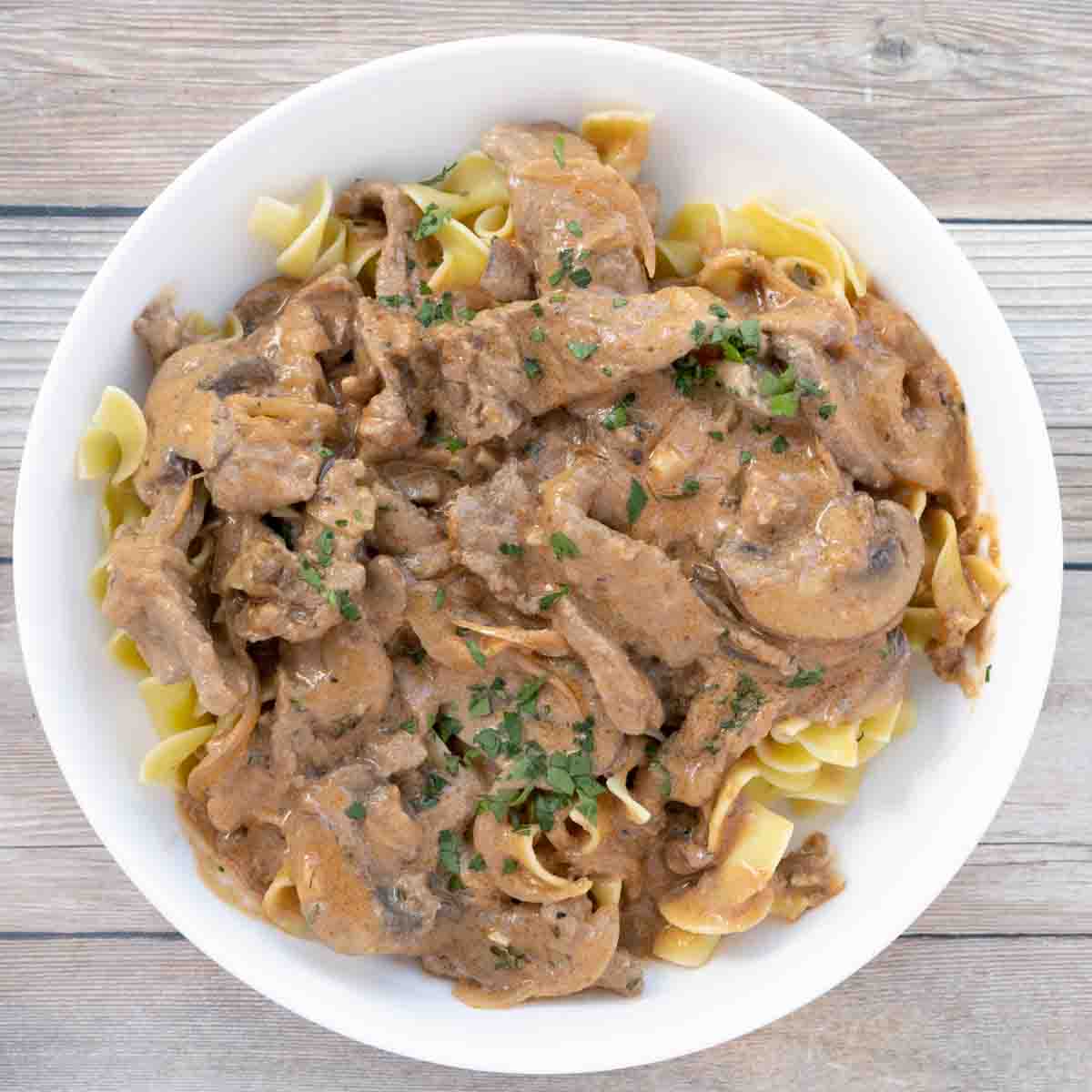 Serve the Beef Stroganoff over egg noodles, and garnish with chopped fresh parsley. After you've tasted this Russian classic, I know you'll agree this is the best beef stroganoff recipe you've ever tried!
This is a great recipe to double. That way, you have an extra portion to freeze for a delicious dinner on a night when you don't feel like cooking. You can keep my homemade beef stroganoff frozen in an airtight container or freezer bag for up to 3 months.
Recipe FAQ's
What is the best cut of beef for Beef Stroganoff?
The best cut of beef for Beef Stroganoff is beef tenderloin, boneless ribeye filet, or top sirloin. They are tender and flavorful cuts of beef.
Other cuts of beef will require tenderizing before cooking or longer cooking times.
What is Stroganoff sauce made of?
Stroganoff sauce is a rich brown sauce made with mushrooms, onions, and sour cream. Brown mustard, Worcestershire sauce, tomato paste, and beef broth combine to make this deliciously creamy stroganoff sauce.
More Beef Recipes You'll Love!