Total Time:
1
hour
50
minutes
If you've ever had Coq Au Vin then you understand how I feel about this classic French dish.  The rustic provencal stew has a complexity of flavors that brings moans to the table.  So when I was asked to develop a recipe using Better Than Bouillon® and Swiss Diamond® products, the idea of Coq Au Vin sprung into my mind.
Although this is a sponsored post, all of the opinions, text and images are honest and 100% mine.
I couldn't wait to make this classic because of the products I had been sent for review.  A chef's job is always easier and more enjoyable when he has the right ingredients and tools.
If you've never heard of Swiss Diamond® before, make sure to visit their web page.  Not only do they make some of the best cookware I've ever had the pleasure of using, there's a little something for everyone.
Whether you like non-stick, premium stainless steel or induction cookware you'll find cookware that will suit your needs.
The newest addition to their family is the Swiss Diamond® Prestige Cast Line of cookware.  It's freaking AWESOME!!
And when it's time for new knives look no further than their line of Prestige Knives.  The 8″ Chef's Knife they sent me felt so good in my hands and cut so well that it made me weak in the knees.
But enough shop talk lets's get to the star of the post, Coq Au Vin.   As always I like to gather my ingredients together before I start to make the cooking process easier and more enjoyable.  This is your Mise en Place (everything in its place).
One of a chef's greatest tools and secret in any restaurant are good quality soup bases.  Yes, we do make stocks from scratch when time permits, but even those need a little boost from time to time or just don't make enough.  And that's when having a quality soup base product like Better Than Bouillon® comes in handy.
Better Than Bouillon® comes in two convenient sizes 3.5 ounce and 8 ounce.  They come in a wide variety of flavors as well as Organic, Vegetarian and Reduced Sodium.  To find out who carries Better Than Bouillon® soup bases near your location, click on the Store Locator.  They're sold in a variety of retailers nationwide.
As expected my Coq Au Vin was ah-mazingly delicious.  And one of the contributing factors was marinating the chicken ahead of time.   Testing has revealed that marinating for as little as 20 minutes can really help the flavor, but I always like to marinate overnight whenever possible.   Use a ziplock bag and squeeze all the air out as you seal the bag.  Place it in your fridge overnight (on a plate, just in case it leaks) massaging the bag a few times during the process.
Use a ziplock bag and squeeze all the air out as you seal the bag.  Place it in your fridge overnight (on a plate, just in case it leaks) massaging the bag a few times during the process.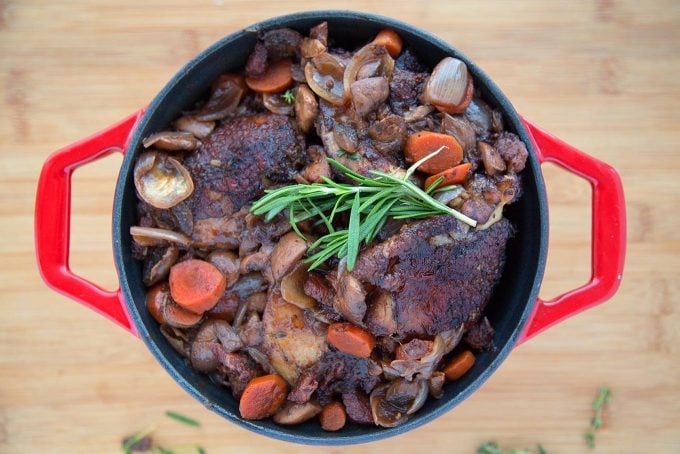 There's not a lot to the dish in terms of difficulty, but if there were two points I'd emphasize they'd be to braise the chicken without moving it for 7-8 minutes to get that rich crispness to the skin.  And to sauté the mushrooms for at least 5-6 minutes to allow them to caramelize, building rich flavors in the process.
Coq Au Vin is a simple dish but as I stated in earlier, there is a complexity of flavors that makes you moan.
This classic is generally served with parslied buttered baby potatoes, but my wife loves mashed so I made a buttery mashed potato to go with my Coq Au Vin.   Happy wife = Happy life.
Coq Au Vin
Total Time:
1
hrs
50
mins
Ingredients
2

tablespoons

extra virgin olive oil

6

slices

bacon

diced

8

ounces

mushrooms

6

small white onions

cut in half or quartered depending upon size

2-3

cloves

garlic

mashed

2

carrots

peeled and rough cut

1/2

bottle of full-body red wine

2

tablespoons

tomato paste

8

ounces

Chicken Stock

made with Better Than Bouillon® Premium Roasted Chicken Base

unsalted butter

1

sprig

thyme

1

sprig

rosemary

sea salt and black pepper

to taste

4

large

skin on, bone in chicken thighs
Instructions
Add chicken to a 1-gallon zipper-lock bag. Pour in one cup red wine and seal bag, pressing out air. Let stand while you prepare the remaining ingredients or overnight for the best results.

Preheat oven to 350°

In a large Dutch oven or rondeau, cook bacon over medium-high heat, stirring and reducing heat as necessary to prevent scorching, until browned and fat has rendered, about 10 minutes. Remove from heat and, using a slotted spoon, transfer bacon to a paper towel-lined plate.

Remove chicken from zipper-lock bag, discard wine, and pat dry.

Season chicken with salt and pepper. Return Dutch oven with rendered bacon fat to medium-high heat. Add chicken thighs skin-side down, and cook until browned, about 7 minutes. Turn and brown the other side, about 5 minutes. Don't move the chicken around while cooking, allow it to sear in place. Use a spatula to get under the chicken when turning being careful not to rip the skin.

Remove Chicken from pan setting aside until needed

Add mushrooms to pan and cook over medium-high heat, stirring frequently, until browned, 10 to 12 minutes. Add onions, carrots, and garlic and cook, stirring, until lightly browned, about 5 minutes. Add bacon, wine, tomato paste, chicken stock, thyme and rosemary and bring to a simmer, stirring up any browned bits.

Add chicken back to pan, leaving skin side up and not submerged if possible. Transfer to oven and cook, uncovered, for 1 hour.

Remove pan from the oven and take the chicken out of the pan.

Add in two tablespoons of unsalted butter that has been rolled in flour, getting as much flour into the butter as possible. This is called a beurre manie and will thicken your sauce. Mix the beurre manie in well and allow to simmer over medium heat.

Return chicken to pot, spooning sauce on top. Garnish with remaining sprig of thyme or rosemary. Serve with potatoes, pasta, or rice.
Visit their website to learn more about Swiss Diamond® products.  And for more deliciousness follow them on Facebook, Instagram, and Twitter.
Click here to learn more about Better Than Bouillon® products.    You can also find them on Facebook, Instagram, and Twitter.