Cioppino is a classic San Francisco seafood dish that will make you look like a superstar in the kitchen. The rich red sauce is a perfect compliment to the seafood and although it takes a little while to cook, it's a delicious restaurant-style dish that you can serve in your own home.
Total Time:
1
hour
25
minutes
This post includes affiliate links. As an Amazon Associate I earn from qualifying purchases.
How to Make San Franciscan Style Cioppino-
With the holidays approaching everyone is always looking for deliciousness to create at home for their family and guests. One of my all-time favorite dishes is Cioppino aka Chopino. You'll find it in many restaurants across the nation but the original version comes from that "city by the bay" San Francisco.
One of my nieces, Bella is all about great food and learning how to cook. She wanted to make a special dinner for her father and since they both love seafood this seemed like the perfect choice..
My niece, Bella is part of the "texting generation" and can easily send 2 or more texts before I can answer one…sigh. So after multiple texts and frustration on my part, I finally suggested that she come over for dinner and I would teach her how to make Real San Franciscan Cioppino, just as I had learned so many years ago.
Over the years I've worked and dined at restaurants that had Cioppino on their menu, but it was rarely the real thing, being more of a Fugazi-style representation of the dish. The big difference in the local Italian style Cioppino and a San Franciscan Style Cioppino is how the sauce is made.
The origin of this dish is said to come from Ligurian region (Genoa) of Italy, and that the Italian-American fisherman from the North Beach area of San Francisco came up with this dish utilizing the catch of the day with a variety of fresh seafood that was on hand. You'll find versions that contain less seafood and others that contain squid, but the main ingredients of this dish are the shellfish anything else that finds its way into the pot is a bonus!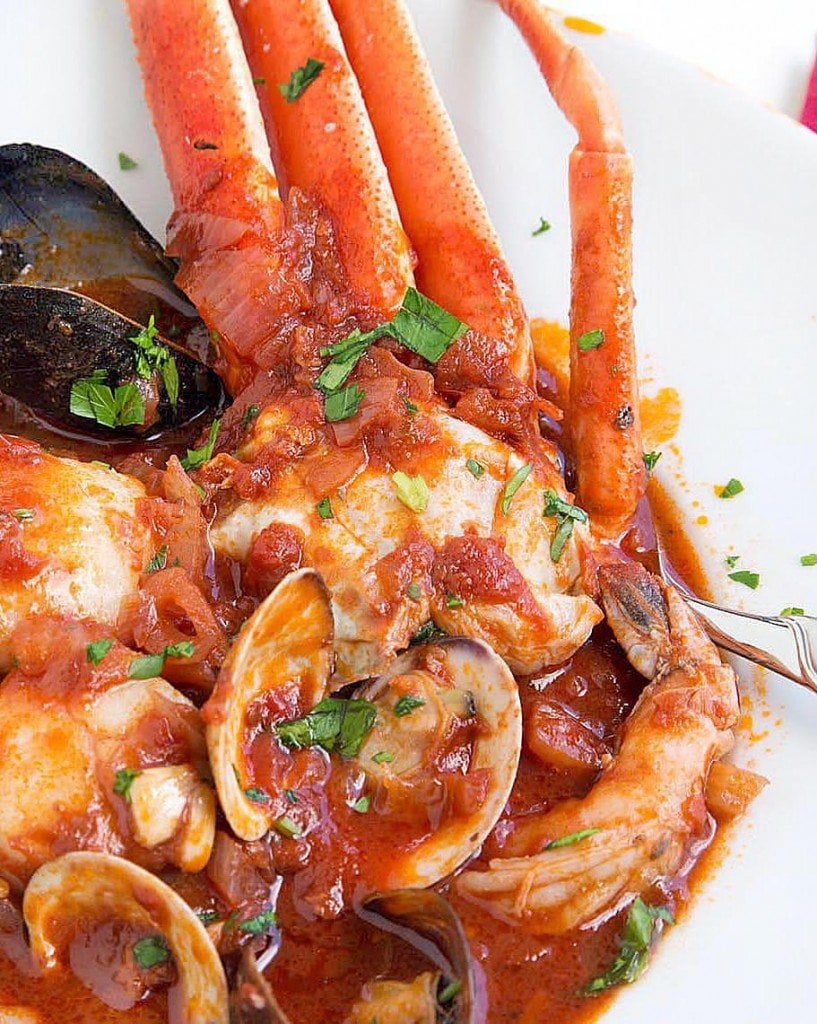 We had a great time as we worked together in the kitchen, and Bella showed her technical skills by making and an Instagram montage of the process. We had a wonderful dinner that night and more than just the dinner was the time spent together in the kitchen, sharing recipes and stories. Bella also learned that that very expensive dinner out could be made for a lot less at home, feeding a family for the price of one dinner. That was the real lesson of the day.
If you've never thought of making Cioppino, I urge you to try this recipe. It may contain a lot of ingredients, but it really is a very simple dish to make and I promise you'll have one delicious dinner on your table that will impress your family or friends.
If you enjoyed my Cioppino you might also like these recipes: