Chicken schnitzel is a traditional Austrian dish that is made with thinly pounded chicken breast coated with breadcrumbs and lightly fried until crispy and golden brown. It's a simple yet delicious comfort food that can be easily prepared at home in less than thirty minutes.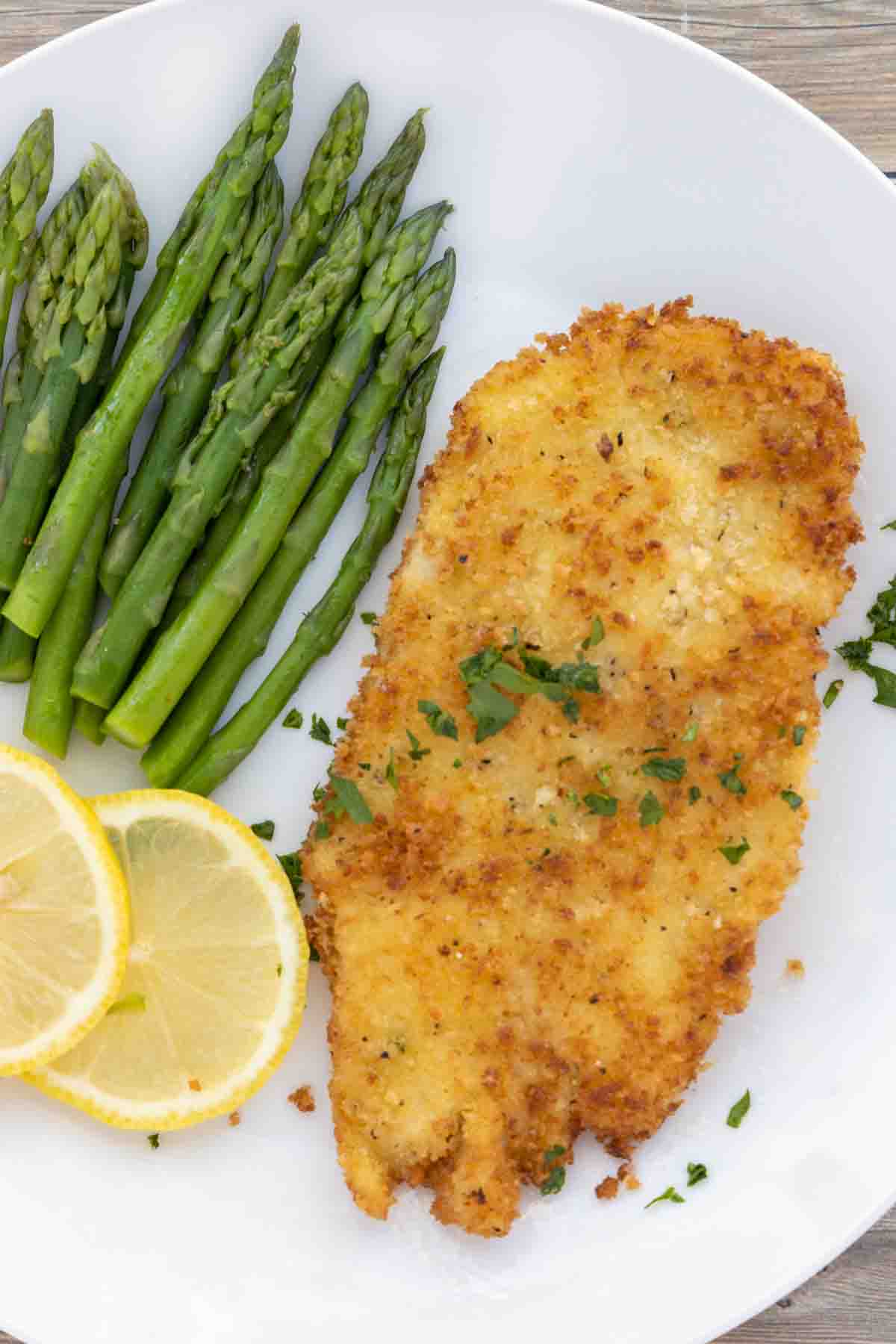 The origins of schnitzel can be traced back to the 19th century in Austria. The first recorded use of the word schnitzel was in the early 1830s.
Chicken Schnitzel was inspired by its predecessor Wiener Schnitzel which is made with veal. You can also use pork to make pork schnitzel. The key to making good schnitzel is using pieces of meat that have been pounded thin with a meat mallet. Breaded and pan-fried, it's a dish that can be made in minutes and goes with just about anything you'd like to serve with it.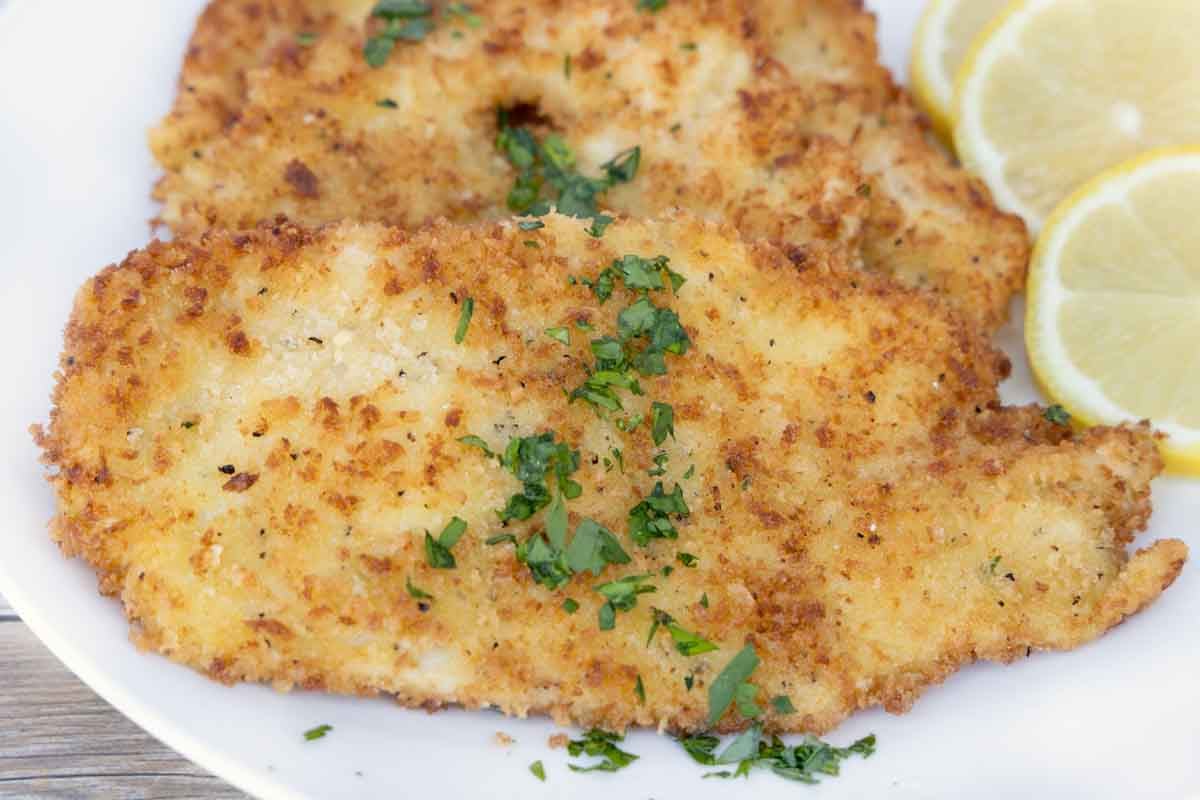 This was definitely the best crispy chicken schnitzel I've ever had. It's the perfect dinner for a busy weeknight.
If you like my Chicken Schnitzel recipe, make sure to check out my Chicken Milanese recipe. It's another delicious and easy chicken recipe.
Ingredients to make Chicken Schnitzel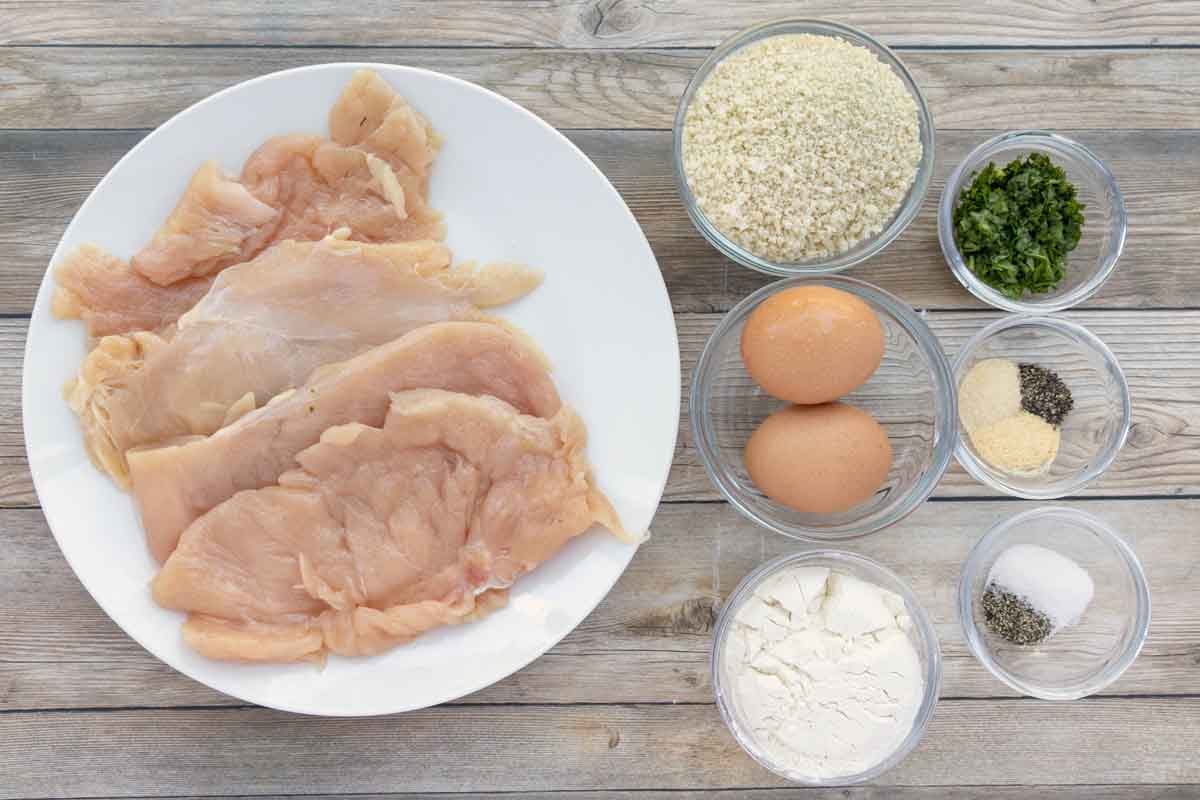 Let's start by gathering the ingredients we need to make Chicken Schnitzel. In Chef Speak, this is called the "Mise en Place," which translates to "Everything in its Place."
Not only does setting up your ingredients ahead of time speed up the cooking process, it also helps ensure you have everything you need to make the dish.
How to make Chicken Schnitzel
The key to making the perfect Chicken Schnitzel is in flattening the skinless breasts (which also tenderizes them) with a meat mallet. This makes the chicken breast tender and helps in the cooking process, keeping the breast moist and flavorful.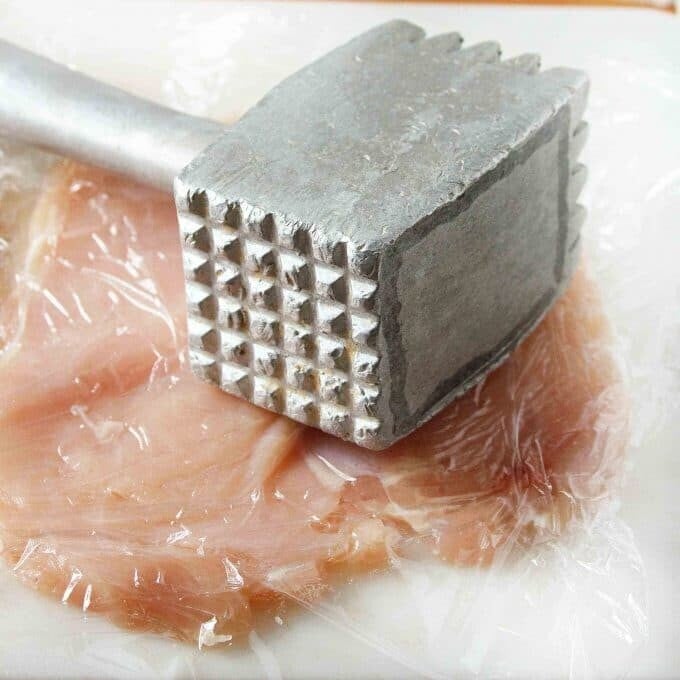 Place the boneless chicken breast between two sheets of plastic wrap and pound the chicken until the cutlets are ¼-½ inch thick. The chicken breasts should weigh between 4-5 ounces each. You may need to split chicken breast halves to make thin chicken cutlets.
After pounding the chicken breasts into thin cutlets, the next step is setting up the breading station by placing the seasoned flour, eggwash, and bread crumbs into separate shallow bowls.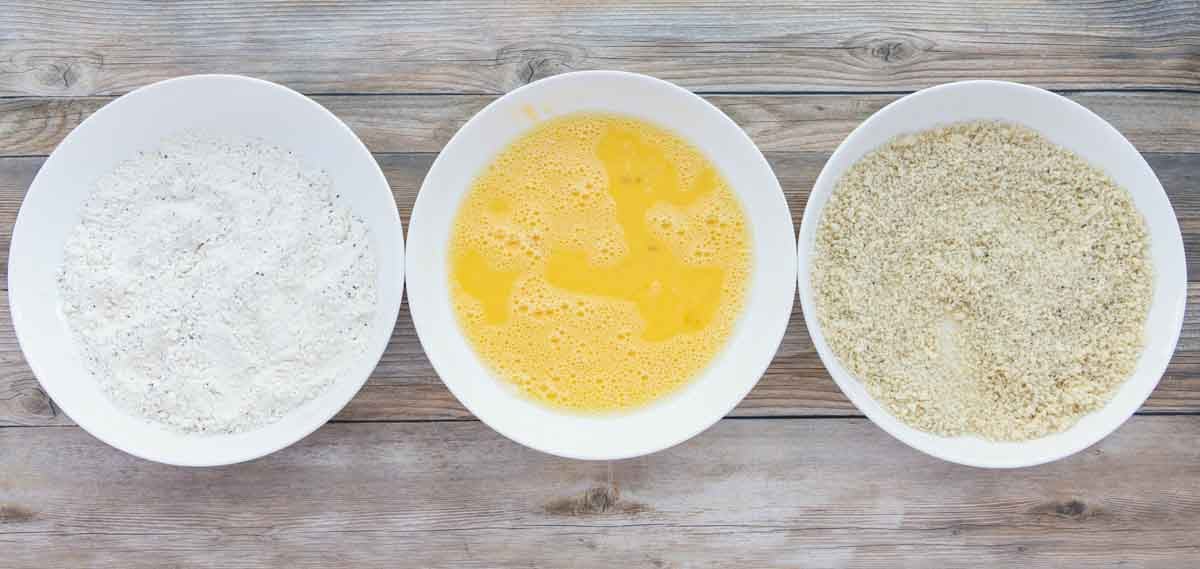 Add the all-purpose flour, salt, and black pepper to a bowl and whisk to combine.
Add two eggs and ¼ cup of milk or water to another bowl and whisk until well combined. This is the egg wash.
Add the panko bread crumbs, garlic powder, onion powder, and black pepper to another bowl and mix until well combined.
Some recipes add lemon zest to the bread crumbs, but I don't want to add the additional flavor to the cutlet until after it's cooked. That's when a nice squeeze of lemon juice will perk up the flavor.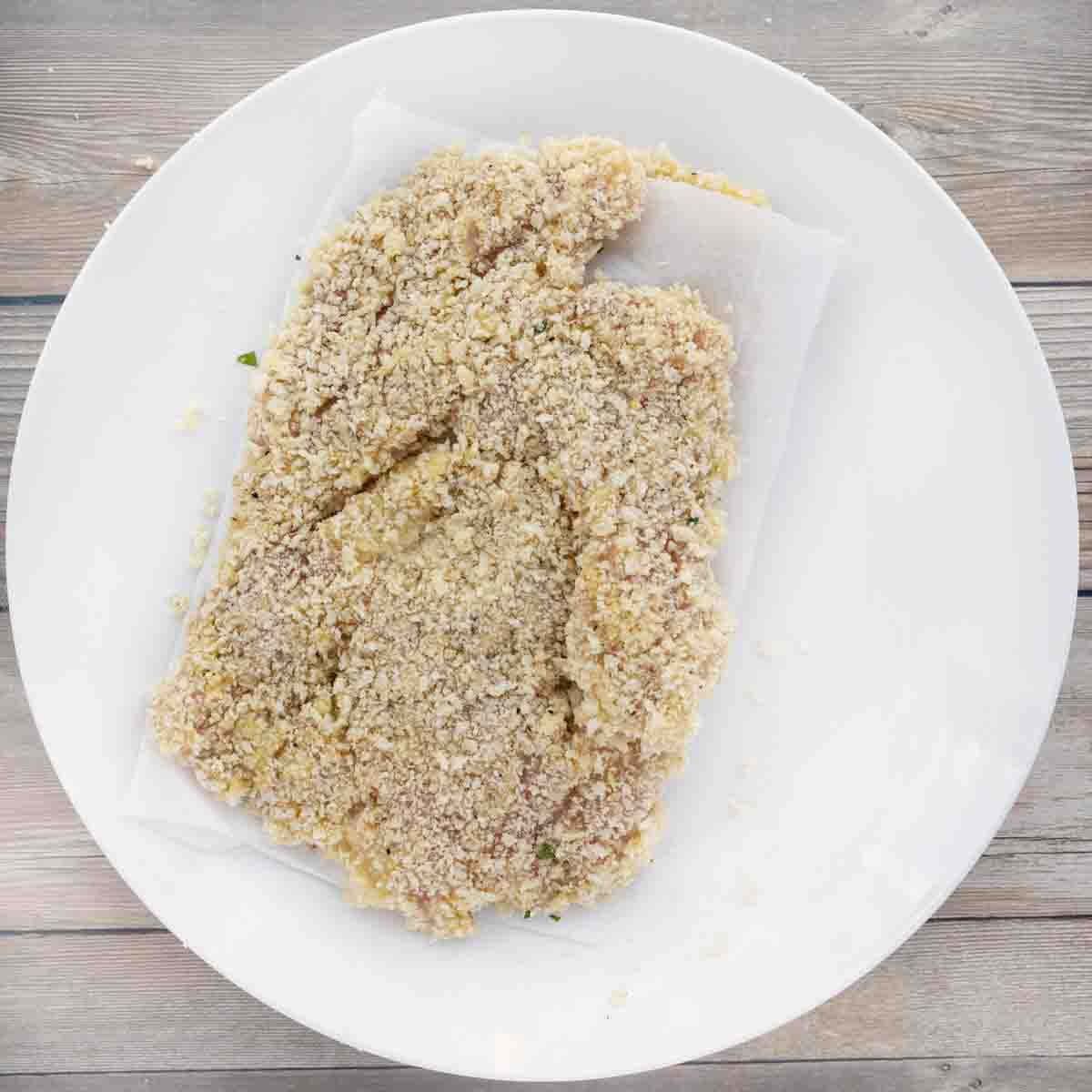 Dredge the chicken breast in the flour mixture, completely coating the pounded breast.
Dip the floured chicken into the egg mixture to completely coat the cutlet.
Add the egg-dipped chicken to the breadcrumb mixture to coat the entire chicken cutlet well.
Repeat the process with each piece of chicken. Place small sheets of parchment paper or wax paper in between each breaded chicken cutlet to keep them from sticking together.
The chicken schnitzel can be frozen, breaded, and uncooked if needed. Wrap in plastic wrap and store in a zip-lock bag for up to three months.
I used panko breadcrumbs, but you can use regular or gluten-free breadcrumbs to make this dish.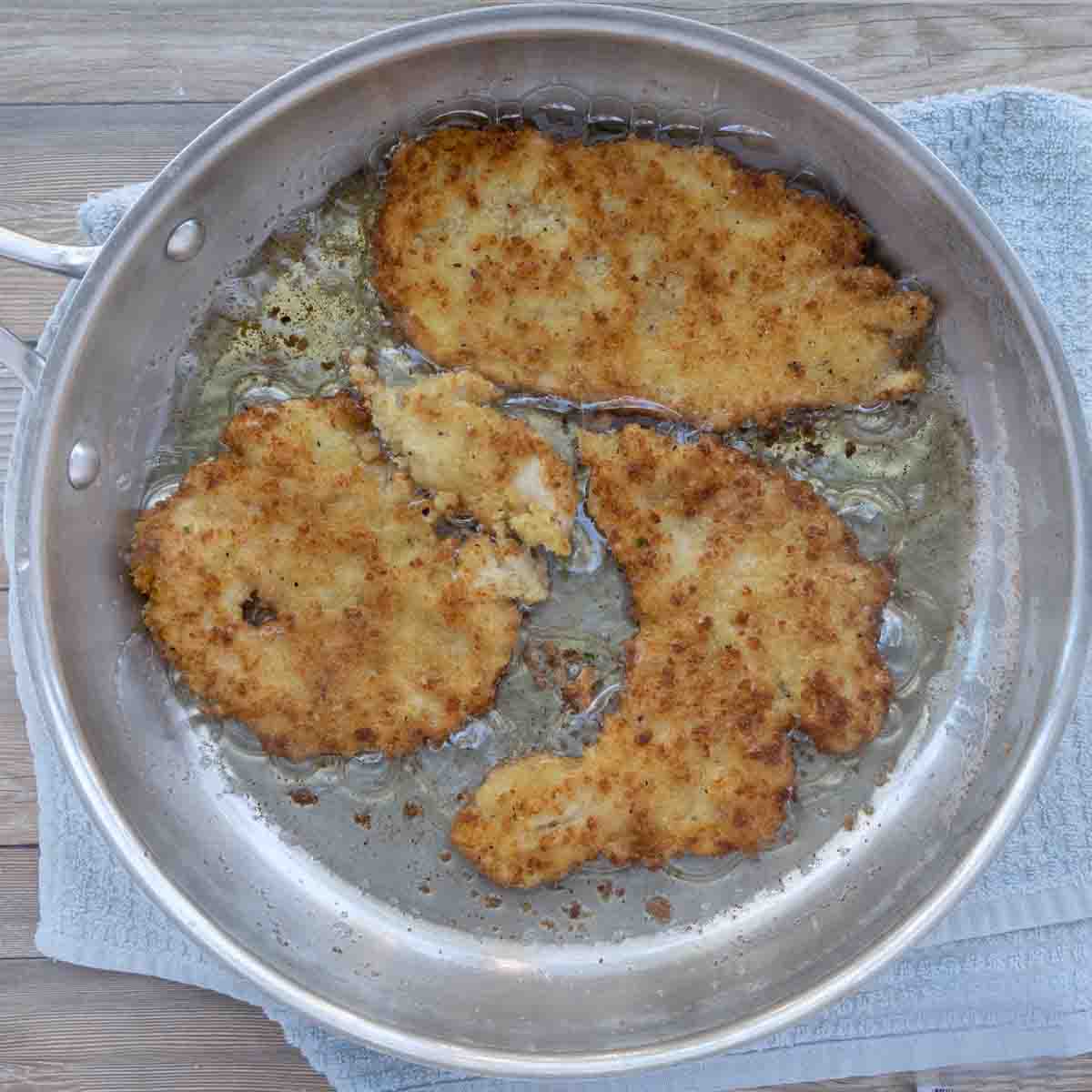 Add ½ cup of vegetable oil to a large skillet (or large frying pan), then place it over medium-high heat.
Carefully place chicken cutlets into the hot oil and saute until golden brown and crispy (about 2-3 minutes per side). *The chicken is cooked when an instant-read thermometer registers an internal temperature of at least 165°F.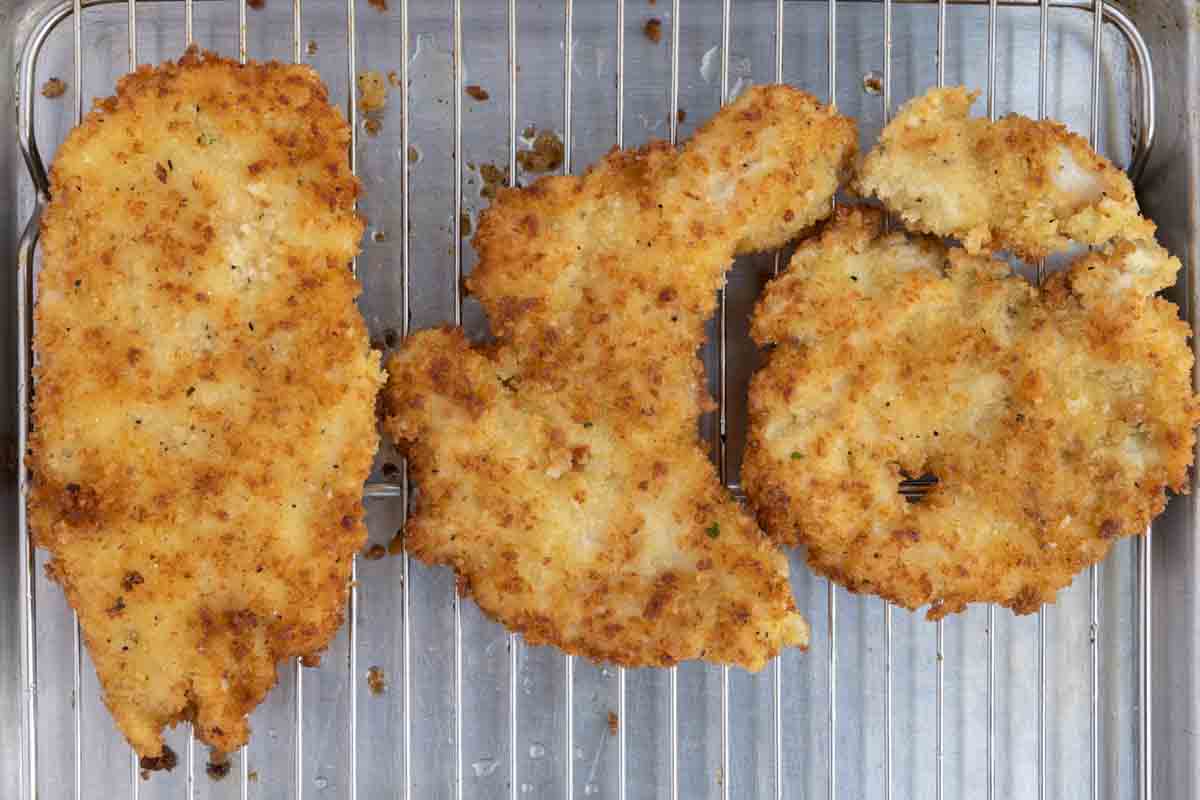 Remove the chicken schnitzel from the pan and place them on a wire rack or paper towels for one minute to drain the excess oil.
You can freeze the crispy fried chicken breasts by separating them with parchment and wrapping them in plastic or storing them in a ziplock bag. They can stay frozen for up to three months.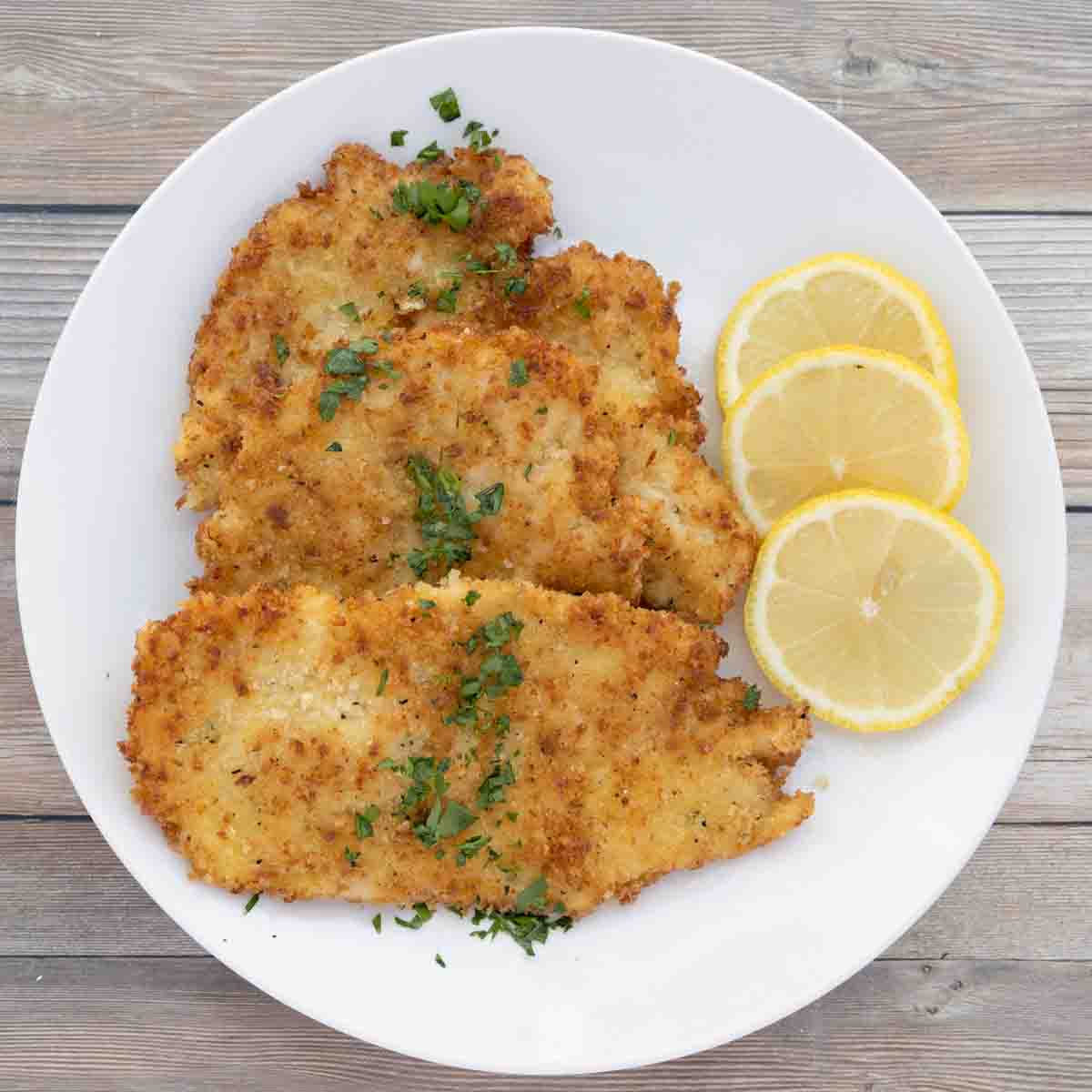 Serve the Chicken Schnitzel with lemon wedges or lemon slices and your favorite sides. Traditionally this dish is served with spaetzle or German potato salad and sweet and sour cabbage.
Chicken schnitzel is a classic dish that is easy to prepare and can be customized to suit a variety of tastes. Whether you're looking for a quick and easy weeknight dinner or a comforting meal for a special occasion, chicken schnitzel is sure to satisfy your cravings.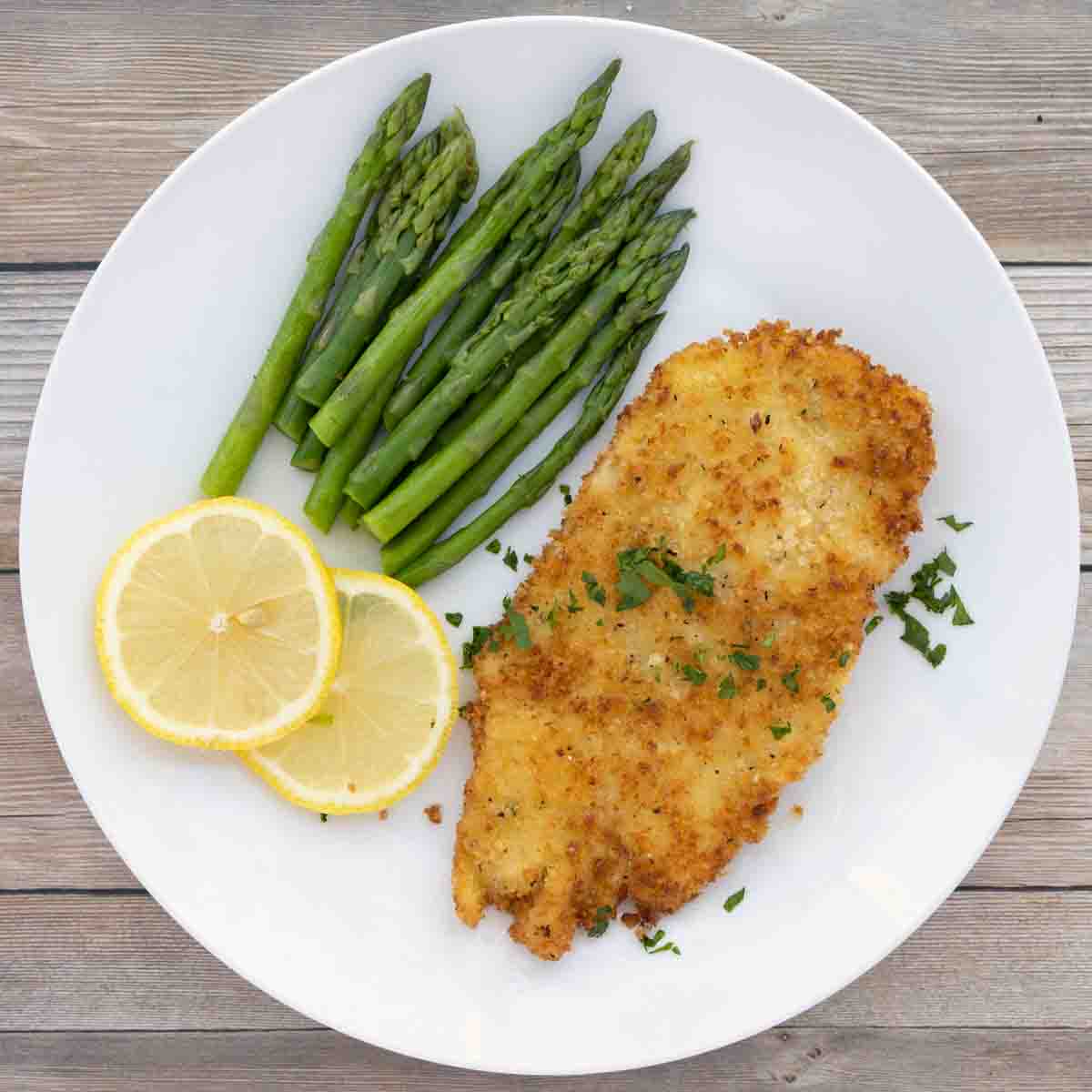 I like to serve Chicken Schnitzel with asparagus and roasted potatoes. But feel free to substitute your favorite vegetable or salad and the starch of your choice. Rice, grains, and pretty much any type of potato dish will go with Chicken Schnitzel. And a sprinkle of chopped fresh parsley adds a splash of color to the dish.
But whatever you serve it with, I promise my easy chicken schnitzel recipe will be a hit with your entire family and become one of your favorite chicken recipes.
Air Fryer Instructions
Follow the recipe up to the cooking procedure.
Preheat your air fryer to 400°F.
Spray the air fryer basket with cooking spray. Place the chicken schnitzels in the basket, making sure they don't touch each other.
Spray the tops of the chicken schnitzels with cooking spray.
Cook the chicken schnitzels in the air fryer for 12-15 minutes or until they're crispy and golden brown. Flipping them over halfway through.
Once the chicken schnitzels are cooked, transfer them to a plate and serve them hot with your favorite side dish.
Cooking time may vary depending on the size and thickness of your chicken schnitzels, so adjust accordingly.
Recipe FAQ's
Can I make schnitzel with different types of meat?
Yes, you can. Pork or veal can be used to make schnitzel. However, the cooking time may vary depending on the thickness of the meat.
What is chicken schnitzel?
Chicken schnitzel is crispy fried chicken breasts. Each country has its own version of this simple dish. Depending upon who you ask it finds its origins in Austria or Germany, where the first Schnitzel was Weiner (veal) Schnitzel.
What do I serve with chicken schnitzel?
Chicken schnitzel can be served with a variety of side dishes, such as spaetzle, mashed potatoes, roasted potatoes, German potato salad, green beans, asparagus, or a fresh salad. It can also be served with a variety of sauces, such as tomato sauce, mushroom sauce, or Dijon mustard sauce.
More Recipes You'll Love!